With the hundreds of beach options to choose from, make sure you know hit up the best spots in the Dominican — we have our favorite beaches mapped out, just for you.
You will fall in love with the DR sooo quickly during your semester abroad volunteering in the Caribbean with ILP, especially if you check out some of the amazing beaches during your semester here.


---
Learn more about volunteering in the Dominican Republic here.
---

Grab your swimsuit, get ready to soak up the sun, and get that killer tan you're hoping for. Here are the beaches you should be checking out:

Beaches Perfect for a Day Trip or Weekend Getaway
One huge perk of picking the DR as your program of choice when volunteering with ILP is that you get to live just outside of a tourist destination. The beaches along the northern coast are gorgeous, sandy, and easily reachable for even just a typical Saturday during your semester abroad. You could spend every weekend playing at the beach if you want to, and there are more than a few to choose from.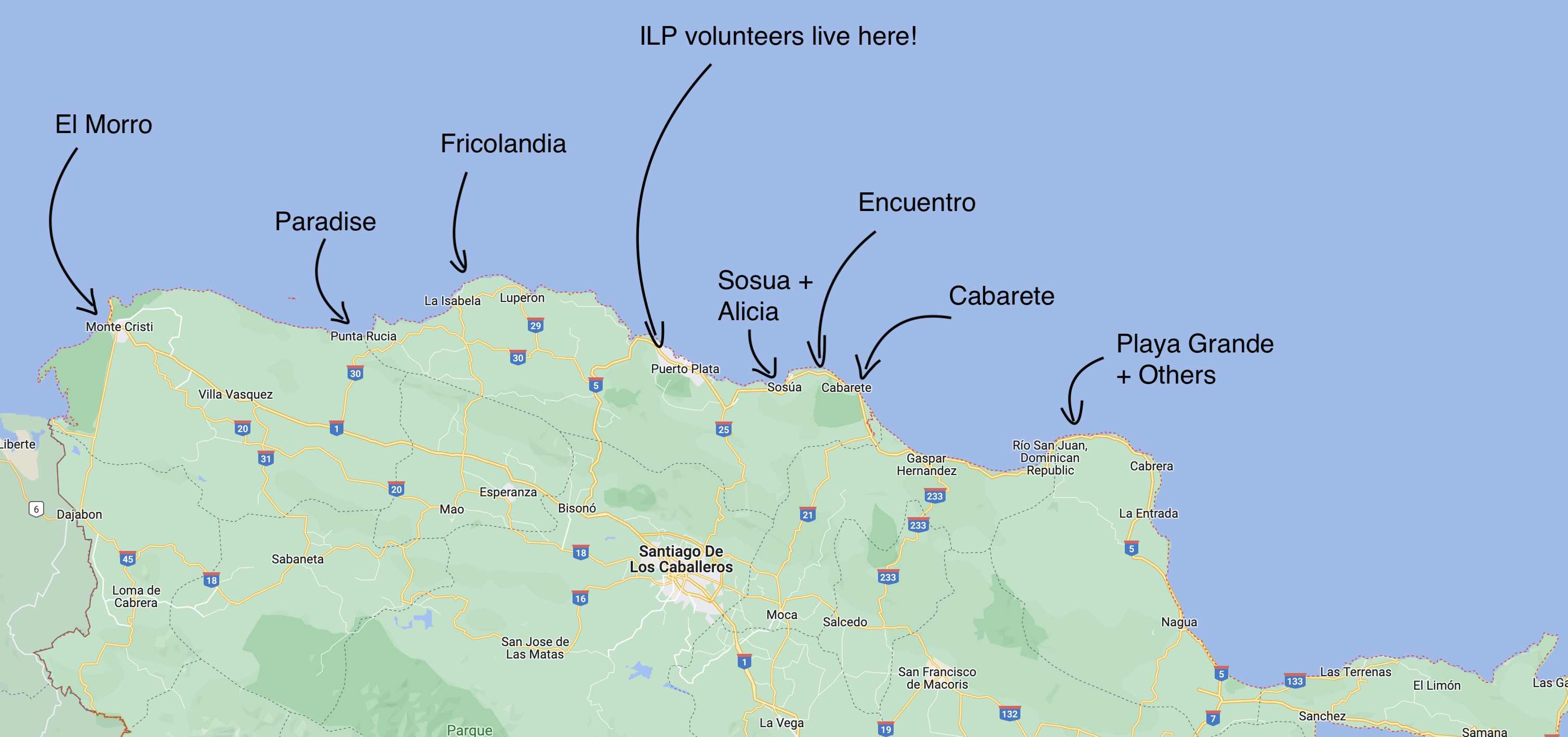 Cabarete Beach
The Dominican Republic has hundreds of stunning beaches, with each one boasting unique features, but this is one of our favorites! Located about an hour from Puerto Plata, Cabarete is a small town sitting right on the coast. The highway runs right through, making it very convenient and easy to access. On one side of the highway, you'll find the town that sits on the edge of a lush green national park. The other side is a long stretch of beautiful coastline separated into a few distinct beach areas. The most popular beach is simply "Cabarete Beach" and is referred to by the locals as "the main beach". There you'll find turquoise waters perfect for surf lessons, volleyball nets, and is world famous for wind and kite surfing.
Volunteers love watching the professional kitesurfers put on a show, visit the cutest shops and have brunch at one of the trendy (and delicious) restaurants like Vagamundo and Fresh Fresh. Cabarete Beach also has tons of all-inclusive resorts that volunteers love to visit for a quick weekend getaway.
We have a ton of tips to help you plan your trip to Cabarete, right here.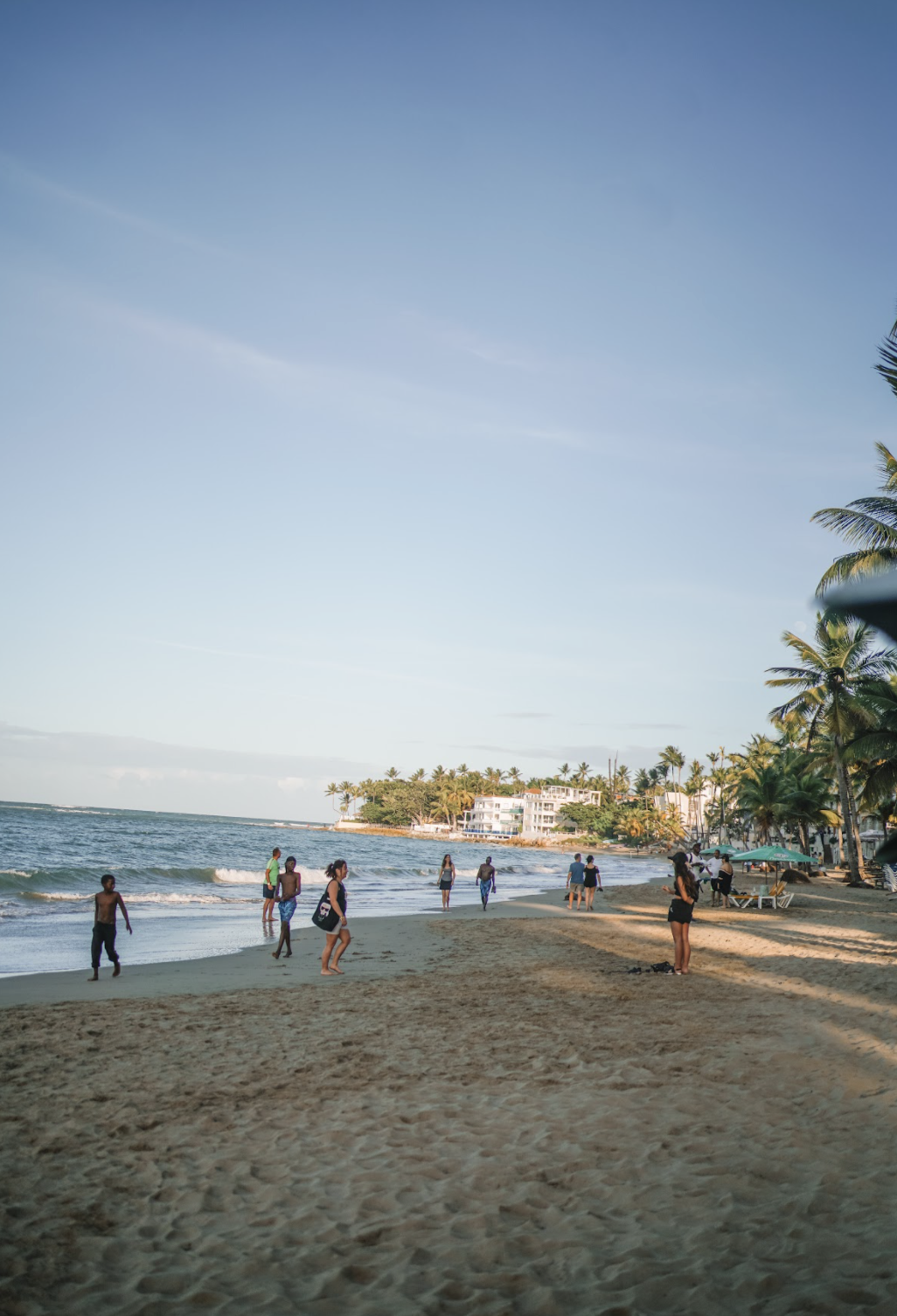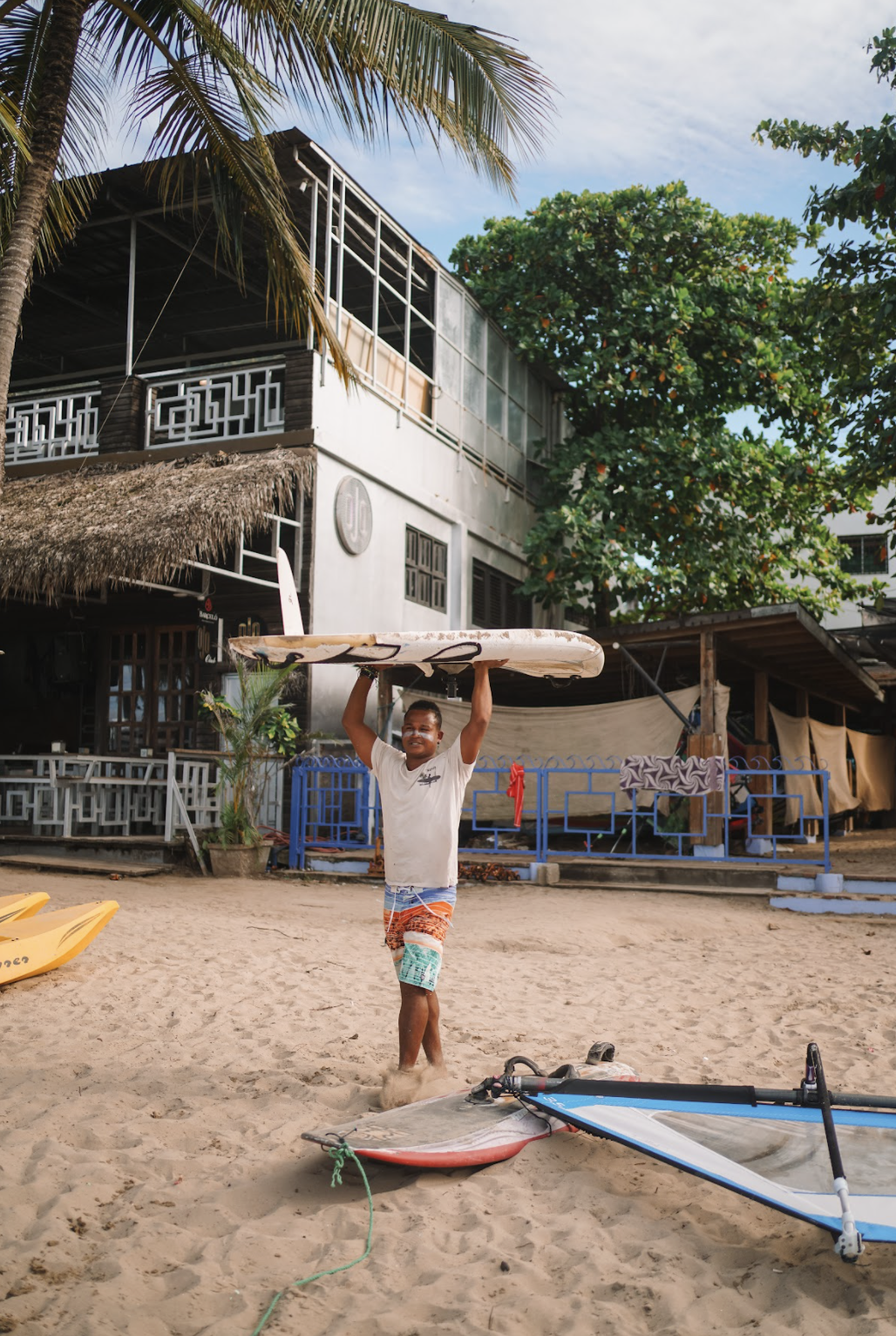 Sosua / Playa Alicia
Sosua is another favorite coastline for ILP volunteers and since it's only 30 minutes away from where they are living, it's easy to visit again and again!
A perfect day at Sosua's beach would probably be taking a glass-bottomed boat snorkeling excursion, shopping at the row of many vendors and souvenir shops, and ending the day drinking a (virgin) pina colada out of a pineapple while watching the sunset.
Playa Alicia is its sister beach, sitting just a bit further down the coast. It's very easy to walk between the two, so volunteers tend to spend time at both. They're quite different and have their own advantages — Sosua is much bigger and tends to have more going on (more shops, more crowds, more organized tours) while Alicia is a small, quiet little cove that's great for jumping off rocks into the waves and having dinner with a great view of the sunset. Volunteers tend to pick sides on which of the two is their very favorite, but either way, it makes for an ideal beach day.
Get more info about a trip to these two beaches here.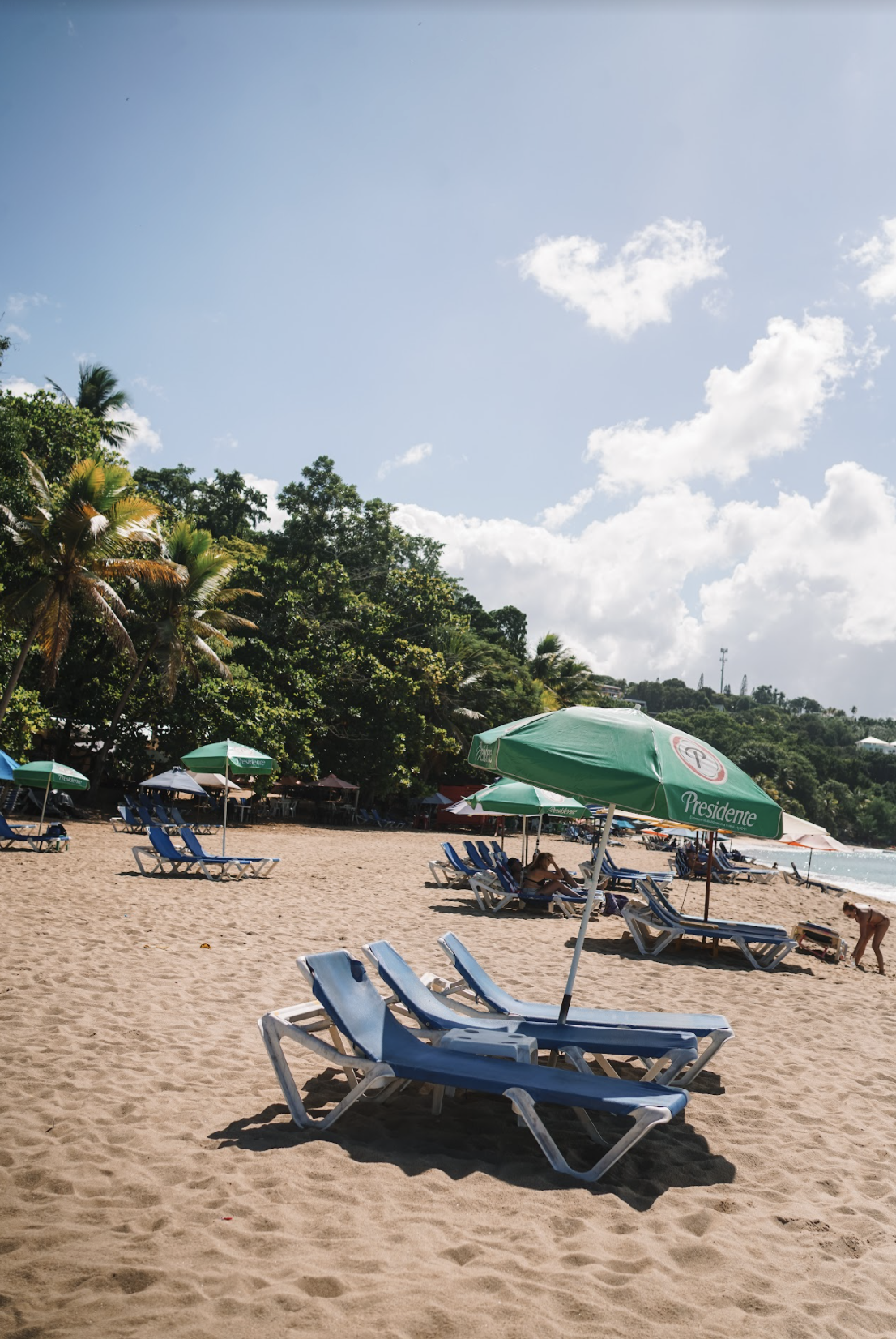 Paradise Island
Just two hours away from Puerto Plata is a place literally called paradise. It's essentially a small sandbar just off the coast ... and when we say small, we mean you can practically toss a stone to the other side! But the water is so stunning that it's worth a trip here. You'll first head to a place called Punta Rucia then take a speed boat over to a small island filled with white sands, turquoise waters, and swaying palm trees. Easily done on a Saturday or Sunday.

Here's how to plan a day trip to Paradise Island. We weren't kidding about that turquoise water ... wow!!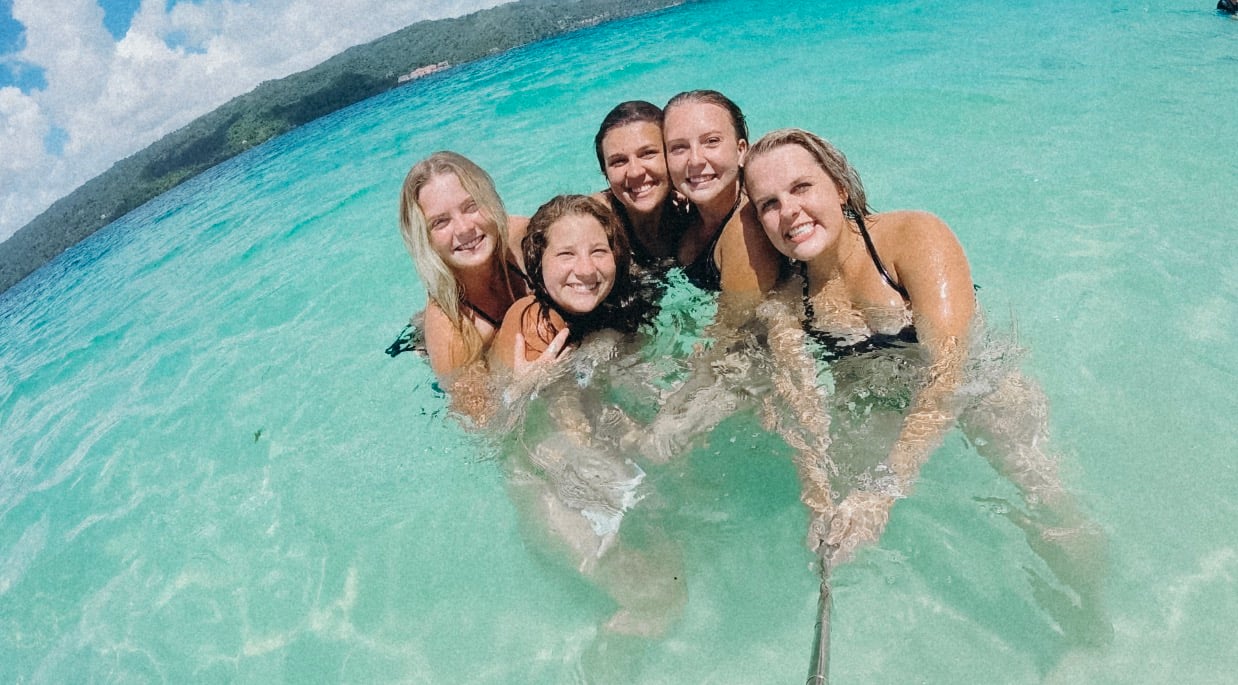 Encuentro Beach
If the main reason you wanted to volunteer in the DR (besides teaching the cutest kiddos ever) was to learn how to up your surfing game, then Encuentro Beach is the place for you! The laid-back vibes, great waves, and delicious smoothie shops draw surfers from all around the world to Encuentro.
It's easy to rent a surfboard at Encuentro and there are plenty of surf schools here perfect for those who are wanting to learn how to surf. The best part? Encuentro is close enough to where the volunteers live in Puerto Plata that they can easily taxi over to Encuentro to get some surf time in before or after teaching each day
Playa Grande + Caleton + A Bunch Of Others Around Rio San Juan
Found around Rio San Juan, we are loving the stretch of beaches found in this part of the island. This area is a little further from major tourist hubs (remember, you're a few hours from both Puerto Plata and Samana), so they tend to be a little more low-key.
These beaches aren't off the beaten path and they're not hidden gems by any means ... they just tend to have fewer crowds because of where they're located. A gorgeous beach with less people? Sign me up!
There are a few key spots between the two biggest towns in this area: Rio San Juan and Cabrera. Some ones to know are Playa Diamante, Playa de Daleton Chiquito, and Playa el Breton ... but if you're asking for absolute favorites? That's found at Playa Grande.
Get all the details about these beaches (and so many pictures) on our post about the Dudu Lagoon — we suggest taking a day trip to explore the lagoon and pick your favorite beaches, but you can also make it into a 2-day deal. That post has the info you need.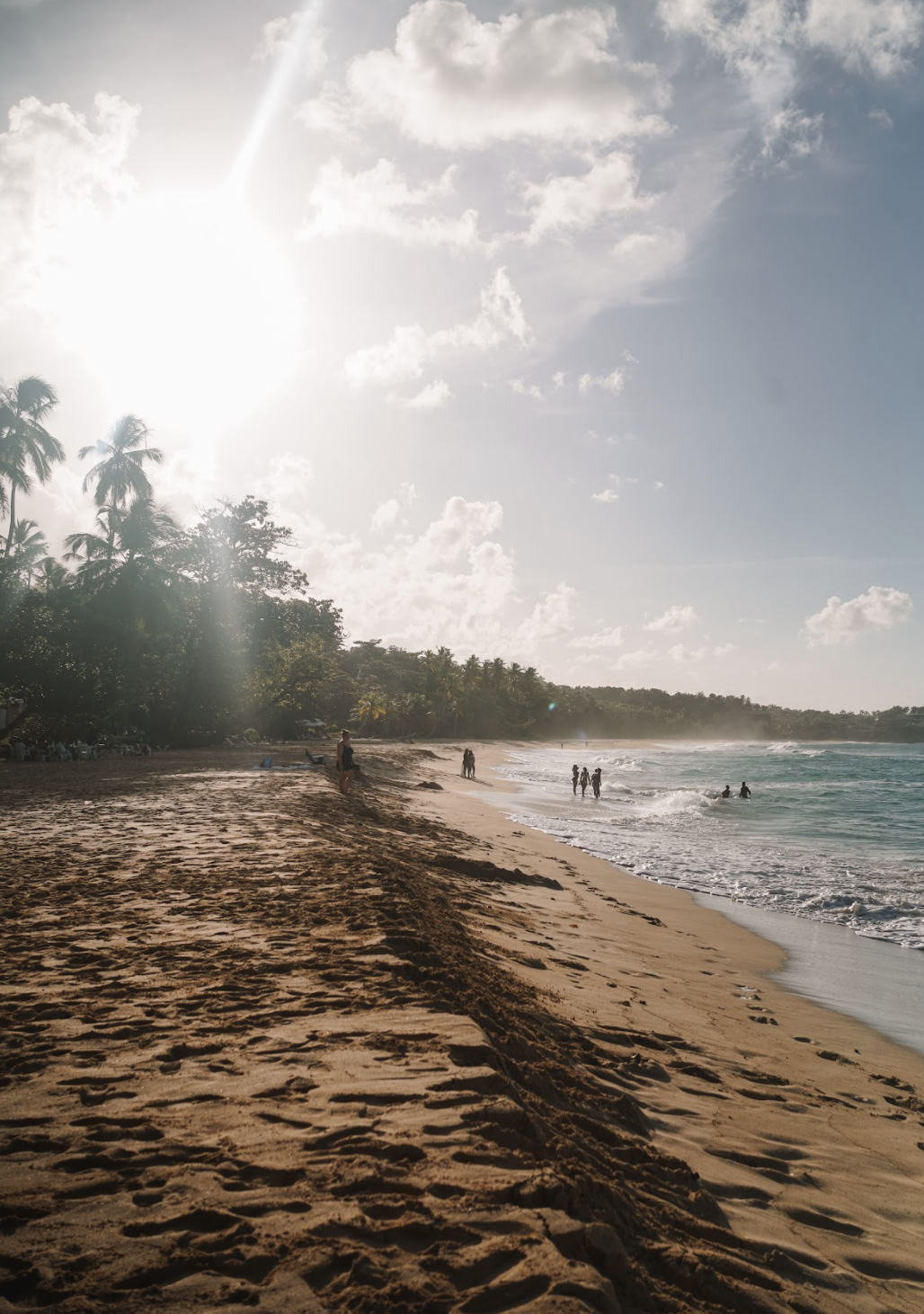 Fricolandia
Ok, so Fricolandia isn't technically a beach but it's this really scenic day resort + restaurant located on its own private beach so we figured it deserved a mention here. Our volunteers love visiting Fricolandia because it's one of the most photogenic places and you'll take so many cool Instagram photos here that will have your friends back home itching with jealousy.
Fricolandia has lots of thatched roof cabanas to relax in, a super cute swing overlooking the ocean, stairs leading down to the water and these cool caves you can swim in. It's easy to visit in a day trip when you're coming from the Puerto Plata area, or you can turn it into an overnight visit as well.
Check out our guide here for all the details on visiting Fricolandia.
El Morro de Monte Cristi
Monte Cristi is definitely a hidden gem in our opinion — because it's one of the last stretches of the northern Dominican coastline before you hit the Haitian border, it's off the beaten path and most tourists miss it altogether. But the fact that we get this area all to ourselves just adds to its charm.
The most beautiful and iconic beach in the tiny town of Monte Cristi is Playa del Morro, complete with a beautiful deep turquoise-colored ocean surrounded by white and gold sea cliffs. There's a viewpoint that you really can't miss though and it's found by hiking to the Sendero de las Cruces swing that overlooks the beach. Volunteers recommend waking up early to be at the swing by sunrise and then walking along the beach to get to the main part of town.
This makes for an unforgettable weekend trip during your semester volunteering in the DR. Check out this post to help you plan your trip to El Morro.
The Best Beaches For Your Longer Vacation Days
There are even more beaches that we're absolutely in love with aIl along the eastern and southern coastline as well. They're a bit further to reach if you're coming from the Puerto Plata area, but it's easy — the routes are well-traveled between these major island cities and it just means hopping on an air-conditioned bus to reach the other side of the island. Don't worry, traveling by bus is our favorite way to get around the island because tickets are so so cheap.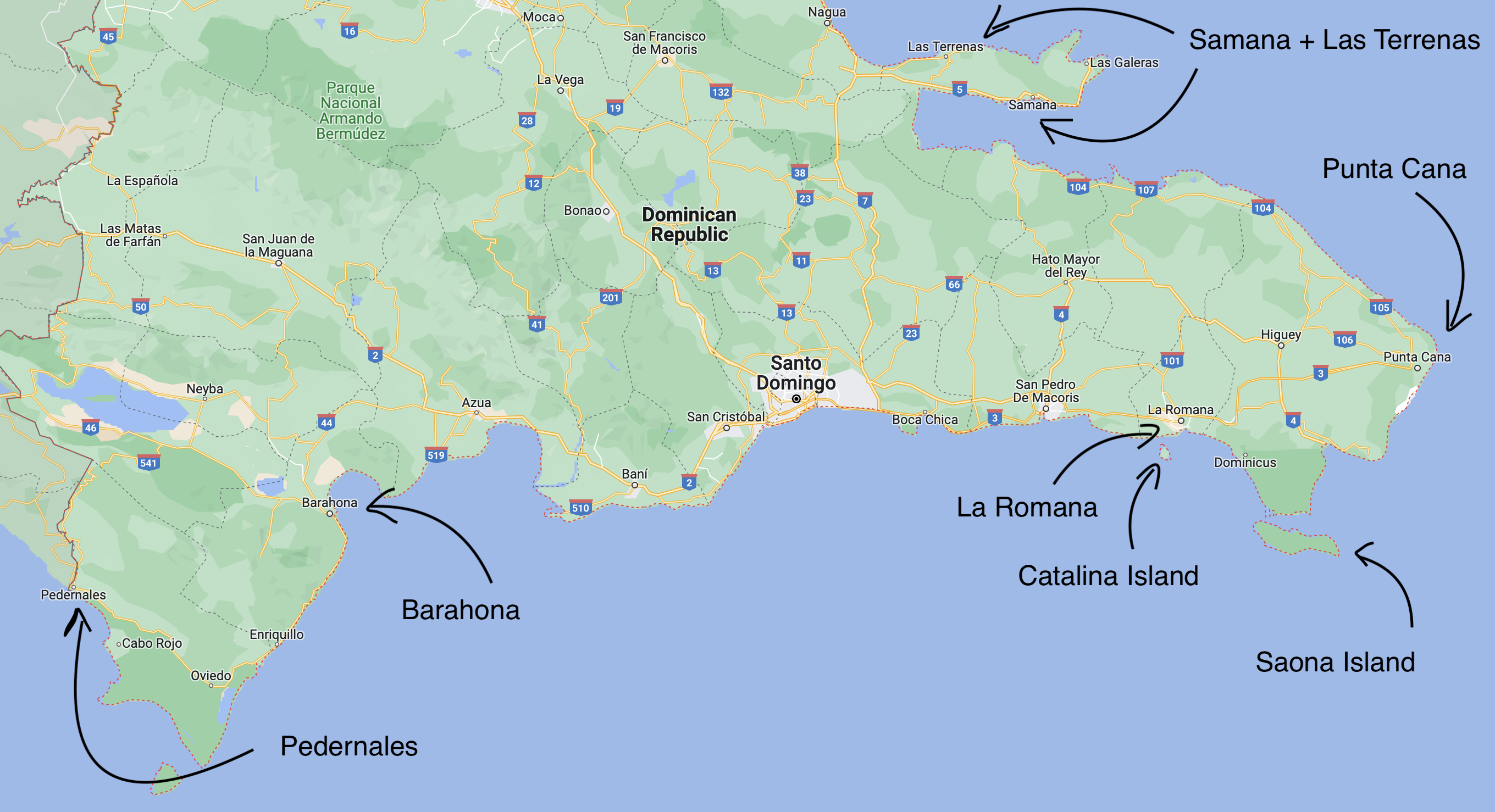 Samana
Samana sits on a peninsula off the eastern coast of the DR and is the perfect combination of stunning tropical beaches and lush mangrove forests. Samana is usually a good spot for your home base but also acts as a good jumping-off point to so many beaches, waterfalls, and islands all around the peninsula.
Volunteers especially love visiting Samana to stay in the Tree House village where you can spend the day relaxing in the jungle and then ride bikes to the nearby beach. Playa Bonita and Las Terrenas are some of our other favorite beaches to stay at in Samana and there's even a place nearby where you can ride horses along the beach! This is definitely a favorite vacation for so many ILP volunteers and one we recommend you don't miss.
Check out our guide to planning your dream vacation in Samana here.
Punta Cana
Keep heading south from Samana and you'll find this highly popular destination. When tourists come from all over the world to see the Dominican Republic, they typically end up in Punta Cana. The area caters to tourists — it is lined with beautiful resorts and you'll find tours, shops, and restaurants at every turn. Because of this it often tends to be a bit more expensive and a bit more crowded than other parts of the Dominican, but there are ways to make this vacation more budget-friendly too.
Punta Cana is an entire stretch of coastline claiming the southeastern corner of the Dominican, complete with white-sand beaches and crystal clear water. We particularly love Macao Beach and Playa Bavaro and Arena Gordo. Plan on visiting Punta Cana and spending your days beach hopping if you'd like to test out our favorites.
Saona Island (+ the La Romana Area)
If you head east of Santo Domingo along the southern coast, you'll run into a corner of the DR that's known for beautiful beaches and some islands not far from shore.
Saona Island, the largest and most frequently traveled to island in the area, is actually the textbook definition of the perfect tropical beach. With glistening white sand, water so clear it's unreal, and tons of colorful starfish dotting the ocean floor, it's exactly the type of beach you're picturing when you think of dreamy Caribbean islands.
The best way to visit Saona Island (also referred to as "Starfish Island") is by joining a boat tour that will drive you to the island where you'll enjoy an afternoon of snorkeling, sunbathing, and feasting on a tropical buffet. You'll be picked up by a catamaran where you'll have the best dance party of your life before being taken back to the mainland. It's pretty common to find tours here that depart and return from Punta Cana or even Santo Domingo.
There are similar boat tours to nearby Catalina Island, a much smaller island just off the coast of La Romana which packs just as much of a punch as Saona.
Before leaving, make sure to check out the other beautiful beaches in La Romana and the neighboring town of Bayahibe — we have a guide for you here.

Barahona
Lush green, jungle-y mountains hug the coastline of some of the country's most beautiful beaches (just see pictures of Playa San Rafael if you need a little more convincing). The small city itself is home to a colonial-era cathedral and pretty walking streets that are vaguely European, but the tall palms remind you that you're still in the Caribbean.
See what Barahona is all about here.
Pedernales
We're heading close to the Haitian border again, but this time on the southern side. Pedernales is home to what one volunteer called "the most beautiful beaches in the Caribbean."
Remember how we told you that we love El Morro de Monte Cristi so much because it is so untouched? That's the big perk with Pedernales too! You get to ditch the crowds but still have the most beautiful Caribbean coastline. One ILP group said they spent three days walking the empty streets, trying to find restaurants that were open, and thinking that this whole place felt so dreamy, it was more like a movie set than real life. Of all your vacation options this one has the longest trek to get out here, but we think it's highly worth the drive.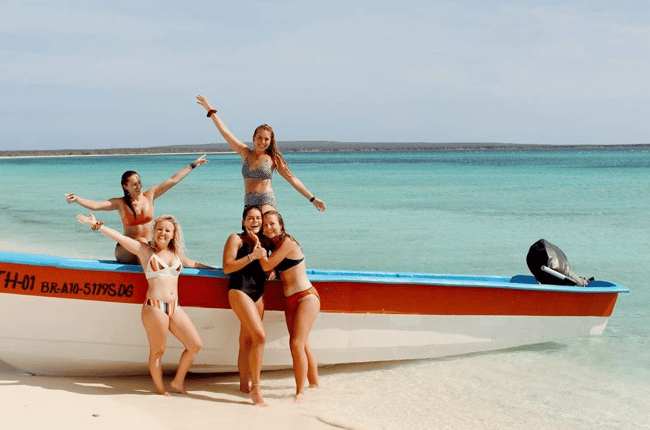 Ready to really experience this country?
It's fun to vacation here, but love the chance to live here for a few months as a volunteer even more! Come see the DR with ILP, for a semester abroad of making a difference, living and teaching with a group of college-aged volunteers, and traveling around with enough time to see all the hot spots and hidden gems! ILP (International Language Programs) has years of experience arranging this type of experience — we set up your flight, housing, teaching schedule, and more, making it really easy to spend a whole semester here.