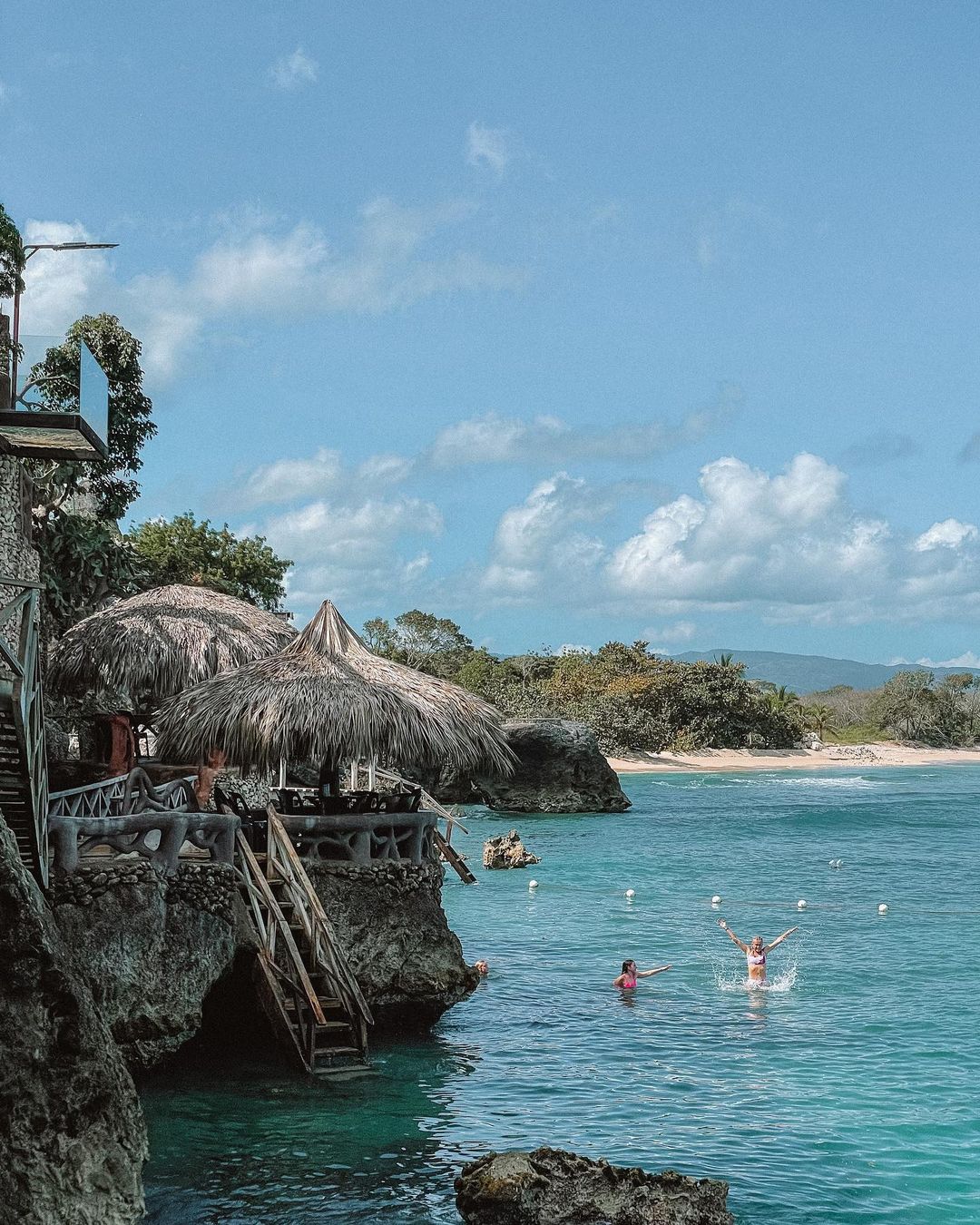 This is the resort-swimming spot of your dreams, complete with stunning views, a pool overlooking the ocean, your own private cabana, and the bluest water you've seen.
We love love love the Fricolandia Resort. It's just around the corner from Puerto Plata and could not be prettier. The owners have turned a picturesque overlook into our favorite swimming spot, complete with a row of thatched-roof cabanas that wind down the cliffs to the ocean below. There are little stairways that lead you down the rocky drop-off for a salty swim in the waves and a coastal grill so you can stay all day long. Make sure you bring your camera for a visit here, this place is the stuff Instagram dreams are made of.
---
The best way to see this island is to live here
All about volunteering in the DR for a semester with ILP
---
Because Fricolandia is quickly becoming our go-to spot for a quick day trip for our ILP volunteers who live in the Dominican Republic, this post is here to give you all of the details (plus a few pictures):
Why We Love Fricolandia
The Swimming
We love all the beaches with sand you can swim at while in the DR, but the cabanas just give this more of a tropical, resort-like feel. You can reserve a spot to have your own cabana platform, meaning you can lay out towels under some shade before jumping over the edge if you're close enough to the water. If your cabana is higher up on the cliffs, the whole area is connected by a walkway that leads you down into the warm water.
The water here is amazingly clear, and perfect for snorkeling if you want to bring your mask. Sometimes, there are floating platforms in the water that you can swim to but others mention how fun it is to bring floaties with you for a relaxing soak in the calm water.
Plus, there's a terrace pool which we just can't get enough of.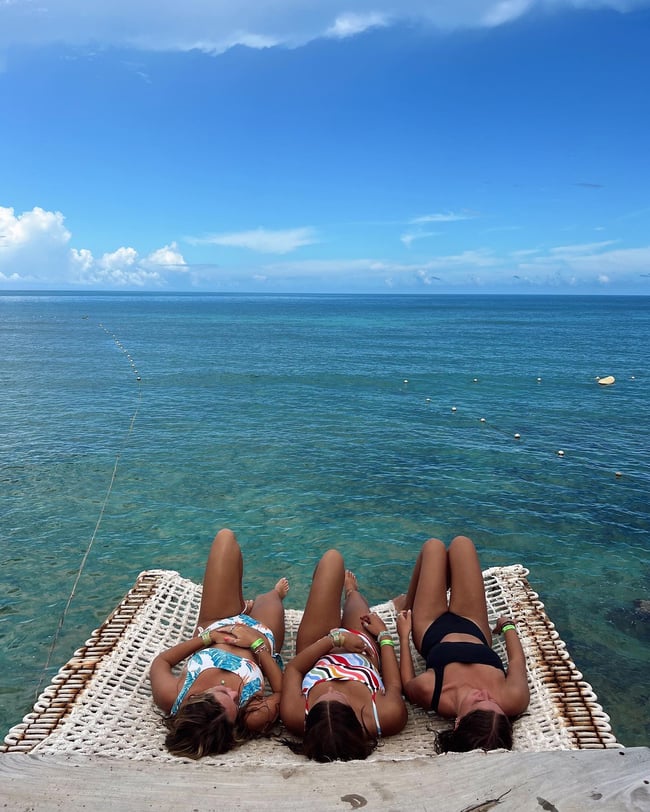 Take A Catamaran Tour
The resort does offer a few rentals if you don't want to spend the whole day swimming in the pool or the ocean. A favorite little splurge is to grab your ILP group and split a day trip on a catamaran which can take you around to nearby beaches for the day, and includes lunch.
You can get an idea on prices here for the different tour options. It becomes way more affordable if you split the tour with 20-30 people (which can bring the price down to just around $30 per person).
About Lunch
There is a grill available on the property which pulls in fresh seafood if you get hungry for lunch. Find other favorites on their menu like freshly caught fish, pasta dishes, sodas, grilled chicken, and more. Just FYI, some visitors don't recommend the food after some underseasoned or overpriced fish experiences, but others say they loved snagging lunch here.
In any case, you can bring your own food and drinks onto the property if you'd rather not eat at the grill.
The Views + Picture Spots
Make sure to bring your camera to Fricoland — the whole area is rather picturesque, with a set of covered platforms that wind their way along the cliffside. There is also a swing set that overlooks the ocean that makes for a prime photo op. At the entrance of this whole place, you can see the world "Fricolandia" spelled out in big, colorful, block letters on a wooden sign. The sunset views from the cliffs are also topnotch. Same with the boardwalks. All give you quite the opportunity for a mini-photo shoot!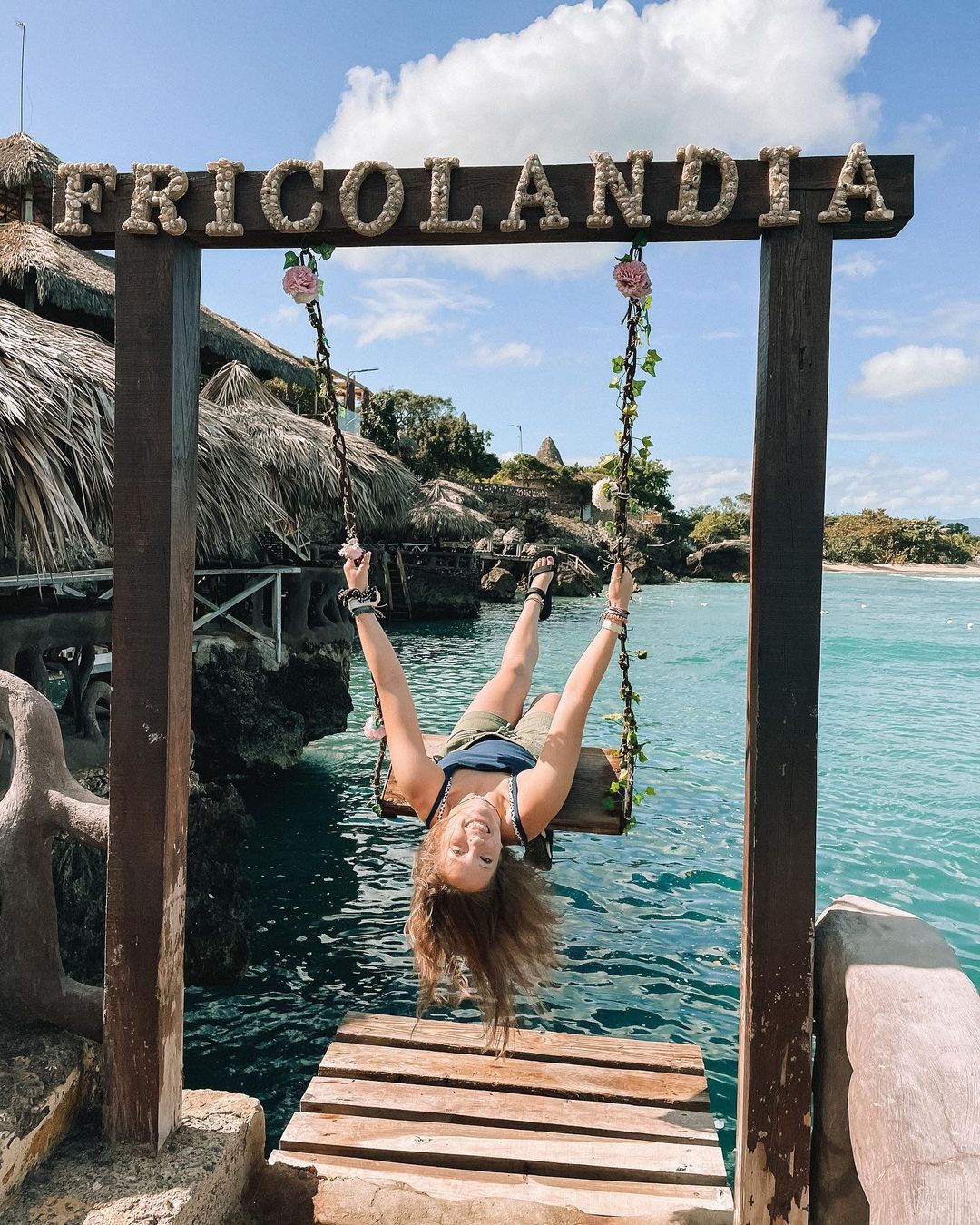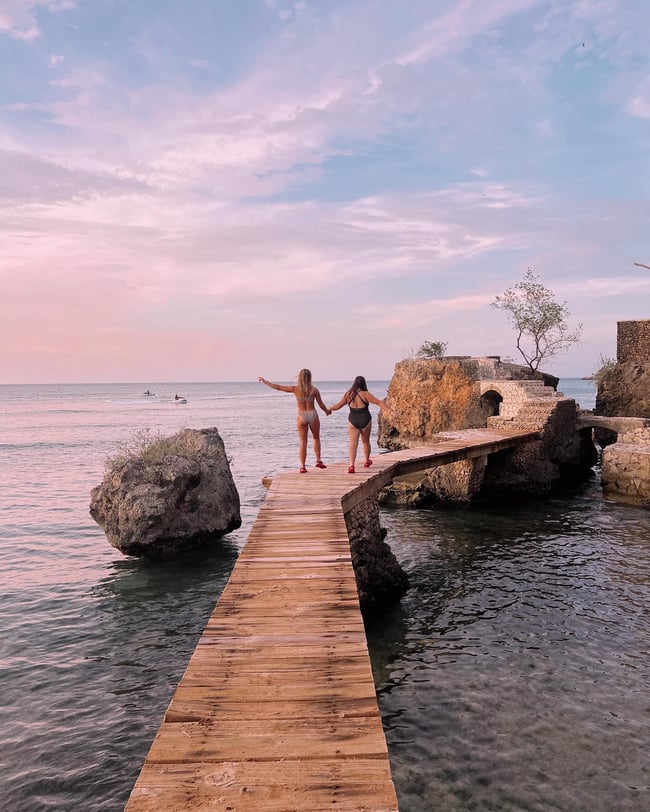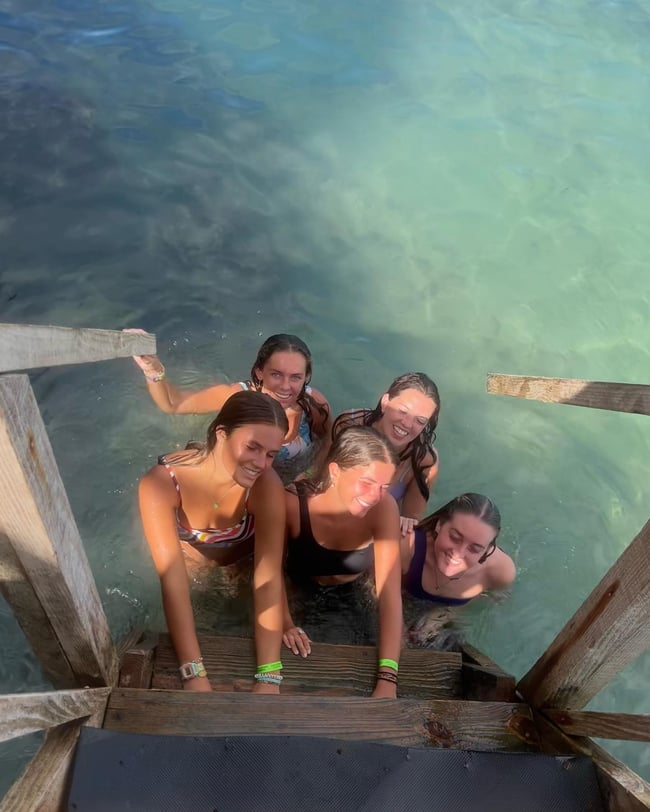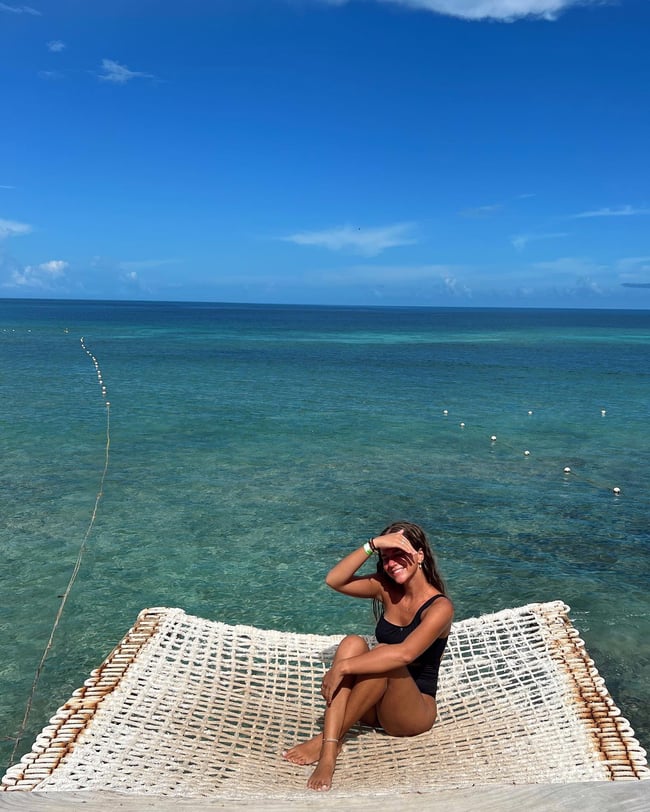 Planning Your Visit
Cost: 700 pesos per person

Hours: Opens at 9:00 AM
Contact: Here's their website and their Instagram. They're best reached via WhatsApp, so feel free to call or message for more information or to make a platform reservation for your visit.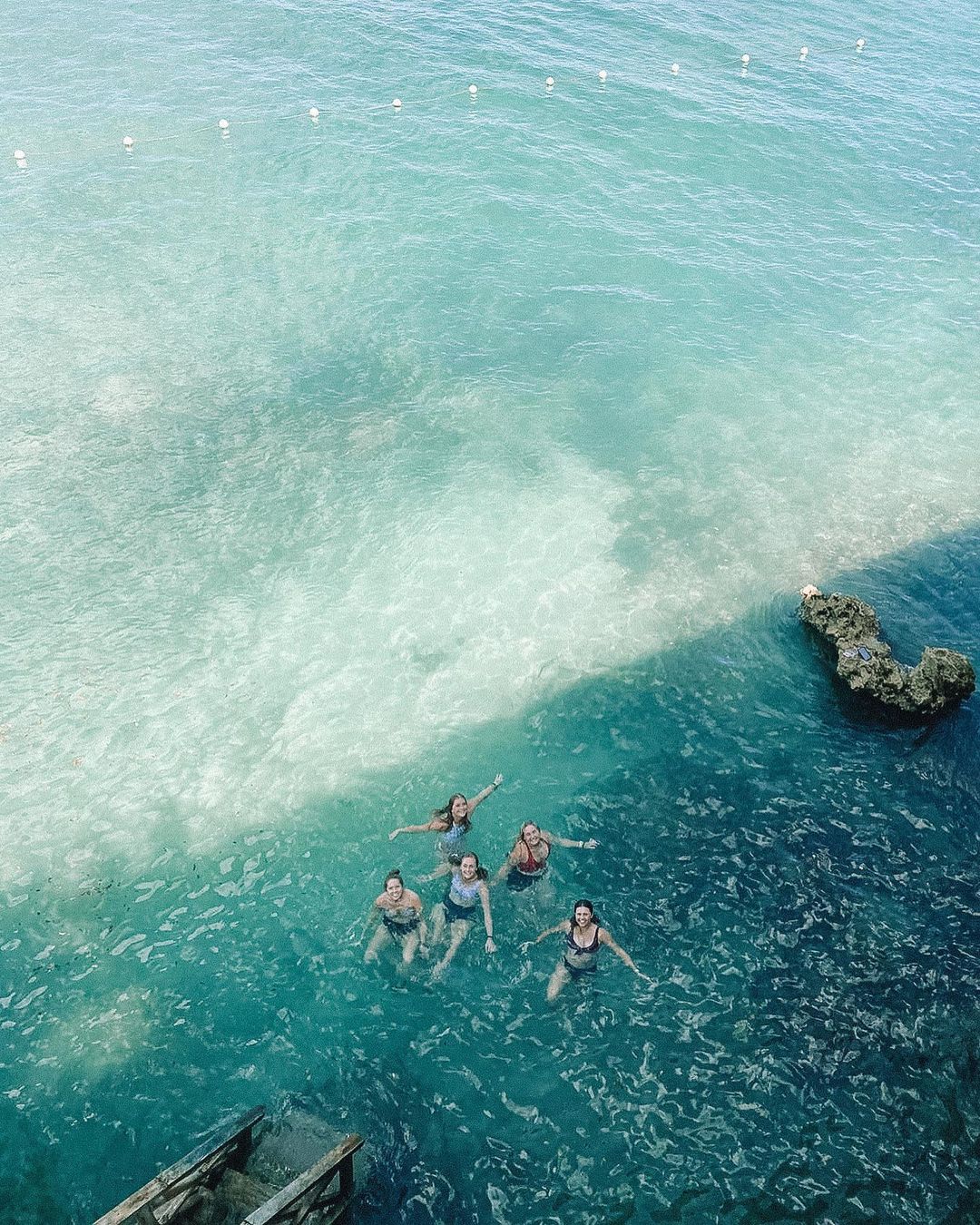 A Few Tips To Know
Bring Cash
Some visitors mention that the card machines were kind of hit and miss on their visit, which meant they couldn't pay by card. There's supposedly an ATM on the property you can use, but it's a ways down the road. Best to be prepared with pesos to pay for the entrance fee and any food you'd like to purchase on the property.
Making A Platform Reservation
If you want to hang around one of the platforms by the coast for the day, it's best to make a reservation for one, just in case they are already all booked up on the day of your visit. We have Fricolandia's contact info above.
Things can be busy here (which some say impacts the service if you need something from the staff), just as an FYI.
If You Want To Stay Overnight ...
We've had a handful of groups make this a weekend getaway by staying nearby. You'll find a few options, but one group loved this AirBnB. Another group recommended this AirBnB for their weekend stay.

Getting Here From Puerto Plata
From Puerto Plata, this is an easy day trip. Plan about an hour and a half drive (you can easily book a taxi to split with your group, or hire out a van for the trip).
The resort doesn't have a set address on Google (just the 57000 postal code) but here are the coordinates to help you out: 19.91195512999397, -71.06333399851582. If you Google "Fricolandia" it does pop up, and you can plot your route from there as well.

Come to the Dominican Republic with us!


Volunteers with ILP will be teaching English to underprivileged children in they humanitarian program, with weekends off and vacation time to explore everything to Dominican Republic has to offer.