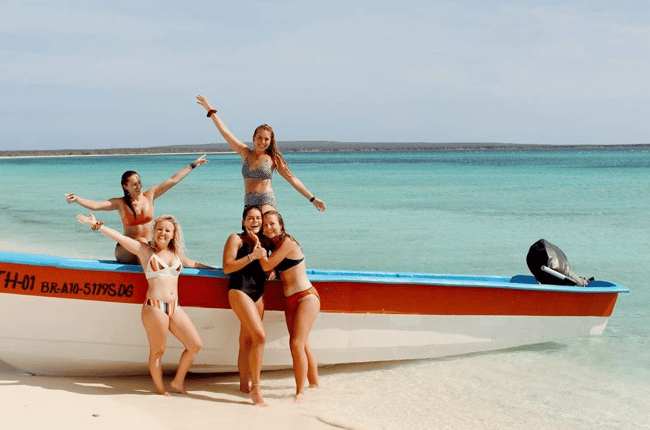 "I've never seen more clear water, or white sand in my life, and the best part is that we were the only ones there". Can you see why we want to keep this favorite spot in the Dominican Republic a secret?

You know the drill when it comes to vacation days in the Dominican Republic … which beaches are you going to choose? We have our favorites, that's no secret … but a little place called Pedernales is a bit of an under-the-radar gem and I'm hoping it stays that way.
*A quick note for ILP volunteers — Due to current conflicts, areas near the Haitian border may not be approved as a vacation destination during your semester. Please reach out to your Support Rep for updates if you're considering a trip to Pedernales.*


---
Thinking a semester in the Caribbean is what you're looking for?
All the info about volunteering in the Dominican Republic is right here
---

Found on the border of the Dominican Republic and Haiti, is home to what one volunteer called "the most beautiful beaches in the Caribbean." And actually, we've heard experienced travelers say that these beaches rival some of the best in the world!
One of the major perks of this spot is the beaches are about ten times prettier because you'll probably have the whole beach entirely to yourself. One ILP group said they spent three days walking the empty streets, trying to find restaurants that were open, and thinking that this whole place felt so dreamy, it was more like a movie set than real life.
Since the main pull of this area is all about the beaches (really, there's nothing else around) you'll find info on the two prettiest ones, then some details on how to get here, where to stay, and how to fit this into other vacation spots we just can't get enough of.
Before You Plan Your Trip
Playa Pedernales
Playa Bahia De Las Aguilas
Places To Stay
Getting To Pedernales + Nearby Spots To See
Before You Plan Your Trip
Lots of beaches and parts of the Dominican Republic are set up for tourism — you'll find people who speak some English, a string of resorts who can help you book transportation and things to do for the day. This part of the DR is not like that! It's gorgeous, and remote, and can be tricky to get to. You're close to a teeny-tiny town (Pedernales) that feels like a local ghost town. Finding a restaurant that's open will be part of the challenge of this vacay.

If you're willing to jump in and explore a remote part of the island that isn't really visited by many tourists, that's exactly the experience you'll get. If you're wanting something really easy to plan and won't want to do a lot "figuring things out", you'll want to head somewhere else. Just things to know in case you're looking for a different kind of vacation.
Playa Pedernales
Found just outside of the quiet city of Pedernales, you'll find clear blue water, shifting from bright blue to soft baby blue, soft sand, and so much sunshine. It's a gorgeous beach that isn't crowded or that popular, so you'll likely have the entire place to yourself, even though it's easily reached from the town of Pedernales. It's a long beach that feels pretty endless, backed by a few trees if you're looking for some shade. You'll want to pack in everything you need for a day at the beach: you won't find umbrellas or chairs to rent out, and I wouldn't even count on any vendors walking by selling fruit, snacks, or drinks.
Getting Here
It's a short walk through town. Depending on where you're staying, you could be looking at a five minute or a 25 minute walk.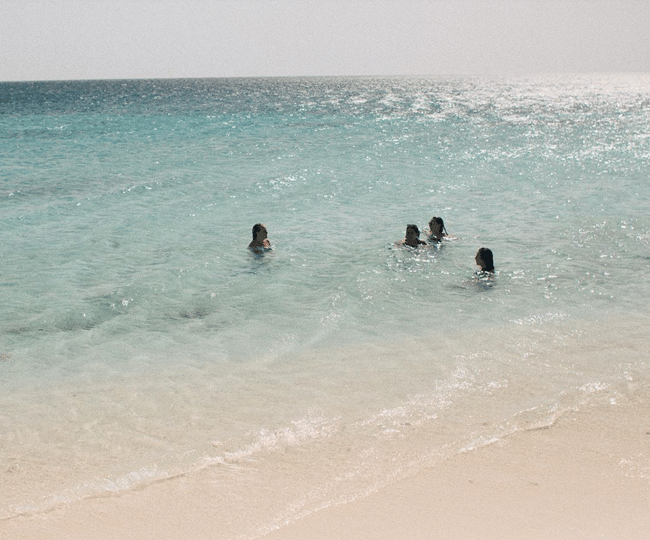 Playa Bahia De Las Aguilas
This deserted beach is a taxi ride away from where you'll be staying in Pedernales, but so worth it. It's a remote beach situated next to a rocky cliffside. No hotels. No resorts. Not on the tourist radar, at all. Sometimes you can find boats that'll take you through the rocky cove, or spot a lone man walking the beach, selling coconuts … and that's about it. The water here looks like someone poured a whole bottle of food dye into the ocean, it's that blue. There's soft, white sand and calm waves, making an ideal swimming beach. it's also near a protected marine reef and while there's no fishing allowed, you can spot a few of your favorite ocean friends in the clear water. Bring your own snorkel mask though, you won't find anyone renting out gear.
You won't find much else on the beach, so make sure you're covered up and have sunscreen (this is a far cry from the resort-lined beaches where you can rent out a chair and an umbrella). More than a few say it's the most beautiful beach in the Dominican Republic.
Getting Here
You have a couple of options, go by road, or go by boat.
From Pedernales, you'll need to negotiate a price to take you down to Bahia De Las Aguilas. You can get the price as low as $20 but not much lower. It's over an hour drive, where you'll arrive at La Cueva and pay $3 USD to access the entrance, and walk toward the beach. The view is gorgeous.

Or you can go by boat. From Cabo Rojo, you'll find a couple of glamping options which set you up with a boat into the bay. It's about a 15 ride, and plan on paying around $20 USD. To get to Cabo Rojo, you can take a taxi ride, about 45 minutes or so. Check out the Eco Del Mar by Mint resort to set this all up.


Places To Stay
Just a note when you're booking your overnight stay: Pedernales is a very small and quiet town, not somewhere where you'll find big fancy resorts. Hostels and other places to stay are simple, set up with running water that may not necessarily be heated. You're looking at hotels in the 3 star range that have what you need, but not much else. Just something to keep in mind when you're looking around. You can also check out AirBnb: one group of ILP volunteers stayed at Casa Dona Maria.
Hostel Dõna Chava
This highly rated place to stay is around a 15 minute walk to the beach and is set up with helpful staff, a patio where you can soak up the town, and a basic breakfast. This places is simple, but is set up with the basics (don't come here for a resort-type stay). Get more info here. Rooms are around $30 a night (for two people). Get more info here.
Hotel Don Muelle
Travelers who've stayed here for a night or two almost always comment on the helpful staff and reception desk that has a notebook complete with some helpful info for your stay in Pedernales (there are also some roosters who do like to wake up the guests …. might want to pack some ear plugs.) You're getting a clean, comfortable and basic room for around $23 a night. Get more info here.
Hotel Villa Del Mar
Found right by the beach and complete with its own pool and little garden area, this hotel is quiet, and covers your basics. Rooms are neat and clean, and the breakfast is what you'd expect: rice, beans, eggs, and some freshly squeezed juice. Plan on paying around $25 a night (for two people). Get more info here.
Glamping at

EcoLodge Cueva De Las Aguilas
Okay this spot is a little bit more of a splurge, but it's one of those things where the place you're staying is actually part of your experience you know? If you haven't heard of glamping yet, essentially it's an upgraded version of camping. Just take a look at the photos on their booking site and you'll see exactly what I mean. You'll get to stay in a large tent with a bed and wake up with the sun right on the beach! When split with a friend, you can find prices around $35 per person. Get more info here.
Getting To Pedernales + Nearby Spots
Start in Barahona. It's another fantastic vacation spot (just take a peek at what Barahona is like).

From Barahona, you can take a gua-gua (more on getting around the DR here) to take you to Pedernales. It's about 275 pesos, which shakes out to be around $5.50 USD for the 2 hour drive. Gua-guas leave every 30 minutes from about 6:30 AM to 11:00 PM but it's best to double check just to make sure. You can ask about the set schedule once you arrive at the gua-gua station in Barahona.
You can also arrange a private gua-gua in case you arrive too late to take the public one or would rather just take a private gua-gua. It's going to be more expensive, but is an option.

One ILP group spent three days in Pedernales and thought that was perfect (they then headed back to finish up their vacation in Barahona). Sounds dreamy right?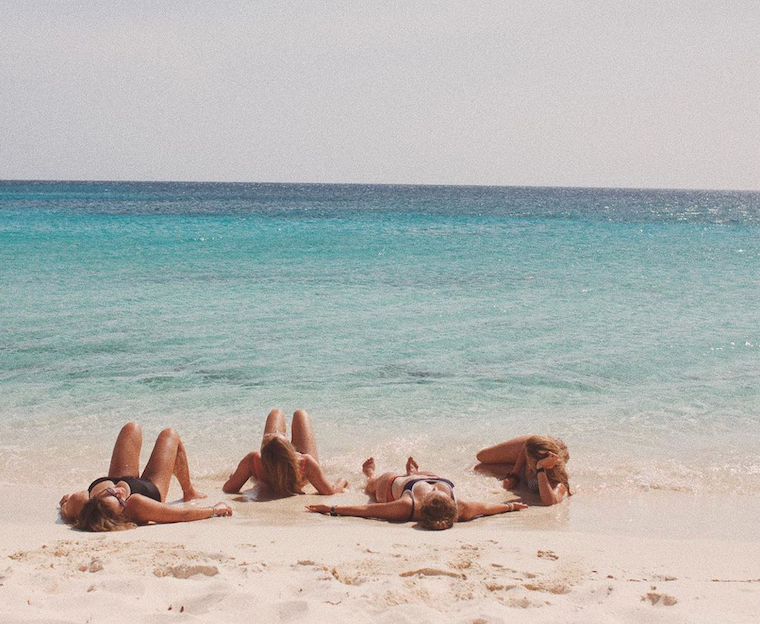 Come to the Caribbean with us!
ILP's a non-profit, Utah, USA based organizations who sends college-aged volunteers abroad for a semester. In the Dominican Republic, you'll be spending part of your time teaching English in this humanitarian program, and part of your time exploring this island.