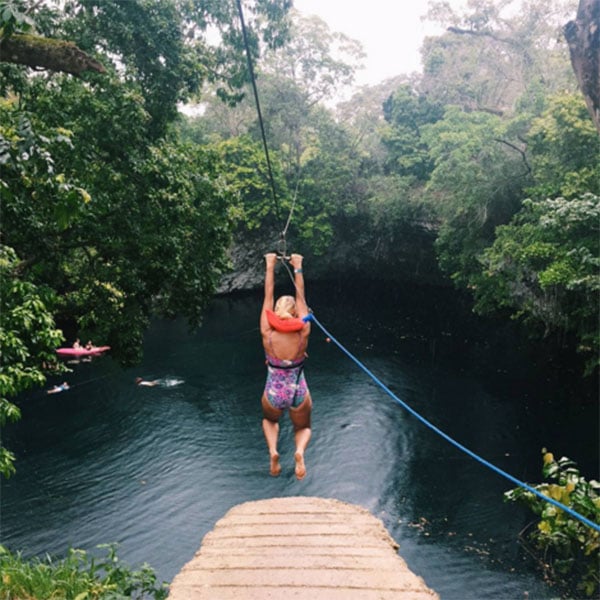 This corner of the Dominican's northern coast makes for one of our favorite day trips, especially for our volunteers who live just outside of Puerto Plata. There's a ton to do, so good thing you have weekends free to come see it all!

---
See what else your vacation is missing
Our Dominican Republic Destination Guide is right here.
---
A quick vacation to the Dominican Republic is more than worth it, but a major perk of living there for a semester means uncovering the gems that most tourists miss entirely if they're just visiting between cruise stops.
This corner of the coastline often gets missed by tourists because it's a bit of a journey to get there from any major city. It's about halfway between Puerto Plata and Samana, two major tourist stops. But in true DR fashion, the beaches are stunning and well worth the trek out there, and I haven't even told you about Laguna Dudu yet. Need another reason to visit? Since it's not well-known by travelers and is more of a local's spot, the prices are low, low, low.

Volunteering in the Dominican Republic or staying longer than the regular tourist means taking trips to see places like this dreamy lagoon — and yes, it really is as blue as the pictures.
Let's Get Oriented
Where Is It?
These destinations are outside of the coastal towns of Rio San Juan and Cabrera in the northeastern part of the Dominican Republic. It's just a day trip outside of Puerto Plata, so it makes a perfect Saturday adventure for our ILP volunteers who are volunteering here for the semester.
This post outlines all of our favorite things to see and do in this part of the island, with all the details mapped out for you — so you can take this blog post and use it as a guide for your own visit here. Plan on a full day of favorite activities like beach hopping, cacao tours, and the beautifully blue Dudu lagoon.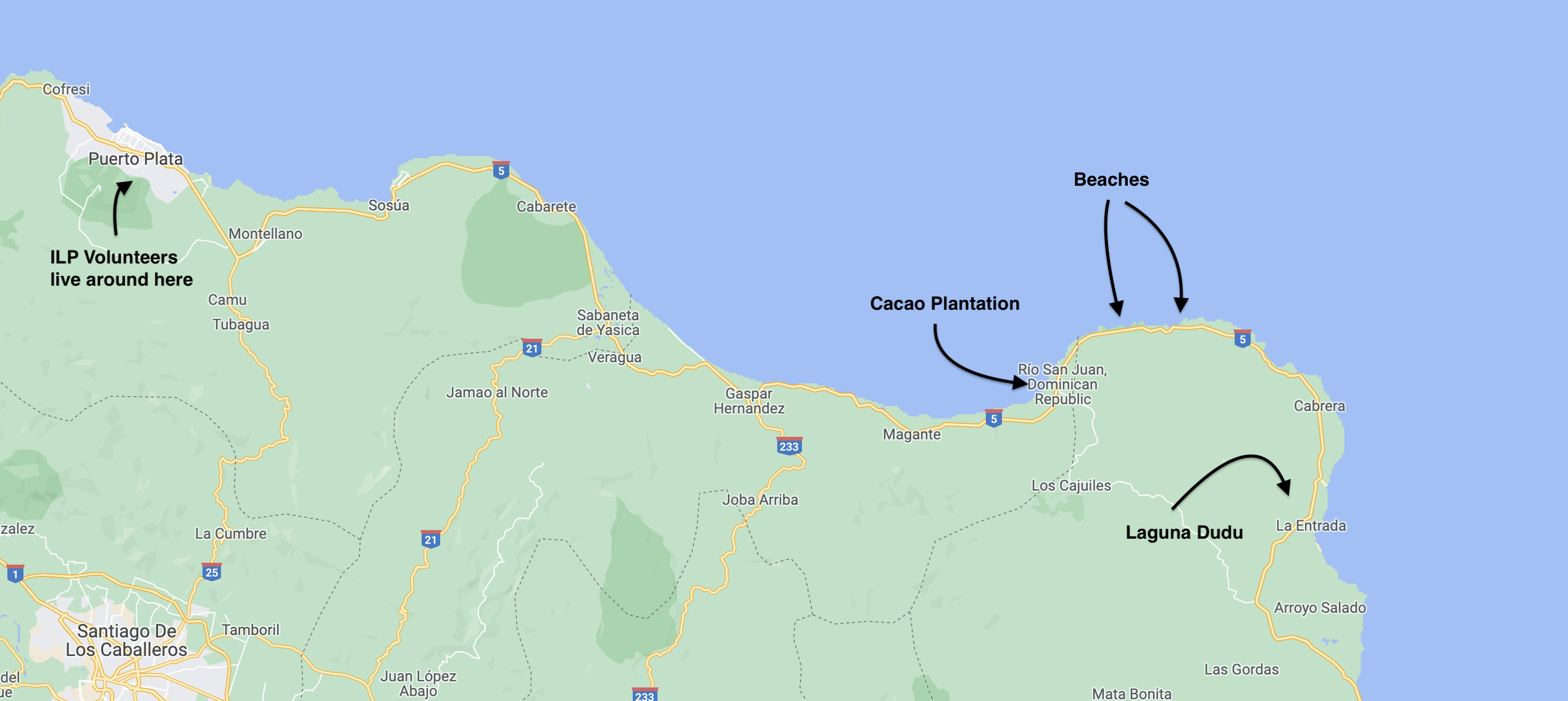 Transportation + Logistics
Getting Here
This corner of the country is just east of Puerto Plata, about 3 hours down the coast. You have a few different options when it comes to getting here from Puerto Plata, outlined below:
Gua-Gua
The most affordable option is taking a gua-gua, which is essentially a jump on–jump off mode of transportation that makes frequent stops. The pro is that it's ridiculously cheap and so much more affordable than hiring a private driver, but it's also the least convenient. They can be tricky to figure out if you're not familiar with the area. And there are also several stops I'm suggesting you visit on your way to the Lagoon, and gua-guas are usually more convenient if you're just headed to one destination.

One more thing to consider for a destination that's as far as this one: Gua-guas make the trip much longer (because of the multiple stops). The transportation times below are for a private driver. If you're taking a gua-gua, you'll need to allow much more time for the route, often doubled (or more).
Wondering about getting around the Dominican Republic in general or what in the world is a gua-gua? This blog post will help you out!
Private Driver
Although it's more expensive, hiring a driver for the day during this trip will be much more convenient. I'm suggesting multiple stops, so I really like the ease of having a driver take you right there instead of trying to figure out where and how to get your next ride each time on public transport.
Hiring a driver is more expensive than a gua-gua, but if you're splitting the cost with a large group you might find it's worth it. You'll get to ride in an air-conditioned car and won't have to worry about finding your way, or missing the last bus. So while I like the option of the driver, my recommendation is to price it out and decide what's best for you. On the whole, we're huge advocates of public transport, but think it's worth the splurge if you split the cost of a driver just this one time.
So how do you hire a driver? If you're an ILP volunteer, your Local Coordinator might be able to help you arrange a driver, so check on that possibility. Previous volunteers also leave their tips in an Area Book, so you may find recommendations about specific local drivers there.
There are also several companies that offer driving services that can be customized (as opposed to a tour where they've determined all of the stops beforehand) — they'll take you just about anywhere you want to go for a fixed, pre-determined price. Do an online search for private taxi services on the north coast and multiple options pop up like Isaira Tours and others.
For my trip I booked with Michel Taxi and they were great. I told them the stops I wanted to make and they gave me a quote before we agreed on the trip, and also followed up multiple times prior to make sure everything was still good to go. Again, it was much more expensive than a gua-gua, but splitting it with 5 people worked out to be about $30 per person for an entire day of driving with pickup and drop-off in Sosua (we also tipped at the end because we were so happy with the driver). He even made a stop halfway there to let us get out and stretch and get some coconuts to drink.
Costs will vary greatly depending on where you're getting picked up, how many stops, how many people in your group, etc so just price it out by contacting multiple drivers.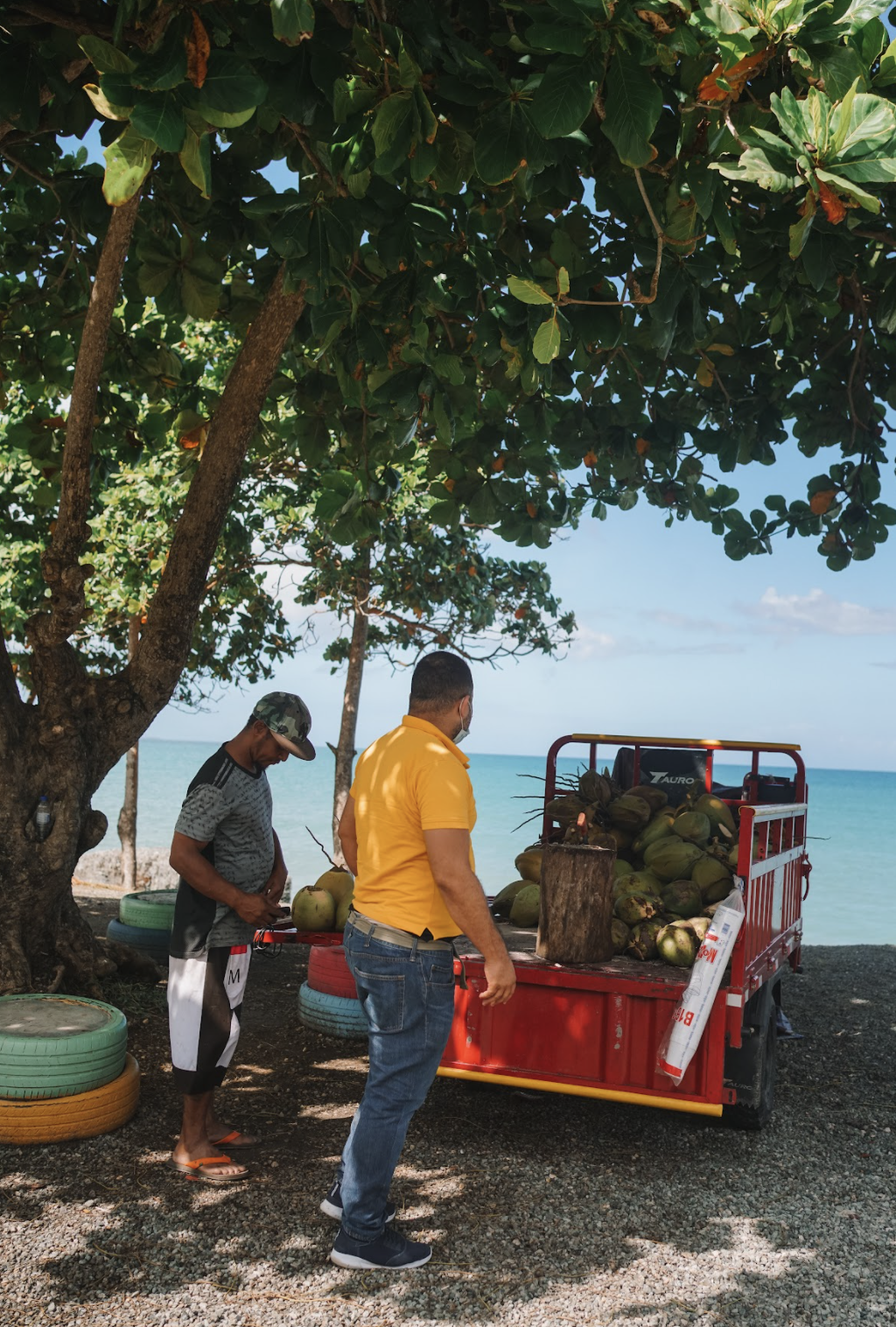 What To Bring
Your swimming suit and a towel are at the top of the list — you'll be in the water today! Volunteers also suggest bringing your phone in a waterproof case or another waterproof camera (like a GoPro) to get some photos while you're swimming. We have some suggestions on that here on this post all about traveling with your phone/camera/GoPro (like where to buy our favorite waterproof phone pouch).
Snacks, water, and motion sickness remedies (if you're prone to car sickness) are other suggestions. The road here is paved and it's actually a really beautiful drive along the coast, but there's a chance you may be sitting in the back of a packed van for several hours. If you tend to get sick in the car, bring something that may help.
Cash — you'll likely run into some spots that are "cash only" here, like Laguna Dudu. We've got entrance fees below to help you get an idea of how much to bring, but other things to consider are meals if you're eating out and tipping your driver if you've hired a private car.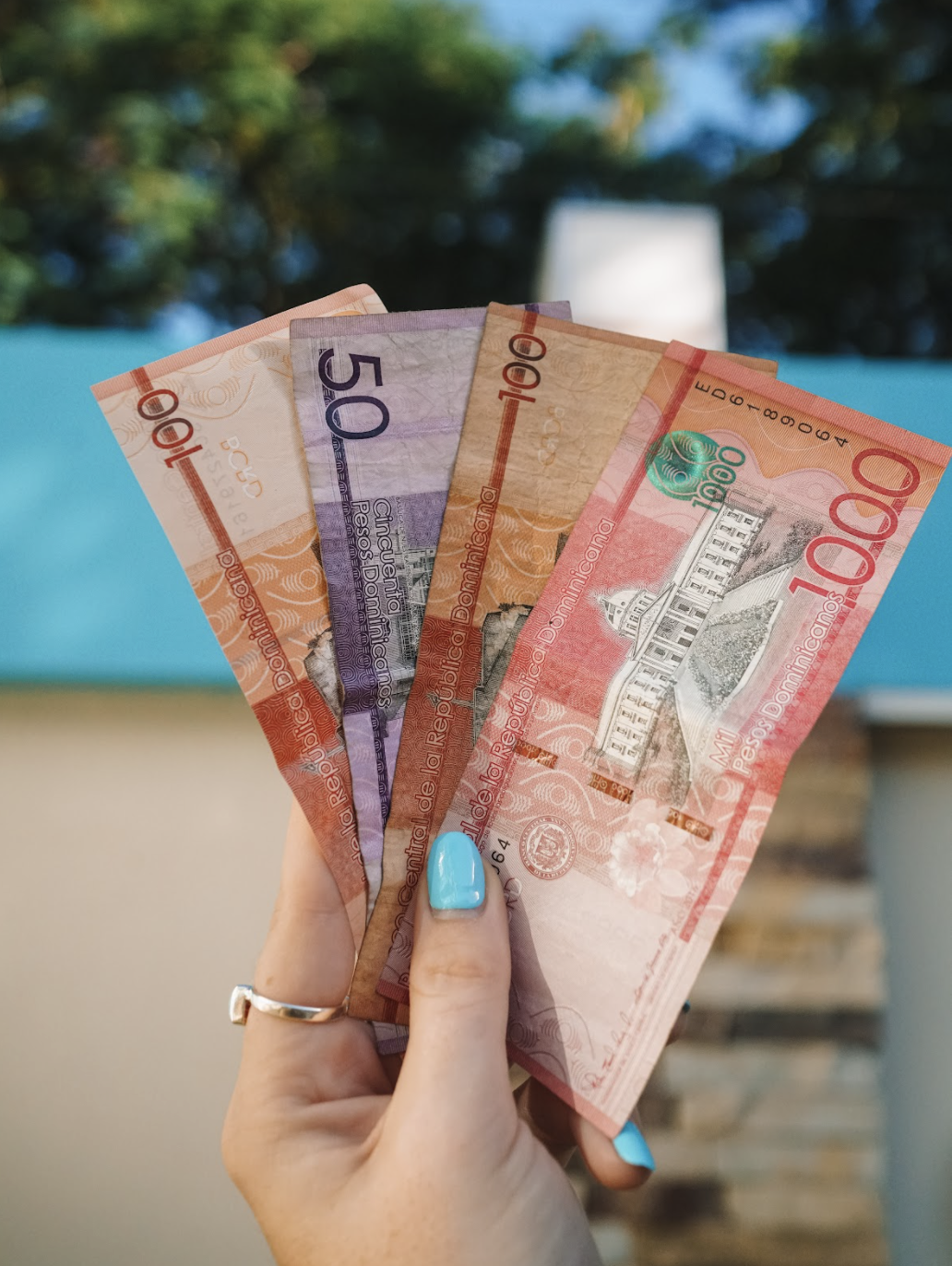 Extra Tips
This trip we've got planned out for you is an all-day excursion. It's perfect for a Saturday (or Sunday) when ILP volunteers have the day off from teaching.
Plan on leaving early in the morning. Your first stop on this itinerary, Laguna Dudu, is around 2.5-3 hours from Puerto Plata or 2 hours from Sosua if you've got a private driver (remember that a gua-gua will take longer).

If you have a driver for the day they can help suggest what time would best to leave. Laguna Dudu opens around 9:00 AM and closes around 5:30 PM.
First Stop — Laguna Dudu
This lagoon is a big favorite if you ask our ILP volunteers. It's one of the most unique experiences on the whole island! And it's probably the biggest reason to come visit this area of the country, so if you're short on time and planning to skip anything from this itinerary, this isn't it.
Locally known as El Laguna Dudu, this is a huge spot for adventurers, thanks to the addition of the biplane that allows you to fly above the insanely blue water before you let go and splash into the pool. But don't worry, if you're not keen on heights, there are stairs to walk down and just enjoy the swim.
What To Expect
When you arrive, you'll pay an entrance fee that will give you access to the entire location. The entrance fee at the time this post was written was 300 Dominican Pesos which roughly translates to a little over $5 USD. They're currently only accepting cash, so be prepared for that!
There are two lagoons that often get missed because they are much smaller, but I recommend checking them out first thing. After you pass the entrance fee area, just head to the left and follow the path to the steep stone stairs that take you down to two lagoons to check them out. You can actually swim in the first one, and the other is just for looking (but oh so pretty for photos!).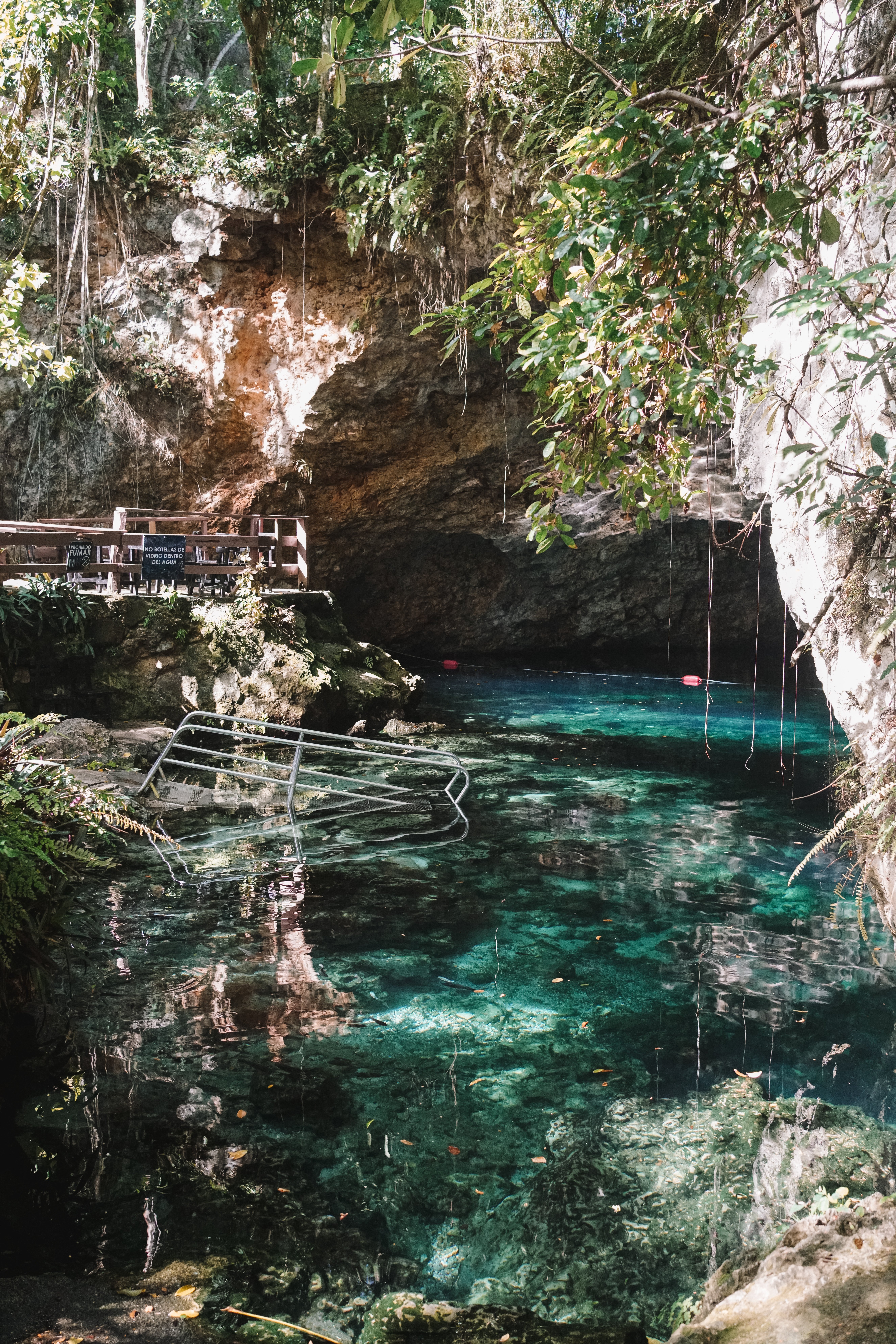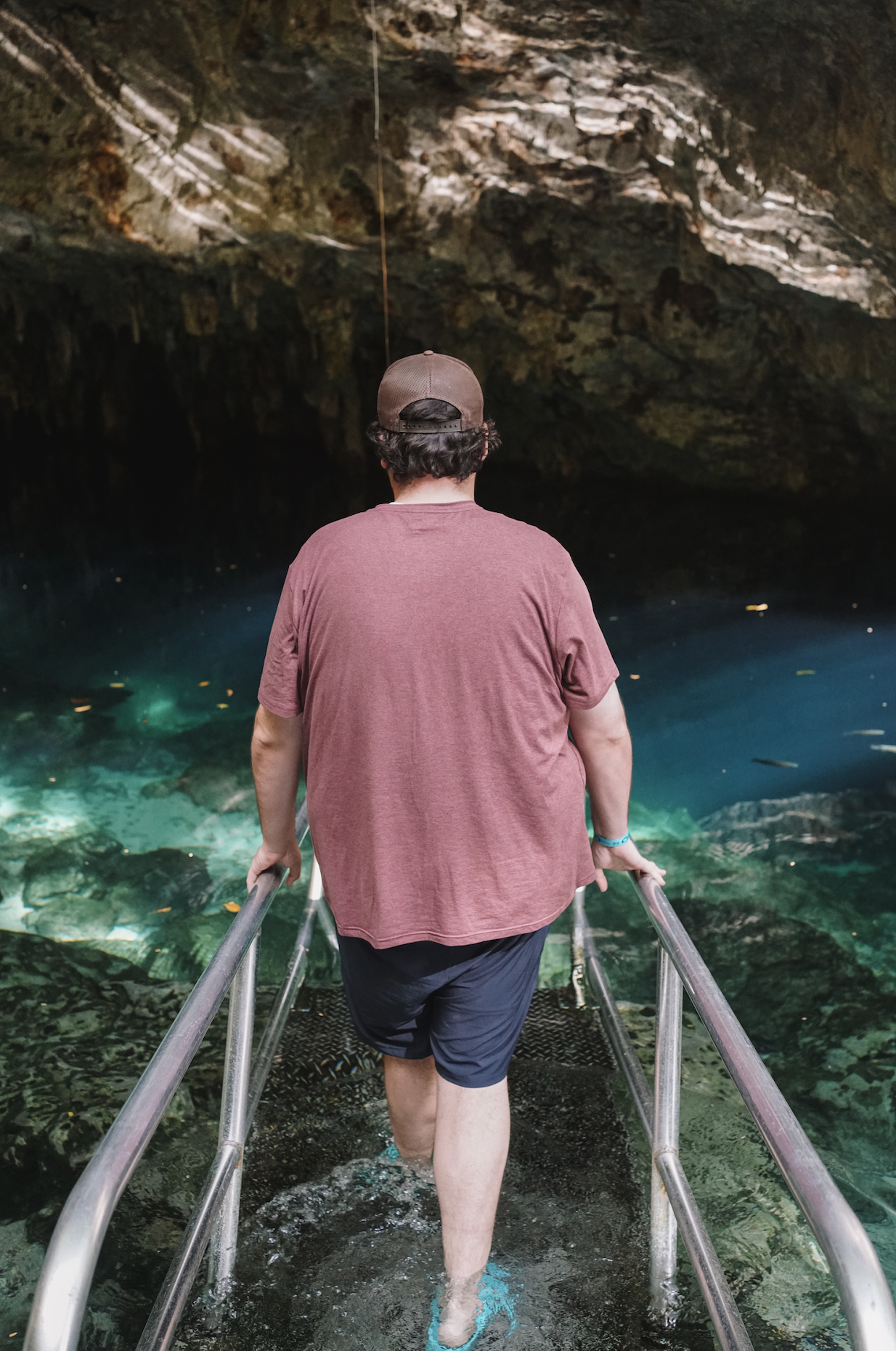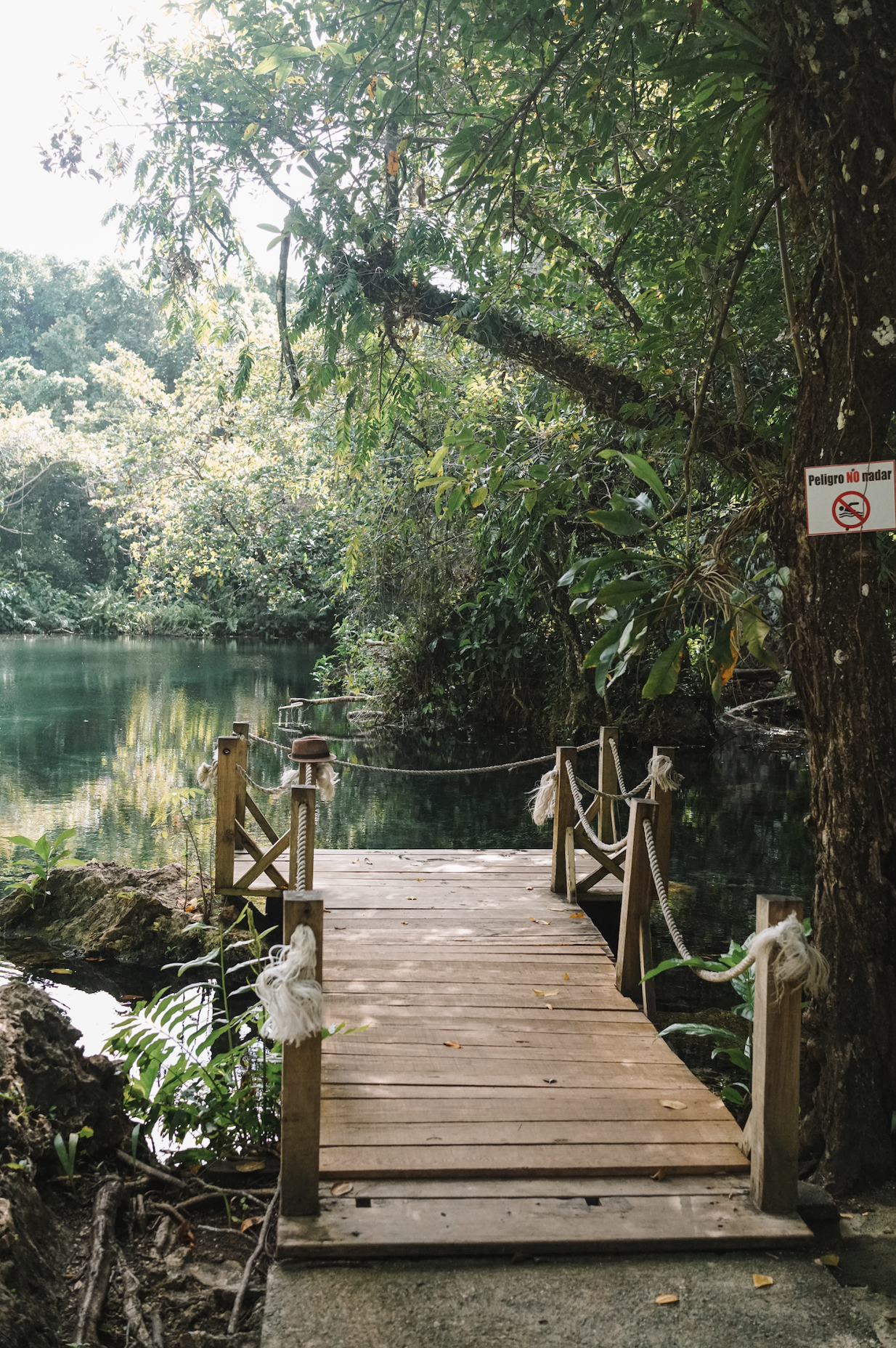 Once you've seen those, head over to the main event — the largest lagoon! It's a pool surrounded on all sides by limestone cliffs and lush jungle branches. Just like the first two lagoons, the water is a striking and deep blue-green color.
The temperature is absolutely perfect for swimming! Sometimes when you're swimming at the coast it's not as refreshing as you'd like because both the water and the air are quite warm, but not here. It's not too cold and not too hot, so get in and enjoy it. As a reminder, you'll arrive at the top of the cliffs (overlooking the lagoon) with a set of stairs nearby that will lead you down to where you can get in and swim. Or you can zipline! More on that below.
The lagoon is 32 meters deep (that's over 100 feet)! It's a little eerie to think about that while you swim, but there are life jackets available if you feel you need one. There's also a dock you can jump off from, but beware! It rocks from side to side so be careful how you step.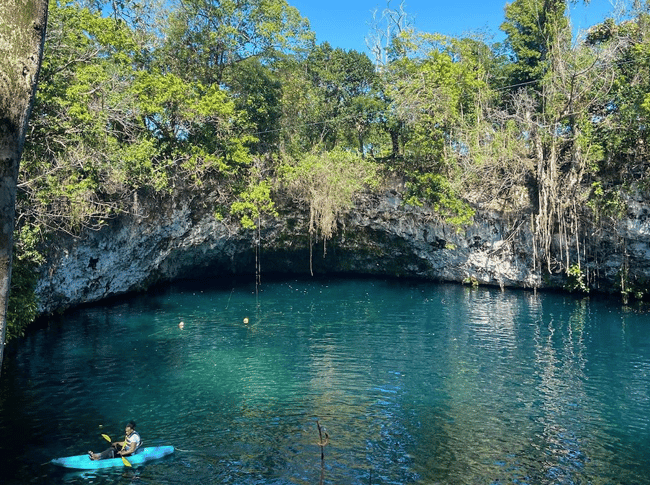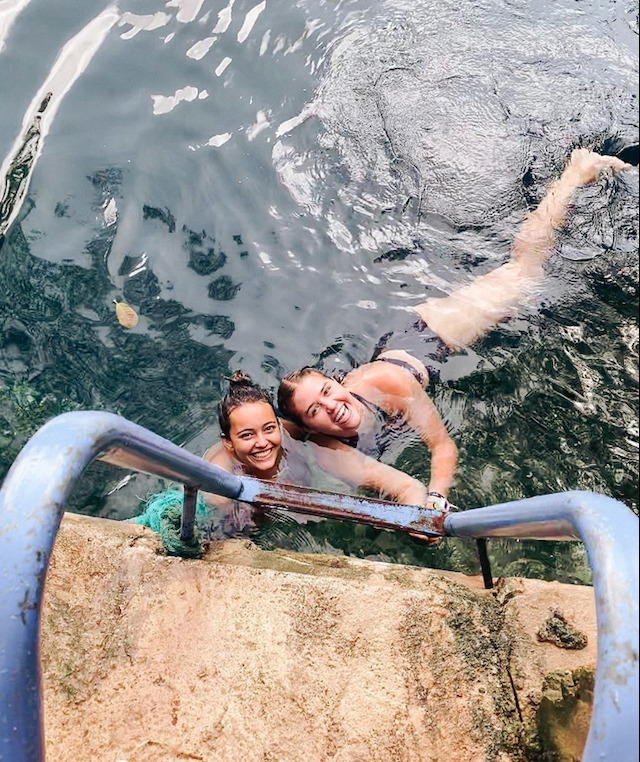 The Zipline
There's also a free-fall zipline at this main lagoon that lets you soar from a platform on the cliff's edge out into the middle of the lagoon. It's quite the rush if you're feeling like a 30 foot drop! There are a couple of platforms (one a bit higher than the other), plus a handlebar off to the side (hanging over the ground) that you can test things out and hang on to get a feel for what it will be like before you go zipping over the water. Once you start soaring, they'll blow a horn when you reach the middle of the lagoon where it's a good spot to let go and drop in.
It does cost 50 pesos (less than $1 USD) each time you do the zipline, so bring a bit of extra cash if you're planning on giving it a try. They'll also equip you with a life jacket and a lifeguard at the bottom, and you'll need to sign a waiver because this is an at-your-own-risk sort of activity.
They don't allow you to take anything like a GoPro on the zipline, so just have your friends take video for you — I recommend having someone filming from the bottom where you drop in and someone at the top so you can get both angles!
A Few Tips
Like we mentioned, bring cash for an entrance fee (300 pesos) plus cash if you want to do the zipline (50 pesos each time).
There aren't lockers here, so only bring in what you need. You could potentially set your things down on the lagoon's edge while you swim (there's a standing area near the dock and the stairs), but know that that's always the scenario when things get stolen — just be careful what you bring in. That's why we like the waterproof phone cases because you can carry your phone with you (with a strap on your wrist so you don't drop it) and there's usually even leftover room for a bit of cash. Personally, I've used this phone pouch for years and it has come in handy so many times (and has thousands of great reviews). That is an affiliate link, but know that we only share products that we truly love!
There is a restaurant on-site and a sign at the front asking you to not bring in any food or drink. If you're hungry though (and following my suggested itinerary), I'd recommend waiting to have lunch on the beach!
About 2-3 hours is a good amount of time to set aside to see and do all you want here at Laguna Dudu. There's also sand volleyball if you're feeling up to a match with your friends.
I recommend this being your first stop because it's the farthest spot from Puerto Plata, and it's the most adventurous. It's nice to just have more chill spots to stop at once you're headed back towards the Puerto Plata area.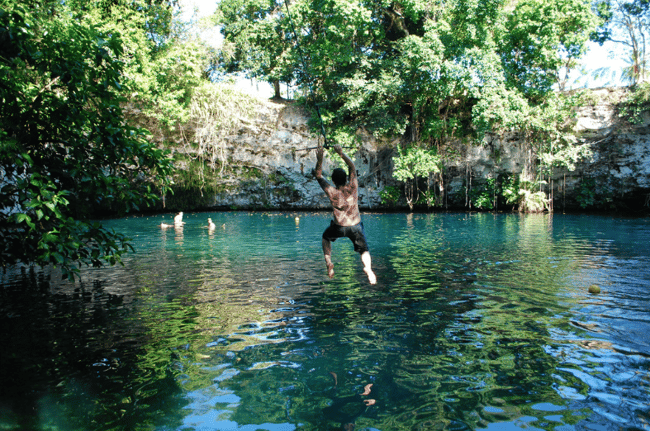 Next Stop — The Beach
You're going to drive right by a handful of absolutely stunning beaches and it would be a tragedy not to stop! This area is a little further from major tourist hubs (remember, you're a few hours from both Puerto Plata and Samana), so they tend to be a little more low-key.
These beaches aren't off the beaten path and they're not hidden gems by any means . . . they just tend to have fewer crowds because of where they're located. A gorgeous beach with less people? Sign me up!
There are a few key spots between the two biggest towns in this area: Rio San Juan and Cabrera. You may only have time to make it to one or two of these beaches, so let's talk about the differences to help you decide which ones you want to see. They're also all located right off the same highway that you'll be taking to get back west to Puerto Plata, so they're all very easy stops.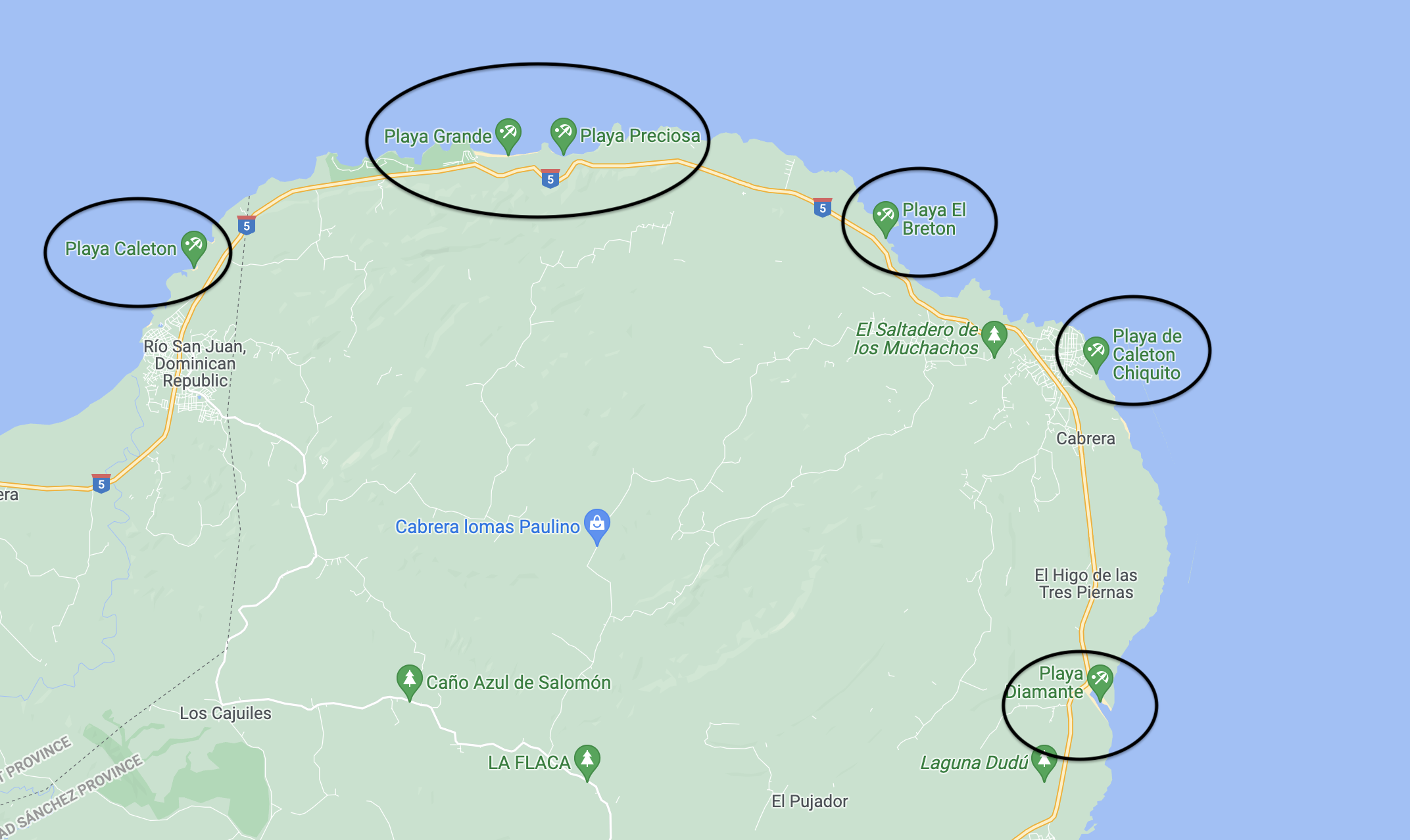 Playa Diamante
This beach is right outside of Laguna Dudu and a really unique spot. There's a long inlet that creates a shallow and narrow bay. You can wade out in the water for quite a ways, and there are minimal waves because of the protection from the cove. There are typically a couple of restaurants here, but that's about as far as facilities go.
The drone footage on this little promo video will show you exactly what I'm talking about with the long cove!
Playa de Caleton Chiquito
Not to be confused with one of the most popular beaches nearby, Playa Caleton. This is a quieter but sandy, beautiful beach you could come enjoy and is just outside of the town of Cabrera — good to know if you'd like to stay longer and snag an Airbnb in Cabrera to make this a weekend trip instead of a day trip.
Playa el Breton
Another small and quiet cove. You usually won't find facilities or shops here, aside from a snack vendor or two which means usually the least crowds . . . but that's the appeal of it! The waves are minimal here, which makes it a great swimming spot. The small cove is backed by a thick jungle forest, a protected area known as the Cabo Francés Viejo Natural Reserve — it's small at just 5 square km, but absolutely beautiful. There's an opportunity for a bit of hiking if you're up for that. Paradise.
Playa Grande + Playa Preciosa + Playa Caleton
We saved the three most well-known beaches for last, all sitting just outside of the town of Rio San Juan.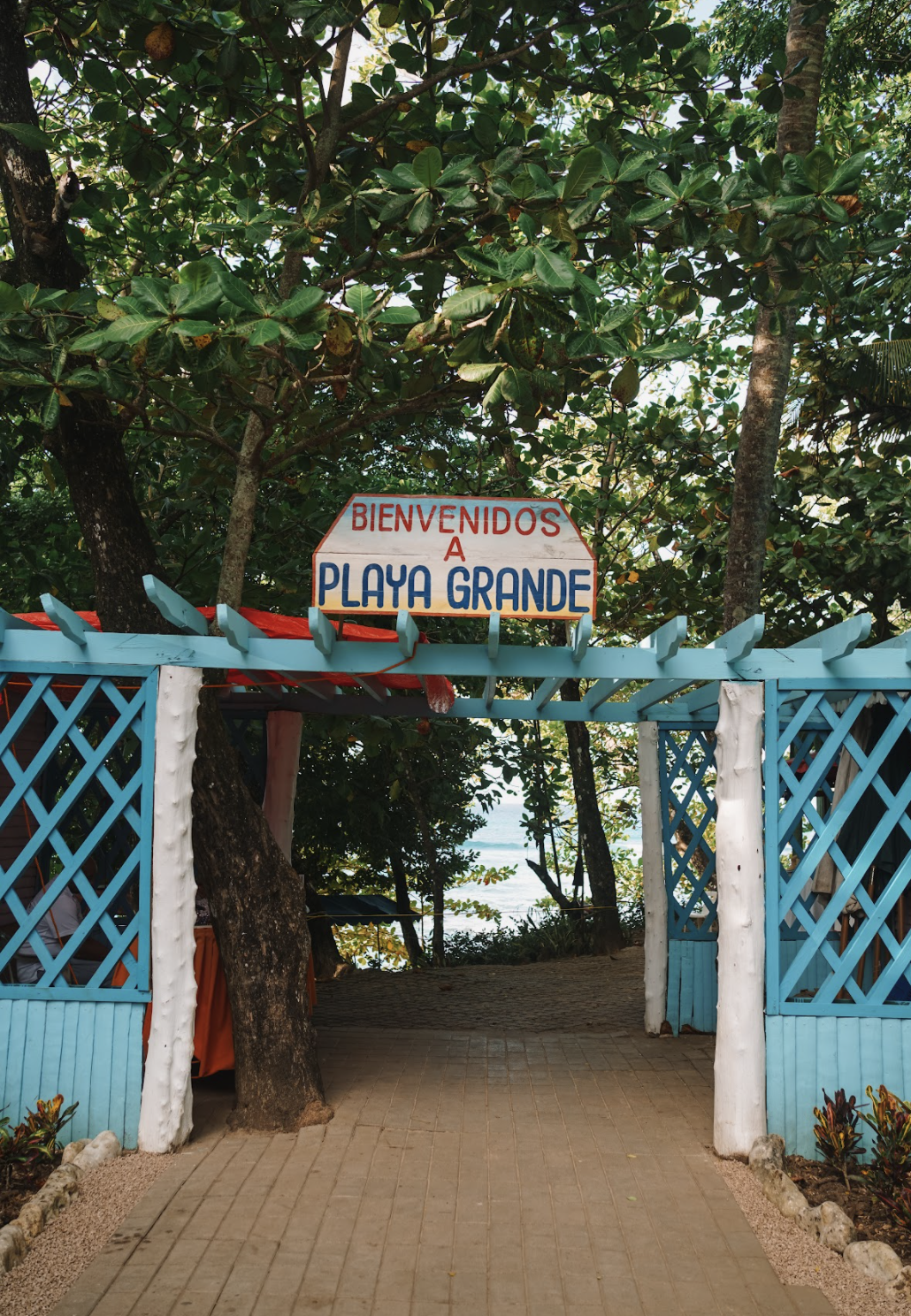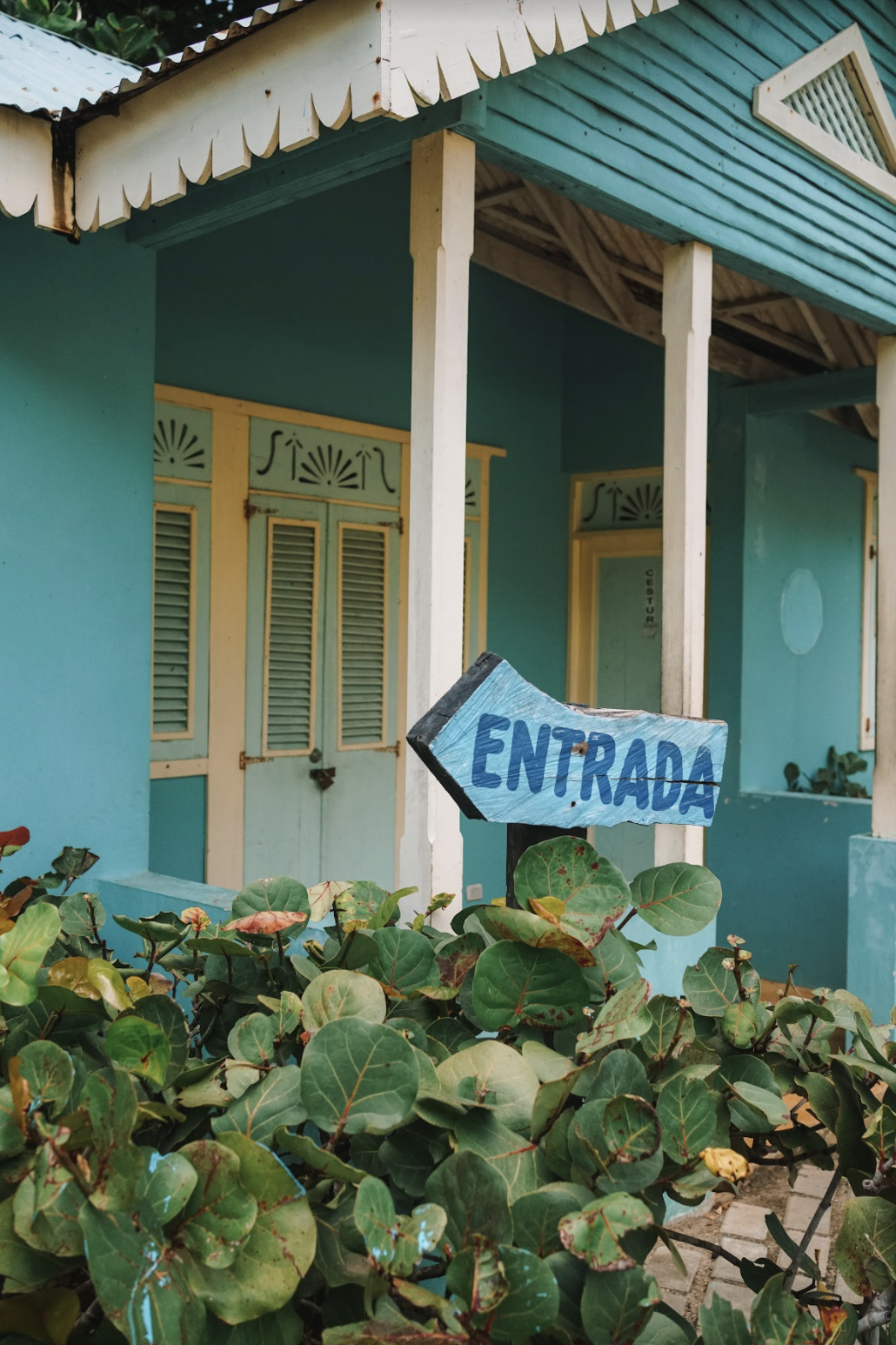 Playa Grande is actually one of my personal favorites. Compared to any other beach I've been to in the Dominican, it was my number one pick! I honestly think it's even better than some of the proclaimed "best" beaches in the DR. So if you're asking my opinion on which beach, I'd send you here.
I love that it's pretty low-key (I wasn't bombarded with people trying to sell me things while I enjoyed the beach) and the sand was oh, so soft.
At certain times of the year, the waves can get big enough to be a surfer's beach, typically during the winter and spring time. I was here at the beginning of November and the waves were still perfect for swimming — big enough to feel like a wave pool but small enough to enjoy. Of course the waves can depend on the time of year, but the majority of the time it is a great beach for swimming and boogie boarding.
There are restaurants and spots to sit and eat on the beach, so if you're following my itinerary this would be stop #2 — come and enjoy lunch with a view before you swim in the waves!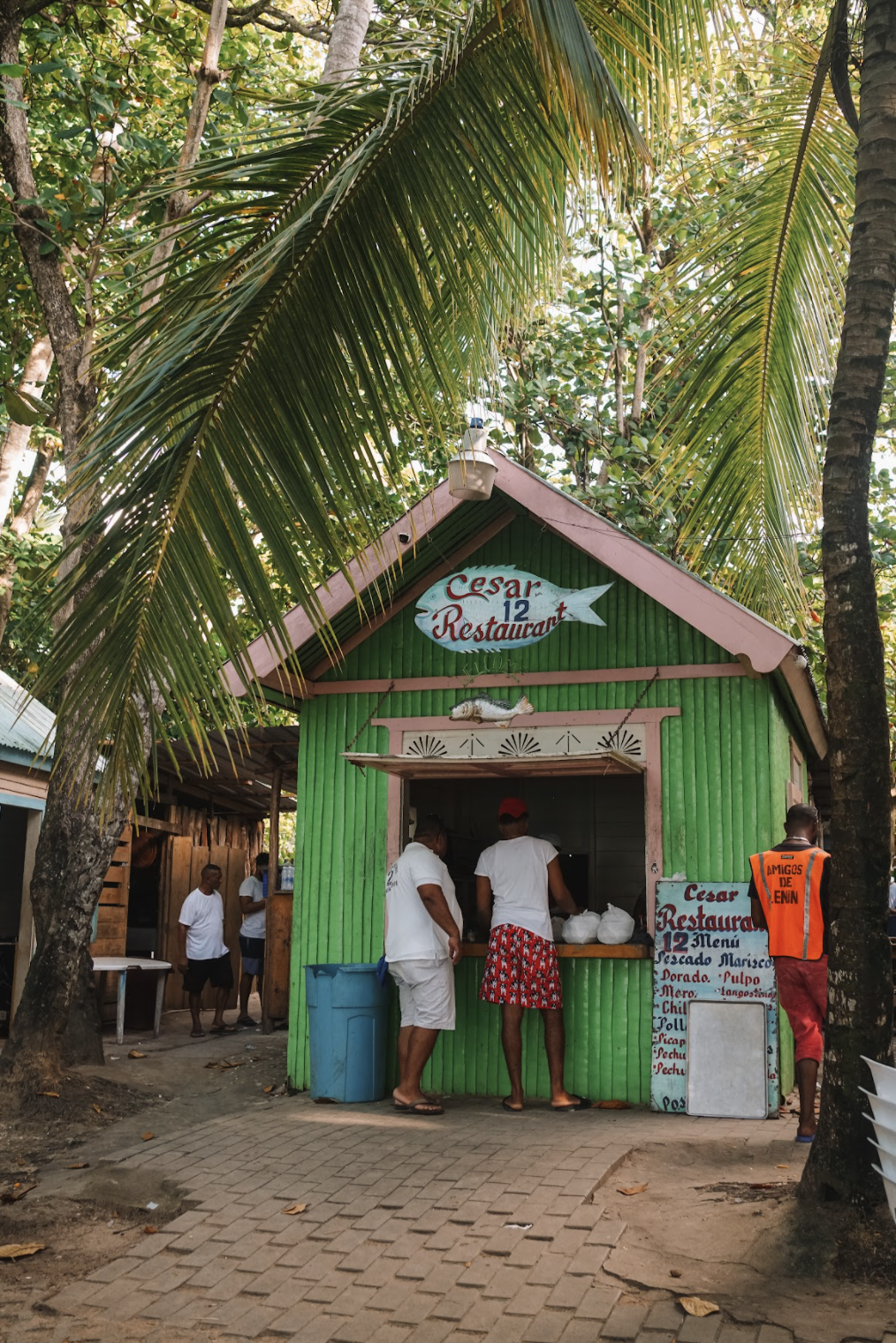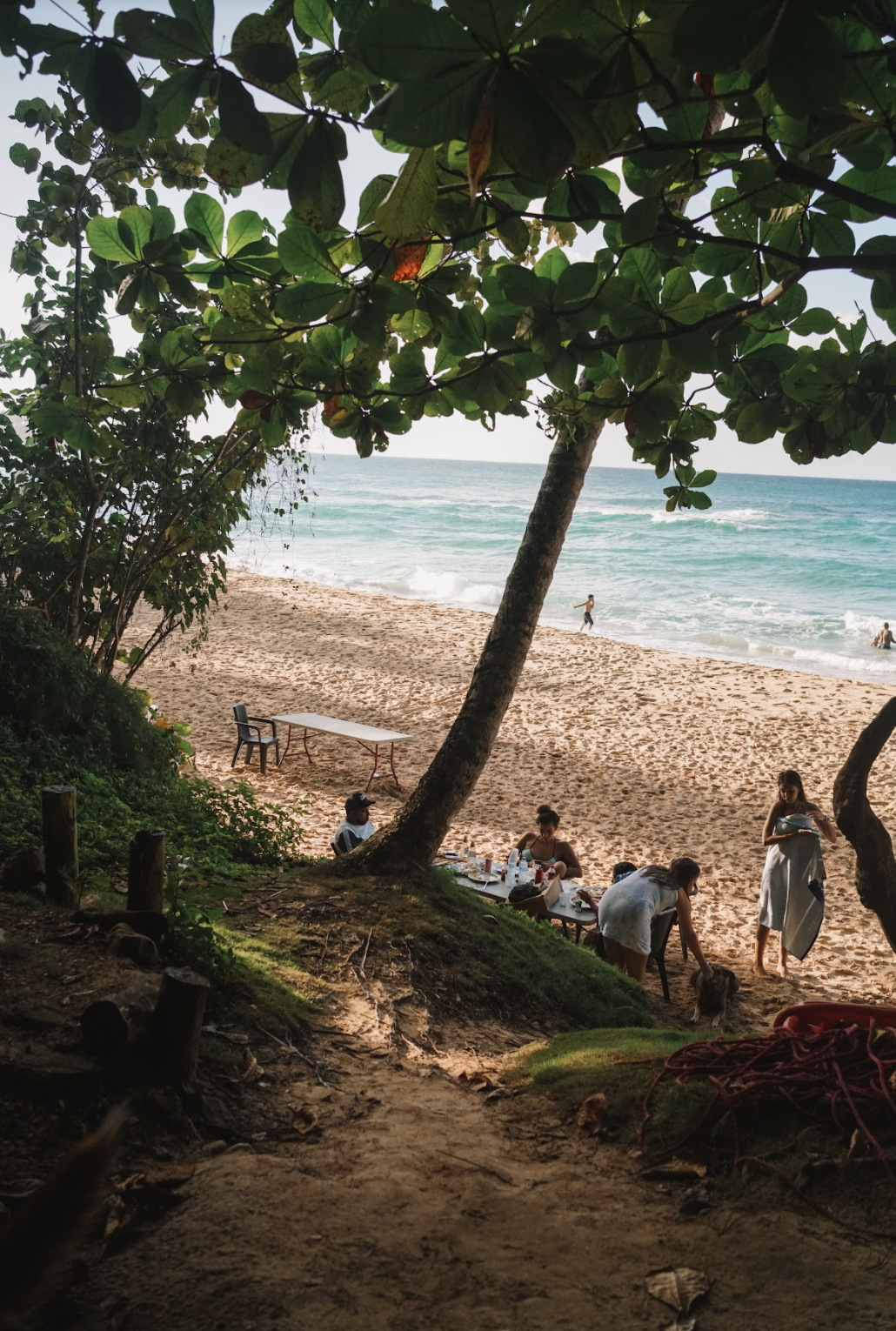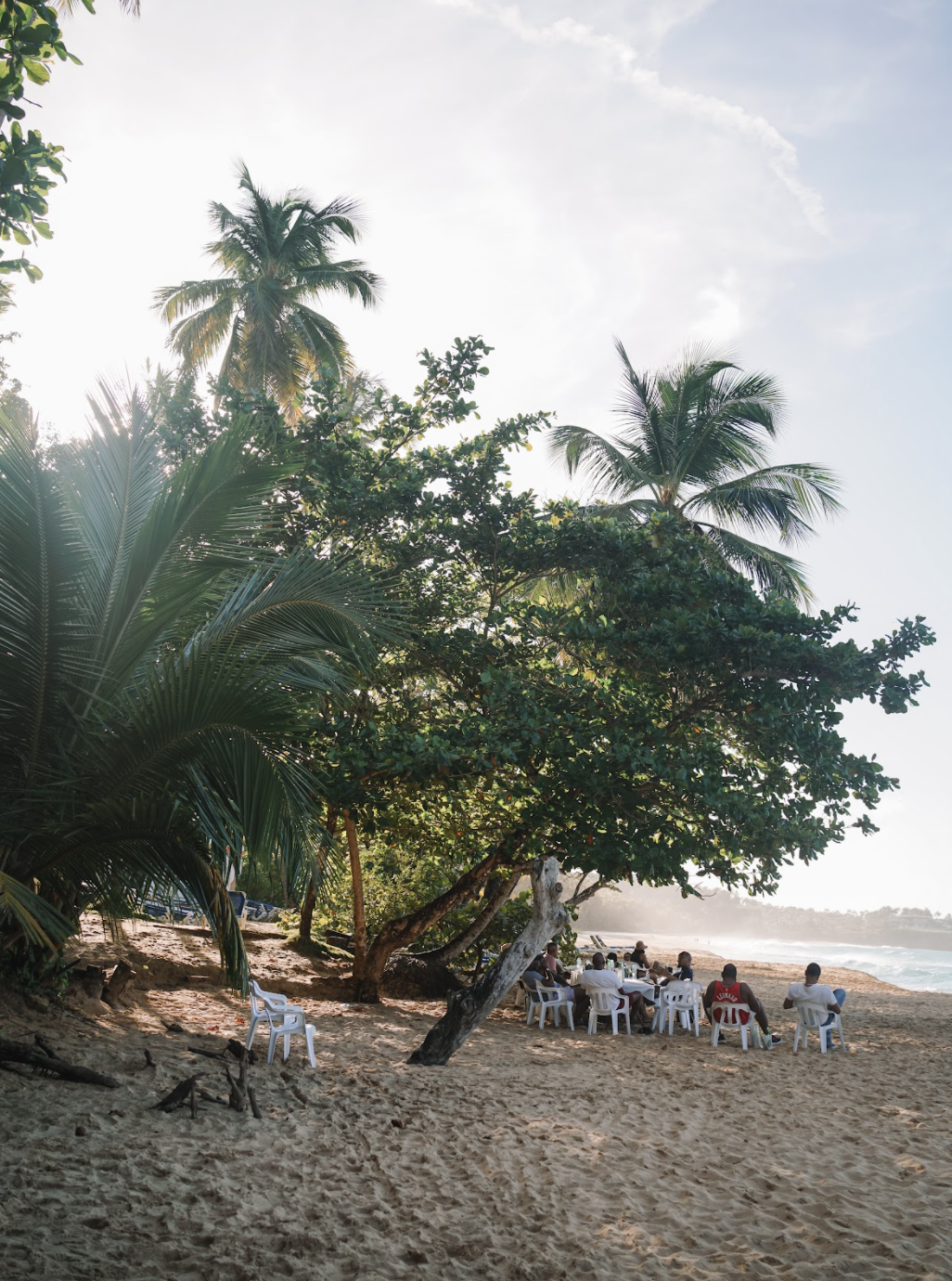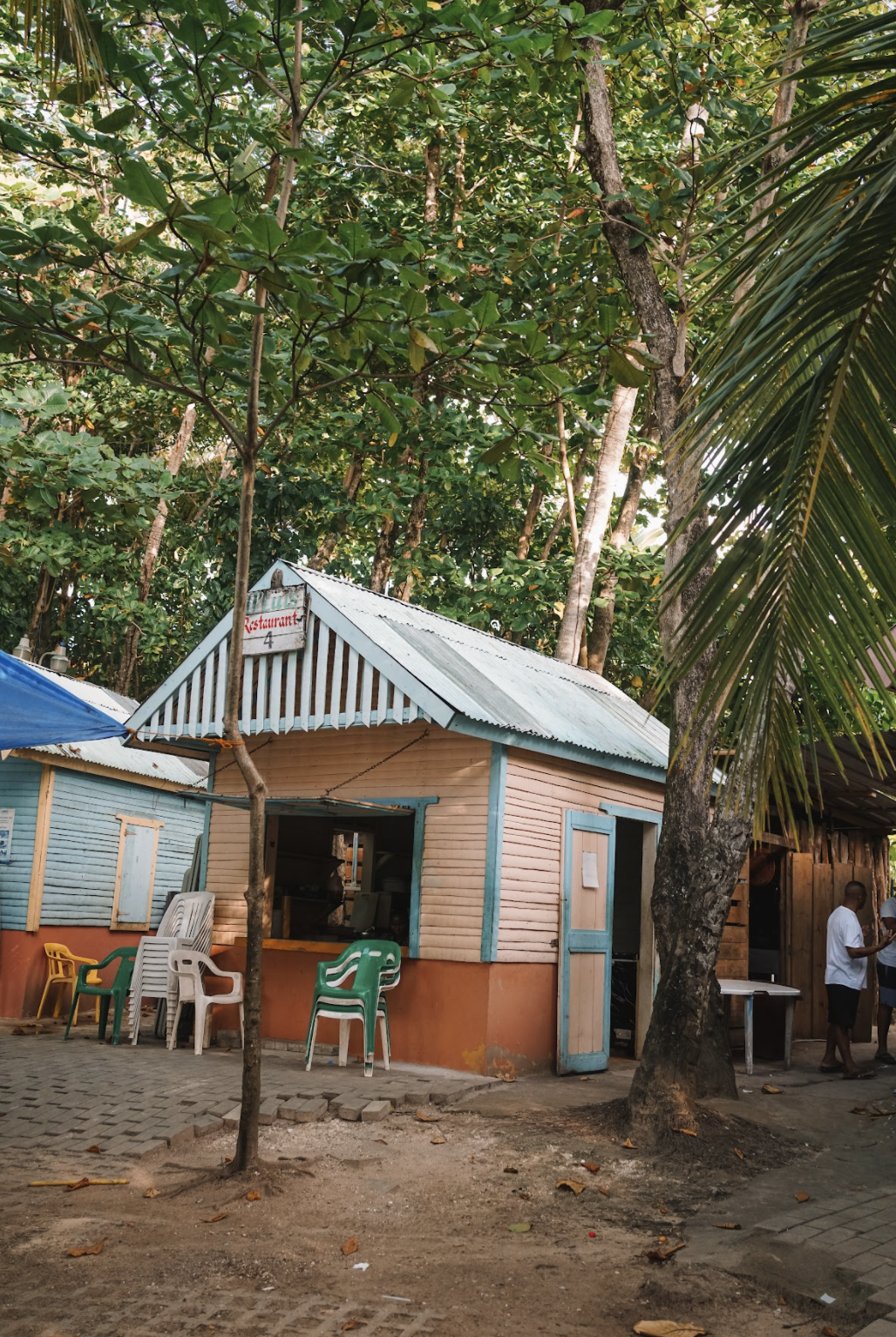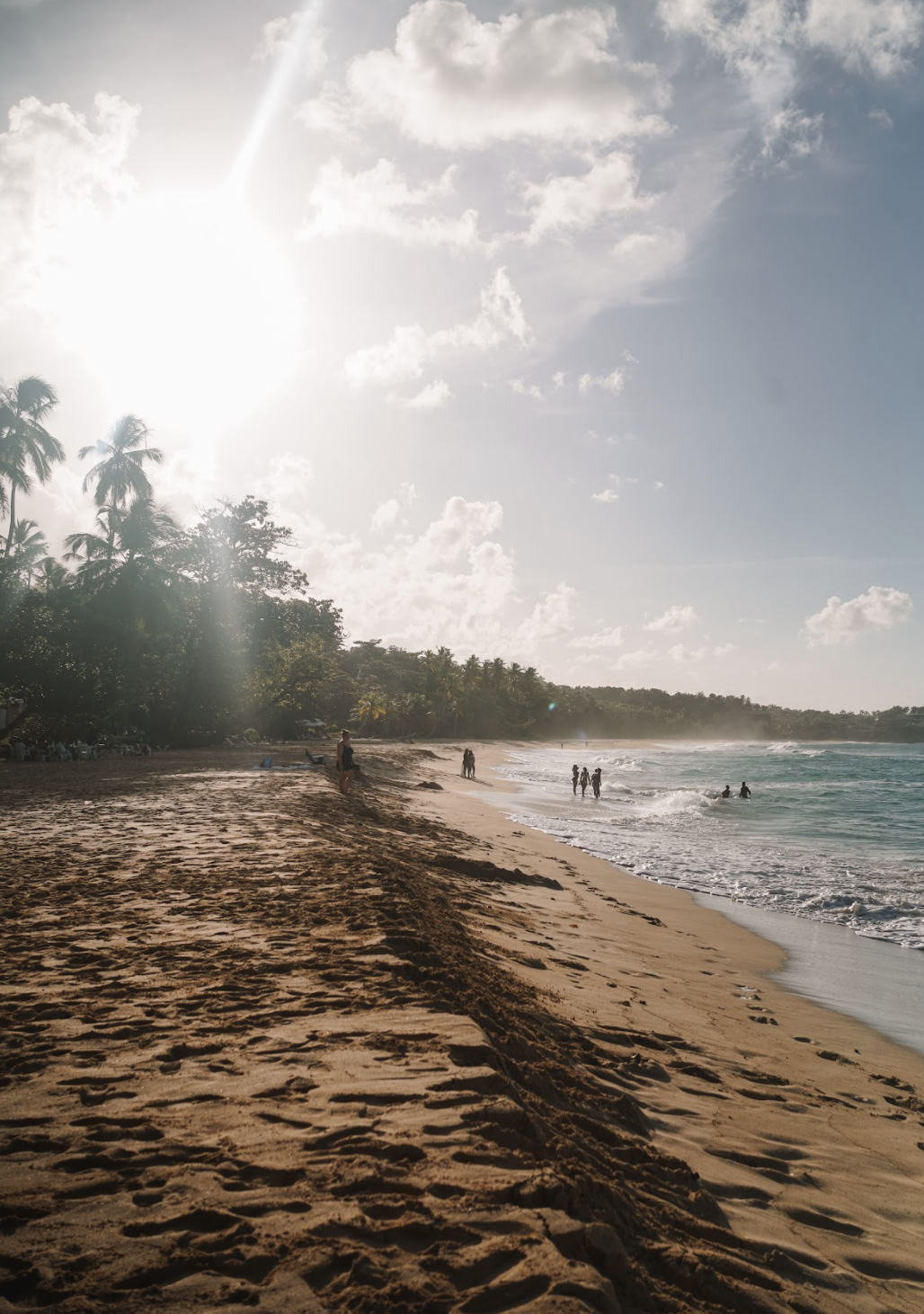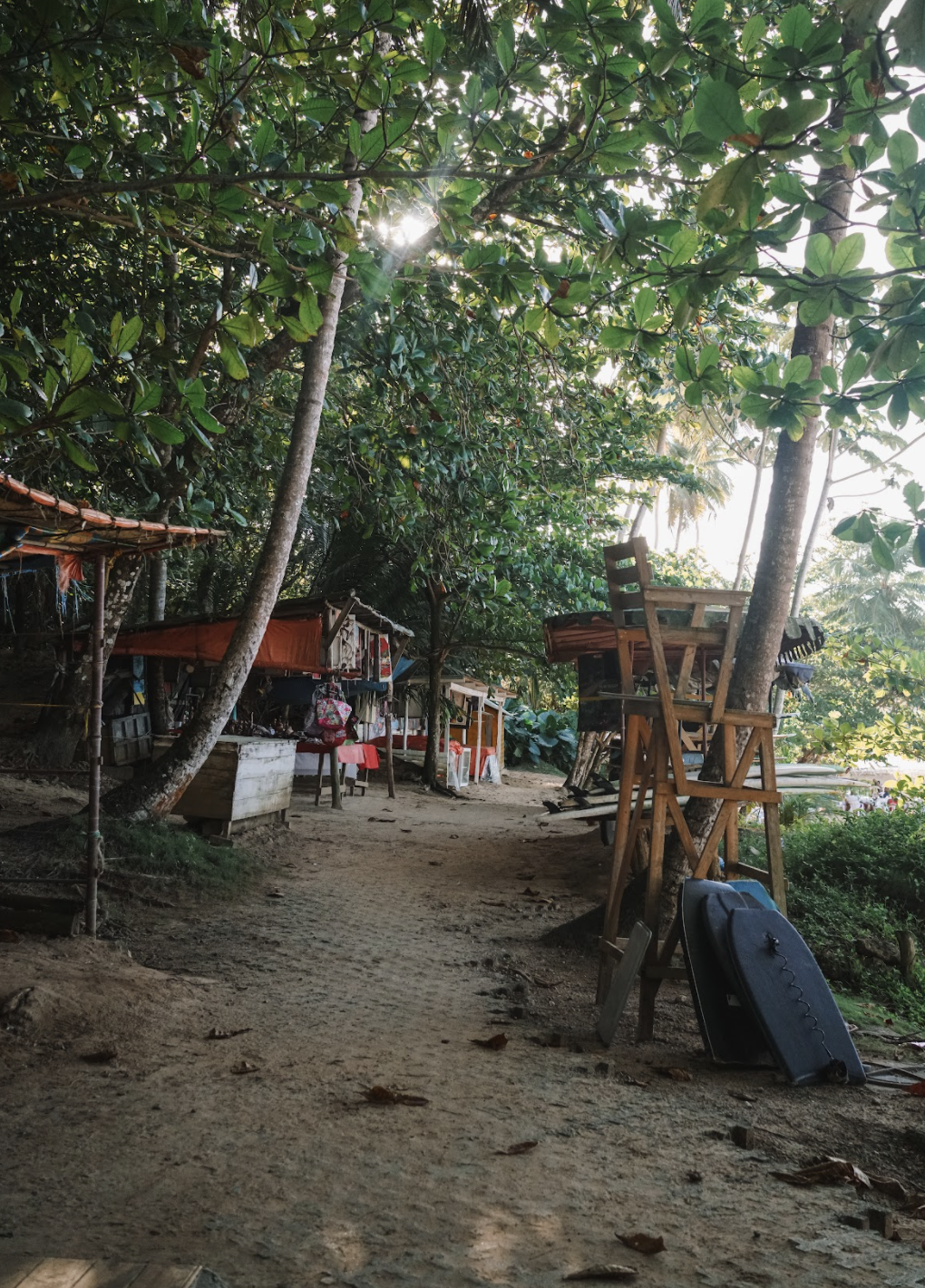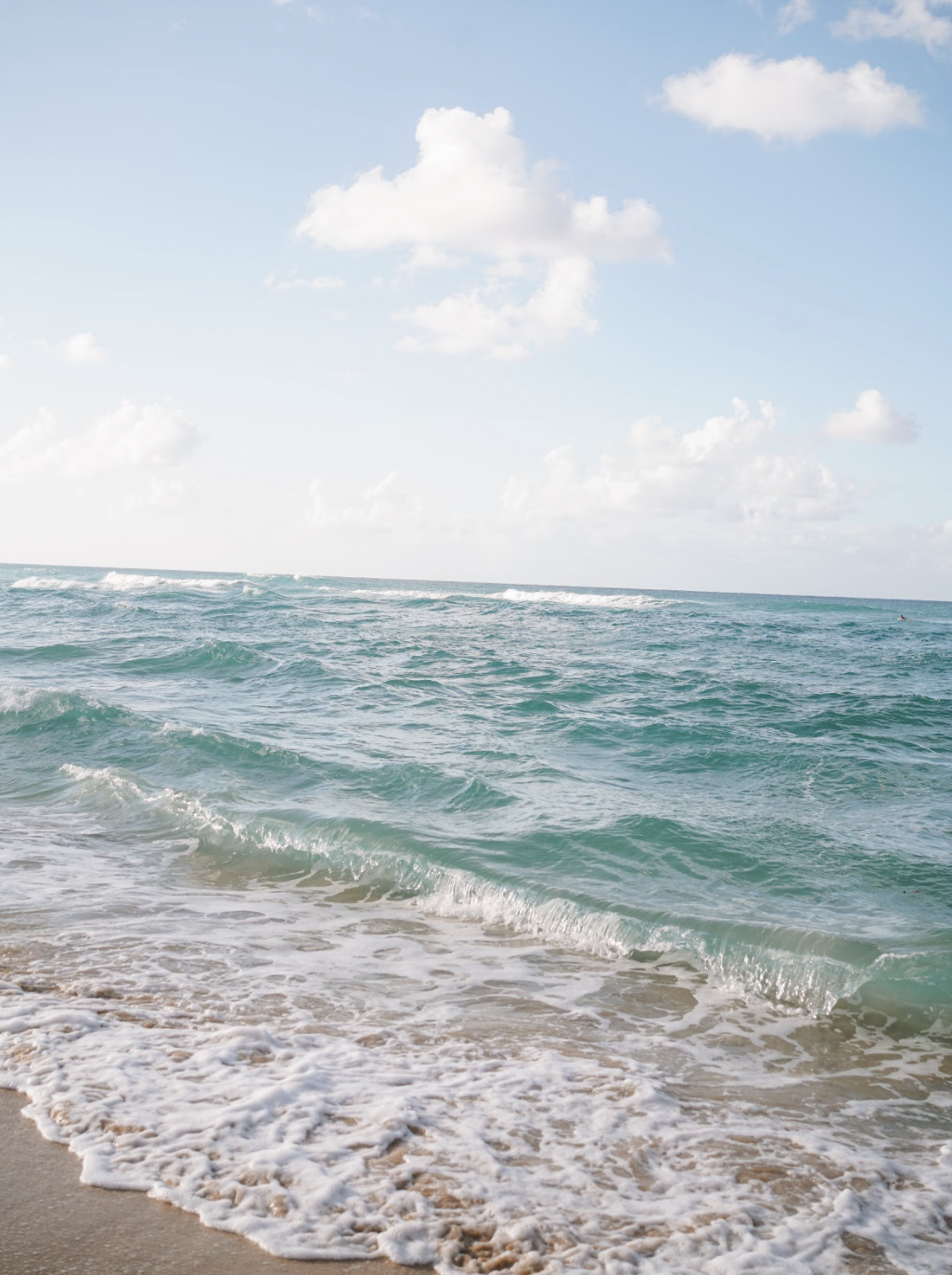 When you first enter Playa Grande there are several souvenir shops set up. A lot of times I pass right on by, but I took a second glance here and ended up making some purchases! Larimar jewelry is sold all over the island — it's a stone unique to the DR and so popular here — but some rings are better quality than others. The shops here had a huge selection of everything from rings to necklaces and I fell in love with so many. If you're on the hunt for a good ring, this is a good spot to check out.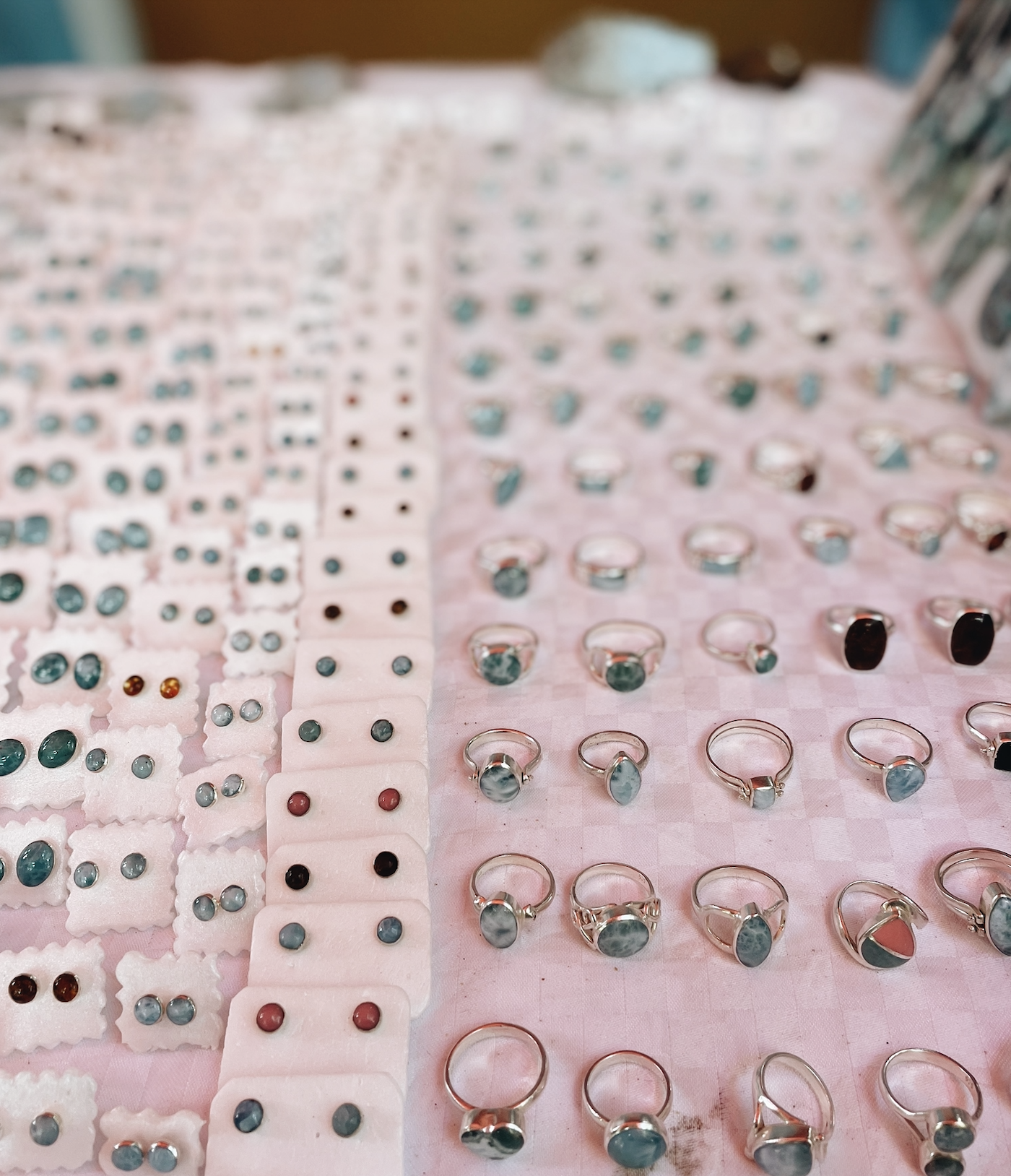 Playa Preciosa is a smaller stretch of sand just next to Playa Grande, just separated by a rock-and-jungle-filled piece of land that juts out past the two coves. You can actually walk to get there — there's a path that leads between the two. It takes a few quick minutes to walk there: look for the path that should be in front of the bathrooms towards the entrance on the right side of the beach, or just ask someone there to point you in the right direction.
You do have to be careful with Playa Preciosa (and even Playa Grande) at certain times of the year. During the surfing season (winter and spring) the waves can pound the beach with a very strong undertow. And at high tide, the beach is entirely covered. Locals have a better feel for when it's a good time to visit Preciosa, so just be cautious if you're coming over to check it out. I will say it holds its own when compared to its sister beach, Playa Grande! Both are what beach dreams are made of.
This quick Youtube video has some drone footage to show you what the two beaches look like!
Playa Caleton
This is probably the most frequented beach around this stretch of coastline. Similar to the others, it's a long stretch of sandy beach backed by a thick, green jungle. There is a tour in the area to see Gri Gri Lagoon (more on that below) and often those tours include a stop at Playa Caleton, so there are typically small groups arriving from that. There are some rave reviews of this beach online, especially for families, so consider it another nice spot to spend the afternoon.
Final Stop — The Cacao Farm
Now that you've soared over Laguna Dudu and enjoyed the waves at the beach, it's time to head back home for the day. But there's one last (quick) stop along the way that I highly recommend.
There are families in the area that have plantations, growing all kinds of fruits and specializing in cacao. They allow you to come in, have a little tour, see how everything is made, and even let you taste what's currently in season. It's such a fun tour and a great way to support a local, family-owned business. It can be a little tricky to find because it's located just off the road and there isn't a big sign for it that's noticeable. This might be harder to find if you're taking a gua-gua, but if you've hired a driver for the day they typically all suggest stopping here.
The cost is 50 pesos per person for the tour and they also have cacao for sale if you want to take some home with you. It's so good on bananas! They also really appreciate tips — remember this is a local family that's essentially inviting you into their home (it's not a big operation).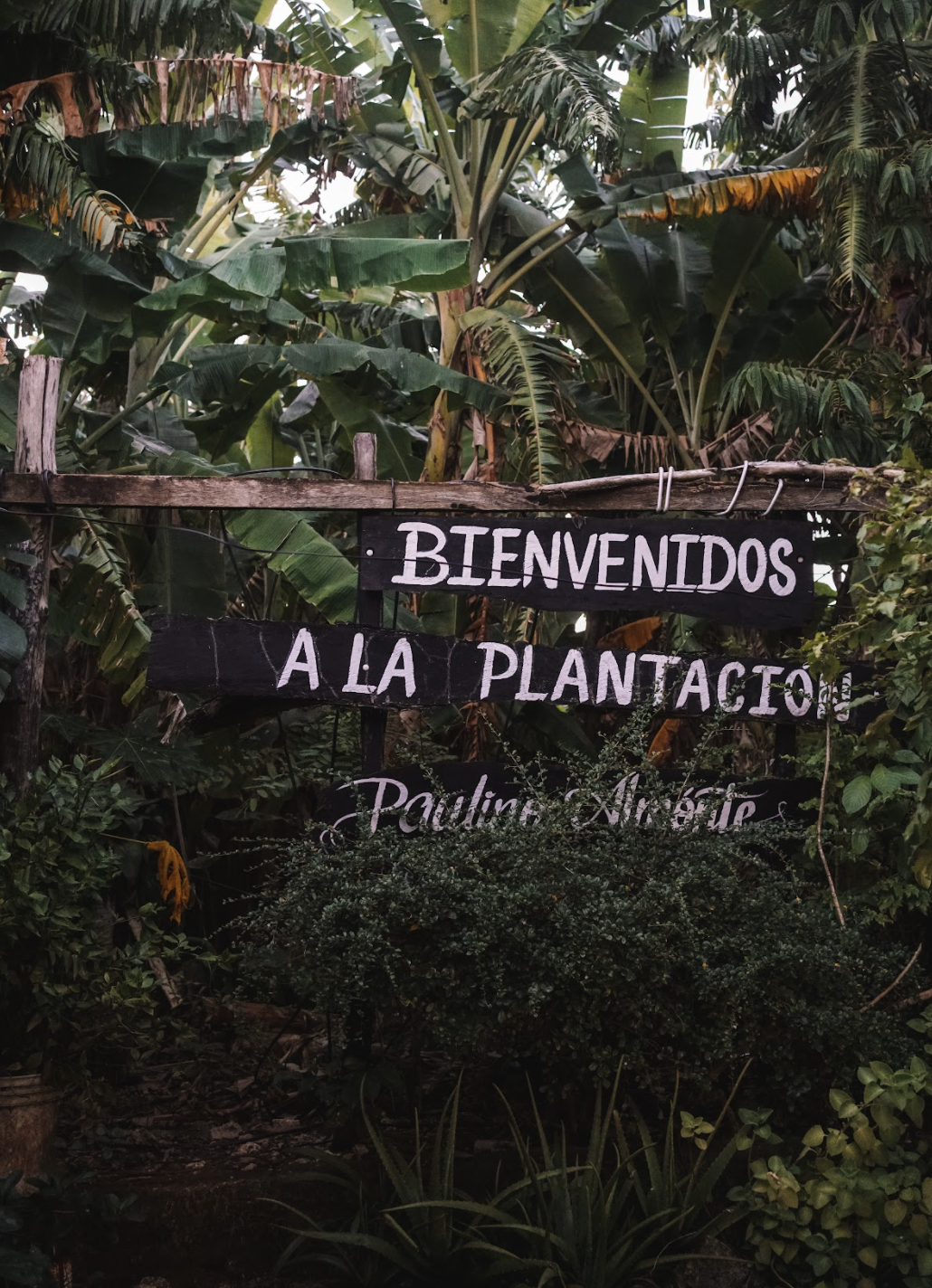 As part of the tour, they showed us their cacao beans: everything from the fruit that they originally come from, to the beans that have been baked and crushed into a powder.
Can you believe this fruit is how chocolate starts?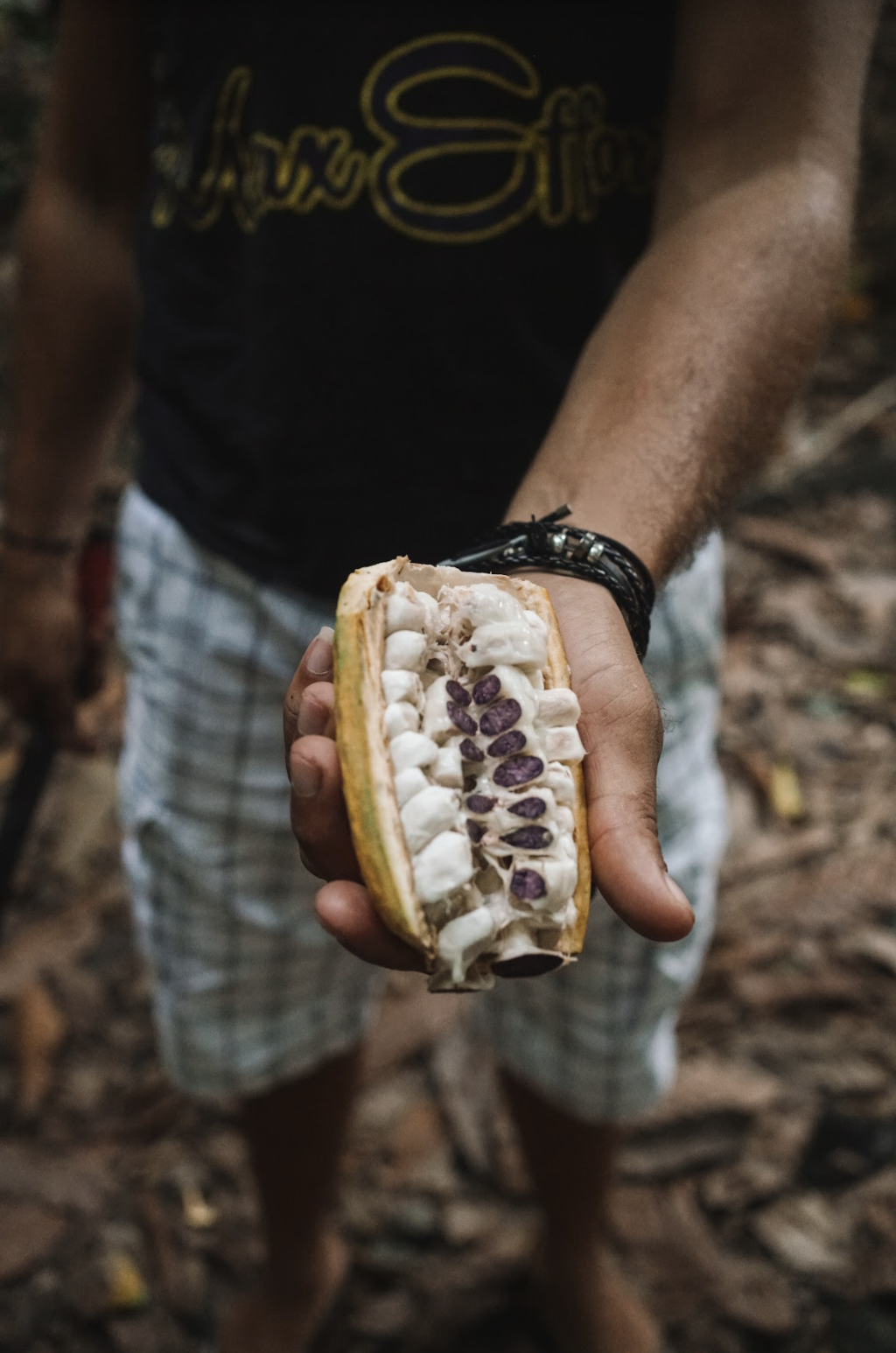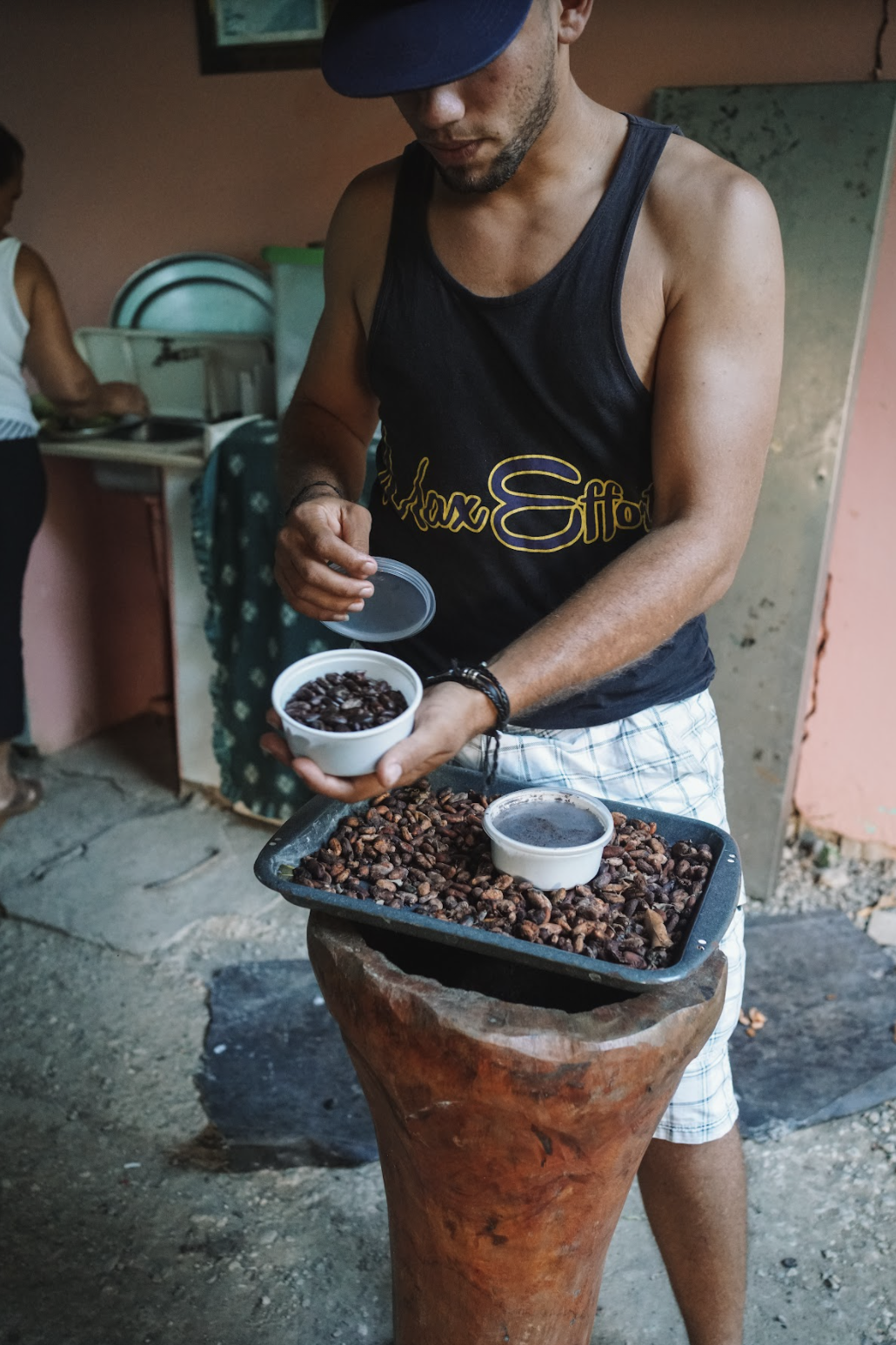 We also got to taste test so many things — bananas covered in sugared cacao, pineapple dipped in their fresh honey (also harvested at the plantation), coconut milk, guava, star fruit, passion fruit, sugar cane, mandarin . . . you name it. If it's in season, you get to taste it.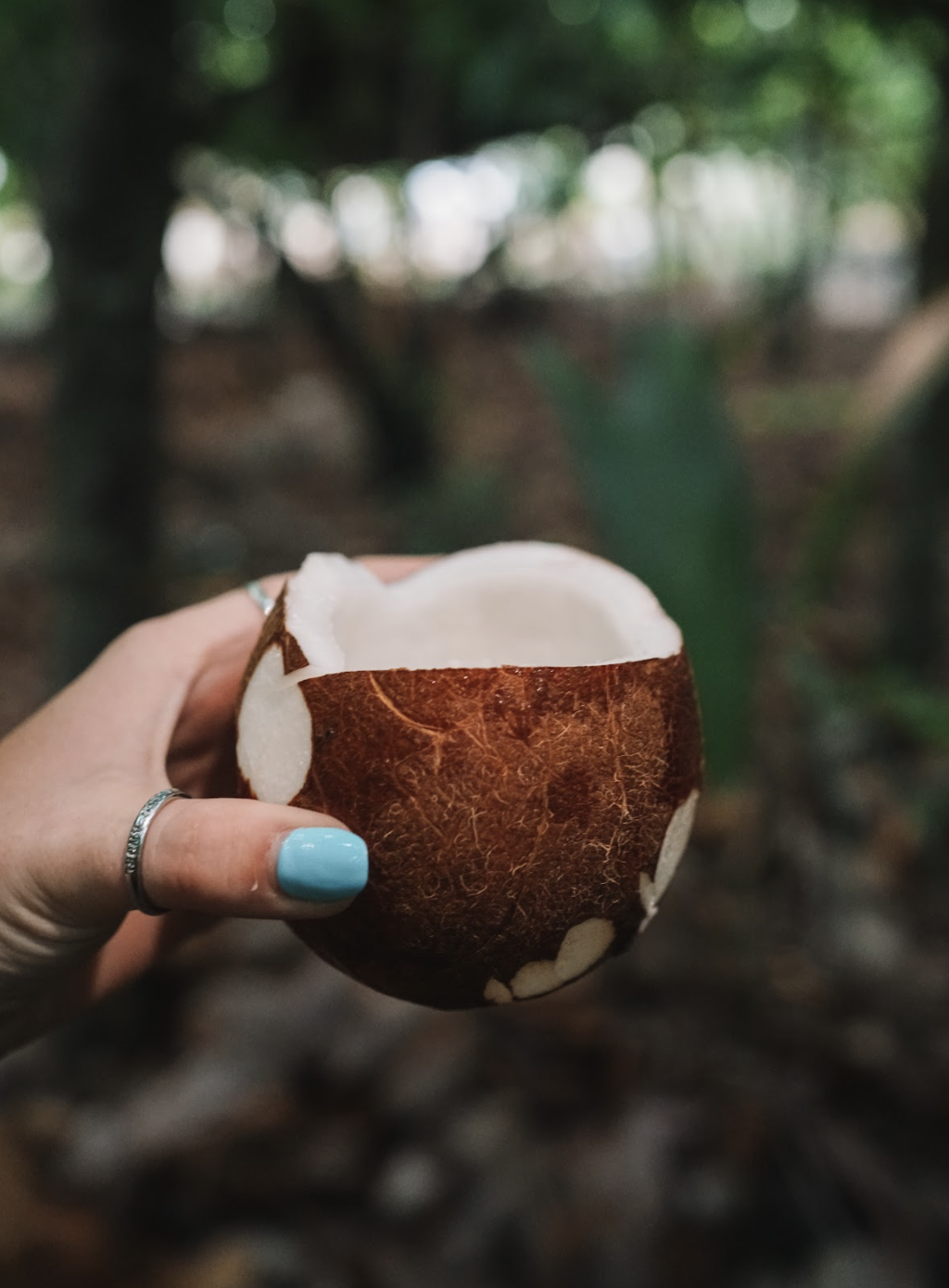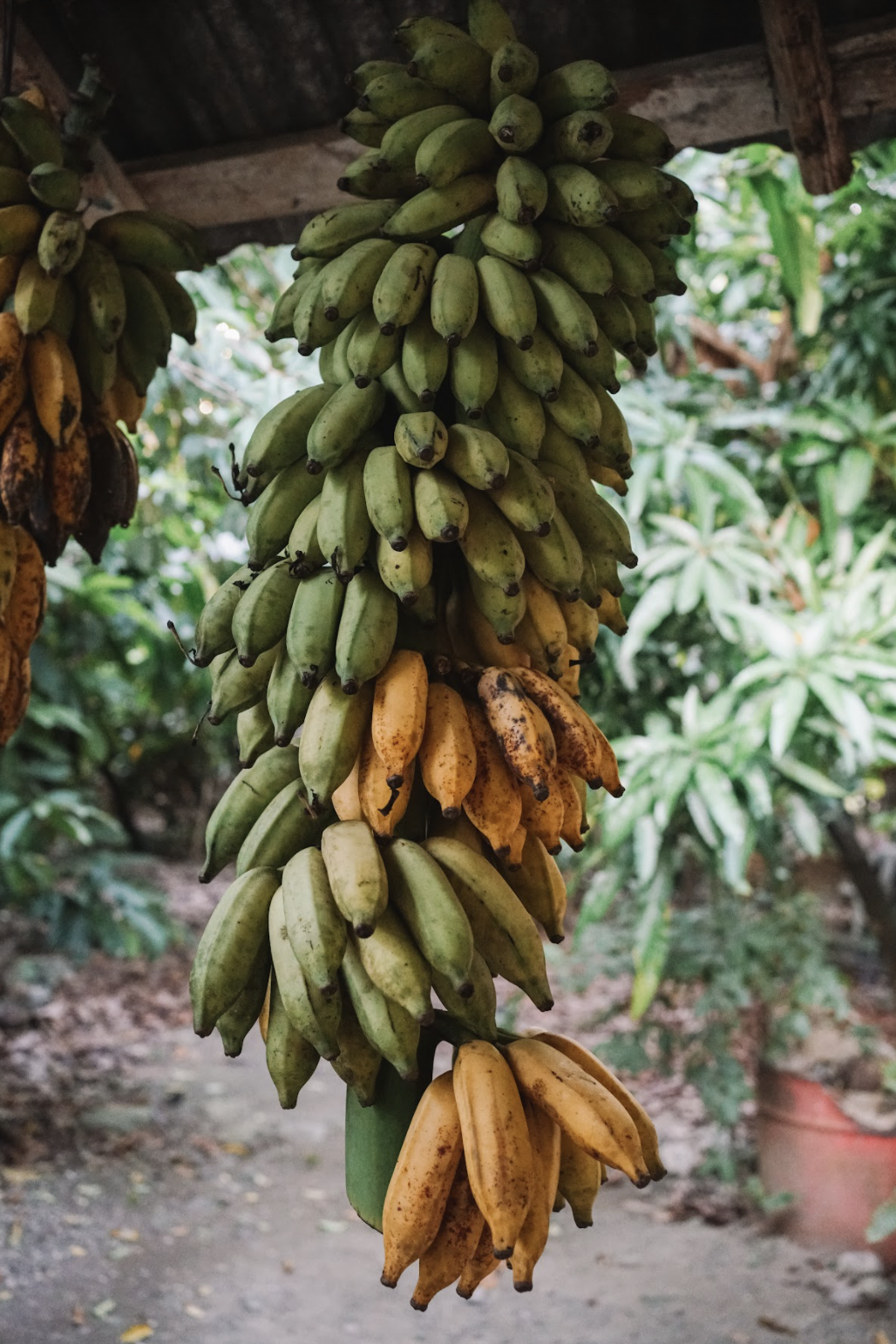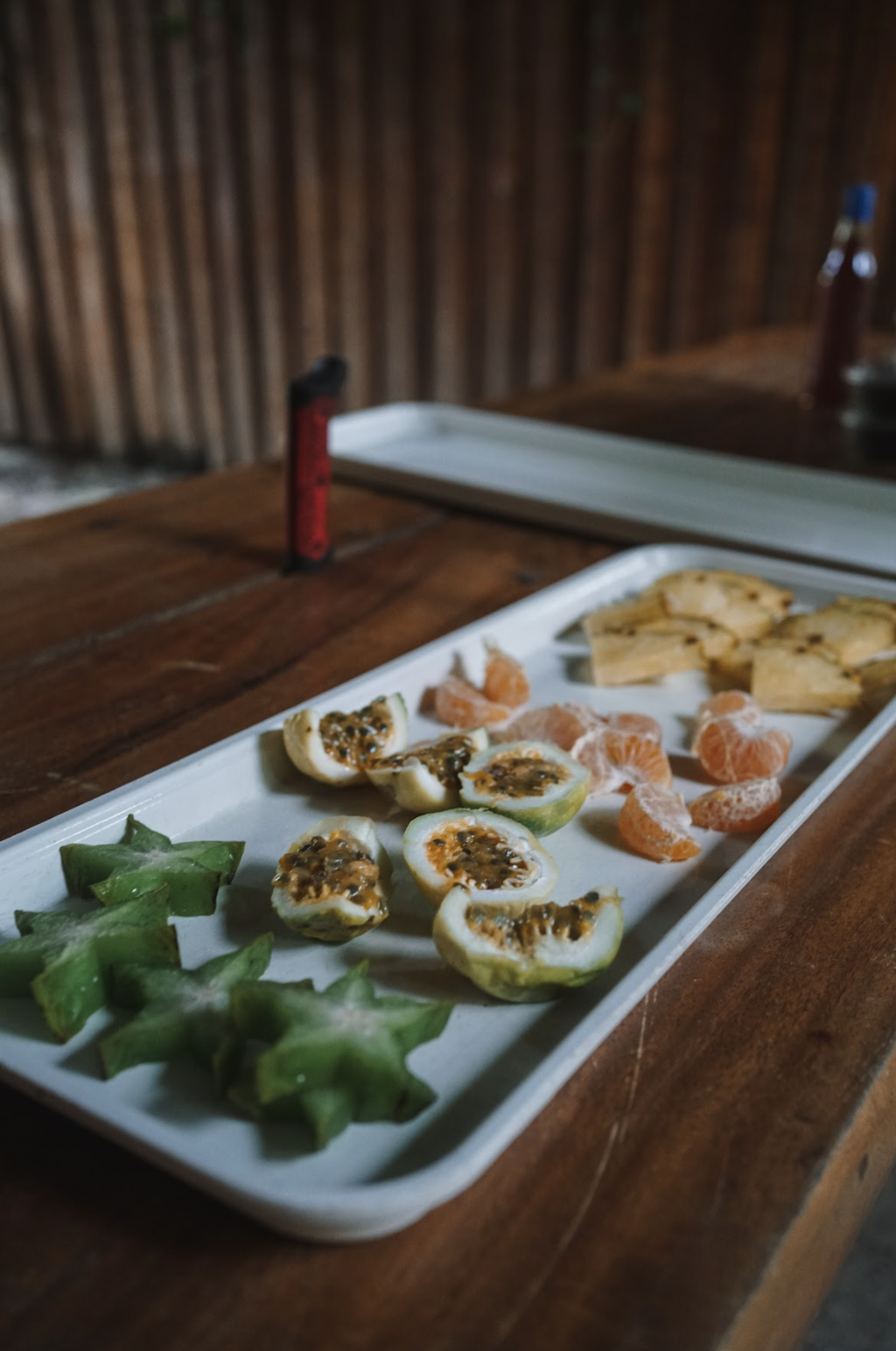 From here, you've got about an hour or so left on your drive back to Puerto Plata.
Additional Activities
El Saltadero De Los Muchachos
If you are thinking that this trip would be absolutely perfect if it included a waterfall, I have some great news for you — you can easily make that happen! El Saltadero de los Muchachos is right around the corner from the Dudu Lagoon and looks like a pretty incredible spot to take a swim (and soak in the views). This isn't a spot I had time for on my last visit, but it looks like one of those beautiful waterfall adventures our ILP volunteers love.
This fall is found near Cabrera (between the beaches on this list and the Dudu lagoon) and is a stunner: this particular waterfall tumbles down into a natural swimming pool, all tucked away in a thick jungle grove. There's a wooden staircase that leads you up to the top of the falls (the view from the top is pretty unbeatable) ... but it's not uncommon to see people trying to scramble up the slippery rocks to try and get up to the top. Hanging out here means relaxing in a few different pools (some are quite deep, others are more shallow), and seeing if little fish come to take a nibble at your toes while you relax. And it's free to enter.

Getting here will be pretty easy if you have a private driver for the day. If not, you may be able to swing a mix of public transportation and a taxi. El Saltadero de los Muchachos is found just a few minutes away from downtown Cabrera (if you can get a bus there), then just down an asphalt road until you reach the falls (the drive is about 10 minutes). We have it all mapped out here.
If this is sounding like a perfect addition, you'll probably want to spend more than 1 day in this part of the DR. The waterfall is an activity you'll want 1-2 hours at, plus driving time (and you don't want to short change time at any of the other spots).
Gri Gri Lagoon
Again this wasn't something I had time to try out, but another popular spot to visit in this area is Laguna Gri Gri, located outside of Rio San Juan just a bit further west of Playa Caleton.
It's a quiet lagoon surrounded by thick mangrove forests and home to a host of various species of birds. Many tours include a boat ride in the lagoon with a guide pointing out wildlife, a stop at Cueva de Las Golondrinas (Cave of the Swallows), a natural pool to swim in, and some time spent at Playa Caleton and often even Playa Grande as well.
If you want to include this in your itinerary, I'd suggest turning this into a 2-day trip, or taking something off the list. You'll want about as much time here as you spend at Laguna Dudu, about 3 hours.
Do some research to find the best tour, but looks like this one includes transportation, a visit to the plantation, and the beach as well as Gri Gri. So you may be able to find a tour that hits a lot of the spots on my itinerary for you!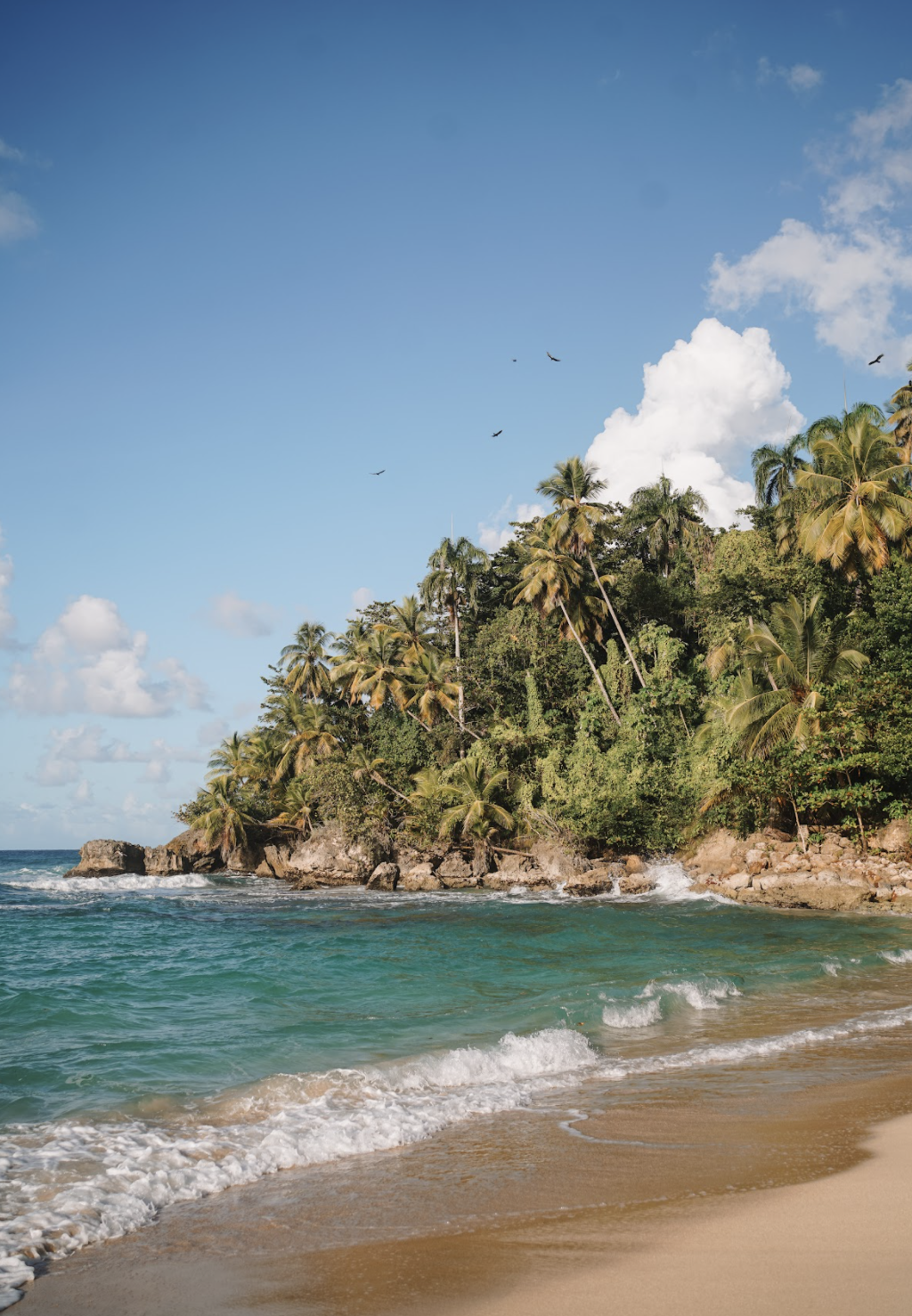 Interested in really seeing the Dominican Republic?
International Language Programs (ILP) provides opportunities for college-aged volunteers to live in the DR, help underprivileged children learn English through a free education, and have adventure upon adventure. We have trips every Spring, Summer, and Fall and would love to chat with you to see if volunteering with us is a good fit for you! Click below to learn more about the program to join our semester abroad.