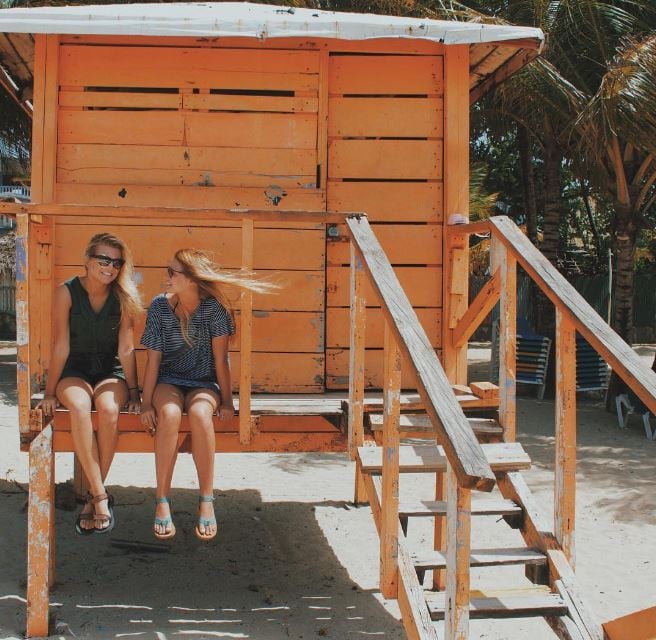 Cabarete is beyond popular with tourists, and after visiting, you can easily see why this beach is one of the best places to spend a Saturday.
With so many beaches in the Dominican Republic, which ones do you choose? ILP volunteers who live in on the north side of the island have so many options to choose from that are just within a short distance, making for a perfect Saturday adventure.
Cabarete is one of those spots that is famous (world-wide actually) for being such a windy cove features. Picture a huge half-moon of beach while you sip a smoothie at our favorite nearby cafe. Oh and a nearby national park with caves and cenotes to jump into. Are you getting a pretty good idea of what your weekends could look like? Sounds pretty much perfect to me!


---
Want to live in this tropical paradise?
Come volunteer in the Dominican Republic!
---
Spending a whole semester in this Caribbean island will mean lots and lots of time on the beaches. Volunteers get weekends off and vacation days to hop all around exploring our favorite coastlines, which is good news for you: Cabarete beach is an easy adventure on a Saturday or Sunday. Here's what you can't miss:
Enjoying The Beach
Cabarete is a fairly small coastal town and as you probably guessed ... the beach is the main attraction. This coastline is quite windy — this isn't as calm of a beach as you'll find in places like Sosua (although of course, some days throughout the year will be calmer than others at Cabarete). I still love the atmosphere though, wind and all! The breeze helps cool you off from that hot Dominican sun, plus it's fun to watch the kite-surfers while you have lunch on the beach. And if you love photography, this is a killer spot to get pics.
There are actually a few beaches to know about though, so let's chat about each to give you an idea of what to expect.
Playa Cabarete
This is the main beach where tourists tend to hang out. If you're taking some form of public transportation like a gua-gua or a taxi and you tell them you want to go to the beach in Cabarete, this is where they'll drop you off.
You'll find a large sandy beach, lined with palm trees, an entire string of restaurants where you can sit and dip your toes in the sand while you enjoy your meal, beach chairs to shade you from the sun, souvenir shops, and more. This is also where volunteers have snapped that classic orange lifeguard tower pic.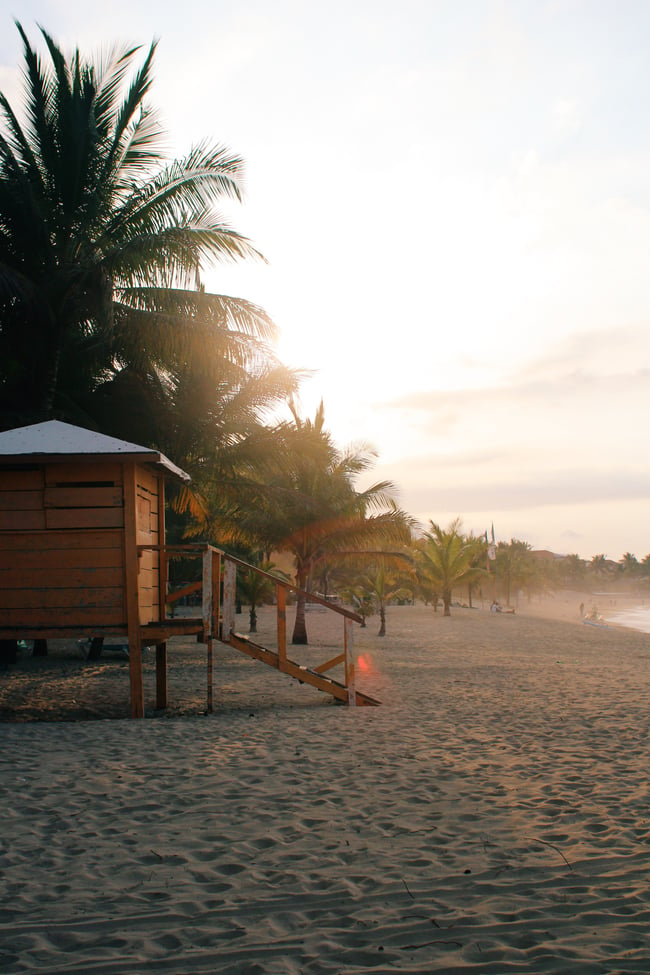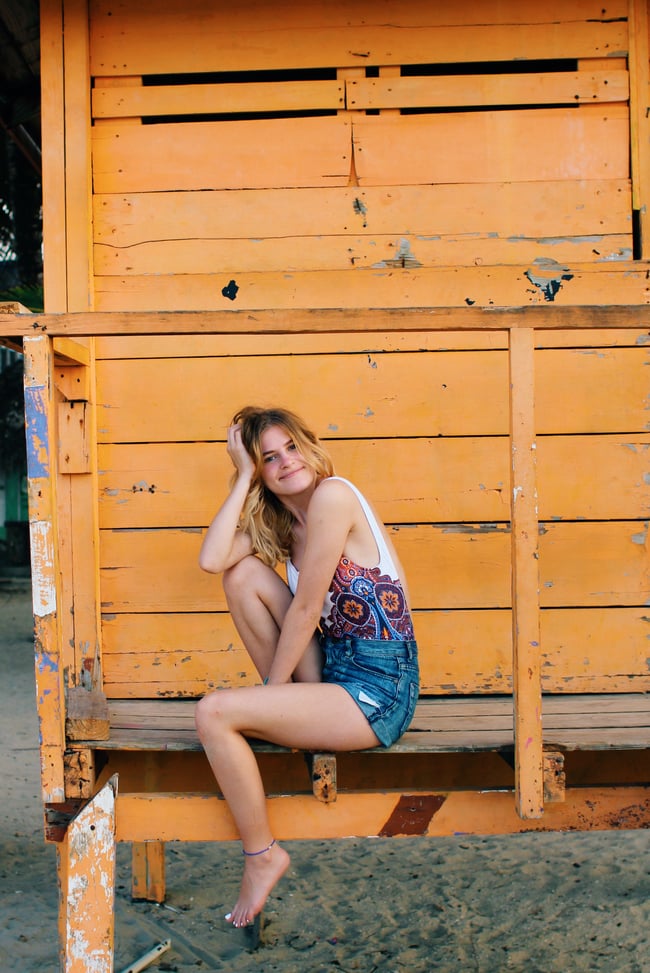 Besides just hanging out on the sun-kissed sand and having a photoshoot, there are several rental shops along the beach where you can snag everything from surf lessons to kayak rentals.
Like we mentioned, there are lots of beachside restaurants to grab a bite to eat, making this a perfect spot to have lunch or grab a drink — we especially love the passion fruit drinks known as "chinola juice" or "chinola freeze" which is more like a passion fruit icee! Most restaurants have a similar menu with a wide variety of options with everything from a cheeseburger and fries to chicken nuggets and nachos. There's not a particular restaurant on the beach that we'd recommend over another since they're so similar, but we just love that you can grab a table on the sand and enjoy the view while you eat under palm trees. Expect most meals to cost around $5-10 USD.
You might also want to grab a beach chair with an attached umbrella to lay under when you aren't playing in the waves. We've seen the price on chairs vary, but someone will be sure to run up right away and let you know the price (since you'll have to pay as soon as you sit down). It's common to be quoted about 150-200 pesos (about $2.50-3.50 USD) per beach chair, but we've sometimes been able to bargain the price down to 100 pesos per chair. And that's the price for the day!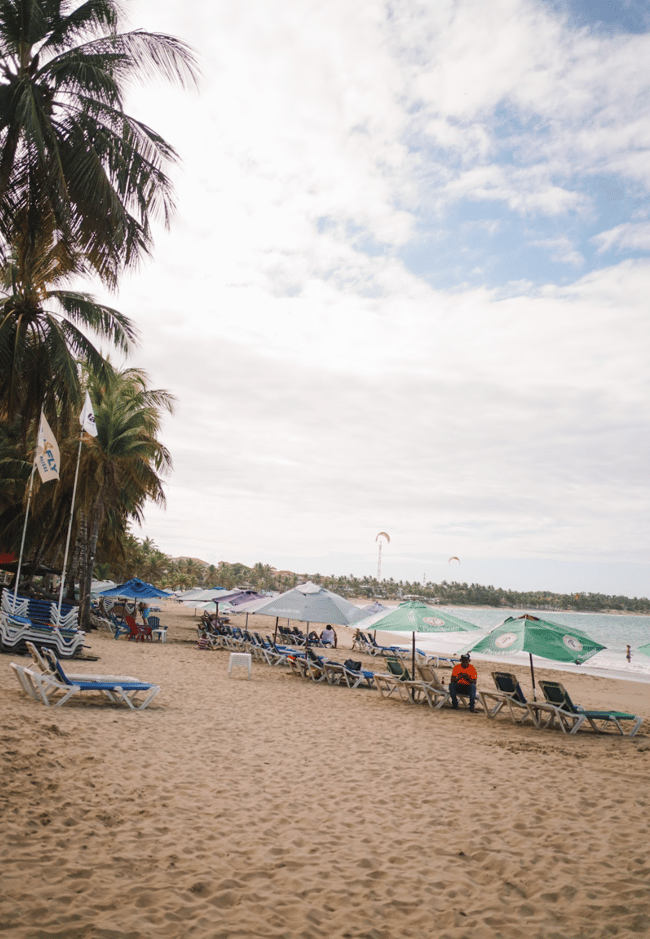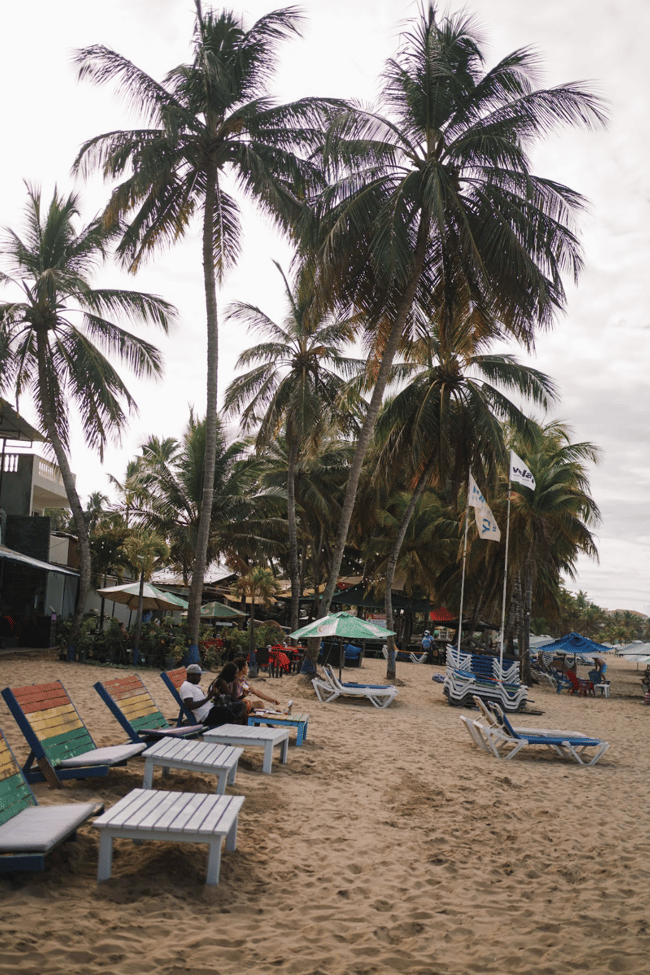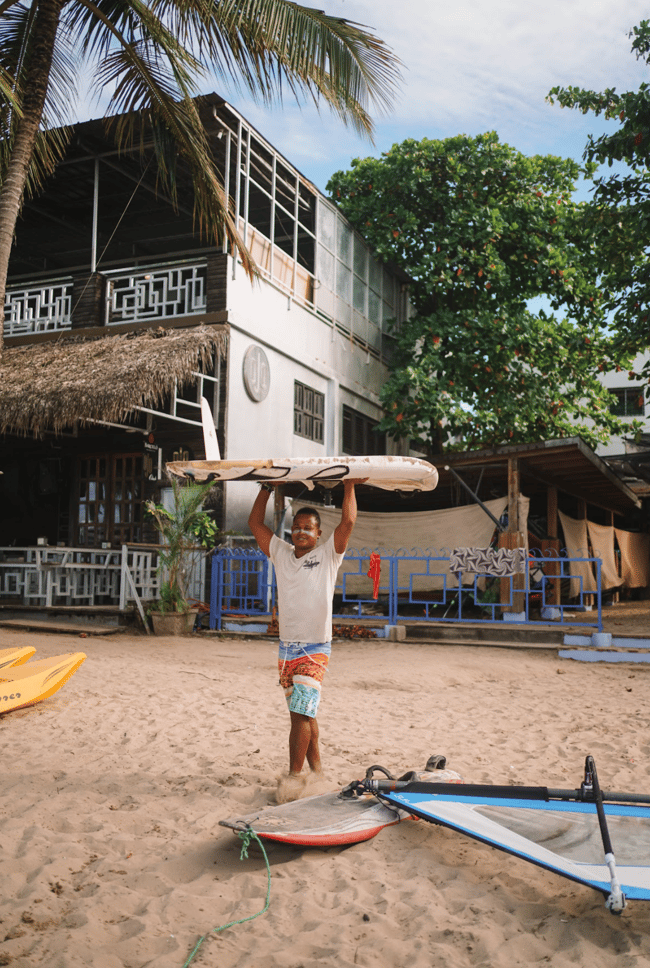 Playa Boca
This beach is a bit further east down the coast, about a 10 minute drive down the highway from Playa Cabarete, then another 5 minute drive down a much sandier road to get back to the coast. It's a much more off-the-beaten-path type of feel compared to Cabarete, and if you ask Cabarete locals where their favorite beach is in the area, they often recommend La Boca because it's the furthest from the tourists. It's a bit trickier for tourists to figure this spot out, so you'll see more locals here.
The freshwater Yasica River flows through, dumping right out into the ocean next to La Boca. You can actually stand in the shallow water where the river meets the ocean! There are some tours that operate here, which is the easiest way to come access both this beach and all the activities to do in the area like seeing the river via tube floating, SUP, and kayaking.
Most tours include a meal at Wilson's which is a local owned BBQ restaurant on the opposite side of the river's edge which means you get yummy Dominican food with a great view. Wilson's is accessible via a free boat shuttle and a bit infamous — everyone knows about Wilson's and raves about it too (locals and bloggers alike). It's a must if you're at Playa Boca.
Do a search to find the best tour of Rio Yasica and La Boca that fits what you're looking for, but a couple you might want to start with are Kayak River Adventures and Rugama Tours.
Las Cuevas de Cabarete
Just on the edge of the town of Cabarete is El Choco National Park, and just on the park's border sits Las Cuevas de Cabarete. It's a corner of the park with caves that are millions of years old connected by a freshwater river that forms several pools deep enough to swim in. You can take an easy hike to see the caves and jump in the pools ... one of the pools even sits 80 feet deep within the cave! So fun.
The best part is that because it's so close to Cabarete and you only need an hour or so seeing the caves, this is an easy activity to add on to your day at the beach.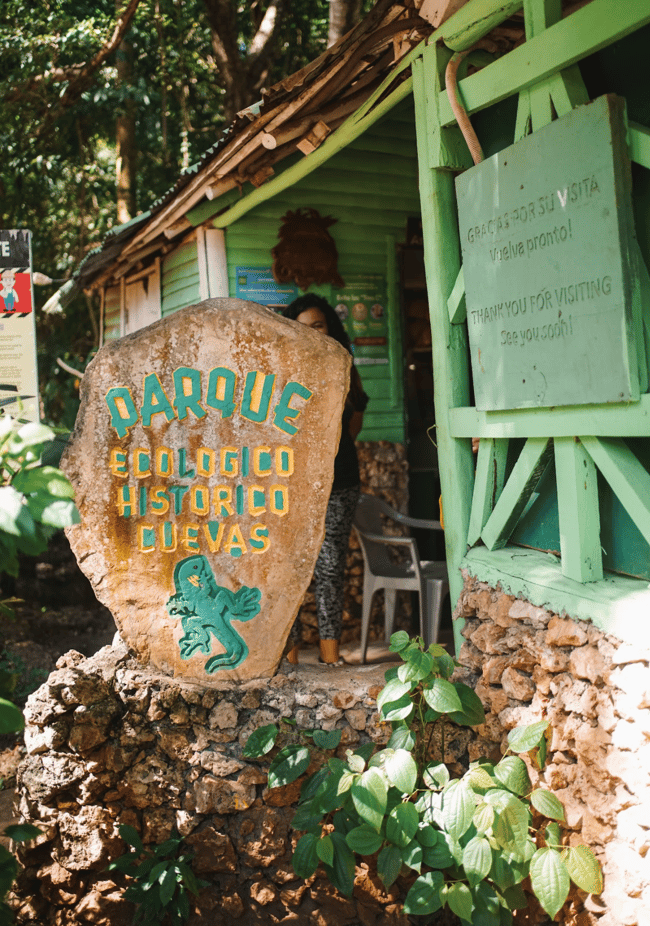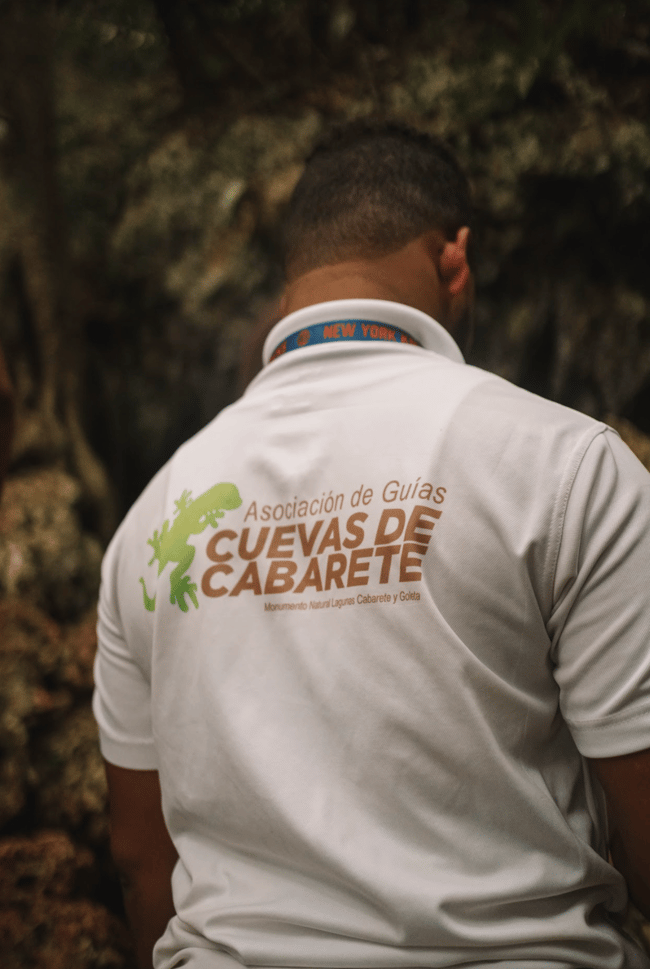 Once you arrive you'll pay the entrance fee of $20 USD (or the equivalent in pesos) and then you'll be hooked up with an English-speaking guide, a flashlight, and a helmet.
It's a bit of a hike through the jungle to get to the caves, but it's a very easy walk and your guide will stop along the way several times to point out the history and vegetation at the park. One of the caves you'll get to go down into is about 82 feet deep, filled with stalactites and stalagmites. You'll definitely need your flashlight!
There's even a small pool at the bottom you can jump in. It's only around 10 feet deep, but it can feel really eerie just knowing you're so deep in a cave ... especially if everyone turns their flashlights out and it's a complete blackout! Oh and legend has it you'll become 10 years younger when you jump in.
There's actually a network of flowing water beneath the series of caves and in one spot divers can jump in and swim below the caves about a mile to the next opening. You have to be certified to do that of course, but it's just interesting to know all about the setup here.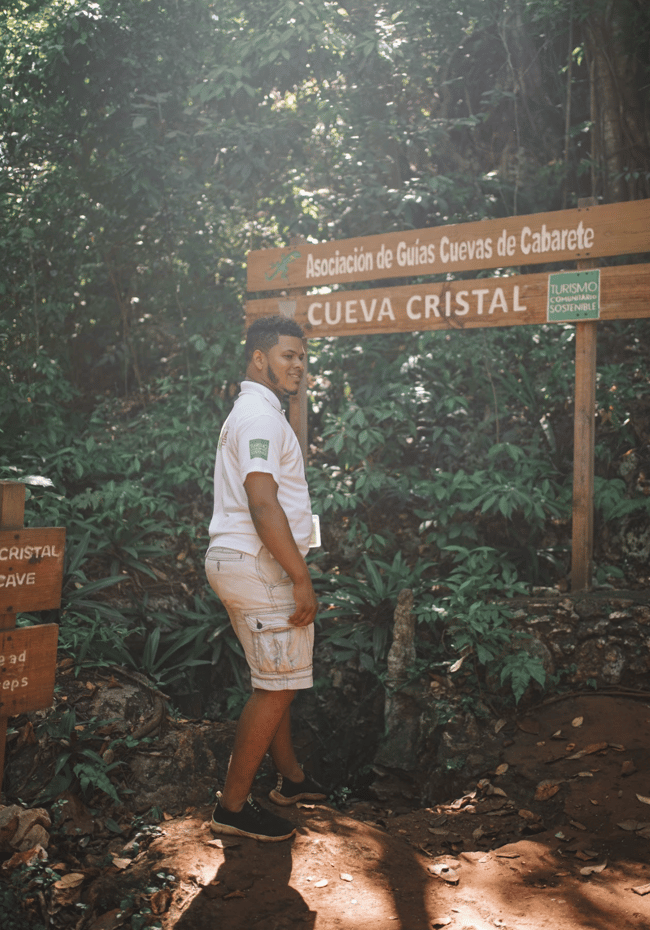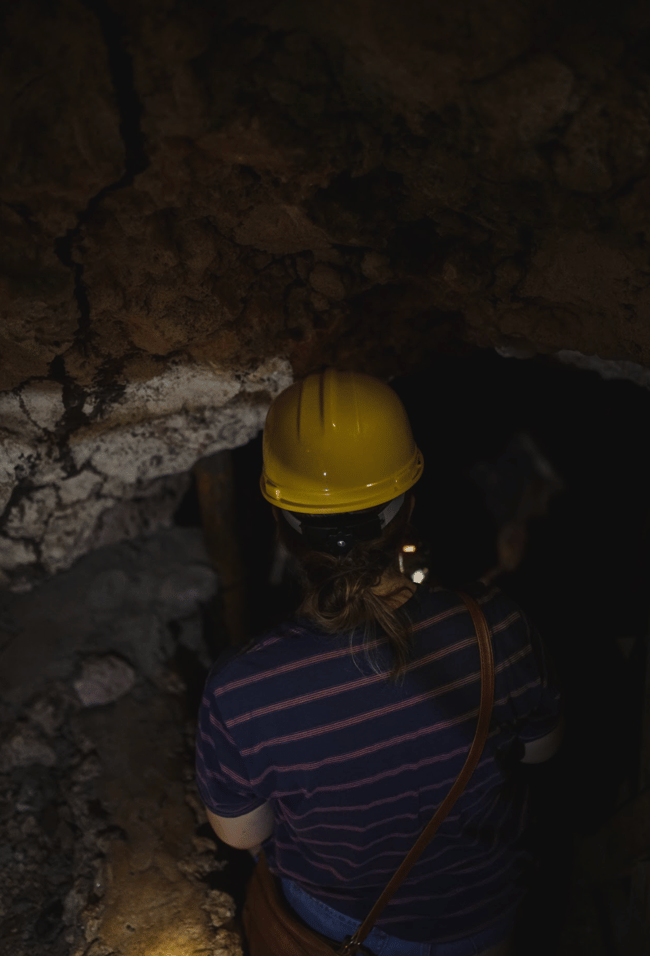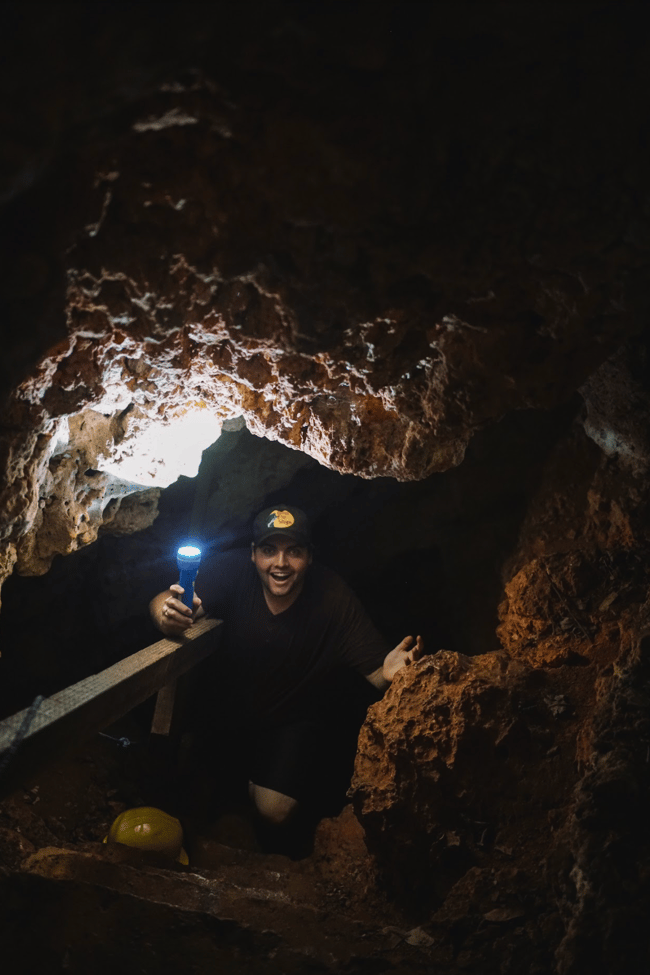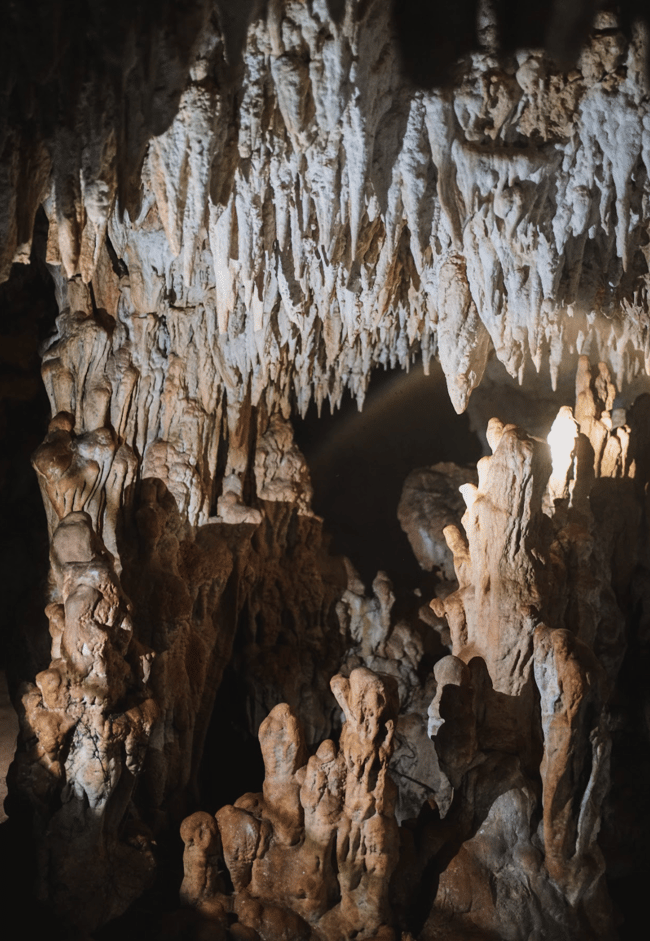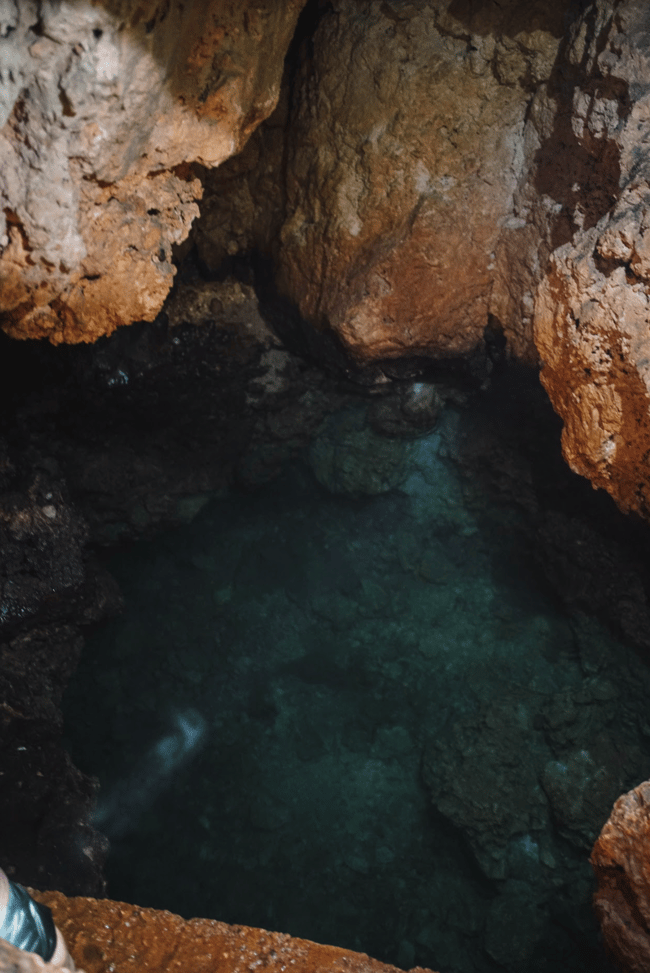 The last stop is one of the larger pools that you can jump in from about 10-12ish feet up.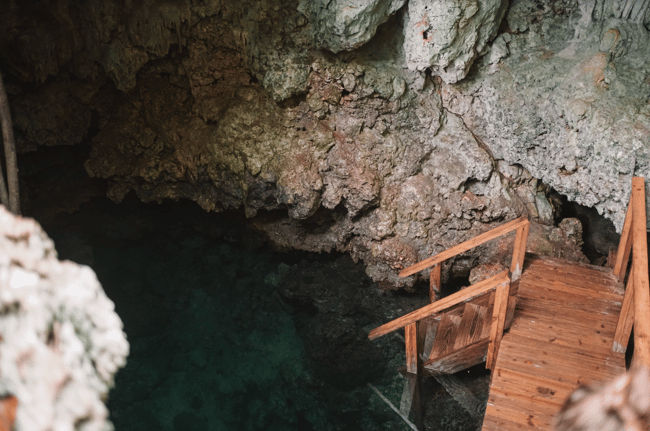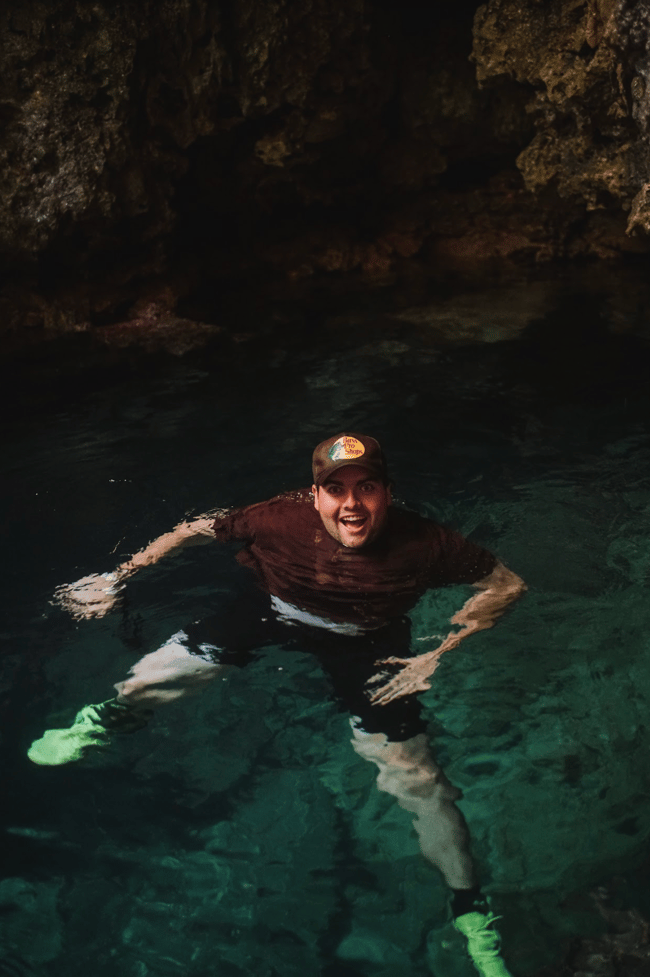 Getting To The Caves
It's very easy to walk here from Cabarete town — about 15 minutes or so along one road. If you're coming into Cabarete via a taxi or private transportation, the easiest thing would be to ask them to drop you off at Las Cuevas (that's "the caves" in Spanish) — it's a well-known spot and they should know right where to go. You could then easily walk back into the beach after you're done (or even ask your taxi driver to wait and drive you back to the beach if you wanted).
If you're coming from the beach and want to just walk, pull up Google Maps on your phone. And remember, it still works even if you don't have data! All you need to do is save the map ahead of time while you're in Wifi, then you can access it live anytime. We've got a blog post all about how to use maps without data right here.
As you can see on the map, once you're on the right road (marked in yellow), you'll just follow it all the way to the caves. The road is fairly busy as it's a main road in the small town, but there are sidewalks and lots of locals will be walking around as well. As always just be aware of traffic and your surroundings.
Official address:

Callejon de la Loma El Choco National Park, Cabarete 57000 Dominican Republic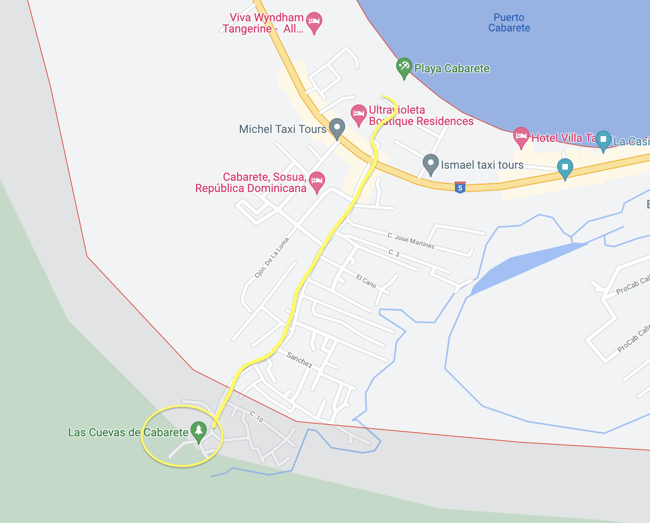 Tips For The Caves
Make this the first stop of your day at Cabarete. Although the hike is really easy, it's just nice to spend your morning energy here before you go have lunch and relax at the beach. Plus, like I mentioned, it's nice to have your taxi driver take you right here so that you don't have to walk both ways getting to and from the highway and the beach.
You don't want to bring much because climbing down inside the caves is quite narrow and steep, but if you do have something like a backpack you can potentially leave it outside of the cave until you come back out (there are a couple times that will happen). There are only tour guides and the groups they're taking around here, but as always you'll just want to be cautious of what you leave outside of your eye-sight.
Expect to spend around 1-2 hours for this activity.
If you enjoy the tour, your guide does appreciate tips! If you have any questions, they're pretty active on their Facebook and Instagram accounts.
Hiking To Waterfalls
There are so many hidden spots around the DR that only the locals know about and this is one of them. Most tourists stick close to the highway that hugs the coast, but if you head inland the northern part of the country has a lush jungle and so much to explore.
This tour guide offers a half day excursion from Cabarete where you'll head into the jungle and follow a pretty easy trail to reach the La Rejoya waterfall and some others! Since you can see the beach just about anywhere on this island this is a nice change of pace, but we love that our volunteers are so close to Cabarete that it's easy to come back any weekend and do it all too.
You can learn more about the stunning La Rejoya falls here (and get more info).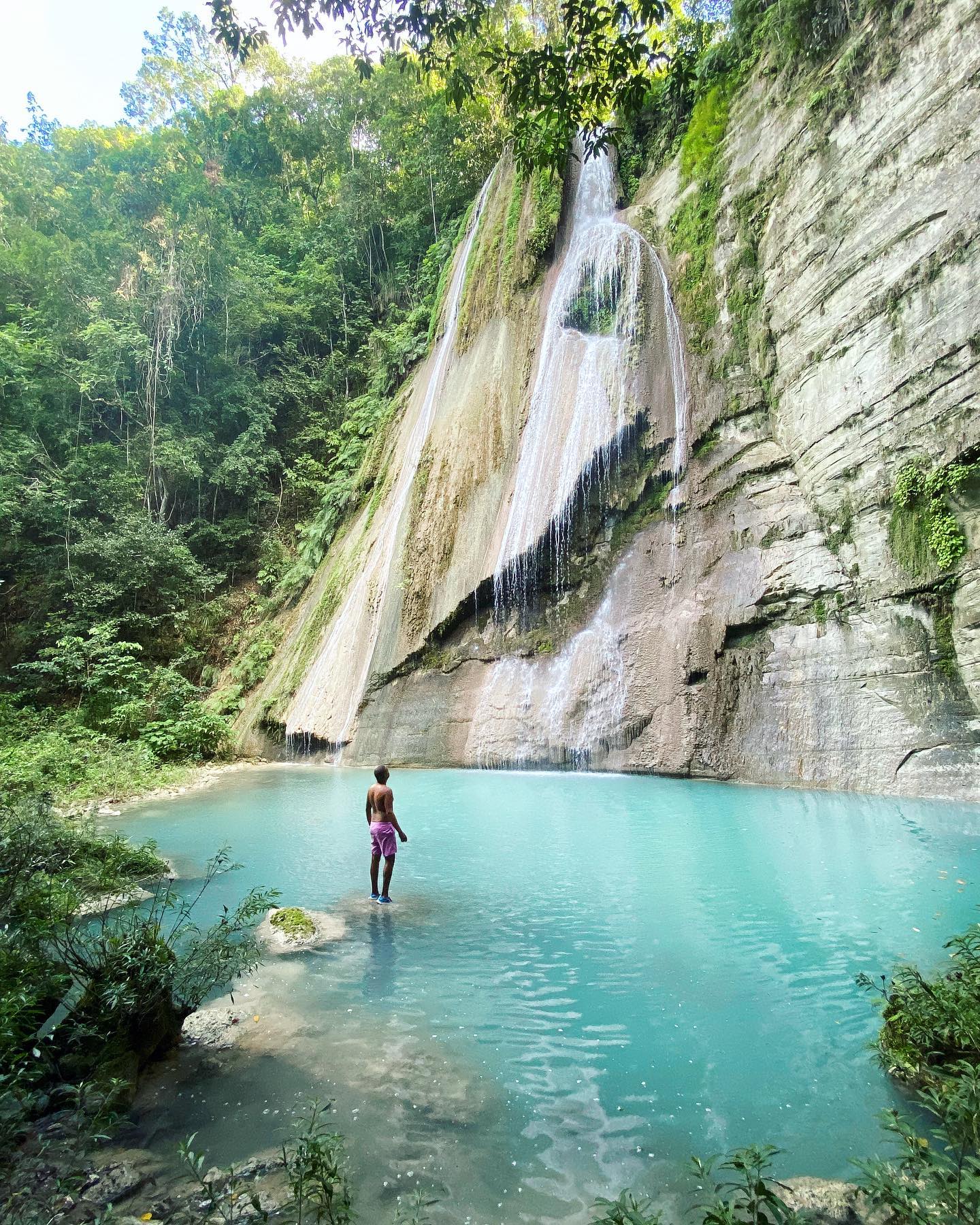 Photo @carlostorresrd
Our Favorite Eats
Like we mentioned, there are several spots to eat along the beach and you won't walk far before finding options if you're hungry. There are a few that stick out though, so we want to make sure and highlight a few of the trendy shops to eat at in Cabarete that are so yummy!
Fresh Fresh
We are in love with Fresh Fresh, which is the go-to for all volunteers who visit. Prices are about $6-$10 and it sits conveniently right by the entrance of the main beach — it's where you'll be dropped off if you're coming via gua-gua or something like a taxi or private driver (more on how to get here in a minute). It's just on the opposite side of the street from the beach entrance (and pulls up on Google maps to get a more precise location).
Their menu is full of fresh fruit smoothies, acai bowls, scrambles, wraps, and more. And may I recommend the sweet potato fries? So yummy!
They're open from 7:30 AM to 9:00 PM — here's their Facebook page for more info.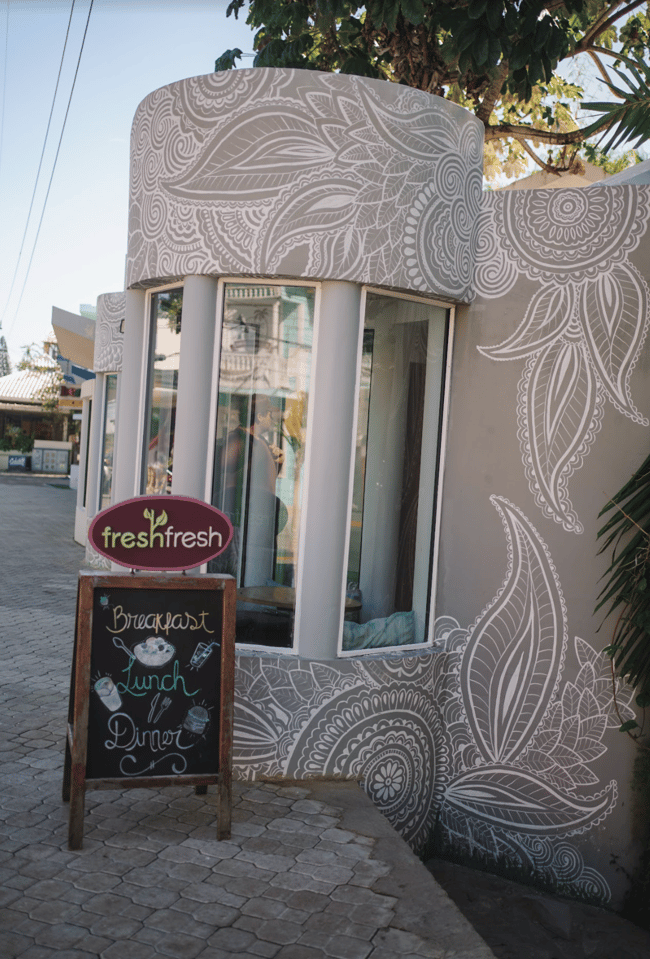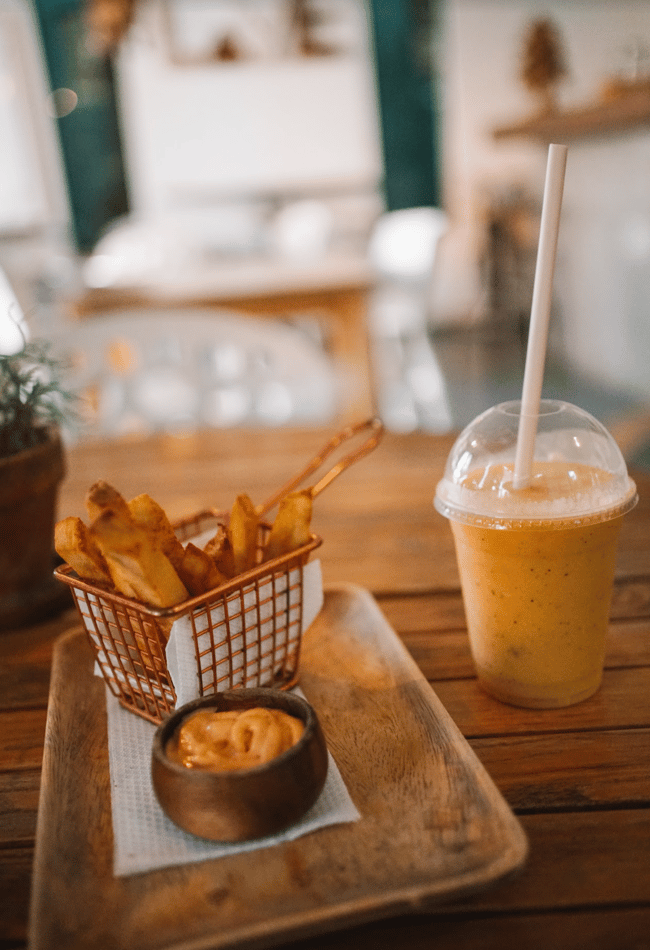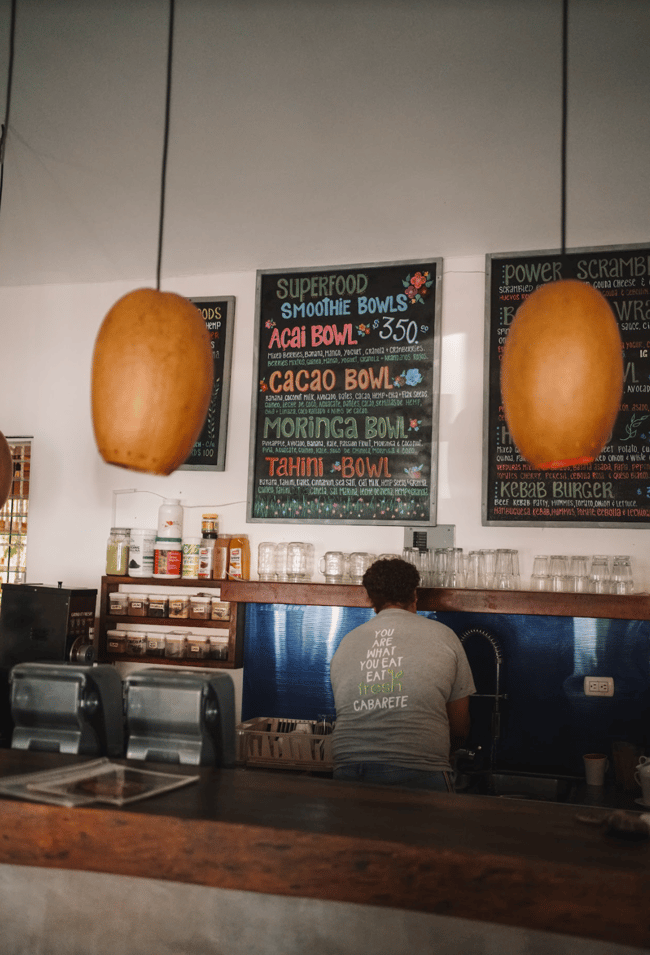 Vagamundo Coffee and Waffles
Also right on the highway, just down the road from Fresh Fresh is this breakfast spot. Not only are the waffles yummy, but you can feel good about spending your cash here. They're part of a non-profit that houses children in need, and many of the staff have actually graduated from the home.
They have everything from juice to waffles to protein bowls and more! Most items on the menu are under $5 USD.
Hours are 7:00 AM to 5:00 PM Mon-Sat, with shortened hours on Sunday. Find their menu and more info on their website and their Instagram. Address: 5700 Main St. Cabarete
The Honey Co
More fresh finds — this spot specializes in honey which can be added to their parfaits. And grab a kombucha if that's your thing too! It's super yummy here.
They're located on the road just past Fresh Fresh that leads onto the beach and open from 10 AM-2 PM. Find them on Facebook.
Getting To Cabarete
From Puerto Plata
If you're near or around Puerto Plata, this place is super close. Volunteers typically take a taxi to the local gua-gua station or stop — ask around for "parada de gua-gua Cabarete". There will always be locals or other gua-gua drivers around who can make sure you're getting on the right gua-gua. The ride should be about 75 pesos, and will drop you off on the highway which is right in downtown Cabarete, right at the entrance to the beach. You'll just need to walk down a little pedestrian street (usually filled with souvenir vendors) to reach the beach.

If you need some help on figuring out gua-guas or even have questions about what in the world we mean by gua-guas, you're covered. We have this guide about getting around the DR that is chock full of info all about navigating public transit here. Handy, right?
We're big fans of taking a gua-gua because it's so much more affordable. Taking a taxi, of course, is an option but prices are usually about $35 USD each way to get there from Puerto Plata. Yikes.
Where Is The Beach?
Found just east of Puerto Plata and past Sosua (another popular beach), Cabarete is a long beach that hugs a slight "s" curve all along the ocean. It provides a big stretch of sand that you can just walk up and down for hours and hours. Here's a map to help you orient what we're talking about.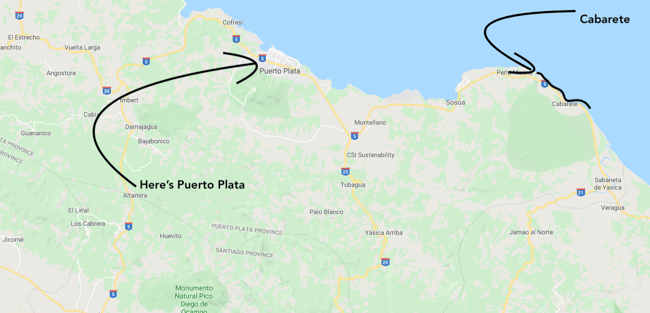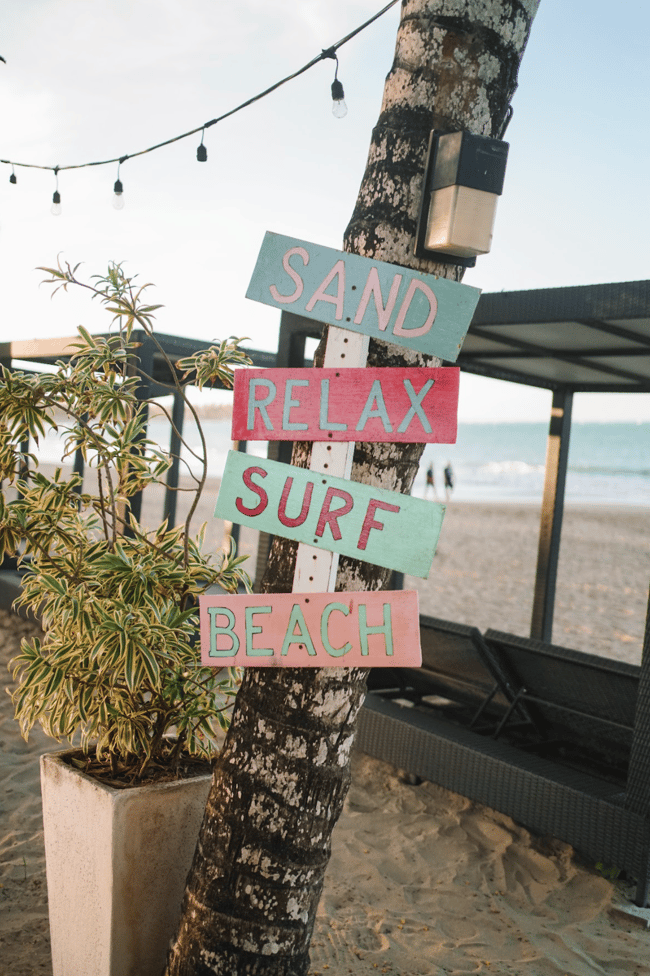 Spend a semester in the Caribbean with us!
We can't wait to tell you more about this happy little island and how you're needed here. Click that button to find out more about volunteering in the Dominican Republic on our website.