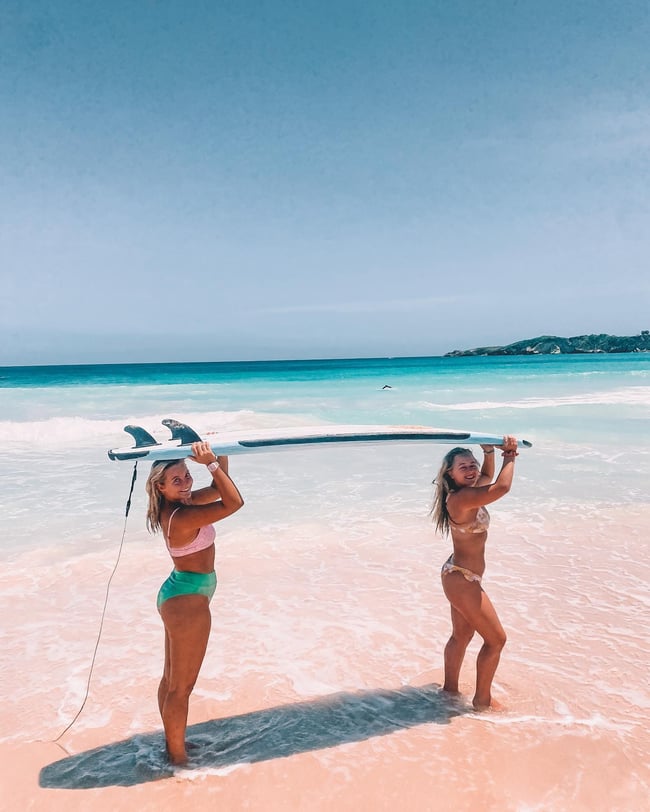 Punta Cana is home to some of the Caribbean's top beaches (and expensive resorts) — but still makes the top of the list for vacation spots! To help you plan your trip to this coastal paradise, we snagged all the tips and tricks to seeing the best of Punta Cana to help you decide if this is the vacay for you.
You'll find Punta Cana on the eastern coast of the Dominican Republic (near Samana, another favorite beach getaway), meaning miles and miles of white-sand beaches and crystal clear water. You can easily see why thousands of tourists flock here to stay in the all-inclusive resorts and high-rise hotels, which isn't typically the kind of getaway our budget-minded ILP volunteers are looking for. But that doesn't mean Punta Cana is a vacay spot our groups avoid. There are quite a few volunteers who said that a visit to Punta Cana was one of their favorite places they visited in the DR.


---
Read Next: All All Of The Best Vacation Spots In The DR, In One Spot
---

We've outlined what you need for a trip over to this part of the island, including places our ILP groups love to stay at, the top things to do, plus a few other insider tips to make your trip here a success:
Top Things To Do
Spend Time At The Best Beaches
Beach time is the number one thing to do in Punta Cana, so plan on spending lots of time in the sun and waves while on vacation here. There are about 22 miles of coastline all along Punta Cana, so you have the pick of the litter when it comes to beaches. Here are our favorites:
Playa Bavaro
You'll find powdery white sands and impossibly blue waters at this beach! It's a popular one, with a resort and shops and such behind you and chairs and cabanas you can rent out for the day. It's one of the most popular beaches in Punta Cana, meaning it's easy to find activities to book right there on the beach, but it can get crowded with all the tourists.
Arena Gordo
This beach is a swimmer's beach, with long stretches of white sand and blue, calm waters. You'll find lots of families with kids splashing in the quiet waves. At first, it looks like a resort-owned beach, but you can get public access if you take the Ocean Blue & Sand Service Entrance.
Punta Cana Princess Beach
There's a section of beach right in front of the Punta Cana Princess all-inclusive resort that is also a stunner. If you're looking for places to stay that have a private section of beach, this is a good place to pick. You can read a bit more about it in the "Places To Stay" section of this post.
Macao Beach
Another favorite spot our ILP volunteers love is Macao Beach. It's about a 30 minute drive north of Bavaro, but worth it. The teeny town of El Macio is nearby, but this place is relatively underdeveloped compared to the resort-lined strips of other beaches. Macao beach is popular with surfers, so would be a good spot to grab a board if you'd like — you can get a 1-hour board rental for about $10-$15.
One volunteer had this to say about this beach: "My favorite beach was Macao beach. You can rent surfboards by the hour and the water is stunning. The beach is long so there's plenty of space to spread out. It's probably my favorite beach on the whole island!"
Snorkeling With Sharks And Stingrays
A few ILP groups have found this tour company who specializes in snorkeling tours to get you up close with nurse sharks and stingrays. The tour takes you to a few locations, including Stingray Bay Marine Park and Viva Shallow which gives you the chance to see docile nurse sharks and rays, as well as schools of colorful fish along the reef. More info here.
What About Other Snorkeling?
If you're into the best snorkeling around, best to visit the Caribbean side of the island, rather than the places in Punta Cana. Of course, you'll find snorkeling trips in Punta Cana like the one above, but we'd suggest looking at our favorite snorkeling spots in the DR too, just to make sure you're getting the experience you want.
If you're interested in snorkeling with sharks and stingrays, that kind of tour is totally available in Punta Cana (and may not be in other locations). However, volunteers suggest adding on a day trip to Isla Saona or Isla Catalina where the water is clearer, but others have really liked their snorkeling tours in Punta Cana (along with the suggestions on our post all about the best snorkeling).
Activities With Your Hotel
We have more info on hotels and all-inclusives below, but know that quite a few groups choose to splurge a bit and stay at an all-inclusive hotel in Punta Cana for that "Punta Cana" experience. If you go this route, you'll have a handful of included activities to keep you busy, like free painting classes, yoga classes, zumba on the beach, classes at the pool, and other activities. Your hotel is also a prime spot to check up on what other activities are in the area that are easily booked through your hotel.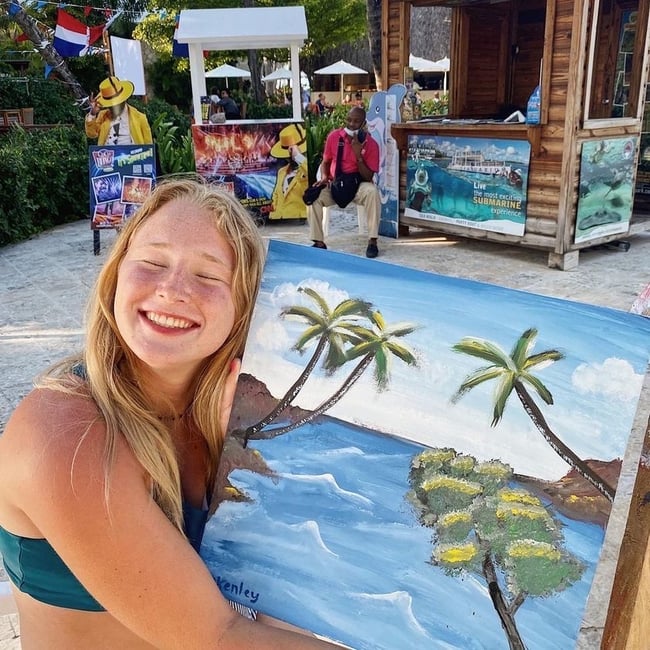 Take A Day Trip
It's a very popular option to head to one of the nearby islands or vacation destinations just for the day while in Punta Cana. Even our groups who were here just for a few days typically fit in a trip to somewhere like Isla Soana! We have more info on the popular day trip options below: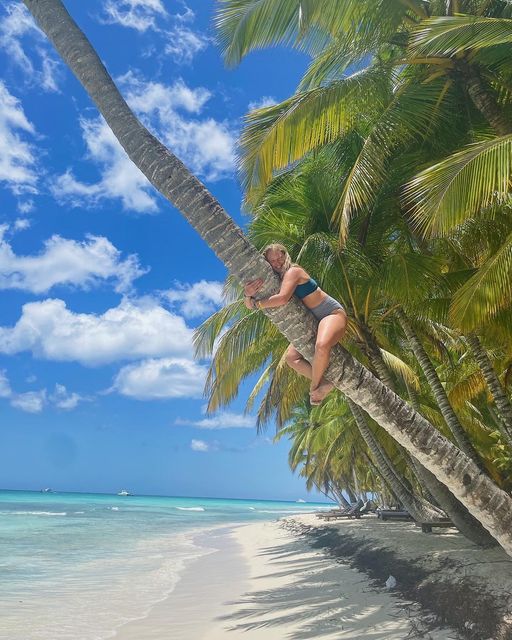 Nearby Adventures

If you've had your fill of the beaches and things to do in Punta Cana, it's time for a little day trip! We suggest heading to Hoyo Azul, then visiting Isla Saona + Isla Catalina if you're not going to be visiting Bayahibe during your time in the Dominican Republic.
Take A Day Trip To Isla Saona
This is one of the most famous day trips from Punta Cana, and one we absolutely love — don't miss out! Groups who are just seeing Punta Cana (and Santo Domingo or Samana) say they highly recommend taking the day trip to Soana island because it was a highlight of their trip — "It has some of the prettiest water I've ever seen and nice white sand beaches. It's a total postcard spot!"
Saona Island is best reached by the jumping off point Bayahibe. It takes about 1.5 hours to get from Punta Cana to Bayahibe, and you'll find loads of tour packages willing to arrange everything for you.
It's an all day activity, and prices usually hover around $90 for the day. You can book tours in Punta Cana by chatting with pretty much any resort.
We have all the details for seeing starfish around Saona island right here.
Visit Dreamy Isla Catalina
Another island adventure, Catalina Island is a fun, all-day getaway from Punta Cana. Similar to Isla Soana, you'll jump off at Bayahibe. The islands are actually really close by, so most people do either Catalina or Saona. The island itself is amazing to lounge on, or you can explore some excursions, like a snorkel or scuba trip there. Get more info about Catalina Island here.
Splash Around In Hoyo Azul
Found in Scape Park (a few miles inland and to the south of Punta Cana) is a stunning sinkhole, filled with crystal blue water you can swim in. There are regular tours from Punta Cana to Hoyo Azul; your driver will drop you off at the park entrance and you'll have a short hike until you reach the swimming hole — keep an eye out for monkeys in the jungle on your trek in. It's absolutely magical to swim in, though the water can be a bit cold!
You'll find multiple tours (some packages include zip lining), that range in price; plan on paying about $60+
Or, you can DIY. A cab ride to Scape Park should be less than $10, and the entrance fee is about the same. This strategy works best if you leave early to avoid the crowds that come with the tours.
Also as a head's up: you could spend all day at Scape Park. There is zip lining, a cave to explore, and more. See what else there is to do at Scape Park here.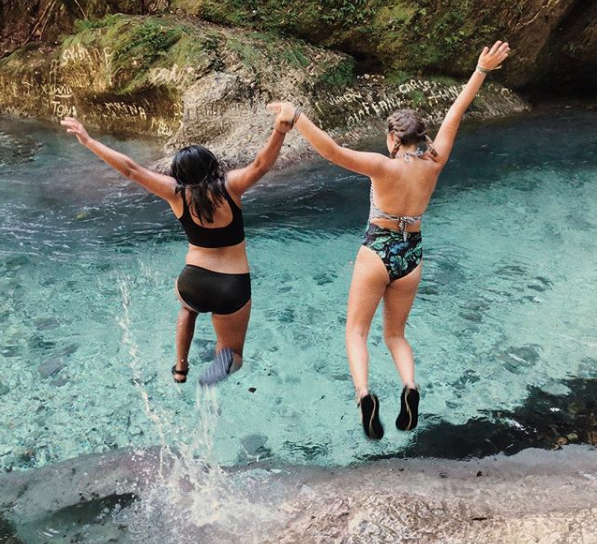 Places To Stay
Expect a huge range of prices around Punta Cana depending on the type of experience you're looking for. If you're wanting to splurge, you'll find fancy, all-inclusive resorts all along the coastline which can be a fun break from staying in hostels — everyone loves smoothies and dinner catered right by the pool! Other groups in the past have split an AirBnB, or found a couple of hostels worth recommending. Here are a few to check out depending on what kind of overnight accommodation you're looking for:
Hotels & All-Inclusive Resorts
Impressive Punta Cana — Looking for an all-inclusive with tons to do? We've had groups highly recommend their stay here, thanks to the impressive pools (find one right by the water — gorgeous) and many included activities. One group had this to say "they had different restaurants that we tried (so delicious), live performances, painting classes, pool Zumba, foam parties on the beach, yoga, and all sorts of stuff. We were never bored." Book here.
Princess Club Resort — We've had several groups give this place rave reviews. It's an all inclusive, which means every little thing is pretty much taken care of from meals to activities. Book here.
Occidental Punta Cana Resort — A 5 minute walk from Bavaro Beach, this is another recommended hotel with some serious perks, like a few pools, and all-inclusive food packages. Prices depend on the room you're looking at (beach-view properties are more), but you can check specific prices on serval sites, like Booking.
Hotel Caribe Club Princess — Also known as Punta Cana Princess is another favorite. Volunteers love staying at this hotel, maybe because they love their pool so much, and the included drinks and meal packages. Groups do mention that the food here isn't top-notch but it's still a favorite that many groups in the past have stayed at. There's also a shuttle to take you to popular spots in Punta Cana, and a private section of a lovely beach, just for guests of the hostel. This budget friendly resort has prices that range according to when you book — check prices and all-inclusive details here.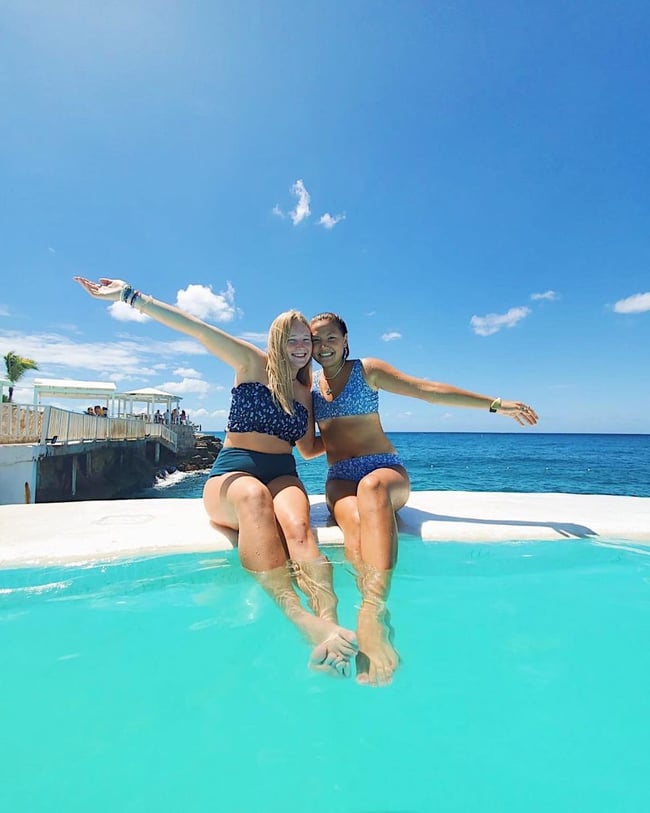 AirBnBs
Staying at an AirBnB is also a popular option for past groups, especially if you're trying to find a spot where a larger number of people can stay all together. You'll find a whole range of options available of course, but if it's helpful to know, we have a few AirBnB options past groups have stayed at (most just recommend finding one with quick beach access and a pool! It's also nice to have a kitchen to cook meals in to save some money).

This option includes a couple of condos in the Namaste Beach Hotel in Los Corales, complete with a kitchen, bedrooms, and less than a 5-minute walk to some of the best beaches in the area. Book here.
This option is more tucked away in the neighborhoods behind the beach, but with pool access to enjoy after you get back from an excursion or a day at the beach. It's close to a grocery store if you'd like to snag some snacks and ingredients to save a bit more. Book here.
Come stay at this penthouse, complete with a pool and other perks (like being close to the beach). Book here.
Hostels

Macao Beach Hostel — Found about 12 minutes away from Macao Beach, Macao Beach hostel comes recommended by travelers who want to be close to the beach, but away from the main downtown area with all of the resorts. It's a very chill, laid back, backpacker atmosphere, with dorm room beds (or tents!) for $20-$30+ a night.
One volunteer (Shout out to @brissaarias!) mentioned an 8-hour tour they booked through this hostel that had you stopping at Higuey, and Hoyo Azul, plus lunch and such for $45. Not bad!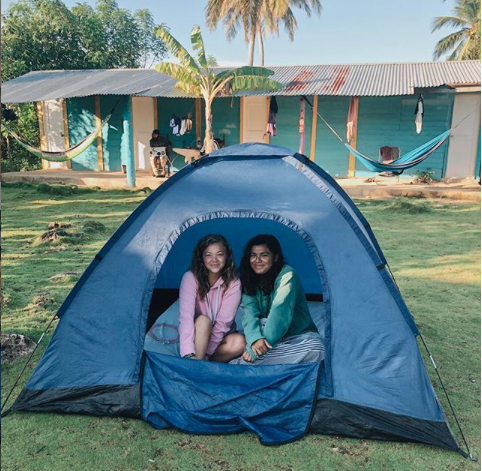 A Tip Or Two
How Long Should I Stay?
Totally up to you, but most volunteers combine their trip to Santo Domingo and/or Samana for a longer vacation, instead of just hanging around Punta Cana for the whole time.

In the past, we've had groups visit Santo Domingo, Samana, La Romana/Bayahibe, and Punta Cana on a 7-day trip, spending most of their time in Samana and Punta Cana. Other groups came to visit Punta Cana and Bayahibe over about 7-8 days, and split their time about half and half between the two. Yet another group split Bayahibe and Punta Cana over a week, and did three days in Punta Cana, then the rest in Bayahibe and felt that was perfect.

It seems like most groups spend about 2-4ish days in Punta Cana before hopping over to another dreamy destination on this island if that's helpful to know. We've heard from a few groups that three days is the sweet spot (unless all-inclusive is your thing and you need more time there) before moving on to see something else.

When Should I Visit?
You'll find warm weather all year round here, but the high season is from December to April, so you might find higher prices and crowds during these months, than if you visited in the summer, or early fall months. Groups spending their Spring semester in the Dominican Republic mention that prices also can spike if you happen to be visiting during Spring Break in the United States.
Any Restaurant Recommendations?

Again, this may depend on your Punta Cana housing situation (no need to worry about food at an all-inclusive, and maybe you're staying at an AirBnB to do some grocery shopping to make your own meals), but there are a couple of restaurants that past groups have mentioned, if that's good to know:
Citrus Restaurant — Find this eatery in the Playa Turquesa Ocean Club and plan on having a hard time deciding what to order. With a menu full of fresh seafood, sushi, salads and wraps, and recommended risottos, it's a yummy place for a nicer dinner or lunch.
Address here, open from 8:00 AM to 11:59 PM daily.
A Casa di Lorenzo — Another recommendation from an ILP volunteer for when you want some Italian food. Find a menu with items like several types of pastas, risottos, salads, and yummy focaccias topped with all sorts of yummy things.
Address here, open from 12:00 PM to 11:00 PM, closed Mondays.
Talk To Your Hostel Or Hotel
For Ideas
Even if you are staying at an AirBnB, you are more than welcome to talk to the front desk of the hotels in the area about any tours and packages available in town.
Punta Cana is the land of all-inclusive resorts and tours, so your hotel or hostel will be able to help you price out different tour packages if you're wanting to go zip lining, horseback riding, swim with string rays, take a catamaran tour, and more. There is even a safari trek where you board a "Super truck Safari" that takes you to sugar cane plantations, dense jungles, and other spots around Punta Cana. The name of the game around this tourist-driven area is excursions so you have so many to choose from.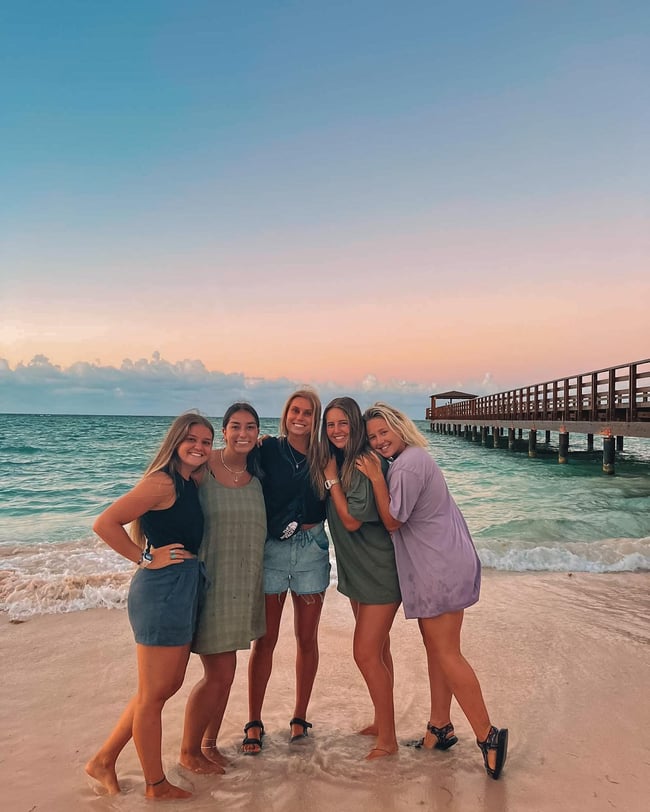 We've kind of hinted at this before, but Punta Cana is the total spot to relax — if you're into beaches and/or all-inclusive resorts, it's a top pick as a destination stop where you can soak up the island life in style. It's a very popular tourist spot, meaning you'll find vendor after vendor advertising about all the things to do, not to mention a line of high-rise hotels and all-inclusive packages that totally take care of your vacation.
One thing to know? Groups who tended to like a trip to Punta Cana the most were groups who split a room at an all-inclusive hotel, meaning meals, activities, and other luxuries were included in that price. It's a prime way to relax, spend time at the pool, and visit the beach if you'd like. However, others mention that the Dominican Republic is full of beautiful beaches and you don't necessarily need to visit Punta Cana (and stay in an all inclusive, or AirBnB in a tourist area just to experience the beach). Just something to think about!
We're just pointing out that some groups loved the relaxation and beaches in Punta Cana (with a day trip to Isla Soana or something) but others just headed straight to Bayahibe for island hopping, fantastic beaches, and felt fine missing out on Punta Cana.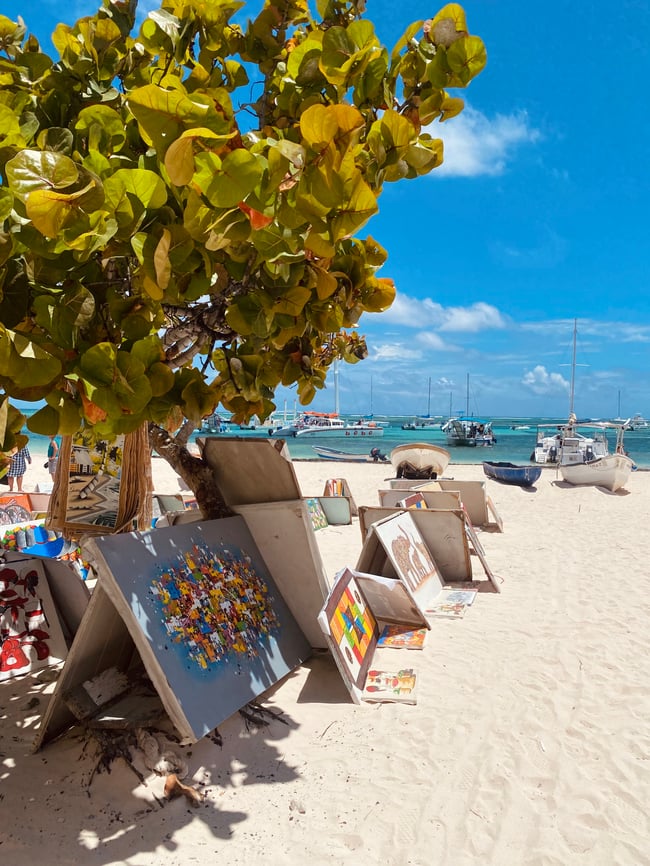 Getting To Punta Cana
Through Santo Domingo
Santo Domingo is where things connect when traveling to Punta Cana. Even if you're starting in Puerto Plata or even Samana, you'll have a bus take you to Santo Domingo, then on to Punta Cana.
It's one of the reasons why groups plan on spending some time in Santo Domingo before or after their time in Punta Cana because you'll likely be there anyways! Groups typically get a bus to Santo Domingo through Caribe Tours.
Once you get to Santo Domingo, it's about a 3 hour bus ride on an "Espreso Bavaro" bus to get to Punta Cana. Volunteers mention bringing a jacket or something to help keep you warm in case the air conditioning gets too chilly. You can check prices and times on their website.


Getting Around The City
Mostly, things depend on where you are staying. Past groups mention checking with your resort to check if they have transportation to other beaches which is handy, while others say calling a taxi is the way to go. Other groups booked accommodation right where they wanted to spend most of their time, and didn't really need to get around, but probably count on taxis and walking while you're in Punta Cana.
Ready to spend a semester living in the Dominican Republic?
Don't just spend four months at the beach ... take the opportunity to make a difference there as well by serving the underprivileged children, in and out of the classroom. ILP has been sending groups of college-aged volunteers to the Caribbean to teach English, connect with the community, and do some traveling. Come learn more about a semester abroad with DR with ILP: