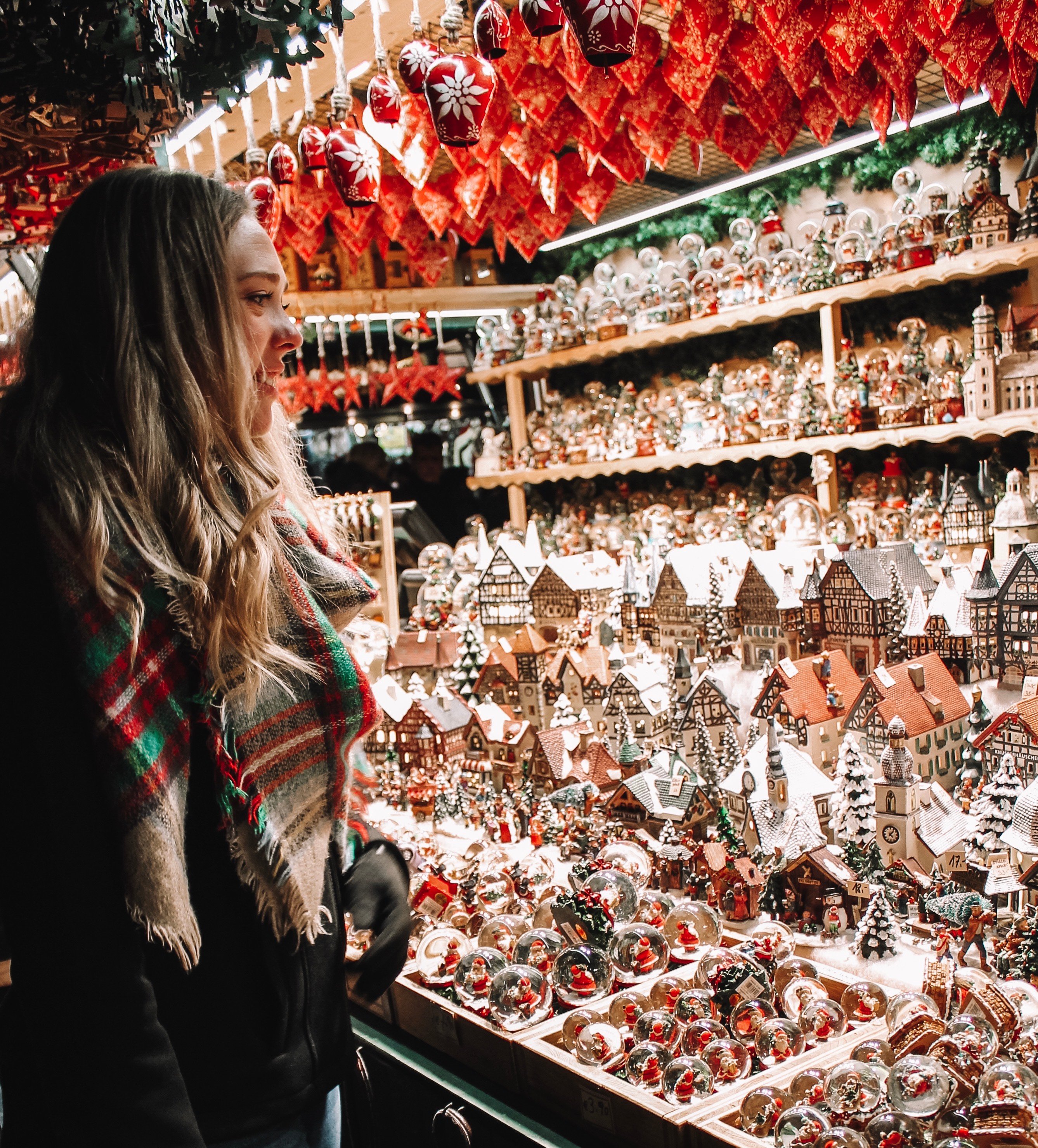 Any time of year is a good time to visit Europe....buuut if we had to choose, the weeks leading up to Christmas might just be our favorite. Why?! Because there is nothing more magical than a European Christmas Market! And if you time it right, you may even be able to experience a handful of them. Here is a guide to all of our very favorites.
So what does an ideal Christmas market consist of? Traditional carols, warm drinks, sweets and treats, spiced winter scents, twinkling lights, crowds of fellow Christmas lovers, and row after row after row of cutie open-air stalls filled with ornaments and other trinkets handmade by talented, smiling locals. Really they're just an essential experience if you are spending a Fall semester (August-December) in Europe as a volunteer through International Language Programs.


---
Want to see what our volunteers are up to every semester?
Follow along on our Instagram accounts: @ilpadventure.
---

The dates that each Christmas market is open varies from year to year and city to city, so you'll have to check what the exact dates are for the one(s) you're wanting to visit. But, they do usually open sometime at the end of November and don't close until just after Christmas (although a few remain open through New Year's).
While the Christmas Markets are the ideal place to purchase all of the gifts you need to get for family and friends, don't forget that there is so much more to enjoying these holiday festivities. If you get the chance, visiting one of them on opening night when they have the ceremonial lighting of the Christmas tree is a magical experience. Yes, it's freezing cold this time of year. Yes, these markets get very crowded with Europeans and tourists alike. So are they really worth visiting? Absolutely 100% YES!
The Best Christmas Markets In Europe
Salzburg, Austria
Seeing as this is the hometown of Mozart and The Sound of Music, it shouldn't be a surprise that it holds the top of our list for very best Christmas Markets. There are actually several markets in the area of Salzburg, but our favorite is right in the City Centre. You'll find it just outside the Salzburg Residence and Cathedral. Here's a complete guide to this beautiful city! And yes, it's pretty much a guarantee that you'll fall in love with it.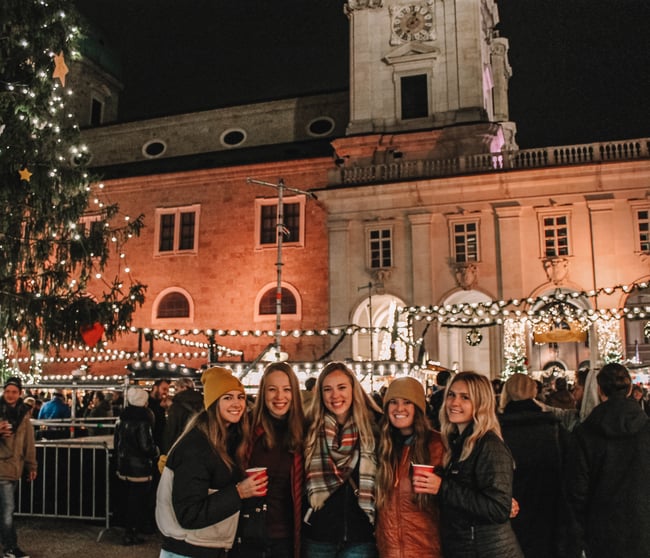 Here you'll find a giant Christmas tree, traditional musical programs performed by the locals, an electric train, and the yummiest European goodies you can even imagine. Make sure you bundle up, and enjoy giant apple strudel pretzels, currywurst, and hot chocolate while browsing booth after booth hung with homemade ornaments that smell of cinnamon and cloves. Trust us, this place feels like a winter wonderland. Just watch out for Krampus, the demon who punishes misbehaved children during the holiday season! Check out the official website for more info.
Address: Residenzpl. 1, 5020 Salzburg, Austria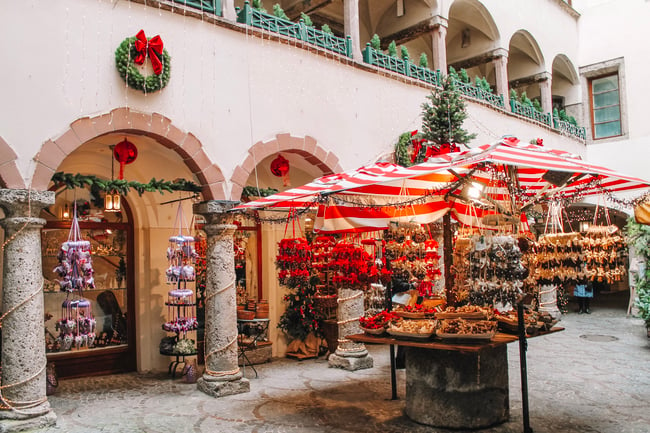 Colmar, France
This charming, unique town on the border of France always looks like it's straight out of a fairytale. But at Christmastime?! There just aren't words to describe the magic you'll feel here! The holiday markets pretty much take over the entire Old Town, so you can spend hours and hours just wandering down cobblestoned streets. Make sure you also stop by Little Venice to catch the view of the colorful, timbered houses that line the banks of the river. Here's a complete guide to Colmar!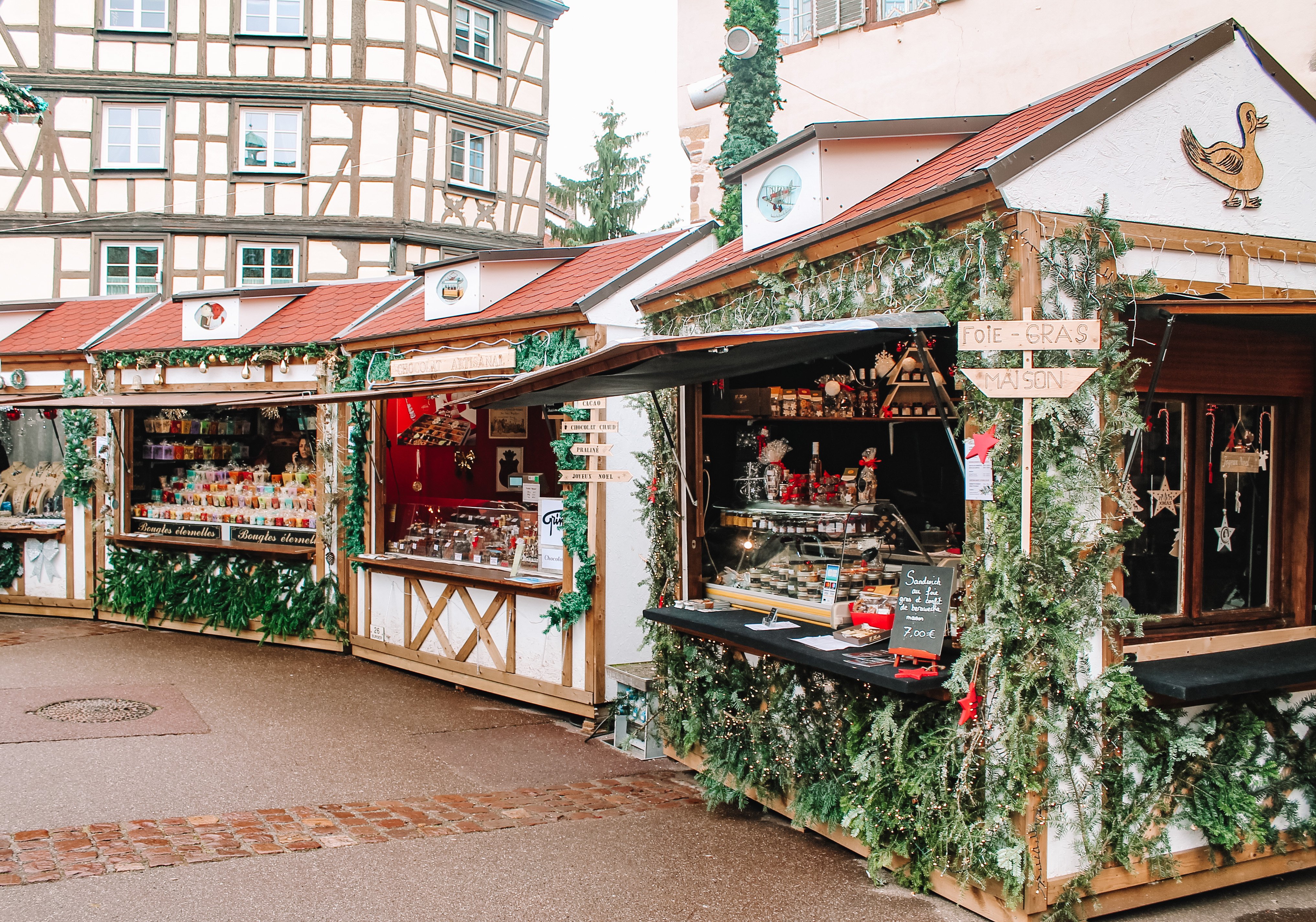 If you get a chance to visit Colmar, you'll find an outdoor ice skating rink, a slow-spinning carousel where you can sip our favorite Kinderpunsch, and of course the countless outdoor booths that are clustered around Old Town, each brimming with homemade trinkets and treats. At night, every building is dripping in festive lights, and many of them even have light shows projected onto their walls. As you can imagine, the effect is very romantic. Check out the official website for more information.
Address: Place de l'Ancienne Douane, 68000 Colmar, France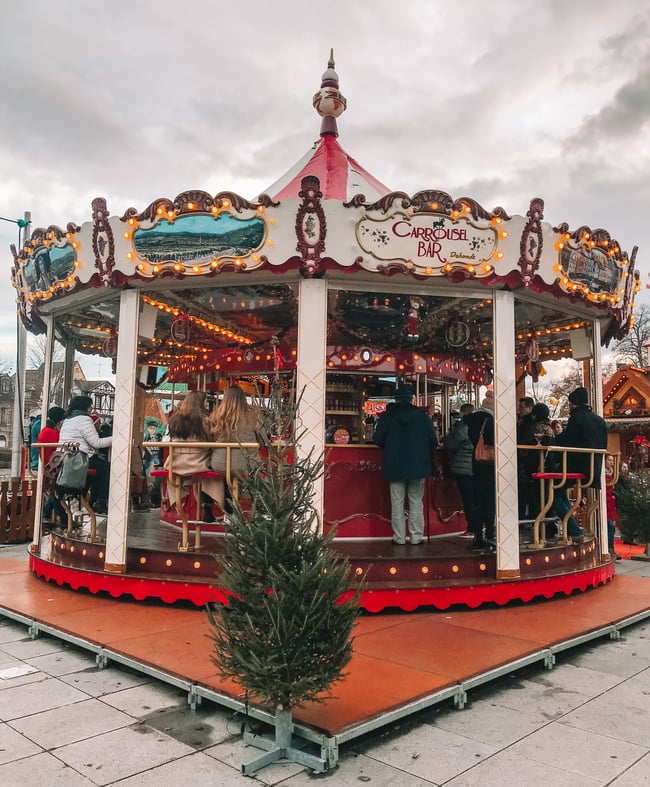 Budapest, Hungary
This is easily one of the most underrated cities in Europe, and George Ezra was right to call it a "hidden treasure chest". The memorials to tragic historical events, the unique architectural wonders that overlook the River Danube, and the chain fence that connects the once divided Buda and Pest are each unforgettable. But another reason to love the Christmas Market here is that it's been voted the most affordable Christmas Market destination in Europe! We like the sound of that.
Here's a complete guide to Budapest!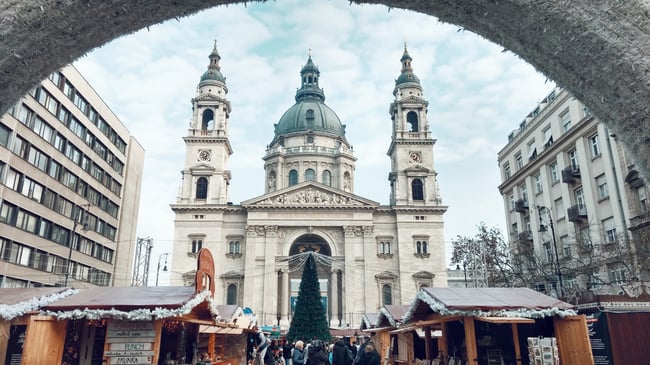 At the central Christmas Market, you'll see a large white tent, with countless food stations around the periphery. No matter what you select will be delicious, but our recommendation is to get a bread bowl full of traditional goulash (basically beef stew). You'll see carolers strolling through the crowds and twinkling lights strung across the walkways. Stand next to the giant Christmas tree to enjoy some people watching and soak in the view of wooden stalls overflowing with art pieces, ornaments, toys, and decorations. If you have a spare minute or two, also step inside the Lindt store to grab a few holiday truffles.
Address: Budapest, Vörösmarty tér, 1051 Hungary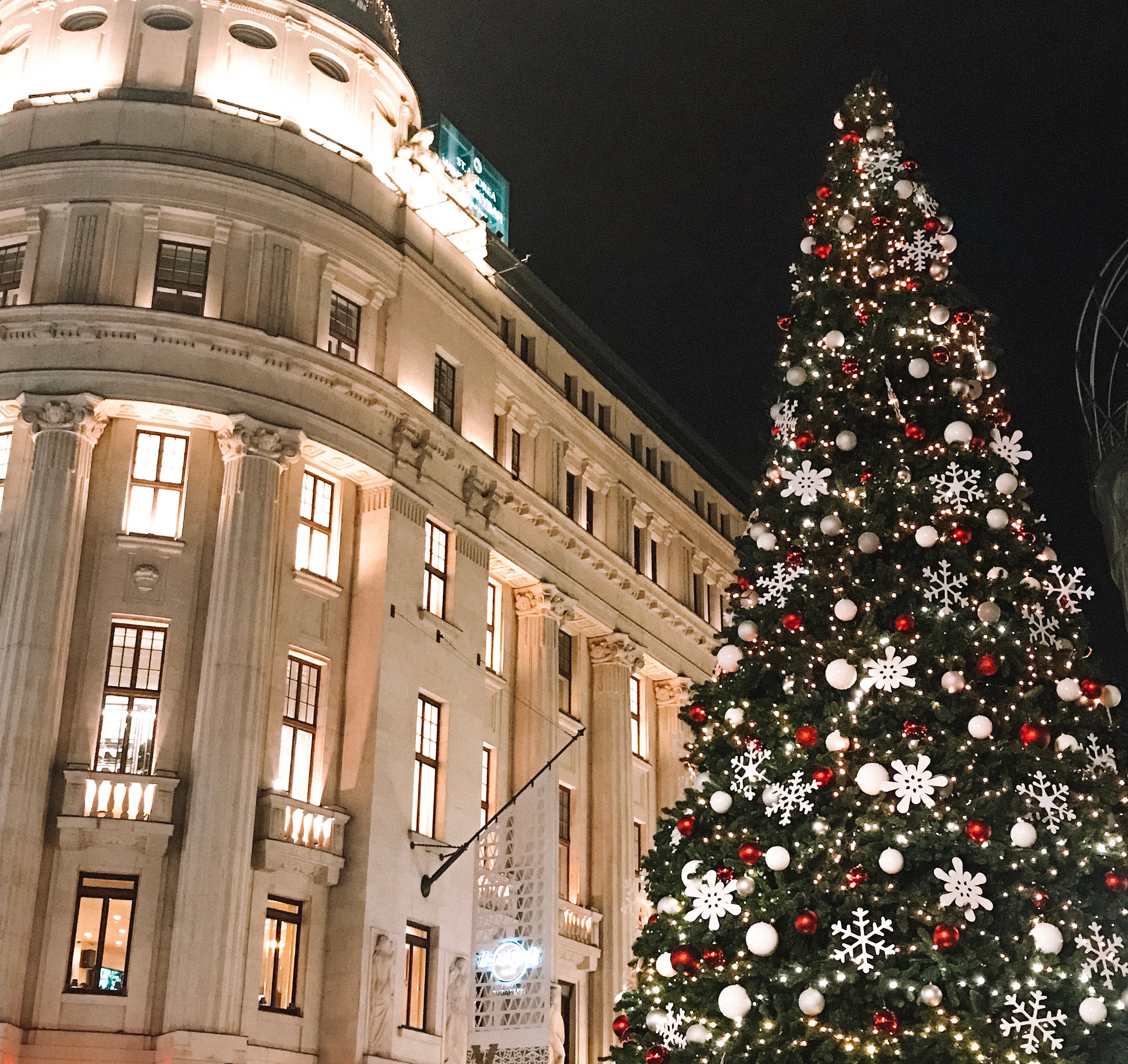 Other Honorable Mentions
Keep in mind that there are dozens, maybe even hundreds of Christmas markets across Europe. Vienna, Austria itself has over 20—just to put things into perspective. So basically, no matter which country you're visiting in Europe, you'll be able to find charming and thrilling Christmas markets. This is just a handful of our other favorites.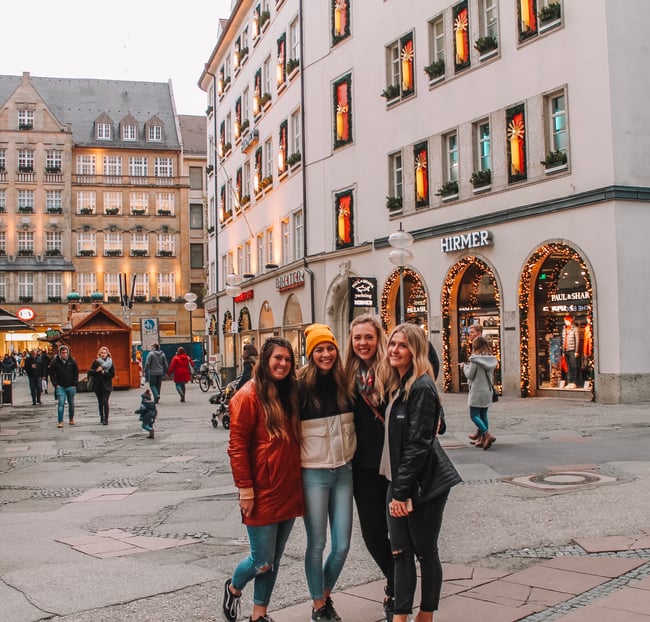 Germany
Alright, if we're being honest, Germany as a whole might be the country that knows how to do all Christmas stuff very best! After all, the very first genuine Christmas Market was held in Dresden, Germany back in 1434 (although there are mentions of earlier ones in other cities). So we can't pick just one market in Germany to mention. You will love any of them that you are able to visit, but our favorites are located in Munich, Trier, Cologne (the most visited in the world with 4 million people every year), Leipzig, Rothenberg, and Frankfurt. Yes, that's half of Germany, but just trust us on this one. They are all amazing!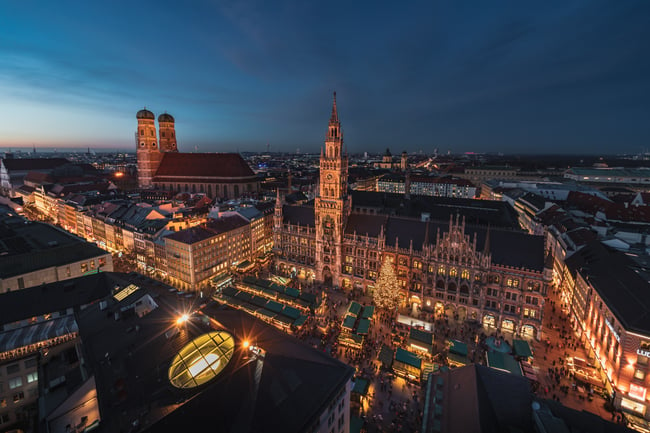 Poland
This is another country that really knows how to do charming Christmas markets. The ones we love most are found in Wroclaw, and of course, Krakow. The market in Wroclaw is highly underrated, but lucky for you, that means it's far less crowded than the one in Krakow. Here you'll find some of the friendliest people, and don't forget to look up at the stunning and colorful buildings encircling the main square. You can try a lot of traditional Polish food like pierogies and smoked cheese but there are also many international stalls at this market where you can get Hungarian langos and Dutch pancakes.
Many agree that the market in Krakow is the best value for your money since it is so much cheaper than the ones you'll find in Germany and Austria but also a very beautiful, historic city with so much to explore. You'll find this Christmas market in the central square, Rynek Glowny, alongside the Cloth Hall. It's smaller than many markets, and the central focus is on traditional foods. Try the smoked cheese with cranberry preserves, perogies, grilled meat, and soup. Then sip some melted chocolate while enjoying a carriage ride to see all of the lights and famous landmarks.

Prague, Czech Republic
While there are a handful of Christmas Markets hosted in the beautiful Prague, the two main ones are found at the Old Town Square and Wenceslas Square, just a five-minute walk apart from each other. At the center of the Old Town Square is an Observation Bridge, where you can catch an aerial view of the festivities. Some things to keep an eye out for are the animal stable, where you'll find sheep, goats and a donkey; the nativity scenes in wooden stables; and the folk groups that where traditional costumes and perform carols.
Of course you also have to enjoy the local dishes! Some of the most popular foods you can sample here are flatbread topped with garlic, smoked meat dumplings (knedlíky plněné uzeným masem); sweet dumplings (sladké knedlíky); and pancakes (palačinky), sugar coated pastry (trdelník) and spicy gingerbread (perníčky). Yes, it is a holiday feast!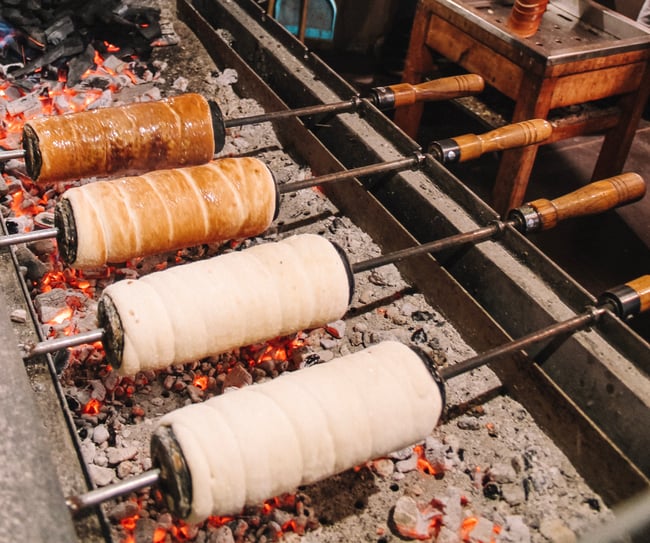 Vienna, Austria
As we already mentioned, Vienna boasts over 20 different Christmas markets, and each one is worth a visit. But, there are five that are especially popular and worth experiencing. The Viennese Dream Christmas Market in front of the City Hall, the Christmas Village at Belvedere Palace, the Christmas Village on Maria Theresien Square, the Christmas and New Year's Market at Schönbrunn Palace, and the Christmas Market at Spittelberg.
At each one, you'll find seasonal gifts and handcrafted goods. Grab a few of those, some roasted chestnuts, and Christmas cookies to experience all of your European Christmas fantasies against the backdrop of Vienna's stunning architecture.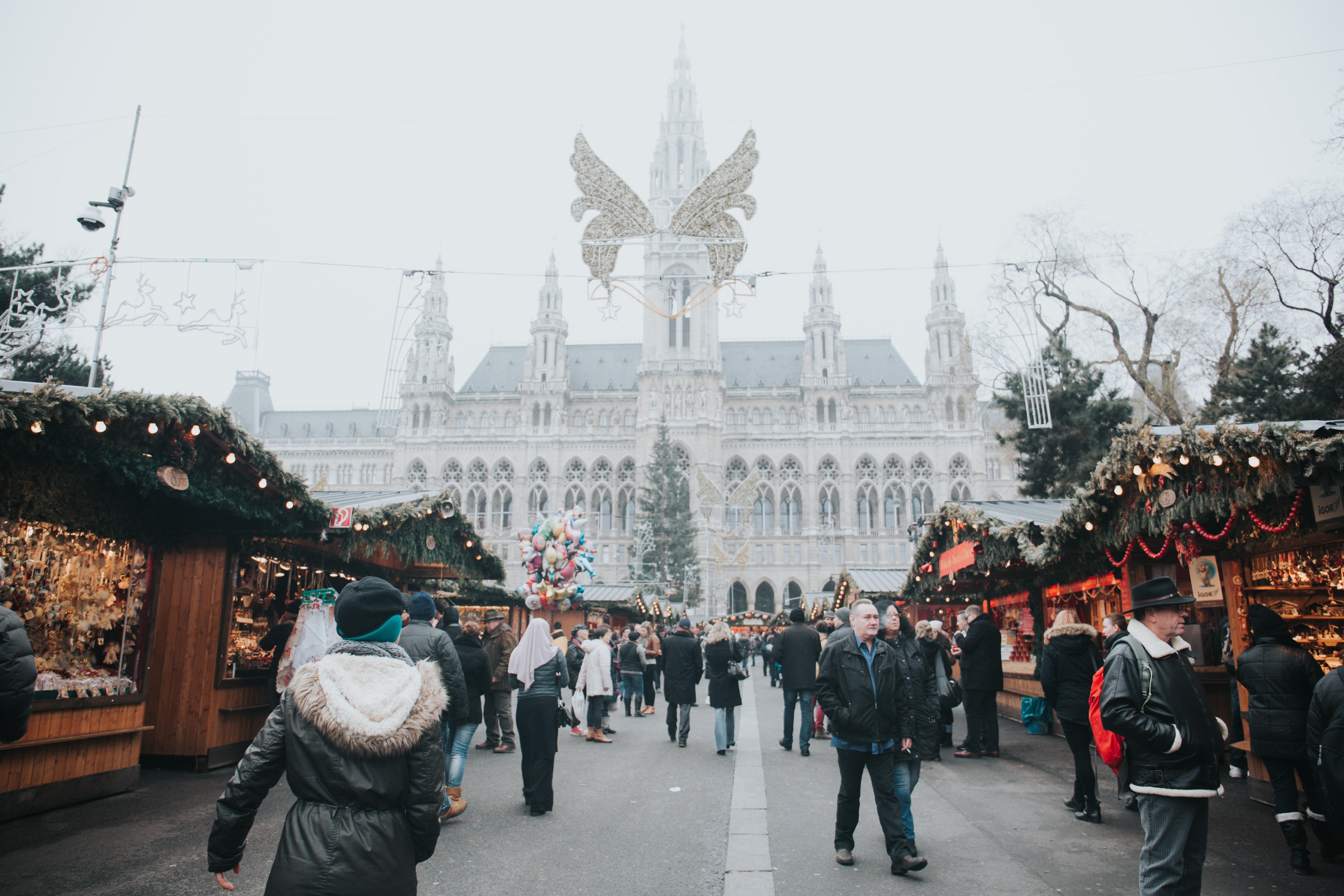 Bratislava, Slovakia
There are two main Christmas Markets in Bratislava. The first is probably the best place to enjoy the full holiday atmosphere and is right in the main square, Hlavné Námestie. You can even climb the tower of the Old Town Hall to get an aerial view of the Christmas celebration.
The second market is found not far away in Hviezdoslav's Square. This one is a bit bigger and even includes an outdoor ice-skating rink. There is also a special Christmas tram that is all lit up and runs through the city center! It's interior is red and green, and has both a fireplace and carols. Now that is worth experiencing!
Riga, Latvia
The main Christmas Market in Riga is located in Cathedral Square, or Doma Laukums. In the different stalls, you'll find a variety of traditional items, like wool sweaters, socks and mittens, linen tablecloths, ceramics and glassware, wooden toys, plus wooden ornaments and houseware.
If you're planning to sample the holiday goodies (which you absolutely should) there are food stalls that offer crepes, gingerbread cookies, chocolate covered apples, and a lot of local savory foods too. Also, keep an eye out for the traditional carousel with hand-carved wooden animals. It's very unique!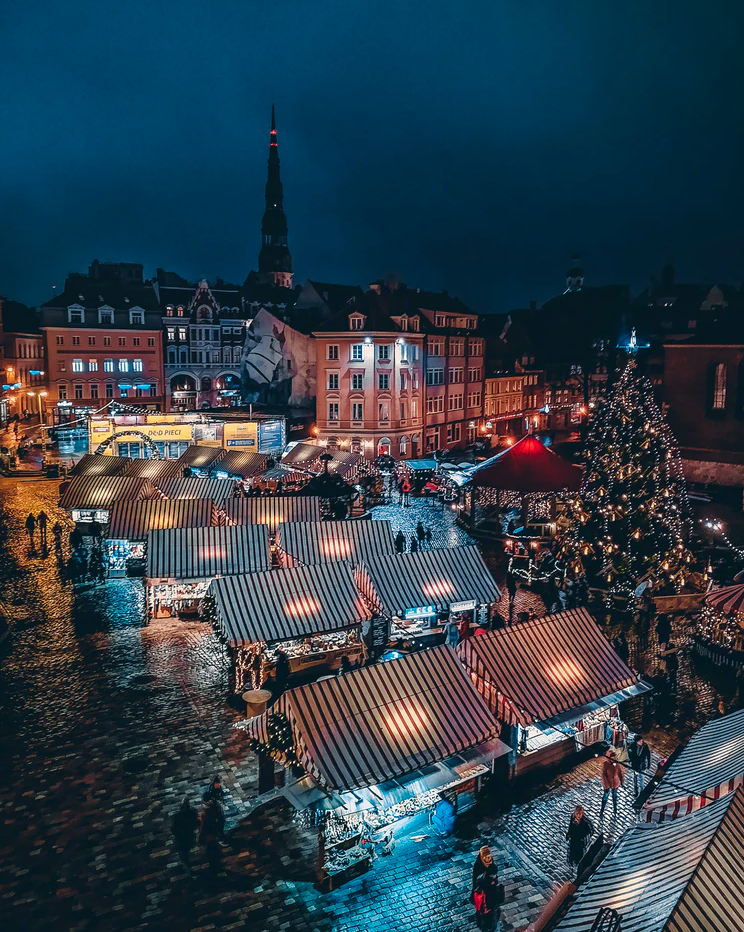 Want to experience some of this magic for yourself?
What's stopping you? Is it fear of travel, financial concerns, other life plans? Everyone who works in the ILP office has volunteered abroad at least once before and we love answering questions and discussing concerns, because we had many of the same ones ourselves. Let us help you make your dream of living abroad a reality!