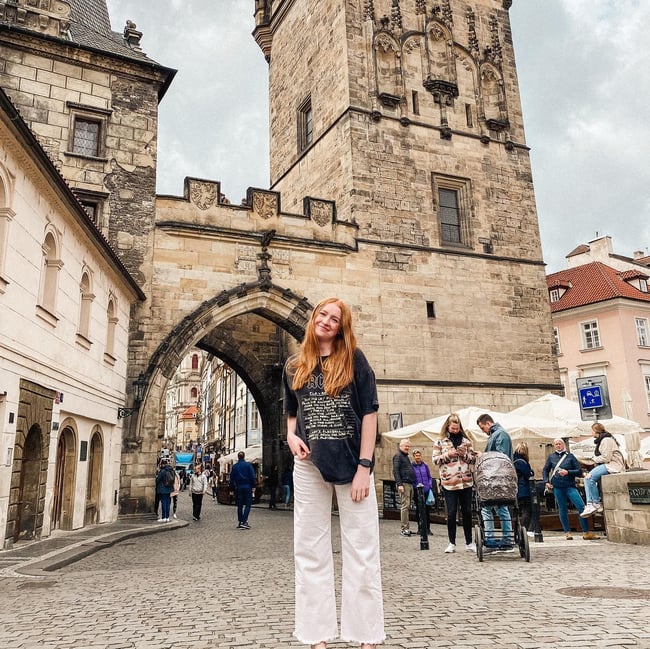 Headed to Prague? We've pulled together what you need to know for a perfect trip.
This beyond-photogenic city is a top vacation spot for all the ILP volunteers living in Europe for a semester, and for good reason. But before you run off to soak up every thing we love about Prague you'll want an insider's guide to help you see, do (and eat) the best of the best.
---
Headed to other places in Europe?
Our Europe Destination Guide can help.
---
Few things are worse than coming home from a trip and realizing that you missed out on some hidden gem, or gorgeous viewpoint ... which is why you need all the tips from past ILP volunteers who swoon over the city of Prague. All too often we hear that out of all the cities and countries our ILP Europe volunteers visit, Prague is their absolute favorite — But that won't be your reaction if you miss out on these tips: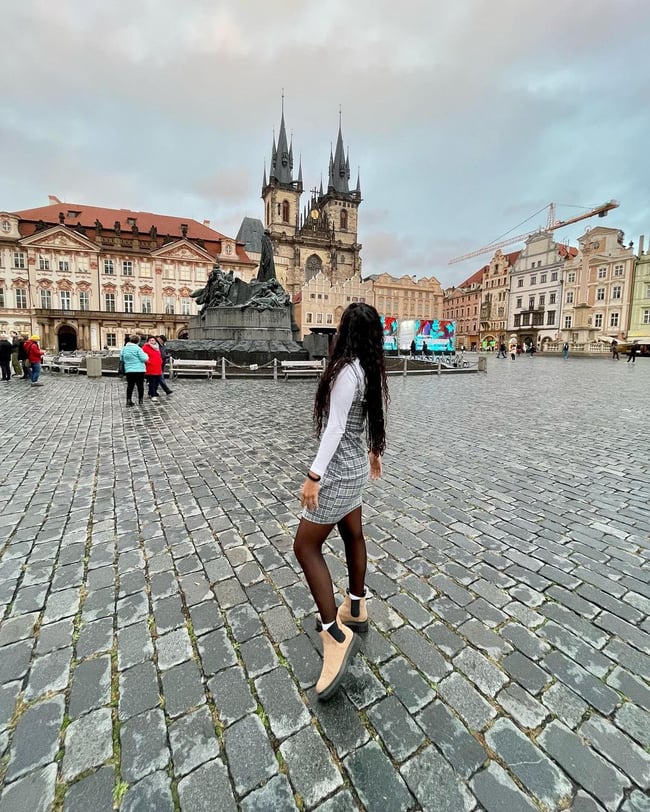 Top Things To Do And See
In typical European fashion, Prague is gorgeous — come for cobbled lanes that wind through red-topped roofs, and towering church spires. While the city as a whole is a blend of modernism and medieval architecture, the overall effect contributes to how pretty Prague is. We've outlined our favorite things to do and see, but don't forget to block out time to admire views from several bridges and viewpoints.
Old Town Square
This is the quintessential spot in Prague for gorgeous views. Find this gem between Wenceslas Square and Charles Bridge, and come see a place chock-full of things to explore. ILP volunteers suggest getting there early (some suggest as early as 6:30 AM) to see the square without hordes of people. As with most Old Towns, the best approach is to just walk around and soak in all the sites, but we suggest seeing a few things in particular:
The Church of Mother Of God Before Tyn: A towering Gothic church built with gray and black stones and stark spires, this church stands out against the pastel greens, yellows, pinks and reds of Prague's Old Town.
Do not miss the medieval astronomical clock tour, Prague Orloj. Ornate, gold, and intricate, it's been ticking for around 600 years. It's worth going up into the tower for a good view, but don't miss when the clock strikes at 9:00, 10:00, and 11:00 — a procession of the 12 Apostles marches out!
Some groups have gotten a 1-hour tour of the place, while others have just paid the fee to go up to the top to get panoramic pictures of the city. Either way, it's a must-see.

Ticket Info:
Monday, 11:00 AM to 10:00 PM
Tuesday - Sunday, 9:00 AM to 10:00 PM
250 CZK for the clock tower ticket
350 CZK gets you a ticket up to the tower, and a tour of the Town Hall.
Pst: Order and get a mobile ticket for a smidge less — book here and avoid the lines to enter.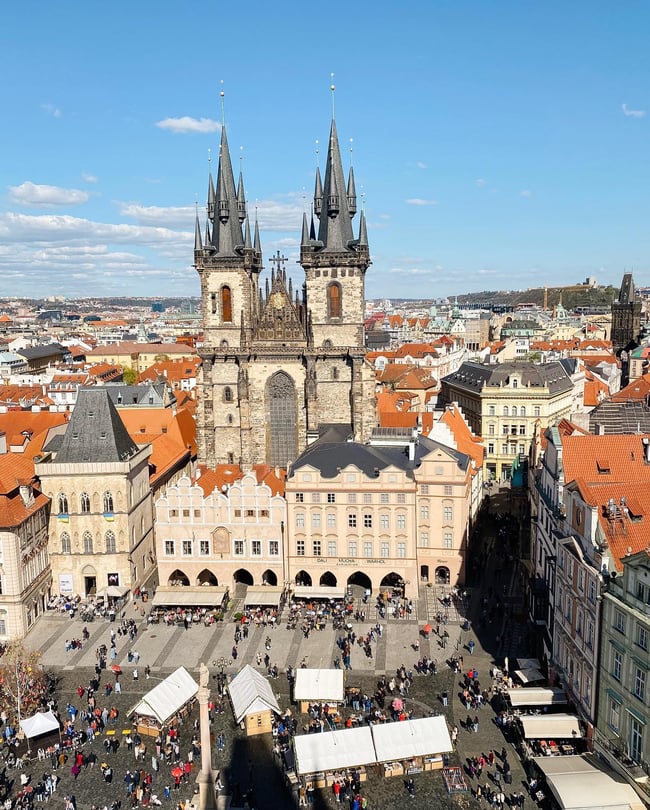 Charles Bridge
This bridge is what Prague is most famous for. Incredibly historic and built around the 1360s, Charles Bridge crosses the river Vltava and served as an important connection between Prague Castle and Old Town. It's been ravaged by floods multiple times, but still stands today. The spot is lined with Baroque statues and gives you a gorgeous view of red tiled roofs and the Vltava River, but is also a hot spot for street performers and artists. This place gets extremely busy around 9:00 or 10:00 AM, so arrive early if you want to see the spot before the crowds.
At the end of the bridge, there's a tower where you can pay a handful of CKZ to get a good viewpoint (you'll pay less with a student ID).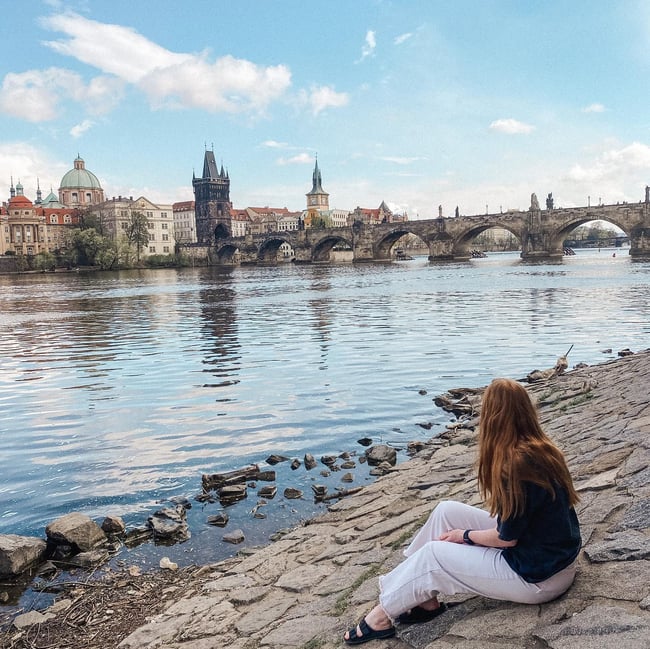 Prague Castle + St. Vitus Cathedral
You have to spend some time admiring the utterly massive Prague Castle. According to the Guinness World Records, it's the largest ancient castle in the whole world … impressive! For centuries, royalty called this place home, but now you can join the tourists and tour the sprawling grounds, gardens, and intricately huge St. Vitus Cathedral.
This is easily one of the most visited places in all of Prague and once you visit, you can see why. Be sure to go inside St. Vitus Cathedral if you have the time — you'll see the vaulted ceilings of the main nave and detailed stained-glass windows.
The grounds are enormous and encompass several buildings and churches, which could easily take up a good portion of your day.
Getting here:
The castle isn't that far from Old Town and across Charles Bridge, so walking is very possible. The walk up is a rather steep hill that has several lookout points where you can see the city of Prague unfold below you. According to one ILP volunteer, "Some of my favorite spots in Prague were on the walk to the castle" (take a peek at the picture at the end of this post to see what Jessica is talking about).
Start from Malostranské náměstí, and walk on Nerudova Street. At the top, turn right on to Ke Hradu. This takes you right to the main entrance of the castle.
You can also take tram 22 and get off at Královský letohrádek, Pražský hrad (the main stop), or Pohořelec (one of the more scenic routes).
Tickets:
Tickets range from 150 to 350 CZK, depending on what kind of options you want. The most expensive ticket gives you full admission to the castle, plus a handful of other buildings. See the ticket prices here. Purchase tickets at the Prague Castle Info Center, and ticket counters at the Old Royal Palace … just follow the lines.
Speaking of, lines can get very long so be prepared for that when planning your itinerary.
Also, if you're short on time (or money) you can tour the grounds for free which is still worth it. The outsides of these buildings and the grounds are worth seeing, not to mention the gorgeous walk up!
Hours:
Details are subject to change so check the official website before your visit, but here's what the current info is:

April to October:
Castle is open from 6:00 AM to 10:00 PM
Historic Buildings are open from 9:00 AM to 5:00 PM
St. Vitus Cathedral is open from 9:00 AM to 5:00 PM, Sundays at 12:00 PM to 5:00 PM.
November to March:
Castle is open from 6:00 AM to 10:00 PM
Historic Buildings are open from 9:00 AM to 5:00 PM
St. Vitus Cathedral is open from 9:00 AM to 4:00 PM, Sundays at 12:00 PM to 4:00 PM.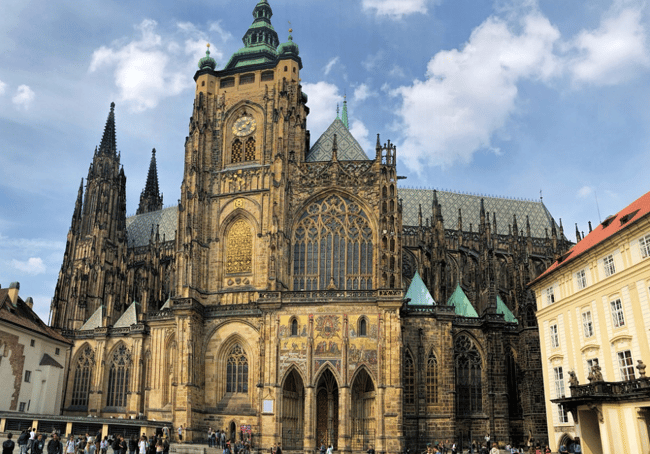 John Lennon Wall
Since the 1980s, this section of wall has been adorned with art, lyrics, and graffiti (mostly consisting of lyrics from The Beatles). What used to be a section of the city that advocated change and rebellion against a communist regime, the Lennon Wall now is an important symbol of peace and love (and a popular photo op). You'll find the wall on Velkopřevorské Square (Velkopřevorské náměstí). Walk over Charles Bridget from Old Town, and take the stairs down to the Lesser Quarter to find it.
The wall is free to visit, but it can get crowded, so plan on visiting early if you want to avoid potentially having people in your picture.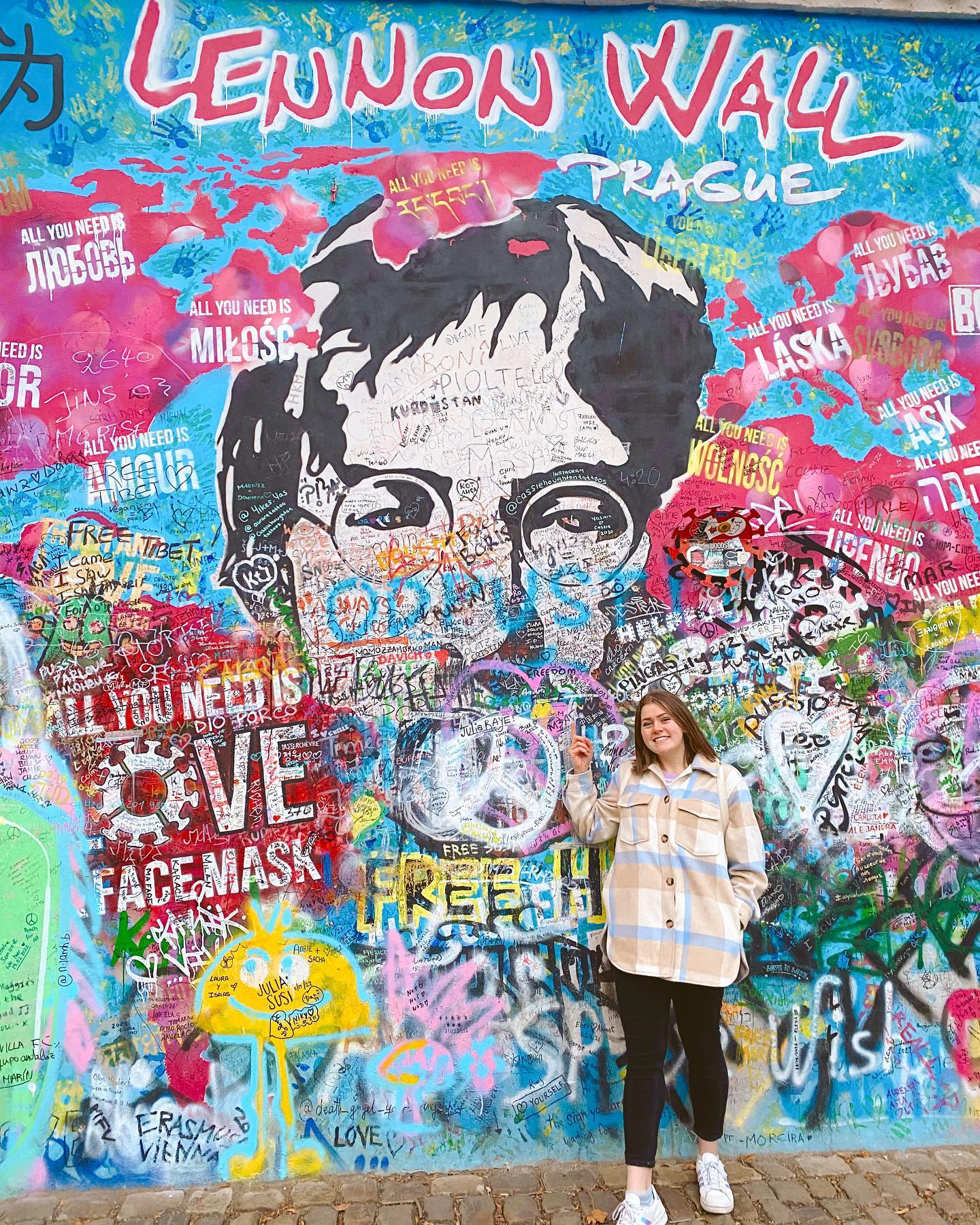 Explore Petrin Hill
Ride the funicular up to Petrin Hill to see rows and rows of red-tile roofs and copper spires between parks and gardens. If you visit at night, this is a prime place to see the city lit up. The hill is home to a handful of splendid gardens, an Eiffel-tower look-alike, monuments, and other areas to explore — it's a large space that can be pretty secluded later on in the day, depending on which area you're visiting
To get here, just take the funicular railway up (or walk). The funicular leaves from Ujezd street in Lesser Town, near the Ujezd tram stop (trams 12, 22 and 23 stop here. Open from 9:00 AM to 11:30 PM, and valid with any transfer ticket (remember, those tickets also work for the metro and trams).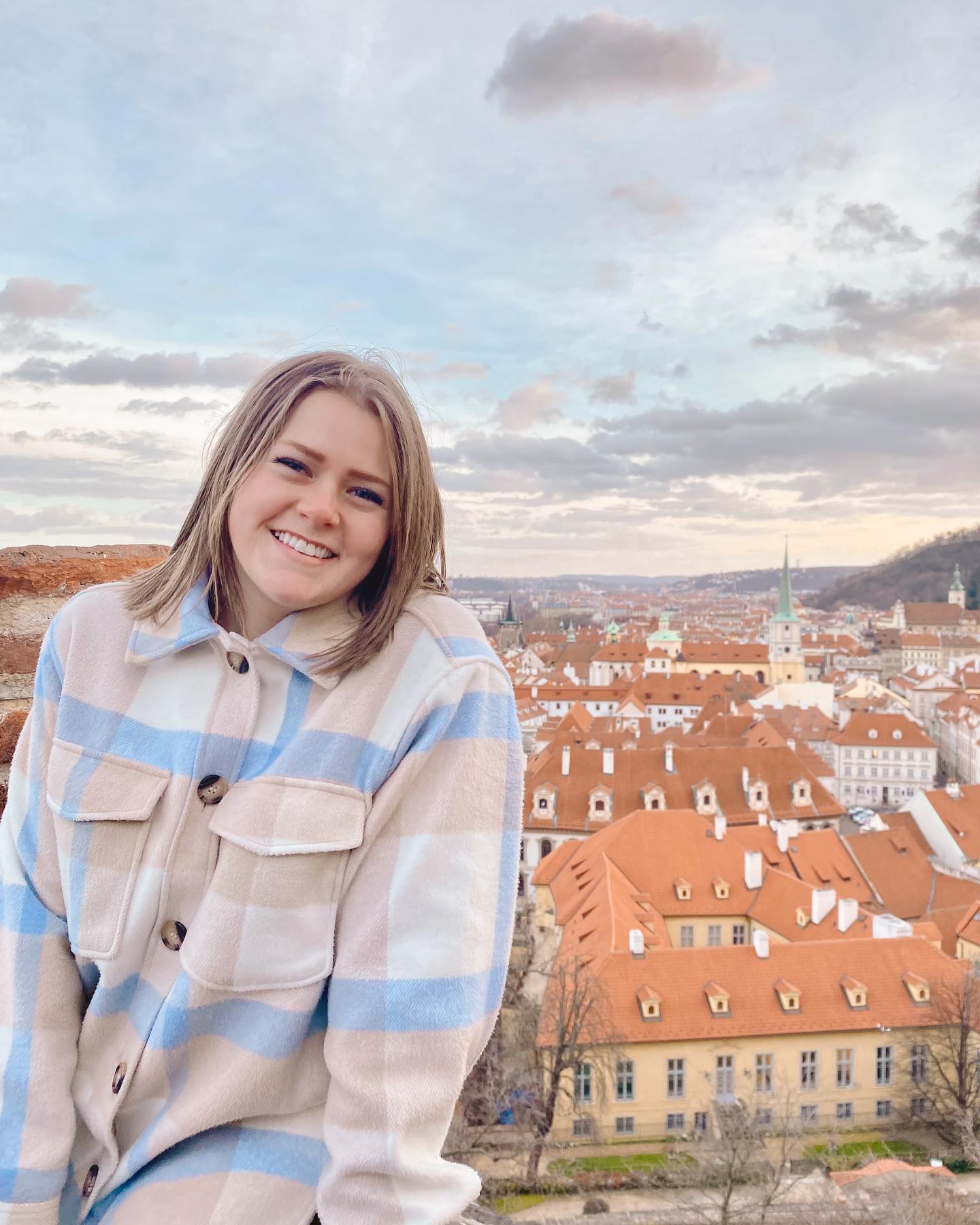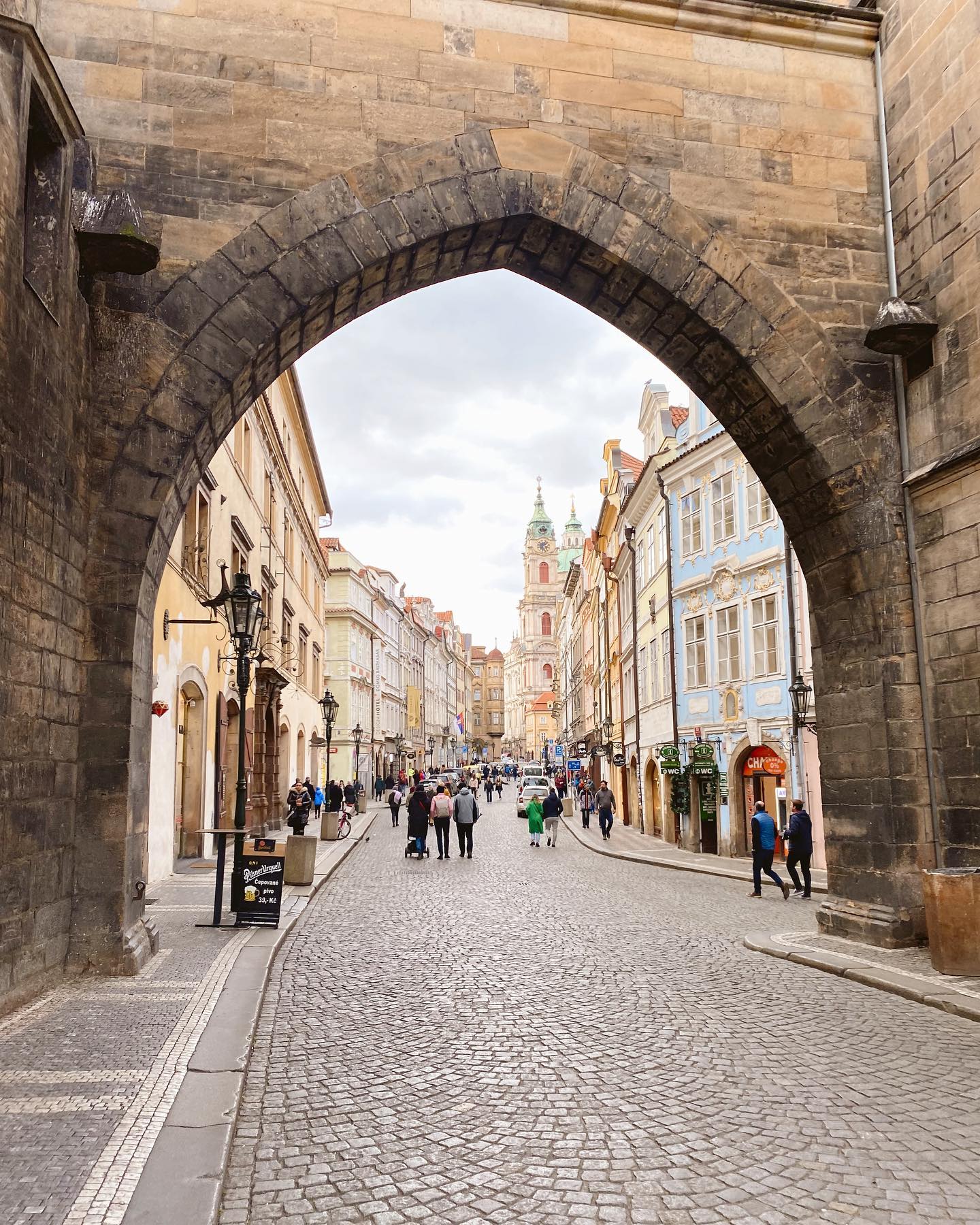 Extra Adventures We Love
There is a lot to see and do in Prague, and if you have the time, we suggest you check out a few more of what this city (and nearby) has to offer:
See The Dancing House
Built by Vlado Milunic and Frank Genry, this building is a site to see. Officially titled "Tančící dům" but nicknamed "Fred and Ginger' after the famous dancers Fred Astaire and Ginger Rogers, the building is more than unique, supporting a cartoonish block of windows undulating on one side, with a waving side of glass panes on the other.
Ride line B on the metro and get off at Karlovov Namesti, or ride the tram (5 or 17) and get off at Jiraskovo Namesti.
Tour Wallenstein Palaces + Gardens
These Italian-inspired gardens provide a break from the sometimes busy bustle of downtown Prague, a slice of quiet courtyards and meticulous gardens. The open space is complete with benches where you can sit and relax for a moment and maybe catch a glimpse of some strutting peacocks before jumping back into the city.
These gardens also host a bizarrely unique drip wall - pictured below - that looks eerily like hands and faces reaching towards you.
To get here, just exit the Malostranská Metro station to your left, and go up the escalators before turning an immediate right to reach the gardens.
Hours + Costs
Admission is free but check here to see if there are any concerts happening during your visit. Some charge a small fee.
April to May (and October): Monday - Friday (7:30 AM to 6:00 PM) Weekends (10:00 AM to 6:00 PM)
June to September: Monday - Friday (7:30 AM to 7:00 PM) Weekends (10:00 AM to 6:00 PM).
Museum Hop In The Jewish District — Josefov
An area of Prague with an expansive and sobering history, these streets have stories to tell. Josefov area has been around since the 11th century where citizens were forcibly converted to Christianity, where synagogues were burned, and where only 10% of the population survived the Holocaust. Now, the area is blanketed with museums and beautifully intricate synagogues, kosher restaurants, cemeteries, homes and historic buildings looking to rebuild a brighter future.
Hours: Depends on what you visit. Do note that interiors of all synagogues will likely be closed on the Jewish Sabbath (Saturday).
Typically, most things are open from 9:00 AM to 6:00 PM in the summer. Fall and Winter tend to close things down by 4:30 PM.

Cost: Depends on what you'd like to see. All major sites in Josefov are part of the Jewish Museum. You can get a 480 all-in-one ticket or a 300 CKZ ticket that does not include access to the Old-New Synagogue. Get tickets here (and avoid waiting in line).

Get Here:
Ride Line A on the metro, get off at the Staromestska stop or get off at the Staromestaska stop on Trams 2, 17 or 18.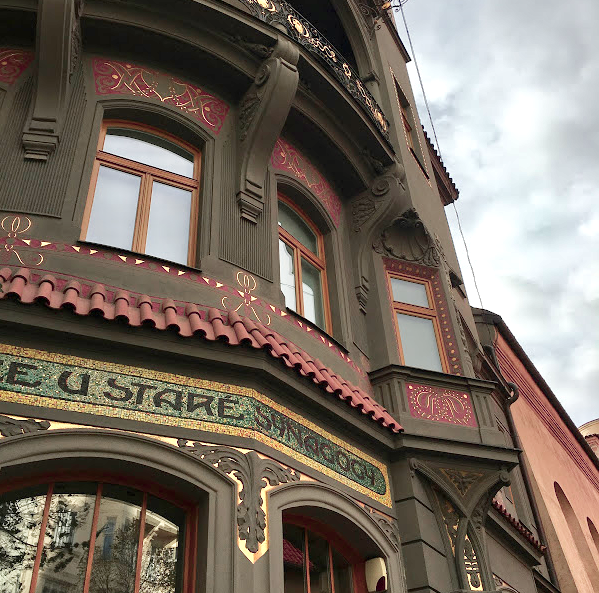 Day Trips We Love
Karlstejn Castle
This stark and stunning castle is situated just north east of Prague, and makes for a fantastic day trip. Karlstejn Castle is photogenic, situated atop a hill between two rolling mountains.
You'll need to go through the castle via a tour; check out what the tour packages are here, though a couple of bloggers suggest skipping out on tour three (unless you like peering into dusty rooms that are mostly empty).
Hours and Costs
The castle is closed on Mondays, but operates Tuesday - Sunday. Hours and tour times depend on the date of your visit (see times here). I suggest booking online to avoid a sell-out, in which case you'd need to wait another hour for the next tour. Prices also range from around 260 CZK to 800+ CZK depending on your tour option; see prices for the tour options on the link below by clicking "more information" on the tour you're interested in.
Getting Here
By train, it will take about an hour from the main station Hlavni Nadrazi in Prague. You can book train tickets from Prague to Karlstejn here for around 100 CKZ for a one-way (or more for a higher class seat).

You can also bike here if you have the time. It's relatively flat, and there are bike rental tours that can take you the 32km ride to the castle if you'd rather (plan on riding there, and taking the train home).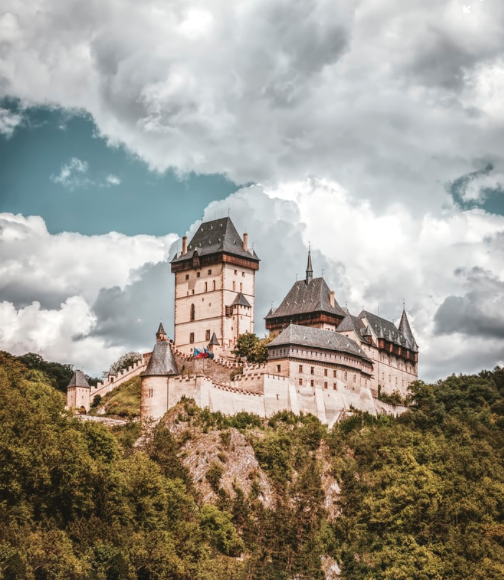 Kutna Hora
Nearby Prague is the city of Kutna Hora, which boasts one of the most fascinating and gorgeous churches around …. one that is adorned and decorated with thousands of human bones. While that particular church is the main pull of the city, there are a few other cathedrals to view if you have the time, making this a popular day trip.
The Sedlec Ossuary Bone Church
The Sedlec Ossuary Bone Church is a church built and adorned using the bones of 40,000 people. It's macabre and fascinating, and a huge pull for tourists. Keep an eye out a chandelier that uses the every bone from the human body, or the impressively intricate coat of arms built out of bones.
Hours vary, but here's a current outline. Check here for up to date info.
Open from 9:00 AM - 4:00 PM (November - February )
8:00 AM to 6:00 PM (open on 9:00 AM on Sundays) April to September
9:00 AM to 5:00 PM (October & March)
Tickets are 90 CKZ
Here's a map to help you walk from the train station to the church, or you can read more detailed directions on how to get here from the Kutná Hora hl.n train station.
Other Things To See:
There are loads of other gems in Kuta Hora that would be a shame to miss. Here's a walking tour to get you around to some of the most popular sites, like St. Barbara's church which fits your picture of what a Gothic cathedral should look like, complete with pinnacle spires and a three-peaked roof.
Getting Here:
Easily reached by train. Trains leave Prague's main station (hlavní nádraží) every couple of hours to reach Kutna Hora (the main station is called Kutná Hora hl.n). From Prague, you can also book a ticket to Kutná Hora město which gets you into the main town. You'll need to transfer once you arrive in Kutná Hora hl.n which will be another 5 minute train ride once you get off at Kutná Hora hl.n.
Book train tickets here (for around 100 CZK one way).
Best Places To Stay
There are no shortage of worthwhile places to stay in Prague; this city is very popular with backpackers so you'll find loads of hostels with high ratings. Looking on Hostelworld is a good place to start (check out reviews, and good scores for safety, location, staff, cleanliness, etc) to find your own. We also have links to a few popular places to stay that past ILP volunteers have liked if that's helpful:
Brix Hostel has rad reviews, but is a bit far away from the city center. Just something to think about, but the price may make up for it (shared dorms are $10-15).

Arcapay Hostel is right around the corner from Prague Castle, and a bit of walk to Old Town with awesome reviews.
Sir Toby's is another total favorite, but you'll need to get around via Metro to arrive at the city center. The hostel is close to a metro stop which does help you get around.

This Airbnb is another place our ILP volunteers love. The spacious apartment sleeps six, and is less than a mile outside of Old Town (about a 15 minute walk).
Another Airbnb is an ILP volunteer recommendation, with a tidy space that can sleep up to six people.
This Airbnb is a little space (it's a studio), but is within waking distance to Wenceslas Square, and the city center.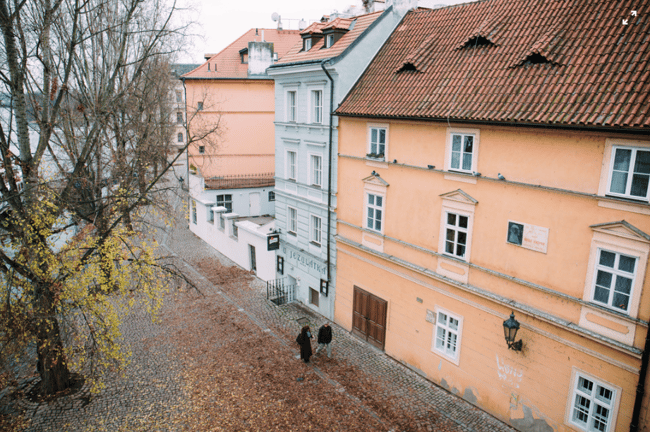 Must Try Treats
This Pastry
Prague is a city for people who love food which just adds to the charm. One of the most iconic treats is the classic Trdelnik pastry which is a bread wrapped into a cone, baked over a fire, and filled with chocolate … or ice cream … or whipped cream. In the mood for a savory version? Get one stuffed with cheese, lettuce and crunchy bacon. Yum!
Czech Food
We have a blog post about our favorite foods in Prague if you want to try the local cuisine (Which I highly recommend, especially in Prague).
Other Recommended Spots
LoVeg is an awesome vegan restaurant serving up dumplings, lasagna, burgers, salads and more, with a cozy atmosphere and a view of Prague Castle.
Address: Nerudova 221/36, 118 00 Malá Strana, Czechia
Hours: 11:30 AM to 9:30 PM
NEB.o. is a Thai/Vietnamese place that is a favorite of one particular ILP volunteer. I suggest getting local food while you're in Prague, but if you can't live without a bowl of curry or Pad Thai, NEB.o is a good spot for you.
Address: Perlová 365/10, 110 00 Staré Město, Czechia
Hours: 11:00 AM to 11:00 PM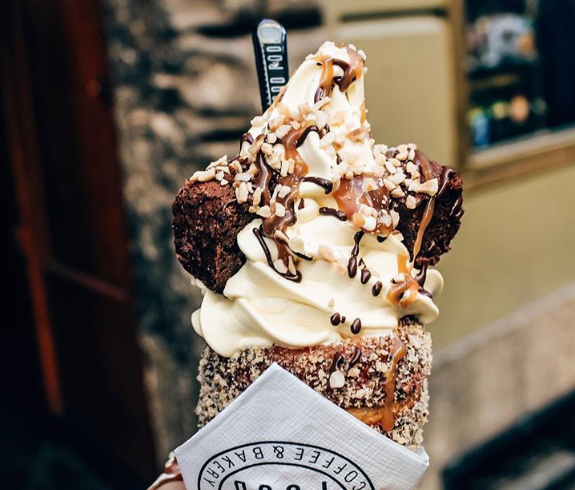 Insider Tips
Start Early!
Most things don't open until 9:00 AM but that's when the crowds come to stay. I'd suggest planning your itinerary to get up early and take pictures in the photogenic Old Town or heading to Charles Bridge around 7:00 AM, then battling some crowds for museums and castles that open later. If there are things you care about doing or seeing without most tourists in your way, do that early in the morning or right when things open.

Once the day gets later, things get busier so you can spend that busy time having a leisurely lunch, exploring a less-popular section of the city just wandering around, or hanging out with a few hundred other tourists.
Volunteers typically spend around three days in Prague which gives you plenty of time to see the sites and enjoy the city.
Avoid Some Scams
This city is amazing and very, very popular. Unfortunately, that means a few more scams are more likely to happen in such a favorite destination. You might run into things like being charged to walk down a particularly photogenic street, more pick-pockets and some taxi scams. Luckily, scams are easiest to avoid if you know about them: First, keep your wallet and valuables close to you, and hard to get to. Carry your backpack or purse in front of you on public transportation and when walking around. Or wear a money belt or fanny pack.
Also, taxis really tend to overcharge tourists. To avoid this, call some reputable businesses (like AAA Radio Taxi, City Taxi, or Green Taxi), or just avoid the issues completely by riding the metro or tram, walking around, or calling an Uber.
Plan On Using Cash
Keep an eye out for ATMs at bus stations, train stations, and shopping centers. You'll need small bills and coins to pay for things like bus/tram tickets, and for public restrooms. Some places take cards, but not always, so it's nice to have cash. Also, a few ILP volunteers have mentioned getting discounts if they used their student ID card when buying tickets, so don't forget to pack yours!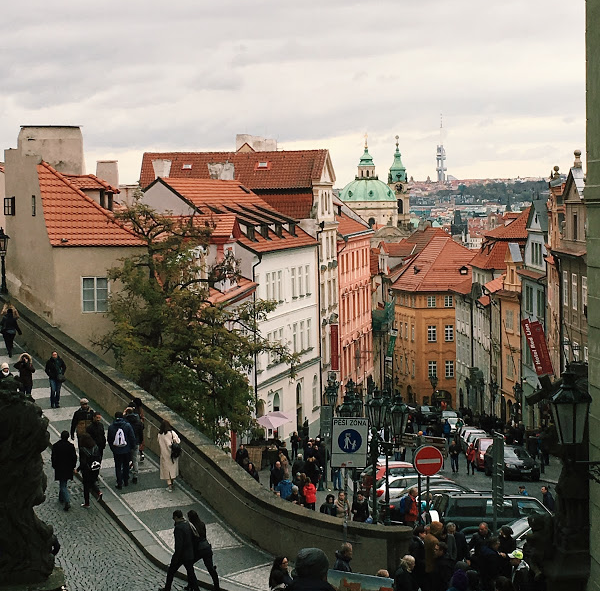 Getting To Prague
Time for a mini geography lesson. Prague is the capital of the Czech Republic, a country that's surrounded by Germany, Poland, Slovakia, and Austria …. which are all favorite places to vacation too, if you didn't know.
You'll find the capital city of Prague in the north which is very well connected via train, plane, and long distance bus, making it easy to reach no matter where you are in the world.
Plane
If you'll be flying, you'll arrive at the Václav Havel Airport (PRG); multiple airlines fly here, but we love checking European budget airlines like Ryanair, EasyJet, and WizzAir. The airport is about 30 minutes outside of the city depending on traffic. It will cost anywhere from $17 - $35 USD to hire a taxi which is why we prefer taking the bus to get to the city.

There are a couple of buses to take, but we prefer Bus No. 119. It gets you from the airport to the Dejvicka metro station (on the Green "A" line … it'll be the bus's last stop). On the Green Line, you can easily reach stations in Old Town, which is where most travelers are spending their time. Buses leave every 5-20 minutes, and cost less than 2 Euro. If you have luggage, plan on paying 1 Euro per piece. The bus departs right out of terminals 1 and 2.
Train
Prague's main station is Hlavní nádraží; the station is only 1-2 kilometers outside of places you're interested in exploring (like Charles Bridge) so walking is definitely an option if you're fine carrying your luggage over cobbled streets. You can also hop on the Metro (Line C), or hire a taxi. Head's up — taxis right outside of the station (and in Prague in general) tend to overcharge tourists, so we suggest walking outside a bit and calling an Uber instead.
Bus
If you'll be arriving via long distance bus, you will most likely stop at the Florenc station. You can catch the metro here (lines B/C) to get you around the city right from the bus stop. Like the train station, it's just 1-2 KM outside of sites in Old Town, so feel free to pull up a map and walk, take a short metro ride, or you can call an Uber or a cab.
Getting Around The City
To help you get around, Google Maps comes in handy. Each of main spots we talk about below can be typed into Google Maps and you'll get directions on how best to arrive. Most volunteers do quite a bit of walking, then use the tram or metro a few times.

We suggest using public transport over a taxi. This city is overrun with tourists clamoring to see the gorgeous architecture which means getting scammed is all too easy. Public transport is cheap and easy to use. If you want to take a car, call an Uber over a taxi. Here's the outline on getting around via metro or tram, but again, we think you'll be walking for quite a bit of your visit.
Metro + Trams
Public transport tickets are either referable or non-referable. You want referable tickets because they give you access to the metro, buses, trams and some funiculars. Cost per ticket depends on a couple of things. You can purchase tickets based on how long you'll be using them (and what portions of the city you're traveling to); There are tickets good for 30 minutes, 90 minutes, 24 hours or 72 hours.
The time starts once you validate your ticket; you'll see little yellow boxes to insert your ticket the minute you board the metro/bus/tram; if you get the 90 minute, it's valid to use an unlimited number of times 90 minutes after validation. Get a breakdown of the prices here.
You need to buy a ticket before you board a metro, tram or bus. You can buy tickets from yellow kiosks, newsstands on the street, and certain information centers.
There are three lines on the metro (A= Green, B= Yellow, and C= Red). The metro runs from 5:00 AM to midnight, and plan on having a train arrive every 2-4 minutes. Get a map of the metro here.

Trams run on a different route and schedule than the metro (running from 4:30 AM to midnight, and certain night trams running from 12:30 AM to 4:00 AM). Trams usually run every 8-15 minutes, but night trams are every 40 minutes or so. Remember, trams are included with a referable ticket. Here's a map of the tram system.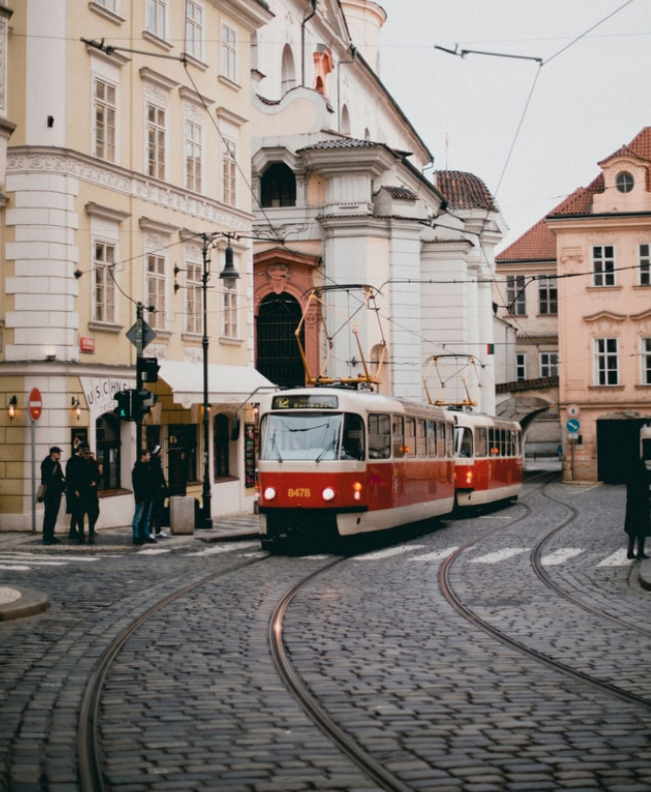 Are you ready to hop on a plane and see Prague for yourself?
We've got programs in Europe where you teach English part time, then have weekends and vacation days to go out of town and see places like Prague. If that sounds like a dream, come get your questions answered about volunteering with ILP.