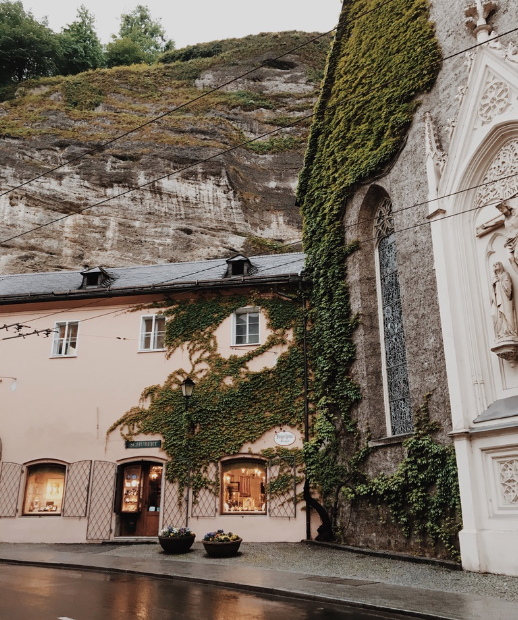 Filled with sprawling palaces, streets lined with cafes, hikes to the Alps, and gorgeous architecture, Salzburg is our must-see city in Austria.

If I'm being totally honest, the entire country of Austria is dreamy. But if you absolutely love rolling hills, charming villages, culture-filled cities and some of the world's best known museums and concert halls, Salzburg might be the most perfect place for you to be …. especially if you are a fan of the Sound Of Music.


---
While you're in Salzburg…
See what other cities to visit on our European Destination Guide
---
Initially, I was excited to visit Vienna but it worked better in our itinerary to first spend some time in Salzburg. It turned out that Salzburg was absolutely my favorite part of Austria and is a city I recommend everyone visit. It easily held some of my highlights of that trip to Europe. Easily reached by train or plane from several cities that you'll be glad you made time to visit Salzburg for a couple of days.
What To See In Salzburg
There is a lot! I've put my top recommended places here, but don't think that is all there is to see when it comes to palaces, gardens, concert halls, churches, and cafes. However, these are the top sites to see if you're here for a day or two:
Mirabell Palace
One of Salzburg's famously gorgeous palaces is the Mirabell Palace, filled with things like the Marble Hall where Mozart performed concerts. But the gardens might be the real attraction: The famous "Do Re Mi" steps from the "The Sound Of Music" are found on the grounds, as are swirling geometric patterns and floral gardens. You'll also find an orangery, a dwarf garden full of marble sculptures, and several other little pavilions to explore. In a nutshell, the whole palace's gardens are absolutely mesmerizing.
Cost: The palace and the gardens are free to visit, but you'll want to get there early to avoid the crowds.
Hours: The Mirabell Palace and Angel Staircase: Daily from 8:00 AM to 6:00 PM
Marble Hall: Monday, Wednesday, Thursday 8:00 AM to 4:00 PM, Tuesday and Friday 1:00 PM to 4:00 PM

Heads up: The palace is now used for administrational purposes so sometimes rooms and the entire palace itself isn't open to the public.

The gardens are open daily from around 6:00 AM to around dusk. You definiltey want to get there early because tours flood these gardens the later you arrive in the day. I hit the gardens just after 7:00 and had them mostly to ourselves for a solid 45 minutes.
Address: Mirabellplatz, 5020 Salzburg, Austria.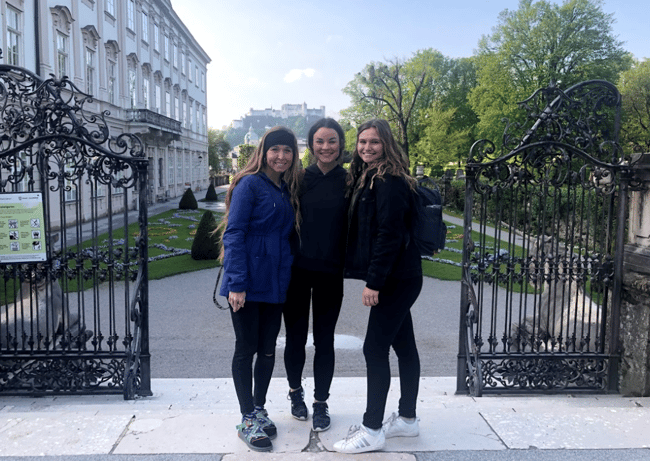 The Sound Of Music Tour
Anyone who loves this classic movie absolutely needs to take a Sound Of Music Tour. You'll visit famous sites as-seen-in-the movie, like the "Do Re Mi" steps in the Mirabell Gardens, the pavilion where you can recreate the "I am 16 going on 17" scene, and even twirl around fields in the Alps singing "the hills are alive with the sound of music".
Tours
This is such a popular thing that while you're in Salzburg you'll likely run into tours offering to bring you out for the day. It's obviously easy to jump on a tour, where everything is taken care of for you. We've seen ILP volunteers in the past use this company, which charges 45 euros for a 4 hour tour.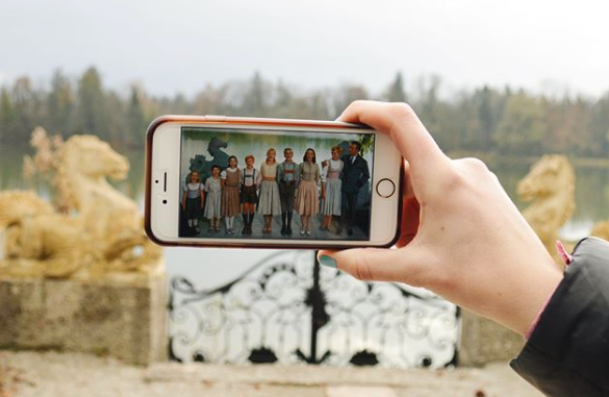 Hellbrun Palace
A classically beautiful Baroque palace surrounded by sprawling gardens, Hellbrunn Palace was once the summer palace for royalty, and was designed to be the most entertaining place around ... it's also home to the "Sound of Music Gazebo" so it's a must-see place. This palace was one of my highlights, that's for sure.
The Palace itself sits on a huge park, full of manicured garden, floral fields, and forest, but inside the palace you'll find stately ballrooms and concert halls. However, the thing to see in Hellbrunn are the trick fountains. Cleverly designed over 400 years ago, the palace grounds are covered with water-powered figures hiding jets that will spurt water at you when you're passing by.
If you'd like to see the trick fountains, you'll also need a special ticket (the tour is about 40 minutes). The fountains are operated by a staff, so you'll have to see the fountains as a part of a tour and are such a riot. Plan on getting wet — the tour guides definitely target visitors and guide you to sit and stand where you'll get splashed a bit. The English tours are run certain times a day so make sure you arrive when they are running (there's a link to ticket info below).
If you'll be visiting the palace, you'll need a ticket to go inside (the audio guide lasts about 40 minutes).
The grounds are free to visit and are gorgeous. Personally, we spent about 2 hours just walking around and people watching. It was a gorgeous sunny day and the ideal spot to have a picnic.
Tickets: 12.50 Euro for adults, 8 euro for students with an ID
This includes a guided tour of the trick fountains, an audio guide to tour the palace and entrance to the folk museum. Get more ticket information here
Hours: April & October: 9:00 AM to 4:30 PM
May, June & September: 9:0 AM to 5:30 PM
July & August: 9:00 AM - 6:00 PM (with additional evening tours at 7:00, 8:00, and 9:00 PM)
Getting here: Bus 25 stops at Hellbrunn, or it's a long walk from the city center (about 5 km) so most choose to bike here if the weather is nice. Here's the address: Fürstenweg 37, 5020 Salzburg, Austria


Getreidegass Street
This is Salzburg's famous walking street, free of cars and filled with shops and bakeries, restaurants, and other famous sites like Mozart's house. The street is filled with pastel-colored buildings and little alleyways that shoot off from the main street and open up into impressive courtyards. You'll find little bakeries serving up slabs of strudel, and very expensive shops where you can buy traditional lederhosen. It caters towards tourists, but it's a place you can't miss.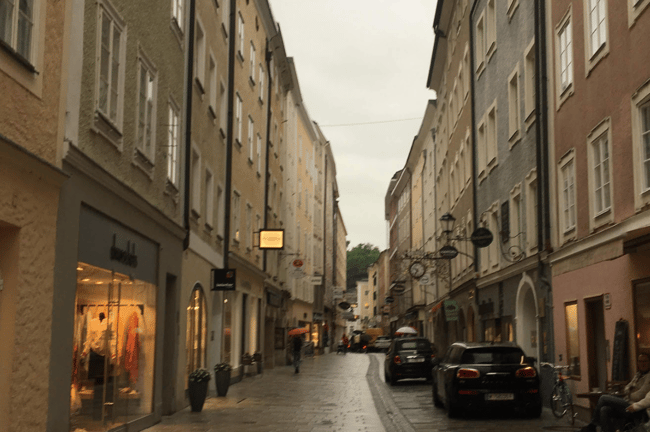 Mozart's Birthplace
Music fans will probably want to look at this place. The Mozart family lived in this house from 1747-1773 — the now-famous Wolfgang Amadeus Mozart was even born there on January 27, 1756 and lived there until he was 17. The yellow home can be seen from the outside for free, but inside, the house has been turned into an impressive museum where you can walk through the rooms, admiring furniture, pictures, letters, and other artifacts from the Mozart family including the baby-sized violin Mozart played as a child.
Hours: Open daily from 9:00 AM to 5:30 PM (but the last entry is at 5:00)
In July and August, hours are from 8:30 AM to 7:00 PM (with the last entry at 6:30)
Tickets are 11 euros. Visiting takes about one hour.
Address: Getreidegasse 9, 5020 Salzburg, Austria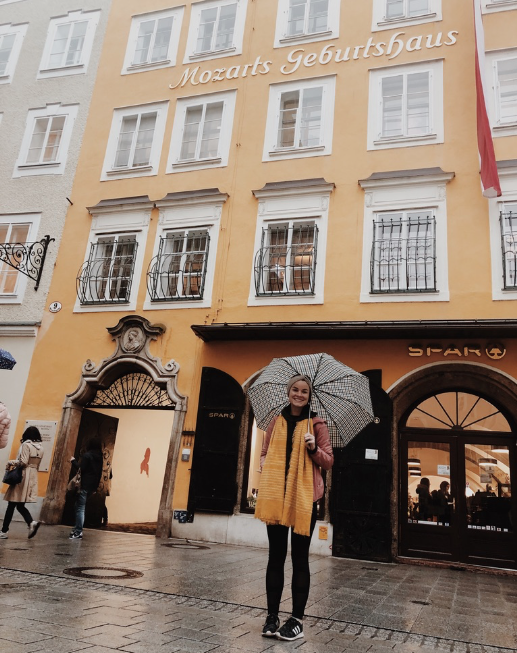 The Hohensalzburg Castle
Before leaving Salzburg, find the funicular to Hohensalzburg Castle where you can see some stunning views of the city below. You'll immediately see this impressive fortress that sits above the city of Salzburg and has since the 11th century. It was built to protect the lives of the archbishops (who lived there) and since its construction (and further fortification in 1500) it hasn't ever been taken by foreign powers.
The castle's interior courtyard was my absolute favorite part, but inside, you'll find a collection of museums that help paint a picture of what life was like hundreds of years ago. You can tour golden hallways, royal chambers, and other gems. A highlight I loved? All the furnishings are from the 16th century, including an inky blue ceiling lined with golden wooden "buttons" mounted on the ceiling to imitate then night sky. The views from around the fortress are also seriously impressive!
Getting Here: You can hike up, but I suggest taking the funicular up. You can check the times of the funicular here. It's 8,80 euros for an "up and down" ticket.

Cost + Hours: It's a 12,90 euro ticket, and opening hours depend on when you are visiting.
January-April: 9:30 AM to 5:00 PM
May-September: 9:00 AM to 7:00 PM
October-December: 9:30 AM to - 7:00 PM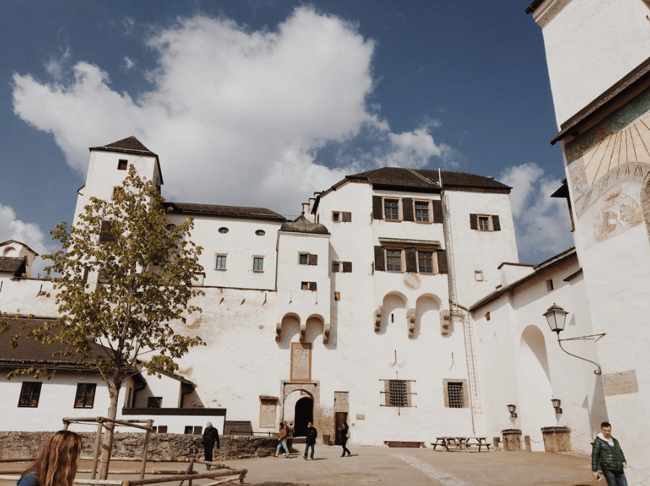 The Untersburg Cablecar
100% my favorite favorite thing I did in Salzburg — I cannot believe that I hadn't heard of this before checking out what was included in my Salzburg card (more on that below). You take a public bus outside of the city for about 30 minutes and arrive at the base of the Swiss Alps that tumble over the hills of Austria. The drive is a total stunner: we're talking rolling fields dotted with flowers and cows grazing, complete with tiny alpine villages. It feels surreal, like you're living in a postcard.
The bus drops you right off at the base of the Untersberg Cable car, then a 10 minute ride takes you above the grassy fields and into the sharp, ice capped mountain. I visited in the the month of May, and there was a hefty dose of snow atop those mountains — people in our cablecar were set up with ice picks, proper hiking boots, and other gear to go hiking, but once you exit, you can easily slip and slide over the easier pathways to get a view without all that extra gear. You absolutely have to make time for this in your itinerary!
Getting Here: The 25 bus takes you right there from the city center outskirts to the cablecar entrance.
Cost + Hours: 25 euros for an ascent + descent ticket. You can check the most accurate times here (departures are on the hour and half hour)

Tip: you'll want to get towards the windows for your cablecar for the best views, so make sure you're in line early to get into the car first.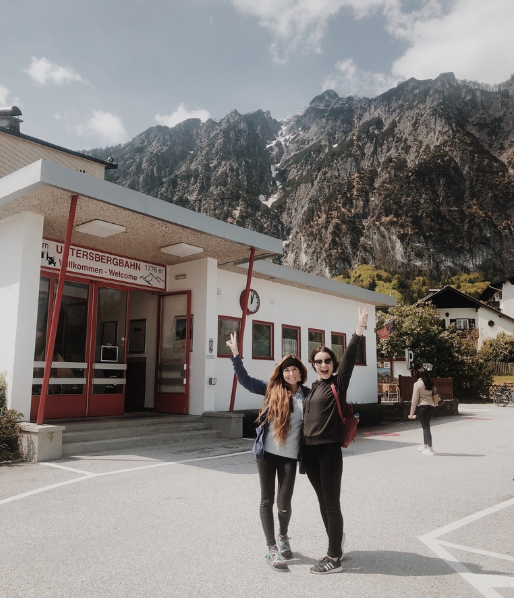 Our Biggest Salzburg Tip
Get the Salzburg Card. This is 100% worth it. They have 24 hour, 36 or 48 hour cards that include a ton of attractions and public transportation — it's all included in the price of the card. For example, the 24-hour card (which is the one I did personally) was 27 euros. We easily spent double that because we crammed in all the things we wanted to do that had a fee all in one day.
To give you an idea of an itinerary, we hit Hellbrunn palace (which is 12 euros) and the Untersberg Cablecar (which was 25 euros), the Hohensalzburg fortress (12.90 euros, plus the cablecar price up there and back down which was 8.80 euros), the Monhsberg Lift (3.80 euros for an "up and down" ticket) and the St. Peter's Catacombs (2 euros). We also took a couple of buses which were also included, but you could probably slide in a couple more things if you didn't spend as much time as I did up in the Alps or the Hellbrunn palace.
You can buy them online here or most hostels/hotels/tourist-oriented spots sell them. The YoHo hostel we talk about sells them at their front desk. That link also has a list of all the included activities if you want to see what's included.
Price wise, the Salzburg card is 29 euros for 24 hours, and 38 euros for 48 hours and 44 euros for 72 hours.
Nearby Vacations
Salzburg is a cinch to get to thanks to a well-connected train system, which means it's very easy to hop onto a train and visit another charming city in Austria or even visiting another country. Here are a few spots that are just 1-4 hours away from Salzburg:
Vienna, Austria
Come see what the country's capital is all about. Filled with huge and ornate gardens that are home to huge and ornate palaces, you also have to spend a few hours sipping a hot drink and munching on pastries in Vienna. That's right, hanging out in cafes is as much as the culture of Vienna as these world-class palaces.
We have a guide to Vienna that will come in handy for your visit.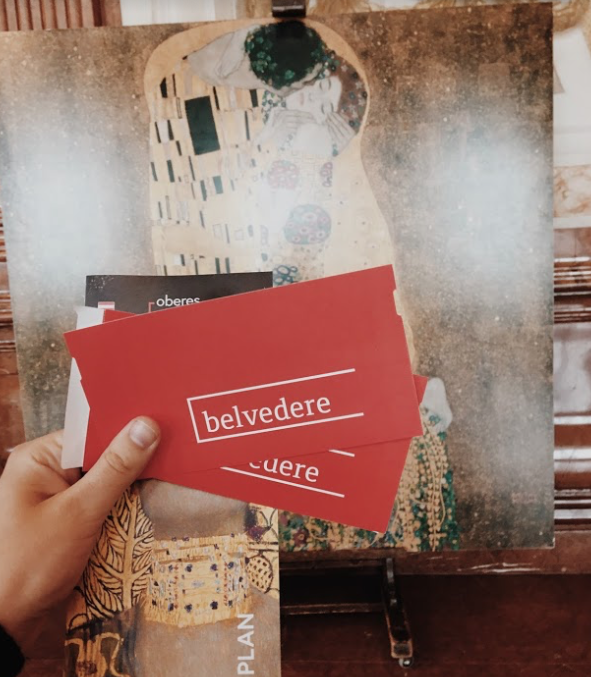 Hallstatt, Austria
Like a postcard, Hallstatt is a charmingly small village full of quaint homes and cafes, a picture-perfect church steeple and more, all situated on the side of a mountain, and surrounded by a lake. You'll have to take a ferry ride over which just adds to the magic.
Visit Hallstatt by taking a couple of short train rides – see what we love about Hallstatt, here.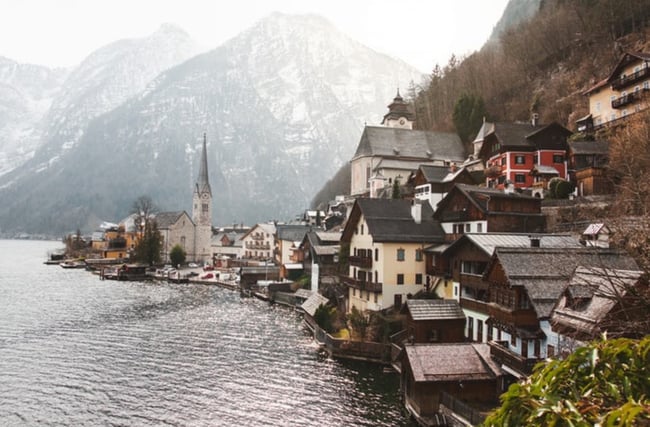 Munich, Germany
Fall in love with Munich the minute you walk down the picturesque Old Town. You'll find enough to keep you busy for a week, but some reasons we love visiting this historic city are the palaces built for Bavarian Kings and all the things you know you already love about Germany. It takes under two hours to get here from Salzburg, so you should definitely make that happen. Get your Munich guide here, crammed full of the best tips (and the prettiest pictures of this historic city).

Plus, Munich is the best jumping off point to see the most famous castle in Germany, Neuschwanstein.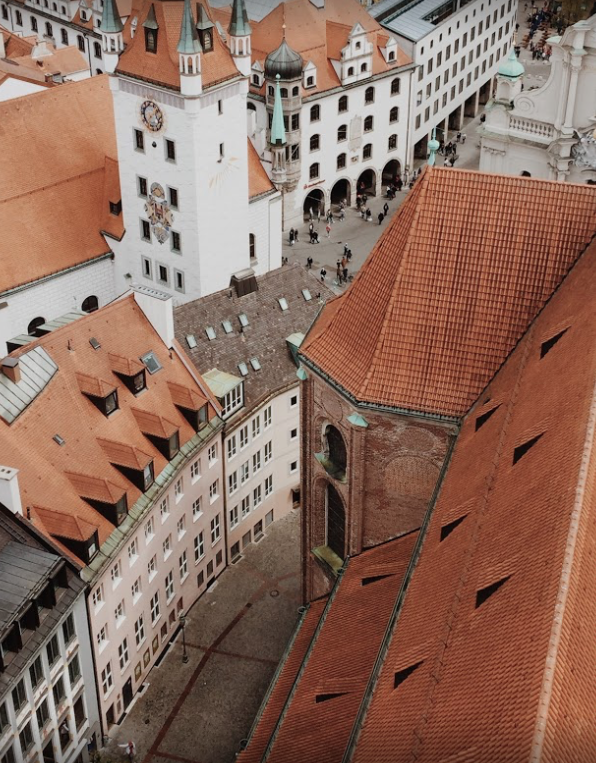 Ljubljana, Slovenia
Test out how you'd do, paddleboarding down the Ljubljana River — this blue river through the city center, giving you a glimpse of the city's Gothic architecture as you lazily paddle along by on the blue-green water. So fun. You can also see if you can escape the Ljubljana castle, or rent bikes to see the city's most famous sites. We love love love Ljubljana.
Get your Ljubljana guide here.
Where To Stay
A few visitors just head to Salzburg for the day which is fine if you want to just skim the surface and not worry about a place to stay … however, I recommend spending a few days in Salzburg. If that's the case, here's my pick on where to stay:
Yoho International Hostel
It's just a short 10-minute walk from the train station, and that gets you right in the middle of all the places you want to see. Cross the river to walk along
Getreidegass Street, and stroll to a few of Salzburg's famous sites. The hostel includes a free breakfast, and also plays the Sound of Music on a daily basis. What more could you want? Rooms at the Yoho International Hostel are available for around $20+ a night, but it's really our #1 pick for a comfy and affordable hostel that has a good location.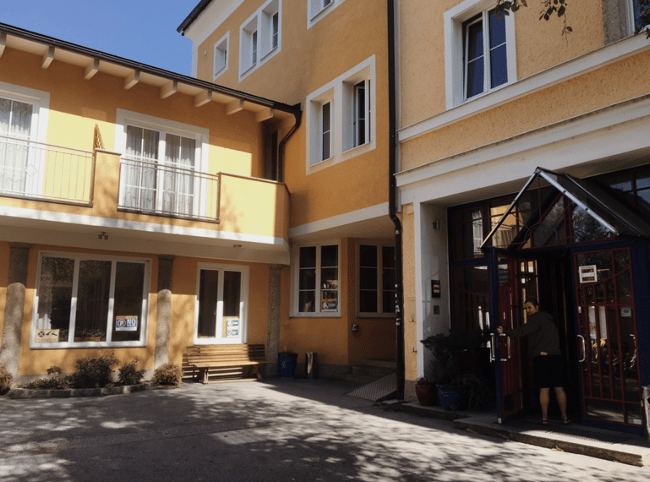 Things + Places To Eat
Apple Strudel — Cafe Würfelzucker
A good pick for all Austrian food and other favorites … some thing that this cafe is the best place to get Apple Strudel in the entire city of Salzburg. Get this apple-and-cinnamon-filled pastry piled high with whipped cream, or order their veggie strudel if you're more in the mood for something savory.
Address: Griesgasse 13 | 5020 Salzburg, Salzburg 5020, Austria


Hours: 9:00 AM to 6:00 PM
Austrian Food - Gasthaus Zwettlers
Of course you can find Austrian food at quite a few restaurants in Salzburg, but there are several dishes that come highly recommended by lots of hungry travelers. I'm a big fan of ordering schnitzel here (a thin slide of veal, or other meat, lightly breaded and fried), and soaking up the atmosphere. This restaurant has been around for over 150 years. Insider tip: This place is popular for a reason, and can get busy. Make a reservation or plan on waiting (but it's worth it). Here's their menu.

Address: Kaigasse 3, 5020 Salzburg, Salzburg 5020, Austria
Hours: Open 11:30 AM to 1:00 AM (head's up, this place is closed on Mondays, and closes at midnight on Sundays).
Cafe Mozart — Salzburger Nockerl
Huge, pillowy, and sweet, this unique soufflé is named after the city of Salzburg. The golden color hints at the Baroque atmosphere of the city, and the towering peaks dusted with powdered sugar represent the beautiful alps. This dessert is huge and delicious — I recommend splitting it with at least two or three people!

Make sure you order this dish early or be prepared to wait: it takes a while to make. You will find this classic dessert at a few places in Salzburg, but is a recommendation:
Cafe Mozart
Plan on waiting 20 or so minutes for your Salzburger Nockerl at this cafe, but split the 14.80 Euro price tag with 3 people and you'll be set. Here's a peek at their menu.

Address: Getreidegasse 22, 5020 Salzburg, Austria
Hours: 8:00 AM to 9:00 PM (9:00 AM to 9:00 PM on weekends)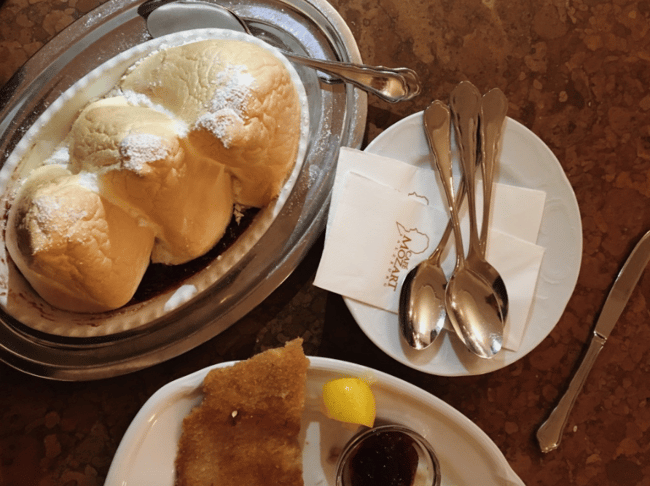 Getting To Salzburg
By Plane
When else can you say that you've flown into the Salzburg W.A. Mozart International Airport? This airport (code SZG) is obviously named after the famous musician and is found just outside of the city. Our favorite budget airlines fly in and out of Salzburg from a lot of cities spread across Europe so it shouldn't be tough to get a flight. You'll need to hop on a trolley bus (tickets are 2.50 Euros or so) and ride for about 20 minutes to get to the center of town. Just find the No. 10 Bus — it departs from the airport to the city center about every 10 minutes.
By Train
Another way to get to the city of music is by train. The station Hauptbahnhof is found on the north side of the Salzach River which is a bit of a walk from the city center, but definitely do-able. We love booking train tickets for Europe on Omio.com especially since it's just a 1.5 hour ride from Munich, Germany, or a quick 2 hours from Vienna, Austria.

It's a 15-20 minute walk from the train station to Vienna's Old Town — plus you'll pass Mirabell Palace and the famous Do-Re-Mi steps. If you'd rather not walk, you can take bus #10. Tickets are 2.50 euro and the ride should take about 10 minutes.
Getting Around The City
This pretty city is rather walkable. Once you reach the historic Old Town, most of the palaces, gardens, cafes, and other sites you want to see are just a short walk away from each other. You definitely want to book a hostel that's close to the city center to save you from some walking.

My advice is to plot out what things you want to see and pin them on Google Maps, then you can see where they are compared to each other. Plan your route (see this side the city on one day, then visit the other half on the next). Then, you can download Google Maps and get around without using any data once you arrive.
I was able to get around using Google Maps, no issues. The app popped up all the right bus routes for times when we took public transportation, and really reliable walking routes to get us from one place to the next. Go Google maps, all the way.
There's also lots of self-guided walking tours you can take, either by plotting your route on Google Maps or following someone else's itinerary. This blogger has a great walking tour full of other sites, like the famous St. Peter's Cemetery, where members of the Mozart and Haydn family are buried.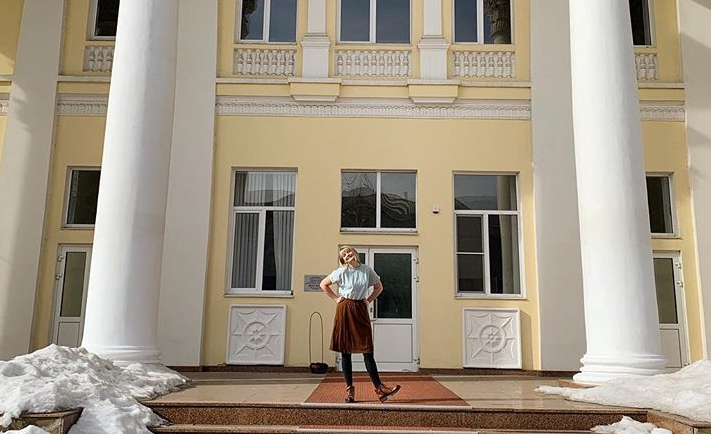 You're ready for a semester in Europe!
Come spend time teaching English or volunteering in an orphanage with ILP, complete with free time during the weekend, weekends off, and vacation days to explore places like Austria. Click the button below to speak to and ILP representative and learn more about where you can volunteer and what a semester abroad is like: