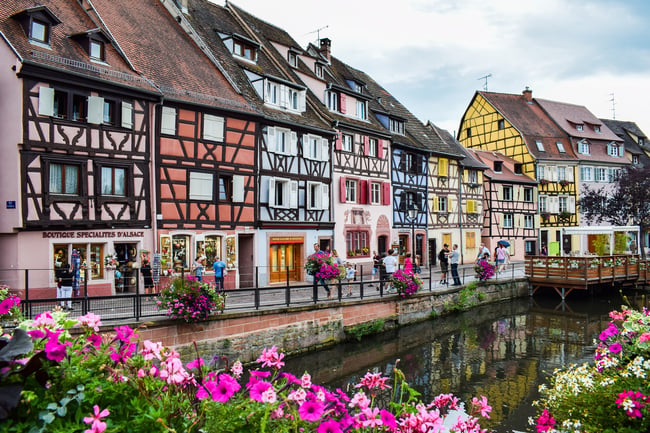 It's no secret that Europe is full of the prettiest fairytale towns, and some of our favorites are clustered in the Alsace Region of France. Here's what you need to know for planning your trip to one of these charming towns—Colmar!
Have you seen Disney's live-action Beauty and the Beast? Well, after visiting Colmar, we're convinced that's where they got all of their inspiration for creating Belle's perfect little French village. And all of the other towns, cities, and villages in this region are a lot like it. Since you have a couple of long vacations as a volunteer with International Language Programs, this is the ideal area to include on your itinerary!


---
Want to see more of the stunning places our volunteers are exploring?
Follow @ilpadventure and @ilptakeovers on Instagram
---

France is teeming with some of the most delightful, stunning places in the world, making it hard to decide where exactly you want to spend your time. Obviously I love Paris, but if you're a volunteer with ILP and only have a couple of days in France, you should really consider spending them in the Alsace Region, where you'll find Colmar and her sister towns. Not to be dramatic, but you may never get another chance to visit somewhere this dreamy again.
Heads Up: Don't hesitate to check out the other breath-taking towns in the Alsace Region, like Riquewihr, Kaysersberg, Eguisheim, and even the bigger Strasbourg. Just looking at pictures will have you ready to pack your bags tomorrow.
Planning Your Trip To Colmar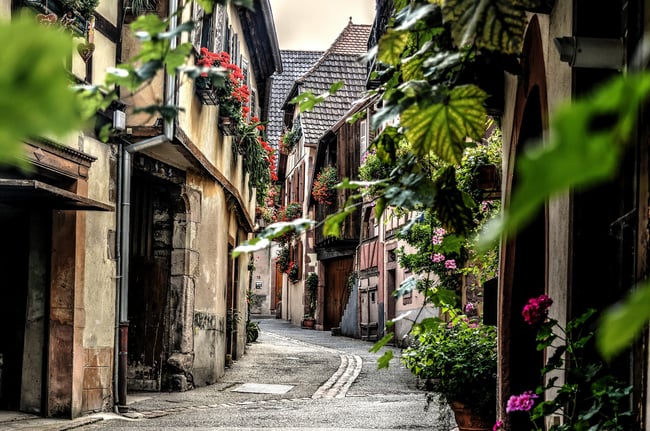 Things To Do In Colmar
This medieval town, complete with dark wood trimmings on every house, seems unreal and fabricated. Like a theme park? Or a movie set? But the buildings are original, and have been standing in all of their beautiful glory for hundreds of years. And since Colmar is in France but also rests closely to the borders of Germany and Switzerland, it has flavors of all three countries. Talk about quintessentially European! Grab a couple of pastries from local bakeries to get the full experience of an ideal afternoon stroll.
Old Town
No matter how long you have here, the first place you need to start is the center of Old Town. You will be amazed by the streets and streets of perfectly structured, decorated homes that turn from gingerbread houses covered in lights and Christmas decorations in the winter, to fairytale cottages hung with flowers in the spring.
Petite Venise
Make sure your exploration of the town center includes a walk through Petite Venise, which also seems much too good to be real. The canal is lined with Colmar's signature buildings, where the tradesmen of the town made their homes along the water. And did you know the color of each home was used to indicate the trade of the family? There are two main bridges that cross the canal, providing the most picturesque views. If you want to see Colmar from the water, take a 30-minute boat trip with Sweet Narcisse for only 7 €.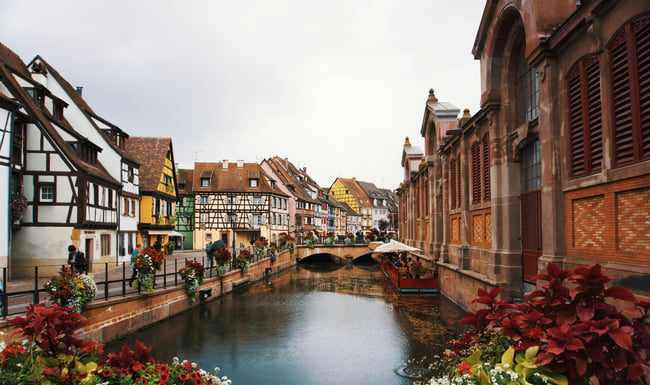 Musée d'Unterlinden
If you have a spare hour, swing on over to the Musée d'Unterlinden, which is arguably the best museum in the region and displays many incredible pieces by artists like Picasso, Renoir, and Monet. If you appreciate art and history, the exhibits are absolutely worth the 13€ entrance ticket, which can be purchased online before you go.
Statue of Liberty
Fun fact: Colmar is actually the birthplace of Frédéric Auguste Bartholdi, the sculptor who created and gave the US the Statue of Liberty. This replica, erected in 2004 to commemorate the 100th anniversary of his death, now stands in the center of a traffic round-about. It's 1/4 the size of the original, and actually a bit north of Old Town, so if you don't get to see it, stop by Musée Bartholdi, the actual birthplace of the creator. Read this to learn more about his life and the history of our favorite statue!
Église Saint-Martin
This Roman Catholic church is fondly referred to as "the Cathedral of Colmar", and is the perfect example of 13th-century Gothic architecture. There are stunning glass windows inside, and since it still functions as a place of worship, this is the perfect place to sit and rest for a few minutes.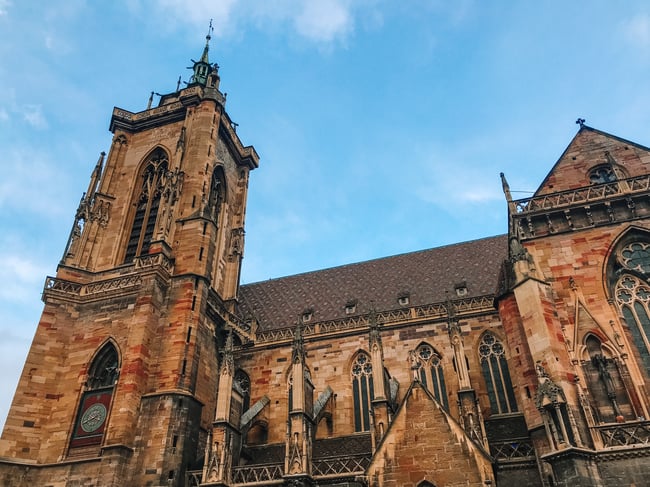 How To Travel Around The Alsace Region
Start your exploration of this area in either Strasbourg or Colmar. They both have airports, but a cheaper option is to fly into the nearby Stuttgart, Germany airport and take a bus into Colmar via Strasbourg. This Flixbus ticket will cost about $20 and is pretty much always the cheapest option.
If you only want to travel from Strasbourg to Colmar, the bus ticket will cost you about $8, and the trip takes one hour. If you're really short on time and prefer to take the train, it will be just under $20 each way and takes about 30 minutes. Purchase your tickets and look at the timetable on this website!
Once you get to Colmar, the best way to get in between towns is by bus or guided tour. A tour is obviously the most convenient option since the guide takes care of all details for you. But, it is also more expensive and limits exactly what you're able to do in each village. This ideal half-day tour starts in Colmar and takes you to three of the surrounding villages for about $61.
You can also catch a bus from the main train station in Colmar, Gare de Colmar, that will take you to Riquewihr. The round-trip ticket costs about 7€ (cheaper than two one-ways). You can pay the driver directly, but only with small bills. Your ticket is good for any stops along the route, so feel free to jump off to explore any villages along the way, and then jump back on a later bus. Just tell the driver when you would like to stop.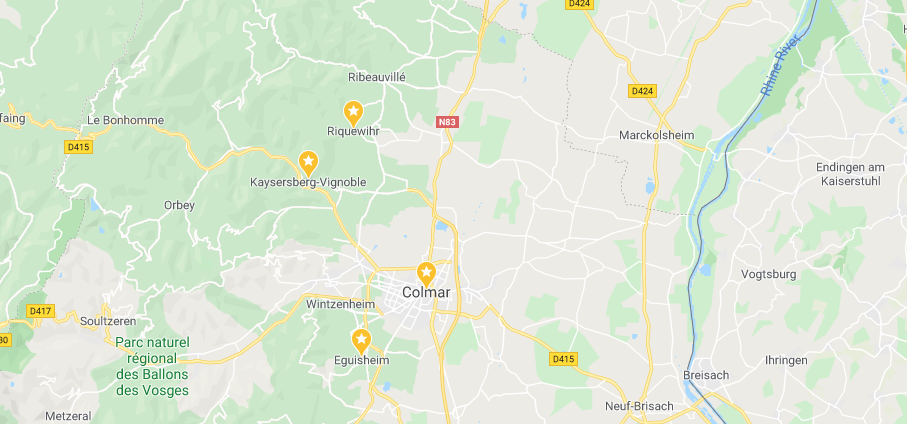 +A Note On Christmastime
Colmar is the CHRISTMAS CAPITAL of the WORLD! There are about 4 million tourists who visit Colmar every year during the holiday season to experience Colmar's incomparable Christmas Markets. They usually open towards the end of November and last until the very end of December—about six weeks. While the warmer summer months are always a popular time to visit Colmar, we think the holiday season is actually everything you've been dreaming of.
The entire town center (and beyond) becomes a continuous strand of clustered stalls overflowing with goodies and trinkets and adorable decorations. Spend your day iceskating, drinking hot cranberry wassail, riding painted horses on a festive carousel, munching on warm pretzels, and browsing through a million homemade holiday ornaments. With the houses all lit up and carols playing through loudspeakers covering the entire town, it absolutely feels like a winter wonderland.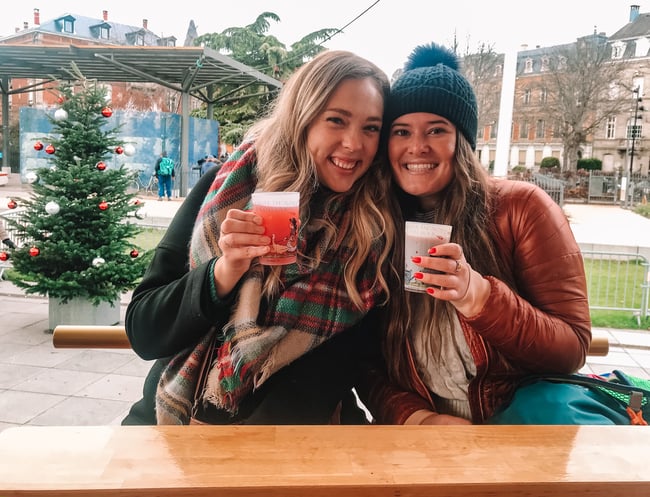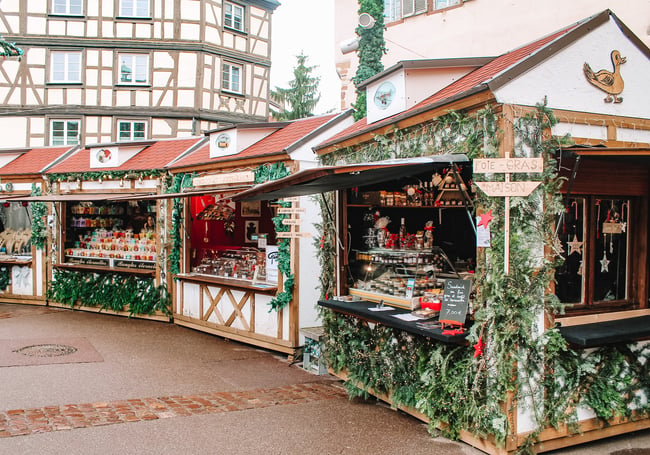 Want to know a bit more about what it's like to volunteer with ILP?
There are so many benefits to spending a semester abroad as a volunteer! Think about all of the incredible experiences that will have a major impact on your life! Like teaching kids, and immersing yourself in another culture, and exploring new cities on the weekends. ILP does so much work behind the scenes, making this a great way to experience life abroad without having to take care of all the tricky details yourself. And for a fraction of what other study abroad programs cost. Click the button below to read through the questions we get asked by applicants every day: