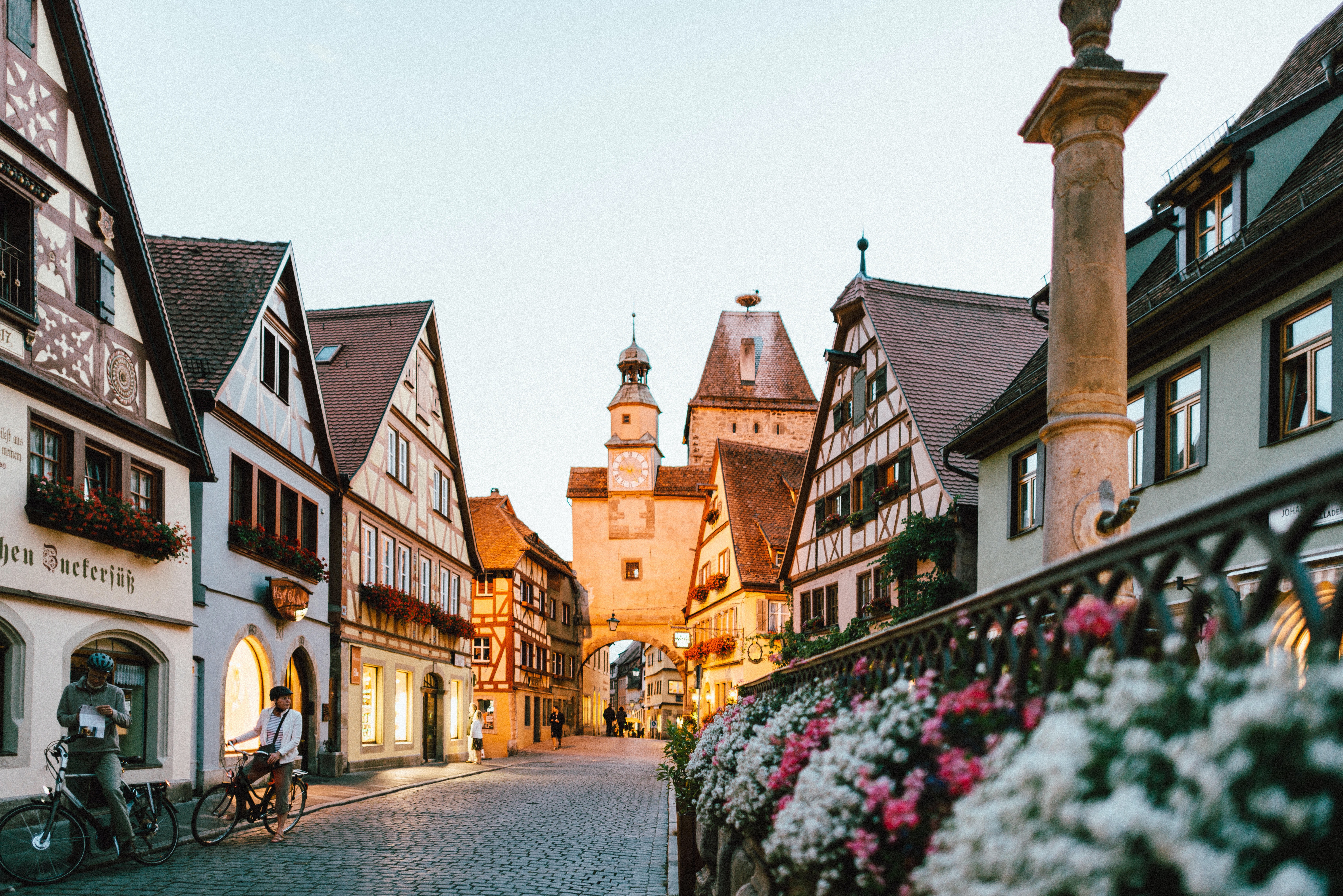 Rothenburg ob de Tauber is easily one of the most charming cities in Europe, so obviously you want to stop by for a visit, right? Here's everything you need to know while planning your trip.
There's just something special about these little medieval towns spread across central Europe. We can't get over the dark timber crisscrossing on so many of the pastel buildings, the abundance of flowers in warm weather, and the sparkling holiday lights that come out every winter. Visitors definitely feel like they're stepping into a fairytale world, where there are only happy endings. But don't take our word for it! Spend a day or two in Rothenburg yourself while living abroad in Europe as a volunteer with International Language Programs!


---
Want to see more of the places our volunteers get to visit every semester?
Follow us on Instagram @ilpadventure
---

Since volunteers get a long vacation each semester, they love to create itineraries that include several different cities, and even countries! And we've definitely done the same during our own semesters with ILP, because there really is nothing like traveling across Europe when you get to plan exactly what to see, where to stay, what to eat, etc. Just check out these itinerary examples that many of our volunteers have actually done!
If you're planning to visit central Germany (like Stuttgart, Frankfurt, or even Munich) and want to spend time in Bavaria, then a daytrip to Rothenburg is pretty essential. You should know that it's located right where the famous Romantic Road meets Castle Road. Can't think of anything better. Ever seen Harry Potter and the Deathly Hallows Part 1 or Chitty Chitty Bang Bang? Both movies have scenes filmed in this town, and as soon as you step foot in it, you'll understand why. It really will be one of the most magical places you ever visit!
Planning A Trip To Rothenburg
What To Do There
This is one of those cities that you've got to explore on foot. And be prepared with your camera because you'll want to take pictures on every corner. Here are just eight of our favorite places you cannot miss!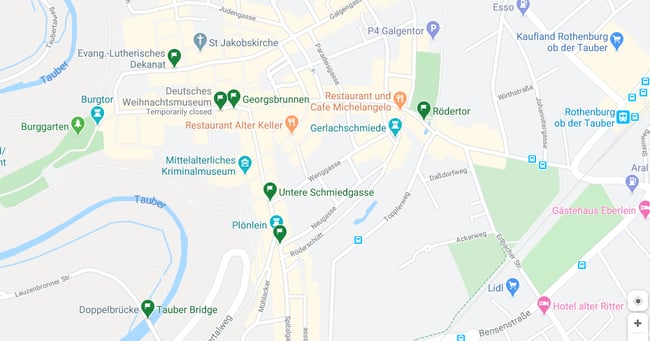 Town Wall
If you want to see Rothenburg's charm and the stunning Tauber Valley from above, then a walk around the medieval walls is a must! The 2 1/2 mile walkway, known as the Rothenburger Turmweg, leads you through 40+ towers and around the city walls with information boards explaining many historical events of the past 800 years.
The trail is open all day, with several access points. In fact, you can even do this walk in stages depending on what your itinerary looks like! Just take any of the stairs en route.
Rödertor
This is one of five preserved gates around the city wall, and it is well worth seeing! Plus, it's just a ten-minute walk from the train station, making it a great place to start your exploration of Rothenburg. The orange, round huts with pointed roofs on either side of the gate are where officials used to collect toll fees from travelers. Walk through, cross the moat, and you'll find yourself at the main tower, which was built in the 1200s.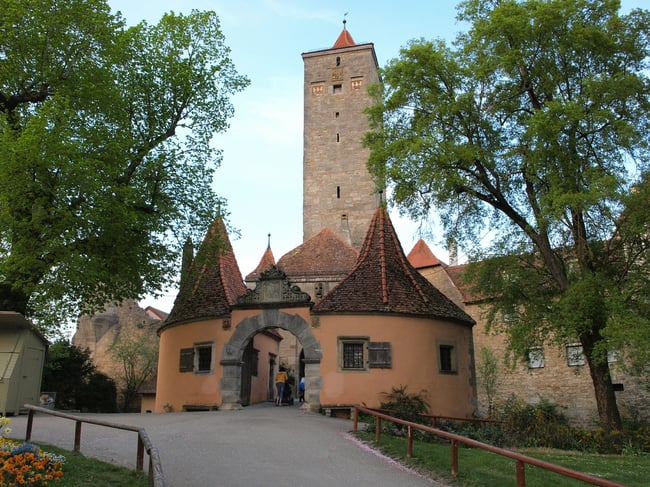 Schmiedgasse
This cobblestoned street is the ideal place to spend an hour or so, thanks to the colorful cafes and bakeries and many other little shops. Also, keep an eye out for Rothenburg's famous Schneeballen (snowballs), which are strips of pastry dough formed into balls and deep-fried, then covered in powdered sugar. Your trip won't be complete without trying one!
Plönlein
This landmark area, featuring a yellow house and its little fountain, sits in the middle of a forked road, and marks what is probably the most famous photo spot in all Rothenburg! From here you can see both of the beautiful, old towers. The one on the right leads to the Tauber Valley and the one on the left to Spital Quarter.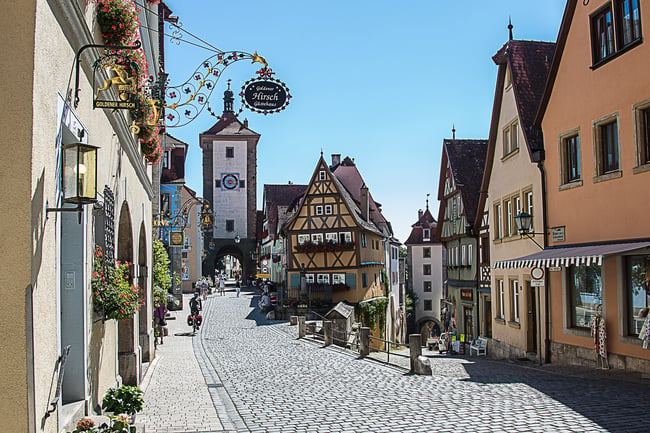 German Christmas Museum
Yes, there is literally a museum completely dedicated to Christmas and you have to go! Here you can see Christmas decorations that date all the way back to when it was first celebrated until the mid-1900s. It serves as a place where the traditions of the classic German Christmas are preserved all year round. So even if you miss out on the Christmas markets in December, you can still enjoy the special feelings of the holiday season. Learn all about this museum here!
Tickets: Peak Season - 4€, Off-peak Season - 2,50€
Address: Herrngasse 1, 91541 Rothenburg ob der Tauber, Germany
Hours: Open daily from 10 am to 5 pm 1 April to 23 December. During the off-peak season (January-March), the hours are restricted, which is also the case for several holidays. See more details here!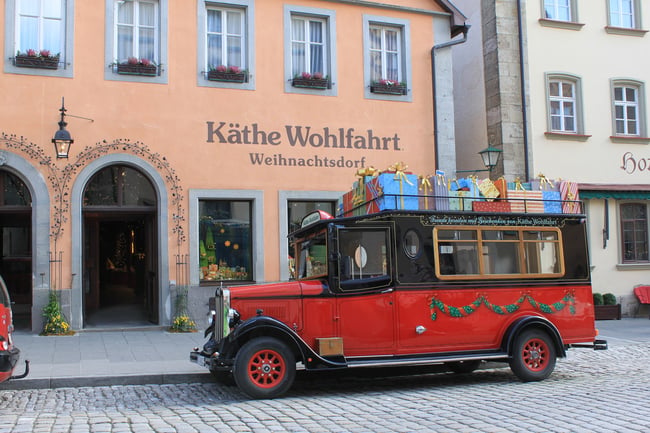 Georgsbrunnen
Near the Christmas Museum, you'll find a beautiful fountain that's been around since the late 1400s. The statue of St. George killing the dragon that rests on top was added in the 1500s. Make sure you check out the timbered buildings and other historic structures facing towards this little courtyard.
Address: Herrngasse 1, 91541 Rothenburg ob der Tauber, Germany
St. James' Church
This is Rothenburg's main Gothic church, and while the structure itself is incredible, the famous, detailed altarpiece inside is what you really need to see. The "Holy Blood Altarpiece" was carved out of limewood by a German sculptor in the early 1500s. The center depiction is of the Last Supper, with a carving of Christ's entry into Jerusalem on the left, a scene from His suffering in Gethsemane on the right, and finally, at the bottom, His crucifixion.
Address: Klostergasse 15, 91541 Rothenburg ob der Tauber, Germany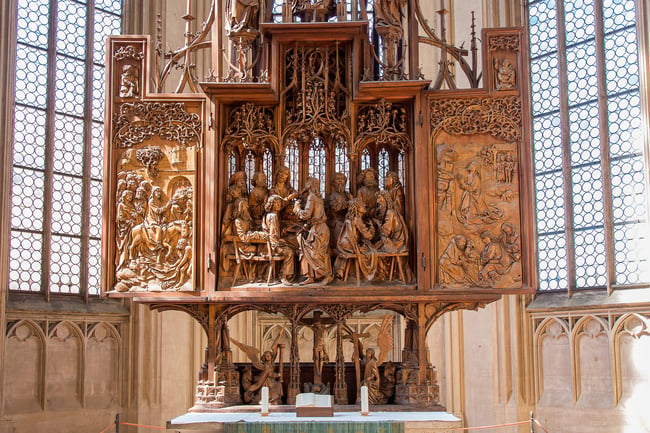 Tauber Bridge
It's not every day you find a bridge with two levels of arches, so if you have the time for a little walk, don't hesitate to see this landscape that is straight out of a painting. The bridge was first built in the 1300s, but the German army blew it up in 1945 and it wasn't fully restored until 1956. The views from this bridge will give you a peak across the Tauber Valley with its green meadows and trees that Bavaria is known for.
How To Get There
From Stuttgart
The best way to get to Rothenburg from here is to check out Omio.com and find the ideal train times and ticket prices for you. They have regular trains every day, so you'll have several options to choose from with tickets costing anywhere between $20-58. You will have 2 transfers, so make sure you're on top of everything and know which station to get off at and where to find your next train. Transfers included, the trip should take between 2 1/2 to 3 1/2 hours.
From Frankfurt
Getting from here to Rothenburg is very similar to traveling from Stuttgart. Again, you can use Omio.com but there are even more time options from Frankfurt. Just make sure you have the correct station in Frankfurt as your departure point because there are several. You will have 2 transfers and a ticket will cost you between $20-56. This total travel time is also 2 1/2 to 3 1/2 hours depending on which ticket you purchase.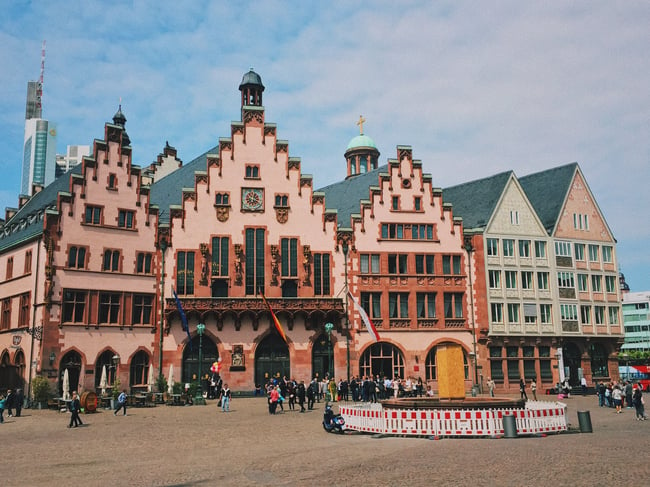 From Munich
We love Munich! And since it's the capital of Bavaria, the easiest way to get to Rothenburg is to purchase the Bahn's Regional Day Ticket for Bavaria. It costs 26€ (2nd class) for the first passenger, but only 8€ more for each additional passenger (up to 5 people). They are valid starting at 9 am on weekdays and at 12 am on weekends. You absolutely need to purchase these tickets ahead of time! Otherwise you will be paying 44€ per person.
The trip to Rothenburg itself takes 3 hrs 15 min, and includes 3 different train rides. The layovers are quick (4-5 minutes), and the trains are usually right on time so you'll have to pay close attention and be ready to switch trains.
1st: München Hbf to Treuchtlingen. Travel time is 1 hr 45 min.
2nd: Treuchtlingen to Steinach. Travel time is 1 hr 7 min.
3rd: Steinach to Rothenburg ob der Tauber. Travel time is 14 min.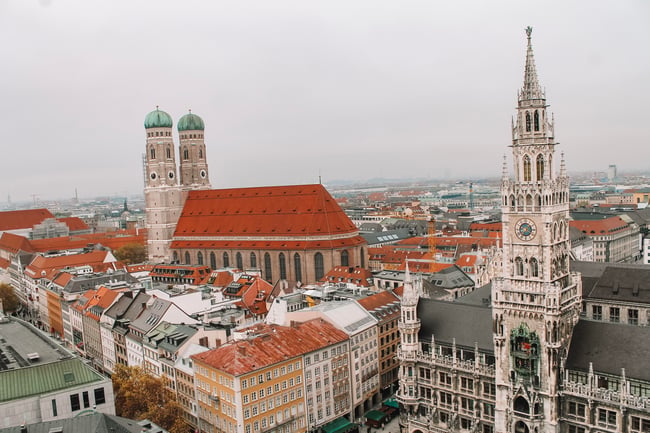 Where To Stay
To get the full experience of Rothenburg without feeling rushed, we definitely recommend making it an overnight trip. The only hostel in Rothenburg, requires a valid Hostelling International membership. So, unless you already have one or are planning to get one (for $18), you're probably better off staying in an Airbnb.
There are several great Airbnb options near the town center. We recommend staying with a Superhost, and as a volunteer with ILP, you must have the entire place to yourselves (the host can't be living there too). Most of them are for 4 guests, and you get to split the total cost between all of you, so even if the place is $100 a night, that's still only $25 per person which is about what you'd pay at the hostel anyways. We love Airbnbs!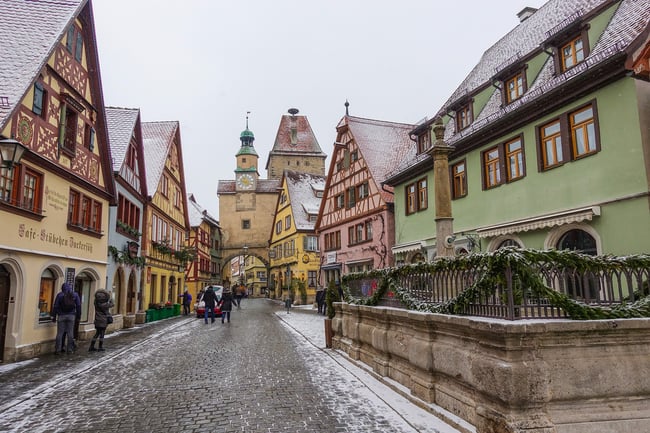 Wondering whether or not ILP is a good fit for your life plans?
We love helping young adults live their travel and volunteer dreams! But, we also totally get it if you still have questions about our program and how it all works. We know there are a lot of great organizations that help young adults have experiences abroad, so click the button below to see if ILP is the one for you! We definitely hope so.