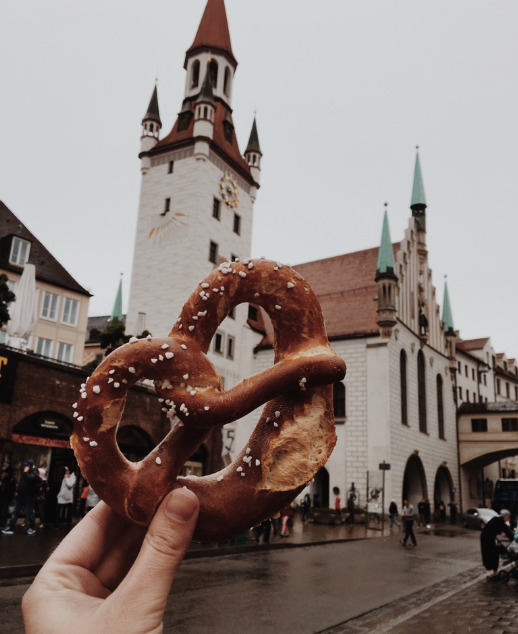 All the best things to do, see, and insider tips for a flawless adventure in this German city, all in one spot.
Munich is exactly what you're thinking of when you think of Germany. It's found in the Bavarian region which is home to all the things Americans think of when they think of Germany — this the land of pretzels and lederhosen. Munich has a picture perfect Old Town filled with more history than you could experience in just a couple of days, and is the jumping off point to adventures like the castle that inspired Disney's castle. Why wouldn't you want to visit?
---
Planning a trip to Europe?
All our favorite cities are here: European Destination Guide
---
If you're an ILP volunteer already spending a semester in Europe, you're in luck. Munich is just a short flight away, or an easy stopover to add to your itinerary. And I'm guessing you'll want to head here ASAP after seeing what a trip to Munich is all about.
Things You Can't Miss
The Postcard Perfect Marienplatz
Marienplatz is Munich's city square, a delightfully designed center that should be your first stop in Munich. The Square has been the center of markets, medieval tournaments, and other businesses since the 12th century. Now, it's a pedestrian-only square that's full of historic sites and popular shopping areas. Here's what you cannot miss in and around Marienplatz:
Neues Rathaus (New Town Hall) + The Glokenspiel Chimes
This enormous building is hard to miss, decorated in a dark, detailed Gothic style. It's towering, impressive, and a huge focal point of the square, especially at 11:00 AM and 12:00 PM when the massive clock tower opens up to reveal an impressive "cuckoo clock" performance. Dozens of impossibly lifelike figurines act out scenes from Bavaria's history — there are court jesters and a king, a jousting match, and a golden bird that chirps three times to tel you it's the end of the show. Get a good spot in the front of the tower about 15 minutes before the show starts (it gets crowded).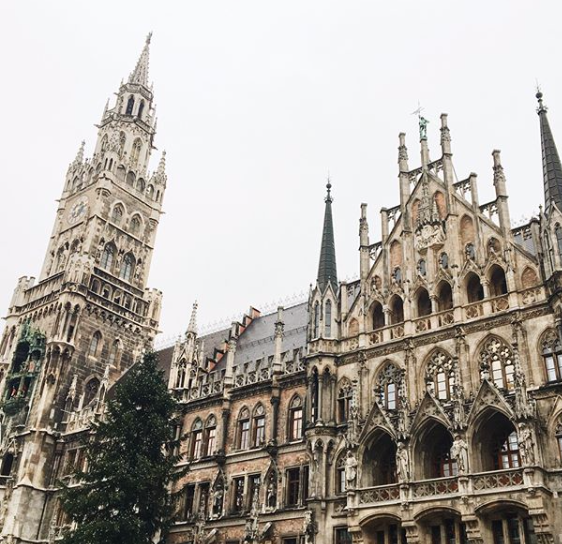 Old Town Hall
I saw this exact picture (below) of Old Town Hall and knew I wanted to visit Munich just to see this building. It's a unique, New Gothic style that's bright white, turquoise and red roofed, unlike the dark and detailed New Town Hall. It's now used as representative purposes for the city council, but features as one of the most iconic parts of the city.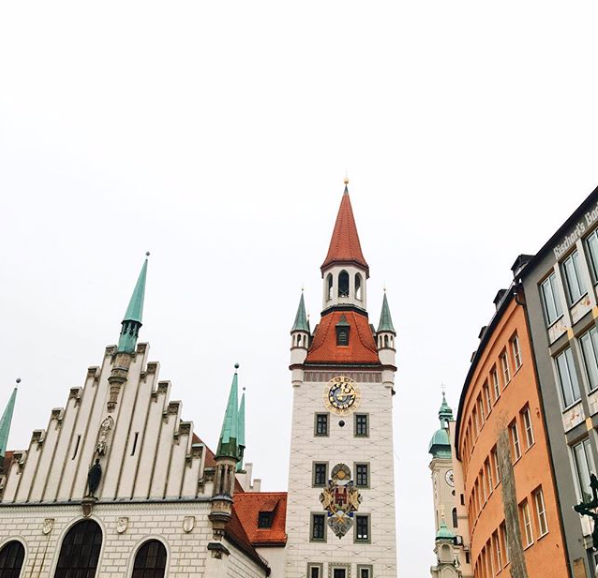 The Viewpoint From St. Peter's Church
My favorite thing I did in Marienplatz hands down was climbing up the slippery steps to the St. Peter's Church viewpoint. From the little narrow platform up there, you can walk around the tower and see the city from above. If you're into red rooftops, this place will be a dream come true. It pulls you around the city center, giving you a view of the Gothic Town Hall, the Old Town Hall, and the hundreds of people milling around in the Viktualienmarket. You'll have to angle your phone or camera through the metal bars (and keep moving) but the views are unreal.

Good to know: It gets very crowded up there, so be courteous of the people around you (ie: don't stop forever to get the perfect angle). They frequently "close" the tower's access for a few minutes to let more people exit before they let more people in (just wait by the entrance for 5-10 minutes until they reopen). The 300 + stairs on the way up are very narrow, get very crowded. You get very close to the people who are going down when you are going up, since you enter and exit from the same staircase (it's not a good activity for people who are claustrophobic).
It's 2€ with your student ID, and 3€ without.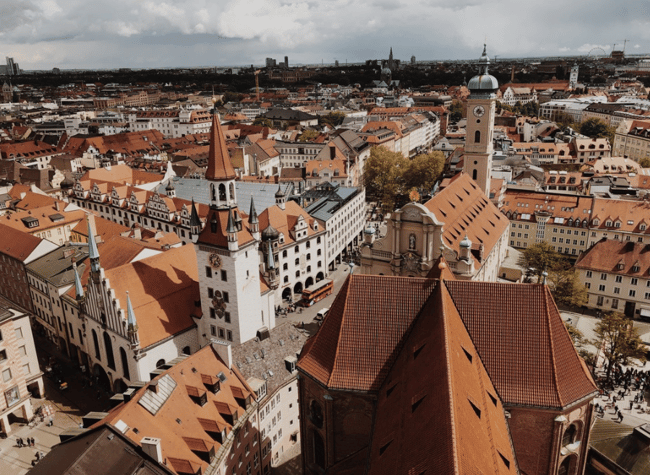 Pastel Ceilings In Heiliggeistkirche
Europe is peppered with pretty churches and truth be told, I wasn't beyond thrilled to explore another one, but the pastel, Rococo ceilings found in Heiliggeistkirche are beautiful (and worth visiting even if you are feeling a bit "churched-out"). It's one of the oldest churches in Munich and has undergone some serious revivals and renovations, especially after WWII. The church is free to enter.
Getting to Marienplatz: Take the S-Bahn or U-Bahn to the "Marienplatz" stop.
Munich Residenz
A gorgeous spread of palaces and grounds, Munich Residence used to be the home of the Bavarian Monarchs. There are some 130 rooms to explore — whimsical rooms adorned with an enormous fountain and grotto (built in an ocean theme and adorned with thousands and thousands of multicolored shells and rocky coral), huge sweeping hallways topped with handpainted flourishes and red marble pillars, massive chandeliers hung over peacock-wallpapered sitting rooms, jewelry rooms with marble-sized pearls that decorate crowns centered with quarter-sized rubies, etcetera, etcetera. Outside are grounds decorated with trimmed hedges, pansies patterned into decorative swirls, and dancing fountains. The entire space is ultra lavish, and ultra impressive.
Hours + Costs: 9:00 AM to 5:00 PM (the fountains run from 10:00 AM to 2:00 PM)
Tickets are 11€ for a combined ticket which includes the Residence + the Treasury (which is worth seeing).
Getting There: From Marienplatz, ride the U3 (the Orange line) to the Odeonsplatz stop. It's a 3 minute ride. Or it's a 10 minute walk from Marienplatz.
Schloss Nymphenburg
One of my favorite palaces in all of Europe — how could you not fall in love with a huge palace, complete with emerald green hunting grounds full of huge lilac bushes and actual swans floating on the ponds around the carriage houses? A visit here feels like a dream, walking through the beyond detailed and expensive Rococo rooms. The main hallway was built to impress, with floor-to-ceiling windows lined with golden trim that open up to the huge hunting grounds. The ceilings feature rainbows, horse drawn carriages, and spewing fountains. It's the exact picture of Rococo excess you'd want out of a huge sprawling summer home owned by Bavarian royalty.

I'd recommend just paying to tour the huge main palace, then spending your time outside wandering the grounds (for free). They are enchanting, with a dense forest that surrounds a massive green lawn that's perfectly kept. You'll also find thick floral hedges and perfectly trimmed green hedges, plus decorated stone bridges in front and behind the castle
Hours + Cost: From April to October 15: 9:00 AM to 6:00 PM
From October 16 - March: 10:00 AM to 4:00 PM. In this season, the gardens are closed. Get more information about when certain sections of the palace are open here.
Ticket prices vary depending on when you visit. Get ticket prices here.
I would recommend getting a 5€ palace ticket (get that price with your student card, or pay 6 euro with out one). You can also pay 3.5€ if you want the audio guide, which was helpful. You can pay for a more inclusive ticket which would give you access to places like the carriage house and other pavilions (11.5€, 9€ with a student card), but I was happy just touring the main building and the grounds during my visit.

Getting Here: Take the S-Bahn to "Laim", then take bus #51 to stop "Winfriedstraße". It is a 20 minute walk through absolutely charming neighborhoods if you'd rather walk from the Laim instead of riding a bus, so if you have the time, I'd recommend walking.

You can also take the U-Bahn to "Rotkreuzplatz" then take tram 12 to "Romanplatz".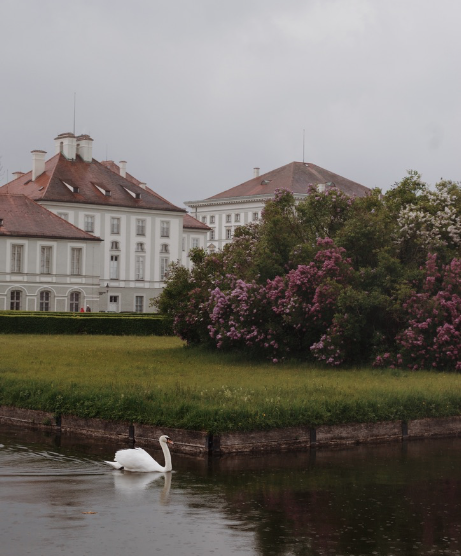 Surfing In The Park
Head to the English Garden in Munich and see some surfing. Seriously. The park is an absolutely enormous space, filled with huge rolling fields of grass, crowded forests with winding dirt pathways, hills topped with gazebos and more, but it's also home to a river that's been turned into a little surfing spot. Surfers in wetsuits wait on either side of the river bank and drop in once the wake is clear, cutting and carving until they're carried away by the ice cold Eisbach wave. We sat and watched these guys (and a gal!) surf for over and hour, and only left because we didn't pack snacks and were getting hungry. Pack up a lunch, and watch these guys the whole afternoon long.

The surfing spot is found in the very southern tip of the Garden, right under the Prinzregentenstraße bridge. If you type in "Surf English Park Munich" it'll pop up on your Google Map.
Getting to the English Garden Park: It's a 20 minute walk from Marienplatz. Or you can take the U3 or the U6 to "Odeonplatz" and get closer to the park, and have a shorter walk to reach the entrance.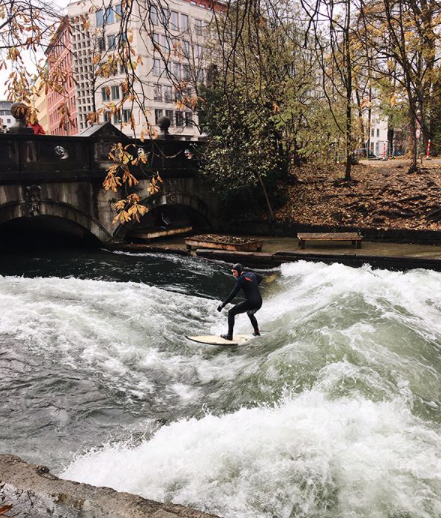 Day Trips
Dachau
A sobering experience that shouldn't be missed. The small town of Dachau is the site of the first Nazi concentration camp opened in 1933. Thousands were cruelly sent to this labor camp, which had thousands of documented deaths, and supposed thousands of undocumented deaths. Since its closing, the space has been turned into a memorial and museum, visitors walk down the gravel pathway prisoners were led, through the iron gate, into the camp, winding their way through the processing room, gazing up at propaganda posters and graphic images of the tortured victims, walk out onto the grounds, pass the guard towers, and head into the cramped barracks. A visit here is sobering, reverent, and emotional, but one that's hugely impactful. Though it's difficult, visiting Dachau is something I don't think visitors should skip.
Planning Your Visit
Visitors can either visit on their own or with a tour. I'd heavily recommend going on your own for this particular historic site. There is a 3€ audio guide you can purchase at the visitor's center that gives you a semi-self guided tour that details the objects and photographs you'll see on your visit. You can also join a free English tour at the visitor's center (these start at 11:00 AM and 1:00 PM, and are 2.5 hours). Personally, I went with the audio guide and was glad I could move at my own pace during the exhibition, pause the narrative when I needed to, and could process the information and reflect on my own thoughts without feeling like I was tuning out what the guide was saying.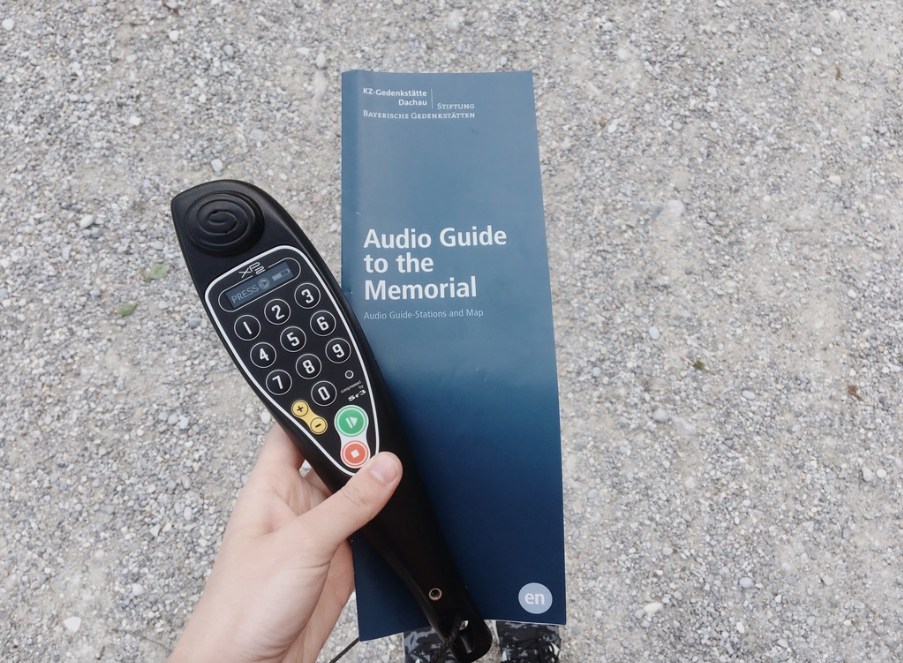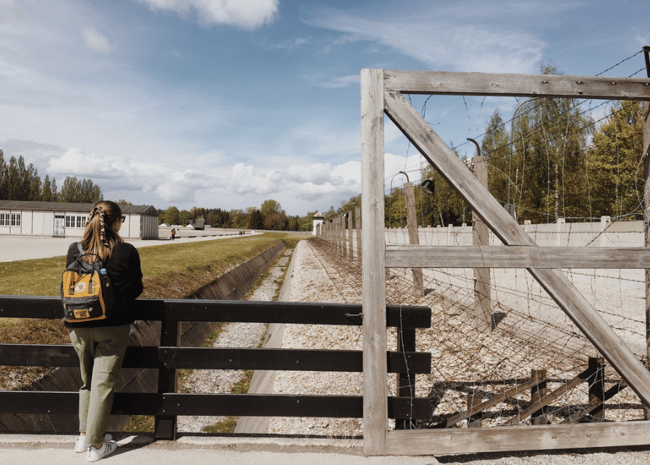 Getting Here: It's easy. We have more information about getting around in Munich below, but here are the directions: From München Hauptbahnhof (or another S2 station) catch the S2 Train from Munich to Dachau (direction Peterhausen). It's about a 20 minute ride. Once you arrive in Dachau, you'll need to exit the train platform — walk under the bridge, up a small flight of stairs and that's where the buses gather. You're going to want bus #726 (bus stop KZ-Gedenkstätte). It's clearly marked as the tourist bus to Dachau. It's a 15 minute ride and drops you off right at the entrance of the visitor's center. That's where you'll get your audio guide, or wait for one of the English tours. To get back to Munich, the same #726 bus takes you back to the same train station, where you can take an S2 train back to Munich.

Good To Know: The visitor's center has restrooms, a cafe where you can get lunch, and a gift shop where you can get postcards, books, and other items. The city of Dachau itself is also lovely — after touring the camp, we decided to walk around the colorful houses and over bridges draped in flowers. I was glad we left time to explore after our visit and got to see the beautiful town after a heavy afternoon touring the camp.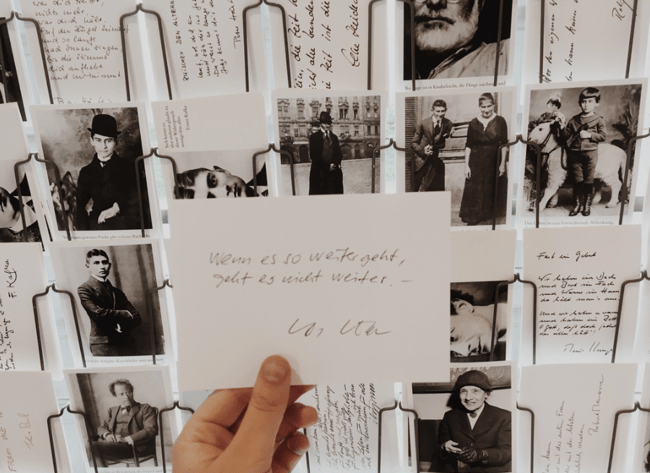 Neuchwanstein Castle
The castle of all castles is just a short train ride away from Munich. This picturesque structure towers in the pine studded mountains of southern Germany, deep in the Black Forest. It's quite possibly the most famous castle in the entire world, supposedly rumored to have inspired the Disney castle! It's about a 2.5 hour train ride from Munich to get to Fussen, so it's possibly you can stay in Munich, run out to see Neuschwanstein, then come back to Munich. Or you can stay in Fussen, or the little town of Hohenschwangau, if you'd rather not have a rushed day trip there. This guide to Neuschwanstein Castle outlines all of those details.

Foods You Absolutely Have To Eat
Viktualienmarket
This outdoor market is a food lover's mecca. It's just down from the Marienplatz, and is a collection of food stalls selling fresh fruit, cheeses, breads, fresh flowers, and more established food places selling pretzels, pastries, and delicious bratwursts. On the outer rims of the market there are really darling eateries and postcard/souvenir stands. If you love muesli, you'll have to check out the My Muesli store which has colored canisters of the most delicious flavors — vanilla and chocolate, blueberry and banana, dark chocolate and coffee. Yum.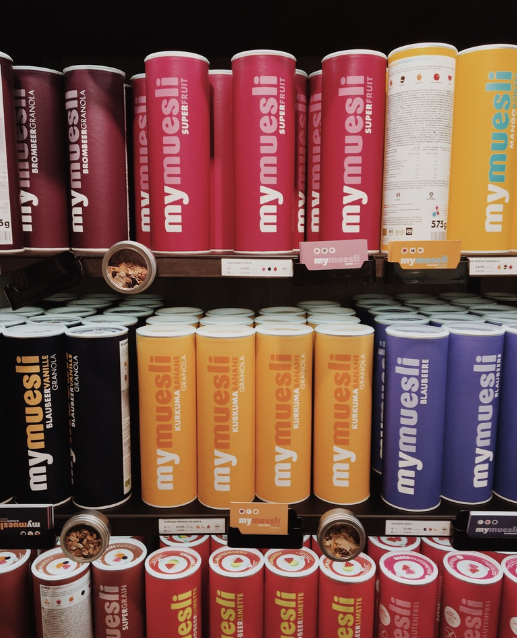 But back to the Viktualienmarket. My favorite foods there were the cheese, pretzels, bratwurst, and the pastries — If you want specific recommendations, I'd say to order the Schmalznudel pastry from the Cafe Frischut (technically just outside of the Viktualienmarket), and get soft, salted pretzels at Karnoll's Back Und Kaffesstandl (go early! they sell out). And you must also try the bratwurst and potatoes at Kleiner Ochsnbrater. We went back and had lunch at the Viktualienmarket every day because we loved loved loved the food here.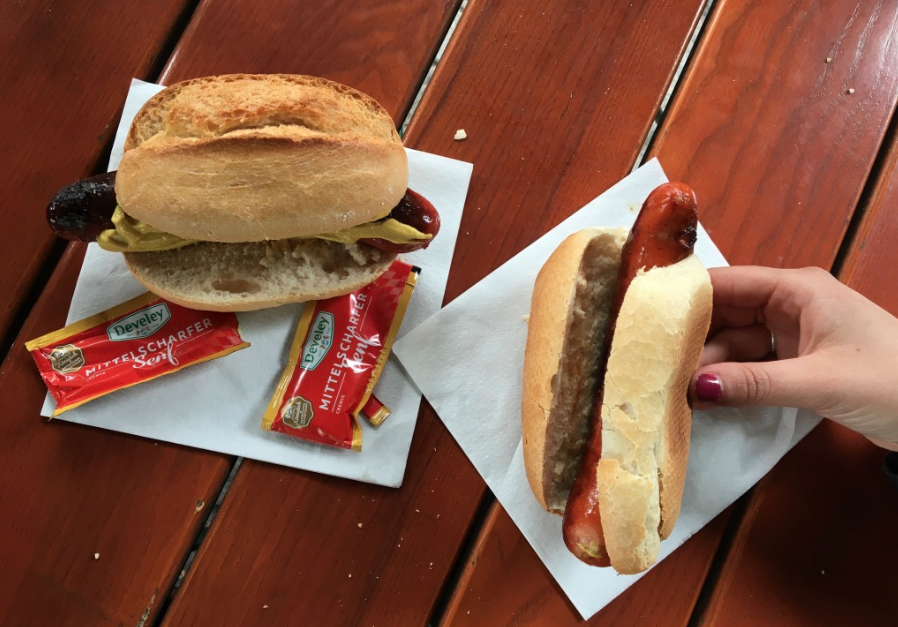 The Pastries At Rischart
Alright, so the train stations in Munich are fabulous. Not only are they how you get around this city, underground is a dizzying network of cafes, pastry shops, and grocery stores, AKA where you should grab breakfast every day before hopping on the S or U Bahn to get some exploring in. My favorite pastry stand was Rischart (look for the big blue letters, they have multiple locations in Munich), and all the pastries I got there were phenomenal. We're talking flakey rounds dolloped with thick cream, thick squares of apple strudel, cheesy soft pretzels, and massive chocolate croissants. De-licious.

Places To Stay
When picking a place to stay, keep location in mind: You'll want to be close to a train station so you can easily get around the city. I'd also suggest booking close to Marienplatz, since it's a fun hang out space you will want to visit more than once while in Munich.
4You Youth Hostel
One volunteer who said here said they like the close location to the train station (a 2 minute walk) which made it easy to get around, plus the good breakfast selection. Also, the staff was more than willing to help you figure out what to do and how to get around the city. Dorm rooms start at about $35 a night and go up from there. Book your stay here.

Wombats City Hostel
This hostel close to the train station and within walking distance to Marienplatz, so it's a winner, location-wise. It can get a little noisy at night (the hostel has a restaurant and bar that can get rowdy) but rooms were tidy, clean, and the staff was extremely helpful. Dorm rooms are about $23 a night, book your stay here.
Euro Youth Hostel
Great location (it's in a similar neighborhood to the Wombat's hostel) with killer ratings and a very helpful staff. The hostel itself survived the bombings of WWII which just lends even more history to your visit. Dorm rooms are around $22 to $29 per night, book your stay here.
A Handy Guide To Getting Around Munich
The transportation system in this city is bomb (it takes a minute, but it's easy to use once you figure it out). Basically what you need to know is that there are two train systems in Munich: the U-Bahn (which is underground) and the S-Bahn (which reaches into the city's suburbs). They operate kind of like a metro if you're familiar with that from other travels.
Which Ticket To Get
The city is broken up into zones, and riders can purchase a single ticket (cost depends on which of the 4 zones you are traveling through). You can also purchase stripe tickets, but for ILP volunteers, you're probably going to want to get a Day Ticket or Group Day Tickets. Essentially, they allow unlimited rides within the zone that you purchased for that day (or group of days). Day Tickets are best for single-travelers who are visiting for 1-2 days. Group Day Tickets are best for groups visiting for 1-2 days.
My advice? Get the Group 3 Day Ticket. It's good for 2-5 adults (so, you and your ILP group), and can get you unlimited rides within Munich's inner district for three whole days, for only 30€ for the inner zone, or unlimited rides for 57€ if you want more access (to places outside of the city, like Dachau). You split that amount between those 2 or 5 adults, share the ticket between all of you, and it becomes incredibly affordable.

Once you validate your ticket, it's valid until 6:00 AM on the 4th day.
Buying Tickets + Tips To Avoiding Fines
You'll need to purchase tickets from a blue kiosk. They are very clearly marked within the stations (and in the airport, so you can get off your flight and hop right onto a train into the city). The kiosks are in English and take card and cash. The tickets are small, and you'll need to keep them in a safe place your entire trip! Make sure you buy your ticket, validate it, then keep it in your wallet.
You must validate your ticket. When you buy your ticket, you'll get a little slip of paper that you'll need to insert into this blue box that'll stamp it. They are usually found in front of the entrance (the escalator) that'll take you down to your train, right below the sign that tells you where that train is going (ie: U3 Marienplatz). Onboard, there are undercover ticket checkers who will give you a hefty fine if you are found riding without a ticket, or riding with an unvalidated ticket. If you're riding with a 3-day pass, you can validate it once, then make sure you aren't using it past the 4th day at 6:00 AM. If you're worried, just validate it every time you ride. Better safe than sorry!
This blogger has a more detailed breakdown of the Munich transportation system if you're interested.



+ Nearby Adventures
Salzburg, Austria
Be delightfully charmed with the small city of Salzburg. You absolutely have to take the Untersberg Cable Car to hang out in the Alps, visit the trick fountains at Hellbrunn Palace and embrace your "Sound Of Music" dreams by visiting the famous Do Re Mi steps and the "16 going on 17 Gazebo". From Munich, it's a gorgeous two hour bus or train ride through rolling green fields dotted with yellow wildflowers. Can you tell one of the best parts of Munich and Salzburg was the drive between the two cities? Get all the tips for a trip to Salzburg here.
Zurich (+Interlaken), Switzerland
Have Switzerland on your bucket list? Zurich is a 3-4 hour bus or train ride away from Munich and also happens to be the best jumping off point to the stunning hikes in Interlaken. You know those gem-like blue lakes tucked away in the jagged Swiss Alps? Yep, that's what you'll find here. Find everything you're looking for during a trip to Switzerland in Interlaken.
Rothenburg, Germany
Okay this is easily the most fairytale-like city in Germany ... It's like a storybook come to life and something you're going to want to see in person. It's about a 3ish hour train ride to get here from Munich, which means you can be admiring those pastel buildings criss-crossed with dark timber that are dripping with flowers if you come in the warm weather. Get all the info about Rothenburg here.
A Pro Tip Or Two
If You're There On A Sunday
Things close early on Sundays! We visited over a weekend and were caught totally off guard when retail shops in Munich were closed. We spent most of the day in Dachau which is much, much, smaller and ran into closed cafes, snack shops, and grocery stores. There will be restaurants and things open in Munich, but in general, things are closed or close early on Sunday.
How Long Should I Stay?
I would recommend three days, longer if you want to visit Neuschwanstein Castle. Exploring the palaces, gardens, museums, and city of Munich takes up two days, plus you'll need another half-day to go visit Dachau. I spent three days and wished I had more time.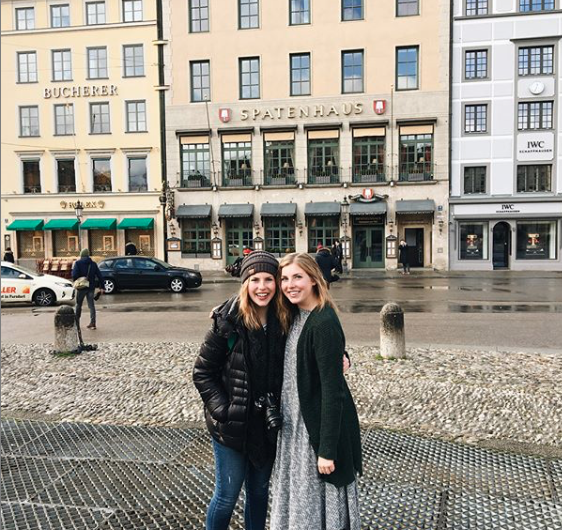 See way more than just Germany
ILP volunteers spend a semester living in Europe, with weekends and vacation time to see even more. If the idea of spending time in an orphanage or teaching English while you do some traveling sounds like your ideal, you're in luck! We're now accepting applications for college-aged volunteers.