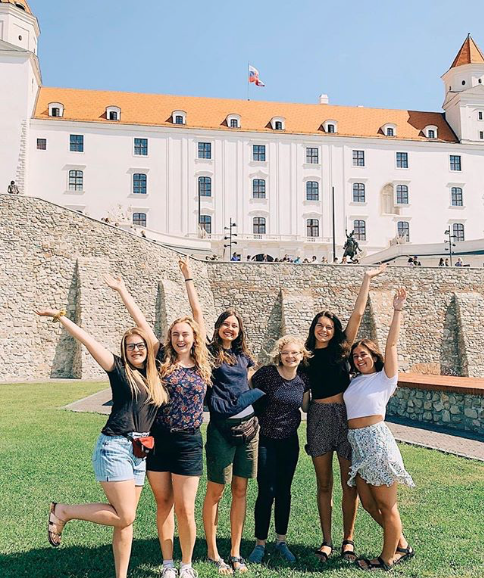 "It had the same vibes as walking down Disneyland Main Street and I loved it!"
Ready to add another European capital to your list? Slovakia is sandwiched around some of Europe's more popular cities (Vienna, Prague, Budapest, and Krakow are just a couple hours away), but Bratislava is a quieter, more quaint, and a more local little city for you to explore. It's a classic Eastern European combo: historic center reminiscent of its Communist past, a modern city center, plus a painted Old Town that felt like Disneyland, according to one ILP volunteer.
---
Wonder what other gems are waiting for you?
This European Destination Guide has our favorite spots, all in one spot.
---
It's sometimes called a second to Prague, but don't be fooled because Bratislava is its own city. A quick visit here means traipsing around the grounds of a towering castle, taking it slow around some charming cafes, and strolling down the Old Town only to look up and see a ceiling of umbrellas. It's not full of the hordes of tourists (not even close!) and has it own distinctive charm. We think you'll love taking a little day trip to Bratislava, especially when you know exactly what to see, where to eat, and all those other tips it takes to plan a vacation: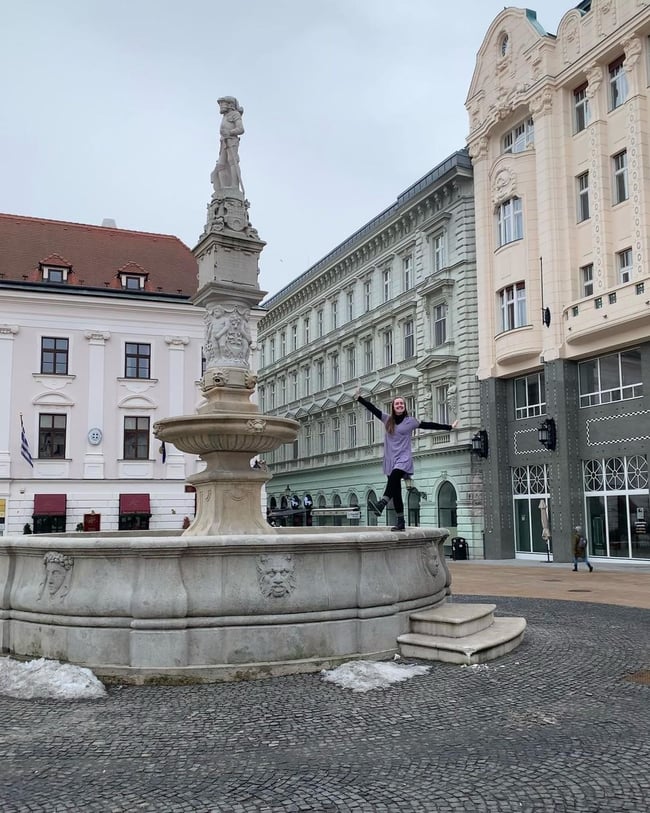 Things To See
Bratislava Castle
Easily the best thing to see if you chat with anyone visiting this part of Slovakia. This imposing, white-walled fortress is topped with a roof of coral red shingles which creates quite the striking focal point of the city. The castle is first mentioned way back in 907 and has been off and on mentioned in a few historical events over the hundreds of years. For centuries, castles were built on this very spot — once a stronghold for the growing Hungarian state, then another castle in a Gothic style stood in it's place (under the reign of Sigismund of Luxembourg). After a few more renditions, the Baroque style castle you see today (built in the 17th century) was built. After such a whirlwind history, you can see why Bratislava Castle is an important jewel in Slovakia's historical and cultural crown!
Luckily for you, there are guided tours of this huge space (at 15 euros for the group for an English speaking tour). You'll get walked through a more in-depth overview of the people and events that shaped the castle, a glimpse into the glittering treasury, and a tour around the expansive grounds (don't miss the detailed gardens and swirling hedges). Get a bit more info on the castle on their official website.
Getting Here: The address is here, Hrad, 811 06 Bratislava, Slovakia but is walkable from the Old Town, as long as you don't mind an uphill climb.
Hours: November to March, 9:00 AM to 5:00 AM (last entry at 4:00 PM). April to October, 10:00 AM to 6:00 PM (last entry at 5:00 PM). Closed Mondays year round.
Cost: 10 euros for adults, 4 euros for students, however the gardens are free of charge to visit.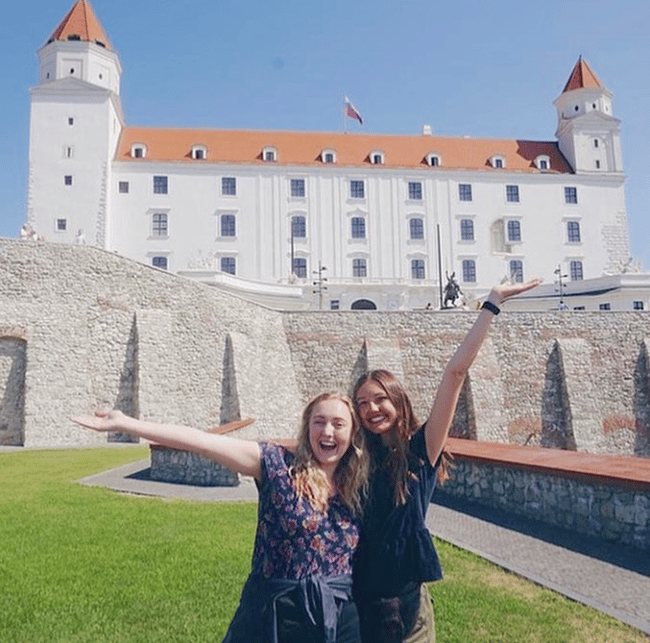 Our Favorite Streets
I know, I know … touring the Old Town is something that just comes along with every single city you visit in Europe, but it's really something to do in Bratislava. The city itself gets more and more charming the closer you get to Old Town. On the outskirts, you'll find crumbling, Block-style apartments from the Soviet era, and some shining towers of the financial district (aka, not really what you came here for, right?). But right in the center of the Old Town, you'll be surrounded by pastel-colored buildings only interrupted by the copper towers of a few noteworthy buildings, like the striking Old Town Hall or the last remaining medieval gate, St. Michael's Gate. Here's the Disneyland charm of this place mentioned earlier.
Especially since so much of the charm of this city is rooted in taking it slow and soaking it all in, taking time in the Old Town is a must. Bratislava isn't a city crammed full of adventures on adventures, more of a slow-burn type of city where you peek down cobblestone alleyways and aimlessly stumble upon some real gems (like the umbrella-strung street pictured below).
If you'd like some guidance on your wanderings, you can join a free walking tour. This company has a few options that will take you through Old Town. They go daily at 11:00 AM and 3:00 PM, and meet here: Hviezdoslavovo namestie by the Statue of Hviezdoslav – next to the Carlton hotel and the U.S. Embassy. Look for the orange "Free Tour". This is a good option if you want to see all the highlights with someone who can answer all of your questions (like who that is a statue of, why that church is so important, and other details). The tour is free, but operators are paid with tips so keep that in mind at the end of your tour.
Or, you can do some wandering on your own, with more of a plan. One of the prettiest street is Kapitulska, but you can also wander down Michalska, Farska, Venturska, Panska, and Laurinska that all spiderweb out from Old Town (and are promisingly adorable).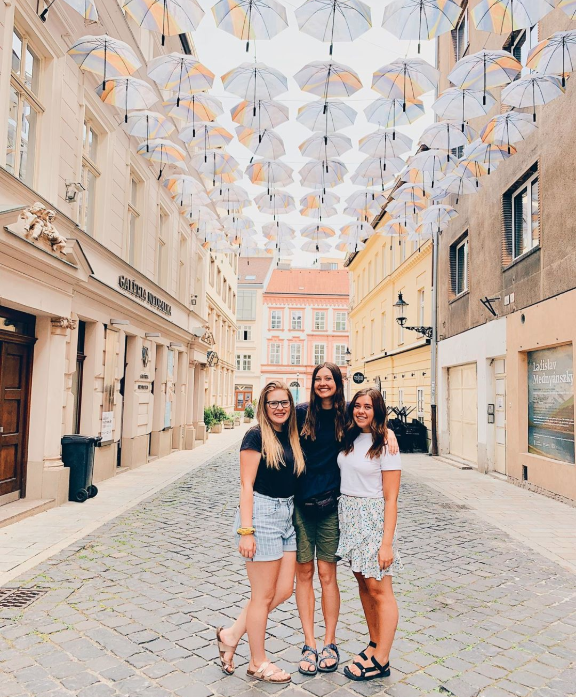 Catch Some Views
You have a few options to get a better view of the city. Climbing uphill to Bratislava Castle will give you quite the viewpoint, but you can also check these out for a different perspective:

At Old Town Hall
Get the best view in the city (according to some) by climbing up the Old Town Hall Tower. You'll see the colorful Hlavne Namestie Square below you where the buildings are stacked up like cakes, iced in pale yellow, creamy pink, light blue, and mint green, only interrupted by layers of decorated windows. Smack in the middle of these cake-like rows is a huge open square, dotted with trees and a smattering of cafe chairs.
Find it: Here's the address: Hlavné námestie 501/1, 811 01 Staré Mesto, Slovakia.
Hours: 10:00 AM to 5:00 PM (Tuesday - Thursday) 11:00 AM to 6:00 PM (Friday - Sunday). Closed Monday.
Cost: It's a 5€ entry fee into the Town Hall which is now a museum detailing everything from historic artifacts to a torture museum. Your ticket allows you access to the museum, and up the winding stairs to get to the top which is where you'll find the view.
There's also an impressive viewpoint in front of the tower if you can find it, then you can get a view that includes the beautiful tower of Old Town Hall.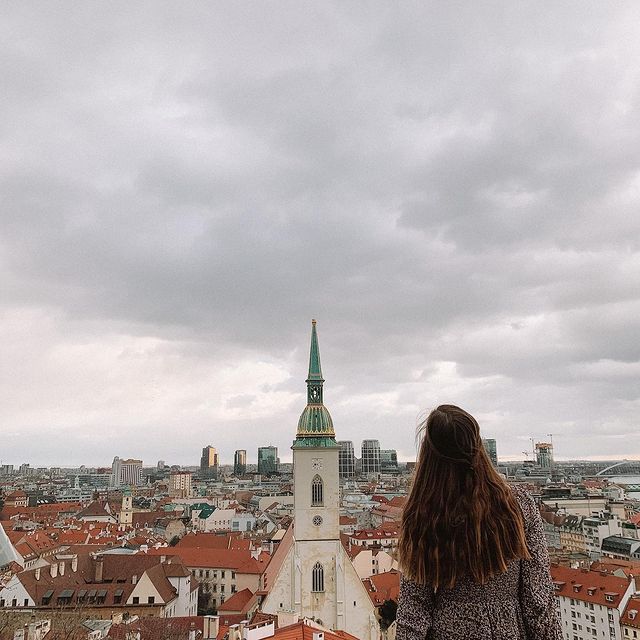 At St. Michael's Gate
Besides the fact that you're climbing up at the the oldest surviving medieval gate in Bratislava, St. Michael's Gate supports quite the view. This viewpoint gives you an "over the head view" of these streets, letting you see the details of the streets below. Straight out in front of you are rows and rows of roofs interrupted by the copper steeple of St. Martin's Cathedral and the looming outline of the UFO Tower.
Find It: Here's the address: Michalská ulica 22 806/24, 811 03 Bratislava, Slovakia and some info on finding the right door (which is easy to miss). If you're looking at the tower from inside of the Old Town (the southern side) there is a big wooden door found just right of the archway. It's heavy, but it opens up to the ticket office.
Hours: The deck is open 10:00 AM to 11:00 PM (the restaurant is from 12:00 PM to 11:00 PM).
Cost: 5€ gets you inside the tower which doubles as a museum, too.
At The UFO Tower
You can't miss this tower. It's technically called the MOST SNP, but a quick glimpse and you can see why it earned the UFO nickname. It's the top of the cable bridge which spans the Danube and from the observation deck upstairs, you can get a gorgeous panoramic view of Slovakia and even glimpse Hungary and Austria on a clear day. Up in the tower, there's also a restaurant rimmed with windows showing off that view.

Find It: Just a walk from the Old Town.
Hours: The deck is open 10:00 AM to 11:00 PM (the restaurant is from 12:00 PM to 11:00 PM).
Cost: 7.40 € for just the observation deck. If you eat at the restaurant, the entrance fee is waived. It gets crowded, so it's best to get reservations online.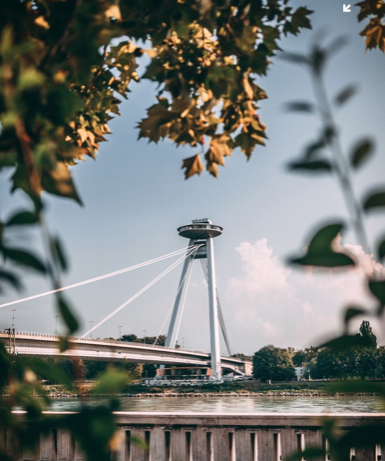 The Blue Church
Known more formally as St. Elizabeth's church, this pastel colored place of worship is an architectural highlight. Anyone interested in architecture (even just a little bit) will appreciate the curling Art Nouveau touches on the blue exterior and the blue interior, too. The outside is worth admiring but if you can also time your visit to peek inside, the hours are below.
Find It: Alžbety, Bezručova 2, 811 09 Bratislava, Slovakia (a 15 minute walk from Old Town)
Hours: Monday to Saturday, 7:00 AM to 7:30 AM, then from 5:30 PM to 7:00 PM
Sunday 7:30 AM to 12:00 PM, then from 5:30 PM to 7:00 PM.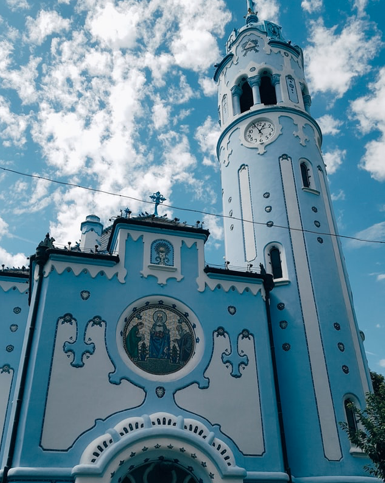 A Few Cafes
This capital city has a definite cafe culture and part of the "things to do in Bratislava" should definitely include spending time at the moody, artsy, and charming cafes dotted around the city. Here are a few to get you started, though you'll find loads on your own if you wander around long enough:
Urban Bistro
One of the most popular cafes in the city for a few reasons. First off, the ambience is something straight out of Instagram, with wire-frame lights hanging from the ceiling and exposed brick walls. Luckily the food matches the decor in this place. Settle into plates of toast, roasted tomatoes, sausage and eggs, or go sweet and order up layered cakes and a smoothie.
Address: Michalska 5, Bratislava 811 01, Slovakia
Hours: 9:00 AM to 11:00 PM (Sunday and Monday) 9:00 AM to 12:00 AM (Tuesday to Thursday) 9:00 AM to 2:00 AM (Friday to Saturday)
Velvet
Half cafe, half bookstore, this place boasts an artsy ambience with great coffee and drinks and an upscale, urban menu if you're looking for some food options. The decor is spot on, with exposed hanging lights cozy armchairs, metal barstools and white tile backsplash on the counter of the bar. It's spot to grab a mango lassi or a cappuccino and sit on the worn leather couches for an hour or two.
Address: Námestie SNP 488/30, 811 01 Bratislava, Slovakia
Hours: 6:00 PM to 1:00 AM (Tuesday to Thursday) and open until 3:00 AM Friday and Saturday. Closed Monday and Sunday.
W Cafe
A bright cafe hung with plants by the windows W Cafe has a menu sporting a selection of European style cakes, and drinks, as well as a pretty bomb breakfast. Come for some traditionally European meals like a breakfast plate piled high with local cheese and meats as well as slices of custard cake studded with plums. Don't forget about the ans of of frosted cinnamon rolls, and flakey croissants. This place is yum.
Address: Grösslingová 2503/62, 811 09 Bratislava, Slovakia
Hours: 8:00 AM to 8:00 PM (close Monday and Sunday)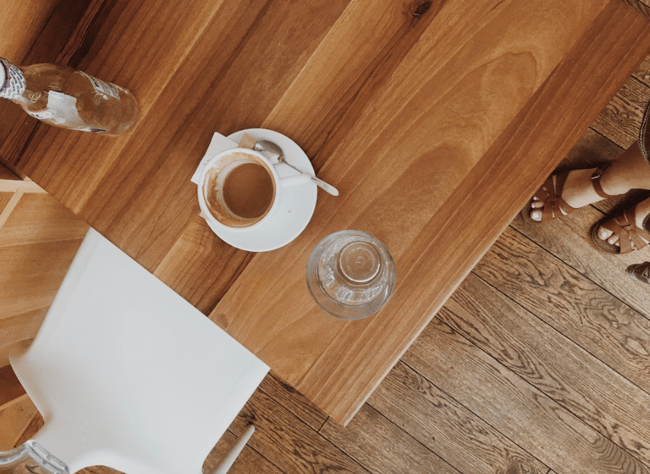 How Long Should I Visit?
Bratislava's a quiet city with a few highlights that you can see in a day or two, if you're really taking your time. Especially since it's so close to other cities where you'll want to spend more of your time (more on those cities) below, most visitors structure Bratislava as a day-tripper destination.
Nearby Adventures
Vienna, Austria (1 Hour Away)
Just a quick jump over the western border of Slovakia will get you to Austria's Vienna. A sprawling capital full of royal palaces, mad pretty churches, and home to some of my favorite pieces of artwork. Vienna's a city where you'll want at least two days to soak up all the culture and the history, and is a fab addition to your Bratislava trip. Get more on Vienna here.
Brno, Czech Republic (1.5 Hours Away)
Another under the radar gem, Brno is a quick trip if you're already in Bratislava. The two cities are similar, quieter European Old Towns sporting buildings in a rainbow of pastel hues, lined with cafes, and charming adventures you can only find when taking a stroll around the cobbled streets. There's a main square that clears out for a local market, trams that whizz you around if you'd rather not walk, and a castle to explore. If you're avoiding the crowds but still want to visit the Czech Republic, skip out on Prague and visit Brno instead. Get more on Brno here.
Budapest, Hungary (2ish Hours Away)
Visiting Budapest is easily done once you're in Bratislava (and vice versa). A favorite city for all of our ILP volunteers, Budapest is your go-to spot for hanging out in dreamy thermal baths, crossing over the river for an adventure diving deep into caves, and some of the prettiest architecture I've seen. Don't miss the Parliament Building, the views of the Danube from the Fisherman's Bastion and relax on Margaret Island (and breakfast at the yummiest bagel shop). Get more on Budapest here.
Getting To Bratislava
The capital city is well connected by trains, buses and flights all over Europe. As always, my go-to for booking transportation in Europe is Omio.com. You can type in where you are and where you want to go (and when) and you'll see all of your options right there in front of you. The funny thing about Europe is sometimes you'd think a bus is going to be your most affordable option, but sometimes trains or even a cheap flight will be your best bet. Omio helps you compare routes and ways of getting around plus you can book directly on the site (or the app), so it's a winner in my book.
Getting From The Airport To The City
If you're flying, book tickets to BTS. The airport is a few miles outside of the city and you can get to the city center by relying on public transport or taxi. If you're taking the bus, look for bus #21 to the Main Train Station, where you'll just have a 15 minute walk to the main city center. You'll get your tickets before getting on the bus, just look around for little ticket kiosks that take cash. If you're opting for a taxi, it's typically 15-25 euros for the whole journey.
There are multiple flights from surrounding European cities, some with great deals on airlines like RyanAir.
Traveling By Bus Or Train
There are dozens of buses from all over Europe arriving in Bratislava. When you arrive at the main station (Hlavná stanica), you can hop on a trolleybus to take you into the city center (205 or 202 should get you there). Or you can hop on bus 50 or 70 which will both take you to the banks of the river where you can cross right over to Old Town. It may be helpful for you to ask for the "Autobusova stanica" (bus station) to help you know where the bus stop is once you exit the bus terminal.
Riding in by train? If you're coming in to the main train station (Bratislava hlavná stanica) bus 93 or tram line 1 will take you into the city center.
Still need a little bit of help? Google Maps can help you navigate around. It'll pull up what bus you need to take to get to the city center and all of those details if you can't find someone who speaks English and can help you out.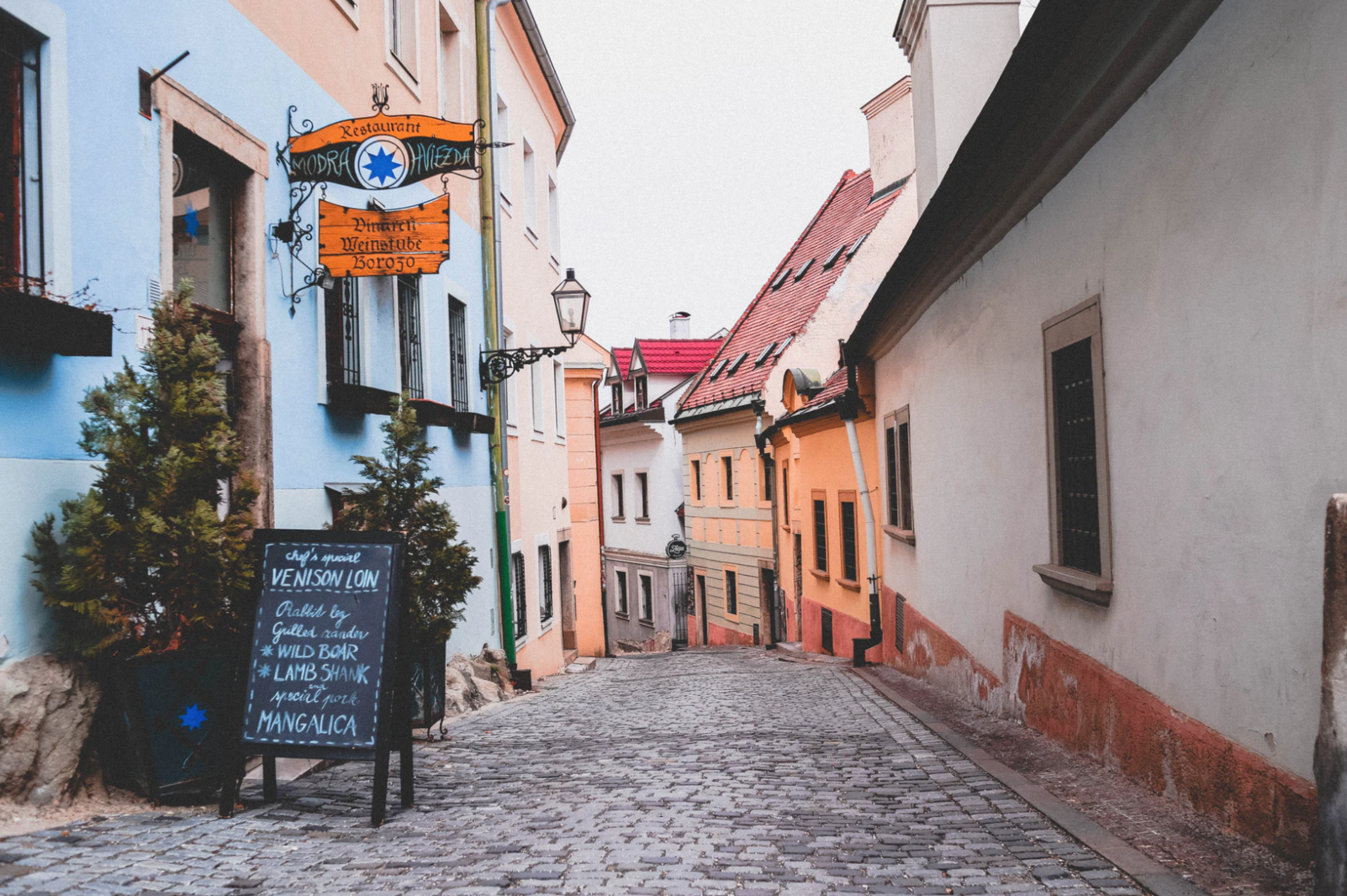 Ready for a trip to Europe?
How about living there for a whole semester? ILP volunteers live in Europe for a semester, teaching English or volunteering in an orphanage, with weekends off and vacation days to hop over to their favorite bucket list cities (and under the radar gems).