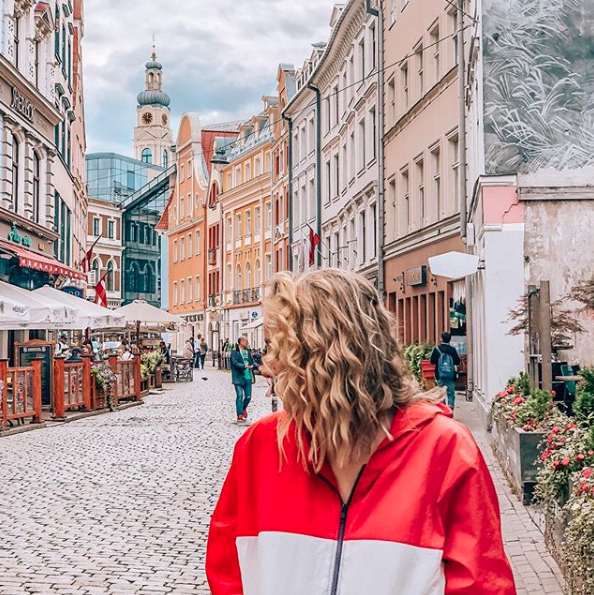 Latvia is a beautiful country in Eastern Europe — perfect for a weekend trip if you're living in Europe.
If you're living as a volunteer in any of our European countries, Latvia is an easy travel destination or a weekend getaway. It's not as well known or accessible as western Europe is so you won't get the hoards of tourists here which we're all about. This city is probably one of my favorites in all of Europe for a few reasons.


---
Ready to volunteer for a semester abroad?
Come apply now!
---

Here are a few things you shouldn't miss and other tips to help you plan your itinerary.
What To See And Do
One of my favorite things to do in Riga is just walking around, soaking up all the cute parks, admiring the statues and monuments scattered throughout the city and photographing the gorgeous churches and cathedrals. Riga is also busting with museums and pretty alleyways, but here are a few other highly recommended (and favorite) activities:
Museum of the Occupation of Latvia
This is an awesome museum if you want to learn a bit more about Latvia's history, particularly the periods where Latvia was occupied by the USSR, then Nazi Germany then again by the USSR. It's in a really cool part of town so bring your camera!

Go Night Kayaking
Don't miss this experience! It's easily one of the best things to do in the city, hands down. On a tour, you can explore the Daugava River by kayak, all under the stars when you go at night. All the city's bridges and buildings are lit up, creating a dreamy glow to the city of Riga.
If you are a new timer to kayaking, don't stress too much. One ILP volunteer told us that she was nervous at first but then ended up having an amazing experience. Reviews say that the guides make it an accommodating experience for all, especially those who are new to Latvia and kayaking.
Although it's not too splashy of a ride, they'll give you an apron to cover your lap from getting wet. You might be relieved as well when you find that you'll have a guide that speaks English. Volunteers have commented on how funny, nice, and helpful the guides were and how it really added to the excursion.
Make sure to plan ample time because this isn't a quick last-minute stop. The tour takes about 3 hours round trip. After walking around the city all day I'm sure your legs will be ready for a nice break.
When you decide you want to go kayaking you'll need to buy tickets in advance. Our volunteers have used and recommend booking with this organization. It's super affordable, at only $33 USD a person and worth every penny.
If you are staying the weekend look for a place close to the St. Peter's Church entrance because that's where your journey will begin!
You can go virtually any time of the year, but because Latvia isn't quite tank top and shorts weather outside of their summer months (June-August are the warmest) you'll want to consider whether it's worth it during their winter months. Emma, a previous volunteer, went night kayaking here during her semester abroad and said, "We went in September and it was kinda cold. We all had on raincoats and jackets and jeans and if you're bad at kayaking your arms might get wet so I wouldn't go in the dead of winter." With this being said she would recommend going anytime between March and September.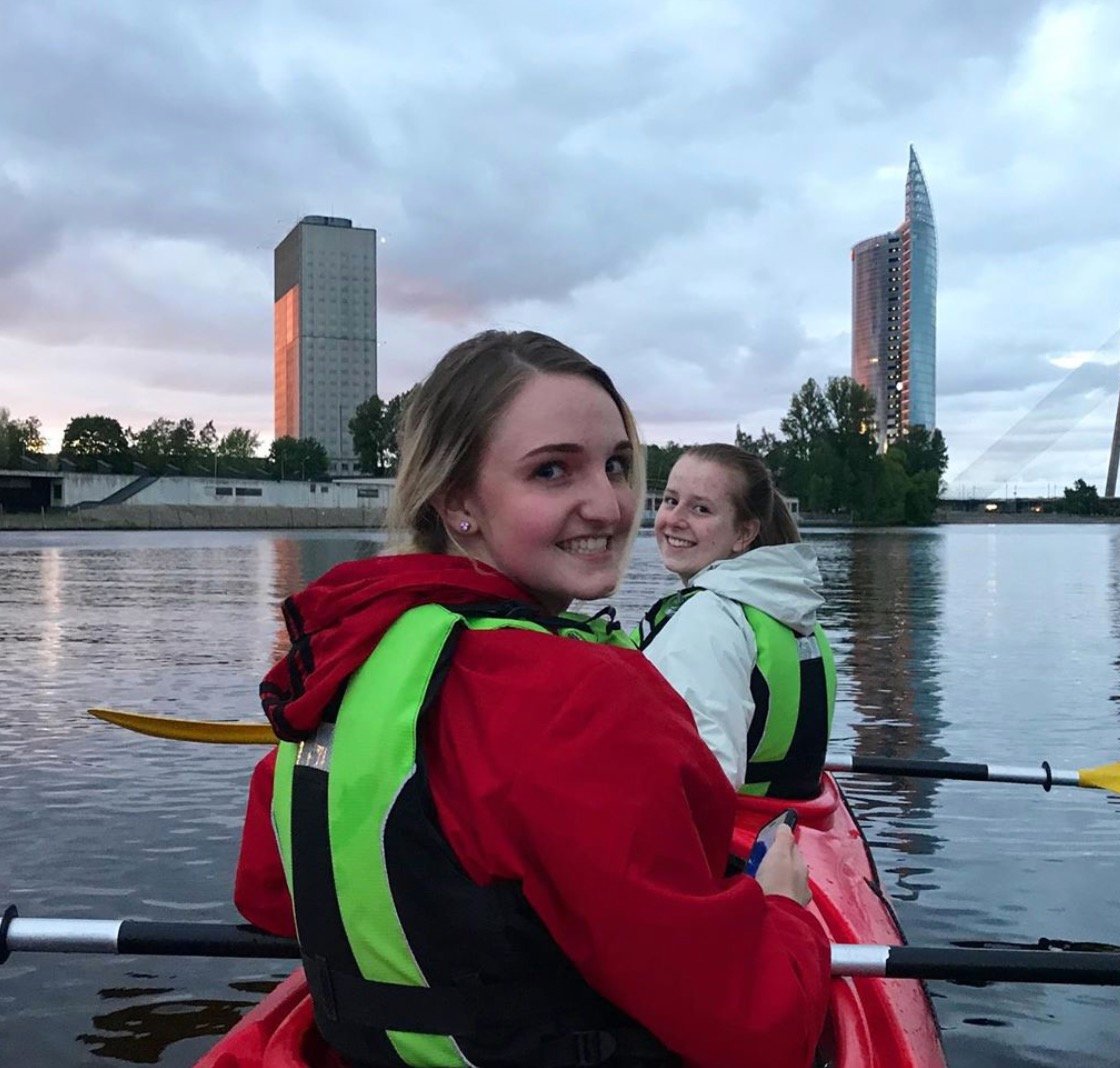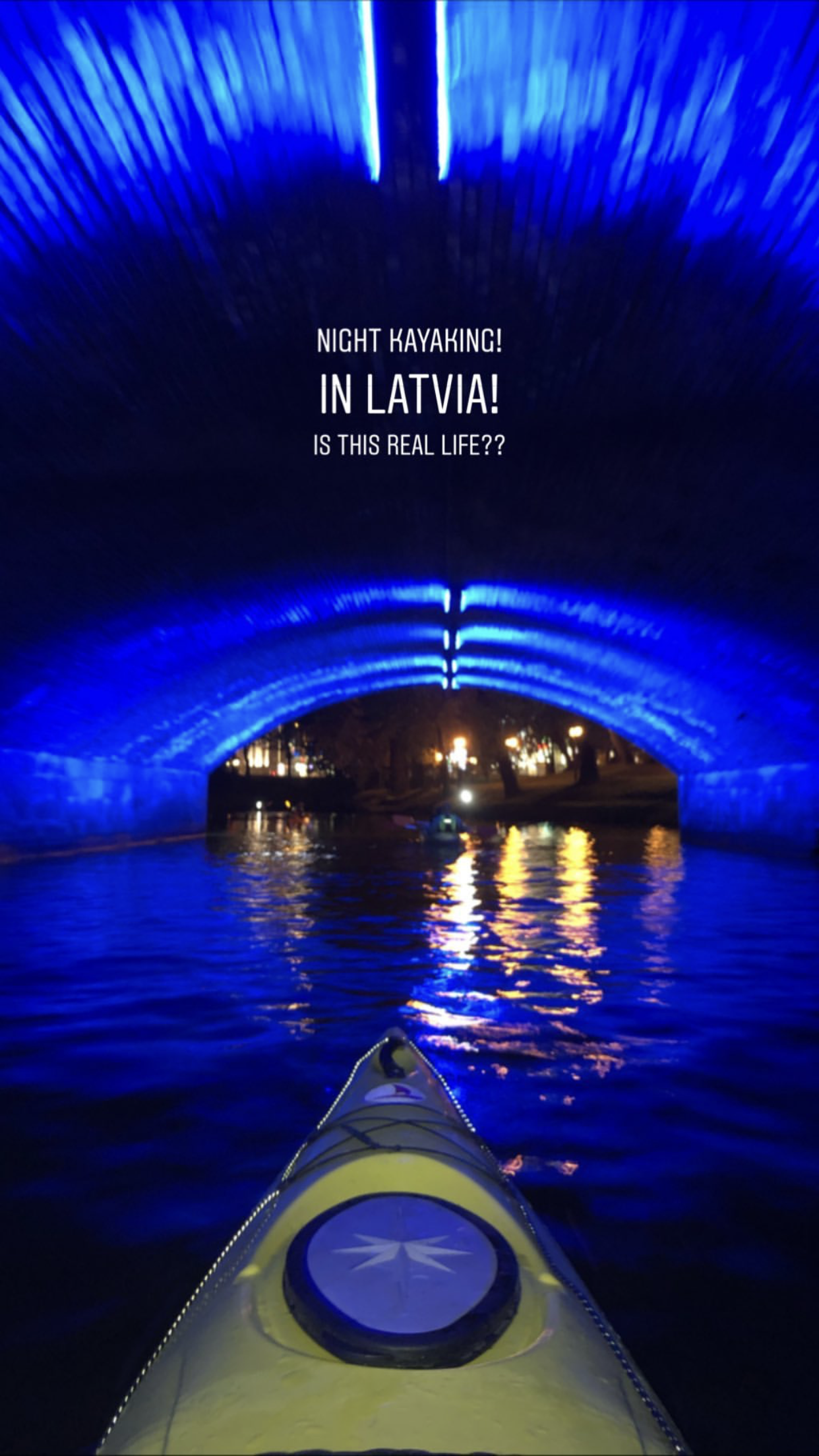 Explore the Churches and Cathedrals
You can't go to Riga and not spend a bit of time admiring the pretty city. Throughout Old Town, you'll see pastel-colored buildings, intricately detailed cathedrals, stunning churches, and austere governmental buildings, reminiscent of Latvia's history.
Lots of hostels will let you know about free walking tours around town which is worth doing if you'd like to see more and learn a little history. Whether you hit these on a tour or just walk around yourself, here are a few buildings you can't miss:
St. Peters Church: This church is one of the best places to get a view of the city. You can pay 9 euros to go inside and up the narrow staircase to see this pretty city from above.
Address: Reformācijas Laukums 1, Centra rajons, Rīga, LV-1050, Latvia
The Three Brothers make up the oldest complex of houses in all of Riga and are gorgeous to look at.
Address: Mazā Pils iela 17, Centra rajons, Rīga, LV-1050, Latvia

The House Of The Blackheads — go inside (1.5 Euro for students, 3 Euro regular price) to see some exhibitions about the merchants and trading-based economy, plus a ballroom ... but we also just love looking at it from the outside. I mean, how can you not fall in love with a building that pretty??
Address: 1 kalku iela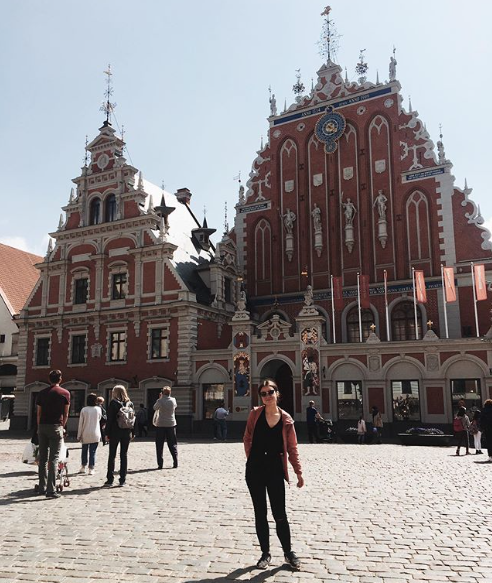 Rent Bikes and Ride Around
Old Town is very walkable but you can also get around a bit faster by renting a bicycle. If your hostel doesn't have bike rental, check out the city bike rental system (Sixtbicycle). Visit their site, download their app and after you register, you'll be good to go.

Prices are 0.9 Euro per 30 minutes, to a max of 9 Euro per day.
Visit Vērmanes Garden
This is the oldest garden in Riga (if you do a little online research you can find postcards from1911 depicting life in the park!). The area was actually burned down and rebuilt with exotic plants from all over the world. If you'll be in Riga when the weather is nice, be sure to visit.

Address:

Tērbatas iela 2D, Centra rajons, Rīga, LV-1050, Latvia


Hours: Open 24/7

Spend Time In Some Markets
In Riga, I have two favorite little markets to check out. One of more for souvenirs but the other is the spot to visit if you want to see vendors with buckets of fresh flowers, bread right out of the oven, bins of cabbages and other veggies, piles of berries, and a few other things like clothes, bags, or shoes.
Engle Market
This is a tiny little market right in the center of town and is kind of the spot for most of the souvenirs in Riga unless you hit up one of the souvenirs stores. You'll find fridge magnets, hand knitted scarves and hats, and wooden spoons, things like that.

Address:

Kaļķu iela 1a, Centra rajons, Rīga, LV-1050




Hours: 11:00 AM to Midnight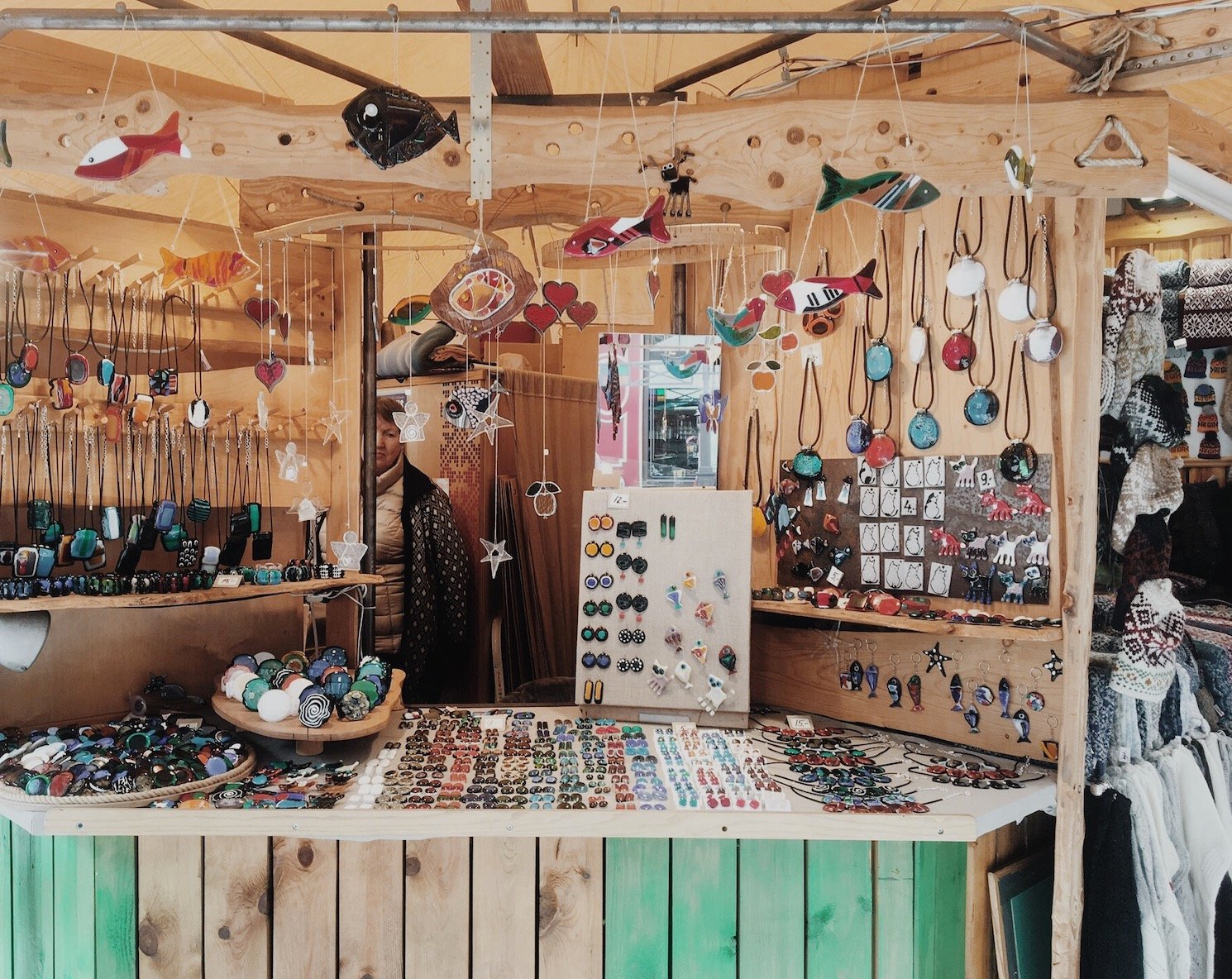 Riga Central Market
This is the spot where you'll go for some fresh fruit, a snack, and just the chance to walk around the stalls. It's much larger than Engle Market and the flowers and such are so pretty if you visit in the spring. It's a good spot to visit right after you get off the bus (if you arrive by bus) — the vendors are set up just outside of the bus station.
Address: Nēģu iela 7, Latgales priekšpilsēta, Rīga, LV-1050
Hours: 7:00 AM to 6:00 PM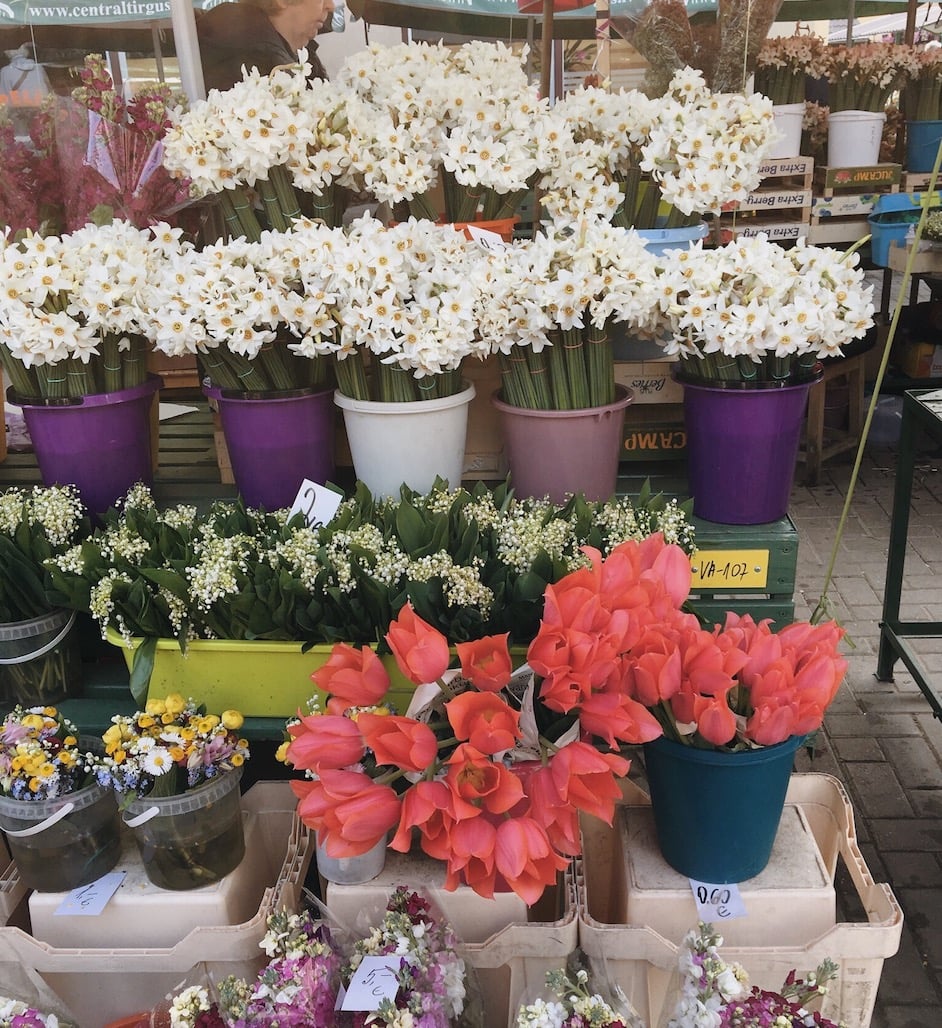 What To Eat
While there are lots of cute shops and eateries, our volunteers have found a few spots to recommend:
For Traditional Latvian Food —
Here's where you want to go for traditional Latvian food: Folkklubs Ala Pagrabs is a bar and restaurant with delicious, authentic food. I would order a few things and split them with your group so you can try a bunch of things.
Address: Peldu iela 19, Centra rajons, Rīga, LV-1050, Latvia
Hours: 12:00 PM to at least 12:00 AM
(many nights are open until 2:00 AM or 4:00 AM).
For A Nice + Yummy Dinner
If you want to have a nice sit-down place and try some local food, I'd recommend Domini Canes. It's right near the Old Town and is absolutely delicious. I'd recommend the Latvian Pork Ribs (pictured below) because it was one of the prettiest and yummiest dishes I had in Latvia and it cost under 10 euros if you head in before the dinner rush.
Address: Skārņu iela 18/20, Rīga, LV-1050, Latvia
Hours: 10:00 AM to 11:00 PM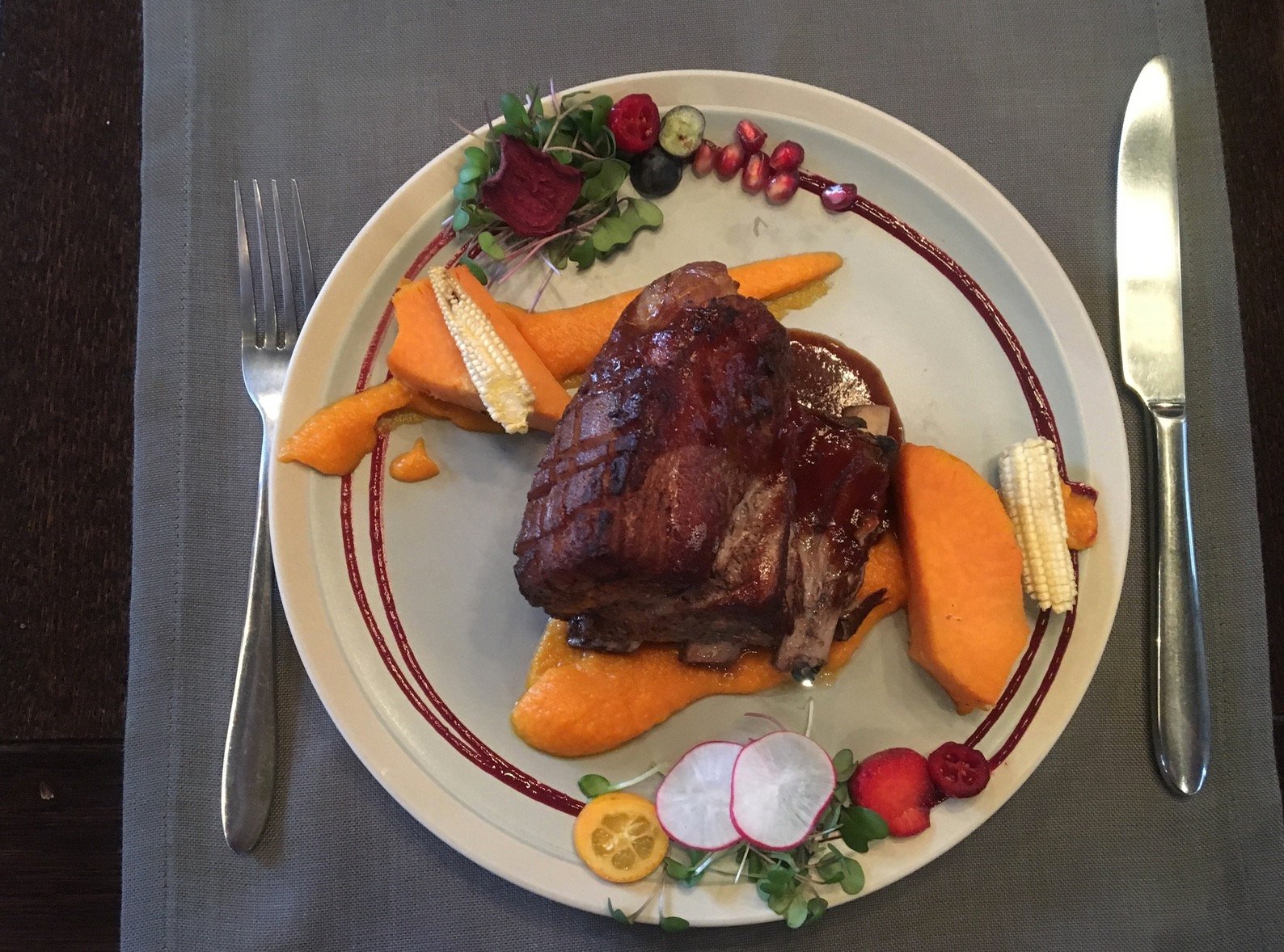 For Tea
This is the cutest tea house: head to Apsara Tea House for a fun afternoon of lounging on couches and a cool spiral staircase while you sip a cuppa. The places overlooks some canals and parks and is rather picturesque.
Address:

Krišjāņa Barona iela 2A, Centra rajons, Rīga, LV-1050, Latvia


Hours: 10:00 AM to 10:00 PM, Monday through Friday. Opens at 11:00 AM on the weekends.
For Chocolate
Go to Black Magic Chocolate Shop for the chance to make and drink your own hot chocolate. It's delicious, and a fabulous way to warm up when it's chilly outside. It's a 2 minute walk from St. Peters Church (which another place you should check out)/
Address:

Kaļķu iela 10, Centra rajons, Rīga, LV-1050, Latvia


Hours: 10:00 AM to 10:00 PM
For Donuts
Ze Donats (The Donuts) is a unique little donut shop. The atmosphere is so cool and the shop is decorated really rad. There are tons of flavors to choose from. From neon pink bubblegum flavored, toasted coconut and classic chocolate glazed, you are sure to find a flavor you can't live without trying.
Address:

Krišjāņa Valdemāra iela 18, Centra rajons, Rīga, LV-1010, Latvia


Hours: 8:00 AM - 8:00 PM (Saturdays 10:00 AM - 8:00 PM, Sundays close at 6:00 PM )
For Cake
Crumble Cake is a darling little cake shop serving up really really yummy slices of cake. They heat up your slice in the oven for a minute but don't worry, the place has comfy couches to sit on while you wait.
Address:

Jāņa iela 14, Centra rajons, Rīga, LV-1050, Latvia


Hours: 9:00 AM to 7:00 PM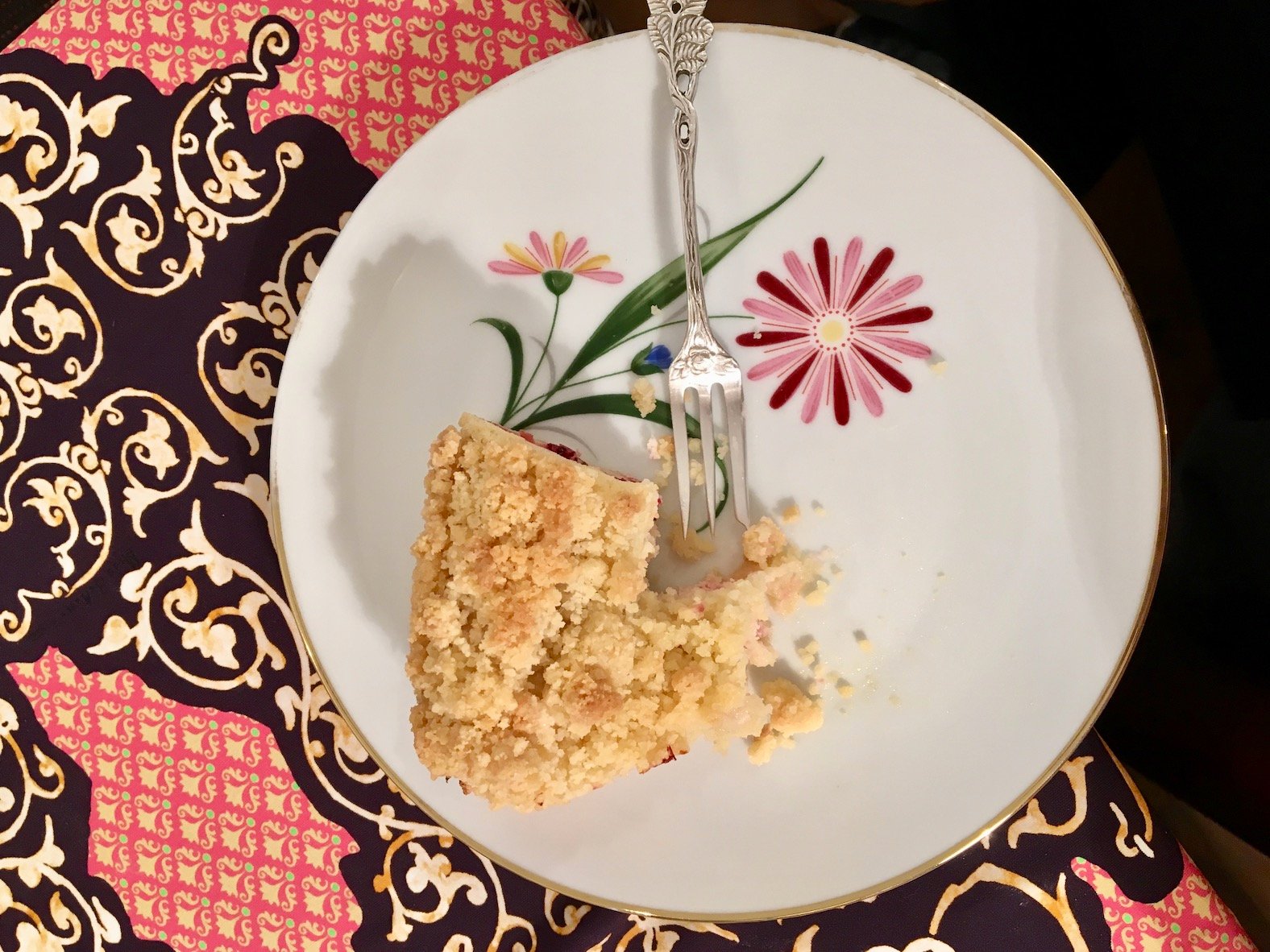 Where To Stay In Riga
Riga has some awesome hostels to choose from — You can check more of them out here, but here are the highest rated ones according to Hostel World (and some hostels recommended by our ILP volunteers).
Mr. Hostel
Find Mr. Hostel by walking 5 minutes from downtown Historic Riga, as well as a 5 minute walk from the bus station. It's simple but clean and has awesome prices. On average it will cost you about 15$ for a bunk room.
Cinnamon Sally Backpacker Hostel
Come for a cool feel and a great location: Cinnamon Sally Backpacker Hostel is just a few minutes from a public transportation stop and Old Town. It's between $12 and $15 a night.
Tree House Hostel
Tree House Hostel hostel is super simple and clean. They offer yoga classes (um, yes) and you can rent bikes from them to get around the city. Prices are a bit higher (but still good!) at $25+ a night.
Martas Street Hostel
Martas Street Hostel is nestled in a charming neighborhood a couple of minutes outside of the city center, around 15 minutes away from the central train station.Tērbatas shopping street is also very close and rooms will run you $13 to $20 a night.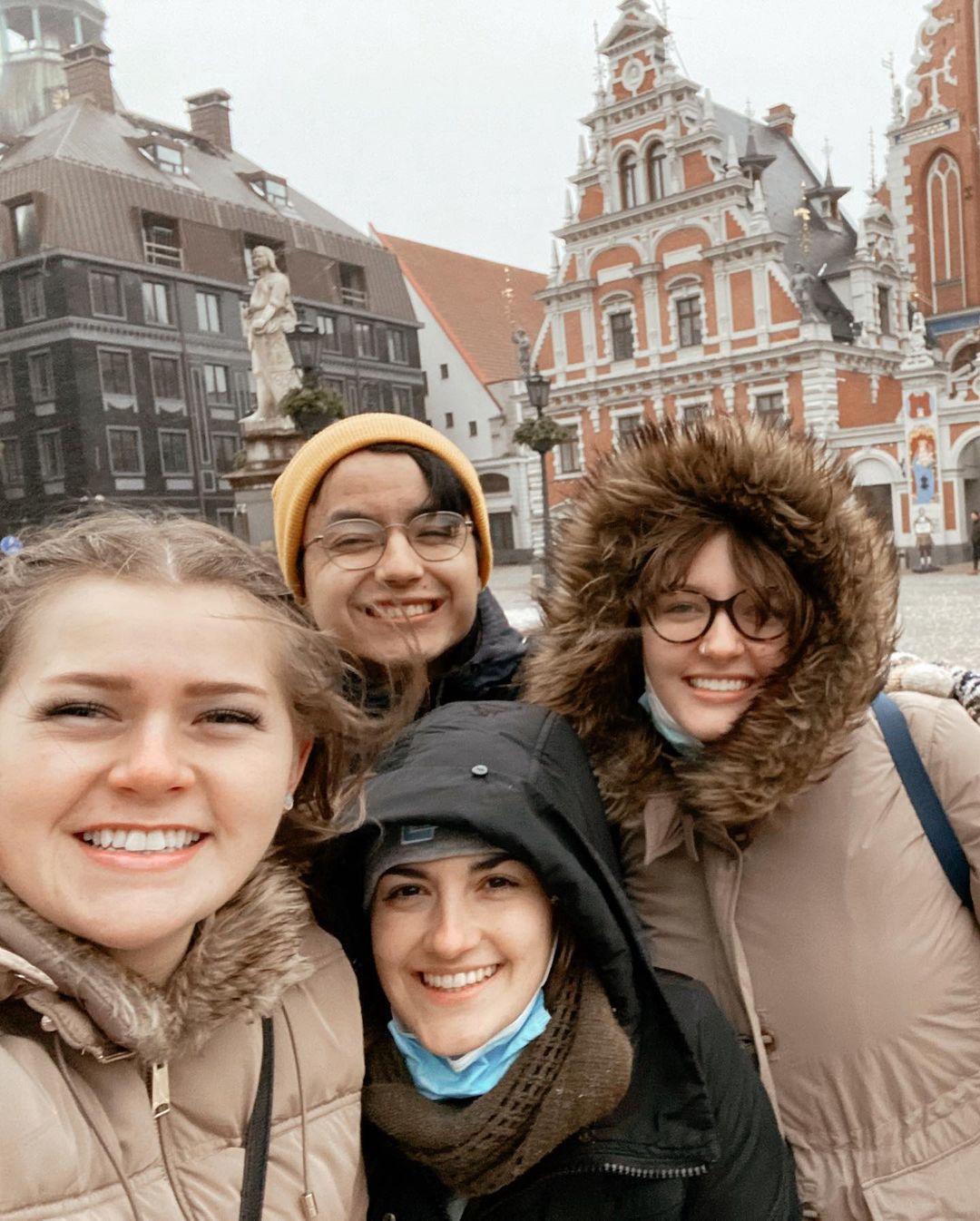 A Few Helpful Tips
There's a Riga Card which gives you a better price on local transport (if you'll be taking buses to get around, rather than walking or riding a bike). It also includes a discounted admission to some of the museums.
Old Town is really where you'll most likely be spending most of your time — the rest of Riga is made up of Soviet-Era apartments that aren't nearly as photogenic as the painted Old Town. Pick a place to stay that's in that area.
Most ILP volunteers recommend staying for a weekend (2 days at most); you'll be able to see it all and can spend time exploring another part of Eastern Europe, or other spots in Latvia.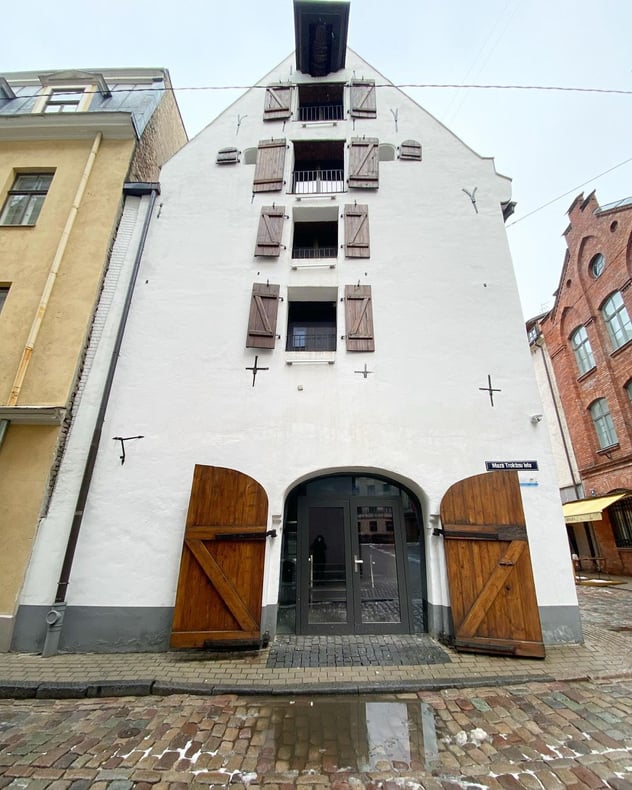 Getting To Riga
The city of Riga is found in in that "U" bend of Latvia, which sits right above Lithuania and right below Estonia (both countries we're big advocates of exploring, but the way).
Luckily for you, Riga's the capital of Latvia, meaning it's very well-connected when it comes to flights, buses and trains.
By Plane
The airport (RIX) is just a few miles outside of the city center, so plan on a 20-40 minute ride into the town once you land. Budget airlines like Air Baltic, Ryan Air, and Wizz Air regularly fly into Riga. We suggest taking a bus into the city; you can catch Buss 22, Expressbuss #22 or Minibus #241to get yourself into the city center. There's a new regulation that means taxi drivers can charge whatever they feel like charging from the airport to the city center. You might find taxis asking 60 euros when the ride should only cost around 15.
If you do take a cab, be sure to negotiate the price (and split the fare between your ILP group).
By Train
Check out Latvian Railways to book your tickets.
Similar to the bus station, the train station is located rather close to Old Town. It would be a short 4 minute taxi ride or a 12 minute walk to get you from the train station to the House of the Blackheads, for example.
By Bus
This is our favorite pick for ILP volunteers in Lithuania. It's about a 4-hour bus ride from their city of Vilnius to Riga. Volunteers tend to book LuxExpress or Eurolines buses (prices hang around 15 - 28 Euros, typically).
Once you get off the bus, it's a quick walk to Old Town which is home to what you're going to want to explore (for example, the House Of The Blackheads is just a 10 minute walk away from the bus terminal).
+Getting Around Riga
The whole city if rather walkable, especially if you'll will be staying in Old Town. As a head's up, the city is covered in some spots with those classically European cobblestone streets, which are hard to walk on if you're wearing sturdy shoes.

There is also a public bus system complete with trams and trolleybuses (get more info here), but most volunteers are staying for just a short time, and can easily walk to where they want to go.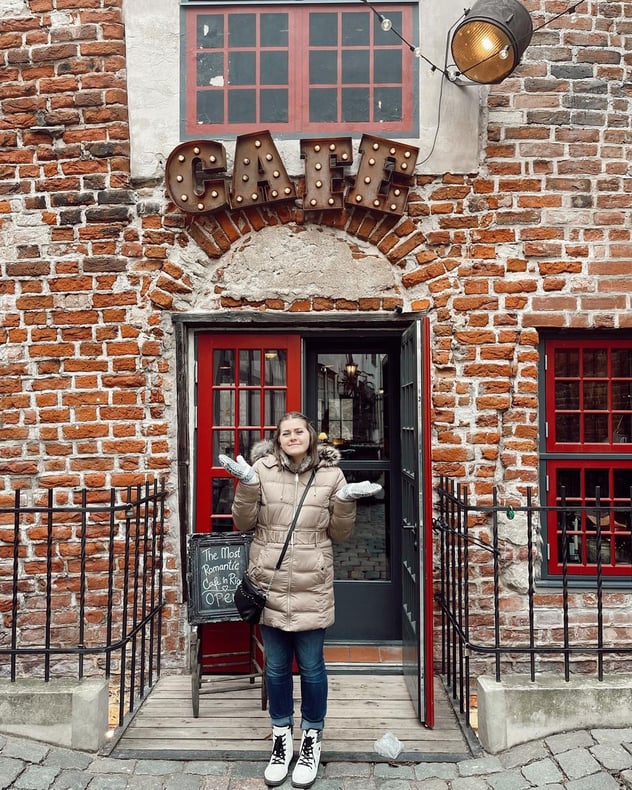 Ready for weekend trips to Riga?
If you sign up to volunteer with ILP in Lithuania, you'll be able to see nearby places like Latvia on the weekends if you'd like!