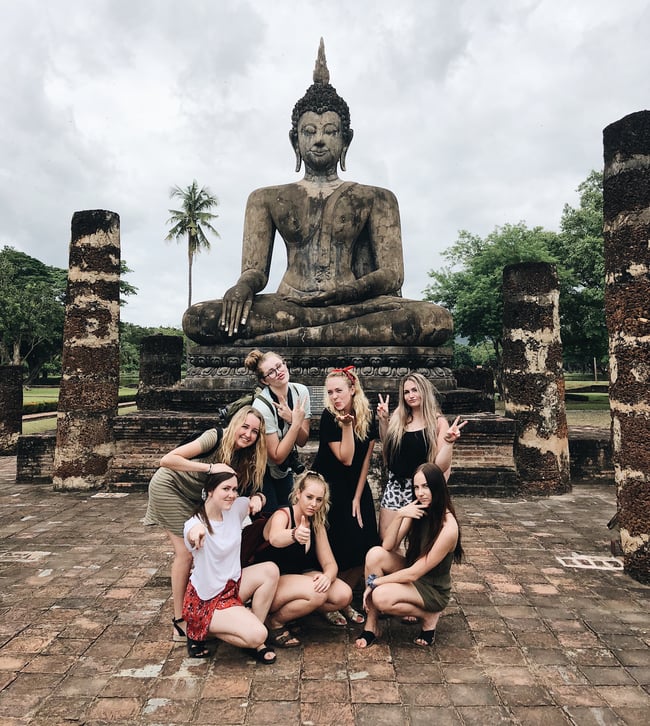 Thailand is such an amazing country! I got to spend an entire semester living there as a volunteer and loved it. But, here are several things I wish I'd known before starting this adventure.
First off, if you get to visit Thailand for a week, a month, or a semester, you'd better be so so excited! It is such a beautiful country with intricate temples, delicious food, stunning beaches, and an inspiring culture. Since there is no way to truly immerse yourself in everything Thailand has to offer in just a quick vacation, I totally recommend volunteering with International Language Programs. During my semester in Thailand, I got to teach English to the cutest Thai kids for about 20 hours every week, and then spend my weekends and vacation days exploring all of the hidden gems and tourist hot spots around the country. Dreamy!


---
Have you wanted to spend a semester abroad as more than a tourist?
Learn More About ILP
---

Full disclosure, as much as I loved and am still grateful for my semester in Thailand, it wasn't all sunshiney days full of rainbows and smiles. There were definitely some things that were hard to adjust to, which I really wasn't expecting before I arrived. Yes, it's impossible to know exactly how things will be until you're there in person, BUUUT maybe it will still be helpful if I share a few of the things that I wish I'd known before I got there. Just be prepared to learn a lot and soak up all of the amazing experiences you can!
Heads up: this post has affiliate links for your convenience (which means if you make a purchase after clicking a link, we earn a small commission). Just know we only share products that we ourselves have used and loved, that other volunteers have recommended, or that we think would be pretty useful!
A Few Things About The Culture
The Locals Are So Friendly
I've traveled to a lot of places where the only way I could communicate with the local people was via charades because I didn't speak their language and they didn't speak mine. But in Thailand I was so surprised by how many people speak basic or even fluent English, especially in bigger cities. This is primarily because tourism is the main source of income for so many locals.
So, don't be shy! Say hello to everyone. The people are incredibly friendly and want to talk to you. Thailand is called "The Land of Smiles" for a reason. They might be nervous or self-conscious about their English-speaking abilities, but if you are open and outgoing, you'll find so many opportunities to meet friendly Thai strangers.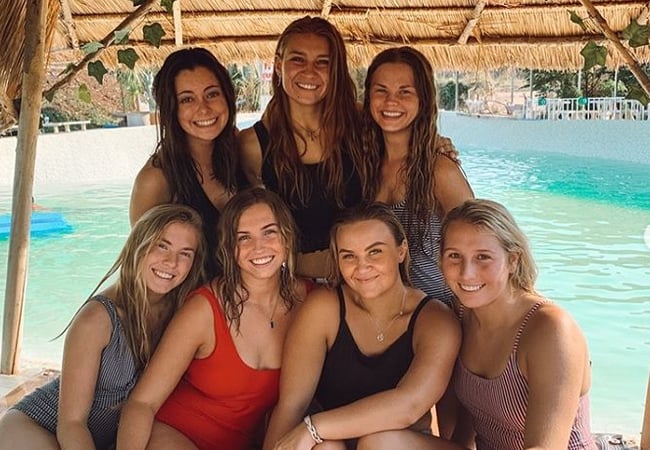 Learn The Right Way To Speak Thai
I know I just said that many locals speak English, but that doesn't mean you shouldn't try to learn some Thai. You're in their country, so be courteous! They see so many tourists coming through their towns and cities, many of whom aren't very gracious. You can be the one to give them a good impression of Farangs (white people in Thai)!
Download a free app that helps you learn how to say hello, goodbye, and thank you. ILP has a blog post about a few basic Thai phrases that are good to know but you can also find basic phrase tutorials on YouTube. A tiny bit of effort will go far. Plus, it's much easier to learn a language while living in a foreign country because you get to practice all of the time.
Heads And Feet
In Thailand, the top of the head is the most holy part of the body, and no one is supposed to touch another person's head. It's actually very offensive if you do. So, when you're talking to kids, don't pat or rub their heads. Such a hard habit to break!
Also, the feet are believed to be the dirtiest part of the body, so don't ever sit with the bottoms of your feet facing someone. And don't use your feet or toes to point to where a kid is supposed to be sitting. Bend down and point with your finger instead.
Be Ready To Bow
Bowing to strangers in greeting is a sign of respect. You'll regularly see the locals put their hands in prayer position close to their face and give a little bow. In fact, your cutie Thai students may do it to you as well, since teachers in Thailand are highly respected. If someone bows to you, do it back. And just so you know, the lower you bow, the more respect is shown. Often the locals will bow to monks while on their knees as a way to show more respect to them.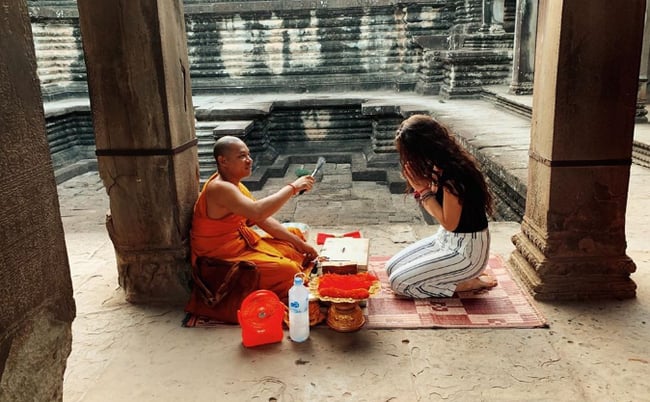 What You Should Bring
We have so many great packing lists on our blog, with tons of helpful tips. Check out this page that is completely dedicated to everything you need for the packing process! The list below just consists of the things you should bring that may not be obvious but that you should not forget.
A Plastic, Air-Tight Container
Not what you thought would be on this list, right? But here me out! There are ants in Thailand. Like millions of itty bitty, speedy ants that will get into any food or snack left sitting out. In the kitchen. In your bedroom. Anywhere. And I'm not talking like a plate of food you didn't put in the sink. I'm talking an unopened, wrapped, cardboard box of Cheez-Its.
I won't burden you with the horror stories of what I saw ants get into and eat, but I can tell you that they come out of the ceilings, walls, floors, and can smell a wrapped granola bar in less than a minute. Don't let this stop you from bringing snacks! They are an essential because you will want snacks from home! But to protect any food, snacks, or candy, put them into a plastic container with a tight seal. You're welcome!
A One-Piece Swimming Suit
If you end up living and teaching at a school with a swimming pool, awesome! These cutie pools are primarily for the students' swimming lessons (which you don't teach) but the local coordinators will let you enjoy the cool water after school hours. One thing they do request is that you wear a modest, one-piece swimming suit if you're swimming on school property.
You can bring other swimsuits for different vacations if you want, but in general the Thai culture is very modest, so I was so glad I had a modest one piece as an option in my bag.
A Water Bottle
The school has filtered water for you to drink, but you'll need a nice bottle to fill up and carry around with you as you teach and explore Thailand. Insulated is best so that it stays cold even as you're melting from the heat. My favorite water bottles are linked in this post!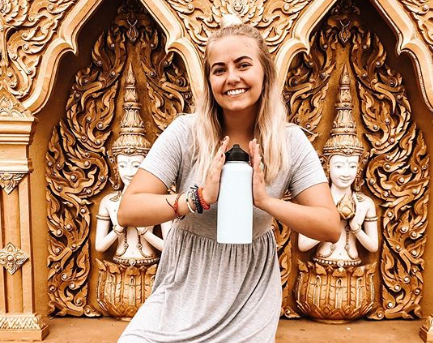 A Hoodie Or Sweatshirt
For the many long plane, bus, and van rides when the air conditioning is blasting and you're just trying to sleep for a couple of hours. Enough said!
You might be thinking, I'm going to Thailand where it's SO hot and humid so I'll never be cold. And you're right, most of the time you'll be dripping with sweat. But if you're anywhere where the air conditioning is working, it gets cold real quick. You'll be happy you have a sweatshirt.
Slip-on Shoes
90% of your months in Thailand will be spent shoeless. Every single time you enter a building (except the big shopping centers) you will need to take off your shoes. In fact, you'll be barefoot when you're teaching. And sometimes, you'll even have to take your shoes off at the outdoor temples. Having shoes that you can easily just slip on and off at the door without any buckles or laces are a necessity.
Have A Waterproof Device For Taking Photos
There are so many fun water activities in Thailand, and you'll want to have a way to capture those memories. Also, if you're in Thailand from April to August, you'll be there during the rainy season and it's nice to be able to protect your phone when you're on the go and a huge rain storm comes passing through.
I didn't have the funds for a GoPro (although I would have loved to have one!), so I did some research and found out that you can buy REALLY affordable cases for your iPhone. I bought this Joto Waterproof Phone Pouch on Amazon and it worked like a charm. I'm so glad I brought that otherwise I wouldn't have photos of snorkeling.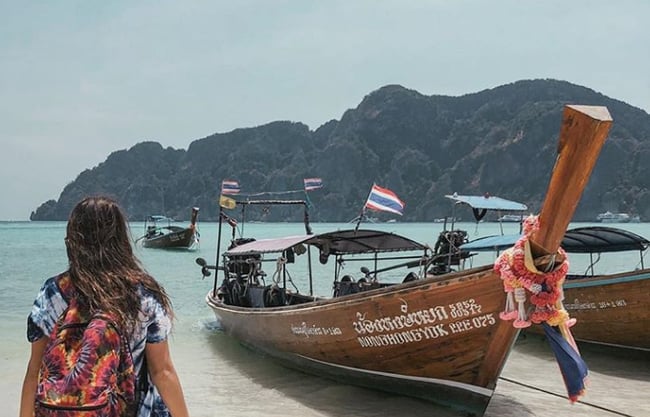 What Not To Pack
Lots Of Makeup and Hair Tools
It is so humid in Thailand! Literally, you will walk out of your bedroom and be dripping sweat within minutes. Attempting to put on more makeup than just mascara and tinted lip balm isn't even worth it in my opinion. And consider wearing waterproof mascara, since even the normal kind has a tendency to melt.
An Adapter
Before you get ahead of yourself, you do still need a converter! The outlet is the same size and shape as those in the USA, but the voltage is not the same. However, if you're only bringing electronics like a phone and a laptop, then you likely won't need a converter since these devices have converters built in.
Jeans Or Long Pants
Again, the heat. I spent pretty much all of my time in light dresses, even when I wasn't teaching. You will never wear jeans. And if you do pack long pants, make sure they are very breathable and loose.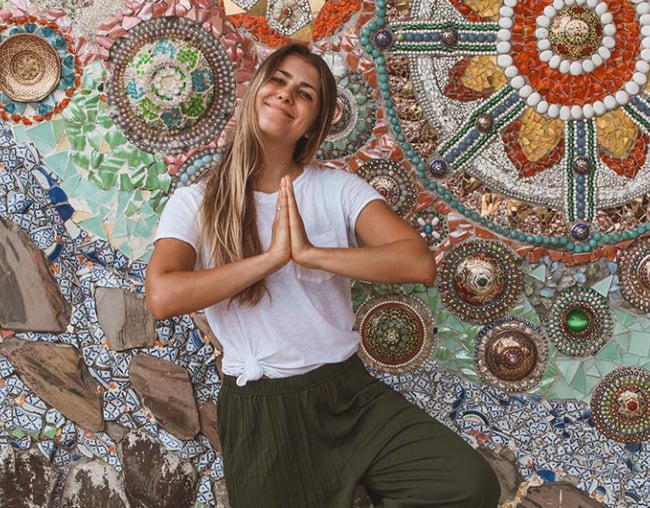 +Additional Tips
Beware The ATM Fees
The Thai government has added a fee to every ATM that amounts to at least $5 USD. Also, a lot of banks and credit unions have a fee for using their card internationally, so that means every time you withdraw cash from an ATM (which will happen often since cash is the best way to make purchases) you could be paying around $5-$10 in fees. Ouch.
But, there are ways to make it cheaper. First, you can withdraw the maximum amount each time you're at an ATM. There is a limit, so you can't pull out enough for your whole semester abroad, but you can cut down the number of times you visit the ATM. Second, make sure you're using a bank that has low fees. Click here for more help with that. And third, you and other volunteers can pull out cash together, pay each other through Venmo, and split the cost of the ATM fee.
Also, did you know there are banks that have ZERO ATM fees? Yep! Here's a post with info about the best bank cards for international travel. One of the cards listed is the Charles Schwab card, which refunds the local Thai ATM fees back directly into your checking account every month! One of our alumni was getting about $30 back into her account every month while she was in Thailand.
You Will Be Worn Out
Teaching these kiddies will leave you so exhausted every day. My semesters with ILP have been the only time in my life that I've needed daily naps. These little firecrackers are so full of energy, and they respond best in lessons if you are too! Between the 20 hours per week of teaching + the lesson planning outside of class + the crazy heat, you will be ready for that daily nap. Here are some tips for how to stay healthy while volunteering abroad! Taking care of yourself will definitely help with energy levels.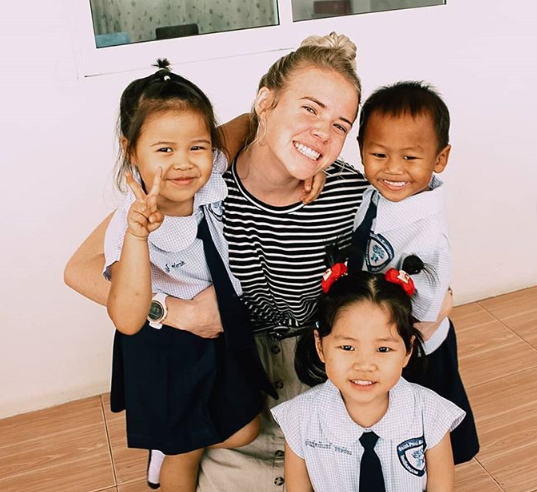 Go Shopping Here
If you're in the market for some souvenirs, you have to go to the markets in Chiang Mai. Here you'll find stalls full of the cheapest things to buy in Thailand, like wooden elephants, traditional clothing, beautiful bags, tapestries—it's all there. The weekend market runs every Saturday and Sunday, so don't miss it!
Yep, you'll find things to buy in the Thai Islands but anything there is 3x the price of what you'll find in Chiang Mai. There's a huge outdoor market in Bangkok called Chatuchak, and there's also some fun night markets in a handful of other cities (like where you might be living in as an ILP volunteer in Thailand), but my favorite shopping was in Chiang Mai.
Do A Tour
Normally I'm the very first person to avoid a guided tour...but in Thailand they're actually great! You'll be able to get away from the hoards of tourists and get to see places you wouldn't find on your own!
In the islands, you'll see signs everywhere for group tours offering snorkeling and boat trips to other islands. You don't have to book these tours online beforehand and can just sign up to join a group either the day of or the day following. In any other city (especially Bangkok and Chiang Mai), I definitely recommend doing your research online ahead of time. There will be so many options for tours, but the best ones fill up ahead of time.
If you want to interact with elephants, I totally recommend splurging here. The cheaper tours are notorious for not treating their animals well. Pay a bit more to get the experience you've been dreaming of! Here's how to pick out the best Elephant Parks! It's bound to be a highlight of your Thailand experience.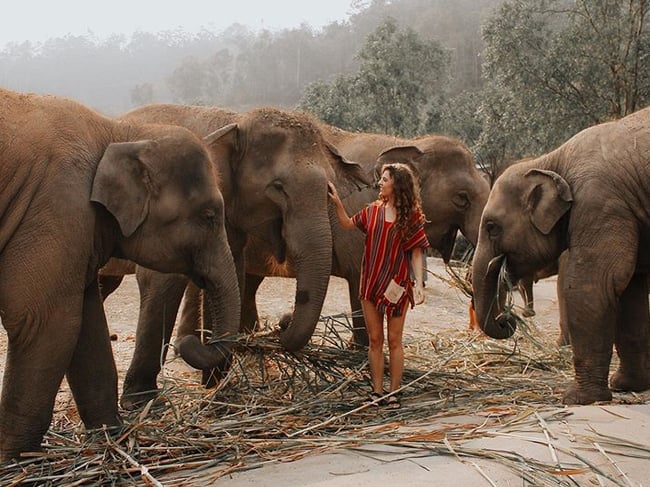 Want to see what our volunteers are up to?
ILP is able to send young people to countries all over the world every semester! And our volunteers are always up to something cool on the weekends and during their vacation days. To see their pictures and adventures, as well as the honest truth about volunteering with ILP from their perspective, make sure you follow us on Instagram!