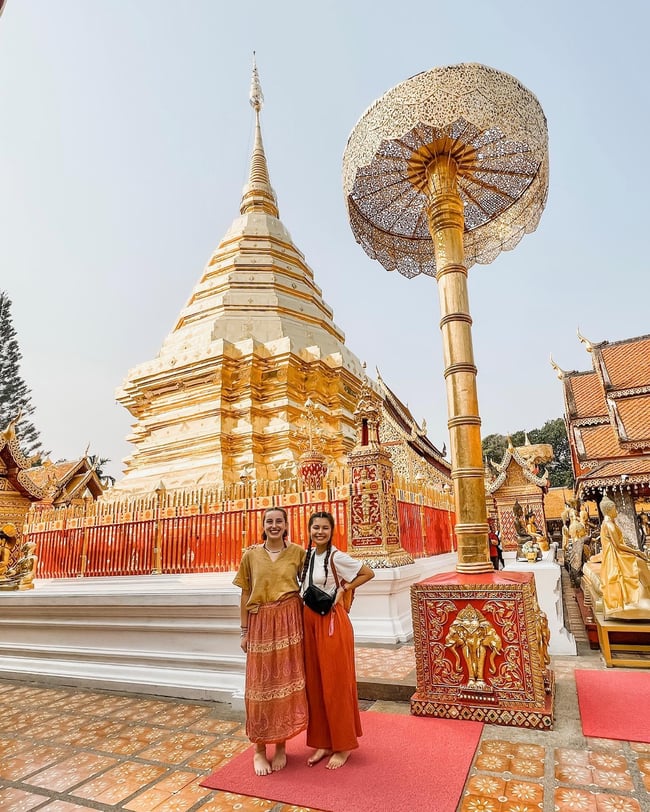 One of the best things about Thailand is without doubt the assortment of beautiful temples! As guests in Thailand, it is essential that we respect their culture and customs. Here's everything you need to know before visiting any of the Thai temples!
Visiting the temples in Thailand can be a very special and unforgettable experience. It's a wonderful way to see firsthand the beauty of the Thai culture and customs that have been around for literally thousands of years. If you're lucky, you may even get to participate in some of the religious ceremonies at these temples. Like being blessed by a monk? So cool!


---
Want to volunteer abroad but have some things holding you back? Read this:
Things Keeping You From Going Abroad
---
Before traveling around a different country, it is always helpful to know what to expect, and what is expected of you. Make sure you check out this post for things you'll want to know before traveling to Thailand. But keep reading for our a list of things you absolutely need to know before visiting any Thai temples.
What To Know Before Visiting Thai Temples
What To Wear
Traditionally, people in Thailand dress very conservatively, and such standards are expected of all people (including tourists) visiting their temples. Typically, your skirt or pants will need to cover your knees, and shoulders, backs, and bellies must also be covered. Although some locations will have wrap skirts for you to rent, and others will even provide them for free, it is still smart to always be prepared with clothes that are temple-appropriate, just in case there aren't other options available.
You will notice that some tourists do not follow these guidelines, and although it is very rare for visitors who are not dressed appropriately to even be allowed near a temple, it does still happen. It is important that we are not those tourists, especially since volunteers with International Language Programs, living in Thailand for a whole semester while teaching English to the Thai children, are respected.
Remember, these places are still very sacred to the Thai people, and many locals and pilgrims come to worship at these temples. You don't want to be that tourist posing for a picture in front of a ton of people and a huge Buddha when an old Thai man hands you a sarong and asks you through hand gestures to cover up. Embarrassing. Being ready for a temple visit is as simple as having a loose dress, or sarong and t-shirt all ready to go in your backpack.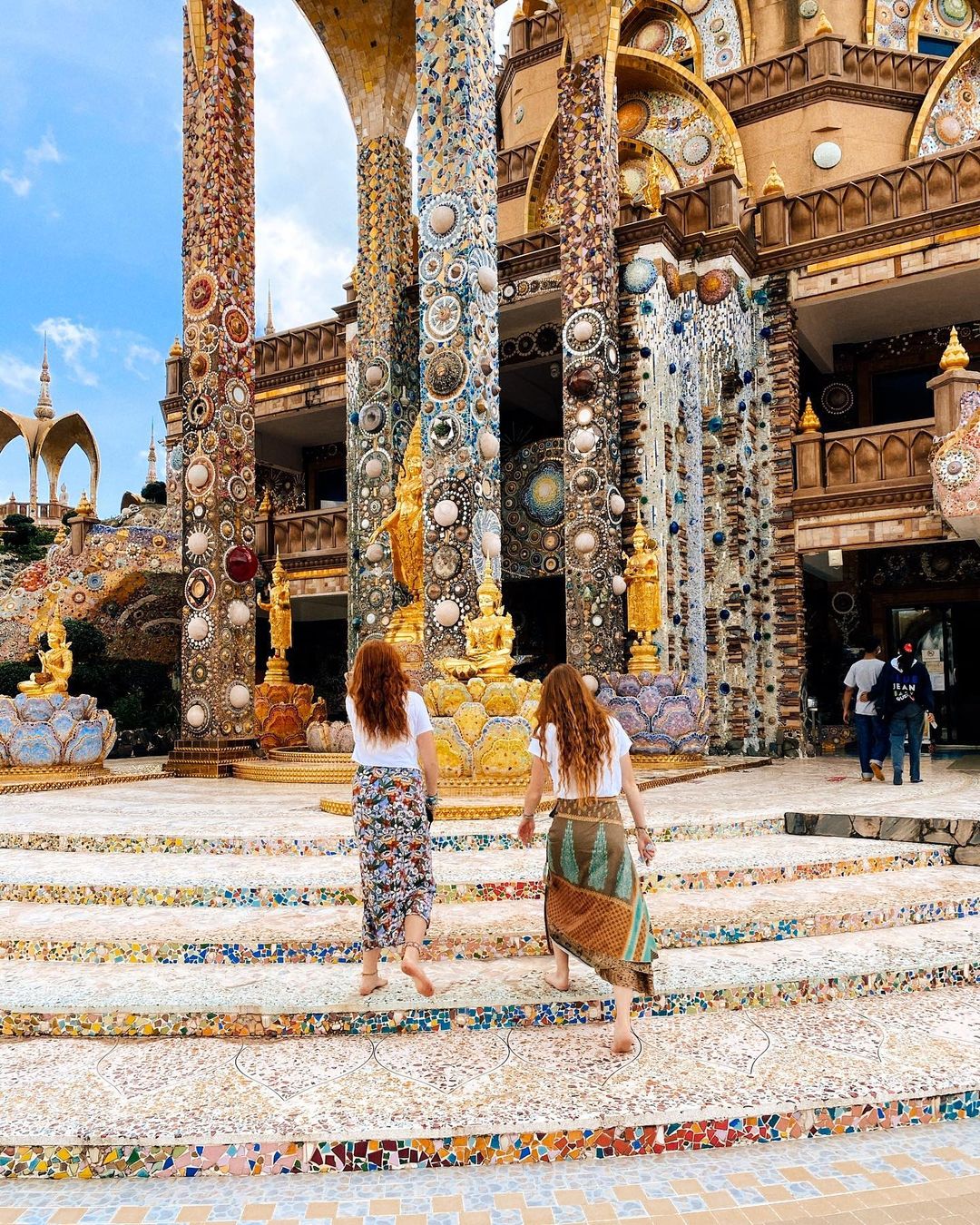 What To Expect
Every temple experience is a little bit different, so you might want to do some more of your own research for the specific one you are planning to go to. Generally, you will need to make sure you are dressed appropriately before even entering the grounds of the temple. As with most places in Thailand, there will be a spot for you to leave your shoes outside the entrance.
You will notice people kneeling, meditating, holding incense, and participating in various religious rituals, so be respectful of them by being quiet and following the instructions of any signs placed in or around the temples. If you are invited to participate, just watch what everyone else is doing and follow along. It's not every day you get to make wishes with hundreds of people from around the world like you can at Doi Suthep in Chiang Mai.
Most temples will allow you to take pictures both outside and inside, although the stunning white temple in Chiang Rai does not allow any photography inside. You will also see many monks around these temples, but are not allowed to take any pictures of them without first getting their permission. And if you're a girl, don't ever touch them.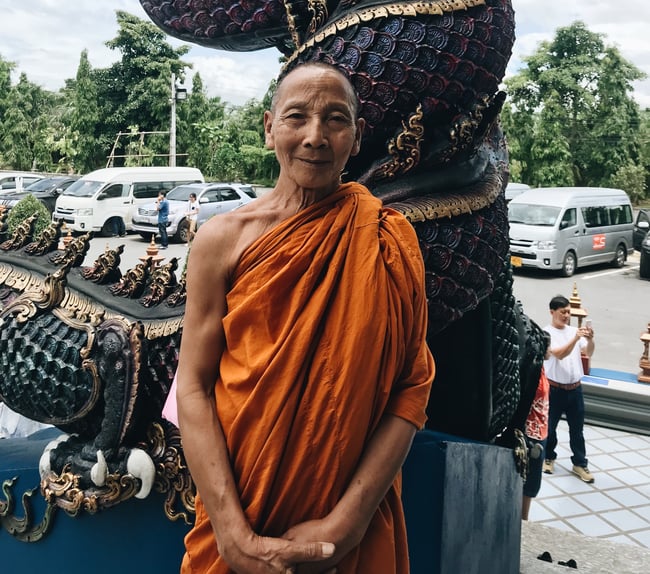 A Note On Other Places
Heads up, there are a few other places in Thailand that also require the same dress code and respect that the temples do.
Statues of Buddha
You will see so many statues all over. Some of the most beautiful ones are in tiny towns that you'll pass by on your way to some of the more popular destinations. Many of these statues are just as sacred to the Thai people as their large temples.
Before climbing up the stairs to the white Buddha on the hillside in Pai, there is a stand at the bottom with wrap skirts you can rent. But, most locations won't have this option, so you'll just have to be prepared.
Sacred Ruins
The ancient Ayutthaya Ruins, outside of Bangkok, are a popular destination for both tourists and locals. To step into one of the coolest, oldest areas, you will need to have knees, shoulders, back, and belly covered. There are places to rent sarongs around this area, but for some reason they are WAY more expensive here than at other spots. Plus, they make you hand over your passport until you bring back your sarong. If you haven't learned yet, this is NEVER a good idea. Save yourself the hassle by making sure you're ready before you get there.
The Sukhothai Ruins are also incredible, and the perfect day trip. Although they don't enforce a strict dress code, it is still considerate and polite to dress appropriately. Especially since you'll be riding bikes the whole time you're there. These are places that have been around since the early 1000s, so make sure to dress appropriately and follow all the signs (such as not climbing on or damaging them in any way) since the ruins deserve all the respect we can give them.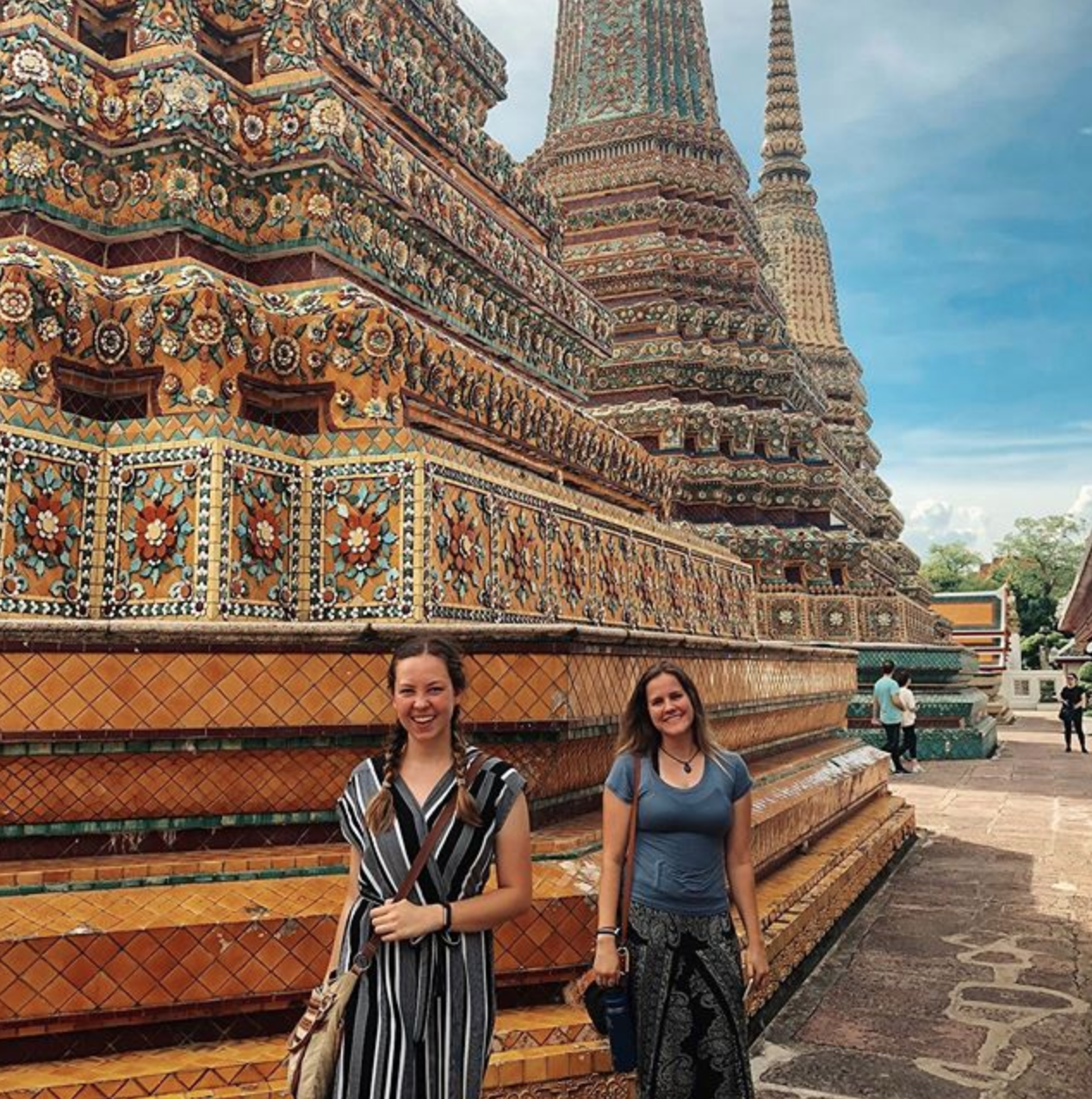 Our Favorites
Wow, how can we even choose which ones to list here. We literally have a favorite (or a few) in every region and city of Thailand. And lucky for you, we've already written a lot of blog posts with all the details about how to visit them!
If you're in Krabi for the weekend, make sure you check out the Tiger Cave Temple. It's a bit of a hike (1,237 stairs to the top) that may not be for everyone, but is worth the view!
Up for a whole weekend of temple visits? Visit Chiang Rai, home to the famous blue, white, and black temples. Each is so unique and unforgettable.
If you're spending one night (or more) in Bangkok, you need to make sure you stop by the Grand Palace. It is a huge complex of so many incredible structures, including dozens of temples. And don't forget about the Temple of Dawn (Wat Arun), and Wat Pho (for the Reclining Buddha).
Known as the "Most Colorful Temple in Thailand", Wat Pha Sorn Kaew is really two temples right next to each other. One is entirely covered in stunning, bright rainbow mosaics of glass and pottery. And the other is all white and silver, with a huge replica of Buddah(s) as the roof. It is far off the beaten tourists' path, which definitely has its benefits.
There are literally dozens of others in Thailand that are absolutely worth your time. Visit as many as you can and take pictures of all of them!
Want to know more about what it's like to volunteer in Thailand for a semester?
Click the button below to get more information about the schools, groups, semesters, and so much more!