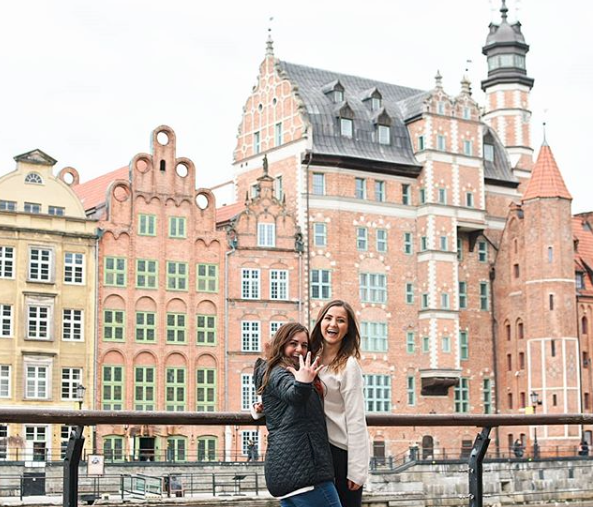 Beaches plus a charming Old Town are only a few of the adventures waiting for you in Gdansk.
Poland has enough cities and getaways to keep you busy, busy, busy … but if you're looking for yet another weekend getaway from the city of Krakow, Gdansk is our pick for a spot full of European charm right on the coast. Here's what you need to know about visiting.


---
ILP Volunteers get to travel all over Europe during their semester abroad:
Check out our guide to European destinations

---

If you thought you had to head to Copenhagen's Nyhavn to get a picture by a waterway lined with colorful buildings, think again. The delightfully picturesque Polish city of Gdansk could not be more charming.
Situated right on the Baltic Coast, Gdansk is a colorful port city with towering cathedrals to admire, quirky and colorful buildings lining the waterfront, and an artsy main square plus a decorated Old Town. If you're sold on the idea of spending a couple of days here, here's your go to guide for Gdansk:
Things You Can't Miss
Soak Up The Architecture
The buildings in Gdansk are the main attraction.
The Main Town is a collection of Dutch-inspired and colorfully detailed Mannerist buildings that you're going to want to photograph all day long. Make sure to get pictures along The Long Bridge and the Long Market Square. Artus Court is also near by this area and is home to canary yellow, strawberry pink, and dreamy light blue buildings that fit your idea of what a charming European town should look like.
Also in typical European fashion, Gdansk is home to a dozen+ churches so if you're into green copper doors found on the Royal Chapel or want to admire the stark steeples of Oliwa Cathedral or St. Mary's Basilica, you'll love this city. Rumor has it you can visit the top of Mary's Basilica which would give you stunning view of the city.
Even the main train station is a ornate brick building that's pretty enough for a postcard. The Ratusz Old Town Hall is also a vibrantly orange buildings with detailed flourishes.
We could keep going, but think you'll find what you're looking for on this self-guided walk through or this walking tour of Gdansk's prettiest buildings.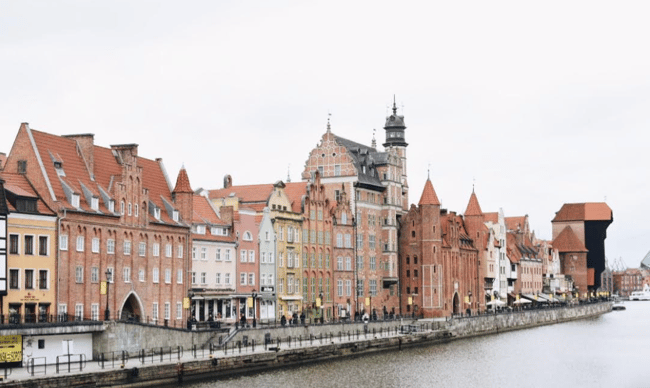 Museums Galore
This area is peppered with historic buildings sheltering relics and information ranging from World War history to a comprehensive overviews on clocks. Most notably, Gdansk is known for Amber so in shops you'll find rows of jewelry and amulets, but you can also visit the amber museum if you'd like to learn more about how this fossilized resin made this city so popular. We've outlined a couple of museums that might peak your interest — the Museum of the Second World War comes especially recommended:
Museum of the Second World War - don't miss this one!
Get a glimpse into this area of history from the Polish point of view. Gdansk (or Danzig in German), was the city where the Germans first invaded Poland in 1939. The museum harbors many personal items, letters and relics that display that history.

Hours: 10:00 AM - 7:00 PM, Tuesday - Friday.
Closes at 8:00 PM on Saturday and Sunday.
Address: Plac Władysława Bartoszewskiego 1, 80-862 Gdańsk, Poland
Cost: 23 zloty. More info here.

Amber Museum
Learn a bit more about how this popular Baltic souvenir was pivotal to Gdansk's history ... plus some randomly placed relics of ancient torture devices. The museum combines ancient and modern history in an intriguing way.
Hours: Closed Mondays.

10:00 AM to 4:00 PM, Saturday, Sunday & Wednesday (6:00 on Thursdays).

Open 10:00 AM to 1:00 Tuesday.
Address: Targ Węglowy 26, 80-836 Gdańsk, Poland


Cost: 12 zloty.

More info here.
European Solidarity Center
Another highly recommended museum, step back into history and learn more about the anti-communist movement in WWII and the Cold War. Sobering and reflective, this museum has both English and Polish information plaques and is a well-done reflection of Poland's difficult past
Hours: 10:00 AM to 7:00 PM, Monday to Friday. 10:00 - 8:00 PM on weekends.
Address: pI. Solidarności 1, 80-863 Gdańsk, Poland
Cost: 20 zloty

More info here.
Visit The Berlin Wall
Though technically not a museum, there's a portion of the Berlin Wall you can see in person — it's at Rajska Street 24.
Visit The Coast
The beaches will be chilly even in the summertime, but it's a fun place to lounge in the sand and sun if it's not cloudy in the warmer summer months. Brzeźno and Jelitkowo are the most popular beaches, but if you want to avoid the crowds who flock here, Stogi is usually less busy.
Take the number 13 tram to get to Brzeźno, the number 8 tram to get to Stogi or Jelitkowo. You'll find shops and restaurants lining the more popular beaches which makes them a fun place to lunch after walking on the sand.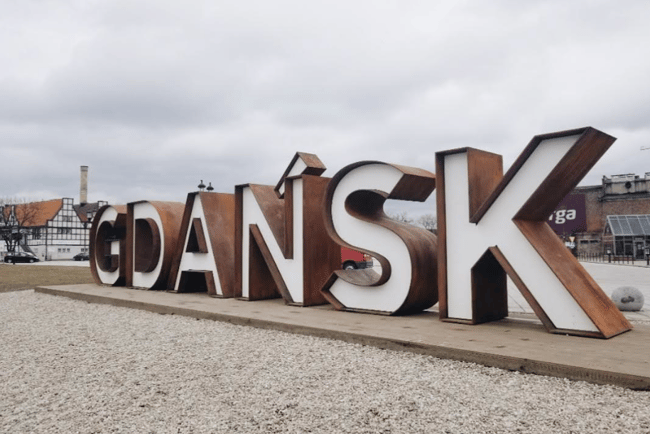 Insider Tips
The Weather
This place is right on the water so if you're visiting in the spring, winter or fall, it will probably feel colder than other places in Poland — keep that in mind when you're packing layers to keep you cozy.
Souvenir Shopping
There's quite a bit of souvenir shopping around the town, so you can easily pick up your souvenirs from all of Poland during a quick weekend trip to Gdansk. One group of volunteers "got the cutest Krakow journals and we weren't even in Krakow!"
Take This Day Trip
Nearby is the largest castle in the world ... when measured by land area. Malbork castle, built by powerful German crusaders, is easily one of the most impressive castles in Poland, or Europe as a whole. It's absolutely massive. When the castle was run by these knight they required that there be enough food to last 2 years for the knights and their servants. Get info about your trip to Malbork castle here.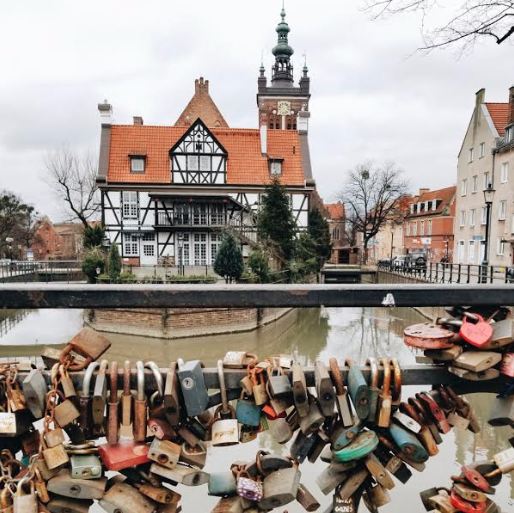 Where Is Gdansk?
Head north from Krakow and you'll practically bump into Gdansk; it's a Baltic port, found in the little "c" curve of the Gulf of Danzig. Small sidenote; you'll pronounce this city as "Dansk"… just ignore that G.
Anyways, you'll find a whole smorgasbord of cultures and styles here, thanks to Gdansk's history. Though popular with tourists now, the city was initially run by German merchants as a popular port town. Its proximity to the Baltic states and Scandinavia means you'll find strong influences from both of these areas of the world.

Thank to Gdansk's important role in trading and shipping, it's been a well-connected city for hundreds of years. Now, it's easily reached by bus, train or plane.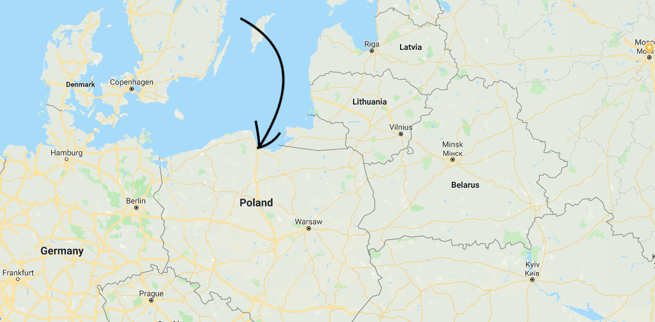 How To Get To Gdansk
Plane
Fly into the Gdansk Lech Wałęsa Airport. Check budget airlines like Ryanair and Wizz Air, but you'll find a handful of Germany, Swiss and Scandinavian airlines flying here too. LOT is a Polish airline that frequently flies to Gdansk and might get you good fares if you're flying domestically. Getting from the airport to the city center is a cinch; there's a new railway line that allows you to ride the train into the city's central railway station, Gdańsk Główny.
You can also take the bus to get into the city; Bus 110 takes you to the Wrzeszcz train station (where you can hire a taxi or hop on a tram) or ride Bus 210 or N3 to get to the Gdańsk Głowny train station (this option gets you closer to the city center).
Bus
If you're taking a bus to Gdańsk, you'll typically arrive at the Gdańsk bus station (Dworzec PKS); this busy terminal services both long-distance international buses and shorter domestic ones. From this bus station, it's about a 20 minute walk east to the Old Town (where most tourists hang out and stay), or you can snag a taxi for a 7 minute drive.
Buses from Krakow are inexpensive, but do take longer than a train. It's about a 12 hour ride but tickets hang around $12 USD. Get more ticket info here.
Train
The city has a few train stations, so make sure you know whether you're arriving in the Gdańsk Główny Train Station, the Gdańsk Oliwan Station or the Gdańsk Wrzeszcz station. The Gdańsk Główny station is the most popular - you'll find a tourist info booth here - plus, it is the most central, only a 15 minute walk east to the Old Town's water front, or a very short cab ride.
From Krakow, the train to Gdansk is about 5-7 hours, with daily trains leaving every couple of hours. Plan on paying anywhere from around $20 for a second class ticket (a bit less, actually) to double that price (or more) if you want a more expensive seat.
Volunteers like to book train tickets here.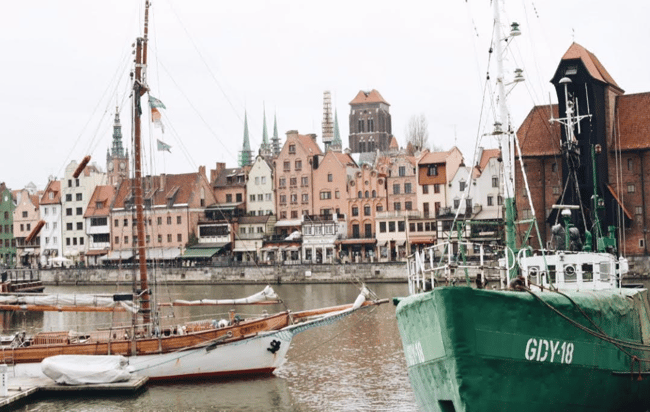 Getting Around The City
The main Old Town is rather walkable, a pleasant stroll past picturesque buildings and shops. For getting around when you don't want to walk, you can always call a taxi or hop on public transportation.
Gdansk is well connected with trams and buses, known as the ZMT. Tickets are inexpensive, with single ticket costs just 3.20 zloty, or you can pay a smidge more (3.80) for a multi-ride ticket that's valid for an hour. As soon as you board a bus or tram, you'll stamp your ticket in the yellow machines right by the doors — this validates your ticket. Any ZMT ticket works for both the trams and busses, just not the SMK trains.

You can also purchase a 24 hour ticket that's good for all trams and busses day or night that costs 13 zloty (or half off, with a student discount). A 72 hour ticket is 30 zloty, with a half off discount students with an ID. You can buy tickets directly from the driver (make sure you have exact change) or you can buy tickets at most newsstands or at ticket kiosks.
Here's a tram map of Gdansk to help you out ... but even from the bus station you can easily walk from there to all the places you want to see — the city is very walkable.

A quick visit to Poland is absolutely charming — but you'll get more if you're living in Europe for a semester.
ILP volunteers (International Language Programs) get weekends off and free time to hang around cities like Gdansk and tour other favorite spots in Europe like Paris, Prague, and Budapest ... to name a few. See which country in Europe is right for you before chatting with an ILP rep to get all you're questions answered: