It's going to be hard to narrow down your favorite place to vacation in this amazingly beautiful country because there is a ton to do … but a trip to Zakopane is more than worth it.
While there is plenty to see and do in Poland, Zakopane might be the most perfect place to vacation during both the sunny warm summers of Poland and the snowy winters. Take a train ride straight down from Krakow and enjoy a vacation full of adventures, ancient castles, and jaw-dropping beauty. Here's why we love it:
Our Favorite Things To Do Here
Places To Eat + Stay Overnight
Insider Tips
How To Get To Zakopane
Our Favorite Things To Do Here
Hiking To Moskie Orko Lake
This is our number one recommendation for Zakopane! The water is crystal clear and situated between rolling mountains often rimmed with snow. It's gorgeous, to say the least. The name translates to be "the eyes of the sea" and once you visit you can see why.
The lake is found in the Tatra Mountains National Park. Once you enter the park, you'll see the walking trail to Morskie Oko. It's about an 8 mile hike and while it's not too strenuous, you'll want to make sure you have enough time to make it there and back again.

Insider tip: be sure to check the weather! It can get very rainy and misty up in the mountains, and one ILP group trekked the 4 miles there only to realize that all the rain and mist meant they couldn't see the lake at all.
Getting Here + Prices
There's a mini bus that can take you from Zakopane to Palenica Bialczanska. The mini bus is about $2 USD (make sure to check prices: this is the bus you'll take back to Zakopane and so you won't want to miss the last bus).

There is a 5 zloty entrance fee to enter the park.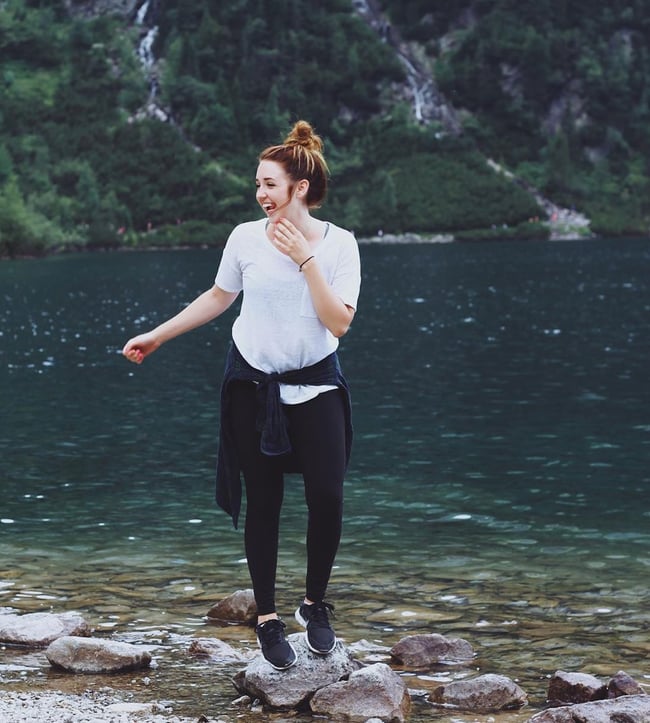 Visit Niedzica Castle
No visit to Poland would be complete without exploring one of the ancient Dracula-like castles that pepper the landscape! The Niedzica castle was originally built in 1325 and sits atop of a tree covered hill, encircled by mountains. Oh, and did I mention the inky black lake water off to one side? It's picture perfect, that's for sure.
Not only is this castle almost impossibly gorgeous, it also has loads of history…and is apparently haunted. Take a cab from Zakapone to the castle itself or sign up for a river cruise and stop off at this amazing spot. You can also get there via bus.
There are bathrooms located at the base of the parking lot and a few restaurants where you can get lunch. In the warmer months, you can also rent boats if you fancy a bit of lake time.
Prices + Getting There
Entry tickets to the castle are around $3 (12 zloty).
In Zakopane, you can find agencies willing to take you on a tour to the castle, just talk to your hostel or hostel. It's easier, but will be more expensive to have someone arrange it for you. Or, you DIY by taking a bus.
You'll want to take a bus from Zakopane to the Nowy Targ station then make a transfer to Niedzica. Buses are inexpensive, maybe a $1-2 for each leg of your trip. It should take about an hour to get there and take an hour back to Zakopane.
Here's a link for the Zakopane to Nowy Targ bus but you'll need to look online on Polish sites to help you find a bus from Nowy Targ to Niedzica, and vice-versa. Best to talk to your hostel about helping you make that happen.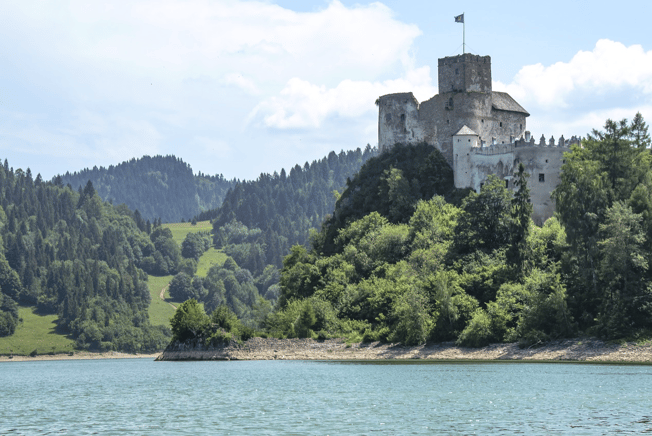 Take The Mountains By Cable Car
For those who visit Zakopane in the summertime, the very best way to see these gorgeous mountains is by cable car. The city is situated at the base of the Tatra mountains which are world class for hiking and skiing. The ride is gorgeous and lasts about 10 minutes.
Head's up: The ride up stops midway for you to change cars and go even higher in the stunning Tatra mountains. For those who love to hike, wear good shoes and buy a one way ticket — Soak up the scenery at the platform at the top before hiking down to the base on one of the many trails.
Getting tickets
You're looking for the Kasprowy Wierch cable car (here's the address: Here's the address: Kuźnice 14, 34-500 Zakopane, Poland) and you can buy tickets in three places:
At the cable car station in Kuznice. You can wait in line and buy a ticket fo the next cable car up, but the lines can get very long in the summer.
Online: you can buy up to 7 tickets 30 days in advance (and up to 2 hour before your ride). Just show the ticket agent your tickets on your phone and you're good to go.
In Zakopane you'll find ticket machines where you can get your tickets.
Here's a time schedule of the cable car and an outline of prices which are around $17 to $24 USD depending on if you're there during the high or low season.


Ski the Tatra Mountains
Zakapone isn't called Poland's winter capital for nothing. Not only are these mountains beautiful, they are a famous skiing site in this country. Perfect for anyone who's never skied before and those who are experts, tons of companies rent out gear so you can spend a day or two on the slopes.
Here is a popular few ski and snowboard rental place to help you out, or you can talk to your hostel or hostel about any rentals if you're interested. Skis, boots and poles run for about $12 a day, to help you get an idea. Nosal Ski Centre is the only place where you can rent out ski clothes if you didn't pack things like a parka, snow pants, gloves, etc.

Here's the word for "ski rental" in Polish so you can keep an eye out for it: "Wypożyczalnia Nart", and other handy Polish phrases you should know.
Get the best snow in January to mid April and warm up with a warm cup of cocoa in one of the many lodges or restaurants that dot the snowy mountain ranges.
See The Upside Down House
In the 20th century, Zakopane was a haven for poets, composers and artists, meaning there are a lot of Polish culture spots to soak in while you vacation here. Warm up in the winter or take a minute to cool down on your summer trip here by poking into one of the museums in this city. I'd recommend the quirky Upside Down House.
It'll cost about 9zl (which is just a couple US dollars), takes you just a few minutes to see and is hilarious; the entire house is upside down…all the bedrooms, bathroom and kitchen! The tilted ground will really test your balance and photo inside is worth taking.
Here's the address: aleja 3 Maja, Zakopane 34-505, Poland
Walk Down Krupowki Street
End your day of adventuring by exploring Zakopane's vibrant Krupowki Street. You'll find local sheep cheese markets, ice cream shops and enough souvenir stores to keep you busy the whole night (plus a Starbucks and a Costa Coffee). As ahead's up, stores tend to be rather expensive, catering to the tourists that come to visit Zakopane, but it's a fun part of town to just people watch or grab a little snack.
Even if you aren't looking to shop, just enjoy the walk down the busy street; most restaurants cook with wood-fired stoves so the mountain air is perfumed with a smokey campfire scent. You can explore the shops for yourself or sign up for a free walking tour that starts near the charming post office on Krupowki Street.
Places To Eat + Stay Overnight
Places To Eat
Marzanna
A popular restaurant serving up local dishes for a backpacker price. We are big fans of ordering pierogi but the potato cakes are also delish. On the menu you'll also find lots of potatoes, soups, dumplings and schnitzel like dishes.
Address: ul. Oswalda Balzera 17e, Zakopane
Hours: 12:00 PM to 8:00 PM
Oscypki Cheese
Don't leave Zakopane without trying Oscypki. It's a famously local sheep's cheese and is a total Polish experience. Some cheesemakers mold the cheese in crafted and patterned wooden barrels. Look for vendors with a sign "Protected Geographical Indication" to make sure you are tasting the real thing.
You can find vendors on Krupowki street.
Places To Stay Overnight
You can find a few different hostel and AirBnB options, but we recommend the the Goodbye Lenin Hostel. One volunteer, Kenzie B mentions that it's tucked away right outside the entrance of a stunning national park, so it's perfect for anyone looking to get some hiking in. It's also a cabin that boasts some serious hippie backpacker vibes, at around $11 a night.
Another recommendation is Top Hostel (found on Krupowki Street) which has a good location, helpful staff, and some other perks like free breakfast. Prices are similar to the Goodbye Lenin hostel, at $11 a night for dorm beds.
Insider Tips
About Cash
Kenzie also mentions something very helpful — be sure to take plenty of cash because most places will not accept your card and it can be tricky to find ATMs here. Best to pack up plenty of zloty for all your cable car rides, bus tickets, taxis, and other expenses.
Getting To Zakopane
If you're coming from out of town, just head to Krakow first where international buses and flights come in regularly. Krakow is the closest major city that is the best jumping off point. Oh and you'll want to spend a day or two (or more!) here in the city as well, trust us.
Buses regularly leave from the Galleria in Krakow to get out to Zakopane. You can check times and prices here, but it looks like it takes about 2.5 hours, and prices range from $3 to $7.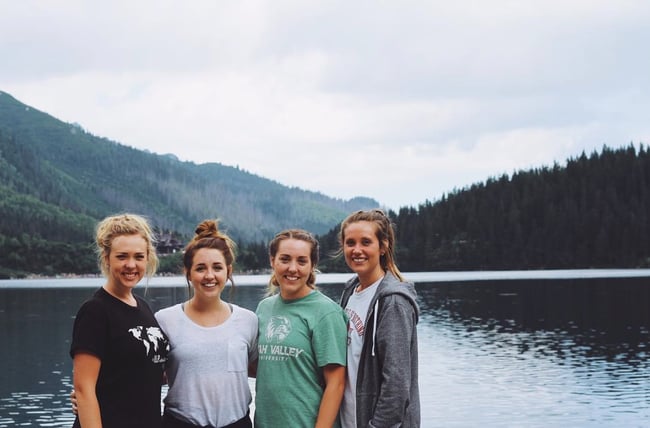 Want to know more about living abroad in Europe as a volunteer?
Once you start an application you'll be put in touch with someone who can help you get your questions answered: