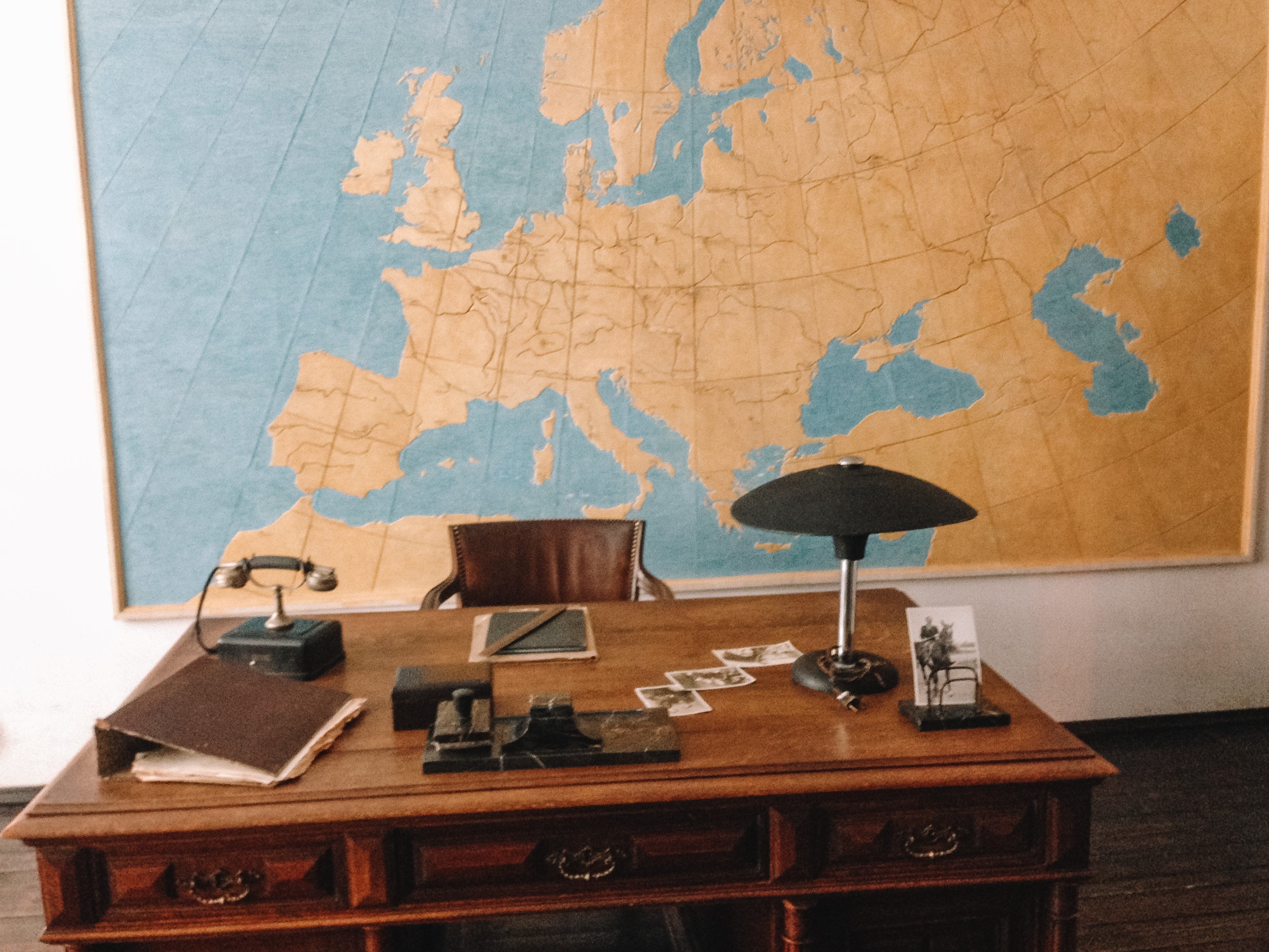 Spending some time in Krakow and wanting to learn about the city's significance and history? Head to this museum!
It's no secret that one of our very favorite European cities is Krakow, Poland! There's so much to do and enjoy! Whether you have a weekend or a week, you'll never be bored. Especially if you're hitting everything on this list of our favorites! But, Krakow isn't just a beautiful, charming city. It's full of stories and memories. If you're wanting to really immerse yourself in the culture and learn the details of Krakow's tragic history during WWII, then this museum is where you need to be.


---
How about spending an entire semester in Europe as a volunteer?
Learn All About Teaching English In Ukraine
---

There are a lot of places in Eastern Europe that you can visit to learn about WWII's events and tragedies. While in Poland, we also recommend visiting Auschwitz-Birkenau Concentration Camp. Heads up: it's a pretty overwhelming, sobering experience. If you want something that is still very informative and raw, but not quite as graphic, then this museum is a great alternative. Still sobering. Still hard to stomach this history. But also an inspiring reminder of people's goodness that often shines through in the most terrible of times. Make sure you also visit Krakow's Jewish Quarter so you can see where the local Jews lived and loved before they were relocated during WWII.
What Is Schindler's Factory?
Oskar Schindler was a member of the Nazi party and a German entrepreneur who owned this enamel (metal items) factory in Krakow. He is remembered for saving about 1200 Jews by hiring them to work in his factory. As a result, he prevented them from being deported to concentration camps since this factory was seen as essential to the war effort due to its production of ammunition shells. After his death, Schindler was buried on Mount Zion in Jerusalem—the only member of the Nazi Party honored in this way. Today, his factory is one of the most interesting and important museums in Krakow.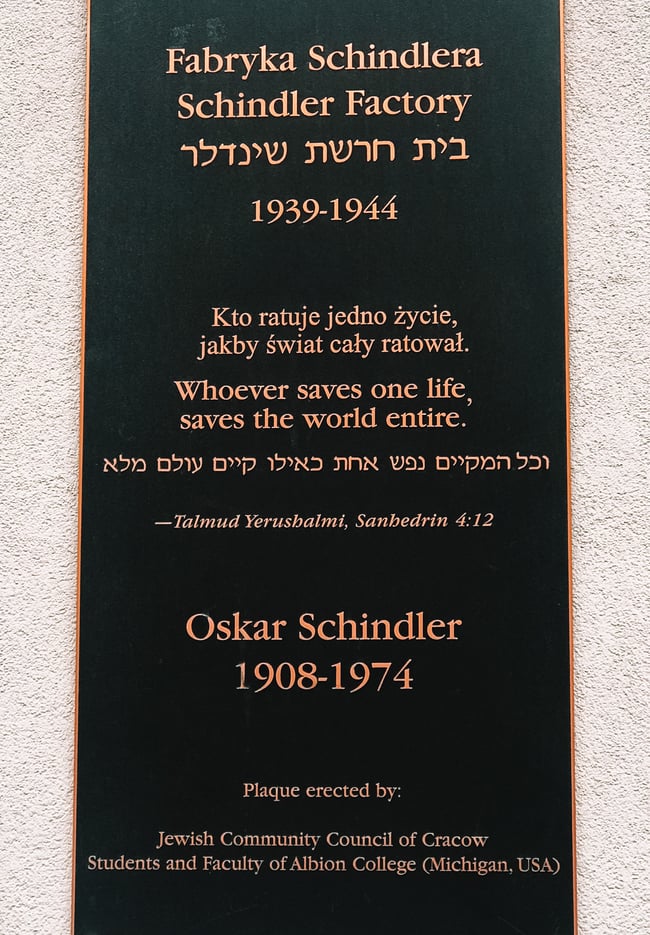 Ticket Info And Operating Hours
You do have the option of visiting the museum on a guided tour, which costs a little bit more but you will learn a lot! If you decide to visit the museum without a tour, you will still have a wonderful experience since all of the information is also written in English. Here's what you need to know.
Standard tickets for the museum are about $7 and can be purchased online or at the museum.
Operating Hours
There are regularly long lines outside the museum since this has become a very popular destination for tourists. We definitely recommend visiting in the morning to avoid some of the later crowds.
November – March
Monday: 10 am - 2 pm
Tuesday - Sunday: 10 am - 6 pm
April – October
Monday: 10 am - 4 pm (every first Monday of the month only open til 2 pm)
Tuesday - Sunday: 9 am - 8 pm
Keep in mind that the last admission is 90 minutes before closing time!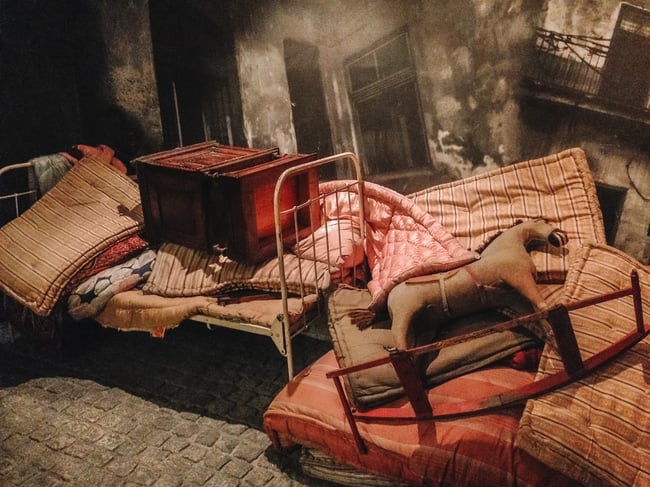 How To Get Here
Address: Lipowa 4, 30-702 Kraków, Poland
If you have a map, it is easy to walk to and you'll hit many other very important WWII sites along the way (like the Eagle Pharmacy and Heroes Square). Schindler's Factory is about a 30-minute walk from Wawel Castle.
If you'd rather take public transport, then make sure you read this blog post. You will need to get off at the stop called "Plac Bohaterów Getta". It will only take a few minutes to walk to the museum from there.
What You Can Expect To See And Experience
There are so many different heart-wrenching and moving exhibits inside this museum, the main point of which are to give visitors a very in-depth look at what life was like for the Jews in Krakow during WWII. Each room is constructed so that visitors actually feel like they are walking back in time—cobbled streets included. You can follow a detailed timeline of the war through the museum and read first-hand accounts of what the residents of Krakow (particularly the Jews) saw and experienced. Pictured below is a record compiled by Jewish leaders of the Jewish population in the ghetto by order of the Gestapo.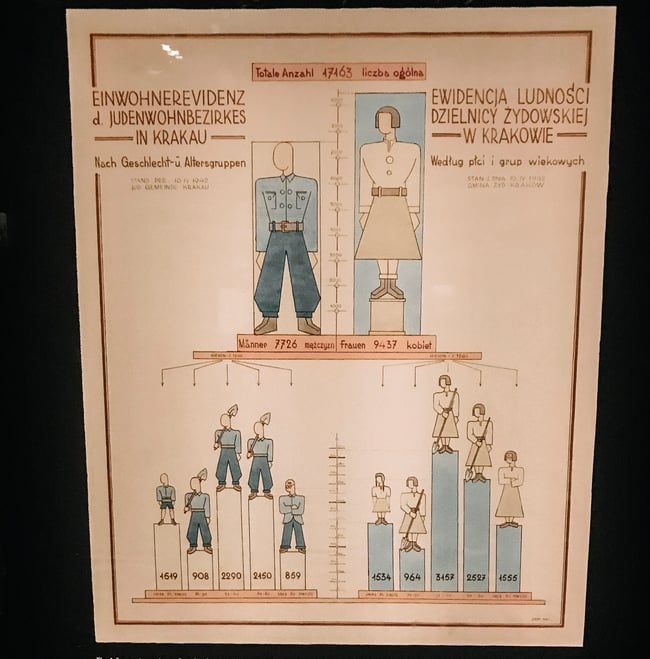 We also recommend watching the film available near the beginning of your self-guided tour, since it includes many accounts provided by holocaust survivors and individuals who actually worked in the factory. Plan on spending about 2 hours in this museum.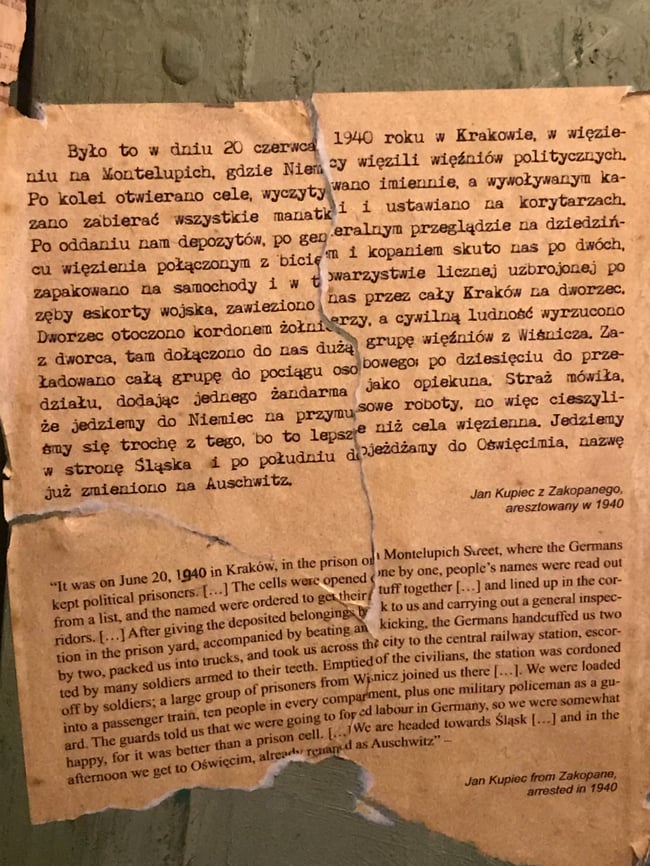 Examples Of Exhibits
There are three exhibits that are particularly memorable. At one point, visitors walk through a replica of a very crowded apartment where a handful of Jews would have lived in the nearby ghetto (pictured below).
At another spot, visitors are led down a dark, sobering walkway that is lined on both sides by what appear to be very tall tombstones. These are exact replicas of the walls surrounding the Jewish ghetto, which were purposefully constructed by the Nazis to look like tombstones (pictured below).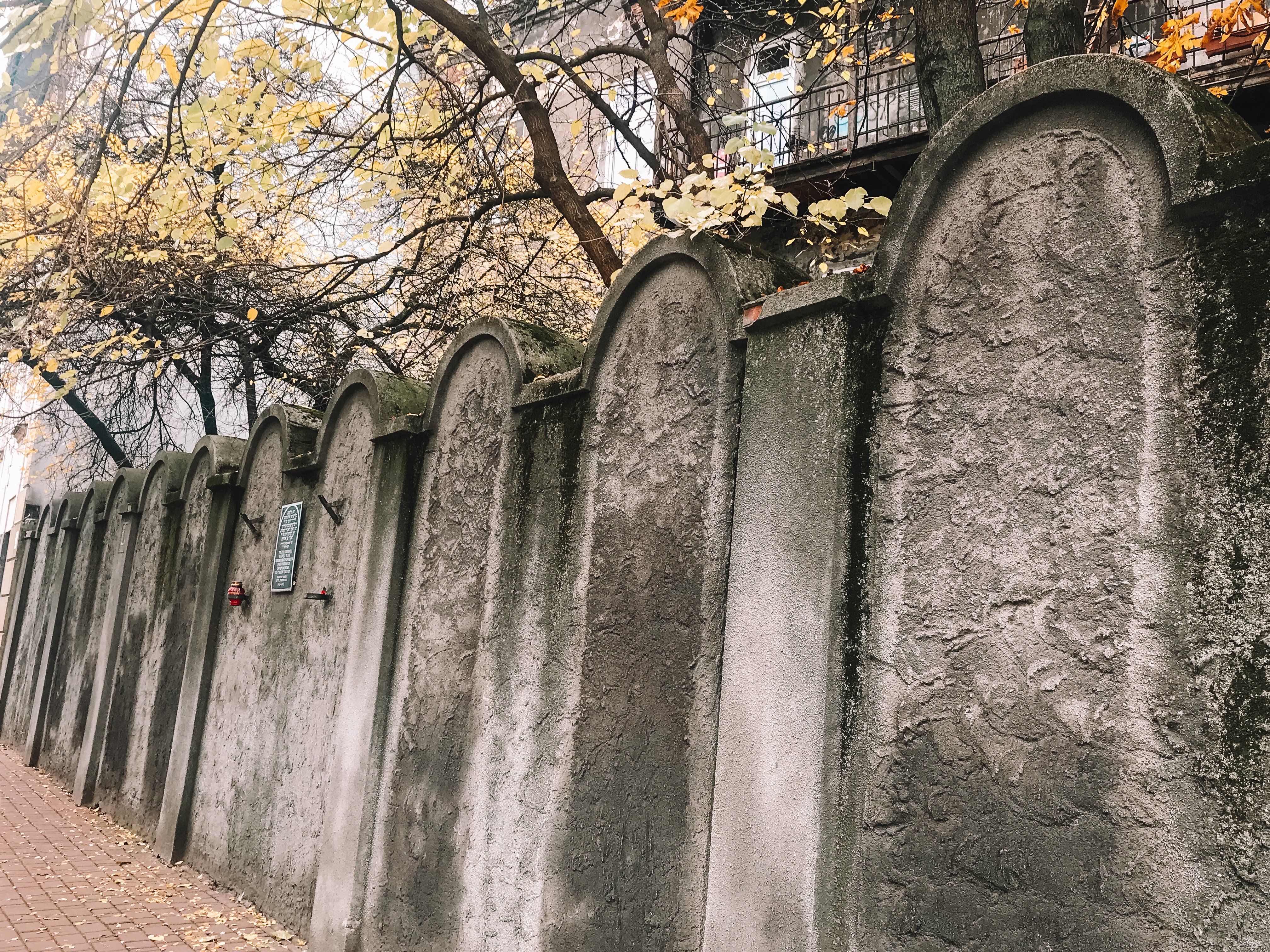 One of the last exhibits in a small room with white walls that are completely covered in sentences written in different languages (pictured below). Each one is a description of something that someone did to help a Jew during this horrible time in Krakow's history. It's such a wonderful way to end your visit, since it is a reminder of the light and kindness that is always present even in the thickest, most terrifying darkness. There are always good people in this world.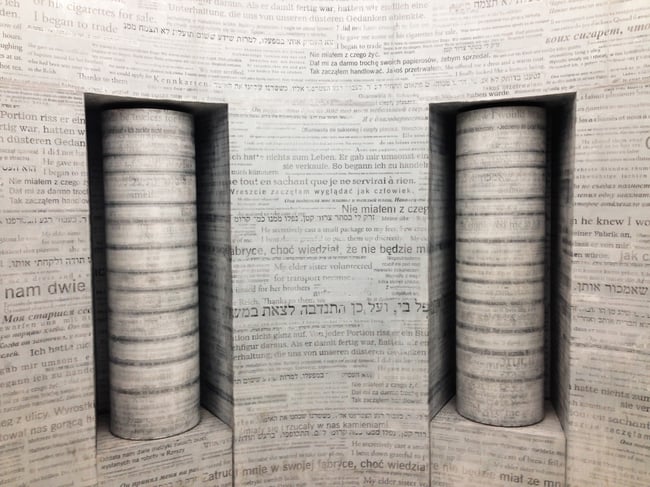 Wanting more travel tips about places all over the world?
Since ILP has been sending volunteers abroad for just under 30 years now, we've learned a thing or two about traveling internationally and exploring foreign cities. We love sharing all of this info with others so that they can also make the most of their time abroad! Click the button below to get tips like those found in this blog post sent straight to your inbox.
You don't want to miss any of them!