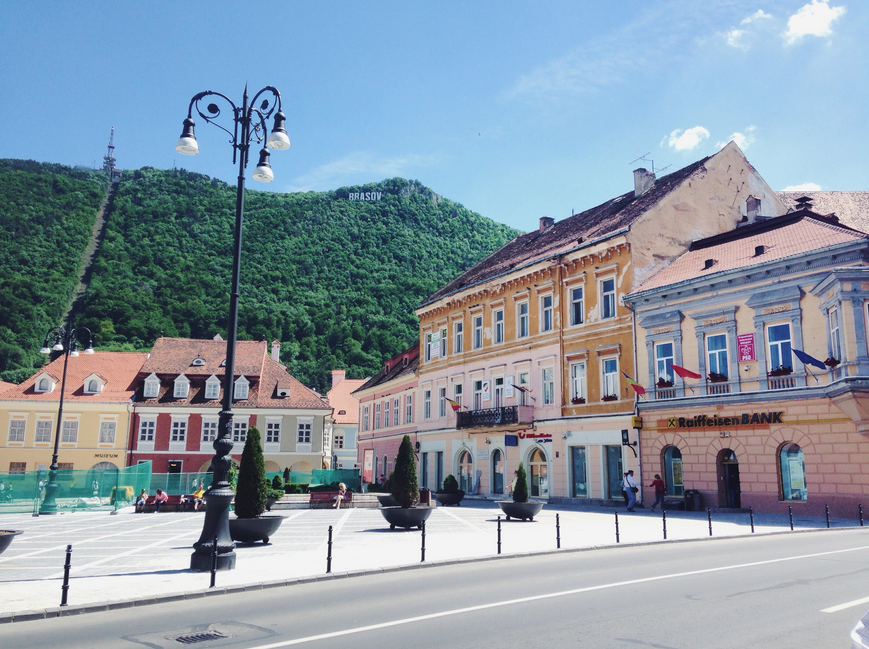 International Language Programs has opportunities for you to spend your semester abroad in countries across the world, but a lot of those countries happen to be in Europe! Here's how to narrow it down.
If we're being honest, we get this question all of the time. How do you choose between a semester of exploring towering cathedrals or completely hidden gem cities in Romania (like that colorful photo above!). If it seems like a tough choice, you're right ... we don't have favorites when it comes to our countries in Europe.


---
No matter which country you volunteer in though, you can have the same amazing vacations!
Check out our European Destination Guide
---
If you have your heart set on living in Europe, you can spend a semester in Ukraine, Lithuania, and Romania as an ILP volunteer. There are many, many, many similarities between these countries (we'll get to that later), but a few differences as well. Knowing what kind of experience you're looking for may help you choose.
Orphanage VS Teaching English
The biggest difference between countries in Europe is what you'll be doing as an ILP volunteer. We have one orphanage program in Romania while the other countries have volunteers teaching English. As an ILP volunteer, you'll spend about a half day volunteering (up to 4 hours of direct interaction with the kids, plus preparation time, transportation, and clean up). You'll be volunteering Monday to Friday, how you'll be making a difference is pretty different.
For Lithuania and Ukraine volunteers will be teaching English at local schools using the ILP method. In all our European countries, we have a huge range of ages, so you will probably be spending afternoons with younger kids while you do an art project, and ending your evening with older kids who know enough English to make some hypotheses about a science experiment. Since speaking English is such a valuable skill, you are really giving these kids a huge leg-up when it comes to their future.
In Romania, volunteers will be spending their time with children in the orphanage program, helping kids reach developmental milestones. They have their basic needs met (like food, clothing, and shelter), so volunteers are there to devote their time and love.
That may mean helping kids go from wobbling to walking, singing lullabies, stretching out sore muscles, or the transition from living in an orphanage to a more family-like setting in an apartment. The kids you'll be with often have developmental or physical delays; having one-on-one time with someone who is there solely to love and care for them is crucial for their development.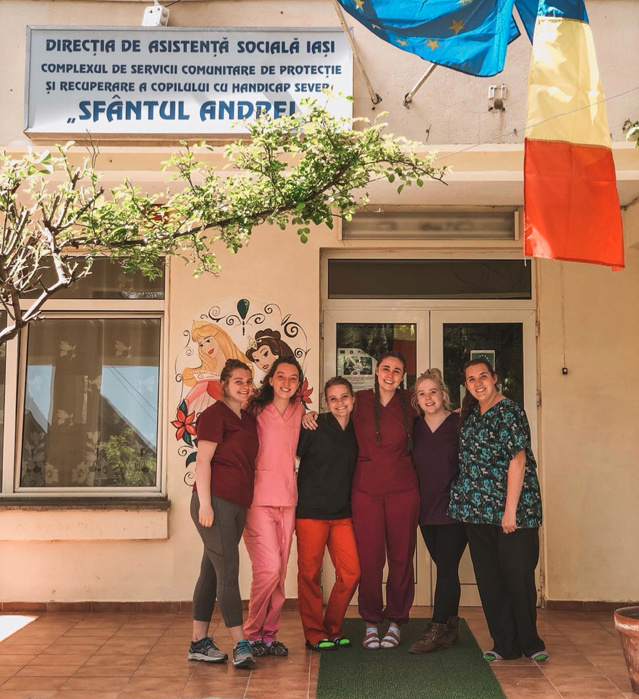 If you have your heart set on being in the orphanage program, Romania is the spot for you, but if you'd rather spend your time teaching English, you have a few countries to choose from. Here's some help narrowing it down:
Big City Sprawl Or Small Town Feel
There's a lot of overlap with our countries when it comes to things to do in your free time — every city in Europe has pretty buildings, yummy pastries, cool churches, etc — but one of the main differences between our available countries is the overall feel. Are you looking for a pulsing city, sprawled out between towering skyscrapers and rolling parks, or would you rather have a smaller Old Town that's more walkable, something you can explore in a day or two?

In big European cities, you'll be getting around using the metro because you'll likely be living in cities that encompass several neighborhoods and sections of the city. These cities are huge and full of parks, cathedrals, museums, and more to explore. You could spend weekend after weekend touring different parts of your capital city and feel like you've hopped over to new cities, all without actually leaving.
Or, maybe you'll be happier in a capital city that feels smaller; it's more compact, less spread out, and you'll get around using a trolley car or bus to get around, rather than a metro. For volunteers in Lithuania, this is more of what your semester will be like. Your city center is more localized, giving you the chance to get very familiar with what's in your neighborhood and the downtown area, and become a regular at the same cafes or ice cream shops.
Your Travel Plans
We think Europe's biggest selling point is all the traveling you get to do during your semester! Each one of ILP's European countries is incredibly well-connected when it comes to your semester plans, which means every ILP Europe volunteer visits the same European countries.
Every ILP Europe country gets the same massive list of approved country vacation spots — countries like France, Italy, Ireland, England, Switzerland, Spain, Portugal, Denmark, Sweden, Finland, Iceland, Croatia, Hungary, the Czech Republic, Austria .... and so many more!
But if you're a big traveler now and plan to be in the future, your travel plans may have a slight influence on your ideal European country:
Where Your Country Is Located
Thanks to overnight trains and budget flights, really no country is out of reach when it comes to what countries you'll see on your semester, but if you have your heart set on certain weekend trips, that could factor into your decision.

Every ILP Europe location has some serious perks when it comes to traveling, but since you'll each get vacation days, it equals out. If you're living in Lithuania but still want to experience Ukraine, head there on vacation (and vice versa). It's not like you're limited on where you can go depending on your ILP country.
Where You Want To Travel To In The Future
If you're planning on doing some traveling after your ILP semester, that may factor into what European country would be best for you.

Another thing to think about; countries in Eastern Europe aren't as accessible as countries in Western Europe. How many times do you see flights to France verses flights to Latvia? Or flights to Germany instead of flights to Romania? By living in countries like Lithuania and Ukraine and Romania, you'll immerse yourself in a country and culture that you might not experience otherwise (and be close to countries you might not have thought of visiting before).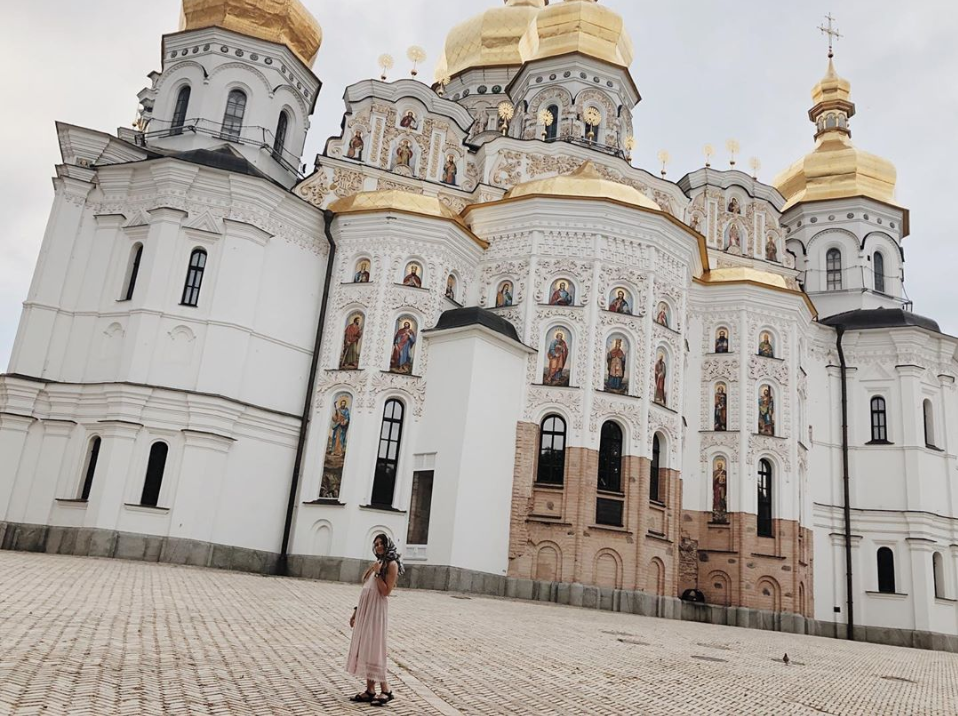 What Semesters Are Available?
When you can actually sign up for a semester abroad can also be a factor in your choice.

Lithuania, Ukraine, and Romania have three semesters that you can apply for: spring, summer, and fall.
But Really, How Are They Similar?
We pull out certain features of different countries to help paint a picture of some of the things you can do in that country (like sailing around a castle or peeking into ancient monasteries) ... but if you want the truth, there are so many similarities it can be hard to tell one country from another in some respects.

Religion and other cultural practices mesh these countries together. Europe was traditionally run by lords and rulers who lived in castles ... meaning you'll have ancient castles in every one. There's a large influence of Russian Orthodox and Catholicism, which means dozens of churches filled with painted frescos and stained glass windows (and a few with onion-topped domes).
Consistently across Europe, you'll see modern buildings mixed in with old stone churches and tiny homes, with narrow streets and pretty parks. Plus, all of Europe is way more charming than the United States, so you'll see quiet neighborhoods with small, painted homes, or block-style apartment buildings, brightened up with a smattering of coloring street murals.
Much of life in Europe is just similar to each other and widely different than life in America; cobblestoned streets, city squares filled with pigeons, impossibly tiny cars, and food you don't recognize at your local grocery store — a lot of every volunteer's day-to-day life is really very very similar to another volunteer's day-to-day life, even if they're in a different country. Everyone heads to a local store for a snacks, explores a new park, photographs a couple of churches, checks out a treat at the local cafes, visits some museums, and takes public transport to get around.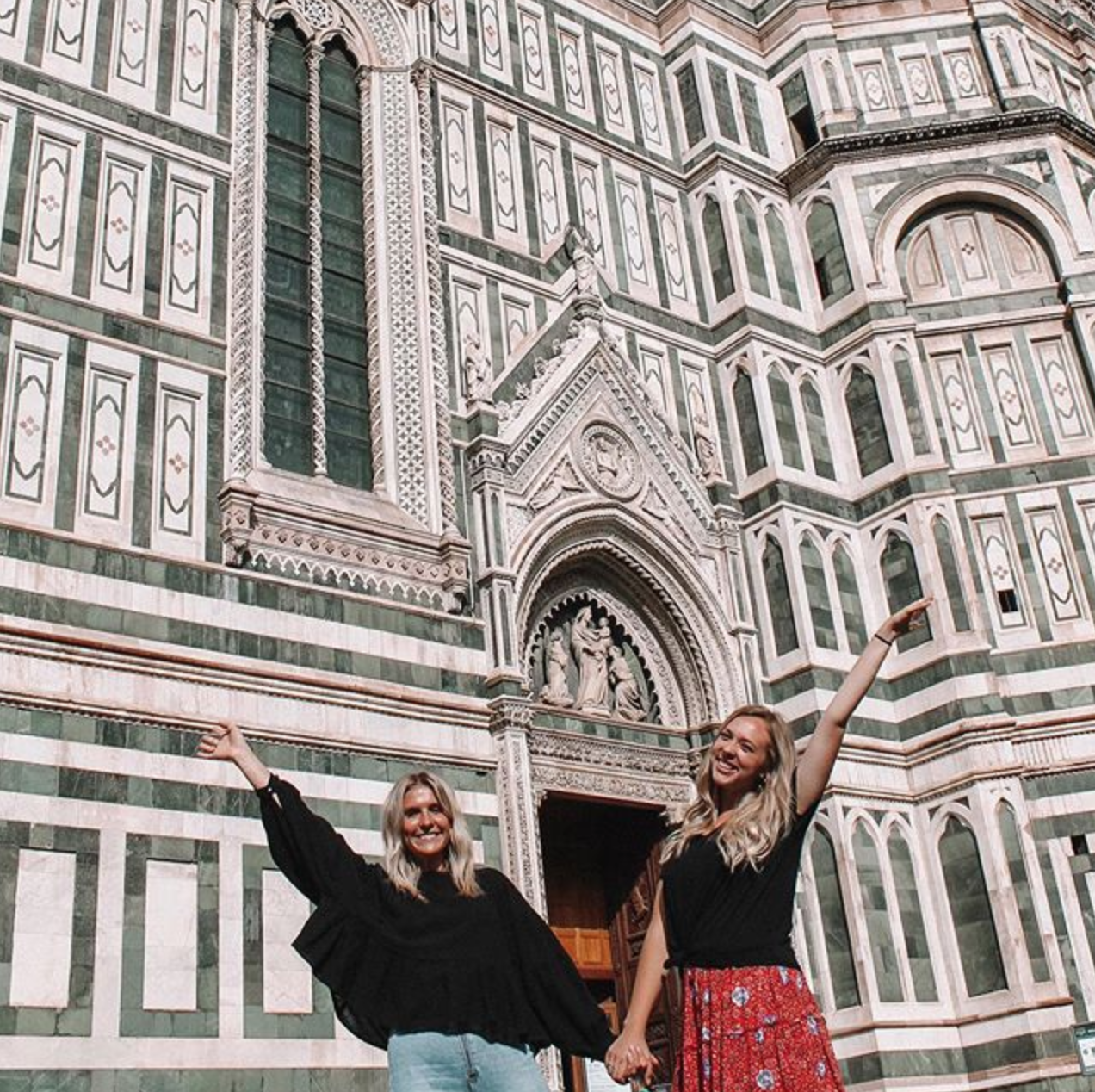 One More Thing —
We mentioned earlier that we get this question all of the time ... and so do people on the ILP Europe Facebook page. Whenever someone is deciding between two countries (like Lithuania or Ukraine in this situation) and asks Facebook, it's funny to watch.
Everyone who went to Lithuania is saying that Lithuania is the best ... and everyone who volunteered in Ukraine is arguing that their country is best. You can get some less-biased insight for volunteers who happened to volunteer in (or visit) both places ... but even then it's hard because people pretty much love both experiences.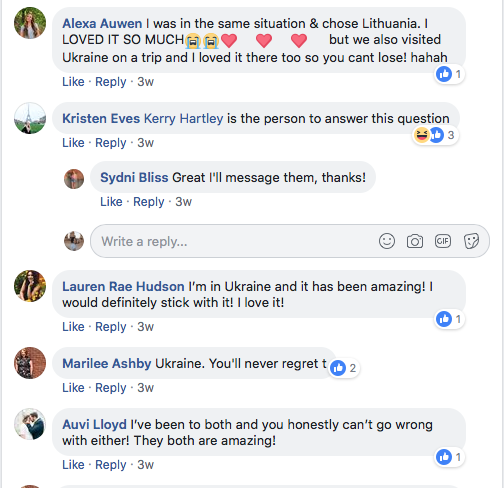 The little lesson here? Maybe take some advice from Kerry Hartley who has volunteered with ILP 10 times and said "if you honestly can't decide I'd say let ILP surprise you."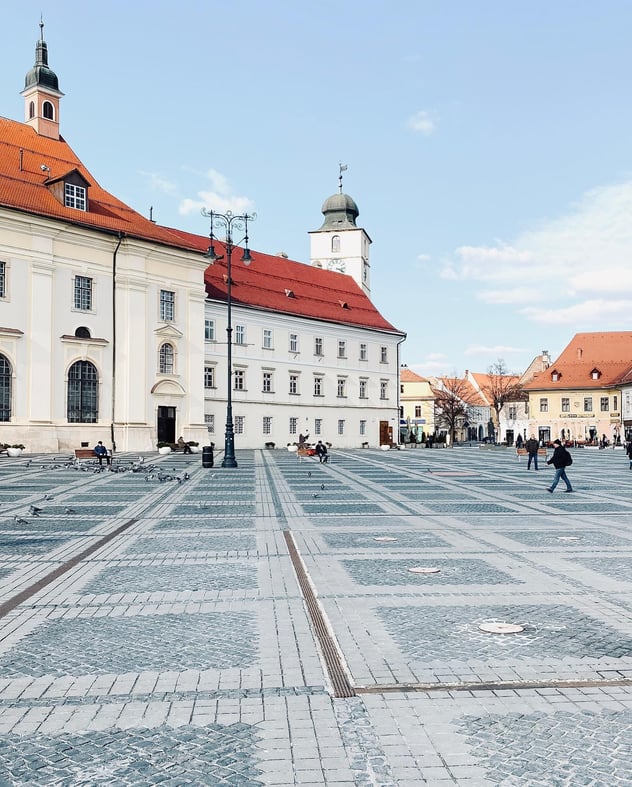 Still have questions?
We have a whole team of ILP representatives who can chat with you all about which country might be the best fit for you (and also answer any other questions you may have):