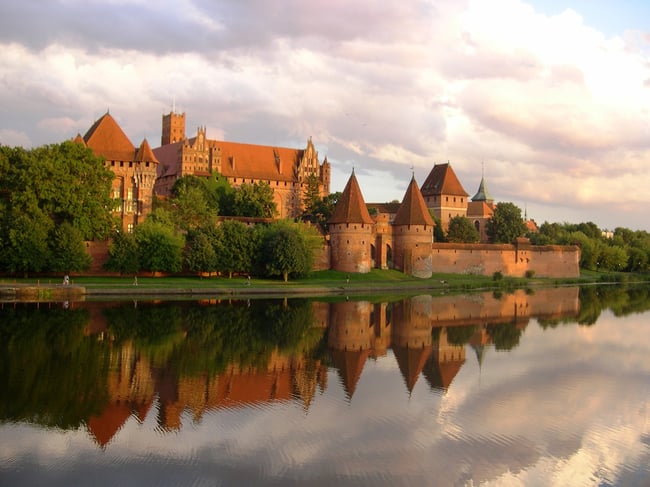 When you think about exploring Europe, which country first comes to mind? Not Poland? It should be. This country is incredible (hello castles!) and totally underestimated.
You could explore Europe on a backpacking trip, but that just wouldn't do it justice ... but living in Europe for a semester totally does the trick. I loved my time volunteering with ILP and traveling all over Europe when I wasn't teaching English.


---
Come to Europe with ILP
We'll make it easy — Click here to start your application
---

Oh, now that you'll call Europe home for a semester, you'll have plenty of time to visit at least a few the hundreds of castles). With that many castles, you have your pick of the litter, but we really enjoy Malbork Castle in Poland —It's more than impressive in a few ways, but it's an easy trip if you'll already be visiting Gdansk or even Warsaw, which is a big perk. Here are the detail to make your trip here a cinch. here's what you need to know:
First, Find Malbork Poland
The castle is in Malbork, Poland (go figure!), nestled in the north just a short drive away from the coastline. It's about a two to two and a half hour bus ride from Warsaw, so you could do it in a day trip from there, or spend the night and explore the rest of the city. Or, if you're heading here from Gdansk, it's even shorter. You can also reach here from Krakow ... we have info on all that below if you keep reading.
Okay, back to Malbork. The little city has a cute little downtown area and even have a dinosaur park if you are a fan of dinosaurs. Honestly, sometimes you just need to see random things like that, because who else can say they visited a dinosaur park in Poland? But really, the huge highlight of this city is the castle.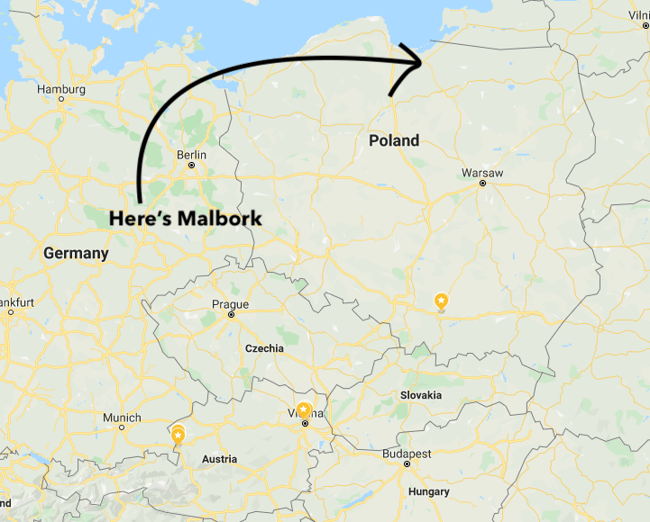 A Few Quick Facts About The Castle
Malbork Castle is actually the largest castle in the world, when measured by land area, which means there is a lot to walk around and see. Plan on 3-4 hours if you are following through the set exhibits!
The castle was first built in the 13th century, but its claim to fame came later, in the 14th century when the castle was fortified and enlarged by powerful German crusaders called Teutonic Knights. When the castle was run by these knights they required that there be enough food to last 2 years for the all of the knights and their servants. That resulted in TONS of food and lots of needed storage space, hence the utterly massive size of the castle and the surrounded grounds.
The castle has a rich history and was used for many different reasons. It was also taken over and ruled by a wide variety of people, suffering several rounds of damage through the centuries (including WWII), but has been meticulously restored in the 19th and 20th centuries. It's an impressive UNESCO site, standing as a surviving reminder of the Crusades' rule in Europe — read more about the Malbork castle here.
Touring The Castle
As you've been told, this place is enormous. I get into this a bit later, but the castle ticket includes an audio guide that'll give you loads more about the castle, but you'll want to know a few key points. The castle's divided up into three parts. The lower castle, the middle castle, and the high castle. The entrance is through the lower castle (you'll just waltz right on through), and spend the bulk of your time wandering around the other two sections.
Malbork castle is home to huge dining halls built in medieval style, panes of stained glass, and rooms with floor to ceiling windows with a distinctive gothic twist. There are huge brick courtyards to admire, and a stunning viewpoint not mentioned in the audio tour ... don't miss the view from the Wizen Glowna (tower). It's a separate ticket but so worth it if you want an aerial view. That picture below is taken from that tower to give you a taste at what's waiting for you.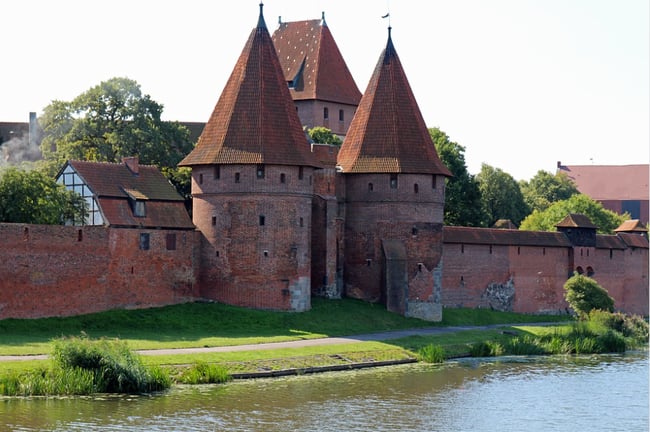 Cost + Hours
Cost depends on the season. Summer tickets are 45 PLN, while Winter season tickets are 30 PLN. Each ticket includes an audio guide. Check out the months included in the "summer" and "winter" season prices here. You can also book tickets online with that link.
The hours vary as well and are pretty short in the Winter season: 10:00 AM - 4:00 PM. In the Summer it is usually open from 9:00 AM- 7:00 PM. Make sure you double check the times here before you go, so you can be there when it is open.
Good To Know
The castle has free admission on Mondays (with an 8 PLN charge for an audio guide). It tends to get very crowded on free entrance days, just as a heads up. On normal days, it can take about an hour in line to get your tickets if you're arriving in the mid-morning or early afternoon.
The castle has a gift shop, small cafe where you can grab lunch, and a few other amenities in case you need them.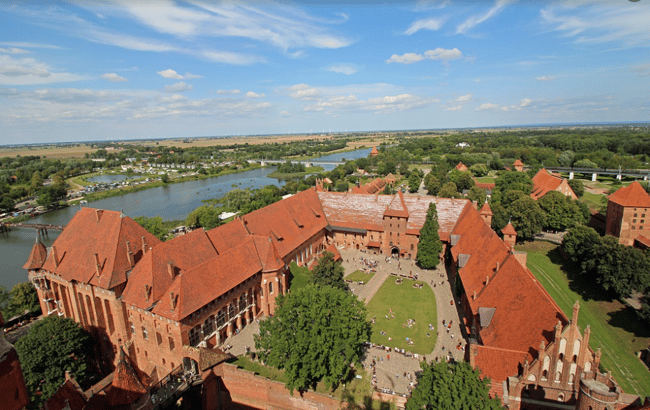 Getting To The Castle
From any of these points, train is your best bet. From the train station in Malbork, you'll need to make the 20 minute walk to the castle itself, or take a 5 minute taxi ride (it should be about 15 PLN).
From Krakow, Poland
Your best bet from the charming city of Krakow is taking a train, which takes around 5ish hours. There are multiple routes a day, in the $15-$30 USD range (which makes it a fun option as a day trip). Get more info about this train route here.
From Warsaw, Poland
Or, if you want a little bit shorter of a trip and you are visiting Warsaw, take a 2 hour train ride from the capital city. There are multiple daily departures, with train routes that are around 2 hours or up to about 3. Prices are anywhere from $10 USD to about $30 depending on the time of the route and the class of ticket you're booking. Get more info about this train route here.
From Gdansk, Poland.
This would also be an awesome stopover if you're on a vacation up to the northern coast of Poland in a cute city called Gdansk. It's just a 30 minute train ride (anywhere from $2 to $16) to visit Malbork from Gdansk, making it a really easy day trip from this coastal city. Get more info about this train route here.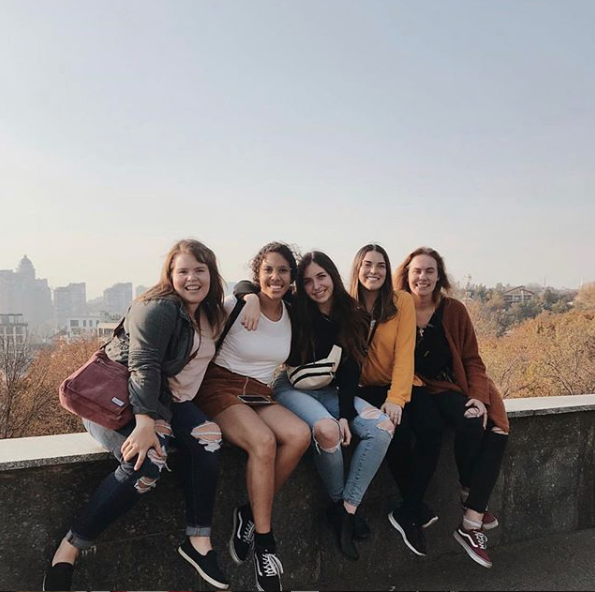 Want to come volunteer in Europe?
We thought so! ILP's a non-profit organization who sends volunteers abroad to teach English or help in an orphanage. We have several programs in Europe ( come see which country in Europe would be the best fit for you) and make applying really easy. Come get your questions answered here: