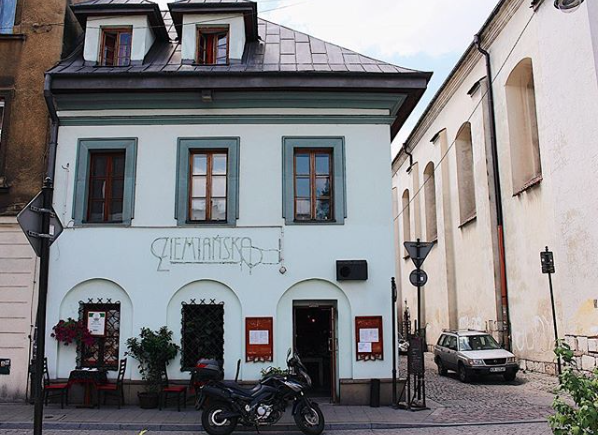 We love Poland and the city of Krakow for a lot of reasons (hello, castles and pretty town squares!) but when it comes to the food, I had a hard time narrowing down the list.
A huge part of traveling is the food. I mean, would Italy be as great if the local cuisine was microwave pizza? A big part of experiencing another culture and another country is by literally tasting what that country and culture has to offer. And in the melting-pot city of Krakow, that means eating at my favorite restaurants.


---
Heading to Krakow?
We have a full guide to plan your trip to this Polish city
---

Our ILP Europe volunteers love visiting this city on vacation. The towering cathedrals and castles, the cutie streets and sobering historical tours you can take in this neighborhood make it quite the tourist destination … but it's also worth visiting when it comes to the restaurants.
Though it was hard to narrow down, there are our favorites. I pulled my go-to spots from my own trip to Krakow then chatted with a friend of mine who spent a few months living in this city.
Good Lood Ice Cream
It's not just our volunteers who call this place the "the best ice cream in Krakow". Even when it's not hot outside, you'll want to come here for a sweet treat. Plus, they have new flavors that rotate out daily which means you'll need to visit at least 20 times, right?; Fresh raspberry, salted caramel and banana, roasted almond, honey and sunflower, creamy peanut butter, white chocolate and hazelnut, cashew, strawberry waffle, caramel with pink Himayalan salt, and more are some the tempting flavors at the ice cream place. Unreal.
Still wondering how good this place is? I accidentally missed my bus from Krakow to Kosice and wasn't even mad because I could go back to Good Lood. Visit their website for more info.
They have multiple locations, but here's my favorite.
Address:

Basztowa 10, 31-141 Kraków, Poland

Hours: 11:00 AM to 10:00 PM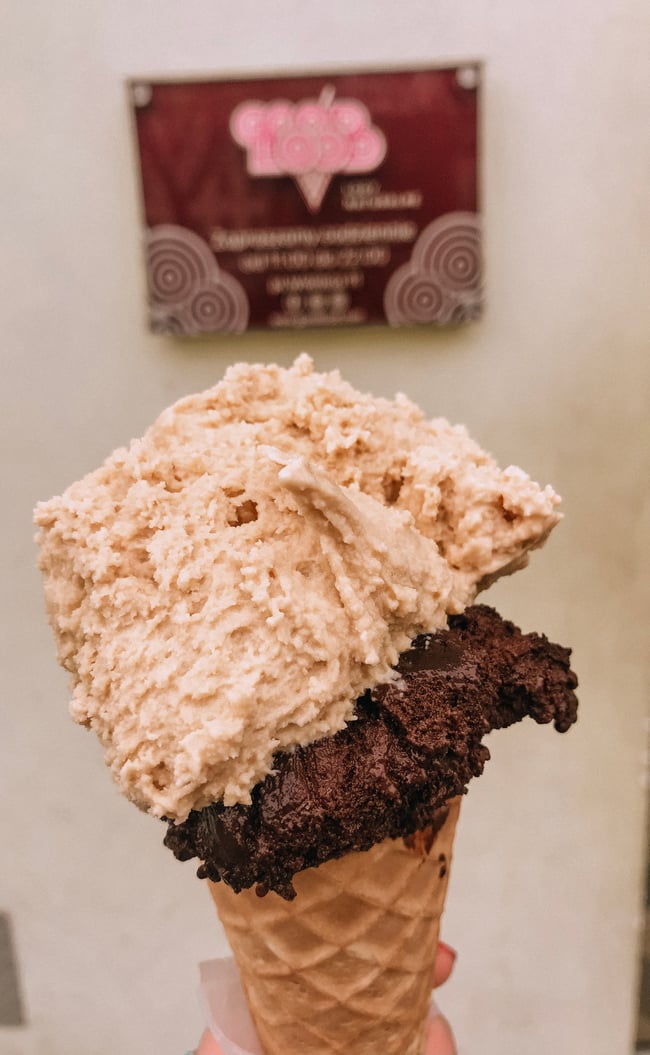 Pizza
Of all the delicious pizza you can enjoy in Krakow, our personal favorite is found at the Pizza Loft. There are over 35 different kinds of pizza on their menu, with everything from margarita, to pear and blue cheese. They also have plenty of gluten free and vegetarian options. An added bonus? The decorations inside the restaurant are vintage, colorful, and so fun!
Address: Stradomska 23 Kraków, Poland 31-071
Hours: Daily for 1 PM to 10 PM
Amerianos is another fan fav. You can peek at their menu below, but you can figure out some classic toppings even if you don't speak Polish. Get a margarita pizza, vegetarian, salami topped, even Hawaiian, among others. If you want, you can get a huge 65 centimeter (25-inch) pizza if you'd like to split that with your group or are feeling extremely hungry.
Address: Na Ogrody 1, 32-087 Zielonki, Poland
Hours: 12:00 PM to 10:00 PM (Opens at 1:00 PM on Saturday and Sunday)
We also love Pizzatopia (plus it's right next to the Cupcake Corner which is delicious). Between Pizzatopia and the Cupcake Corner, you have a good dinner and dessert option. We're big fans of the thinner but chewy crust (Italy style) and all the toppings at this pizza place: you can build-your-own or select from a signature pie. Each pizza is around $7 which we also love.
Visit their menu and website here.
Address: Szewska 22, 33-332 Kraków, Poland
Hours: 11:00 AM - 12:00AM daily (open until 1:00 AM on Friday and Saturday)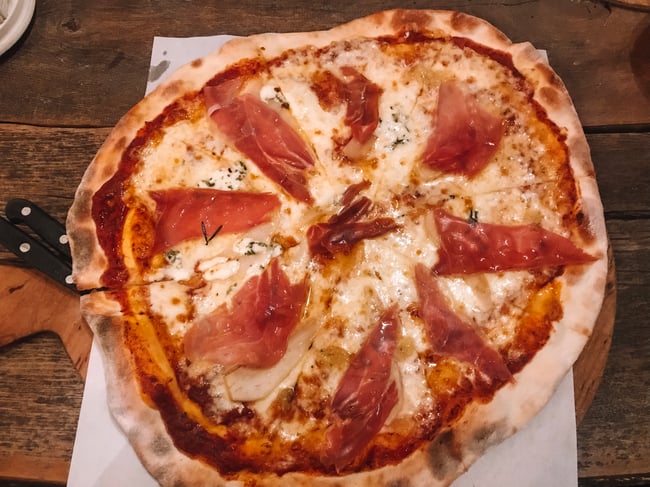 Wiśnowy Sad - Polish Cafe
One of the best places to get pierogi and complete with friendly staff, this is a slightly more expensive cafe but it is serving some classics like hot cheese pancakes topped with honey and sour cream, along with hearty soups and warm bread. Yum.
Address: Grodzka 33, 31-001 Kraków, Poland
Hours: 12:00 PM to 11:00 PM (Daily)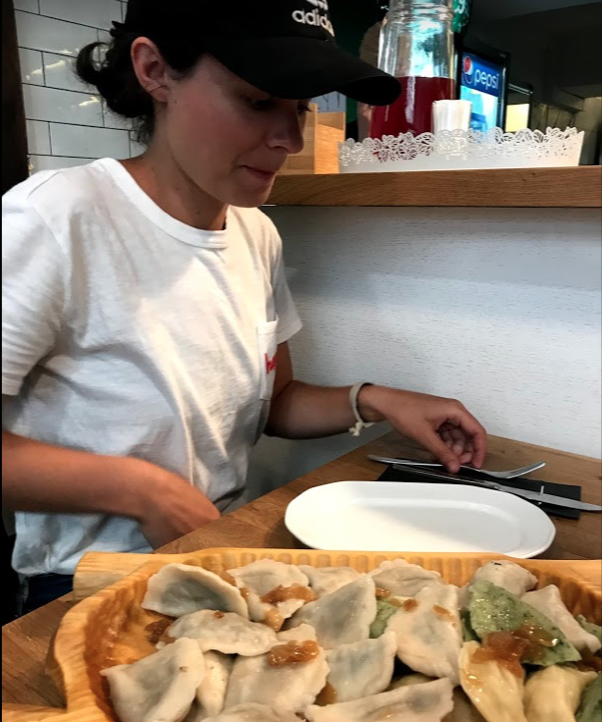 Alebriche - Mexican
Supposedly the best Mexican food around, the owners of Alebriche are from Mexico and know what dishes you crave after a few months without it. This place has authentic Mexican food, not Tex-Mex. The staff generally speaks good English meaning you can ask them for recommendations.
Address: ul. Karmelicka 56, Krakow 31-128, Poland
Hours: Monday 12:00 PM - 8:00 PM
All other days: 11:00 AM - 10:00 PM
Restauracja The Piano Rouge - Upscale Western and Polish Food
Another "special occasion" pick, this restaurant has prices similar to what you'd find at a nicer restaurant in America, but the place has a fun atmosphere and has a menu that covers everything from pastas, to goat cheese salads, to Polish classics like dumplings. Oh, and fun desserts like creme brûlée, tiramisu, and cheesecake.
Visit their menu and website here.
Address: Rynek Główny 46, 30-001 Kraków, Poland
Hours: 9:30 AM to 2:00 AM (Daily — Sundays close at 12:00 AM)
Camelot Cafe - Fun Brunch
Near Old Town, this darling little cafe is a cute pick with delicious food. They usually have Frank Sinatra playing which just adds to the entire atmosphere. Order fresh salads, poached eggs, quiches served with fruits, fancy toasts with smoked fish and other brunch foods in the morning and afternoon.
Address: Świętego Tomasza 17, 33-332 Kraków, Poland
Hours: 9:00 AM to 12:00 AM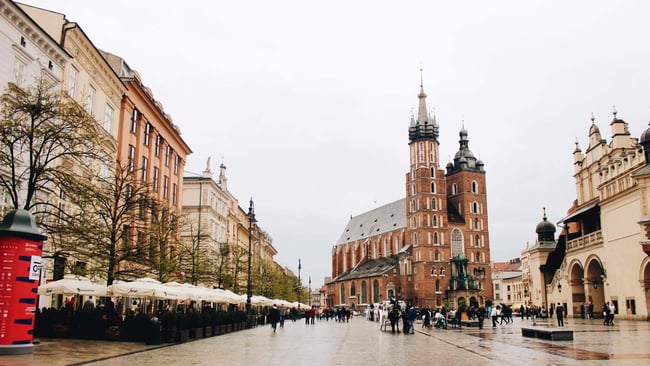 Street Food We Love
Food Trucks
These aren't really established restaurants, but we still love grabbing these for a quick snack or meal when you're out and about. There are food trucks that meet in Judah Square (Skwer Judah, ul. Św Wawrzyńca 16) pretty much every day from 12:00 PM to 12:00 AM (or 1:00 AM on Saturdays and 11:00 PM on Sundays), which is a fun place to eat.

Order the crepes and the baked potatoes from these trucks. These baked potatoes are so bomb, you won't regret eating one for lunch and going back for dinner (may or may not be a true story).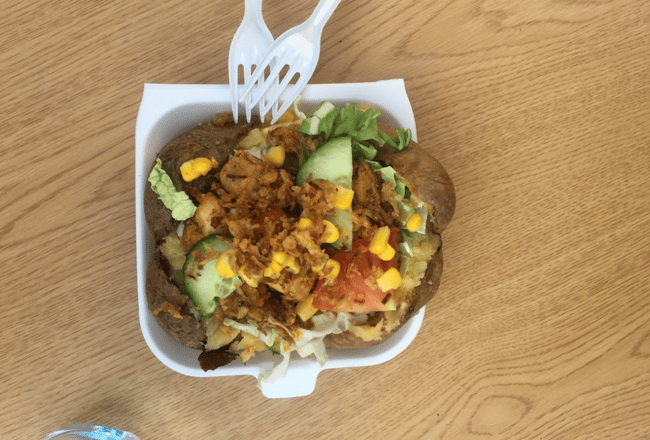 Chimney Cakes
Chimney cakes are made with strips of sweet dough, wrapped around a circular tube, and then roasted over charcoal coals. They are coated in melted butter and topped with cinnamon and sugar. You can find these throughout Krakow but the best ones are at the Chimney Cake Bakery. It's a tiny shop, just outside Old Town, and the selection of toppings (including ice cream) you can have them put inside the middle of the chimney cakes are mouthwatering. Our personal favorite? Nutella and chopped nuts. Divine.
Address: ul. Basztowa 26A Small Green Kiosk, Krakow 31-156 Poland
Hours: 9 AM to 9 PM, but open until 10 PM on Friday and Saturday.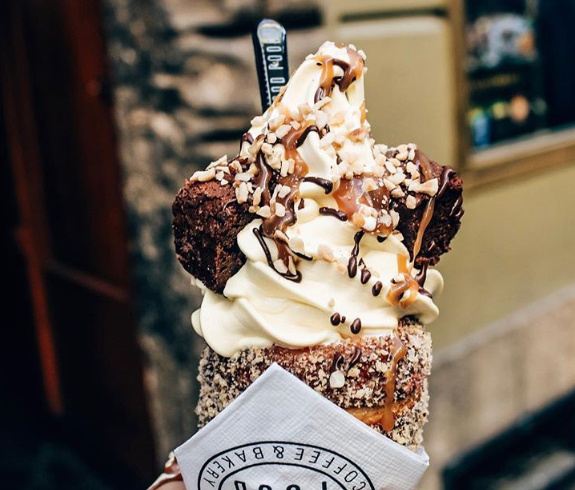 Bagels
Fun fact: bagels actually originated in Poland. You will see them being sold in little vendor carts all over the city, usually topped with cheese, poppy seeds, or sesame seeds. They are really tasty! For less than a dollar, these make the perfect morning, afternoon, or evening snack.
Zapiekanka
These baguettes, covered in a variety of toppings, are the Polish version of fast food and they were first introduced in the 1970s. You'll usually find them smothered in cheese, vegetables (almost always corn), some kind of meat, and sauce. They are delicious! And huge. Our favorite spot to get these is found at Plac Nowy in the Jewish Quarter, right next to what we think is the best ice cream in all of Europe: Good Lood!
Address: plac Nowy 4A, 31-056 Kraków, Poland

Come live in Europe while you're volunteering in an orphanage or teaching English!
We send groups of volunteers abroad to do just that. Come get your questions answered by chatting with an ILP representative (just hit the button below and we'll be in touch!)