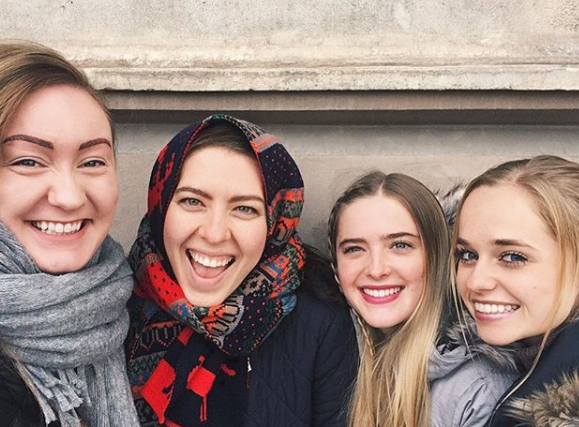 Wanting to visit somewhere that is historically significant, has the best local food, street art, and the cutest shops? Krakow's Jewish Quarter, Kazimierz, is just the place for you!
Trying to decide where to go for your vacations might be one of the hardest parts of volunteering in Europe for a semester with International Language Programs. Everywhere is amazing! But we do think Poland is extra special.


---
Want to volunteer in Europe but worried about the cost?
How To Afford A Semester Abroad
---

Krakow is a must-experience if you're deciding where you vacation during your semester abroad with ILP! And the Jewish Quarter is one of our very favorite places there.
Even if you only have one full day in Poland, spend the morning visiting Auschwitz, and the afternoon in the Jewish Quarter, before heading to visit Old Town and the dragon at Wawel Castle for the evening. Visiting the Jewish Quarter will be especially impactful and interesting if you've already seen and learned about some of the history of the area.
Pst: Here are 15 of our other favorite things to do in Krakow.
Visiting The Jewish Quarter
How To Get To Kazimierz
You might opt to take the tram: jump on the 7, 13, or 24 to Miodowa, or the 10, or 40 to Stradom. From where they drop you off, it's a 5 minute walk.
While walking around downtown Krakow, you'll also see tour guides opting to take you on a horse drawn carriage around the Jewish district for a guided tour. This is a fun option to see some top spots rather quickly, but just know you won't have the freedom to explore the places we'll list below!
PSA: If you're visiting Poland, please make sure to validate your ticket (scan it under the little yellow boxes by the door) as soon as you get on the tram. The inspectors that appear out of nowhere really will charge you a hefty fee if you forget (speaking from experience).
Historical Significance

Kazimierz has been a hub for Jewish culture for over 500 years. It has had quite the past and seen more than any of us can imagine. It fell apart during WW II, when the population was decreased from 66,000 to 3,000, and then during the reign of communism. Finally, it was revitalized in the 1990s. Today it is one of the most vibrant and enjoyable parts of the city!
This is also the location where Steven Spielberg shot his award-winning film, "Schindler's List" about Oskar Schindler. Originally a member of the Nazi party, Schindler opened an enamel factory in Krakow and employed hundreds of Jews. Over the years, he used his own fortune to bribe Nazi soldiers and keep his Jews from being taken to concentration camps. Because of this, Schindler helped over 1,000 of his Jewish employees to survive WW II.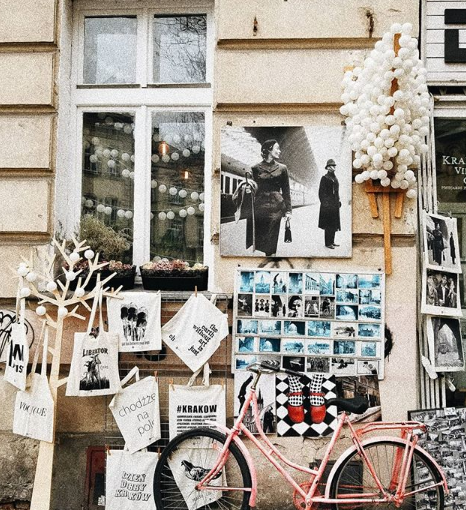 Local Food at Plac Nowy
One of the BEST places to try authentic Polish food (and other types of cuisine too) is actually found in the Jewish Quarter. Although there are a ton of cafes to choose from, we recommend heading straight to the Plac Nowy. It's actually a bit of an eyesore, since it's just a square of cement with stalls, but it's also the heart of the Jewish Quarter. The food is located around the outside of the rotunda at the center of the square, and each window is a separate vendor, so you'll have several options!
Zapiekanki
Ever heard of zapiekanki? It's a mix between an open-face hogi and pizza, topped with the yummiest stuff. You can get anything from Greek to Hawaiian! They are fairly cheap (like everything else in Poland) and so filling. Get a few with your group and share them so you can try all of the different flavors! Paired with a side of Belgian fries from a neighboring stand, you really can't go wrong.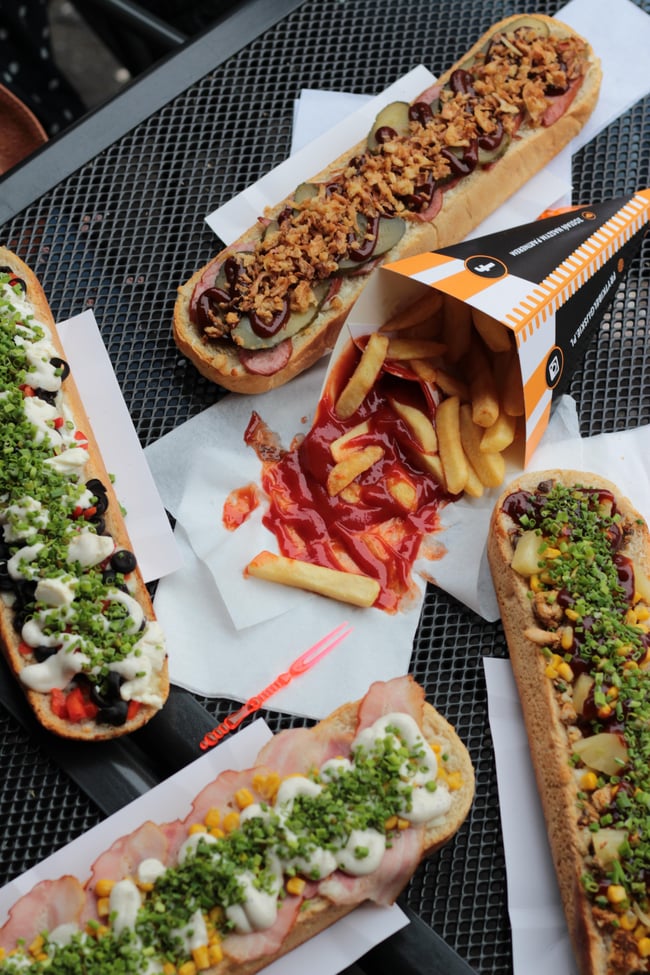 Good Lood Ice Cream
As soon as you finish your dinner (or before), stop by Good Lood Ice Cream. Just do it! Every day they serve dark chocolate, cream, fresh strawberry, and salted caramel. Then they offer three additional flavors that differ every day. We know we've already talked about it in a few other posts, but folks, this is not just the best ice cream in Krakow. This is the best ice cream in Europe! Italian gelato included! And for two heaping scoops, it's less than $2, so mix and match! You're welcome.
There are two locations in the Jewish Quarter, but we prefer the one in Plac Nowy, because even though it gets long lines as well, it's usually less busy. Plus it's fun to walk around the flea market while you're enjoying your ice cream. Even in the rain.
Foodtrucks
You an also visit the local food truck roundup located in the Jewish Quarter, called Skwer Judah. There is a huge mural on the wall behind it, of a boy wearing a lion's head. The type of food trucks vary (maybe pulled pork? or sushi? or acai bowls? or crepes?) but you can always count on one thing: it will be delicious. Find it at Skwer Judah, ul. Św Wawrzyńca 16.
Here's a complete list of our other favorite places to eat in Krakow! Let us know if you discover any others!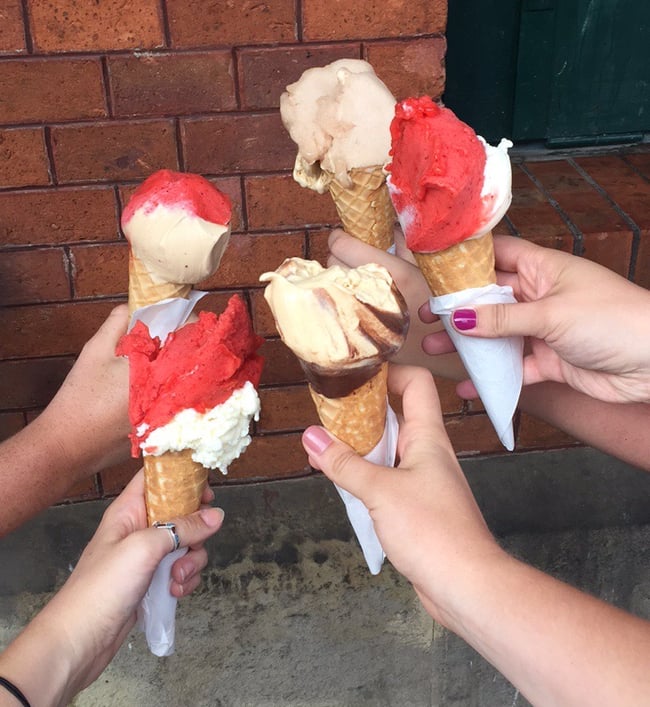 Flea Market and Cutie Shops
We've already mentioned the food at Plac Nowy, but this is also the location of the Jewish market stalls! Every day there are people selling fresh fruit, treats, and even some stuff that looks a lot like garbage. But one man's trash is another's treasure right? Friday is when they have their antiques flea market. We're talking old cameras, postcards to sweethearts from the early 1900s, pins, silver dishes, and so much more!
Step outside of Plac Nowy, and you'll find a ton of other shops as well. The Jewish Quarter is a great place to buy some of the beautiful blue and white Polish china. Try the little shop, Kopalnia Ceramiki, if you're wanting to find beautiful pieces to bring home!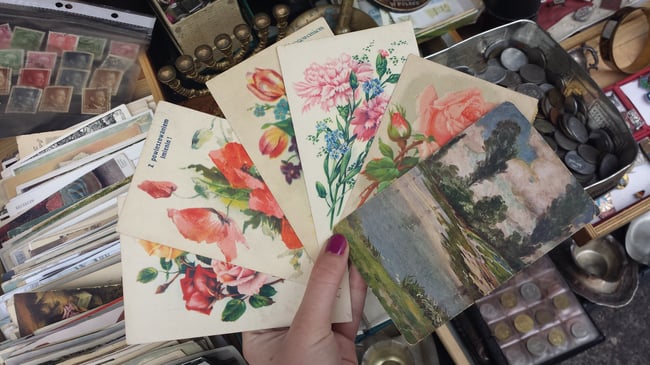 Street Art
Walking through the Jewish Quarter, you will stumble on quite a bit of street art. Many of the murals were created to honor the individuals who used to live there before being forced to relocate during the holocaust to the Jewish Ghetto across the river. Our favorite is this iconic image of Gene Kelly from "Singing in the Rain" found on the corner of Bożego Ciała and Meiselsa. It is a great reminder that even after a lot of pain and trials, we can still experience joy again.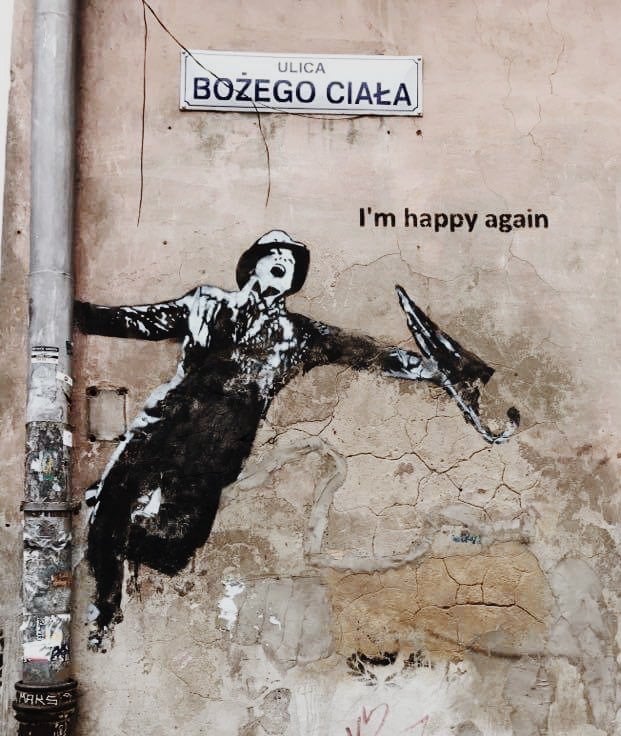 Synagogues and Graveyard
There are several synagogues within the Jewish Quarter, but if you're just going to see one, make it the High Synagogue ( ul. Józefa 38)! This is the third oldest synagogue in Krakow, built in the 1500's. It's open from 9:30 am to 7 pm, and it only costs 12 złoty to go upstairs to the old prayer room that now contains a small museum exhibit.
The oldest example of Jewish architecture is the Old Synagogue ( ul. Szeroka 24), built in the 1400's. It was plundered during WW II and then turned into a warehouse. Now it is also a museum that shows the history of the Jews from that area. To visit the variety of exhibits, it will cost you 11 złoty.
The old Jewish cemetery is attached to the Remuh Synagogue. Only 12 headstones survived WW II, and those that couldn't be salvaged were turned into a wailing wall. The fee to go in is about 10 złoty, but you can see some of the tombstones through the cutouts in the surrounding wall.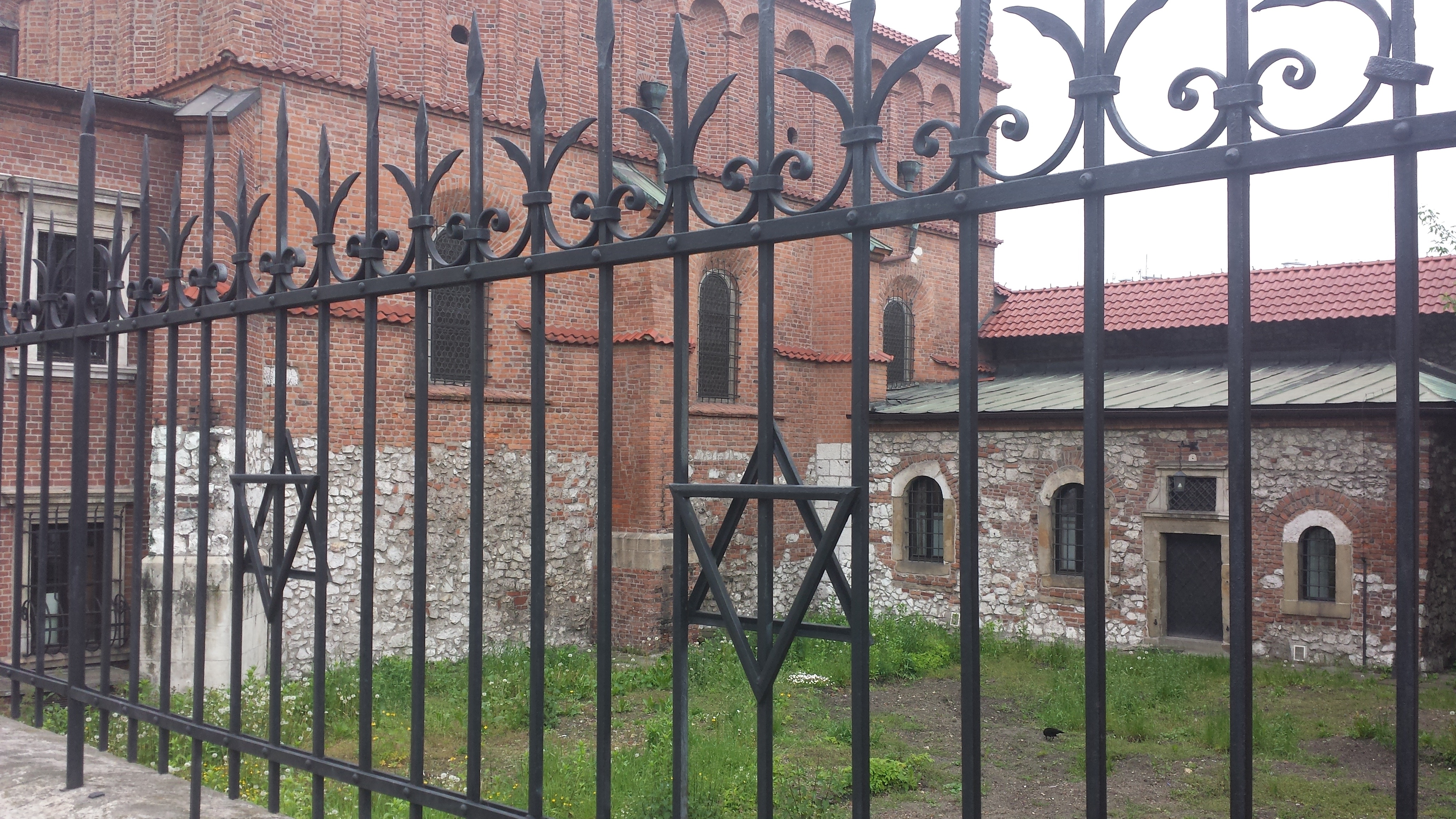 Podgórze District
After you've finished up in Kazimierz, cross the Vistula river and visit the Podgórze district. This is the area that was turned into the Jewish Ghetto during WW II by the Nazis. In the center you'll find the Ghetto Heroes Square, where many steel chairs have been set up as a monument to those Jews who were deported to concentration camps from this spot. These chairs, spread far apart from each other, are for all of the chairs left lonely and empty, still waiting for their owners to return. Each one of the 70 chairs represents 1000 victims.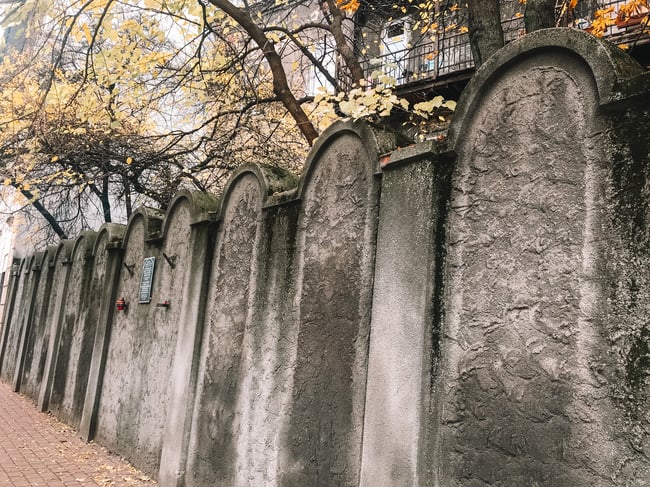 A small fragment of the original wall surrounding the Jewish ghetto is still standing as well ( ul. Lwowska 25-29), with the top made to resemble a line of tombstones, just as the Nazi's designed it. The plaque on it reads, "Here they lived, suffered and died at the hands of the German torturers. From here they began their final journey to the death camps."
You can also see the pharmacy, Apteka pod Orłem, the only shop in the area not run by Jews during the occupation. The owners provided food, clothes, and medicine to those suffering during the war, and even helped some Jews to avoid deportation.
As you'll find out for yourself, visiting the Jewish Quarter can be both sobering and super fun. You'll hear about some of the very worst things that humans have done to each other, but also some of the very best things that other humans have done to help and protect those suffering. There are few places in the world that will teach you as much about the two extremes humanity is capable of.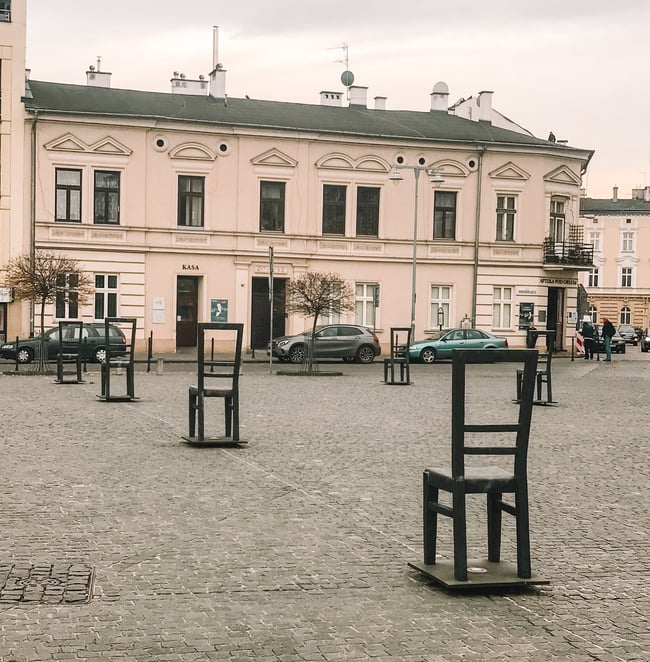 Want to talk to someone who's lived abroad in Europe?
We know that volunteering in another country for an entire semester can be a little intimidating. But it's so worth it! Click the button below to speak with one of our representatives: