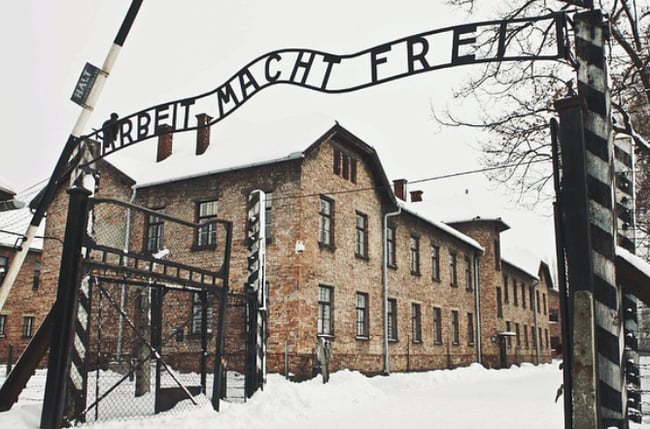 Traveling around the world is bound to give you some pretty life-changing experiences! But visiting this infamous concentration camp in Europe may end up being one of the most memorable. Here's everything you need to know about touring this sobering and sacred place: Auschwitz-Birkenau.
While volunteering as an English teacher with International Language Programs, you can live in Europe for an entire semester! And spend your weekends visiting historical places, like Auschwitz-Birkenau. Located in Poland, it is the perfect day trip for our volunteers who come to Krakow on one of their vacations. It's easy to get to and an experience you cannot miss for so many sobering reasons.


---
Curious to know what it's like to volunteer in Europe?
Apply now and get in touch with someone who can answer your questions.
---

You've probably spent time learning about WWII, maybe even watched a movie and read a book or two. But there is something about going to the places where it all happened. Something about standing where these families were separated. Something about seeing their faces on the walls and reading the plaques that so bluntly tell the horrifying facts. There is nothing quite like being able to honor these souls, while being reminded that we can never take our own lives for granted.
Since there are a lot of different ways to tour Auschwitz, we want to make it easier for you. Here's everything you need to know about visiting this site that stands as a memorial to one of the most catastrophic events in world history.
Touring Auschwitz-Birkenau
What It Is
Making a Reservation
How To Get There
What To Do There
Additional Tips
What Is Auschwitz-Birkenau?
Established by the Nazis in 1940, Auschwitz was initially built as a labor camp. The first group of Poles were sent there in June of that year. It would eventually become one of the most infamous of the death camps, with many sub camps surrounding it.
One of these sub camps, Birkenau, built in 1941, was the largest. This is where the trains would arrive with cattle cars stuffed full of prisoners to be sorted. The majority of victims were murdered here, as they were forced off the trains and unknowingly sent straight into the gas chambers.
Those taken to Auschwitz were Jews, Poles, Gypsies, Soviet prisoners of war, Jehovah's Witnesses, the mentally ill, homosexuals, and citizens from almost every other country in Europe, and even some from outside of Europe.
Out of the over 16,000,000 people killed by the Nazis during WWII, more than 1,300,000 were taken to Auschwitz, and 232,000 of these were children. There were only 196 recorded prisoners who escaped successfully and only 6,000 survivors were freed from the camp by the Soviets in January of 1945.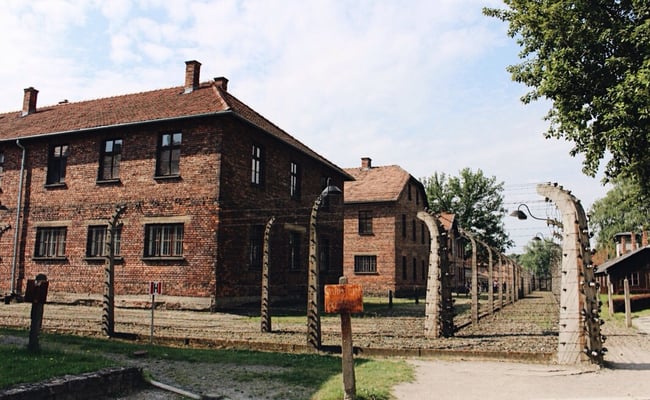 How Do We Make a Reservation?
To visit Auschwitz, your group of volunteers can book a tour or just visit as a group on your own. Either way, you'll need to reserve your Auschwitz entry cards online beforehand because although admission is free, they only allow a limited number of visitors at the same time.
You can book your tour through your hostel or hotel in Krakow. It will end up costing you around $50 but they do pick you up from where you're staying and give you an entire tour. You can also try booking an all-inclusive tour with Krakow's city tours that will cost you about $40. A lot of our volunteers have said tours are totally worth it even though it does cost a little extra than going without one. Here's what one of our volunteers said about her experience:
"Our tour guide was a grandson of a woman who not only lived in the camp but also survived. He was incredibly well-informed on the history there, the significance of everything we saw, and gave us personal stories from his grandmother. It was absolutely incredible and his conclusion at the end was so moving. I'll never forget that day and what I learned."
Spend a little extra money and receive an early morning private tour before the general tours start at 10 am. One group of volunteers spent about $110 for a private tour and found the price well worth the experience. You can book a private tour the same way you would a general tour, marketed all around the city of Krakow or possibly through your hostel.
If you want to save money and be able to walk around the camps on your own timetable, it's pretty easy to take a train or bus from Krakow to Auschwitz. We'll go over the details of how to do that below.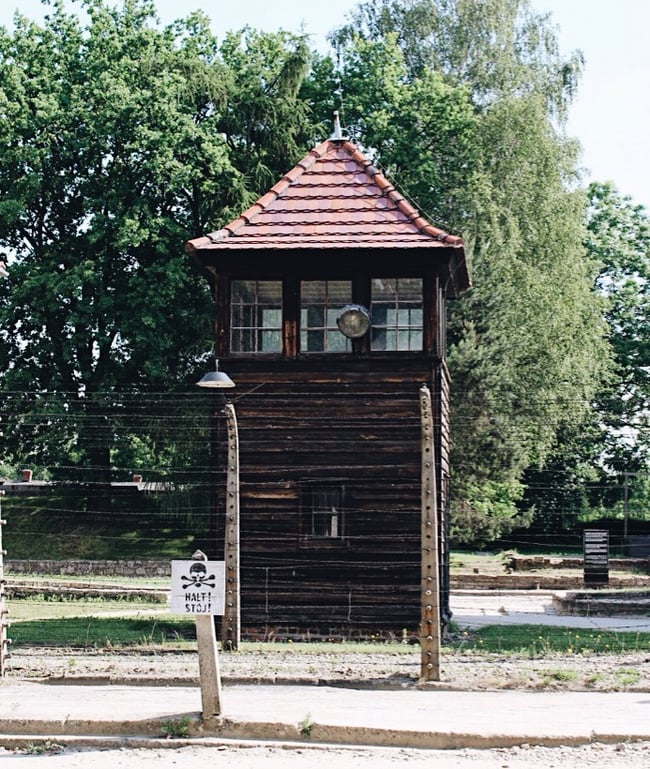 How Do We Get To Auschwitz-Birkenau?
If you booked a tour, then this will already be taken care of for you (yay!). If you decided to do it on your own, you'll save money but will have to do some of your own planning. During the summer, the visitors who are not on tours are only allowed entry for the two hours between 8-10 am and then again after 4 pm. And remember you still have to reserve your time online! And absolutely use this website for planning your transportation.
Train
The train will take you from Krakow to Oswiecim, the town just a couple of kilometers away from Auschwitz. The ride by train will take about a 1.5-2 hours, but only costs you 9 PLN for each way. It leaves from the main railway station in Krakow once every hour or two. Use this website to check the schedule. You can either purchase your ticket at one of the stationary ticket offices or online. After arriving in Oswiecim, you can jump on a bus for 2,7 PLN or make the 25 minute walk to the camp yourselves. The local buses that stop at Auschwitz are numbers 24-29.
Bus
This is the recommended way to travel if your group is going on their own. The buses leave for Oswiecim from the main bus station in Krakow (Kraków MDA, ul. Bosacka 18). Just make sure you get on one going straight to Auschwitz! The ride by bus will take about 1.5 hours. The price is 12-15 PLN, and tickets can be purchased from the bus driver. Use this website to check the schedule.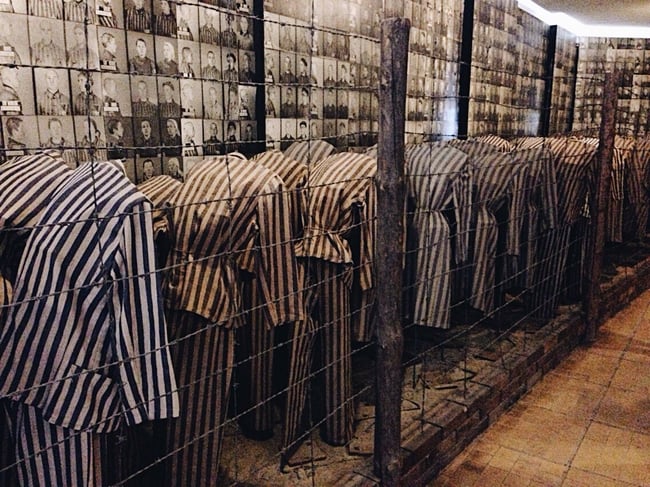 What Do We Do At Auschwitz-Birkenau?
Auschwitz I
Whether you're on an organized tour or just visiting with your group of volunteers, you'll start at the main camp, Auschwitz I. Give yourself at least 90 minutes to walk around this camp, but many suggest even more time. It is at the entrance of this camp where you will read the famous words written in German, "Work makes free". This camp has been maintained as a museum with tons of photographs and plaques describing what happened.
Since the Nazis were resourceful with the belongings of their victims, there are rooms displaying the material evidence of their crimes. The glass cases in these rooms contain thousands of shoes, glasses, prosthetic limbs, suitcases, baskets, and one even has pounds of deteriorating human hair, proof that these victims were gassed before their hair was shaved from their heads. The fate of these individuals is hard to read about, but seeing these displays can be even heavier.
At this camp you can also walk through the large gas chamber and crematorium that are still standing as they were then. You can also see the rows of barracks, one of which was used for the awful experiments performed on children and dwarfs, a replica of The Black Wall where executions were performed, and the basement standing cells where prisoners were held for three days at a time and not able to sit or lie down. It is all very sobering and can be difficult to process.
Birkenau (Auschwitz II)
Outside of Auschwitz I, there is a free shuttle bus that leaves every 10 minutes and will take you the few kilometers to Birkenau. If you are with a tour, they will take care of your transportation. Give yourself at least an hour to walk around Birkenau.
Now, Birkenau is mostly a huge open field, since the Nazis tried to destroy the evidence of their operations before the Soviets came through in 1945. But you can still walk along the train tracks between the crumbling rubble of former barracks, the gas chambers, and crematoriums. Everything here is very quiet and peaceful, but the feeling can still be unsettling.
When you are finished, head back to Krakow and visit this Jewish Quarter before spending the evening in Old Town. It will all make for a busy but very meaningful day that reminds all visitors to be grateful for the freedoms and life we have.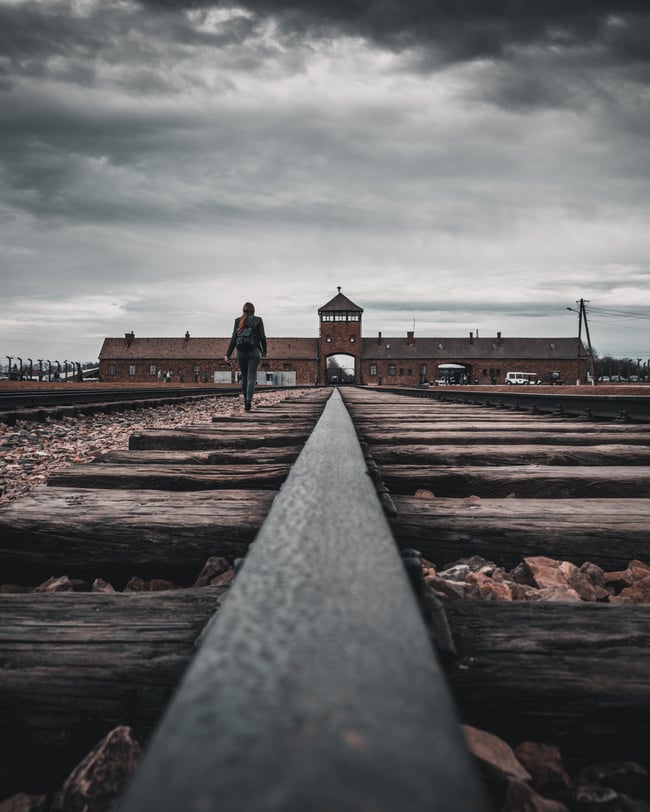 Additional Tips
What to Bring
You can only bring a small purse into the camps, but make sure to squeeze in a few snacks and some water. Oh, and bring your camera or at least your phone for all the pictures you'll need to take so you can remember this place. Wear comfortable shoes since you'll be walking a ton.
Do Your Research Beforehand
Trust us, you'll get more out of the experience if you know a little bit about the history of Europe during WW II. There are a lot of books and movies available, but the information can be pretty heavy and sometimes graphic. These are just a few that we recommend:
Books
Night - Elie Wiesel
The Pianist: The Extraordinary True Story of One Man's Survival in Warsaw - Władysław Szpilman
Man's Search for Meaning - Viktor Frankl
The Hiding Place - Corrie Ten Boom
Code Name Verity - Elizabeth E. Wein
Movies
Life is Beautiful - staring Roberto Benigni and Nicoletta Braschi
The Boy in the Striped Pajamas - staring Asa Butterfield and Jack Scanlon
Schindler's List - staring Liam Neeson and Ben Kingsley
The Guernsey Literary and Potato Peel Pie Society - staring Lily James and Michiel Huisman
Instrument of War - staring Jack Ashton and Daniel Betts
But even if you learn as much as you can before you go, you'll still get more in one day walking through these concentration camps than you ever will reading books or watching movies. The camp has been well preserved and you'll be surprised by how much was left standing after the war. This is an experience you'll never forget.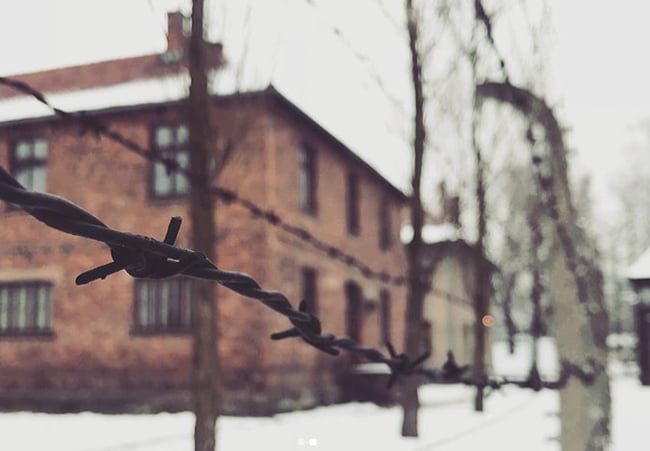 Want to volunteer in Europe for an entire semester?
Being able to teach the cutest kids while traveling and exploring on the weekends and during your vacations can totally be a reality for you. Learn more by talking to an ILP representative who can answer all of your questions: