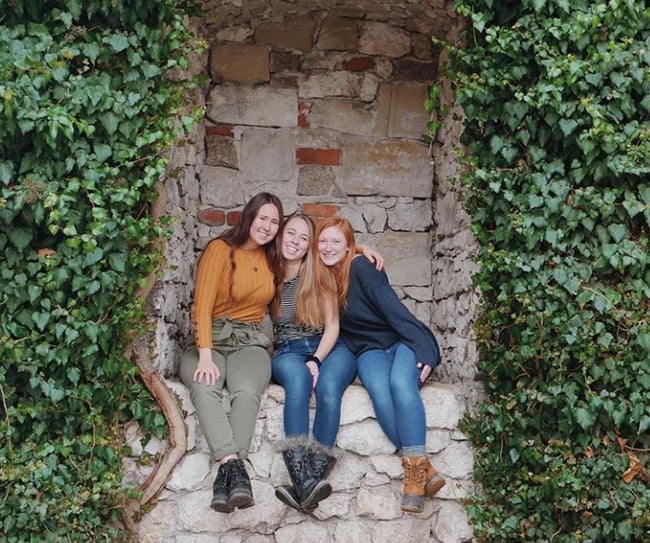 Getting ready to spend some time in Krakow, Poland? Here is our list of the things you cannot miss out on! Get ready to fall in love with this beautiful and unique city.
Not only is Krakow a very charming city, but it also has a pretty incredible history. One of the best parts about visiting is that since not much of the landscape has changed in the past few hundred years, you'll really get to take a step back in time as you walk these streets. Nicknamed the "City of Kings", Krakow is one of the most culturally rich cities in Europe.


---
Interested in being a volunteer in Europe for an entire semester? Read this:
Quick Facts About International Language Programs That You Need To Know

---

As you'll find, there is so much in Krakow to fall in love with! Since it can be pretty hard to figure out where you should spend your time in this city, here's our list of favorites so you can pick and choose what you want to do. Of course, we absolutely recommend experiencing as many of these things as possible!
Oh and don't miss all our tips for planning a trip to Krakow including how to get to Krakow and where to stay — it's full of helpful itinerary-planning kind of things.
Everything To Experience In Krakow
Visit The Museums
Schindler's Factory
Oskar Schindler, originally a member of the Nazi Party, owned an enamelware factory in Krakow and employed hundreds of Jews. Over the years, he used his own fortune to bribe Nazi soldiers and keep his Jews from being taken to concentration camps. Because of this, Schindler helped over 1,000 of his Jewish employees to survive WW II.
In this museum, you can learn about how the war affected Krakow specifically during the 5 years of the Nazi occupation. One of our favorite rooms has the good deeds and kind acts performed by many brave Polish citizens during WW II written in different languages across all of the walls. It is very touching and overwhelming to see how these people helped each other through one of the most tragic periods of their history.
We've written an entire post about visiting Schindler's Factory to help you plan your trip, so make sure to check that out!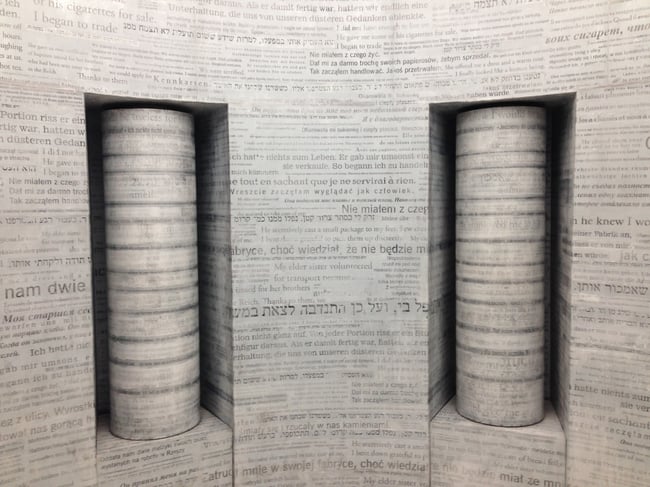 Gallery of 19th-Century Polish Art
This is one of our favorite museums in Krakow for a couple of reasons. First, it's pretty small (only 4 rooms), so you can actually enjoy every piece on display. Plus, it's also located on the top floor of the Cloth Hall, so as soon as you're done admiring the art, you can head downstairs to get some great Polish souvenirs.
Also make sure you take a peek at the view of Old Town from this museum's balcony. The carriages, restaurants, men making bubbles for kids, musicians, pigeons, and everything else make you feel like you're overlooking some kind of fairytale.
Tickets will be around $4.50, but we recommend visiting on Sundays when entry is totally free!
Address: Cloth Hall, Rynek Główny 3
Hours: Open Tuesdays-Friday from 9 AM to 5 PM, on Saturdays from 10 AM to 6 PM, and on Sundays from 10 AM to 4 PM. Closed on Mondays.
Museum of Contemporary Art
Known as the MOCAK, this museum has some unique and creative displays. It is actually located on the site of Schindler's old warehouse, so if you're already stopping by that museum, make sure you check this one out as well.
Tickets are about $4, but entry to all permanent exhibitions is free on Thursdays.
Address: 4 Lipowa St 30-702 Krakow
Hours: Open Tuesday-Sunday from 11 AM to 7 PM. Closed Mondays.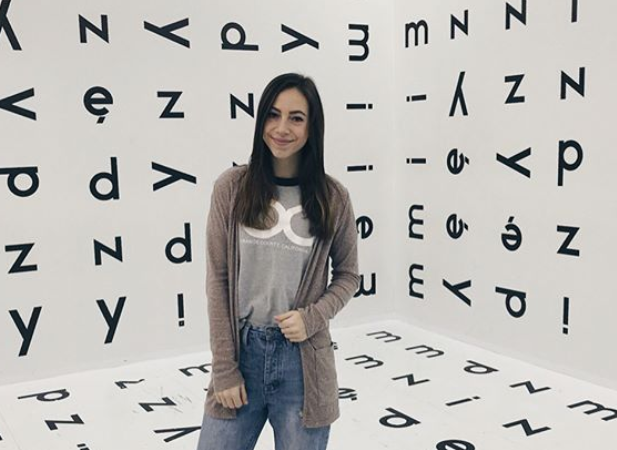 Explore The Churches
Another nickname for Krakow: "The City of Churches". As you can guess, there are so many all over the city, especially around Old Town. Here are just three of our favorites, but they are all unique and you could honestly spend hours wandering in and out of many more.
St. Mary's Basilica
Located in Market Square, the inside of this church is painted in vibrant colors and houses a stunning altarpiece of Gothic design. It is from these towers that a trumpet is played every hour. You'll notice that the song stops suddenly, which is in commemoration of the trumpeter from the 13th century who was shot in the throat while alarming the city of an attack from the Mongols.
Tickets are about $1.50.
Address: plac Mariacki 5, 31-042 Kraków, Poland
Hours: Open on weekdays from 11:30 AM to 6 PM and on Sundays and holidays from 2 PM to 6 PM.
Church of Saints Peter and Paul
The crypt of this Jesuit church now serves as the final resting place for some of the Poles who have made distinguished contributions in the arts and sciences. Lining the gates to the entrance are statues of the twelve apostles. The baroque interior of this church is much less colorful than some of its neighbors, but is still worth a visit.
Address: ul. Grodzka 52a, Krakow 31-044, Poland
Hours: Open Mondays-Saturdays from 9 AM to 5 PM, and on Sundays from 1:30 PM to 5 PM.
Basilica of St. Francis of Assisi
You'll see a lot of cathedrals in Europe, but this one is especially breathtaking. The intricate stained glass and colorful ceilings in the main hall are captivating, but don't forget to also walk through the side rooms to see these detailed depictions of scenes from the last week of Christ's life.
Address: Pl. Wszystkich Świętych 5
Hours: Daily from 7 AM to 8 PM.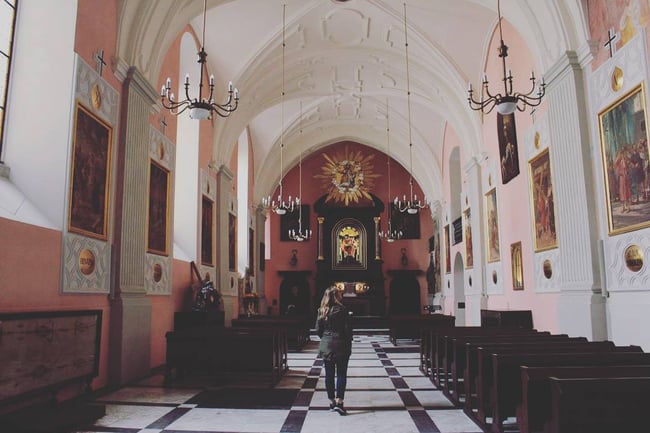 Attend A Concert
You'll see performers all over the streets of Old Town, but if you want to catch an evening concert, then head over to the Church of St. Peter and St. Paul where they are held daily starting at 8 PM. A small chamber orchestra performs different programs every night of the week. Buy your tickets for about $15 on site and check online for more info.
Address: ul. Grodzka 52a, Krakow 31-044, Poland
Take A Carriage Ride
As soon as you take a step into the area surrounding Market Square, you'll see these antique horse-drawn carriages everywhere. For about $50 (per 30 min), a group of 4-5 people can catch a pleasant ride around Old Town. The drivers won't tell you about anything you're seeing though, so just enjoy the peace and quiet. A little pricey, but worth the experience, especially if your feet need a break from walking.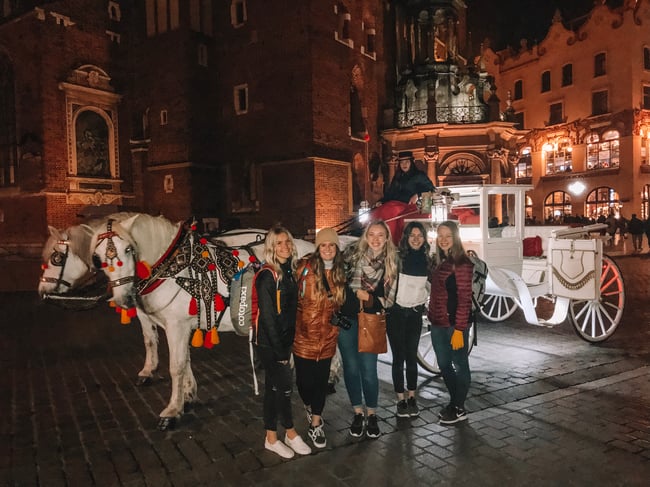 Tour Wawel Castle
Constructed during the 13th and 14th centuries, this castle is a collection of many structures built around an Italian-style courtyard and features several different architectural styles. It has been the residence of kings and presidents for hundreds of years, but since the end of WW II, the interior has functioned as one of Poland's grandest museums. It is definitely one of the most important sites in Krakow, and you can come here to see various sculptures, tapestries, paintings, armor, furniture, or simply enjoy the beautiful gardens outside.
Visit the official website for all the information about exhibitions and ticket sales.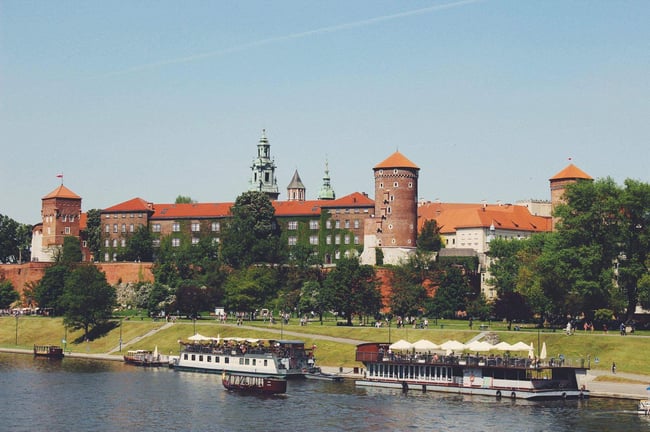 Walk Through The Dragon Caves
Yeah, yeah, we know dragon caves sound a little ridiculous. But the legend of the Wawel dragon is a big part of Krakow's history! And these limestone caverns are actually pretty neat. They are dimly lit inside and after going down a winding staircase inside the hill, it only takes about five minutes to walk through them.
Tickets are less than $1, but you can only use coins in the machine outside the caves' entrance.
Participate In A Festival
The Poles love traditions and holidays, so there are often festivals in the heart of Old Town and around the castle with vendors, music, and so much more. Check out the list of festivals here because you wouldn't want to miss out on any of them, like Rękawka, the annual medieval fair that includes sword fighting, archery, and delicious food!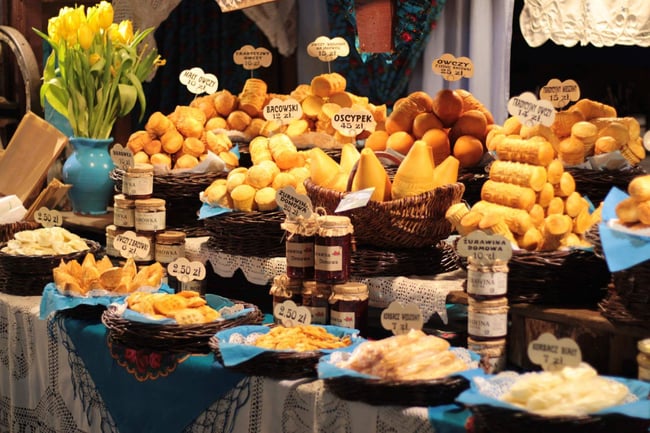 Shop For Souvenirs In The Cloth Hall
The Cloth Hall, at the center of Old Town, has been the location of a trade hall since the 1300s. It's one of the best places to stock up on souvenirs. The building is full of little stalls run by different vendors selling leather purses, mugs, chess sets, nativities, lace, amber jewelry, wooden toys, and a lot of other authentic gifts and trinkets.
Our advice: walk all the way around the hall before you purchase anything because a lot of the vendors will be selling the same items for different prices. And if you don't find something you love inside, then just stop by each of the small shops around the exterior of the hall as well.
Address: Rynek Główny 1-3, 30-001 Kraków, Poland
Hours: Daily from 10 AM to 6 PM, but closed every Wednesday.
Put A Lock On This Bridge
Known as Lovers' Bridge, it spans the Vistula River, connecting North and South Krakow. You can stick your own lock on the bridge, or just look through the ones already attached to it.
Address: Kładka Ojca Bernatka, 31-061 Kraków, Poland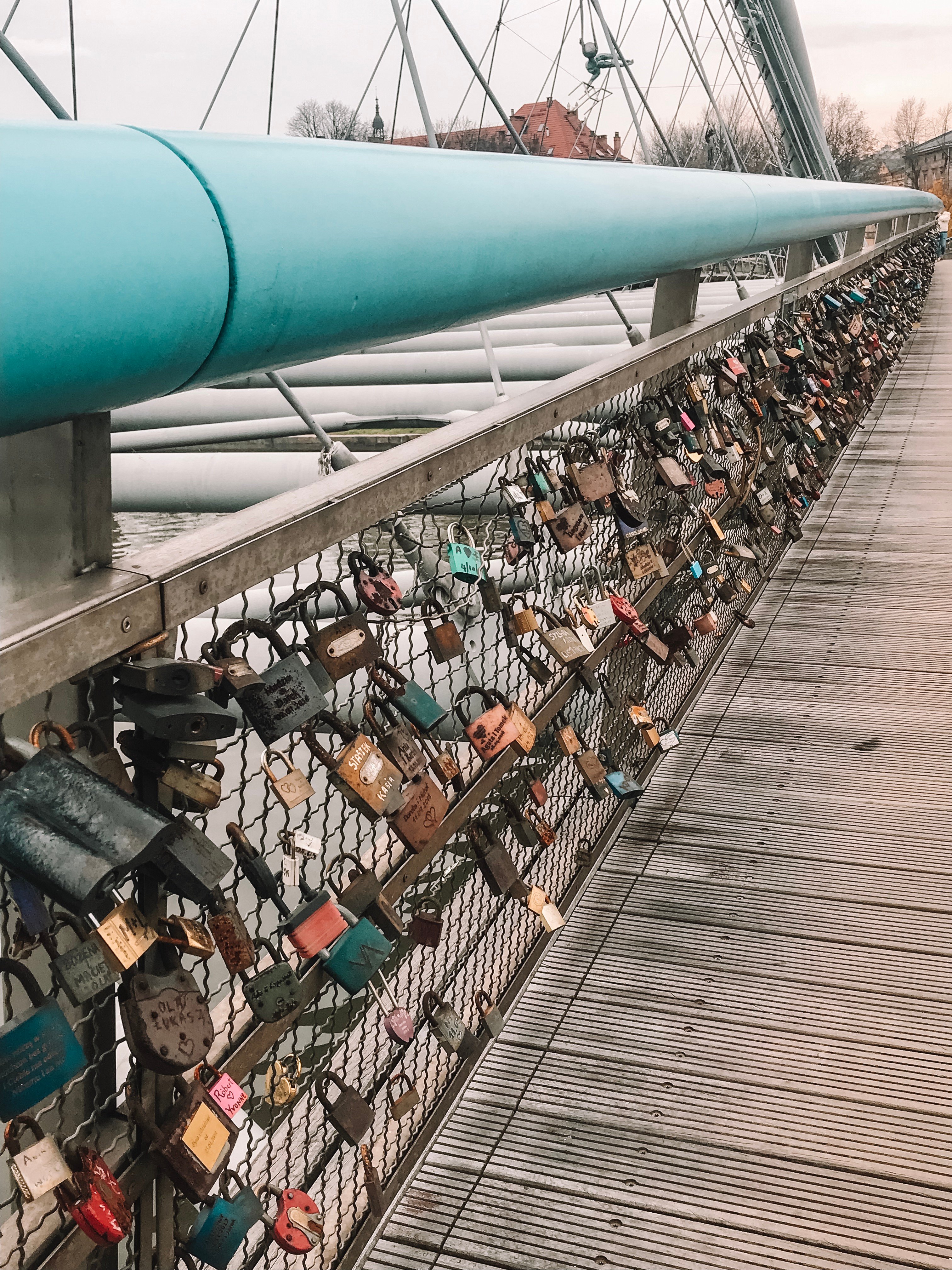 Wander The Jewish Quarter
Since we've already mentioned this place a few times, we should probably just tell you to do yourself a favor and spend a few hours walking around one of the most beloved areas in all of Krakow. It's artsy, quirky, vibrant, and a perfect mix of old and new thanks to its complicated history. Make sure you check out our guide to the Jewish Quarter before you head over there!
Find All The Street Art
Since Krakow is home to so many talented artists, there is fun street art all over the city! Some of our favorites, like Don Lockwood from "Singing in the Rain", are found in the Jewish Quarter, but you can find many other colorful walls (and doors) in other surprise spots.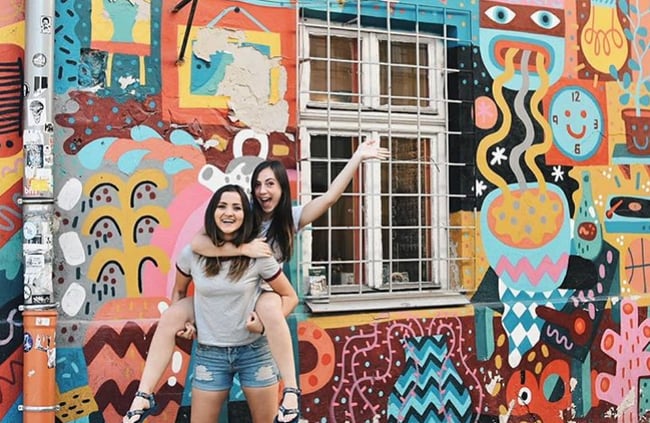 Swim In This Lake
In the summer time, you have to spend a few hours at this lake. It used to be a mining site, but has been turned into our favorite Krakow getaway. The water is just as turquoise blue as the waters of the Caribbean—but don't expect the water temperature to be that warm. Definitely don't recommend swimming in this icy water if the sun isn't out and shining bright. Check out this blog post for all of the details you'll need for visiting Zakrzowek Lake.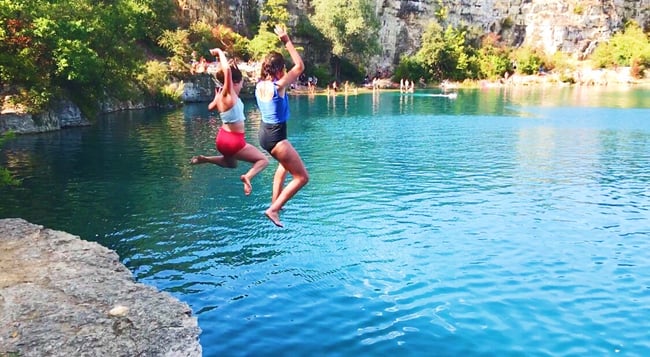 Hike The Mound
Built in memory of Tadeusz Kosciuszko, a Polish military hero, this artificial hill was constructed with dirt brought from people all over Poland. It now offers some of the most amazing views of Krakow and the surrounding areas. You can also visit the wax figure museum inside called, "Polish Road to Freedom".
Tickets are about $4. Visit the official site to get all additional information.
Address: al. Waszyngtona 1, 30-204 Kraków, Poland
Hours: Daily from 9 AM to sunset.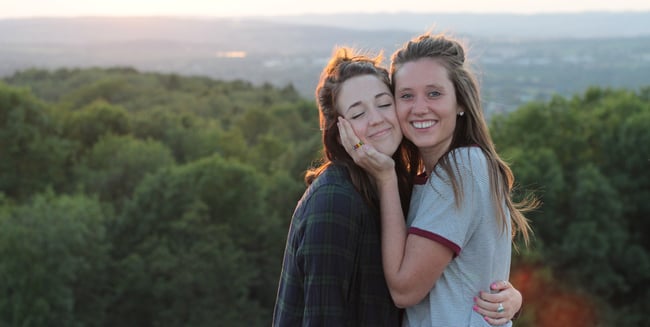 Just Outside Of Krakow
Tour Auschwitz-Birkenau Concentration Camp
While in Krakow, we recommend taking a trip out to the Auschwitz-Birkenau memorial site. You've probably learned about concentration camps, but visiting one is a very unique and memorable experience. There's something about honoring those who suffered that is a great reminder to appreciate the lives and freedoms we have.
Auschwitz is about an hour outside of Krakow, so plan on it taking at least half of your day. You can book a tour, or figure out transportation yourselves. Here's everything you need to know about visiting Auschwitz-Birkenau.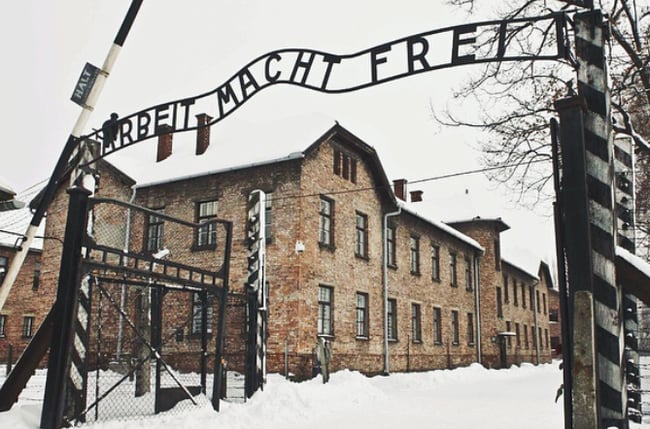 Visit the Wieliczka Salt Mines

First established in the 13th century, these mines were in full operation until 2007. Now you can take tours through them and explore the many different chambers and chapels that are all stunning and a little eerie. You'll definitely feel like you're walking through something straight out of a book, like The Lord of the Rings. Read our guide for the Salt Mines to get more info about what to expect, transportation, and ticket costs. Plan on spending several hours on your tour.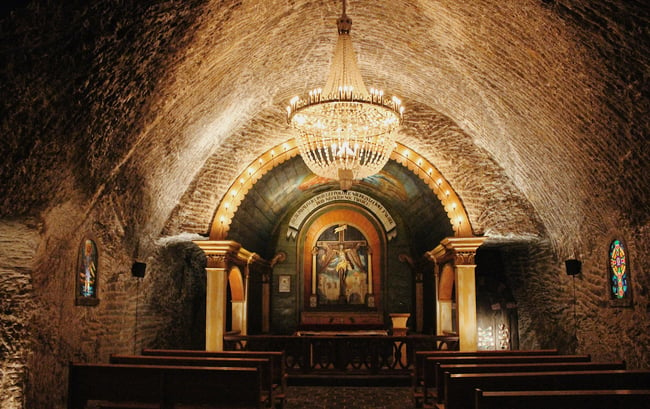 Does a semester abroad traveling around Europe sound like a dream?
Every representative in our office has volunteered abroad with ILP for at least one semester. They love discussing the details of the program and want to help others to have this same experience!