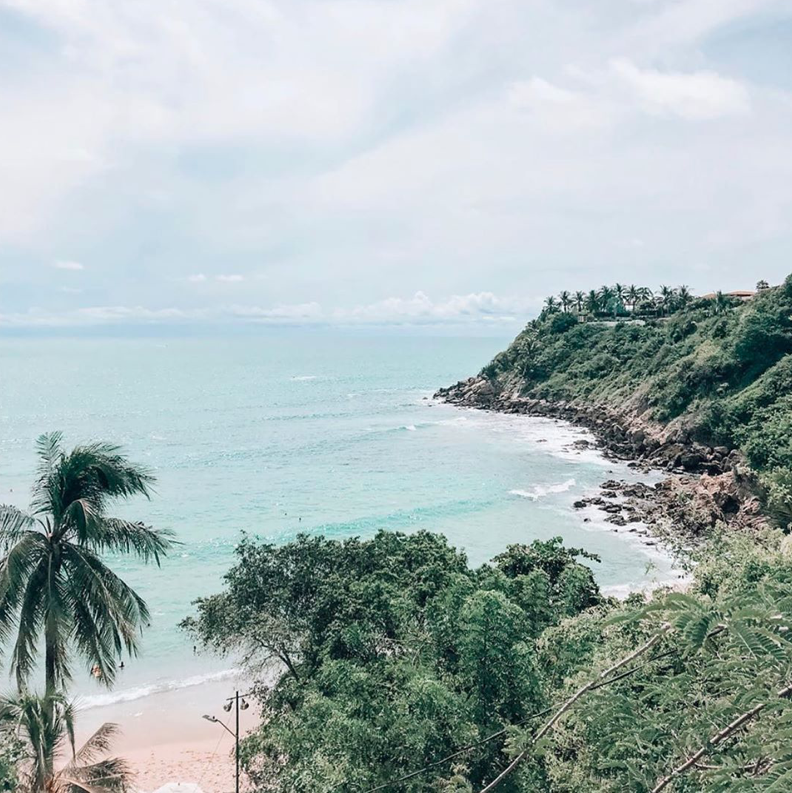 With miles and miles of coastline in Mexico, how do you know which beaches to visit? We've got some recommendations for you!
Mexico has endless incredible spots to go enjoy. Just talk to anyone who spent a semester volunteering in Mexico with ILP and you'll hear all about weekend trips to swimming holes, blue waterfalls, mountain getaways, and colorful Magic Towns ... oh, and the beaches, of course! We can't resist a quick vacation to blue water, sandy white beaches, and flowing palm trees. The trouble is, not every beach is like that.


---
Looking for other pretty places in Mexico?
Here is a guide to our very favorites you can't miss!
---
Good news for you, we've talked to our ILP Mexico alumni to see which beaches they recommend the most (these swimming spots are just a few reasons why this may be the ILP country volunteers love the most). Come spend a semester here and see why!
Puerto Escondido
I really can't say enough positive things about this place. So many of our volunteers who have spent 3-4 months living in and traveling around Mexico for their semester abroad have said that Puerto Escondido was their favorite vacation spot. Why? Because not only is it gorgeous, but it's also NOT an overcrowded tourist spot. There's actually only in-country buses and planes that go to Puerto Escondido which means tourists are typically flying straight to places like Cancun instead.
It has such a small town, surfer feel to this stretch of Pacific coastline. There is a really good grocery store just a few minutes walk away, a string of shops so you can pick up some souvenirs, and it is know for both surfing and deep sea fishing. There is actually some pretty world famous surf competitions that happen here! You can snorkel, go on a boat ride to find a sea turtle, or just chill by the beach ... or help release baby sea turtles!
When it comes to beaches, you have a few to choose from. Here are some to check out:
Carrizalillo

Beach

La Punta

Playa Zicatela



One of the best parts of Puerto Escondido is that there is a stone walkway that connects all the small little coves — it's an absolute dream. Get your guide to Puerto Escondido here (complete with hostel recommendations, the best beaches to visit, and info on what there is to do here).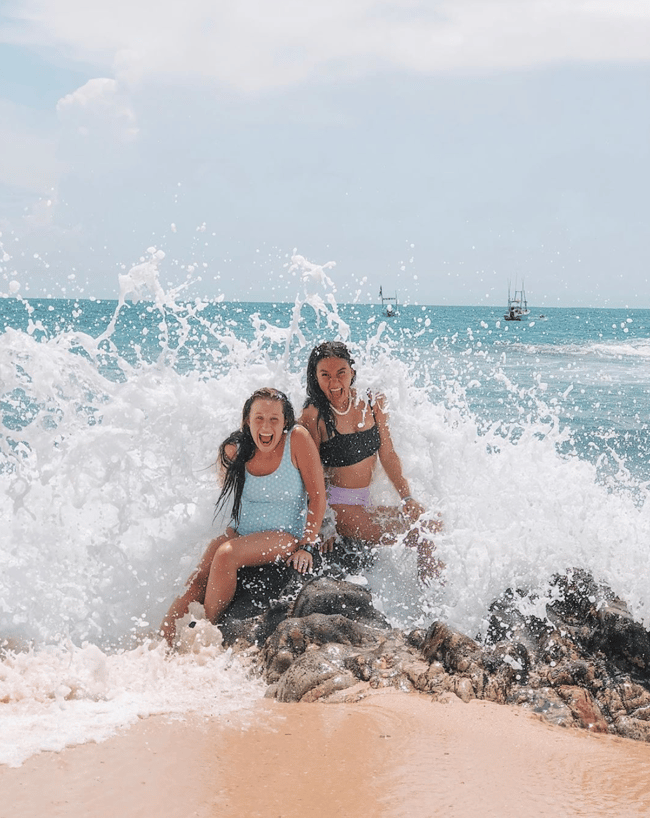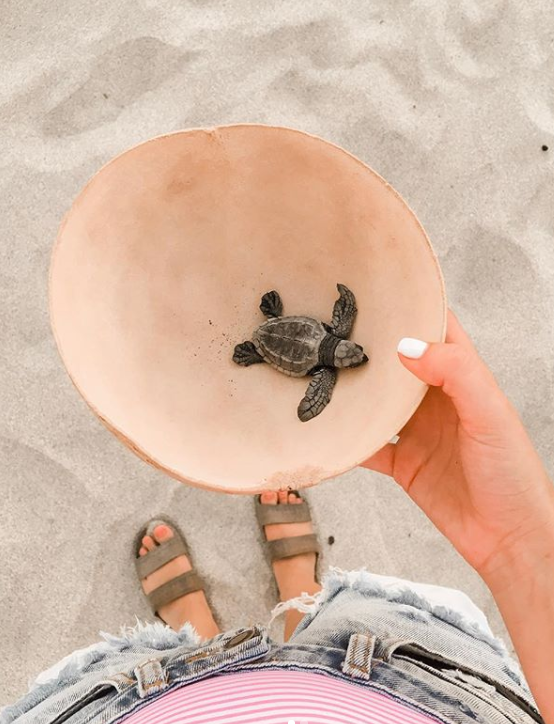 Huatulco
We're big fans of the beachy trips you can take in Mexico ... especially when you avoid the places tourists tend to crowd to have a sun-filled vacation that still feels kinda like a secret. Huatulco is just that — a region of Mexico that is hiding all the adventures you're looking for, without the crowds. Some say it feels like what Cancun was like in the 90s ... stunning beaches, lots to do, warm and sunny weather, but without all the crowds that came once Cancun got too popular.
If you know Mexico, you may realize that Huatulco is near an already favorite vacation spot, Puerto Escondido, which we absolutely love. It's found just north of the Huatulco coastline and shares so many of the perks of Huatulco.
Huatulco is not a town but a region found on the south-ish western coast of Mexico, found in Oaxaca state if you're familiar. This sprawling coastal region is made up of a few communities to center your trip around — La Crucecita, Santa Cruz, and Santa Maria Huatulco. There are nine bays cut out from the coast here, boasting over 30 beaches that are just as beautiful as you'd ask for when planning a Mexican beach vacation. Did you read that correctly? Over 30 beaches). The weather here is perfect, boasting an average of 330 sunny days per year, with warm and humid days that are ideal for exploring all there is to do here.

Here are some favorites in the area (and get your complete guide to Huatulco here).
Playa Maguey

Playa Santa Cruz

Playa La Bocana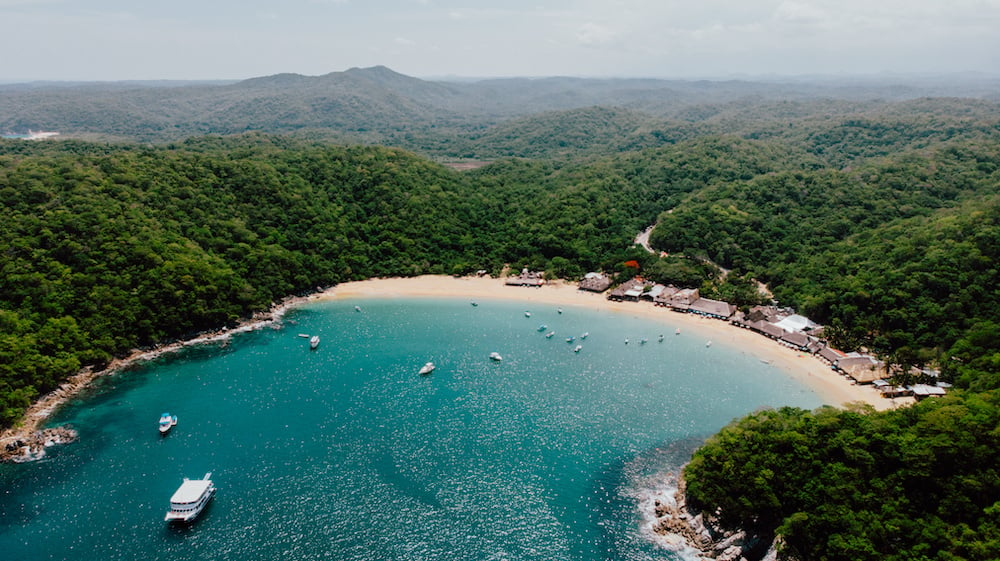 Puerto Vallarta
This resort town has a lot to see and explore and is known for its water sports. You can rent paddle boards, kayaks, snorkeling gear, and more. Or, just spend the day relaxing on the beaches with a yummy paleta (Mexican popsicle) in hand as you admire the indigo water.
The beaches you will want to check out here specifically are Mismaloya, Conchas Chinas, and Playa DeLos Muertos beach. Here's all the info for your stay in Puerto Vallarta, including more info about each of those beaches.
One downfall to Puerto Vallarta is that it's definitely "discovered" meaning everyone else wants to come here, too! You're going to find crowds and it's going to have a pretty touristy vibe to it, but the coastline is beautiful.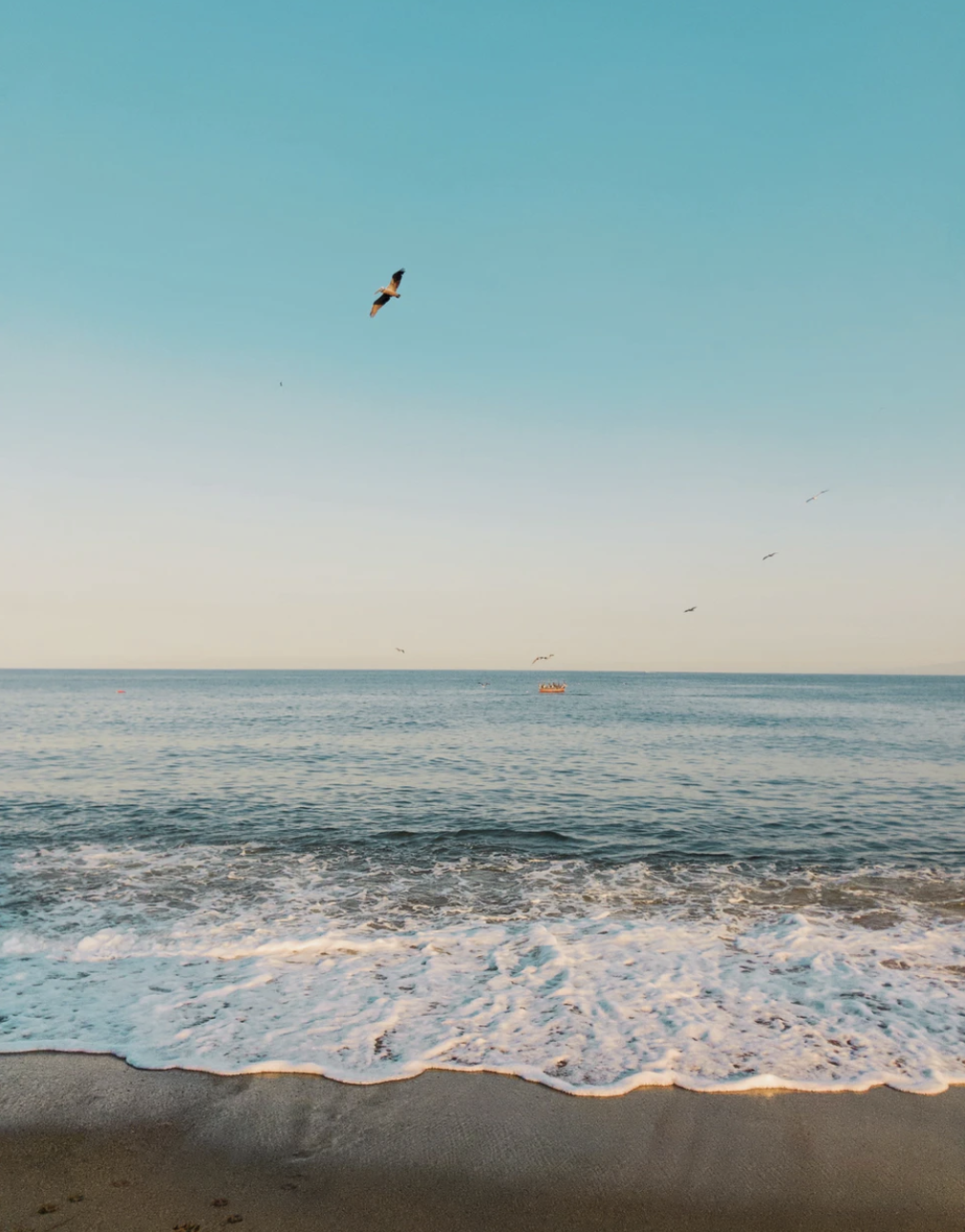 Tulum
Off the Yucatan Peninsula is a city called Tulum, which is the perfect place for someone who wants a little more than just a beach day. Right on the cusp of this gorgeous beach are ancient ruins to explore, caverns to tour, and underwater caves to snorkel through. This beach (Playa Ruinas) makes our list because you can hike between ancient Mayan ruins before climbing down a staircase to one gorgeous beaches ... not somewhere you can do anywhere!
The Yucatan Peninsula is a very popular spot for tourists, so you might need to navigate a few crowds, but it's worth it. You'll want to spend at least a couple of days here — there are tons of things to do in Tulum.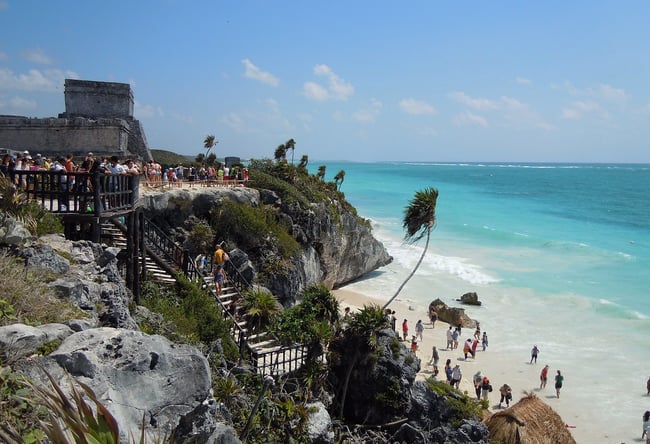 People love vacationing in Cancun, but if you're looking for a chance to get away from some of the crowds and tourism of this very popular getaway destination, there is a little paradise just waiting for you. Sure it still has resorts and tourist traps, but it also has a whole lot more charm and authentic culture. Plus the chance to snorkel with whale sharks, the beautiful beaches, and a turtle sanctuary? We think it's the perfect 1-2 day trip to add to your Mexico itinerary.
Isla Mujeres is an island only about eight miles away from the beaches of Cancun, making it the perfect day trip, or stay for longer. One side has a rocky coastline and faces the Caribbean Sea, while the other side faces Cancun and has crystal-blue water and soft, white sand. And the entire island is only 4 miles long, so it's easy to see it all on your visit. We've pulled the highlights and details to help you plan a trip here on our guide to Isla Mujeres.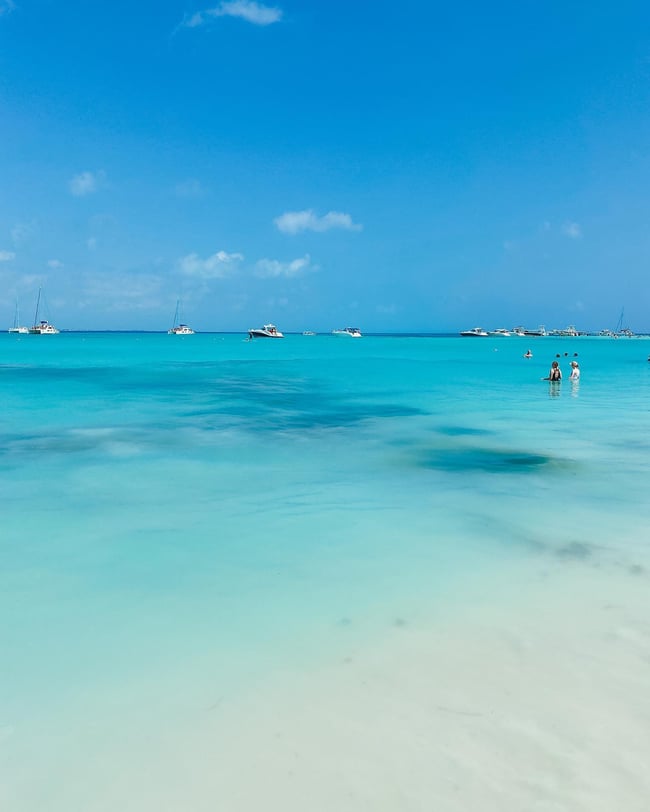 About Cancun's Seaweed
You may notice that quite a few of these favorite beach spots are around Cancun ... which means you have to know about the seaweed here. There are certain times of the year when the seaweed kind of overtakes this whole area, making the water murky and creating quite a pungent smell on these beautiful beaches around Tulum and Cancun.
This typically happens May through October, with the summer months being the worst. If that's the case when you visit, we recommend booking a snorkeling trip where you can boat to a clearer section of the beach for the day, instead of hanging out in the brown murky (and stinky) water. I'd also recommend booking a hotel with a killer pool. I visited Cancun in August and the beaches were not swimmable, so I was so glad we had an awesome pool set up because the beach wasn't an option.
The amount of seaweed does depend on a few factors like the ocean currents and wind conditions, so the level can fluctuate during those months. This Facebook page monitors the seaweed conditions for Tulum, Cancun, and Cozumel and may be worth looking at before your visit.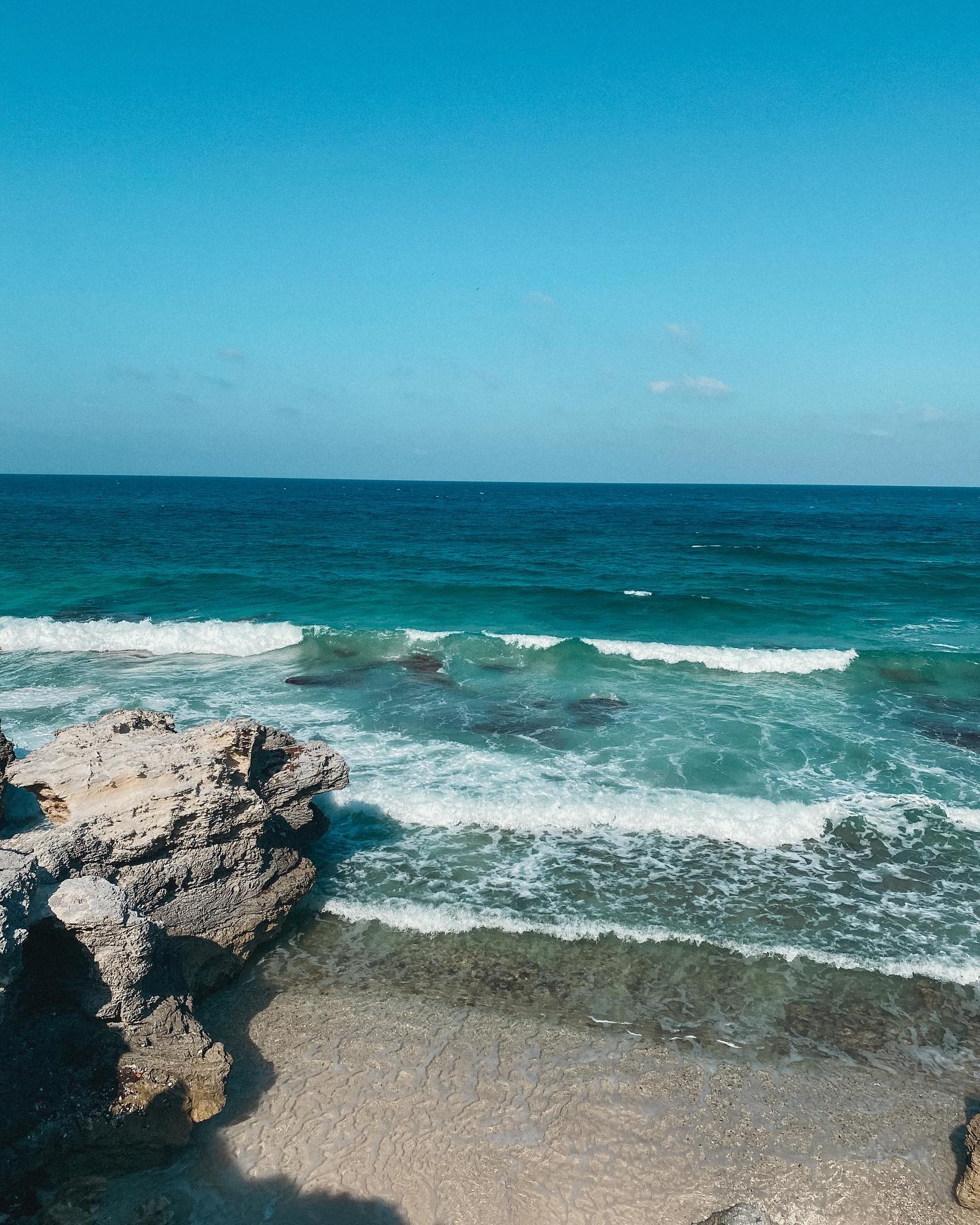 Somewhere Else To Swim
Of course, you can also pivot and take a swim somewhere other than the ocean! ILP volunteers typically take one trip to the beach during their semester because they're busy taking vacations to so many other places where you can take a swim. Here are some favorites in case the seaweed is hampering your plans or you want another "swimming suit worthy" destination while in Mexico:
The Cenotes
Picture a limestone sinkhole that's filled with bright blue water, sometimes completely surrounded by a thick green jungle. There are a few different kinds, some are partially exposed and feel kind of like a cave you can swim to from the river that flows into it. Others are completely underground (like a flooded cave), but my favorites are the open cenotes. These guys are like round swimming holes punched out right from the lush jungle (and are mad pretty).
Cenotes are peppered around several vacation sites meaning they make for an ideal afternoon swim or day trip if you're already visiting places like Cancun, Valladolid, Tulum, or Chichen Itza. There are some 7,000 cenotes, but about 900 are found near the city of Merida. Mostly, all the good ones are found on the Yucatan Peninsula if that helps you out.
You'll probably want to make your base camp at either Valladolid or Tulum. Most tourists are hanging out in Cancun, but we think you'll love the sleepier, and less crowded Valladolid instead. From there, you can take day trips to places like Chichen Itza which is just another perk.
And when it comes to staying in Tulum, lots and lots of cenotes are easily reached from there, or nearby Playa Del Carmen if you'd rather set up your vacation there.
Okay, that's the general area where you can find our fav cenotes, but it's time for the details. Check our cenote guide for a list of the coolest cenotes around, with info about where they're located, what they are close to, as well as other info like cost, price, and hours. Handy, I know.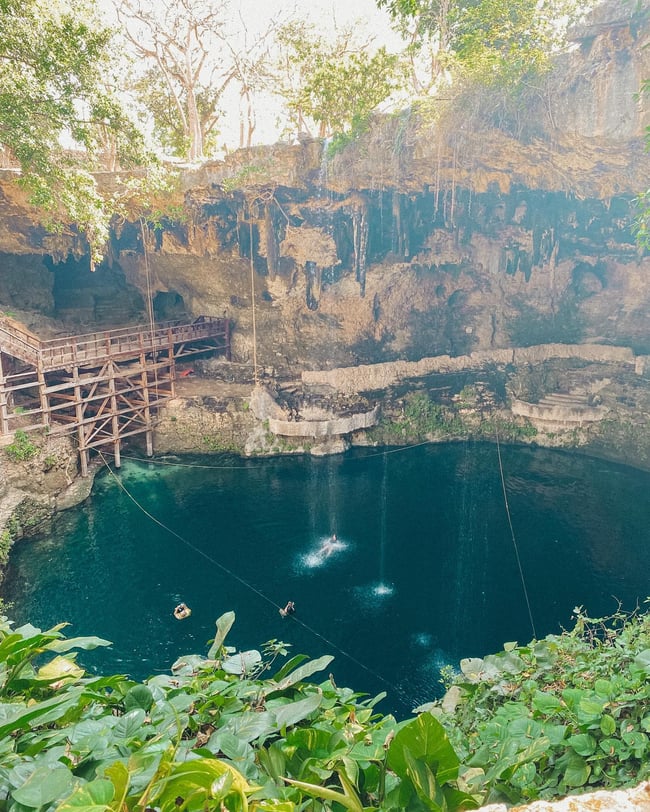 These Waterfalls
We're here to talk all about some blue, blue, blue waterfalls in a place called Huasteca Potosini in Ciudad Valles — a sprawling mountain range crammed full of waterfalls, caves, and jungles. It's these places in Mexico that convince anyone who needs to come to this country ASAP, right?
The Ciudad Valles is a huge area (about 200 miles long) so there is a lot to see and a lot of waterfalls to explore — but here are a few of our favorites if you're looking to prioritize!
El Puente De Dios

Tamasopo Waterfall

Cascada de Micos

Cascada de Minas Viejas

Tamul

El Meco
Get the whole Ciudad Valles guide here, which has some handy info on places to stay, transportation details, etc.


Lake Bacalar
Okay, so this one may technically count as a beachy spot, just know that Lake Bacalar is a lake, not the ocean ... although, it does look just as pretty as official beaches, like in the Maldives.
A few pictures of this place and you can see why it's somewhere you absolutely have to visit. The beyond blue lagoon is fringed with lakeside cabins, paddleboarding tours early enough to catch the golden sunrise over the Caribbean-esque water, and more …. this lake is our newest item on our "I love Mexico" list. And to make your trip here a breeze, we've planned it all out for you in our Bacalar guide.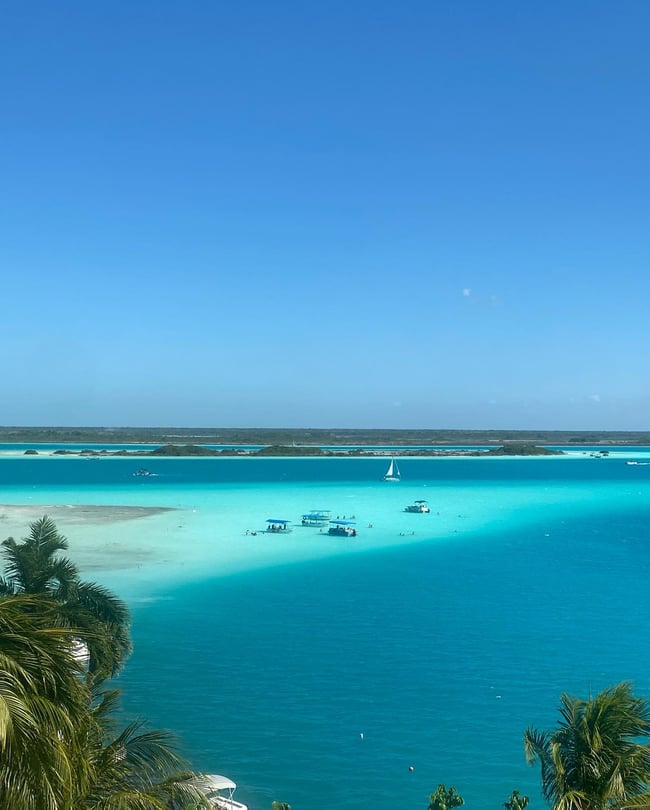 We're totally in love with Mexico.
If you're into a semester full of adventures and the opportunity to make a difference, ILP might be perfect for you! Get more info, right here: