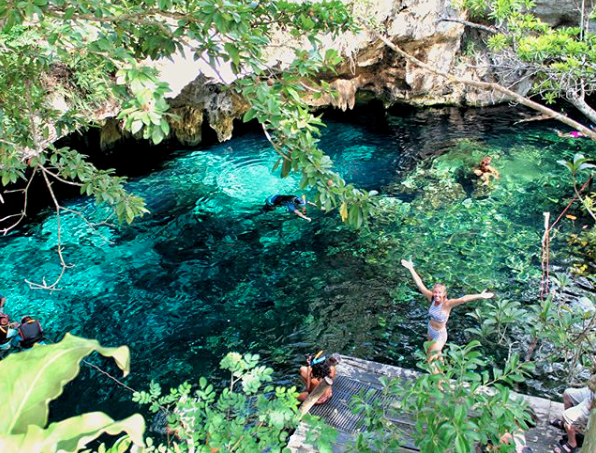 A tropical paradise called Tulum is waiting for anyone volunteering in Mexico.

Dotted with swimming holes, covered in jungles, and sporting some of the best beaches in the country is what you'll find in Tulum. This city is a favorite getaway that you won't want to miss out on. Found near the tourist hotspot of Cancun, Tulum is another option to visit if you want a slightly less touristy experience.

---
Wondering how to see the most of Mexico?
All about volunteering here with ILP
---
Tulum is an absolute gem; a bohemian beach town full of ancient ruins, sea turtles you can snorkel with, and giant underwater caves you can swim in, and one of the top beaches in Mexico calls Tulum home. Sounds like paradise, right? This is a popular place to visit in Mexico, with lots of tourists taking a few days from Cancun to see the sites, or stop off on their cruise.
Just so you know, there are ILP groups who love Tulum, and others who wished they spent just one day here before visiting somewhere else, like Valladolid. We have info below about what there is to see and do here, as well as some other pointers to help decide which things fit into your perfect Tulum itinerary:
Tulum's Highlights
Cenote Swimming
We'll let you in on a little secret ... the best part about Tulum are the cenotes. Tulum is famous for some of the world's most incredible swimming spots; the town is covered with cenotes, or underwater limestone caves.
There are a few cenotes around Tulum, but one to recommend is Dos Ojos. Translation to the "two eyes", you can snorkel in the second "eye" which is almost completely dark. You can rent goggles with a light on top that cuts through the clear water, giving you a glimpse at the stalagmites on the bottom. How cool would it be to go light free snorkeling for the day?!
The Grand Cenote is also amazing! Your hostel is likely to have tour options that include transportation and entry tickets, or you can DIY your way to these cenotes by taking a taxi. (Just know that the cenote is a 20-minute or more taxi drive away from the main beach in Tulum, with the ruins).
Get loads of info about how to get here, prices, and other info to know on this overly-detailed post about cenotes.
Pst: Some say that the cenotes in Valladolid were better (and less expensive) than the ones in Tulum, if that's helpful to know!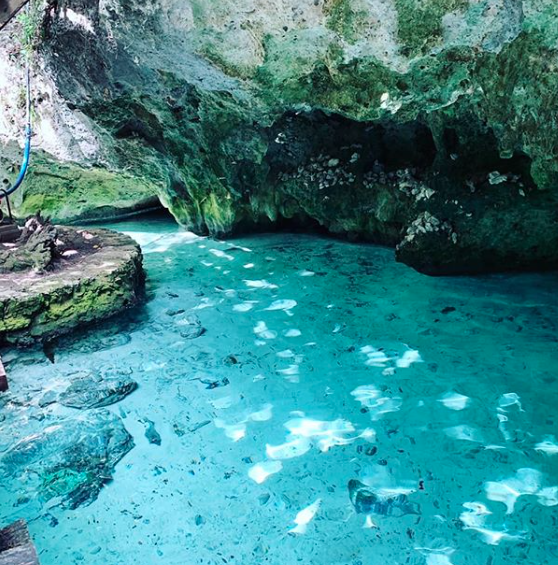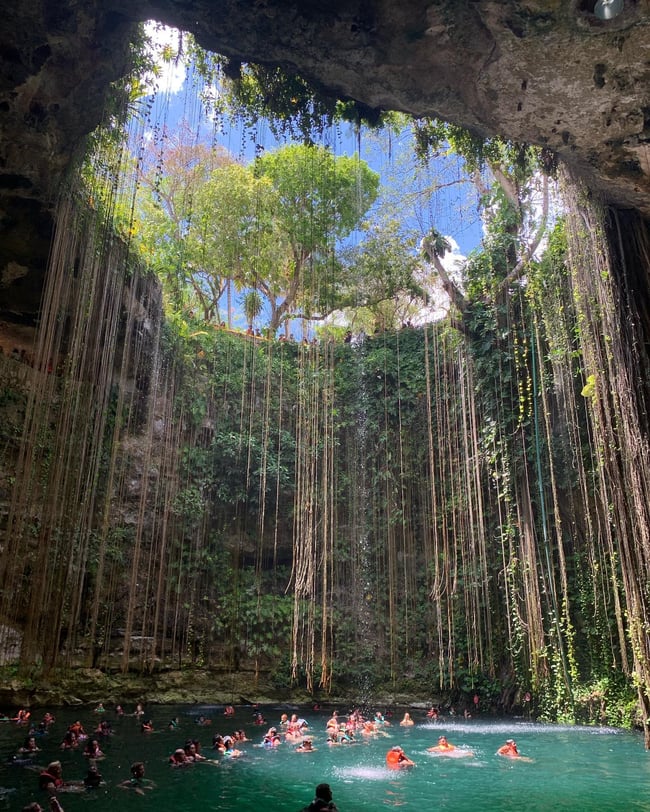 Our Favorite Beach + Mayan Ruins
If you want a vacation destination where you can hike between ancient Mayan ruins before climbing down a staircase to one of the country's most gorgeous beaches, Tulum is for you. There are loads of ruins to explore in Mexico but most include a trek into the jungle. Not here! You'll find a Mayan complex perched above Playa Ruinas. If your Spanish is a bit rusty, that's roughly translates to beach with ruins.

Cost: Depends on you. You can find multiple guides and tour companies who will take you and show you around the ruins, with a huge range in price (about $25 - $80+).

Or you can do it yourself. Pay for at taxi to the ruins and pay the 70 peso entry fee. You may need to pay 25 pesos to get from where your taxi drops you off in the parking lot to ride the tractor up to the entrance (or you can just walk). You can also hire a guide once you arrive, for about 200 - 700 pesos.
Hours: Open daily from 8:00 AM to 5:00 PM. Make sure you enter before 4:30 or you won't be able to purchase a ticket.
Tips: There isn't anywhere to change into your swimming suit, so best to wear it under your clothes and have your beach bag ready to go.
It takes about an hour to walk around the ruins and it gets very hot, so pack up plenty of sunscreen and water to keep you hydrated and sunburn-free as you walk around.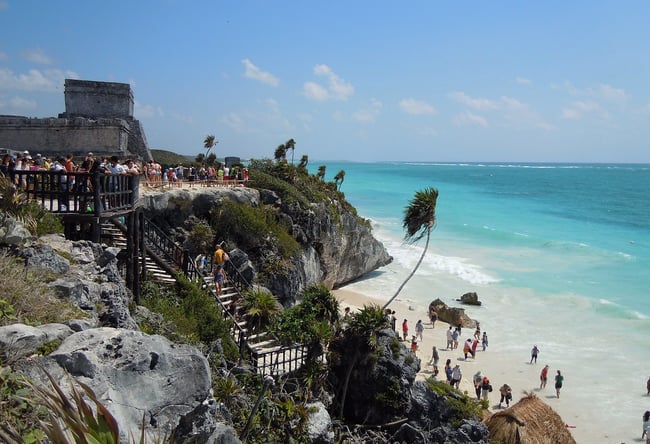 A Few Other Beaches
We love Playa Ruinas, but it can get crowded for good reason. If you want a more secluded beach, head to Playa Paraiso. You'll find that palm trees lean into the frothy waves to make for quite the snapshot. Check out a beach side yoga class at sunset to for the perfect way to end your day.
Las Palmas is another place we just love. You'll want to eat before you go (vendors and restaurants don't line the boardwalk like other beaches). It's definitely one of the most secluded beaches in Tulum which means you'll probably be able to lounge without lots of tourists interrupting your pictures.
Nearby Day Trips
See Chichen Itza
One of the reasons people visit this part of Mexico is to hang out with one of the World Wonders. You can access Chichen Itza from a few different cities, but it's easily done from Tulum. It's about 1.5 - 2.5 hours by bus and a ticket should only put you back about a few dollars. We have more information about visiting Chichen Itza here : it's fully of tips on how to visit, how to get around, how to get tickets, and some stunning pictures of this famous site.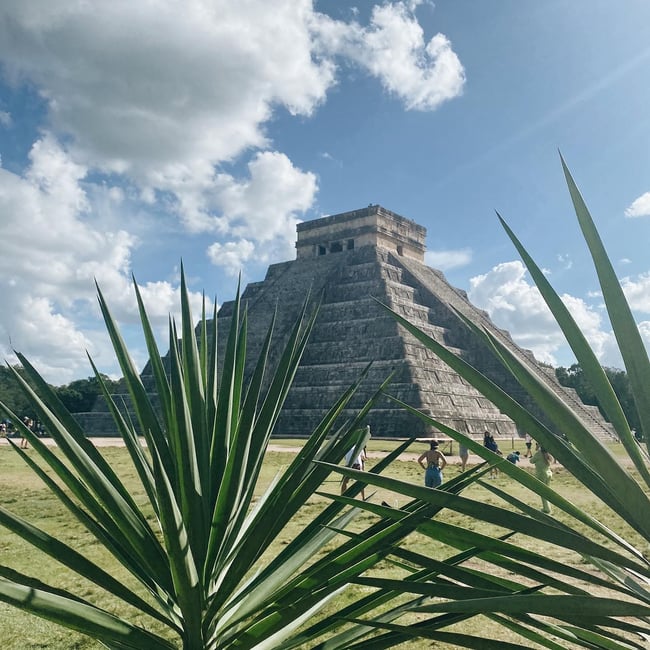 Climb the Coba Ruins
As you can tell by now, Mexico is known for amazing ruins. While these Mayan ruins are amazing to look at, most are only viewable from the base, but you can actually climb atop one these ancient pyramids in Tulum. This city has other incredible ruins (we will get to those later) but Coba is unique for many reasons and definitely worth your time.
Tucked away in a dense jungle, the Coba ruins make you feel like you stepped back into history without the crowds of Chichen Itza (the named World Wonder). Rent a bike for around $2 to bike around the huge pyramids before overcoming your fear of heights and climbing to the top!
+A few things to know:
The ruins are 44 miles outside of Tulum. An ADO Bus can take you here from Tulum or Cancun
The entrance fee is around $4 — remember to pack up lots of water and sunscreen because it gets very hot int he jungle.
There are cenotes you can swim in just 10 minutes away from the ruins. We recommend Choo Ha and Tamcach Ha. Oh, and plan on paying around $3 for the entry fee for each Cenote.
The Sleepy City Of Valladolid
Mexico is full of gems, including the pretty city of Valladolid. Plan on hopping on a bus for two hours and arriving in a city that is full of colonial style buildings in the city square, renting bikes to the churros stands on the opposite end of the main market, or wandering the colorful streets. There are also cenotes to swim in here if you want to cool off.
Quite a few of our volunteer groups end up wishing they spent more of their time in Valladolid rather than in Tulum because this is a more affordable experience, with so many cenotes and lots to do (without the crowds you'll find in Tulum).
Get our guide to Valladolid here.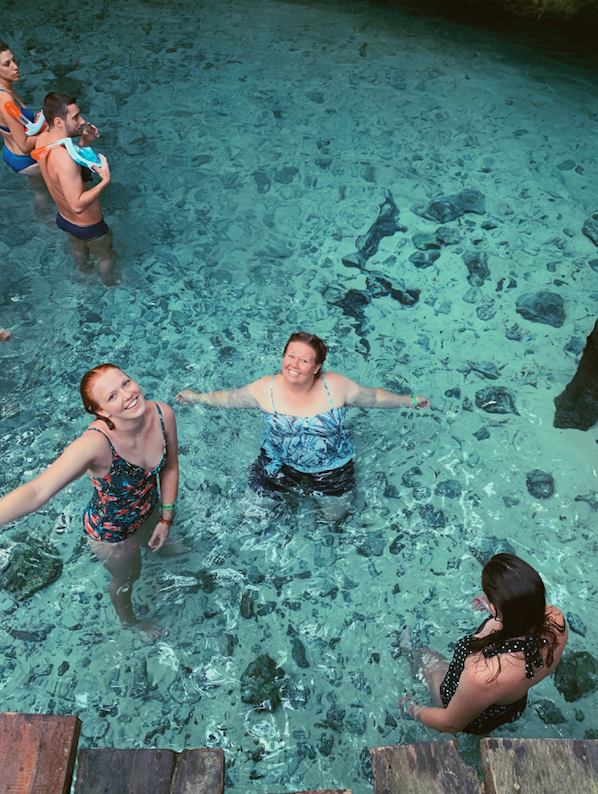 A Few Tips For Your Visit
How Long To Stay Depends On What You're Looking For
It's really up to you, but three days tends to be the best amount of time in Tulum. Maybe more if you plan on doing a day trip to Chichen Itza, Cancun, Valladolid and the Coba Ruins, and less if you just want to swim in a cenote and visit Playas Ruinas. If you want, you can get a lot of what needs to see in two days or so.

Just know that ILP volunteers in the past who have booked a vacation to Cancun and just a short visit to Tulum almost always wish they had just spent more time in Tulum rather than in Cancun. For these volunteers, they're interested in a most touristy city, and have a set plan (you'll want to figure out how far the cenote is from the beach, where to eat that's in your budget, etc).
Other groups groups mention that they loved their time in Valladolid WAY more than their time in Tulum, and wished they just saw the ruins in Tulum, then spent the rest of their time in the peaceful and quiet cenotes of Valladolid. Valladolid is more of a relaxed, very off the beaten path kind of vacation — not what you'll find in Tulum.
Just something to think about when you're planning!
Where To Stay
There are tons of options on where to stay in Tulum, but one ILP group particularly loved their stay at Hostel Babel. It very affordable if you grab a shared room, and we love that this place has A/C (you won't find that everywhere) and had free breakfast.

Another group stayed at Hostal Chalupa during their Tulum stay. We like the pool and being just over a mile from the beach.
Places To Eat
You'll find your spread of restaurants here, but some tend to be rather pricey (especially if you are hanging around the most popular beaches and ruins). In the past, ILP groups have liked dishes (and prices) at these restaurants:
Antojitos La Chiapaneca

Bonita Burgers
About The Seaweed
There are certain times of the year where the seafood kind of overtakes the whole beach, making the water murky and creating quite a pungent smell on these beautiful beaches around Tulum. If that's the case when you visit, we recommend booking a snorkeling trip where you can boat to a clearer section of the beach for the day, instead of hanging out in the brown murky (and stinky) water. This typically happens May through October, with the summer months being the worst.
The amount of seaweed does depend on a few factors like the ocean currents and wind conditions, so the level can fluctuate during those months. This Facebook page monitors the seaweed conditions for Tulum, Cancun, and Cozumel and may be worth contacting before your visit.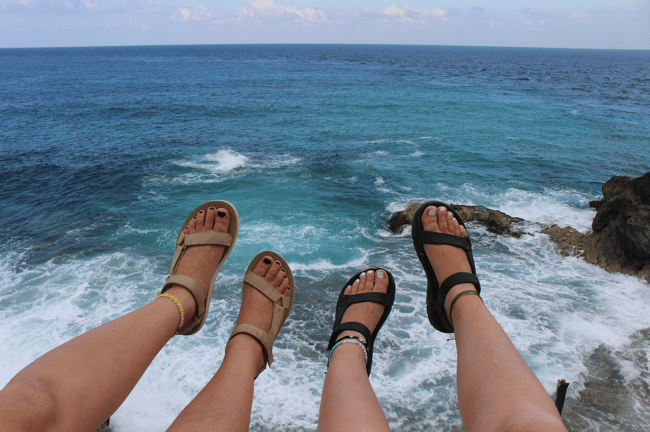 Where Is Tulum + How To Get There
Found on the Yucatan Peninsula, ILP volunteers typically bus to Mexico City before getting a flight to Cancun. There isn't an airpot in Tulum, so you'll want to fly into Cancun. If you book early, you can find prices from Mexico City to Cancun for about $100 - $180, depending on if you're visiting in the summer or in a less popular month.
We recommend heading straight from Cancun to Tulum, or only spending 1-2 days in Cancun before busing over to Tulum. It's about a two hour bus ride, with frequent buses that can take you there for under 200 pesos. Be sure to check the most accurate times, but ADO is a bus company that usually has buses from Cancun to Tulum at 6:00 AM to 10:15 PM, with buses every hour or so.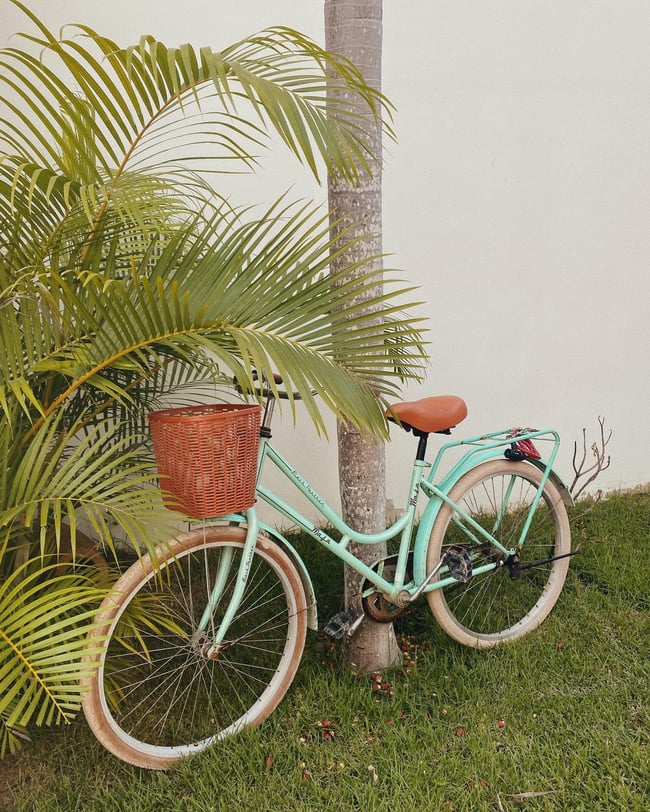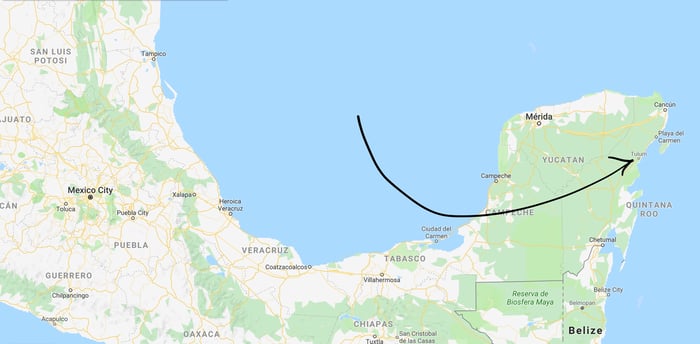 Need more info on other destinations in Mexico?
International Language Programs (ILP) gives you the chance to live and serve in countries all over the world — including Mexico. Spend a semester here traveling around on weekends and get vacation days to see even more.