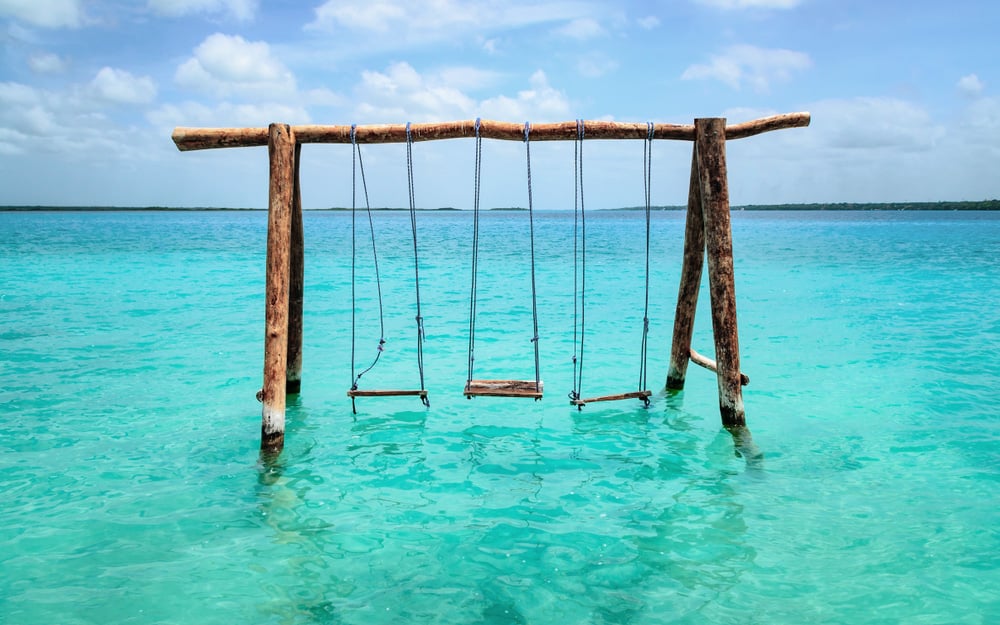 Spend a few days hanging on the turquoise water in bungalows without ever leaving Mexico. Welcome to Lake Bacalar.
Feel like you're hanging out in some ultra luxurious island chain like the Maldives without ever leaving Mexico when you come hang out on Lake Bacalar. This place is unreal, the stuff magazines and Instagrams posts are all about. Think baby-blue water, fringed with beachy bungalows and rows of swaying palm trees. After an afternoon in actual paradise, you'll wonder why any other spot in Mexico is weirdly more famous? Not sure why this gem isn't the face of all things Mexico because it's pretty much perfect. Oh, and isn't quite yet flooded with tourists. Love, love, love.


---
Come to Mexico with us!
See all the adventures waiting for you when you volunteer in Mexico.
---
A few pictures of this place and you can see why it's somewhere you absolutely have to visit. The beyond blue lagoon is fringed with lakeside cabins, paddleboarding tours early enough to catch the golden sunrise over the Caribbean-esque water, and more …. this lake is our newest item on our "I love Mexico" list. And to make your trip here a breeze, we've planned in all out for you.
Wait, This Place Is A Lake?
Yep, despite what these pictures tell you, Lake Bacalar isn't a gorgeous stretch of beach hiding in the Caribbean or in the South Pacific, but a freshwater lake. True story. Lake Bacalar is long and narrow, sandwiched on the eastern side of the Yucatan peninsula. The water is that stunning blue color thanks to a white limestone bottom. The color varies all over the 24 mile lake, with pockets of deep blue and strips of that Caribbean-esque blue.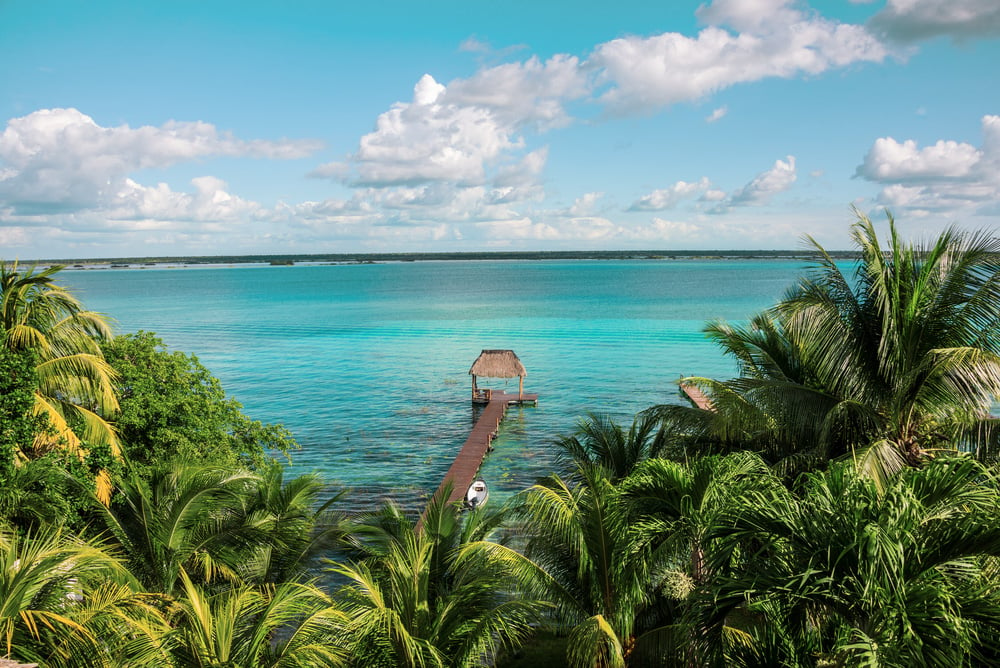 Things To Do + Around Lake Bacalar
All The Watersports
No shame if all you want to do is paddle out to the lake for a peaceful float or take snooze on the lakeside docks. Lake Bacalar is all about relaxation. But if you're up for a bit of fun, there are lots of waterspouts on the lake. Kayaking is popular, but you can also rent stand up paddle boards. There are sailing adventures you can hire out for the day, too.

You'll find quite a few tour options depending on what takes your fancy. We've talked about our favorite place to stay which has kayak rentals for free, which is a huge perk. That same place also has a paddle boarding tour, or you can book with someone else, like Paddle Bacalar. Bacalar Boat Tours is a popular option for cruising the lake via boat. Find their office at Calle 14 8, Centro, 77930 Bacalar, Q.R., Mexico. They have a 2.5 hour tour for about 250 pesos where you'll visit different sections of the lake and so some swimming — bring your own food and music for a really good time! The Gaia Experience is another tour to check out: they have sailing excursion but also offer things like tubing or wakeboarding.
This Sunrise SUP Adventure
So we'll get to the details of this place when we talk about places to stay, but we're huge fans of the Yak Lake House. They do a 6:30 AM stand up paddle board tour which is dreamy. Think about waking up early as you paddle out in time to see the golden sun crest over the calm waters. The tour also has you visiting a nearby cenote in the lake, and a paddle over to the Pirate's Lagoon for some swimming. Talk about the most ideal way to start your morning.
Their activities do change week to week (see their schedule here) but other options are just as lovely — they've been known to host sunset kayak trips, bonfires and burgers out on the beach, cooking lessons, and some day trips to different sections of the lake.
If the Yak Lake House isn't offering any SUP adventures, contact another tour operator for options.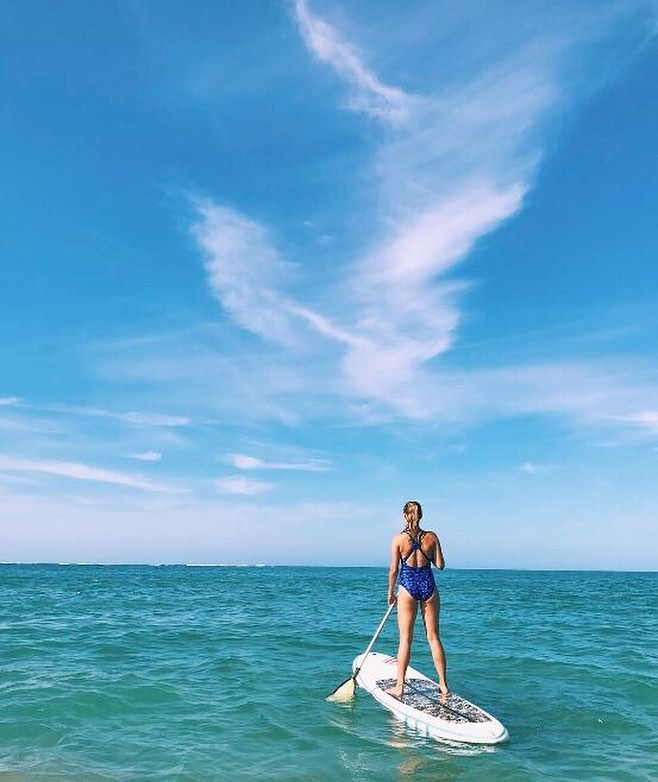 Swim In Cenotes
There are a few highlights on the lake itself, mainly a couple of cenotes which are water-filled swimming holes typically found in the jungle. Some of our favorite cenotes are in nearby Tulum by the way. But on Lake Bacalar, there are some sinkholes that are a part of the lake, making for deep blue pools under that turquoise water. Keep an eye out for signs or tours guiding you to Cenote Esmeralda, Cenote Cocalitos and Cenote Azul (which actually is a stand-alone lake just next to Lake Bacalar).
See The Pirate's Lagoon
El Canal de Los Piratas or the Pirate's Lagoon is another post to hang out. There's a big abandoned boat on the shores which supposedly was supposed to be renovated for a restaurant, but was reassigned due to some environmental concerns. Instead, it turned into a local art project, with artists coming to redecorate the structure with a nautical theme. You can climb all over the boat, or hang out in the shallow water.
The Place You Have To Stay At
The Yak Lake House
Book your spot in paradise early, because this is easily the most popular area in the hostel. Wondering why? This gem is right on the lake with a private dock, and free kayak rentals. That means you can wake up in the morning, snag a kayak and paddle through the lily-filled shallows until you reach the pristine blue water of the lagoon. Yes, please. They also sometimes have SUP tours during the day, which are also a huge hit. Need more convincing? It's a 15 minute walk from the ADO station, and within 5 minutes of some favorite places to eat. Dorm rooms start in the $18 - 22 range, book here.
Morgan House
If you can't get a stop at the Yake Lake House, Morgan House is a good second choice. Come for the rooftop hang out and the location which is right by the lagoon. There's also free breakfast with is a big perk. They're in a good location, about half a mile away from the city center so an easy walk to some of the fav restaurants. Another thing we love? The hostel has a mascot, a bulldog named Morgan who really likes to skateboard (no joke). Dorms are in the $15 range, book here.
Blue Monkey Hostel
Need another spot in this price range? Found right on the lagoon with a pier, Blue Monkey is more rustic, with reports of really bare-bone rooms that lack hot water on occasion and no A/C. It's also good to know that this spot is down at the southern edge of the lake which is away from the action. Dorm rooms are about $18 to $22 range, book here.
Where To Eat
While I'm sure you'll want to spend every second in this pristine water just lounging around, you've got to visit the Bacalar town, at least to try out a few restaurants.
Mr. Taco
Come for tacos, obviously. Supposedly the most authentic place around, you can get plates of beyond yummy tacos, quesadillas, and burritos. Test out options like shrimp burritos, a cream and spinach option, ceviche tostadas, and a thick and spicy mole that's good on pretty much everything. It's a total favorite you'll want to eat at a few times, especially since they keep prices low.

Address: Centro, 77930 Bacalar, Quintana Roo, Mexico
Hours: No set time, but open for lunch and dinner.
El Manati
Brunch was made for days on vacation, right? You'll find a rad, hippie vibe on this popular breakfast and brunch spot serving up dishes like top notch smoothies, good coffee and cappuccinos, plus local favorites like fish tacos, coconut ceviche, eggs with tortillas and beans, omelets, and piles of fresh fruit options. Yum. There are also perks like free WiFi, outdoor seating in their little garden area, an art gallery, and help booking tours around the lake if you ask.
Address: Calle 22 116, Centro, 77930 Bacalar, Q.R., Mexico
Hours: 8:00 AM to 3:30 PM
El Pejelagarto
A favorite for all the good reasons — fabulous guacamole, fresh ceviche, dishes like coconut shrimp, and lots of options for the catch of the day. The location is right by a busy road which can cause some noise but the food really is so good it kinda cancels that out.

Address: Calle 19 Libramiento 92, Luis Donaldo Colosio, 77930 Bacalar, Q.R.,
Hours: 8:00 AM to 7:00 PM
Getting To Lake Bacalar
From Cancun
This is a perfect trip to tack on if you're in the Cancun area. Hop on an ADO bus to Bacalar. It's about a 4 to 5 hour drive south, and costs around $25 USD for a one-way ticket, with several departures each day. Book your tickets here. Get more info on Cancun right here if you'll be spending some time in this popular city.
From Chetumal
If you're nearby in Chetumal, it's only a 45 minute bus ride, which can also be booked on ADO but for about $2 - $5. Book your tickets here. Or you can split a taxi if you're traveling with a group which is typically in the $40 or $50 range on the high end of things, which you can split.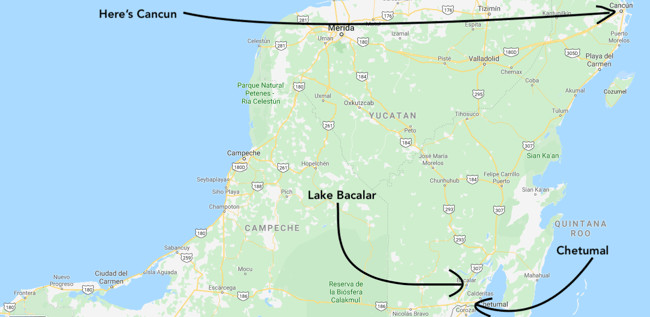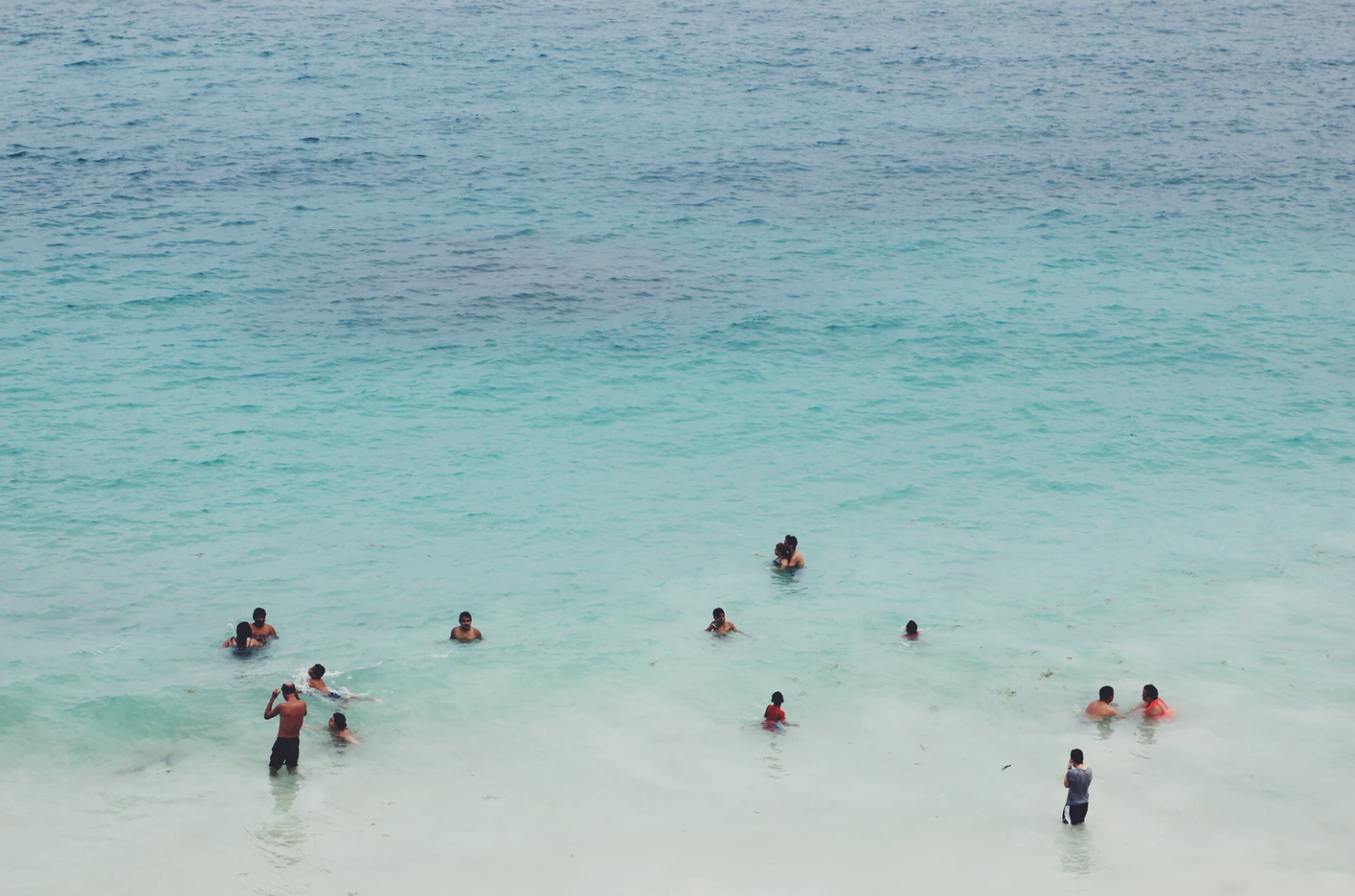 Come to Mexico with us!
We're accepting applications for a semester in Mexico — come volunteer here and have weekends off plus vacation days to travel all around Mexico and Central America.