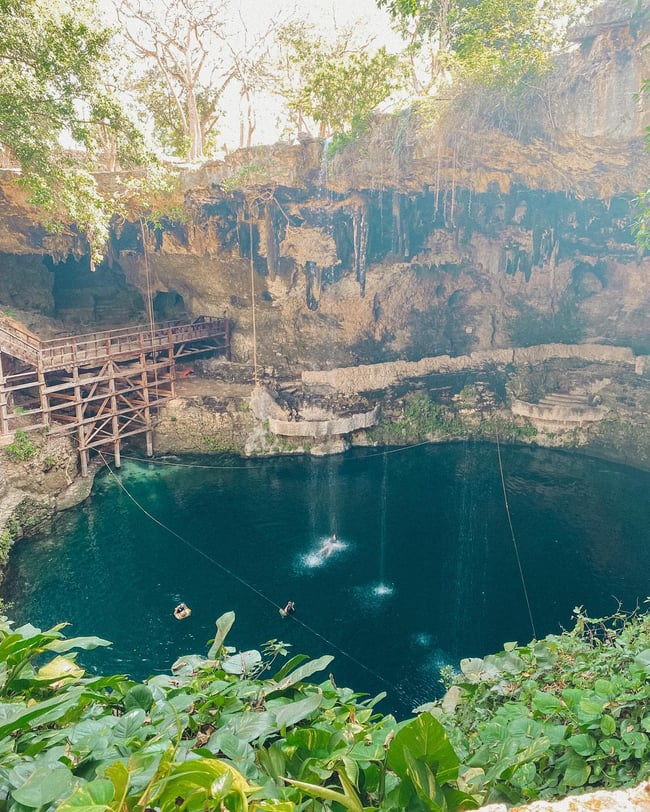 Okay, we've bragged long enough about the magic cities you can visit on the weekends, the hot springs hiding the mountains, turquoise waterfalls, and pretty beaches — it's time that cenotes got the spotlight.
I have good news for ILP volunteers heading to Mexico! Not only are you headed for a semester full of what is officially the best country with the best food (can you say no to churros and tacos?), it's also one of the most affordable … and one with the most adventures … and the country with everything from the desert to jungles, to beaches, and more. It's certainly a country to brag about, that's for sure
---
You + Mexico Sounds Like The Perfect Match
All About Volunteering In Mexico
---
But it's time for all of those perks to move aside because cenotes might be the best selling point Mexico has to share with the world. These are so rad, I'm not quite sure why everyone isn't obsessing over them (one of these swimming spots is called the "temple of doom" and I can't be the only one who doesn't think that's seriously rad). They're going to be the highlight of your semester, I can feel it.
First Off, What Are Cenotes?
Picture a limestone sinkhole that's filled with bright blue water, sometimes completely surrounded by a thick green jungle. There are a few different kinds, some are partially exposed, and feel kind of like a cave you can swim to from the river that flows into it. Others are completely underground (like a flooded cave), but my favorites are the open cenotes. These guys are like round swimming holes punched out right from the lush jungle (and are mad pretty).
Now they're used as swimming and caving spots, but some used to be important religious sites for the Mayan people. Some historians have found evidence that the Mayan god of rain, lightning, and thunder visited cenotes, and led temples and villages to be built nearby.
Oh and you can officially sound like an expert once you know how to say it right: "sey-NOH-tay".
Where Can I Find Them?
Good news, these guys are peppered around several vacation sites meaning they make for an ideal afternoon swim or day trip if you're already visiting places like Cancun, Valladolid, Tulum, or Chichen Itza. There are some 7,000 cenotes, but about 900 are found near the city of Merida. Mostly, all the good ones are found on the Yucatan Peninsula if that helps you out.
You'll probably want to make your base camp at either Valladolid or Tulum. Most tourists are hanging out in Cancun, but we think you'll love the sleepier, and less crowded Valladolid instead. From there, you can take day trips to places like Chichen Itza which is just another perk.
And when it comes to staying in Tulum, lots and lots of cenotes are easily reached from there, or nearby Playa Del Carmen if you'd rather set up your vacation there.
Okay, that's the general area where you can find our fav cenotes, but it's time for the details. We've pulled the coolest cenotes around below, with info about where they're located, what they are close to, as well as other info like cost, price, and hours. Handy, I know.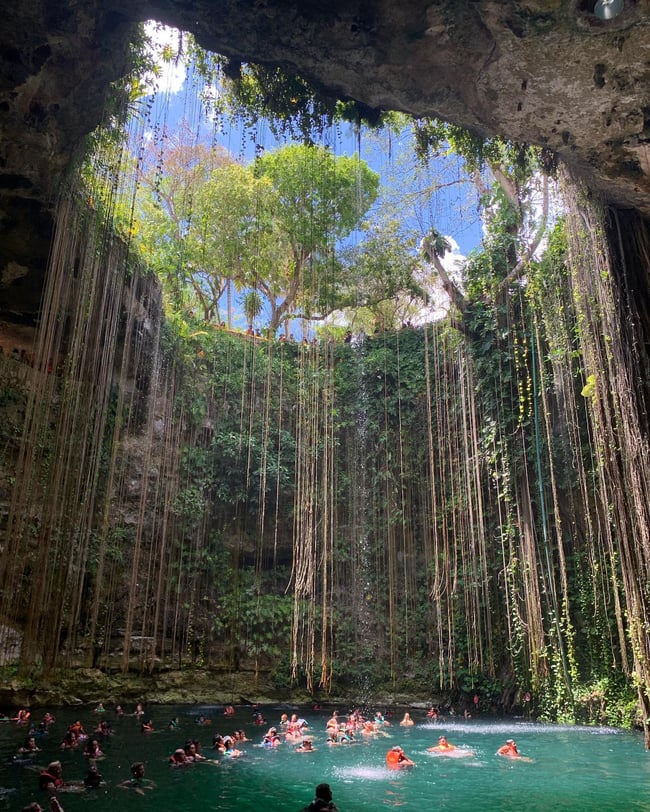 The List Of The Coolest Cenotes
Cenote Ik' Kil

— Near Chichen Itza (Or Valladolid)
This is easily the most famous and popular cenote, most likely because it's a stunner and it's very close to the world wonder, Chichen Itza. The two are so close, many groups will just bundle a visit to Chichen Itza then take a bus of tourists over for a quick swim in Cenote Ik'Kil. This iconic cenote is a deep sinkhole, filled with gem-like dark blue sapphire water. It's a deep sinkhole, so you'll need to descend to the water via staircase from the thick jungle above.
Good to know? Lots of tours visit this place, but not after 4:00 (or first thing in the morning). Best to visit then if you want a less crowded swim. You can also rent a towel and life jacket, and there are lockers to rent as well (pitch in with your ILP group!) and bathrooms and changing rooms to use.
Another pro tip? Rent a life jacket! The water is so deep, you'll be treading water the whole time without one.
Getting Here: You can head there with a tour, but you can also go on your own. It should be about $4 to get a 10-minute taxi from Chichen Itza to the cenote.
You can also get here from Valladolid. Plan on about a 40-minute ride if you hop on an Oriente bus (the bus station is on the corner of Calle 46 and Call 39). They have lots of buses each day and routes start at 8:30 AM, running about every hour. Tickets are 33 pesos.
Hours: 9:00 AM to 5:00 PM, daily.
Cost: 80 pesos (pay in cash)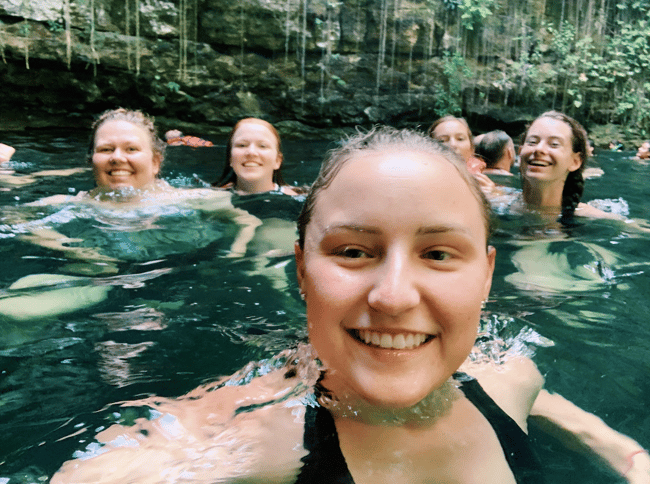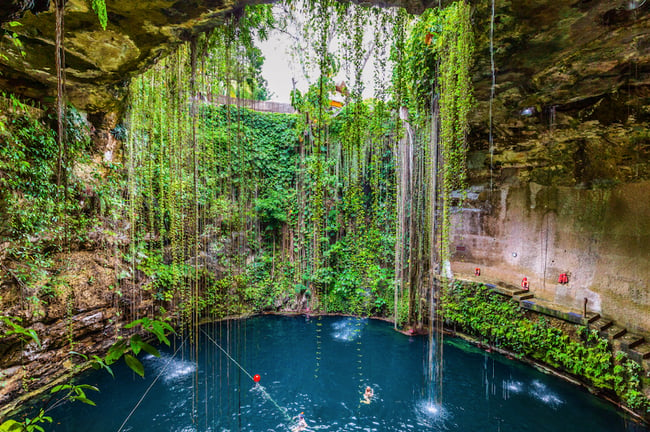 Cenotes Samula and Dzitnu

— Near Valladolid
Found in an ecological park, both cenotes are very similar and make for a fun afternoon trip from a city we can't get enough of — Valladolid. Both cenotes are almost completely underground, with blue water found deep into limestone caverns dripping with stalagmites. There's a hole in the ceiling of this cavern that allows streams of sunlight in, lighting up the space. If you visit Samula earlier in the day, it makes for a pretty picture.
Getting Here: From Valladolid, we love riding bikes here! Around town, you can find bike rentals for around 100 pesos and it's about a 25-minute ride to get to the cenotes. Ride on highway 180 before turning south on Dzitnup Road until you see signs for X'Keken Ecopark. You're in the right place — X'Keken Ecopark is another name for Cenote Dzitnu. It'll be on your right.
You can also take a taxi here for about 100 pesos, split between up to four people.
Hours: 8:00 AM to 7:00 PM, daily.
Cost: It's 80 pesos to visit one, and 125 pesos for both. If you just want to visit one, visitors say head to Cenote Samula.
Cenote Zaci

— Near Valladolid
Ah, this could be our favorite cenote around. It's a huge swimming spot, half covered by a cave and half open to the sunshine. There's a stone walking path that goes around the cenote, letting you choose where you'd like the jump in. The water here is deep (almost 100 meters at some points) and is filled with little fish that nibble on your toes if you leave them in long enough.
There are a couple of facilities around (like bathrooms for a small fee) and the chance to rent a life vest if you'd like. There aren't any changing rooms, so best to come already in your swimming suit.
Getting Here: It's close enough to walk, just less than 10 minutes from the main square.
Hours: 8:30 AM to 5:30 PM, daily (but some report that this place tends to open or close about 30 minutes earlier/later than posted on occasion.
Cost: 30 pesos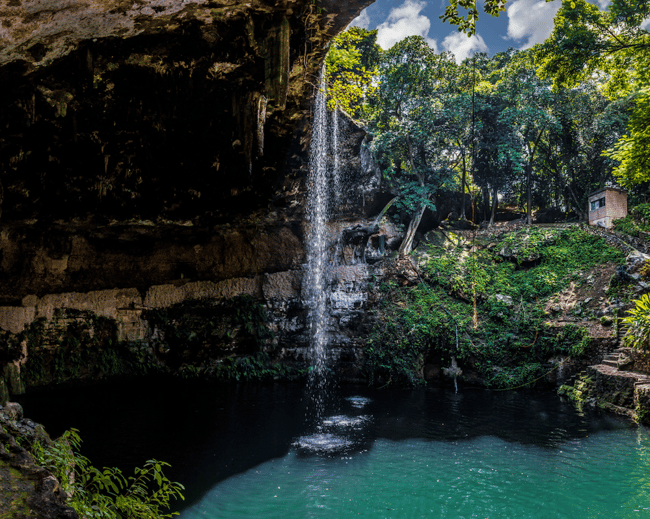 Cenote Azul
— Near Playa Del Carmen
Cenote Azul is one of the prettiest places to take a dip in Mexico, boasting a huge open-air cenote that's like a natural swimming pool filled with turquoise water. It's a popular spot for families and tourists, found just outside of Playa Del Carmen. There are platforms rimming the edge of the water of the main swimming section, but you can find a couple of smaller pools on the short walk from the entrance to the biggest section. The depth varies, with sections that are about waist-high (or more shallow) and sections deep enough to dive into. See why this place is so popular?
You can rent life jackets and towels, and there is a small snack bar where you can get a little something to eat. There are also bathrooms and showers you can use for a small fee.
Getting Here: From Playa Del Carmen there are Colectivo buses that are your best option. Catch one heading south (on the Cancun-Tulum road). Tell the driver you want to get off at Cenote Azul and they'll make it happen. On the way back, you'll need to hail a bus to take you back to Playa Del Carmen. Tickets are about 40 pesos.
Hours: About 9:00 AM to around 5:00 PM
Cost: 120 pesos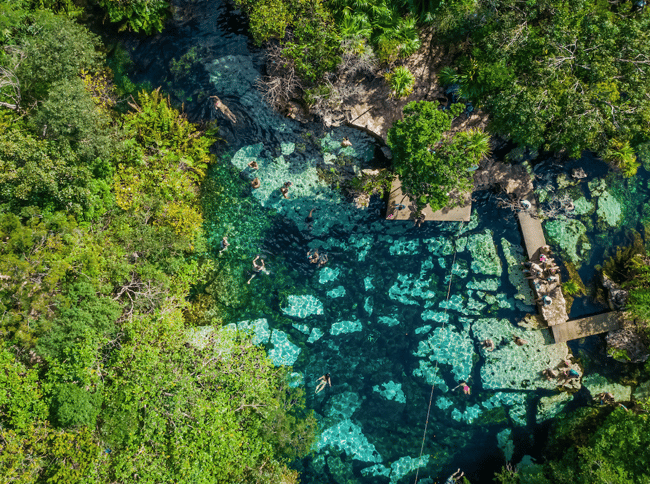 Cenote Dos Ojos
—Near Tulum / Playa Del Carmen
Take the wooden staircase down and settle into the views you can only get at this cenote — it's one of the most picturesque, with incredibly clear and blue water that you won't be able to wait to dive right into. Cenote Dos Ojos is mostly covered by a rocky limestone cave and it's common to see a few bats flitting in and out while you swim (so cool!).
If it's good to one, one volunteer group said Dos Ojos was their least favorite Cenote: it's one of the most expensive and the water is colder than the others on this list, just as a heads up.
Getting Here: Best reached from Tulum or Playa Del Carmen. From both, you can find tour companies who will take you out for the day, but that's the most expensive option.
From Tulum, you can get here via Colectivo, which are shared taxis. There are Colectivos found on the highway 307 that are heading north from Tulum towards Playa Carmen … best to talk to your hostel about catching one and back (they'll drop you off on the side of the road and you'll need to make the 1 mile walk to the actual entrance).
Taxi is also an option but will set you back around 200 pesos (or 300 pesos if you're heading there from the beach in Tulum). It's about 30 minutes away.
From Playa Del Carmen you're planning on a 45-60 minute drive to get there. You can also go by collective, but a taxi is going to be more direct (and more expensive). Plan on paying about $50 USD for the way there. Some tourists opt to hire a private driver for the day (around $150 USD by some reports) which would be less expensive than a taxi if you used it to visit a few other cenotes on this list.
Hours: 8:00 AM to 5:00 PM, daily.
Cost: about 350 pesos, making it one of the pricier cenotes to visit. You can rent snorkel gear for about 120 pesos.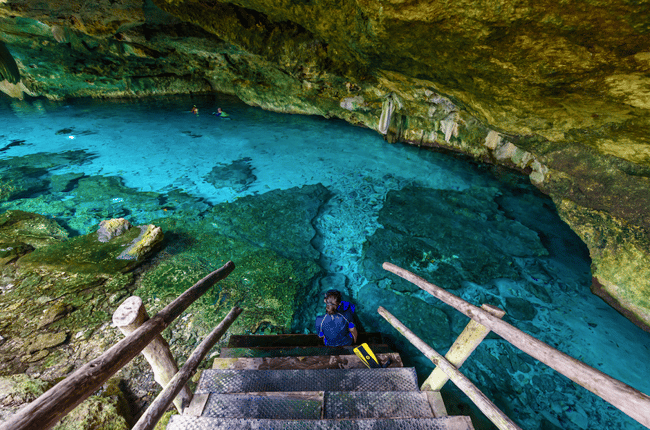 Gran Cenote
— Near Tulum
The Gran Cenote is another popular option and you can see why after a couple of pictures of this place. There is shockingly blue water that's clear enough for snorkeling … good news if you want to spot some of the little turtles swimming around. Seriously the water here is ah-mazingly clear. It's a cave-like swim with insanely blue water that makes for a photogenic and refreshing swim. Look out for bats! It's quite possible you'll spot them.
Find bathrooms, changing rooms, and lockers to use, as well as snorkel rentals if you didn't bring your own equipment. You can also find a small little snack shop as well as picnic tables you can use if you brought your own lunch. You can find vendors selling waterproof phone cases outside for around 100 pesos (we suggest having one you brought with you or test your luck with these before swimming, you'll want pictures while you're in the water!).
Getting Here: It's very close to the center of Tulum. Loads of tours can take you there, but I'd rather save money and stay as long as I want by taking an ADO bus. They leave from Tulum and will stop at the Gran Cenote if you ask. If you can find a bike to rent, it's only about a 30-minute ride, or you can snag a taxi here for about 100 pesos.
Hours: 8:00 AM to 4:45 PM, daily.
Cost: 180 pesos for the entrance ticket. Snorkel rentals are 80 pesos and lockers are 30.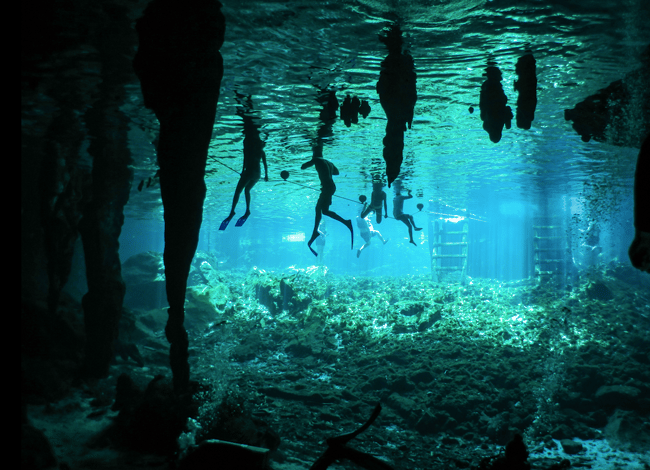 Cenote Calavera
— Near Tulum
Who wouldn't want to swim in a spot nicknamed "the Temple Of Doom"? This cenote is particularly enchanting because the only entrance is via holes in the limestone — there's a ladder installed for you to climb down into the crystal clear pools below. Or you can brave the jump down! There are a few spots where you can jump through the rock to the water below, plus there is an iconic swing for some cool pictures. Some say the three holds in the rock resembles a skull, giving the cenote that captivating name.
This cenote is pretty barebones, with restrooms but not much else. Sometimes you can find snacks and drinks for sale, but there aren't any separate changing rooms or lockers for you to stash your stuff. This place is also less popular than the Gran Cenote, so hopefully, you'll avoid some crowds by visiting this swimming spot.
One volunteer said this was their absolute favorite Cenote to swim in, if that helps you narrow down which ones to visit.
Getting Here: A taxi will be about 100 pesos or you can bike it in around 20 minutes from Tulum.
Cost: 100 pesos
Hours: 9:00 AM to 4:00 PM, daily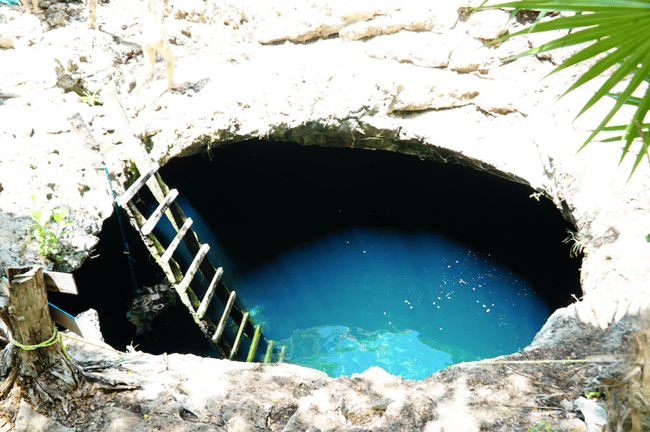 Cenote Carwash
—Near Tulum
Ready for another cenote by Tulum? It's the place to be if you love these swimmable-sinkholes, that's for sure. This cenote's official name is Cenote Aktun Ha but is nicknamed the "carwash" because there used to be a carwash nearby that was a pretty good landmark. But onto the details about the actual cenote, which is a stunner. It's a big open pool of water that's clear enough to snorkel in, rimmed with the limestone that creates these sinkholes and a fair bit of jungle.
There's a platform where you can dive right into the water, but not much else. It's a rather bare-bones cenote which means you won't find too many crowds, but there isn't much else besides the ticket counter, a restroom, and a changing room.

Getting Here: Taxi is an option (it would be about a 15-minute drive) or take a Colectivo heading from Tulum to Coba. Just tell the driver you want to be dropped off at Cenote Aktun Ha.
Cost: 50 pesos
Hours: 9:00 AM to 5:00 PM
Stuff To Know Before Swimming
About Your Sunscreen
Remember, each of these cenotes is a freshwater source, and many have signs reminding visitors to take a shower before visiting to remove any harmful skincare products or sunscreens which could damage the floral and fauna. Not all cenotes have showers available, so you'll want to rinse off at home before leaving or avoid using anything that could be harmful.
Do Some Snorkeling
Some of these cenotes have clear blue water, filled with a few different kinds of fish. It makes for prime snorkeling in a really unique setting. It's best to check before though — some cenotes have murky water that is just best for swimming (Cenote Zaci is one of those). Gran Cenote, Cenote Azul, Dos Ojos, and Cenote Calavera, are all clear pools that you may want a mask for. The best spots do let you rent out snorkel gear if you don't want to bring your own.
About Snacks And Stuff
Most of these locations have a small snack shop near the ticket booth, while others have a more established restaurant. You're also okay to bring your own picnic for the day if you'd rather not count on what you can find there.
Planning Your Time There
Each of the cenotes has their own opening hours, but most tend to allow the last visitors in about 30-45 minutes before closing. Other visitors have also mentioned that if you want to avoid the crowds, arrive right when they open or about an hour before they close.
How much time you want to spend swimming is up to you, but 2-4 hours is kinda the sweet spot for most.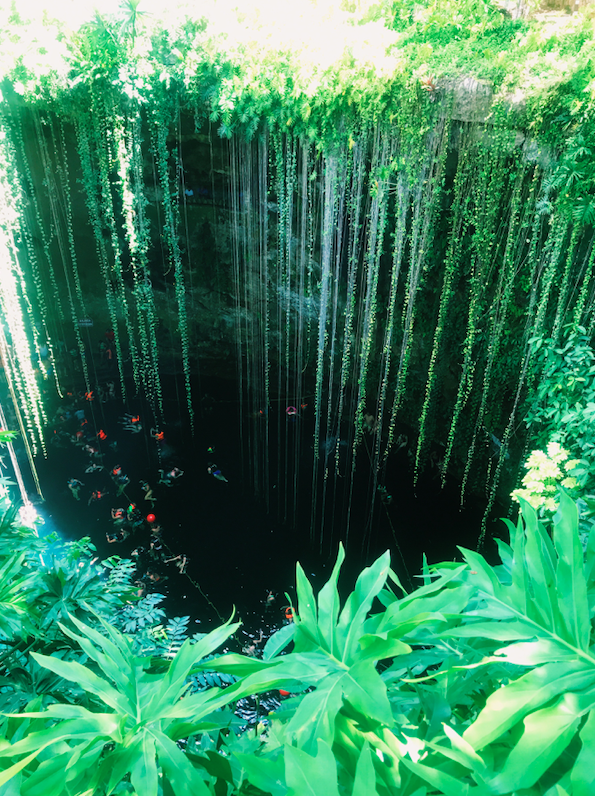 Who are these lucky ILP volunteers heading to Mexico?
Come join the club! ILP's a non-profit organization based in the US, with years of experience sending college-aged volunteers abroad for a semester of traveling and teaching English. You're only teaching part-time (no experience necessary), with weekends off and vacation days to travel all around Central Mexico.
If that sounds like your kind of adventure, come get all your questions answered in one place.