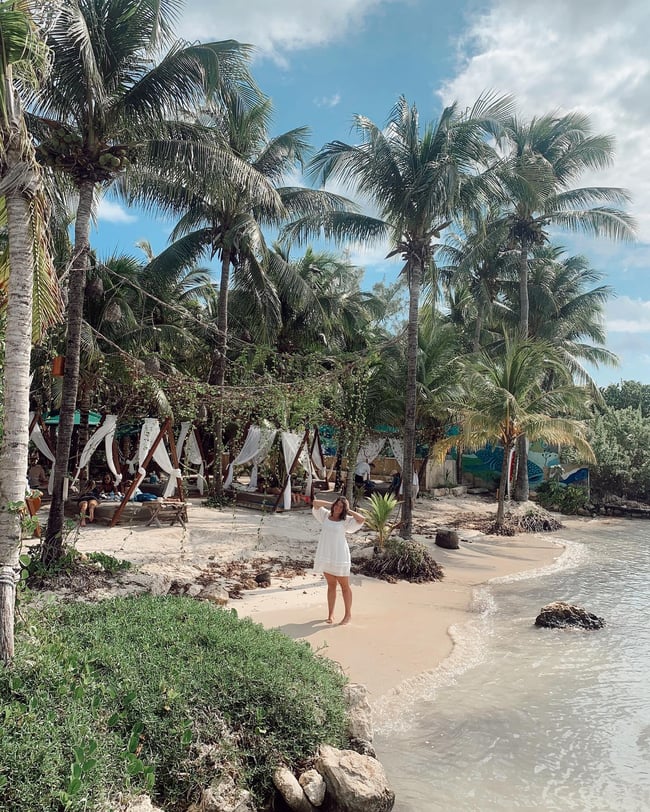 Soaking up some weekend sun in Cancun, Mexico? Make sure you spend one of your days on this pretty little island that's just a boat ride away: Isla Mujeres!
People love vacationing in Cancun, but if you're looking for a chance to get away from some of the crowds and tourism of this very popular getaway destination, there is a little paradise just waiting for you. Sure it still has resorts and tourist traps, but it also has a whole lot more charm and authentic culture. Plus the chance to snorkel with whale sharks, the beautiful beaches, and a turtle sanctuary? We think it's the perfect 1-2 day trip to add onto your Mexico itinerary.
---
Here's how I could afford to spend a whole semester traveling
How To Pay Less For A Semester Abroad
---

Isla Mujeres is an island only about eight miles away from the beaches of Cancun, making it the perfect day trip, or stay for longer. One side has a rocky coastline and faces the Caribbean Sea, while the other side faces Cancun and has crystal-blue water and soft, white sand. And the entire island is only 4 miles long, so it's easy to see it all on your visit. We've pulled the highlights and details to help you plan a trip here, below.
Everything To Know About Isla Mujeres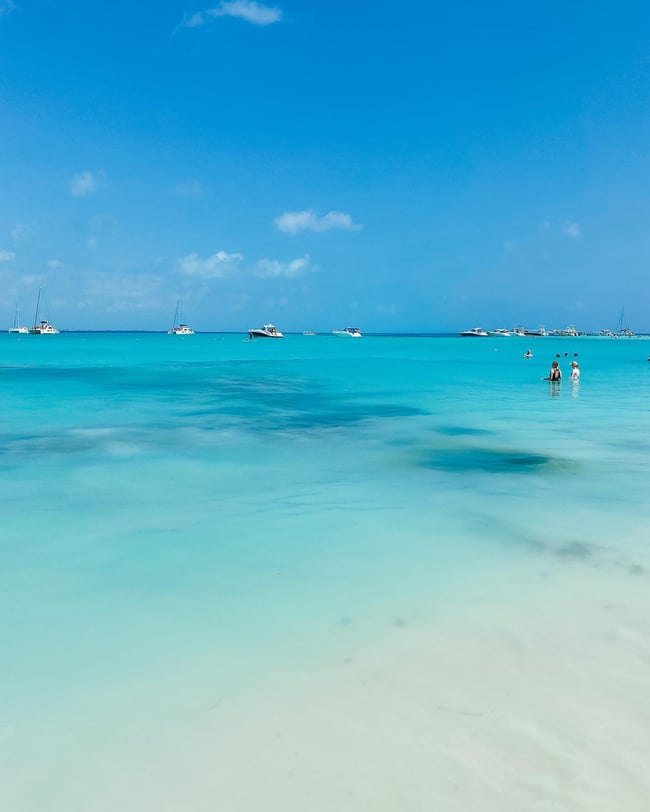 The Best Things To Do
Snorkel With Whale Sharks
One ILP groups said this was the best experience they had in their whole semester in Mexico — snorkeling with whale sharks! Amy said "it was so awesome — I seriously felt that I had a spiritual experience in the water being so close to a huge animal like that". It's a popular thing to do on this dreamy island, so keep one out for vendors who will take you out for the day.
These beautiful animals migrate through the Mexican Caribbean through June to September, making it the best time to go snorkeling to hopefully spot (and swim besides) a whale shark or two. These giants can be over 40 feet in length, and have unique spots that aren't shared by any other whale shark.
Snorkeling with whale sharks is a big thing to do on this dreamy island, so keep one out for vendors who will take you out for the day. Below, we have a hostel recommendation that has a pretty good deal that our ILP volunteers have used in the past if you want to book with them (and are visiting in the summer months, during the migration).
+ Other Snorkeling
Other volunteers have loved snorkeling here, with companies that don't do the whale shark thing. Plan on tours that are a half-day adventure (lunch included) for around $40.00. Other groups have booked via Viator or talked with their hostel upon arrival. One group went with Island Adventure Mexico and loved it.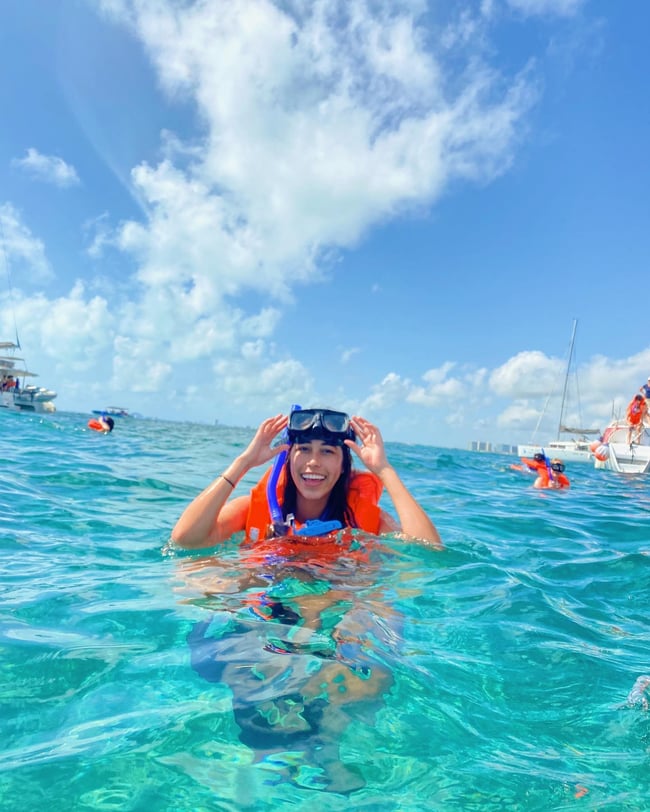 Explore Iguana Caves
Called the Statue of Ixcel, find this gem on the very southern tip of the Island. In the words of one volunteer, "Visiting Punta Sur on Isla Mujeres is a MUST.". It's a set of ruins home to a temple which honors the Mayan goddess responsibile for fertility, happiness, and the moon.
You'll find a handful of carved women statues on the island used to worship with Ixchell goddess. There are hidden cliffside beaches which are quite stunning, and quite fun if you enjoy spotting iguanas hanging out on the hot rocks (or in the nearby caves).
Walk along the winding path (with the wood railing) that takes you down to sea level, and some pretty stunning views. Make sure you stand on "Cliff of the Dawn," the eastern most part of Mexico that is the first point in the country to be touched by the sun each morning.
This place is easily reached by taxi (you can pay to have them wait, or just walk back).
Visit The Turtles
If you didn't spot turtles on your snorkeling trips, you can easily visit them at this sanctuary. Tortugranja, the turtle sanctuary, is about to make all of your turtle dreams come true. In order to help preserve the species, these turtles are kept in the pools at this facility from the time they hatch until they are one year old. The babies are kept inside, along with other marine life like starfish, seahorses, and crabs. Check out this website for more info.
Cost: Definitely worth a $3 visit!
Hours: Usually 9:00 AM to 5:00 PM daily.
Address: 77400 Quintana Roo, Mexico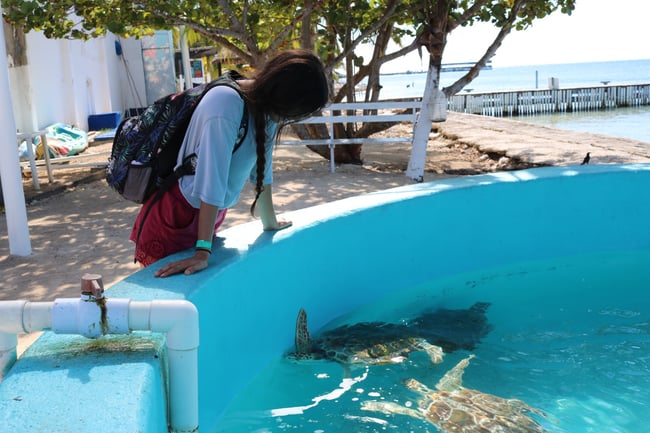 The Best Beaches
As you will notice on the ferry ride to the island, this water is some of the prettiest you'll ever see. The most beautiful and popular beaches are found on the northern point of the island, while the bluest water is found on the western side.
Playa Norte is a great place to go if you are wanting a peaceful, beachy afternoon. There are lounge chairs, snorkeling equipment, water toys, and big umbrellas for rent all up this beach. The water is crystal clear with no big waves and stays shallow for quite a ways out. Dreamy!
Playa Bonita is another favorite place to take a swim, watch the sunset, or just hang out on the soft sand.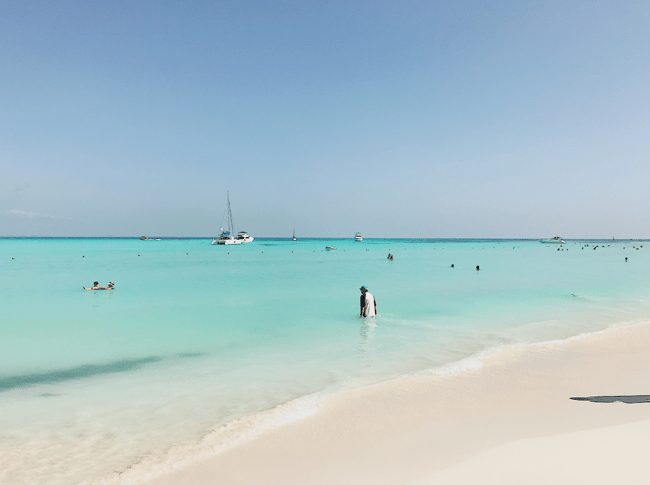 Walk Down Hidalgo Street
This is where you'll find a lot of the little shops and restaurants on the island. But guess what?! It's a pedestrian only street! Time to get all those souvenirs!
You can also find some fun surprises here, like spas that will do your nails, or let little fish take a nibble on your toes. It's a fun (and ticklish!) experience to try out at least once in your life.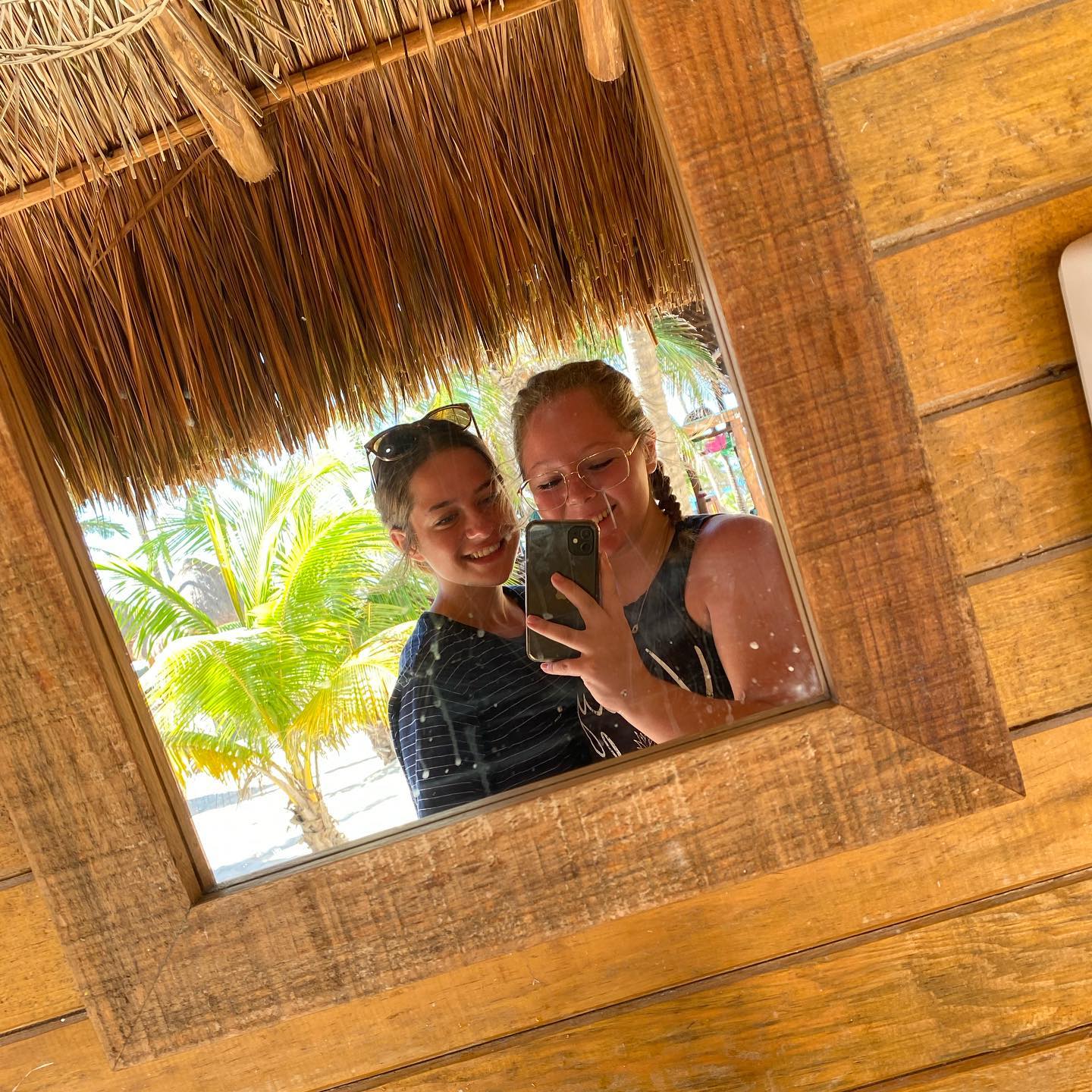 Don't Miss These Eateries
Reuben's
This will most likely become the staple of your trip since it's the perfect spot for breakfast, lunch, or dinner. They have great-sized portions, and really friendly staff! If you like seafood, this would be an ideal place to get some, although everything else is good too. The prices are reasonable and the food is tasty, so what more could you want?
Hours: Open from 8:00 AM to 9:00 PM Monday-Saturday.
Address:

Guerrero Ave, Isla Mujeres 77400, Mexico
Cafe Mogagua
This place serves not only great Mexican food, but also some American staples, like burgers and pancakes if you're craving that instead. Definitely a favorite breakfast spot (we love the crepes). Plus free wifi!
Hours: Open from 7:00 AM to midnight daily.
Address:

Avenida Benito Juarez SM 1 MZ 14 LT 12, Centro - Supmza. 001, 77400 Isla Mujeres, Q.R., Mexico
Mango Cafe
Another breakfast favorite, because you can never have too many of those, but every dish served here is a real winner! It has incredible reviews and your mouth will start watering the second you walk in. If food presentation for pictures is important to you, then this is the place to eat!
Hours: Open from 7:00 AM to 9:00 PM daily.


Address

:

Playa Obispo

,

Isla Mujeres 77400,

Mexico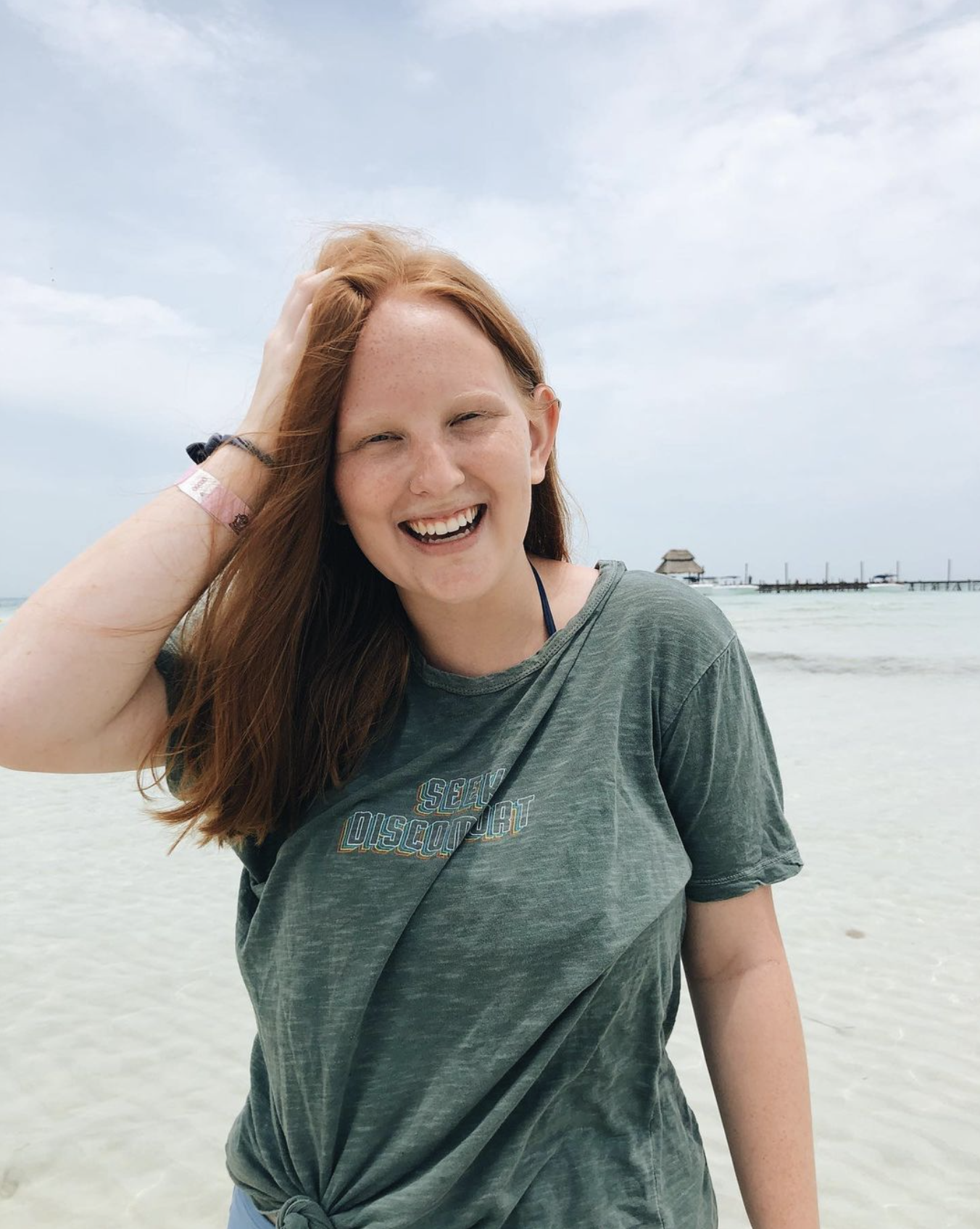 Tips For Your Trip
Hostels to Stay At
You'll (of course) find your pick of places to say in Isla Mujeres, but one ILP group hands down recommends the Selina Isla Mujeres PocNa. It's right on the beach (Playa Norte) with access to hammocks and volleyball courts.
Another perks of this place? They had a good deal when booking a whale shark snorkeling tour that came at a pretty good discount. They also had beach massages available, so plan on paying about 100 pesos for a 30 minute massage where you can totally unwind and relax while listening to the ocean waves.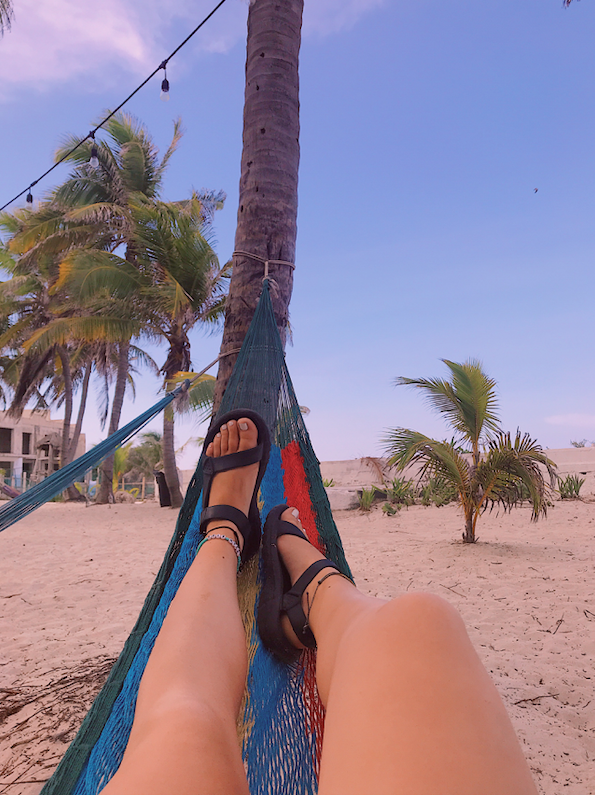 Other groups booked stays at this hostel with rave reviews. We love the seaside loungers, hammocks, and pool. The vibe of this place is also pretty unbelievable, with views like this between the dorm rooms. Just know that it's kind of other the "other side of the island", so you'll need to taxi to other spots on this list. Groups said it was totally worth it to be more secluded and the whole vibe of the hostel was so great. Taxis were about $7 which isn't bad when you split it. Book here.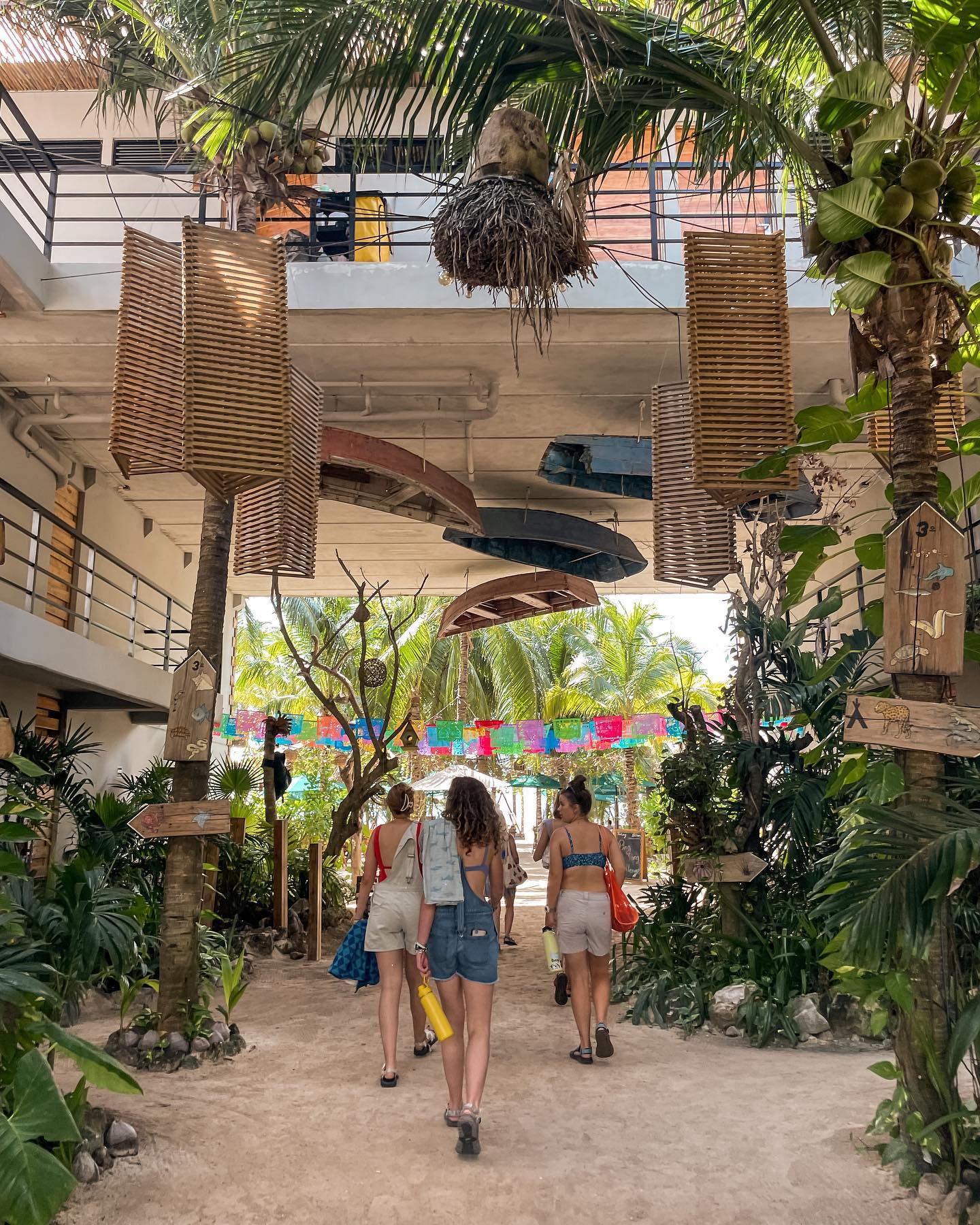 How Long Should I Stay?
Isla Mujeres is an easy day trip if you're staying in Cancun, but if you really want to soak up the chill vibes of this island, we suggest staying two nights. The whale shark adventure will take up most of your day, and we think you'll want time to see the iguanas and temple at the other end of the island, visit the turtle sanctuary and just experience pure relaxation. This isn't a place you want to feel rushed.
Getting Around The Island
The whole island is rather walkable, and there are taxis available if you're in the mood to ride instead of wander. If you taxi, just make sure to ask the price first so things don't change once you are dropped off. For some groups, it worked best to just taxi to other places instead of renting a golf cart, but it's an option we love!
To really see the island, you'll have to rent a golf cart. The easiest place to grab one is on the main street directly in front of the port when you get off the ferry. Pricing will probably range from about $35-$45 for the entire day, which if you have four people is not much.
Heads up: all of the streets in the central town of Isla Mujeres are one way, except for the street right in front of the ferry docks. And all of them are very narrow, so make sure you keep an eye out for pedestrians and other drivers.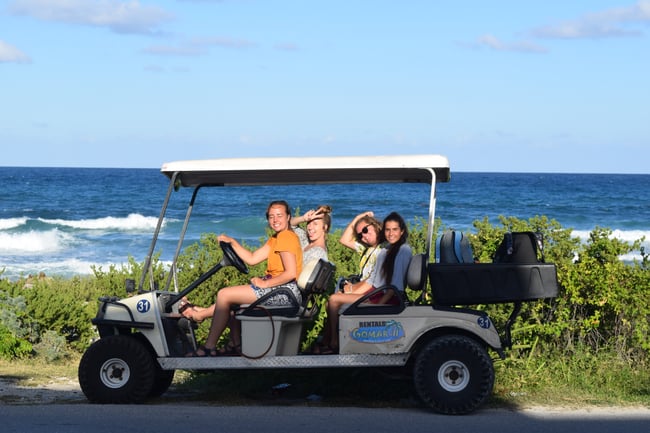 The Easy Way To Get To Isla Mujeres
Best to start in Cancun and take the ferry over. The ferry that will get you from Cancun to Isla Mujeres is called "Gran Puerto Cancun", and the dock is in Puerto Juarez, just a few minutes from downtown Cancun. The boats leaves every 30 minutes from 5:00 AM to 9:30 PM, and then leaves every hour after that. The ride over only takes 15 minutes.
A round-trip ticket to the island is 300 pesos (about $16), and you can find out more by visiting the official site.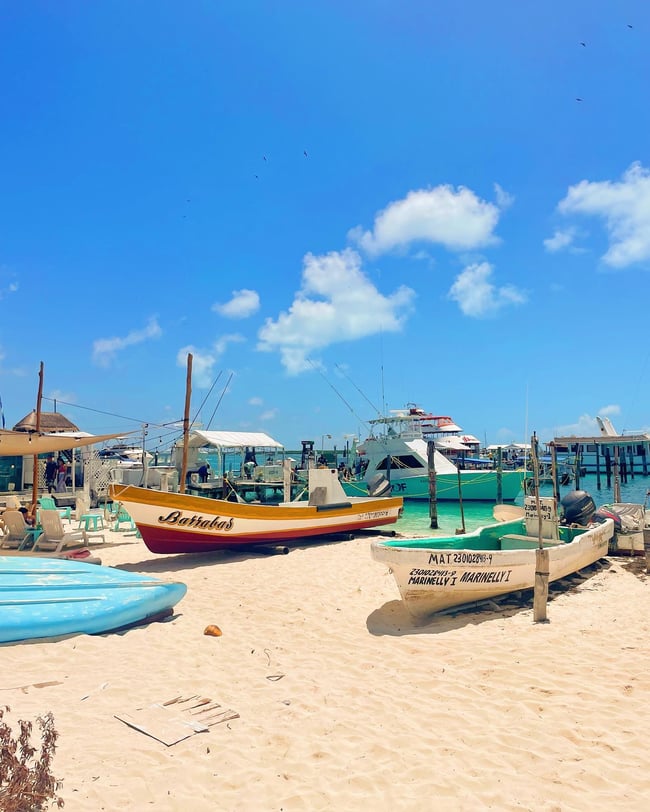 Want to spend an entire semester living in Mexico as a volunteer?
That's exactly what you can do as an English-teaching volunteer with International Language Programs! Spend a whole semester teaching English (no experience necessary) with a group of college-aged volunteers you can travel around with.