Especially if you'll be volunteering in Costa Rica or Nicaragua, you've got to spend about a weekend (or more) in Monteverde.
ILP volunteers in our Central American humanitarian programs are there to make a difference; you'll spend part of your day teaching English and connecting with these cute kiddos ... but that doesn't mean you don't have weekends off and time for vacationing to explore our favorite adventures in Costa Rica.
---
Want to spend more time in Costa Rica?
Get my guide on volunteering in Central America here
---
You're a bit spoilt for choice when it comes to ILP vacations in this part of the world (there are too many pretty beaches and rainforests). Even our ILP Nicaragua and ILP Mexico volunteers can hop over for a long weekend in Costa Rica, so no matter where you're volunteering, you will want to add the dense rainforests of Monteverde on your "semester travel list".
Here's all the info you need before booking a cheap flight or bus ride here:
What and Where Is Monteverde?
Monteverde is hiding in the north-west part of Costa Rica. The Monteverde area includes some surrounding towns plus an expansive and lush forest crammed full of towering treetops, suspended bridges that skim the skies, spectacular hikes, zooming zip lines, hidden waterfalls, jungle adventures, 500 kinds of orchids, and some of your favorite tropical animals, like jaguars, parrots and sloths. It's really one of those more famous places in Costa Rica. You can't go wrong here.
That "cloud forest" means low-laying clouds creating a mist that swirls in and above those tall leafy tree tops — basically, it's gorgeous and one of the best places to explore in the Costa Rican jungle.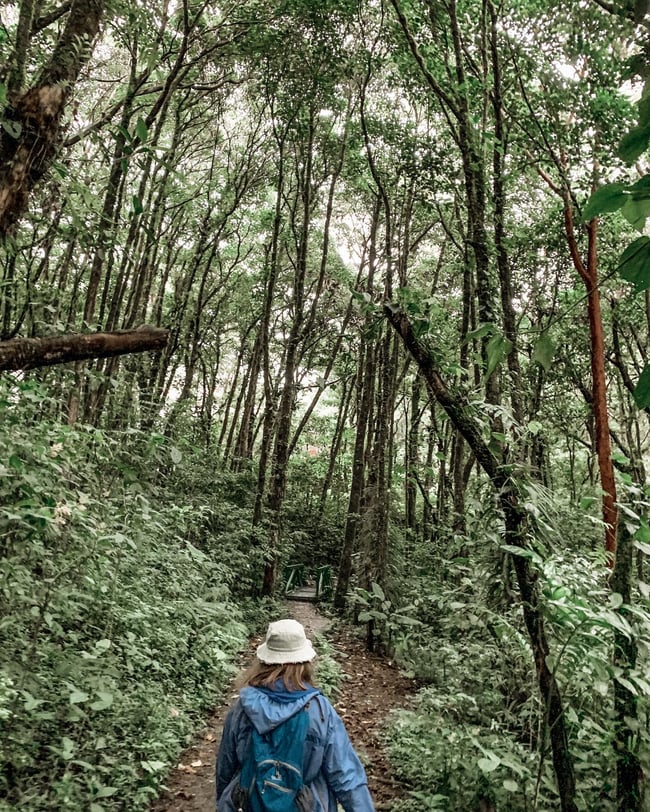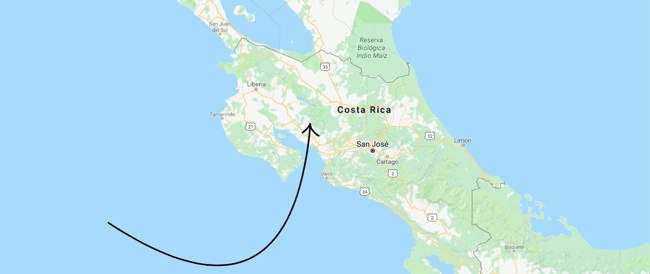 Pick The Right Cloud Forest (+ Directions and Entrance Fees)
There are three cloud forests in Monteverde.
The Monteverde Cloud Forest
The Monteverde Cloud Forest is the most popular — you'll want a full day here to explore all the trails and viewpoints, the zip lines, a hanging bridge and the waterfall. Most of the high-adventure activities are in this park, so if you only have a day or two, this is where you should spend your time, but it will sport the most crowds.
From the town of Santa Elena, plan on taking a taxi for 5.5 kilometers to get to the Monteverde Cloud Forest Reserve. Your taxi will drop you off in a large parking lot with a cafeteria, restrooms and place for (overpriced) souvenirs.
Hours and ticket cost: 7:00 AM to 4:00 PM, $20 paid by cash (US or local currency) or a credit card. We recommend getting here right at 7:00 so you can avoid the crowds for a while.
The Children's Eternal Rainforest
The Children's Eternal Rainforest is the largest — six times the size as the Monteverde Cloud Forest — and is split up into four different stations. You can hike into the reserve to get to your final station, all four of which lead up to an impressive viewpoint. You can obviously spend less time here and only hike one trail, but a full day will give you plenty of times to hike several trails — this cloud forest is typically the least crowded.
There's a $12 ticket entrance fee.
Santa Elena's Cloud Forest
Loads of clouds and rain hang around Santa Elena's cloud forest which creates a magical fog that clings to the dense greenery. There's a few trails to hike, but we recommend the one that opens up into an impressive view of the towering Arenal Volcano on a clear day. Plan on several hours to hike one trail, more time if you'd like to hike more than one trail.
From the town of Santa Elena, it's 7 kilometers along a bumpy road. You'll be dropped off in a large parking lot with restrooms, a cafe and some stores for souvenirs before buying an entrance ticket.

Hours and ticket cost: 7:00 AM to 4:00 PM, $13 for foreigners.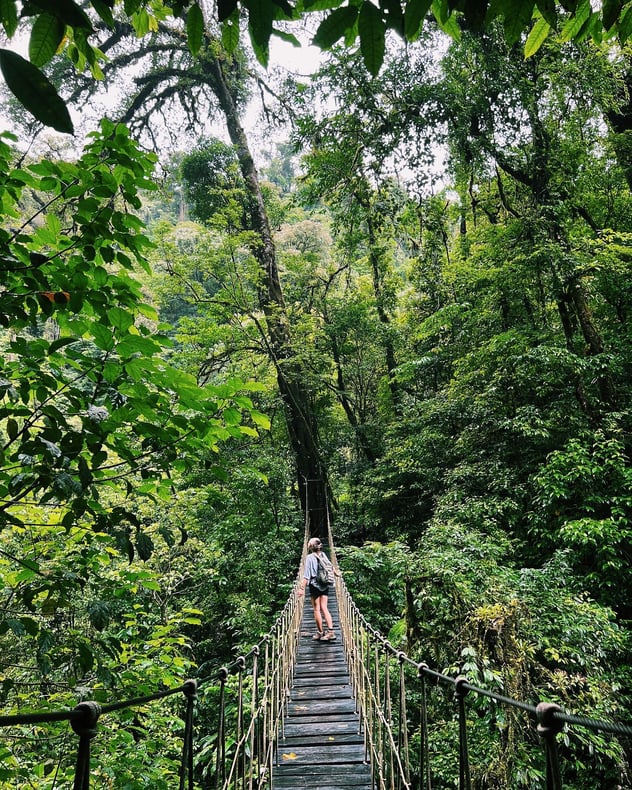 Favorite Things To Do Here (+General Costs)

There is a lot to do in these cloud forests. We're not going to point out the obvious and free actives (just hiking around on your own) because that option is available in all three parks.
As a heads up, things can get a little pricey in this park, which is why some volunteers opt to spend for a big full-day or half-day tour one day, then hike on their own for the second day. Also, we've listed a couple of tour companies to give you an idea of what costs may be like; these are not endorsements or recommendations, just a way to give a frame of reference.
Here's our favorite thrill-seeking activities to do in these cloud forests:
Zip Line Across The Tree Tops
This is one of the biggest places to zip line, for good reason. Imagine zooming along 10, or 15 zip lines strung through the green jungle. There are tons and tons of tours that will take you on this thrill ride, with prices ranging from $50 up to $200 or more, depending on what's included and how long your tour is.
Lots of tours have combination options which will include a dreamy tram ride and some hanging bridges. Be sure to read what types of zip lines are included (some let you race, some have you riding down "Superman style" with your head first, etc).

If you're looking with who past volunteers have been with, there are a few options. Some groups have loved going with Aventura Canopy Tour. Here's what one ILP volunteer said about that: "It included zip lines which has the longest zip line in Costa Rica, a Tarzan swing, (etc). It was amazing, worth every penny."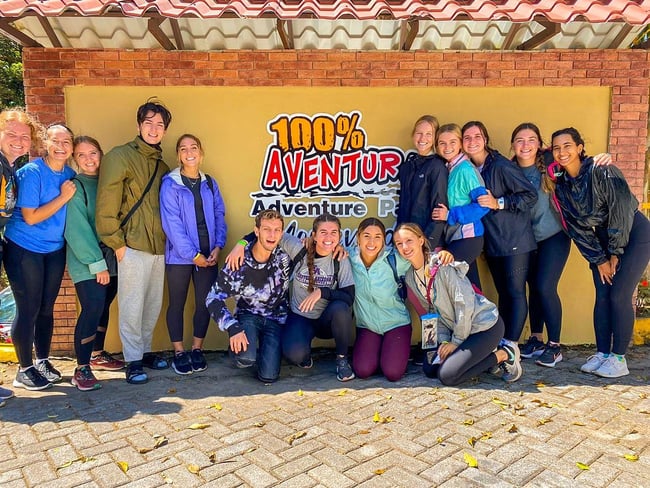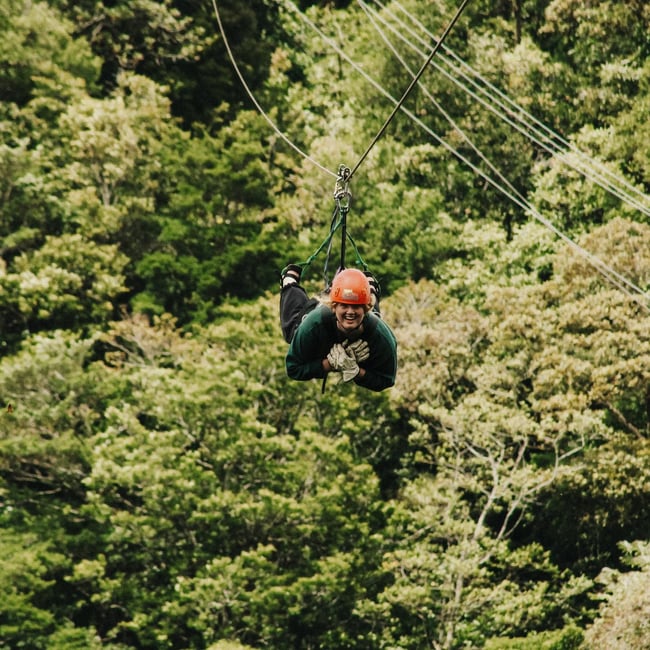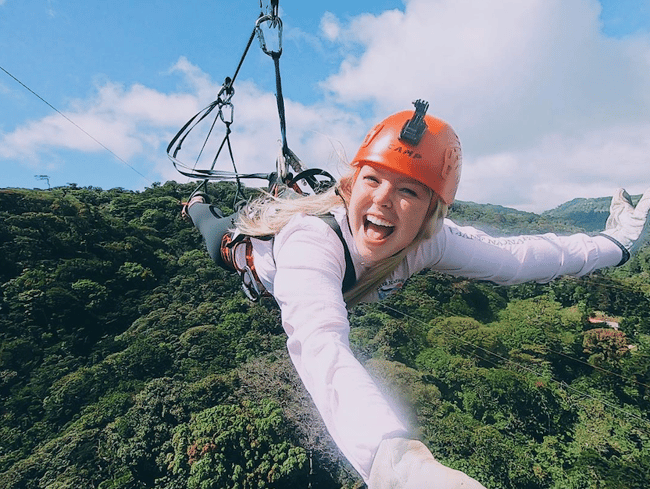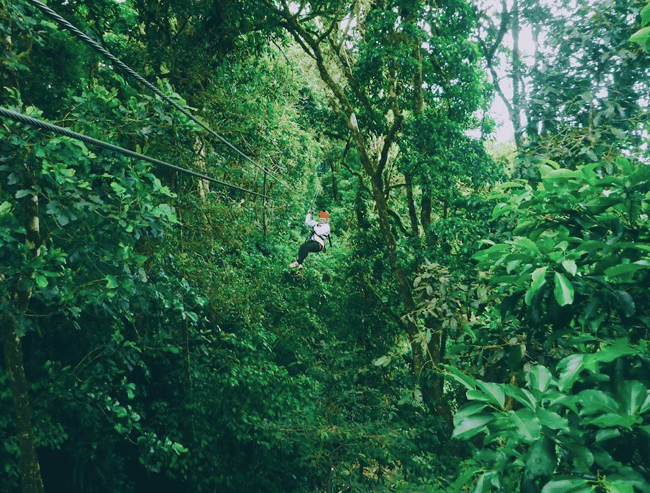 Hike The Hanging Bridges
Inside the Monteverde Cloud Forest you can hike over five hanging bridges that are dizzyingly suspended over an ocean of treetops. Snap an iconic picture as you're guided across these high-strung highways. Tours will take you just on the bridges or you can see if these are combined with longer zip lining tours. One company (Sky Trek) has bridge-only tours for $86.

Get A Nighttime Rainforest Guide
If you want a day of spotting animals, you better hire a guide. You may be able to spot a few birds and hear some howler monkeys on your own, but you have a much better shot of seeing animals if you go with a guide.
When you buy your entry ticket to Monteverde and Santa Elena's you can hire a guide. Some guides are even available at night, giving you the chance to spot tarantulas, lime green vipers and the raccoon-like animal like a coatis. Prices range per park.
Tour The Butterfly Garden
Between the city of Santa Elena and the cloud forests, you can visit a butterfly garden, giving you chance to hang out with some iridescent beauties for around $15. You can also visit the hummingbird garden if you'd like. Some tour companies (like "Enter Costa Rica") has an option where you can zip line, try out the Tarzan swing and head to both of these gardens for around $65.

Be Like Tarzan And Brave The Super Swing
Monteverde Cloud Forest gives you the chance to leap off a platform and swing through the jungle, just like Tarzan. You'll be strapped in but that probably won't keep you from yelling on the 148 foot drop down … yikes! If you'd like to know what ILP alumni think about it, we have a couple of quotes to share: "DO THE TARZAN SWING!! You won't regret it!!" and "don't sit out the Tarzan swing. It seems scary but it is so crazy fun!"
The swing itself costs $44, but several tours include is as an option if you'd rather go that route. Again Aventura Canopy Tour is a tour company our volunteers have liked using in the past with a tour option which includes the Tarzan swing.

Places To Stay + Favorite Restaurants
Feel absolutely free to do your own research, but we think it's helpful to know where past volunteers have stayed and grabbed a bite to eat in case you'd like to take their recommendation:
Places To Stay
Close to a bus station and supporting some gorgeous views from the lodge windows, Cabinas Vista al Golfo hostel also has a free breakfast. Yum.
One group recommends Hostel Coati Place B&B, due to their helpful staff who helped them book a few different tours. We also love the free breakfast.
Another ILP group or two have stayed at the Sloth Backpacker hostel which has a fantastic breakfast, and a pretty central location.
Backpacker's Hostel is just a five-minute walk from the bus station, with a helpful staff that has connections to tours, transportation, and info about what's in the area. B
Sleepers Sleep Cheaper Hostel is one some ILP volunteers recommend, a family-run hostel with good prices, help with booking tours, and a central location right in the heart of Monteverde.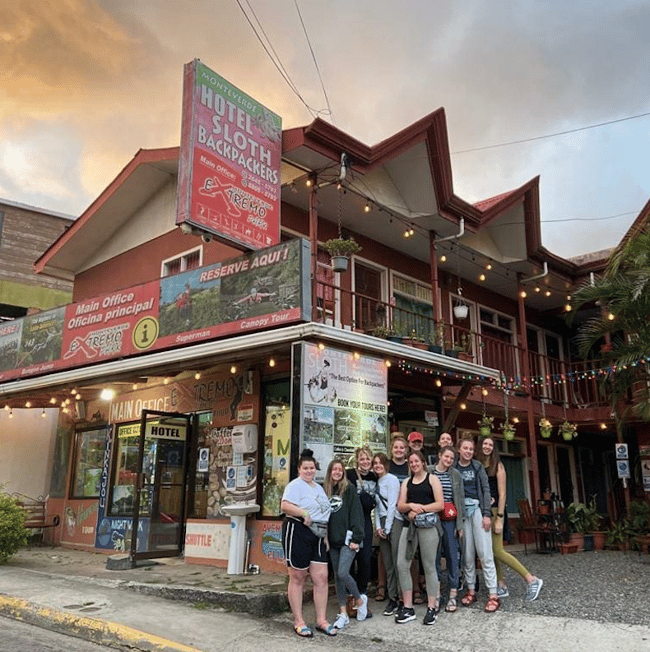 Monteverde Lodge and Gardens is a dreamy spot to stay too, if you want to be a bit spendy. This place to stay has a yummy restaurant, stunning jungle grounds, and lots of tour activities for guests.

Places To Eat
Taco Taco Taqueria is a top spot to get quesadillas — we have had volunteers rave about the quesadillas here. It's a popular tourist spot but that's only because the food is delicious: other favorites include the fish tacos, the Yucatan tacos, and the chips and salsa.
Address: Puntarenas Province, Santa Elena, Costa Rica
Hours: 11:00 AM to 10:00 PM
Pro tip? There's a guy named Ramone, who sells cute jewelry out of his house for really good prices ($1 to $3). He's down the steep dirt road next to TacoTaco. His house is on the left, there are signs to look for.
Head to Bar Amigos Restaurant for soups, sandwiches, pasta dishes, as well as starters like nachos, ceviche, and salsa.
Address: 859G+24P, Puntarenas Province, Monteverde, Costa Rica


Hours: 11:30 AM to 11:00 PM
Get lunch or dinner with a view at Morphos Restaurant (it's a popular place to watch the sunset). You can sit out on a patio that overlooks those green rolling hills, or sit inside in a room that's painted to look like the jungle outside. Find local dishes plus others like burgers, sandwiches, and pasta.
Address: Puntarenas Province, Monteverde, Costa Rica
Hours: 11:00 AM to 9:00 PM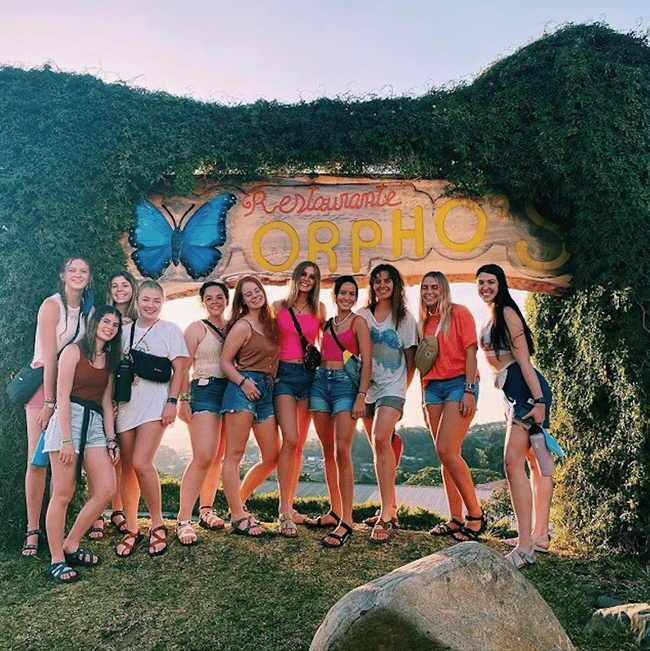 Tips For Travelers

Pack The Right Things
Pack a waterproof jacket — even if it's no the rainy season, it rains a lot in this part of the the country. A waterproof backpack or dry bag is also a good idea.
You'll also want to wear hiking sandals or boots — it will probably be pretty muddy, and tennis shoes will get soaked! Another tip? Bring a jacket and longer pants ( it can get chilly even in the dry season because the higher elevation makes it cooler than the coast).
If Booking A Tour
Call/email the company you may be booking with if you are zip lining in the rainy season. If it is storming too badly, they won't be doing tours.
How Long Should I Stay?
Groups said 4 days was too long in Monteverde, unless you spent some time in nearby La Fortuna. Others said they loved having 4 days to play in the jungle. 2 days or slightly longer does seem be a sweet spot for this part of Costa Rica, especially since many combine it with nearby spots, like La Fortuna.
We have had groups come here on a quick day trip from San Jose, but that does mean choosing just one activity to do here, because most of the adventures are full-day or half-day events, plus you'll need to plan for transportation.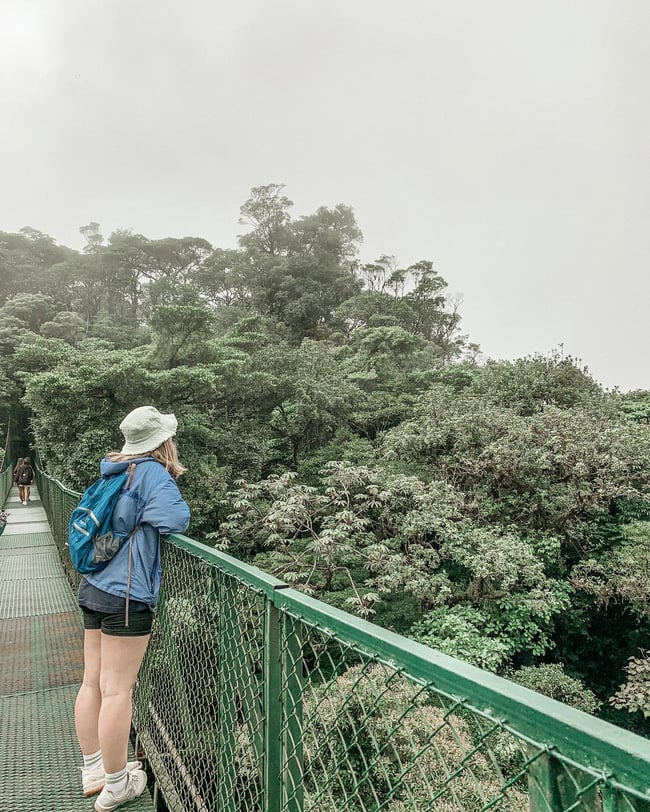 How Do I Get To Monteverde?
From San Jose —
The cheapest option is via bus, starting from the 7-10 Terminal at the San Jose Bus Station. Look for the Transmonteverde buses. The ride is 4.5 hours and costs $6. The buses leave twice a day, at 6:30 AM and 2:30 PM. It's not luxurious, but it will get you there.

You can also take a shuttle. Shared shuttles cost about $53, and take around 3.5 hours. Book one here or talk to a hotel or hostel. These shared shuttles leave at 8:00 AM and 2:30 PM. You can also hire a private shuttle which costs around $175 per trip (not bad if you split it with your ILP group — the shuttle can hold up to six people).
Getting From Santa Elena To The Cloud Forests:
You can hire a taxi or you can take a bus — From Santa Elena Town to the Santa Elena Cloud Forest, pay $2 for a bus (it leaves at 6:30 AM, 8:30 AM, 10:30 AM and 12:30 PM and returns at 9 AM, 11 AM, 1 PM, 3 PM and 4 PM).

From the town to the Monteverde Cloud Forest, pay about the same — this bus leaves at 6:15 AM, 7:30 AM, 1:20 PM and 3 PM and returns at 6:45 AM, 11:30 AM, 2 PM and 4 PM. The Sunday service is at 6:15 AM, 1:20 PM and 3 PM and returns at 11:30 AM, 2 PM and 4 PM).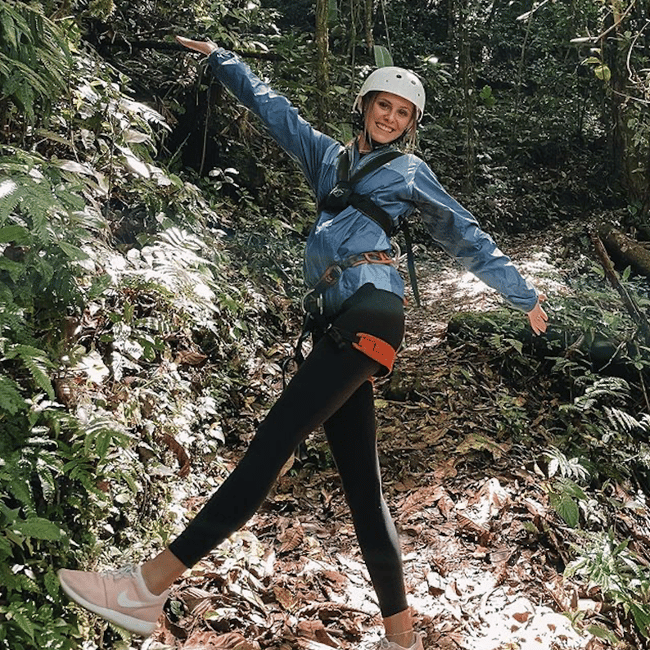 Ready for a trip to Costa Rica?
How about a whole semester there? Costa Rica (and Nicaragua) are both a part of the ILP humanitarian programs where you'll be helping underprivileged kids get an education (and you'll get loads of free time and vacation days to travel around!) Learn what it takes to volunteer with International Language Programs right here and get your questions answered below: