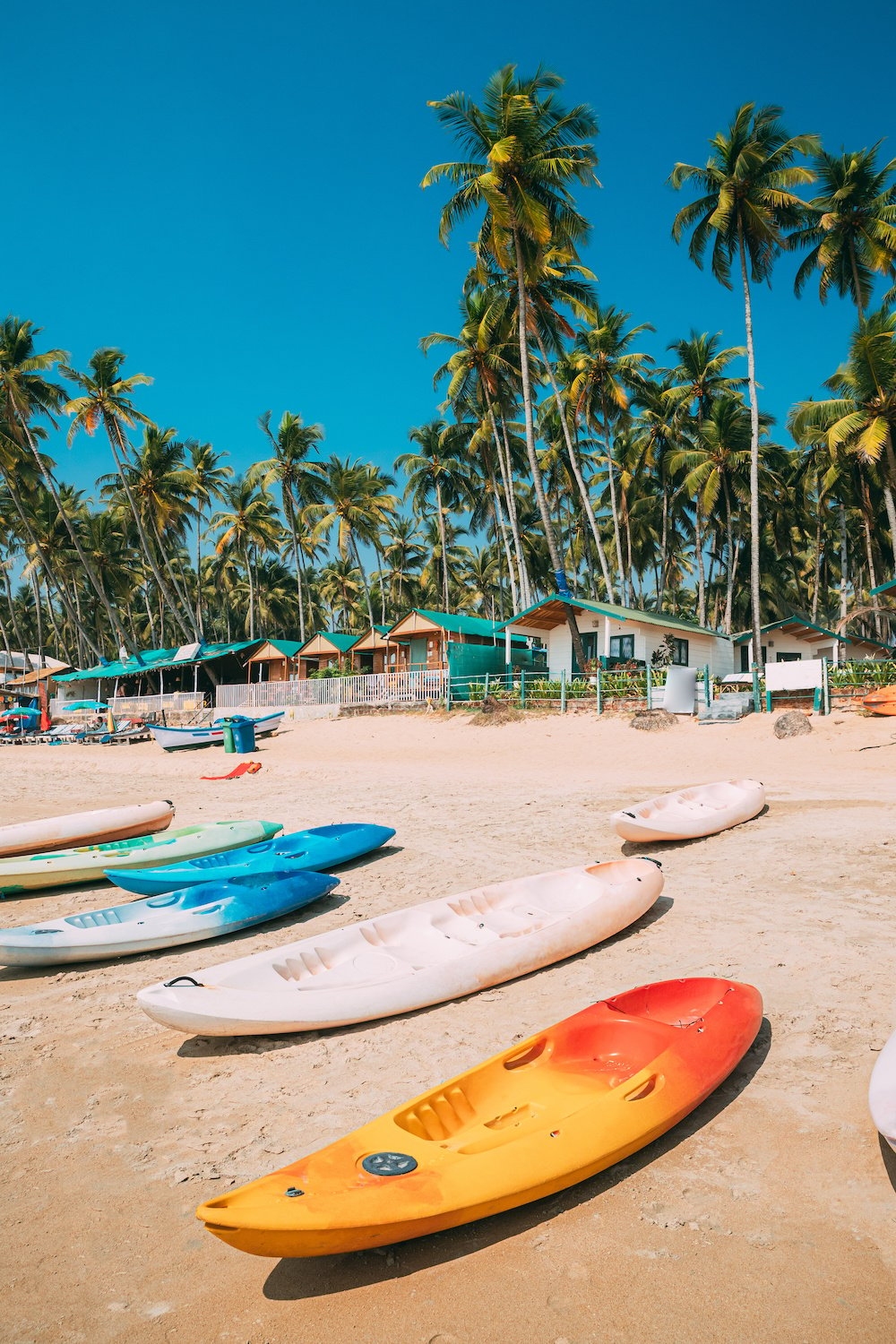 India is best known for the Taj Mahal, but if you're planning a trip here, you'll quickly find out that you need so much more than a week to see all the new spots you've discovered — get ready to add so many more destinations on your India wishlist.
That's what happened to me! When my friend first came to me and said, "I want to go see India ... want to come?" I was quick to say yes because, well ... INDIA! I had seen photos of the Taj Mahal and knew it would be such a different cultural experience than what I'm used back home in the States (which is what I love about traveling).
But that was basically all I knew about this country. As soon as I started researching for the trip and dreaming up where we would go, I started seeing photo after photo of the most vibrantly colorful cities, ornate architecture with every detail carefully patterned and designed, sacred temples and mosques, monkeys galore, glamping in the desert, and even islands and surfing at the beach!
I just had no idea that India had so much to offer.


---
You're going to need a lot more than a week to see all these sites
Good thing you can spend a semester abroad in India with ILP!
---
One quick disclaimer before we dive into these dream destinations — India is so big! We're breaking the landscape down into very broad terms here just to give you a bird's eye view. Oh, and we're only mentioning some of the top sites (there are plenty more worth seeing that aren't specifically mentioned in this post). To put things into perspective, destinations that are grouped into one area of the country are still usually several hours away away from each other.
Northern India
We're going to start with what might just be our favorite part of the country. We loved it so much that we actually decided this is where our volunteer program would be! It's the perfect spot to spend 3-4 months living abroad. We're focusing on the "northwest" portion of northern India, filled with the mountains that stretch across the country to the east.
As an ILP volunteer, you're living right at the base of the Himalayan mountains with Tibet and Nepal as your next door neighbors. The three cultures spill over creating a really unique corner of the world.
Think yak rides in the mountains, white water rafting, ziplining, hot springs, prayer flags, hiking, and exploring mountain towns. Another perk? During the hottest months of the year, this is the best place to be to cool off, thanks to the high elevation. You'll find that local tourists vacation in this part of India to spend some time in the cool, mountain summers. Even during monsoon season, the weather is beautiful up in the north!
But it's not all mountains and countrysides — some of the most well-known sites in India like the World Wonder Taj Majal and the country's capital city Delhi are here as well. Many of these dreamy destinations are an easy weekend trip or day trip for our volunteers.
Here are some focused highlights found in Northern India:
Himalayan National Park + Kullu
These oh-so-iconic mountains were made famous by trekkers on Mount Everest, but did you know there are trails made for all levels (even beginners!)? These sprawling mountains stretch across Nepal, Tibet, and northern India, with an entrance to the national park just outside of Kullu, India. We're couldn't be more excited that this lifetime experience is so accessible for ILP volunteers who are living here for their semester abroad.
Kullu also boasts other experiences, too. The minty green Beas River flows right through the town and this is one of the best spots in the country for high adventure white water rafting. Kullu is also a hot spot for filmmakers looking to shoot dramatic landscapes and apple orchards in bloom (the apple juice here is the best in the world, trust us on this one).
Get all the details about hiking in the Great Himalayan National Park here.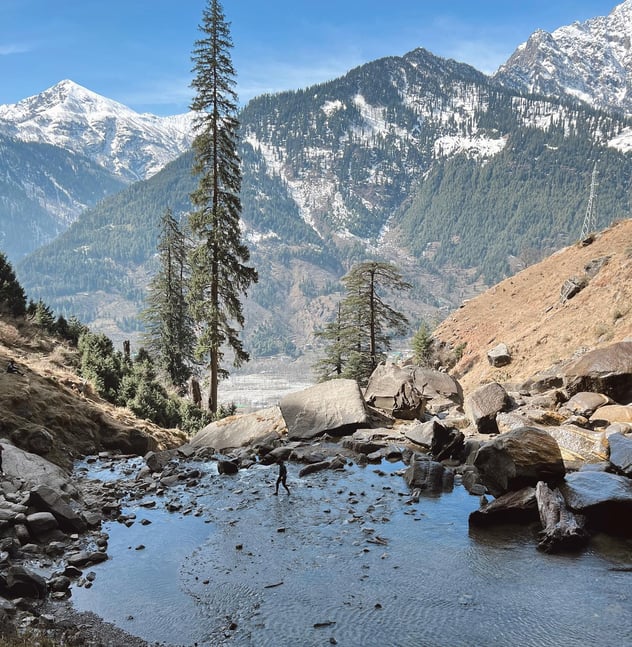 Mountain Towns like Manali + Shimla
Manali is quite the popular resort town, especially during the winter, but it also offers an escape from the heat in the summer. Depending on when you go, it's surrounded by lush green hills and snow-capped mountains. Trekking, hiking, biking, rafting, and even skiing in the winter are bound to be on your itinerary when in these mountain towns. Make sure to enjoy the cafes and live outdoor music while you're exploring, too.
You can also trek to the Hadimba Temple to admire the hand-carved figures on its walls. And in nearby Manikaran and Vashisht, you'll find natural hot sulphur baths where you can do a little soaking and relaxing.
Shimla is the state capital and the largest of the mountain towns. You'll often see travelers comparing Manali and Shimla, trying to decide which one they'll see, but you're lucky if you're here as an ILP volunteer! A major perk is that you have every weekend off, leaving plenty of time to see both. Go ice-skating, shop at the bazaars on the pedestrian-only streets, and of course, meander through the many hiking trails. There are also tons of monkeys roaming freely around here, so keep your camera ready!
One of the most unique things about Shimla though is the 60-mile Toy Train ride — it's an incredibly scenic route that takes you from Kalka, climbs up through the Himalayas, passes under bridges and around curves before reaching Shimla. During the summer, you'll see green rolling hills, while winter rides give you views covered in white snow. Either way, it's a magical and well-loved activity for locals and tourists.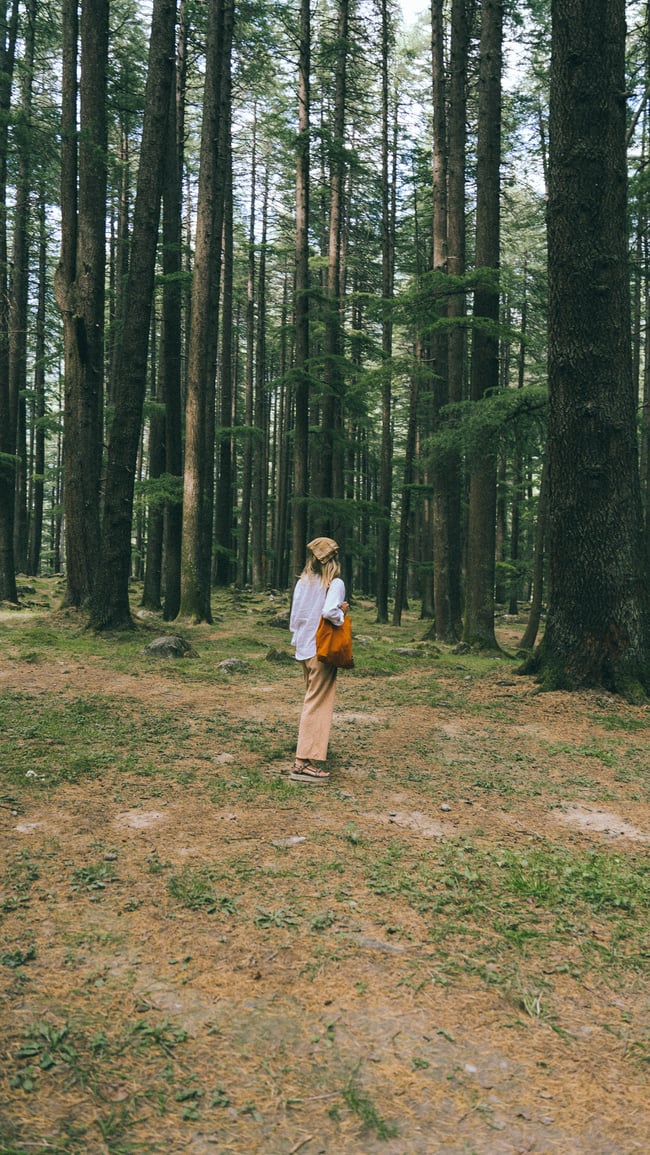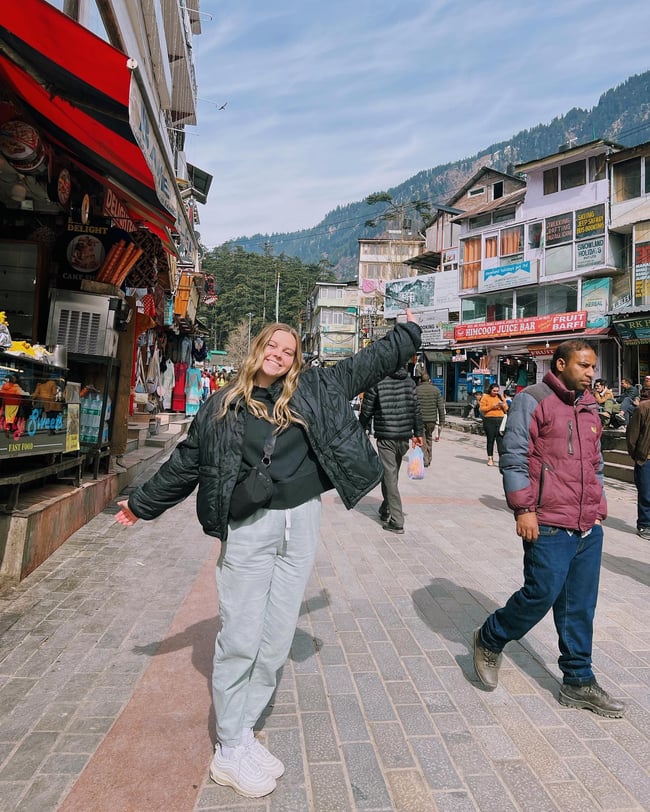 Mcleod Ganj
Just outside of Dharamsala, sits "mini Tibet". It's known for monasteries, temples, spirituality, and tranquility, all thanks to the Tibetan culture that has seeped in from the east. This small town is surrounded by thick forests and rolling hills, set up in the mountains. However, the biggest claim to fame Mcleod Gaji has is that His Holiness the Dalai Lama lives here.
You can also visit a sacred Lord Shiva temple, the Bhagsunath Temple, which is believed to have healing powers. Then trek onward to Bhagsu Falls — it's a bit of a climb but the views from the top make it all worth it. While you're here, don't leave without walking by and spinning the Buddhist prayer wheels which are sure to bring you good karma and purge negative energy.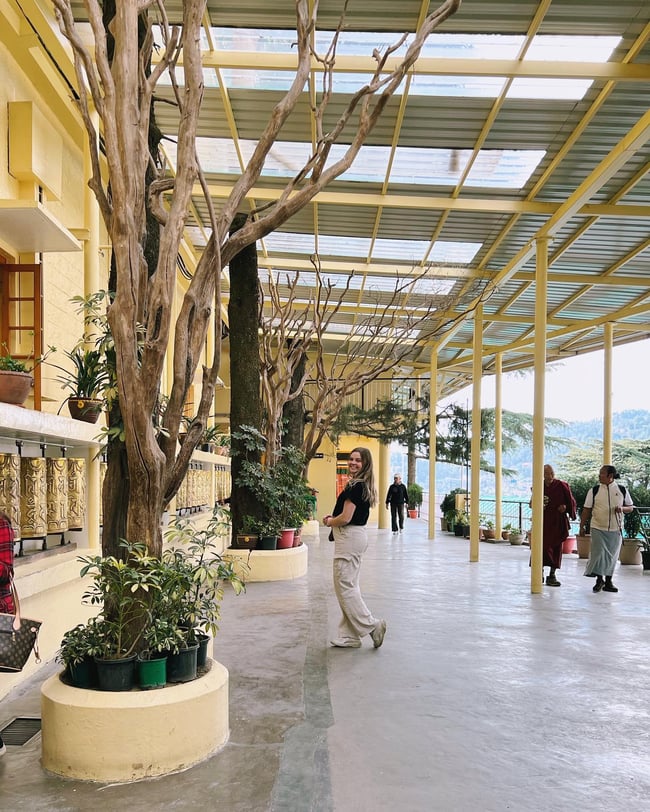 Amritsar
There are millions of temples and palaces in India, but nothing is quite like the Golden Temple in Amritsar. This stunning temple is the holiest site for the Sikh religion, where worshippers and visitors alike can volunteer to help provide a free meal to hundreds of people. Most of the ingredients are donated, and volunteers dedicate time to chop vegetables, stir curries, steep chai, and roll out naan bread.
Looking for another unique experience to your trip here? In the evening, you can watch the border ceremony. Every evening, there's quite a military performance as Indian and Pakistani soldiers close the international gate between the two countries. Get way more info about a trip to Amritsar, here.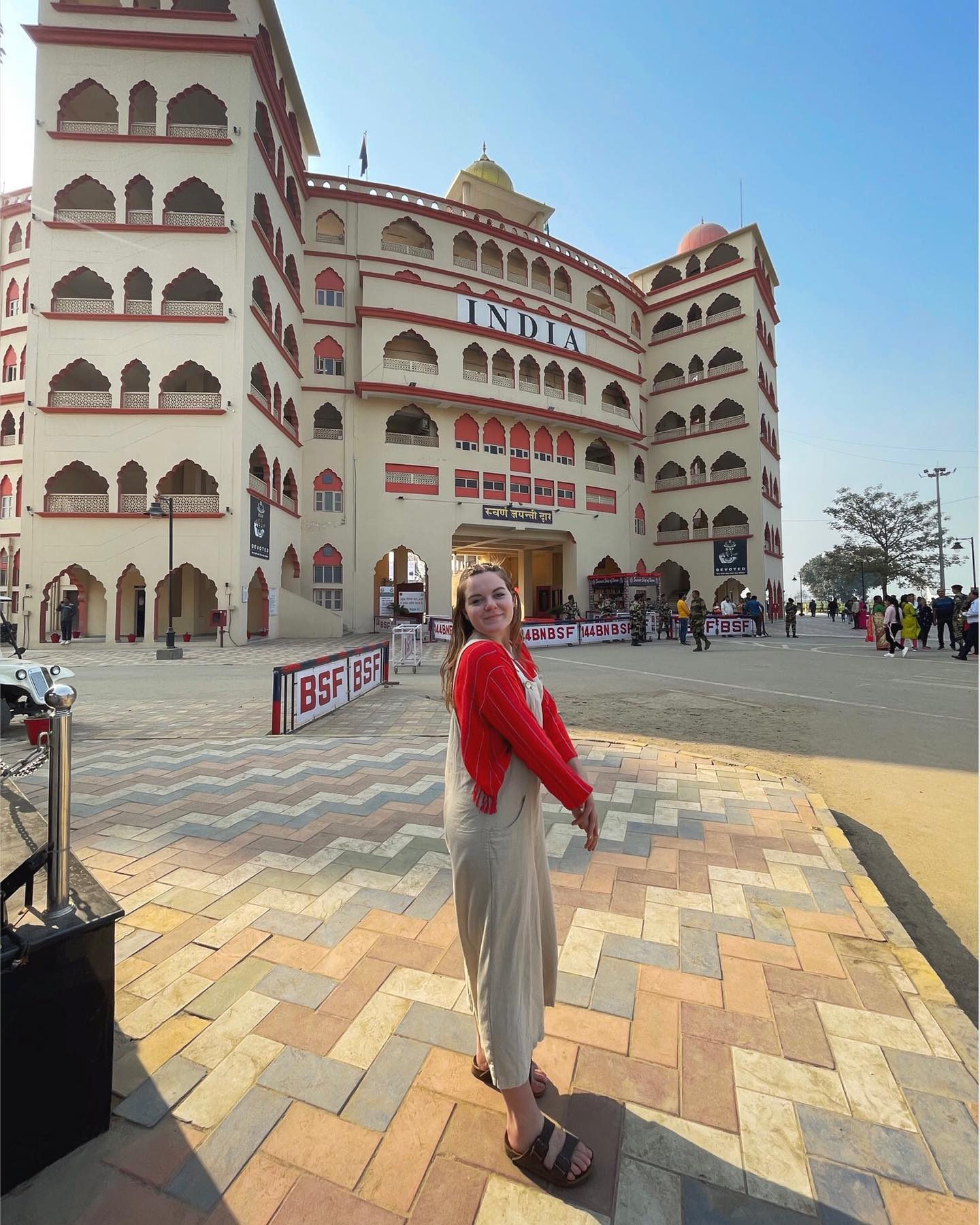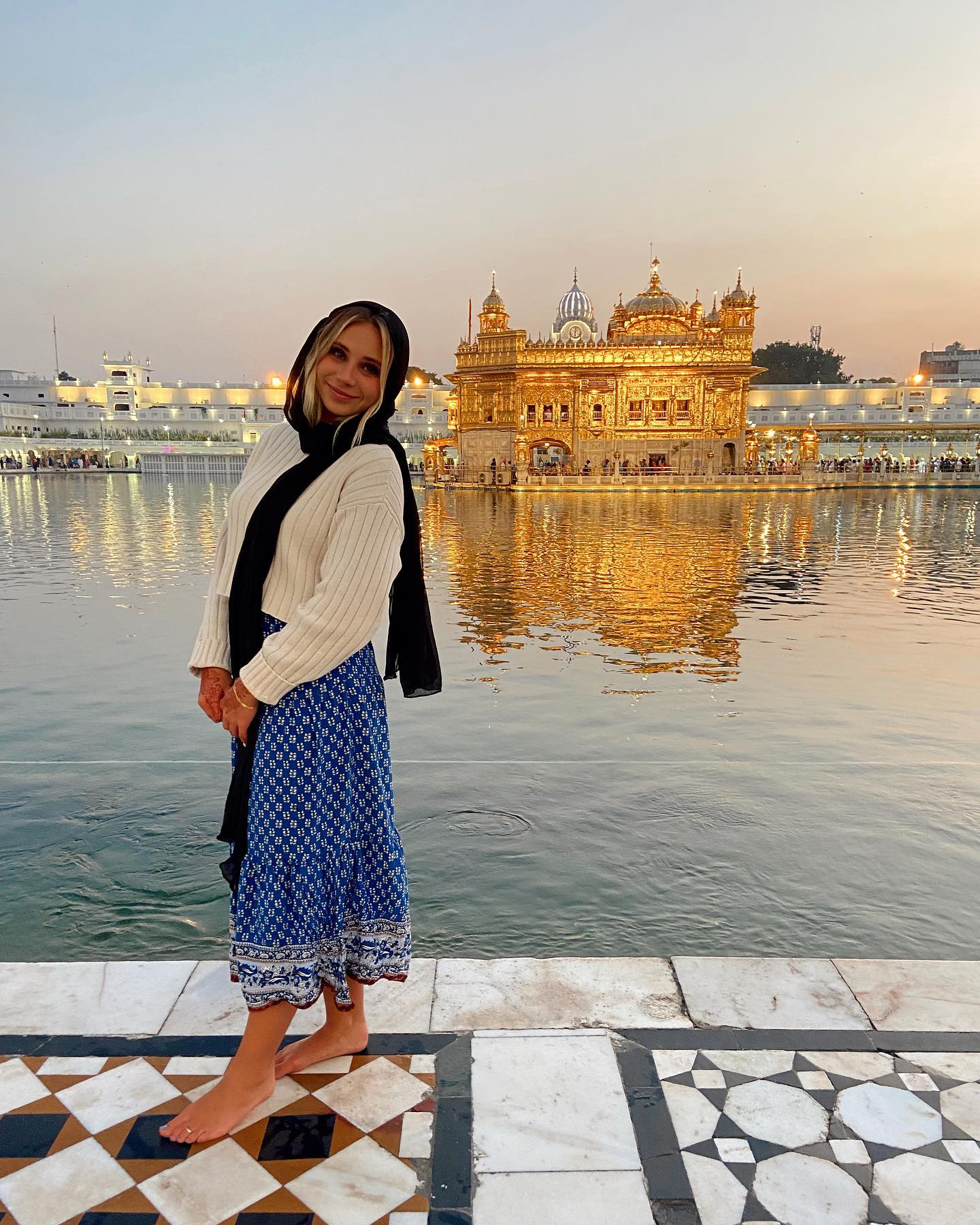 Agra
Hello, Taj Mahal! When you arrive in Agra, see if you can spot the World Wonder in the distance. It towers over the city and can be seen for miles ... it definitely gets your heart rate going when you spot it for the first time! There are also active mosques on the Taj's grounds that are equally as impressive, so take your time exploring it all. Get a more in-depth look about visiting the Taj Mahal here.
You'll also want to stop by the Agra Fort as well as another mausoleum known as the "Baby Taj".
Agra is part of "The Golden Triangle" which is one of the most popular routes to see if you're traveling to India, so we have a feeling this will definitely be on your travel list while you're here — it includes New Delhi and Agra in the north, and over into Jaipur (more on that city next).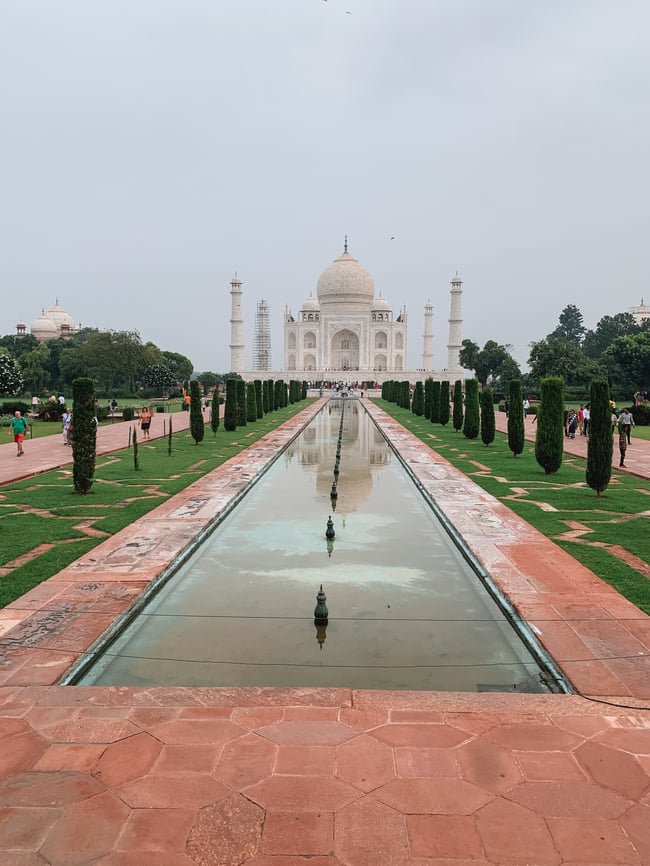 A Roadtrip Through The Himalayas
One vacation that I'm still dreaming about is the most amazing tour of the Himalayas. Sure, you have to fit in the classics like a trip to Jaipur and Agra to see the Taj Mahal, but if you're already living at the foothills of these incredible mountains, why not take the time to truly explore this part of your new home? This is the road trip you are looking for, the chance to explore mystic villages and experiences that the vast majority of casual tourists completely miss out on. It's the kind of trip you'll only take if you call this country home for a while, a chance to connect to the mountains and history that define northern India.
If you still need a little convincing, the pictures of the thundering waterfalls, peaceful monasteries, high roadside passes, and dizzying drops from that high up will convince you to hop in the car and take the road trip of a lifetime.
We love this once-in-a-lifetime road trip where you visit places like Kalpa, Nako, Tabo, Kaza, and Komic.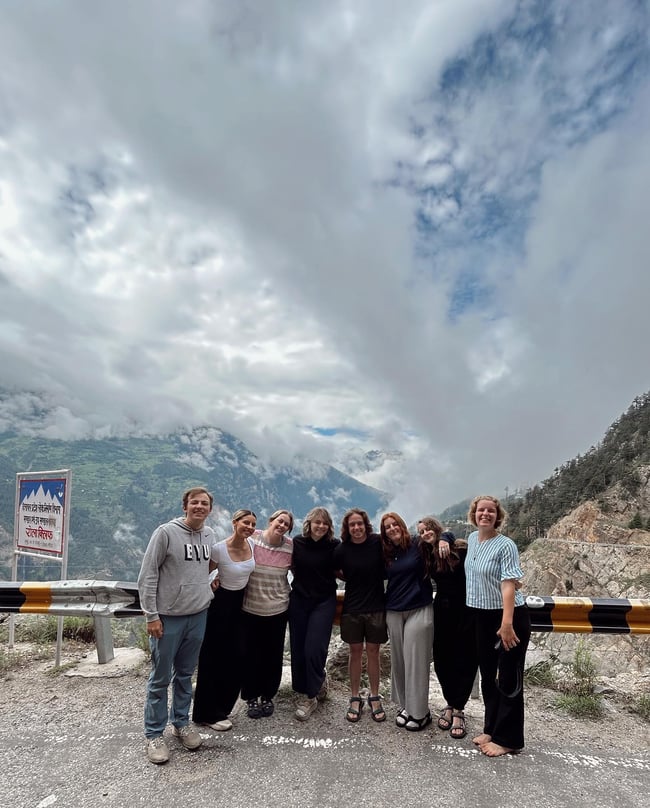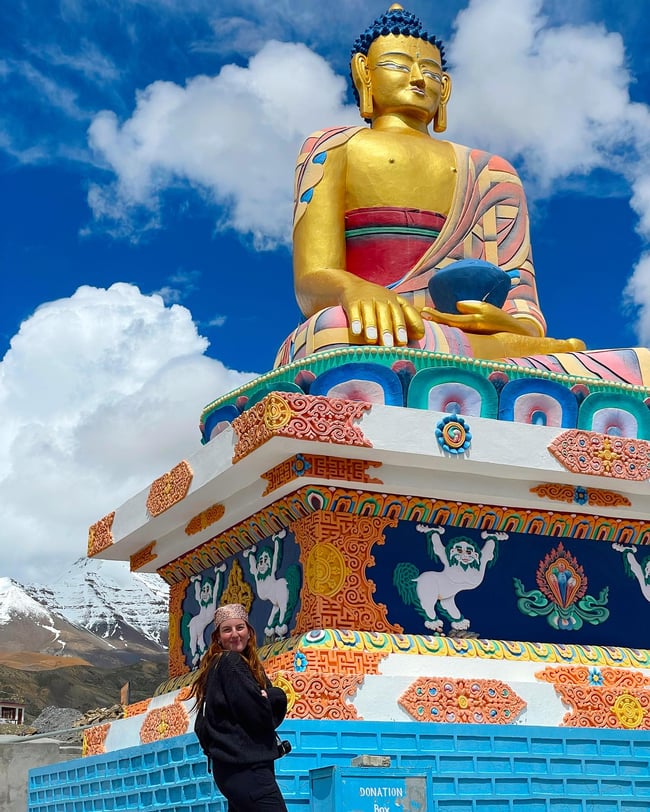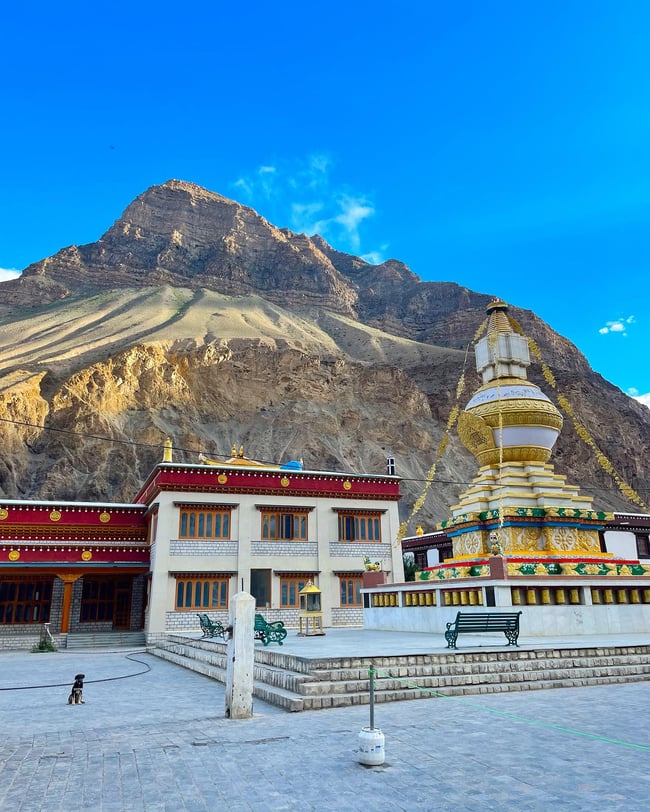 Western India
Okay ... another favorite. The region of Rajasthan is hiding some of the most photogenic cities painted in vibrant hues of blues, pinks, and yellows. Then you've also got the Thar desert — it backs the edge of the country, forming a natural border between India and Pakistan, and has a highlight adventure for you. If you didn't quite fill your time in Northern India, there is plenty to keep you busy in Western India!
Jaipur
The Pink City is an absolute must-see. Just like the nickname sounds, you'll find peaches and pink hues woven throughout the city, making every corner — even down to the doorways and the gates into the city — incredibly ornamental and picturesque. We couldn't pick just one picture of this pretty city.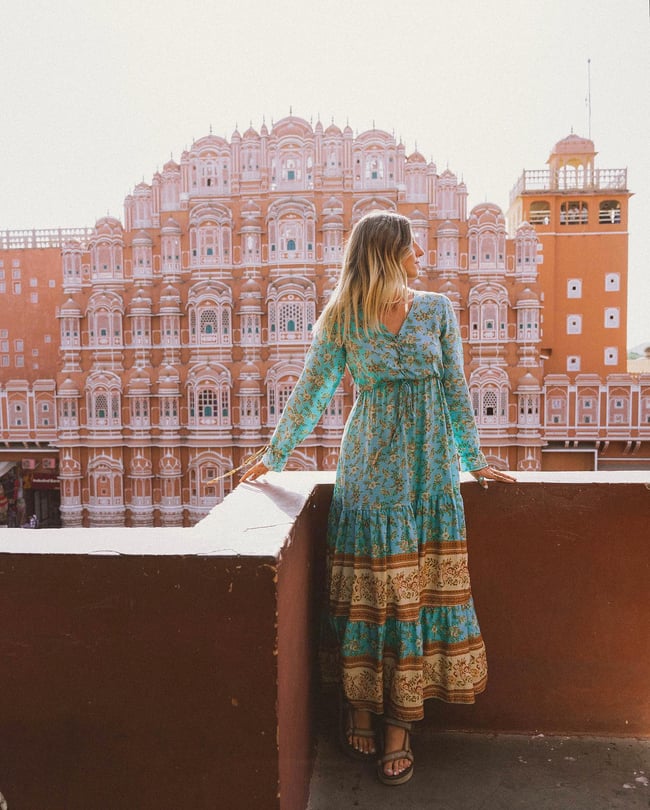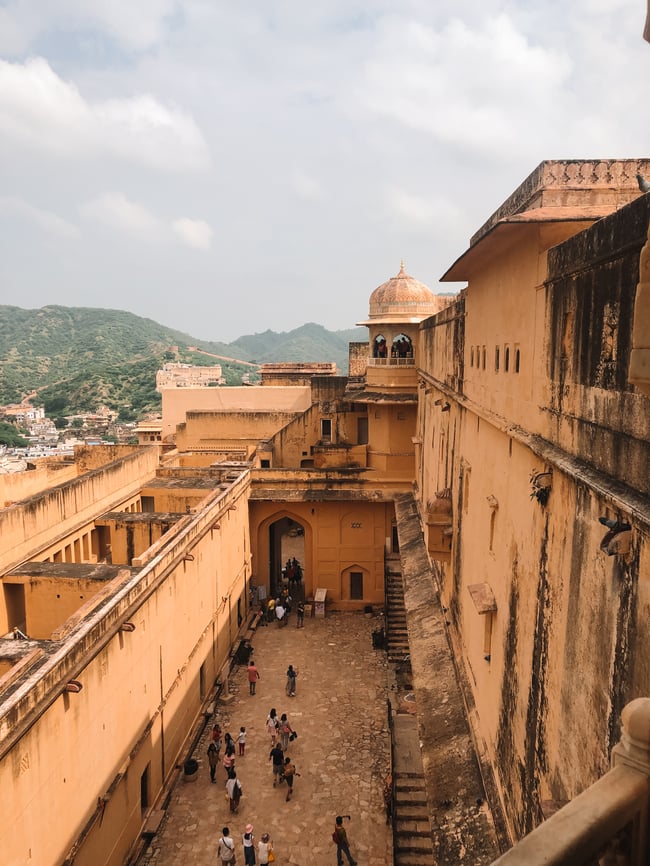 Just outside of Jaipur are the Stepwells, which are a big reason why this city has been touted as the most Instagrammable spot in India over recent years. The design is stunning, but it's also an important part of Jaipur's heritage. Those that still stand are considered sacred today, as a way to remember the work that went into to collecting water to help millions of people.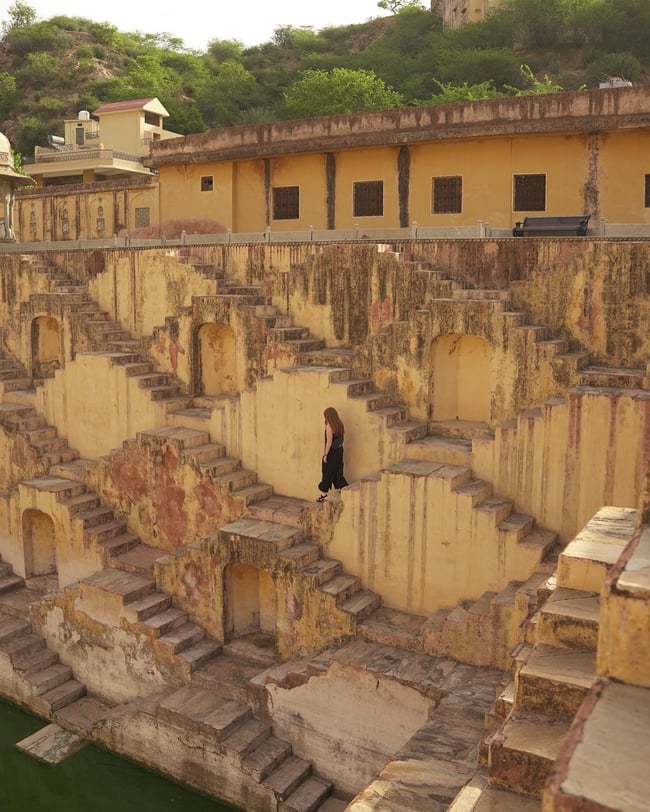 Jodhpur
Onto the Blue City (picking up the themes here?). If you're familiar with Chefchaouen in Morocco, you'll see some major similarities. The town is dotted with rich blues everywhere you look and hundreds of homes and alleyways are painted to match.
The main attraction really is the painted town itself, but there are also forts and palaces to explore while you're here. Just don't leave without experiencing Jodhpur's other highlight, the towering Mehrangarh Fort. It's the largest fort in all of Rajasthan!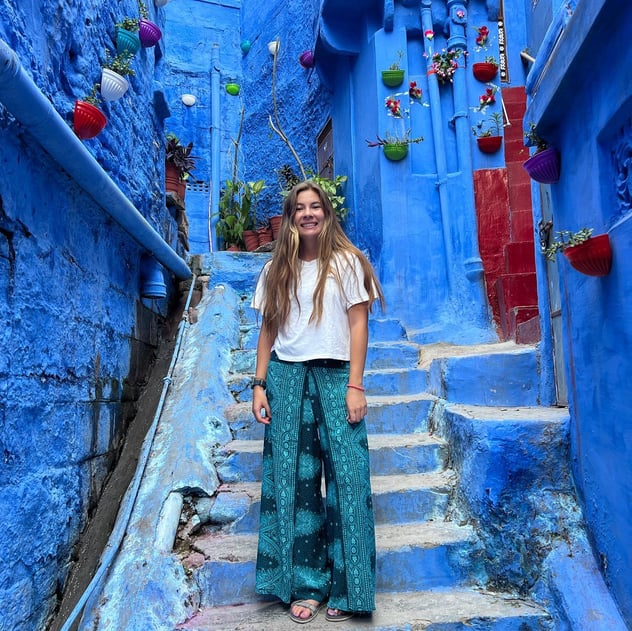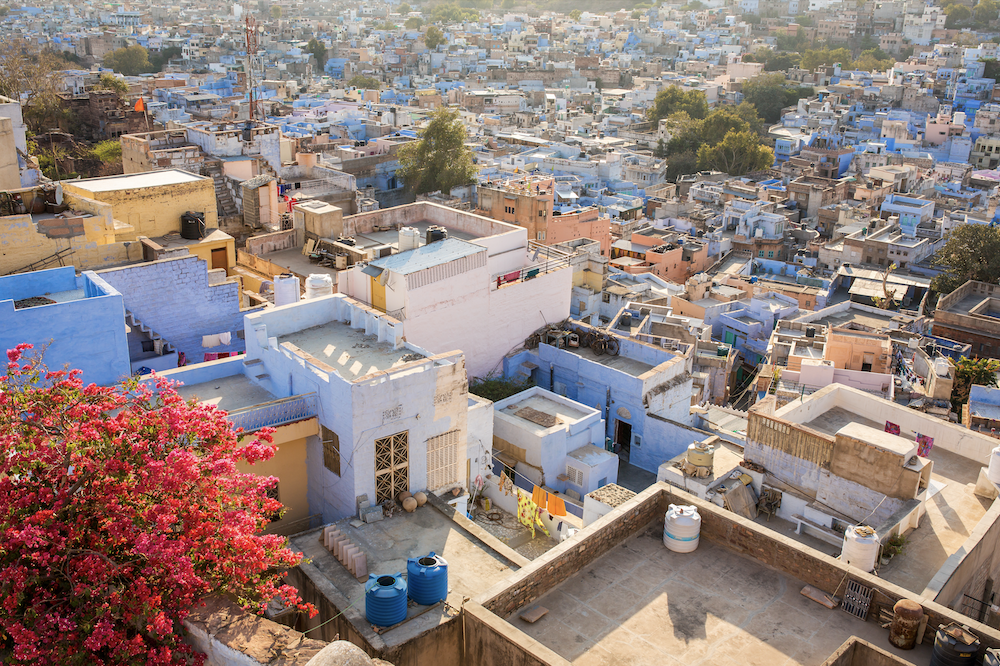 Jaisalmer
Jaisalmer is known as the Yellow City because of the rich golden colors of the desert that are mirrored in the design of the city. This is one of the most popular gateways to the Thar desert, so you'll see an abundance of camels waiting to take you out on the adventure of a lifetime.
Glamping is a favorite experience around here — picture riding a camel out into the desert at sunset, having dinner and a bonfire, and laying out in the cool sand dunes watching shooting stars. It's completely magical. To be honest, riding a camel is not as glamorous as it seems (it's pretty bumpy!), but escaping the lights of the city and spending some time in the quiet of the desert under the stars is an experience you'll never forget.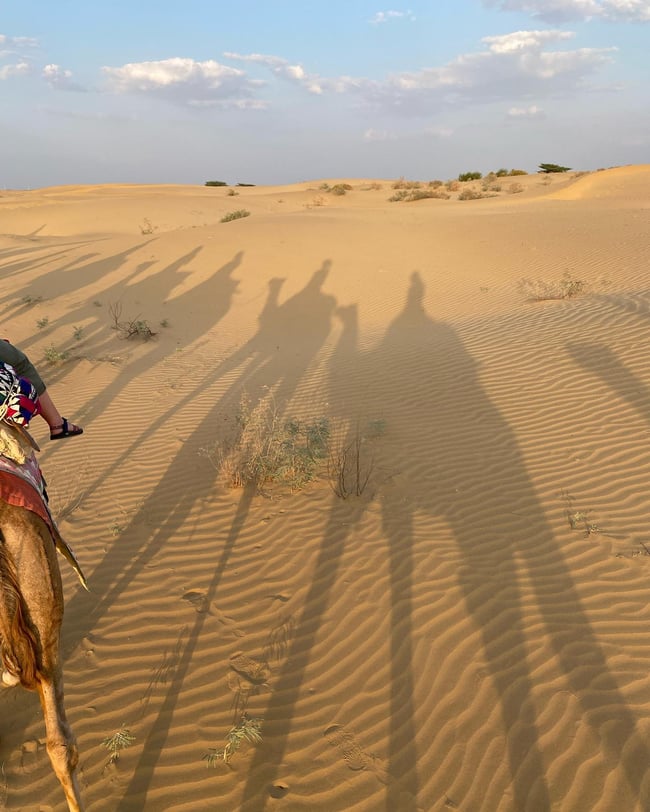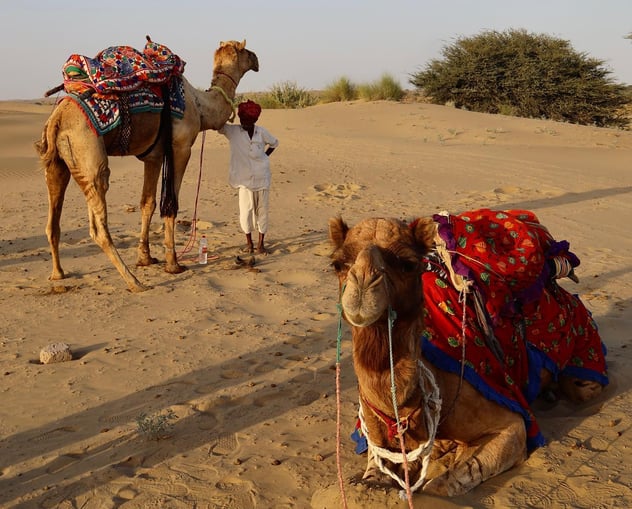 Ranthambore National Park
There are several protected parks throughout India where you can go on a jeep safari to see everything from leopards and tigers to rhino and elephants, but Ranthambore is said to be one of the best if you're especially hoping to spot a tiger or two!
The park boasts that the chances of seeing a tiger here are fairly high just because of the high number that are living in the park, but also keep your eyes peeled for bears, leopards, crocodiles, hyenas, and more.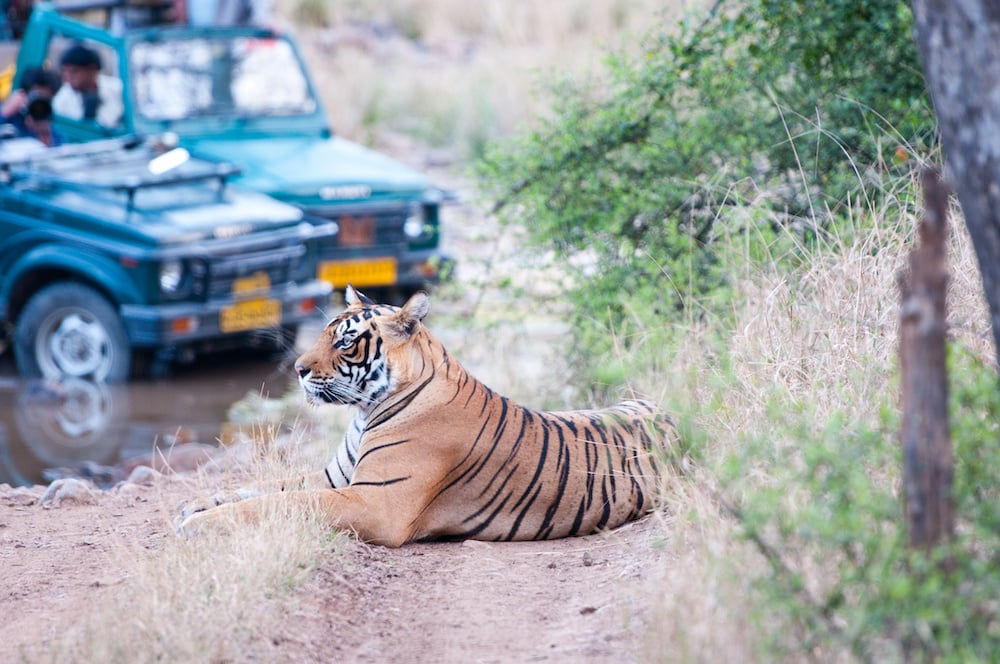 Udaipur
While the north is compared to Switzerland, a trip to Udaipur will help you see why this city has been said to be reminiscent of Italy. The old city walls line Lake Pichola and not only is it a destination for travelers, but it's easy to see daily life for the locals as many wash their laundry at the water's edge. There's a palace sitting smack dab in the middle of the lake and it's a must to take a boat tour to see it all.
Did you know that India has a Great Wall really similar to China's? It's the second longest continuous wall in the world (after China of course). A popular spot to come see the wall is from Kumbhalgarh (just outside of Udaipur). So if you haven't yet seen the Great Wall in China, now's your chance to get a similar experience in India.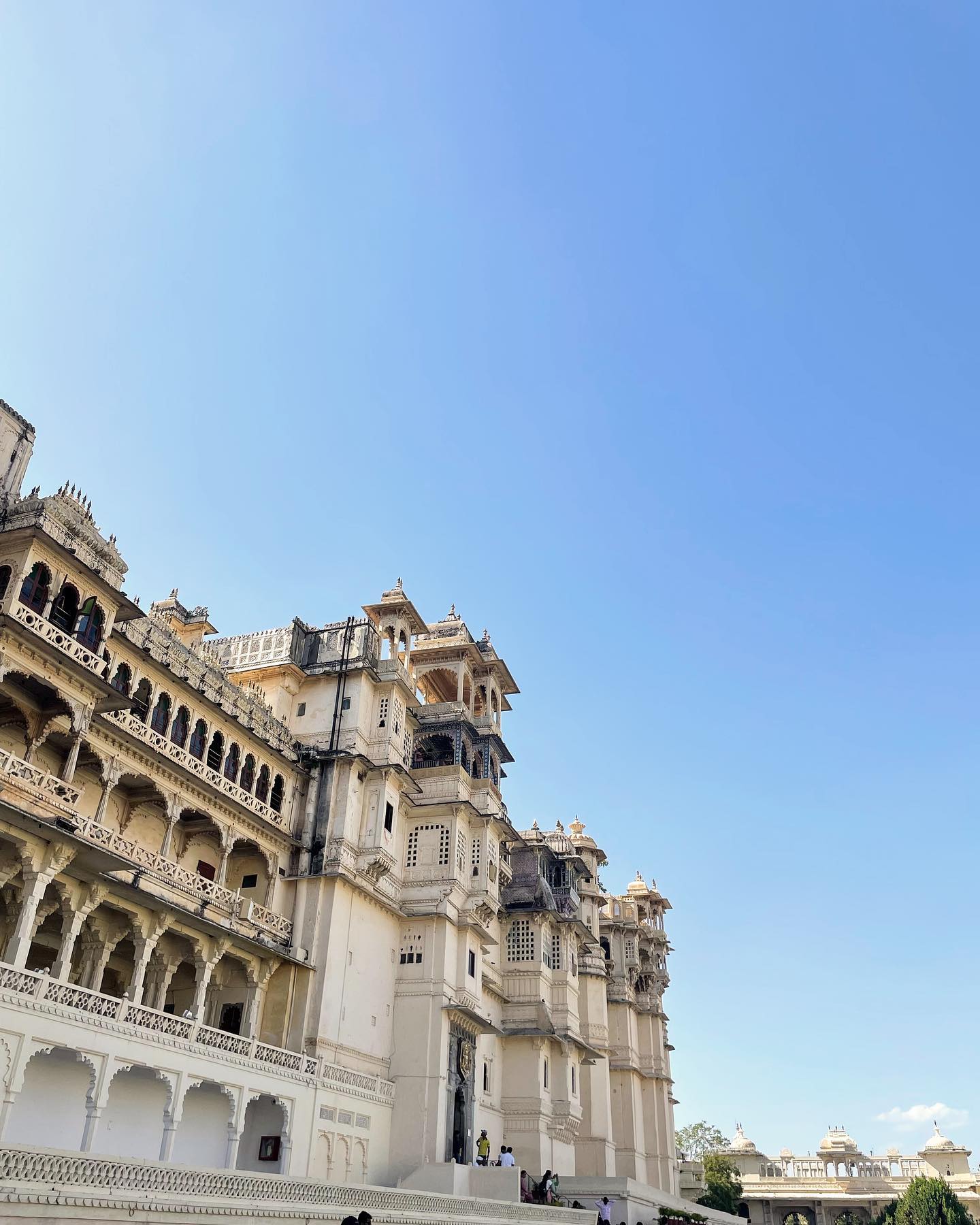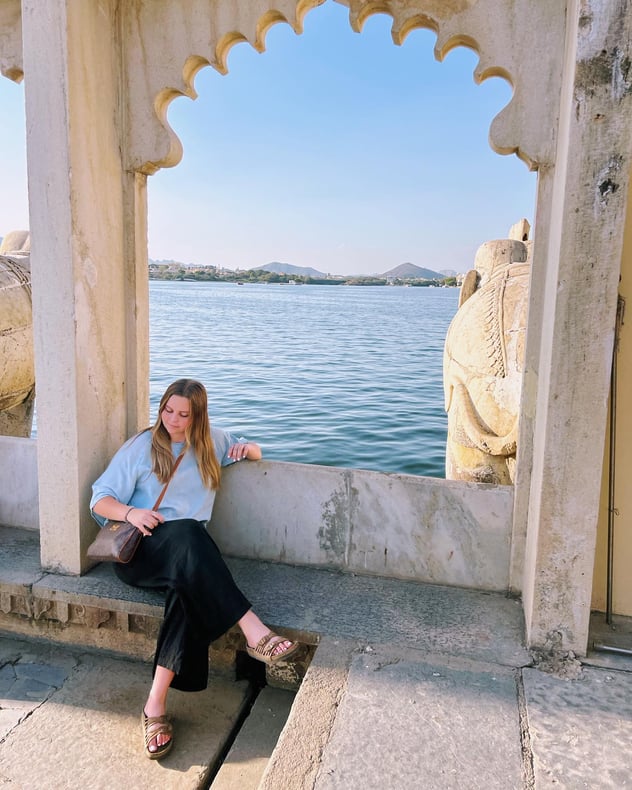 Eastern India
The east is known to be rich in culture — you'll find that a lot of the top destinations are temples, monasteries, and holy sites. And in true India style, the landscape offers everything from mountains (as you head more east) to beaches (found along the coast).
Varanasi
This is not only the spiritual capital of India, but is believed to be one of the oldest living cities in the world! It's right on the banks of the holy River Ganga which is what pulls in so many locals and travelers alike. The Varanasi Golden Temple (sacred and significant in the Hindu faith) is here and Hindus make the journey from all over the world to reach it. The river itself is also revered, and believed to flow from heaven — you'll find thousands of worshippers taking a dip in the water to partake of its purifying properties.
To really experience the sacred nature of this site, rise and shine early at 5:00 AM to walk the quiet streets before the hustle of the city wakes. Every morning, there is a sacred ritual where local children chant and monks perform with fire as a blessing to the Mother Ganges. Or, jump on a boat cruise to get a glimpse at the different rituals and holy baths that occur along the banks.
There's so much more to see, everything from the paper kites that locals fly over the river from their rooftop balconies to the evening ceremonies and even shopping bazaars.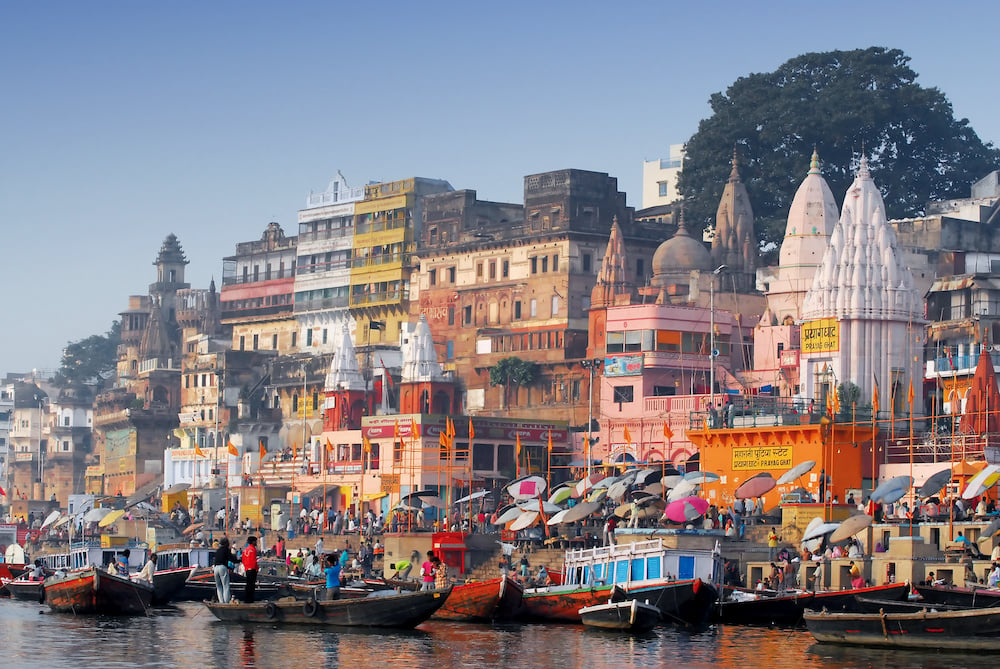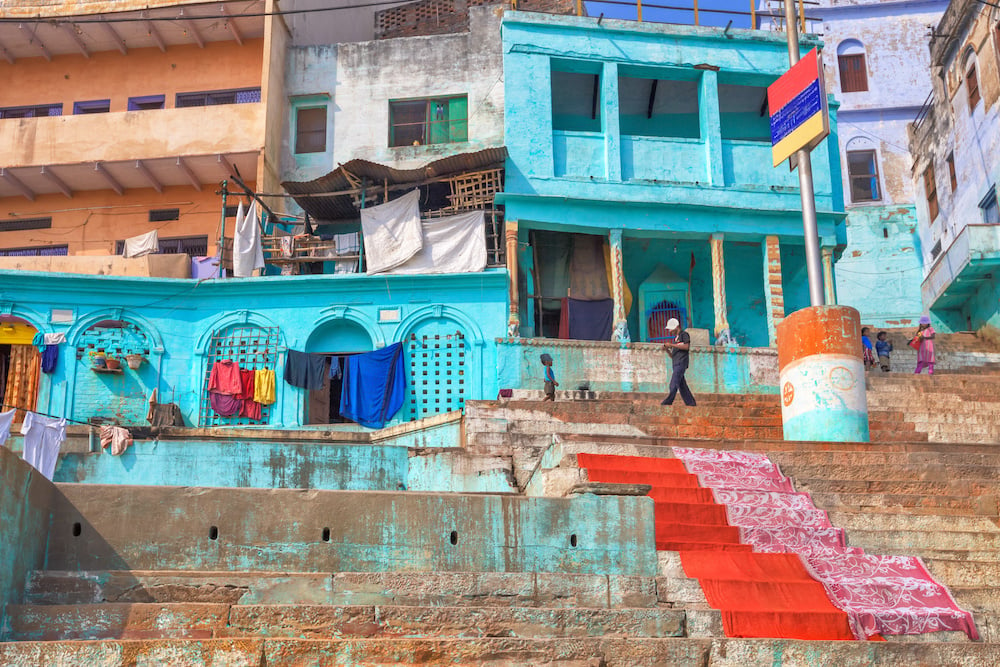 Sikkim
Make your way to the northeasternmost tip of India, nestled between Nepal, Tibet, and Bhutan. Similar to Himachal Pradesh in the northwest (where our ILP program is), your backdrop is the Himalayans and your activities here are all geared towards the great outdoors. Find monasteries, towering buddhas, Tibetan prayer flags, waterfalls, yak rides, trekking, and frozen lakes.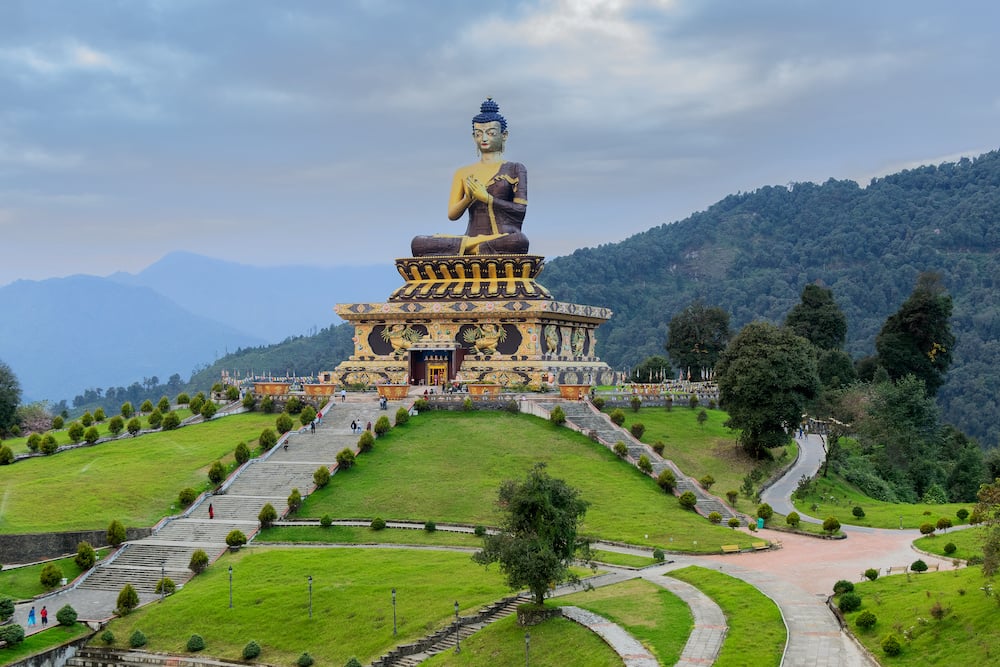 Andaman + Nicobar Islands
Head waaaay east — across the Bay of Bengal and off the coast of Thailand you'll find a dreamy archipelago of Indian islands in the Andaman Sea. There are flights here accessible from major cities across India and truly a getaway — they're the exact paradise you're picturing!
Go island hopping, spend a morning snorkeling, explore limestone caves, kayak through the mangroves, then block out plenty of time for an afternoon on white sand beaches with turquoise water.
We have more info about this dreamy spot here, making a visit to the Andaman Nicobar Islands a cinch to plan.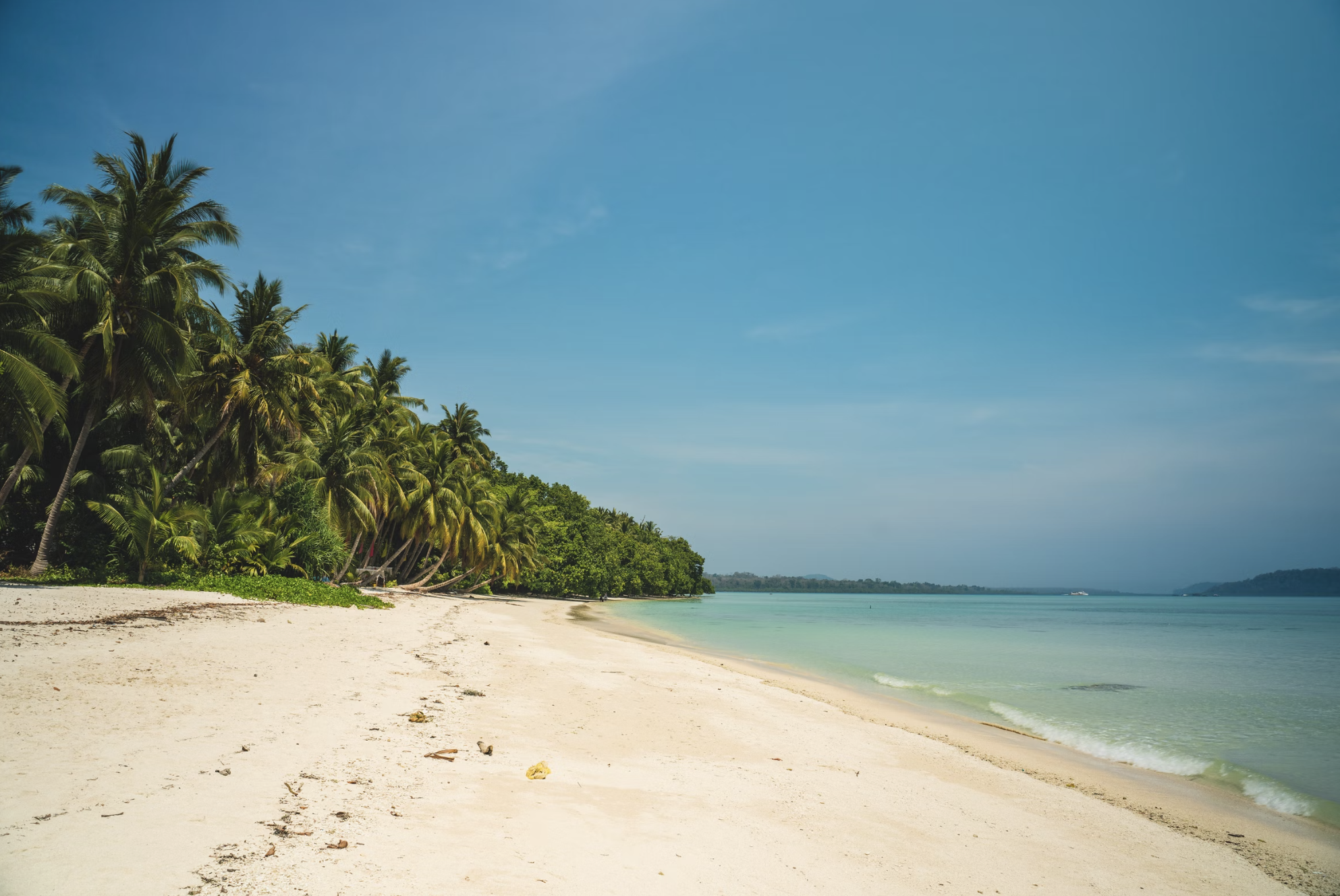 Southern India
Welcome to the beaches! Many travelers actually skip the islands and stay inland because the beaches are just as good here, but much easier on the budget because you can skip the flight and expensive rooms found on the more secluded islands.
If you're Googling Indian beaches, Goa is always the first thing that pops up. But want to know the truth? Every true traveler knows Goa is overcrowded (and not even home to the best beaches!). We're looking to skip the main tourist spots in the south. If I was vacationing in this part of India, here's where I would go instead — find the top spots of a Southern India vacation here.
Puducherry (or Pondicherry)
The cutest little French settlement! You'll see its French roots even today in the tree-lined streets and mustard and peach painted buildings. Puducherry sits right on the coast, on the eastern tip of southern India.
You'll find a promenade street along the coast that might remind you a bit of Venice Beach in California, lighthouses, peachy pink churches, and surfers at Serenity Beach. The most popular way to explore the city is by bike ... you won't have to go far to find a bicycle rental shop in this darling city.
The next time you watch Life of Pi, keep an eye out for Puducherry scenes (where Pi grew up). Get all the details on a visit to Puducherry here.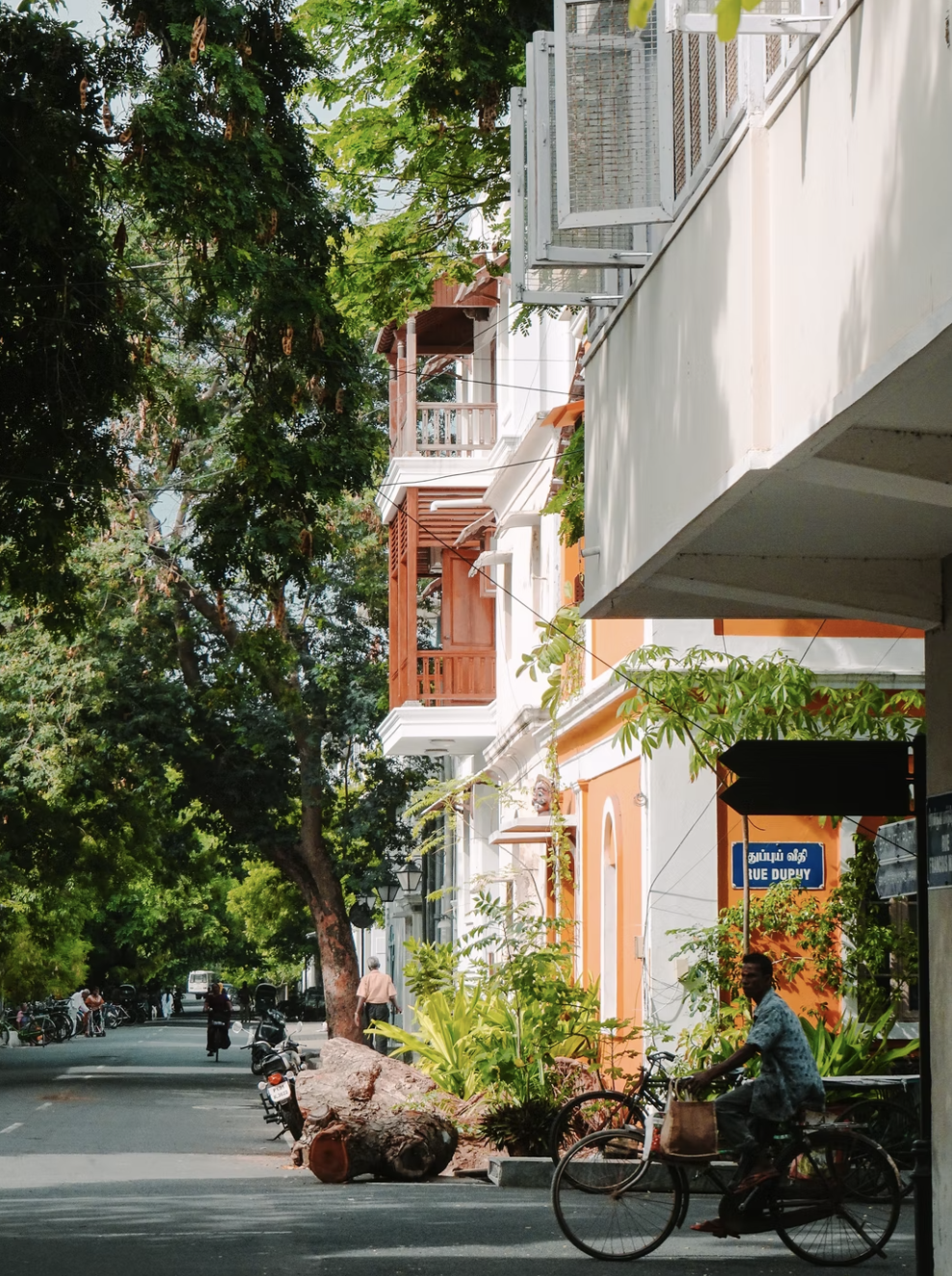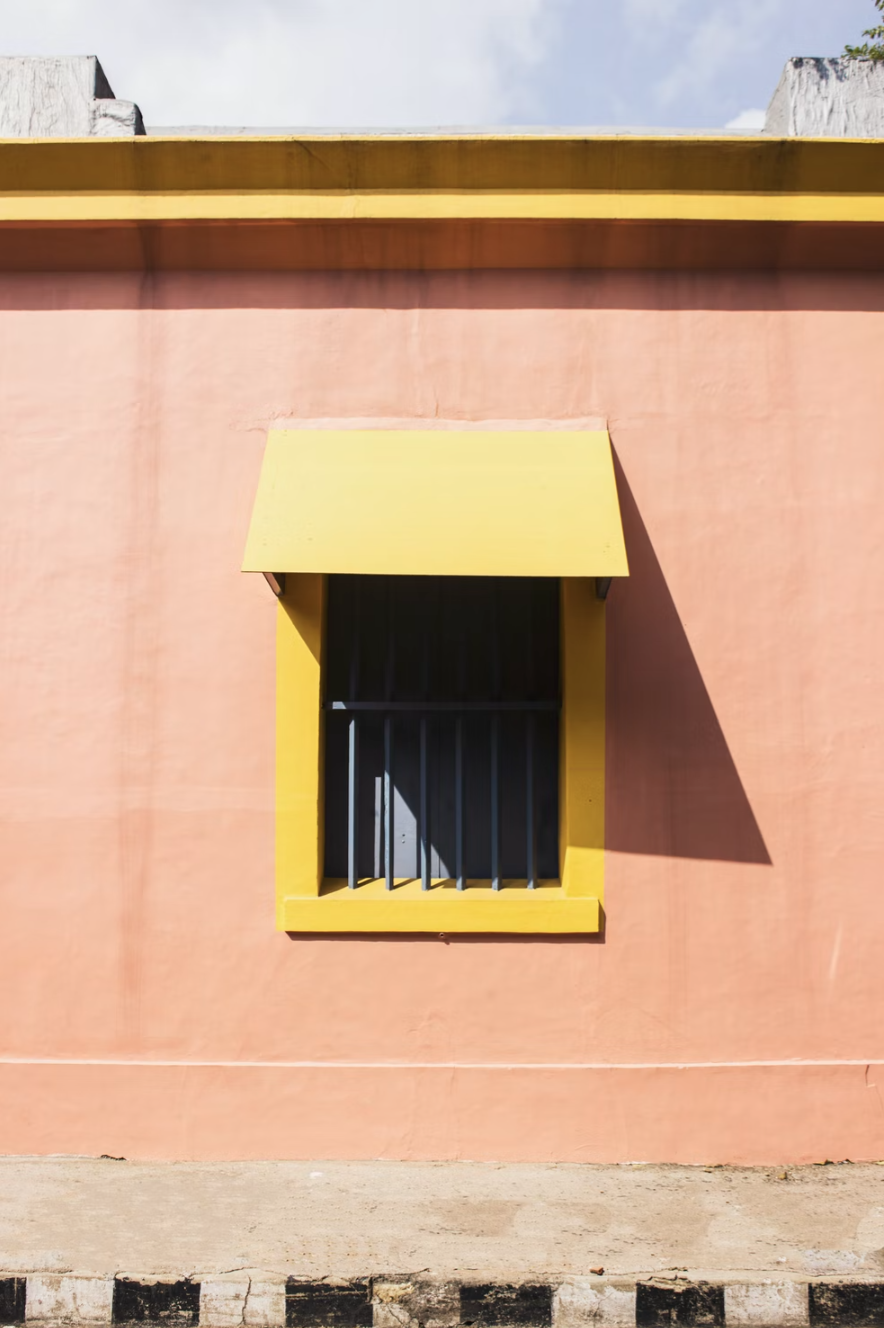 Kerala
Kerala is a dream destination, thanks to dozens of waterfalls, lush jungles, miles and miles of beaches, and unique adventures like taking a cruise on a houseboat through Kerala's famous rivers. Come canoeing, take a catamaran ride, go snorkeling, try surfing, go on a jungle safari, and more — we think the state of Kerala is going to be a very popular vacay spot. We have more about a specific area of Kerala here: houseboats and beaches around Alappuzha.
The region includes both jungly river spots inland like Munnar and sandy beaches along the coast like Kovalam, Varkala, and Kochi.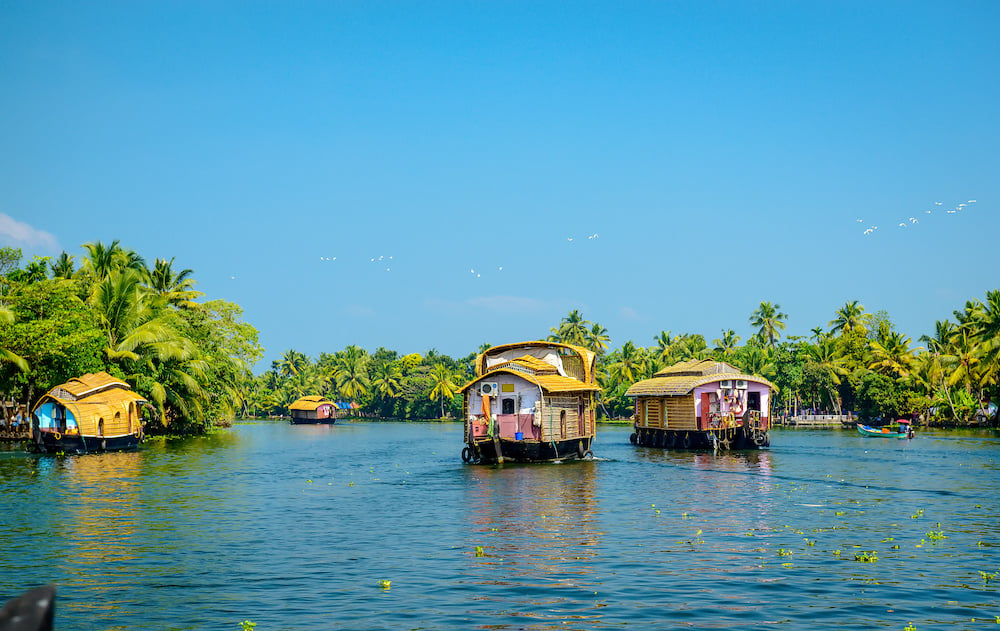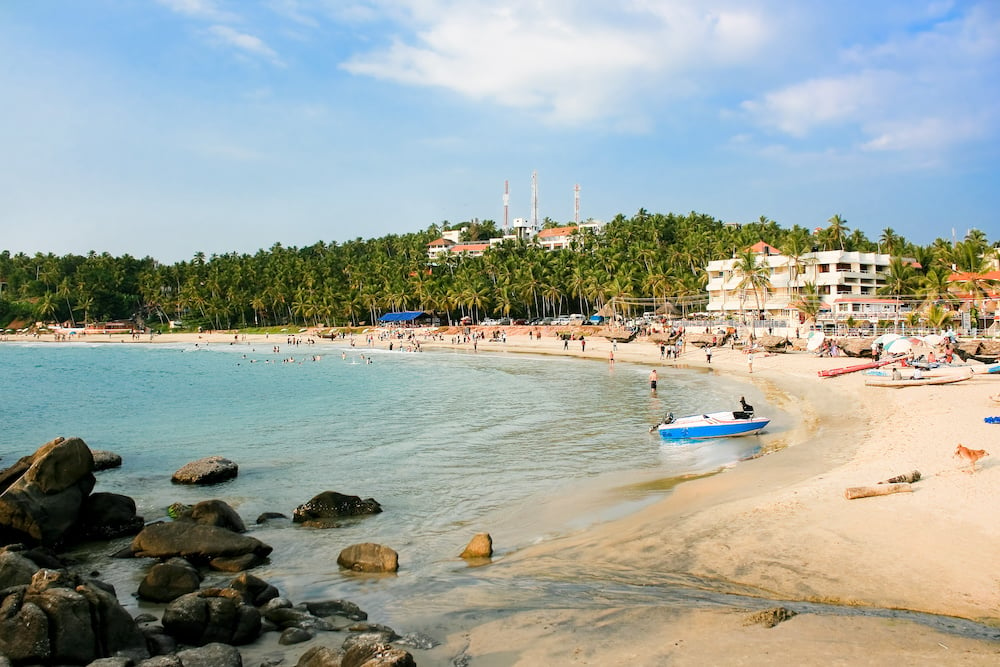 Come volunteer in India with us!
These are just a few highlights of things you can do in this country — we are so excited for our ILP volunteers who get to live here a few months! Come experience not just the best sites, fall in love with the people, the culture, and the food — come to call India your home away from home.
Learn more about our newest program by clicking that button below.