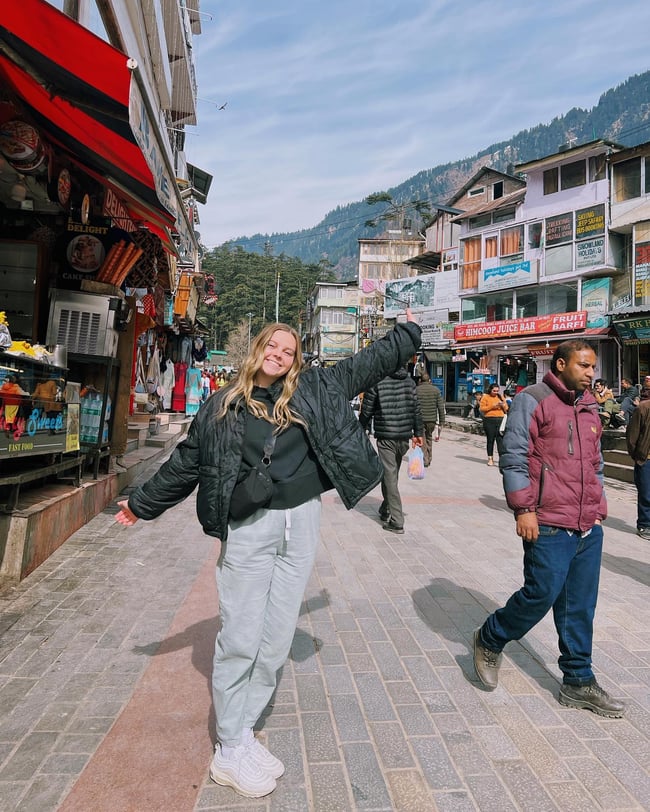 Try not to fall in love with this gorgeous mountain town — it's a stunner, complete with yak rides, temples galore, miles of markets, and more.
Ready to add more to your India bucket list? Say hello to Manali, the stunning hillside town nestled in the Himalayas — with plenty to do on a weekend getaway. If you're planning on a visit to India, you know there is a lot to see (like the Taj Mahal, of course!). But if you're spending a whole semester living and volunteering in India, you know the biggest perks, like experiencing way more than the typical tourist. When it comes to weekend trips for our ILP India volunteers, Manali is at the top of that list for a few reasons.


---
Seriously, spend a whole semester volunteering in India, for less than you think — more about our Himalayan program, here.
---

This northern gem has all the highlights you're looking for in a quick weekend getaway — cooler temps, towering snowy mountain tops, white water rafting, the prettiest hiking trails, and colorful monasteries and temples. We're diving into the highlights you can't miss on your visit!
A Little About Manali
First, know where you're headed. Manali is just an hour away from the neighboring town Kullu: both are nestled in the Himalayas in the Himachal Pradesh state. Those towering and world-famous mountains around Manali mean quite a few perks for tourists, like sweeping views for hikers in the warmer months and magical ski getaways in the wintertime. It used to be a tiny trading town but has now turned into a popular getaway year-round for tourists in India (and reputedly has quite the pull as a honeymoon destination — must be all that stunning scenery!)
But peek back into history, and this city has had quite the story if you look at Hindu mythology. This entire valley is the supposed birthplace of humanity, with Manali as a hangout spot for several deities. Manu, the progenitor of all of humanity, lived in Manali, while Parshuram (one of the many reincarnations of Vishnu) also lived nearby in the Kullu valley. For this reason, along with the mindblowing scenery, the area around Manali is sometimes called "the Valley of the Gods". You can see whispers of these legends when visiting the handful of Hindu temples found in and around the city.
Before we dive into all the things to do here, you'll want to know there are "two Manalis", the old Manali and the new Manali. The new side of the city includes the bustling Mall Road and the rather congested and busy city. Old Manali is over the bridge (across the Beas river) and has more of a quieter, mountainside feel, complete with a collection of chill cafes to explore and places to stay. The two are nearby, and easily walkable (less than a mile).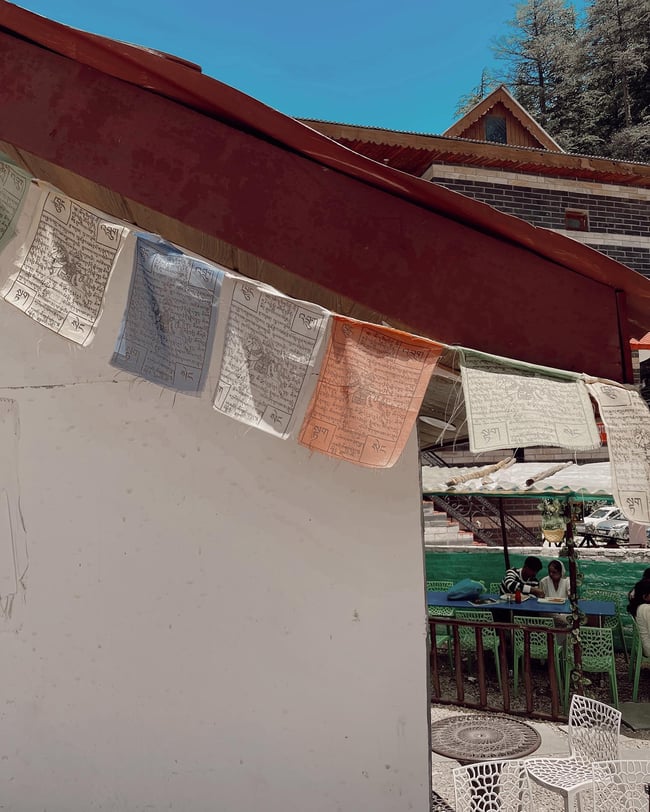 Things To Do + See
The Highlights Of Mall Road
You can't visit Manali and skip Mall Road. It's the heart of the city, a pulsing pedestrian-only street lined with dozens of vendors selling colorful tapestries and shawls, woven wool sweaters, prayer wheels, turquoise jewelry, and Tibetan-influenced souvenirs. Find Nepalese shops with yak wool blankets, "Kullu caps", wool gloves, and handy coin purses. You will also run across a few shops selling replicas of popular shoe and sports brands if you want to get "name brand" coats, duffel bags, backpacks, shoes, and more.
Mall Road is also peppered with cafes if you're feeling hungry. It's easily the most popular thing to do while in new Manali.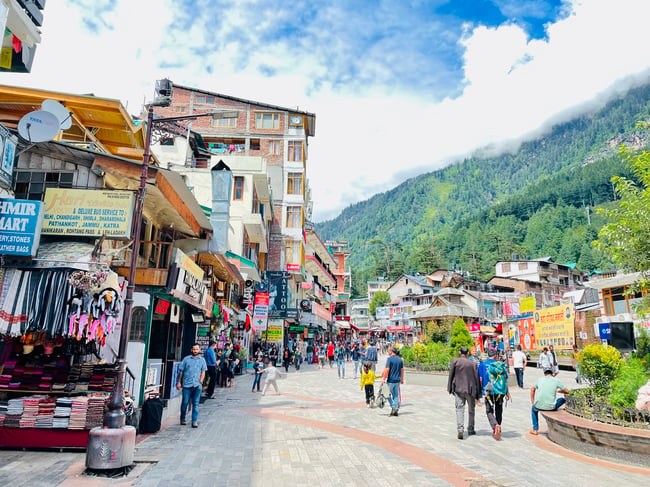 Visiting The Hadimba Temple (And The Yaks There)
Peer through the towering cedar trees to find the tiered Hadimba temple, dedicated to the character Devi (who's a main player in the Indian epic, Mahābhārata). The structure is hundreds of years old and stands apart from others in the area, thanks to the cone-shaped roof and detailed wooden doors, all adorned with sets of sheds and skulls of goats, buffaloes, and antelopes.
Frequently there are yaks around the grounds of the temple, available for a picture or a ride (for a fee).
The temple is quite busy from September to April but is open year-round. If you'd like to have this place almost all to yourself, come early and in the winter months when the treetops and rooftops of the temples are covered in a thick layer of fluffy white snow. The temple is a mile or so from Manali and is easily reached by taxi or by walking if you'd like to make the trek.
Open 8:00 AM to 6:00 PM, daily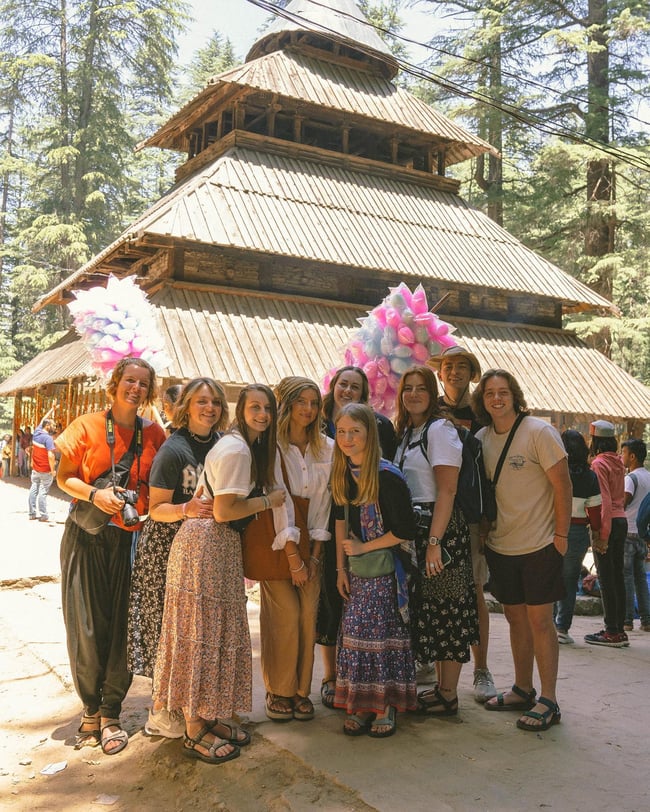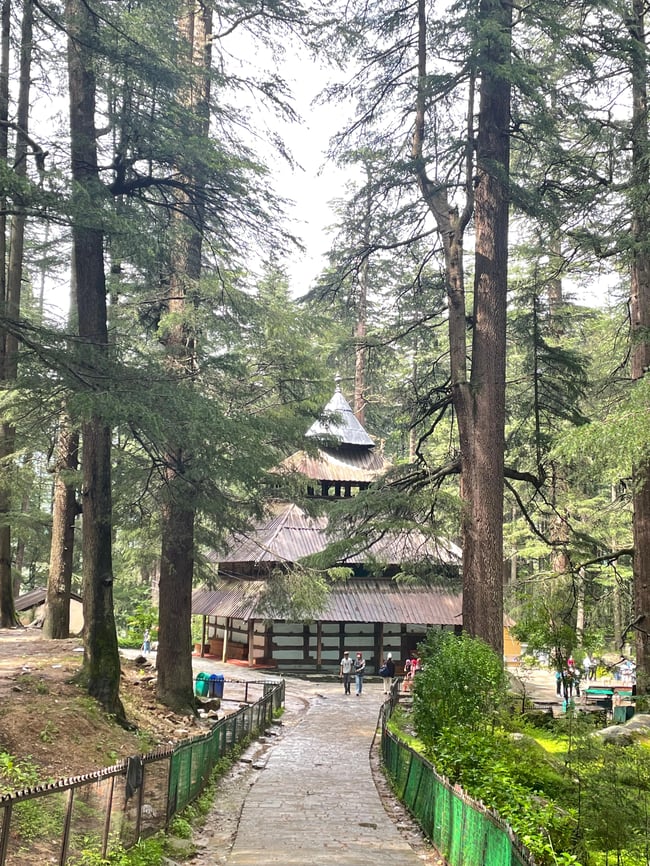 Tour The Himalayan Nyinmapa Tibetan Buddhist Monastery
Found not too far from the chaos of Mall Road in new Manali, you can find a little peace in this stunning complex. This complex is beautiful, and an easy place to spend an hour or so just taking in all the sites and scents of incense. Highlights include the chance to admire the adorned prayer wheels (they're huge!), the wall of colorful prayer flags, and ornately decorated rooms of worship filled with wall-to-ceiling murals. You will also see golden Buddhas, and others worshipping.
The complex is surrounded by over a hundred prayer wheels and also includes a garden space. There is a 20 rupee photography fee if you'd like to take pictures once inside.
It's found within walking distance of the Mall Road.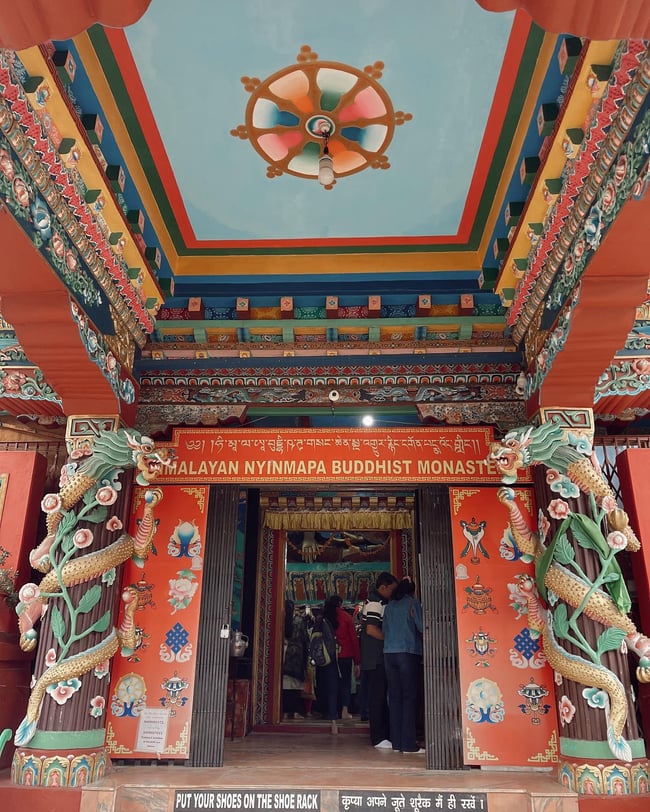 Soak In These Temple Hot Springs
Especially if you're visiting in the crisp fall or chillier springtime, a drive or hike to the Vashisht Temple hot springs is a must! These sulfur pools have a long history of healing, with many soaking in these pools to relieve sore muscles, warm up on cooler days, or other ailments. The pools are separated by gender (male and female pools) where you can go for a soak. The waters are hot and are a stunning blue color, especially contrasted with the gray stone walls which surround each pool.
Whether you decide to go for a soak before or after your tour of the temple, don't forget to spend some time admiring the intricately carved wooden pillars around the sacred structure. The Vashisht Temple has an old history — it's believed to be 4,000 years old. The temple complex is small, set up in a square courtyard with a couple of other buildings. If you're interested, there's another ancient temple (the Rama Temple) nearby which serves as an important pilgrimage center.
Make sure to check visiting hours during your time here. The temple grounds are open from 7:00 AM to 9:00 PM. The sulfur pools are open from 7:00 AM to 1:00 PM, then again from 2:00 PM to 9:00 PM.
Hiking To Waterfalls
There are a few waterfalls around Manali, some structured as more of a little side trip to fill an afternoon, while others are more of a half-day or full-day endeavor. Some of the more popular falls and hiking trails are listed below, if that's something you'd like to integrate in your trip here:
Sajla Falls: It's about a 30-minute drive south from Manali to get to the trailhead for Sajla falls, but worth the excursion if you have the time. It's a short 1.5-kilometer trail to the falls, complete with a little pool you can get your feet wet in and several foodie vendors selling snacks and treats.
Jogini Falls: After touring the Vashisht Temple, you can easily hike to this waterfall in about an hour (it's a 3-kilometer trail), depending on your speed. It's one of the most popular 'add ons' to a day exploring the Vashisht temple.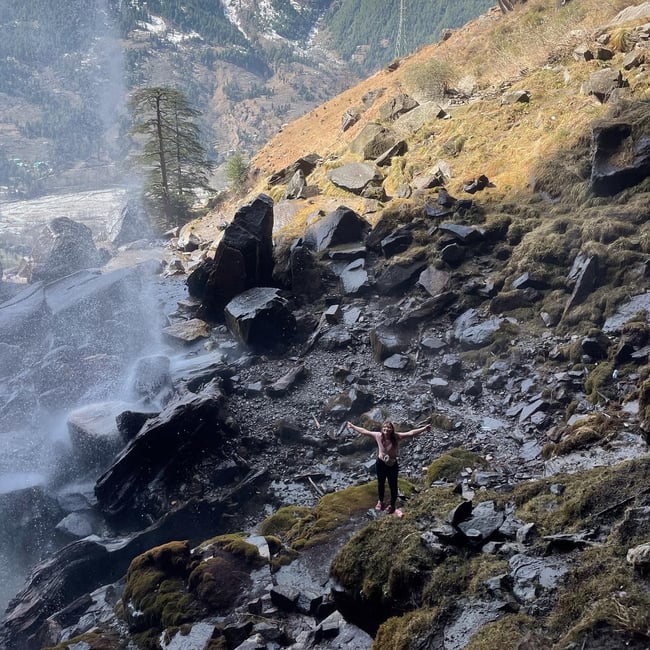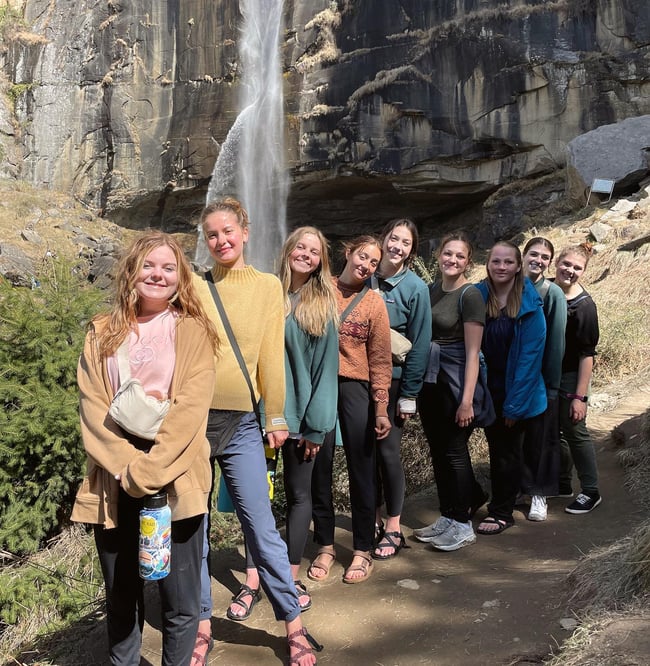 Baror Parsha Waterfall: Another gorgeous waterfall, but one that's not as popular as the others on this list (especially if you hike here during the week). The falls are found just a couple of miles outside of the city but you can take a car pretty close to the falls, so you just have a 20-30 minute hike ahead of you. There is a little cafe at the top (bring cash if you'd like to purchase something).
Wander Through The Nature Park
Step away from the cafes and shopping in Manali for a close-to-home escape to nature. This sprawling park is a dedicated space for the wildlife in this mountain region. There are several trails that wind in and out of the tall cedar and deodar trees, where you may be lucky enough to rainbow-colored birds called monals, or musk deer.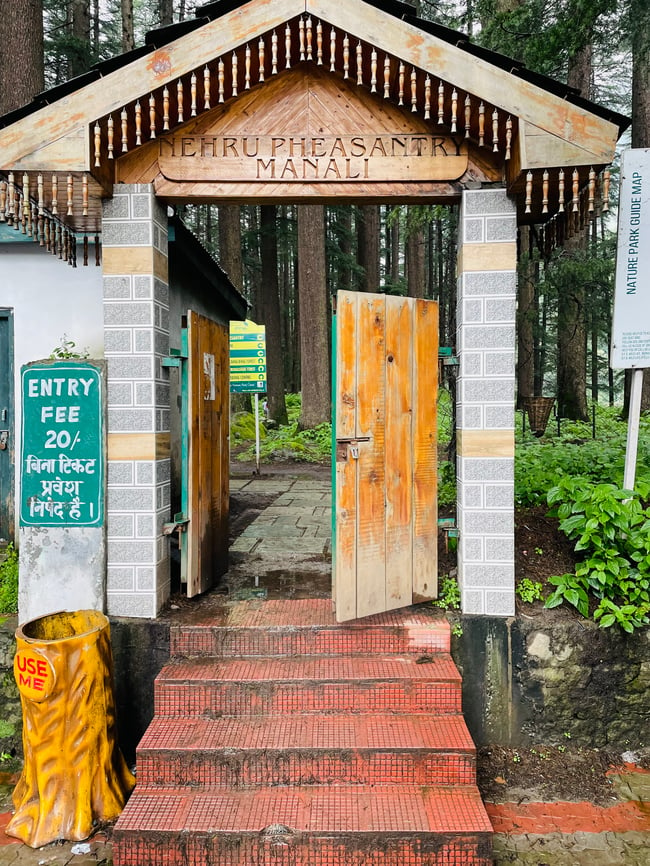 Go White Water Rafting
The curving Beas river cuts through Manali and is a prime spot to take on the adrenaline-pumping adventure of white-water rafting. The water does get very cold, so the ideal time for this activity is in June and July (though you'll see some vendors renting out wet suits for the colder months).
Visit Rohtang Pass
This is a day trip experience, where you can zoom up the curving road to a whole list of scenic stops — pass waterfalls, plunging green valleys, and towering mountain ridges dotted with pine trees. The pass is closed for a portion of the year (due to snow, ice, as well as mudslides) and has been an important travel point when it is open, allowing vendors, farmers, and supplies to get their goods from the Lahul valley to the Kullu valley. But the beautiful waterfalls, fields of yaks grazing the green grass, tethered lines of colorful prayer flags, and postcard-worthy views along the way have also made it a popular tourist attraction. If you make it to the top, you'll be up an astonishing 13,000 feet.
Before you go, know that the road is narrow and winding, for the entire 2-3 hour experience each way (or double/triple that time, depending on traffic). There are frequent military vehicles that slowly climb the steep road, as well as tourist vehicles that slow traffic. It's also not unheard of to have flocks of sheep find their way on the road!
Rohtang Pass is only open from June to October and requires a permit to pass (just know that'll be included in your cost when you make the journey with a tour group).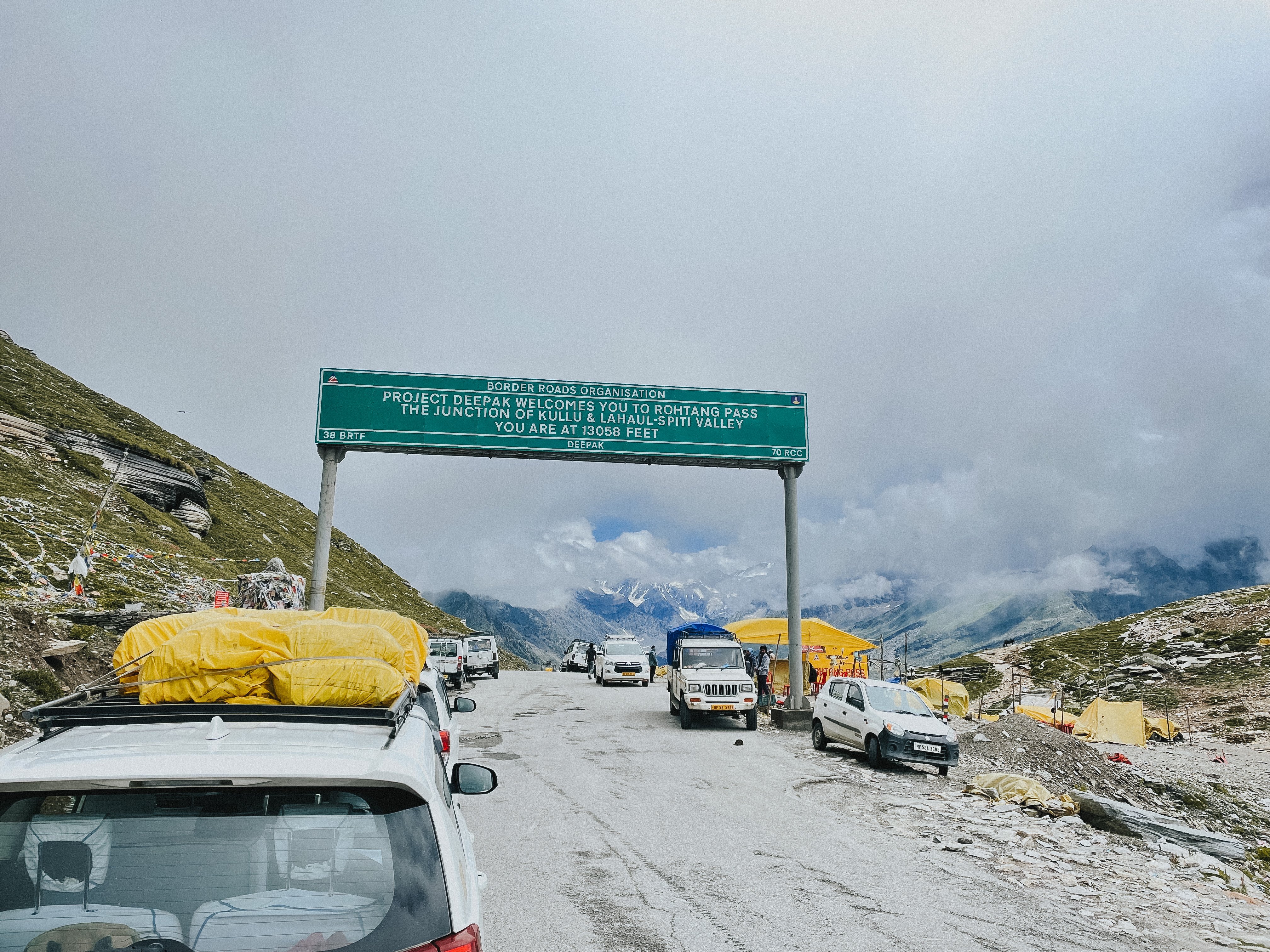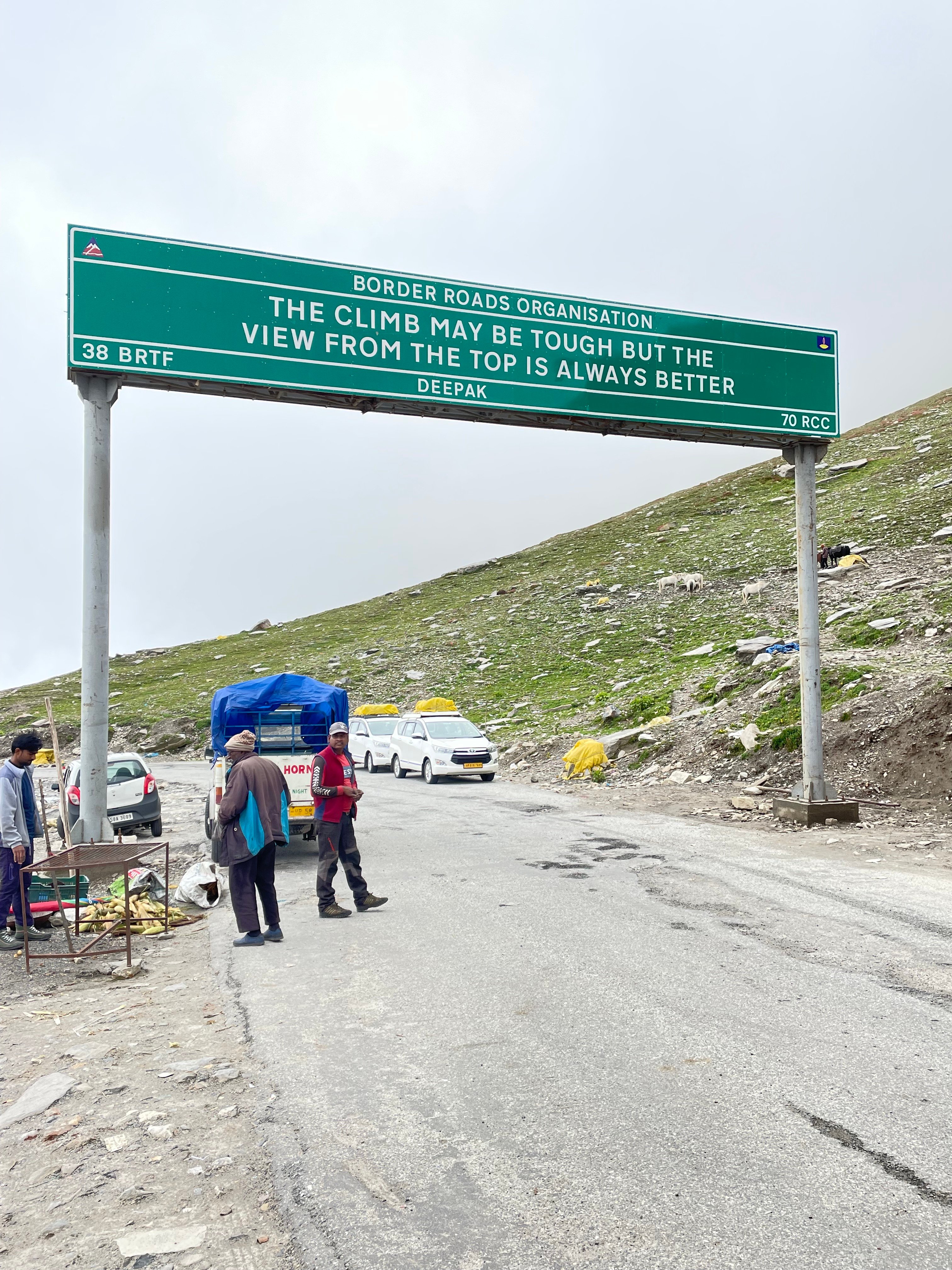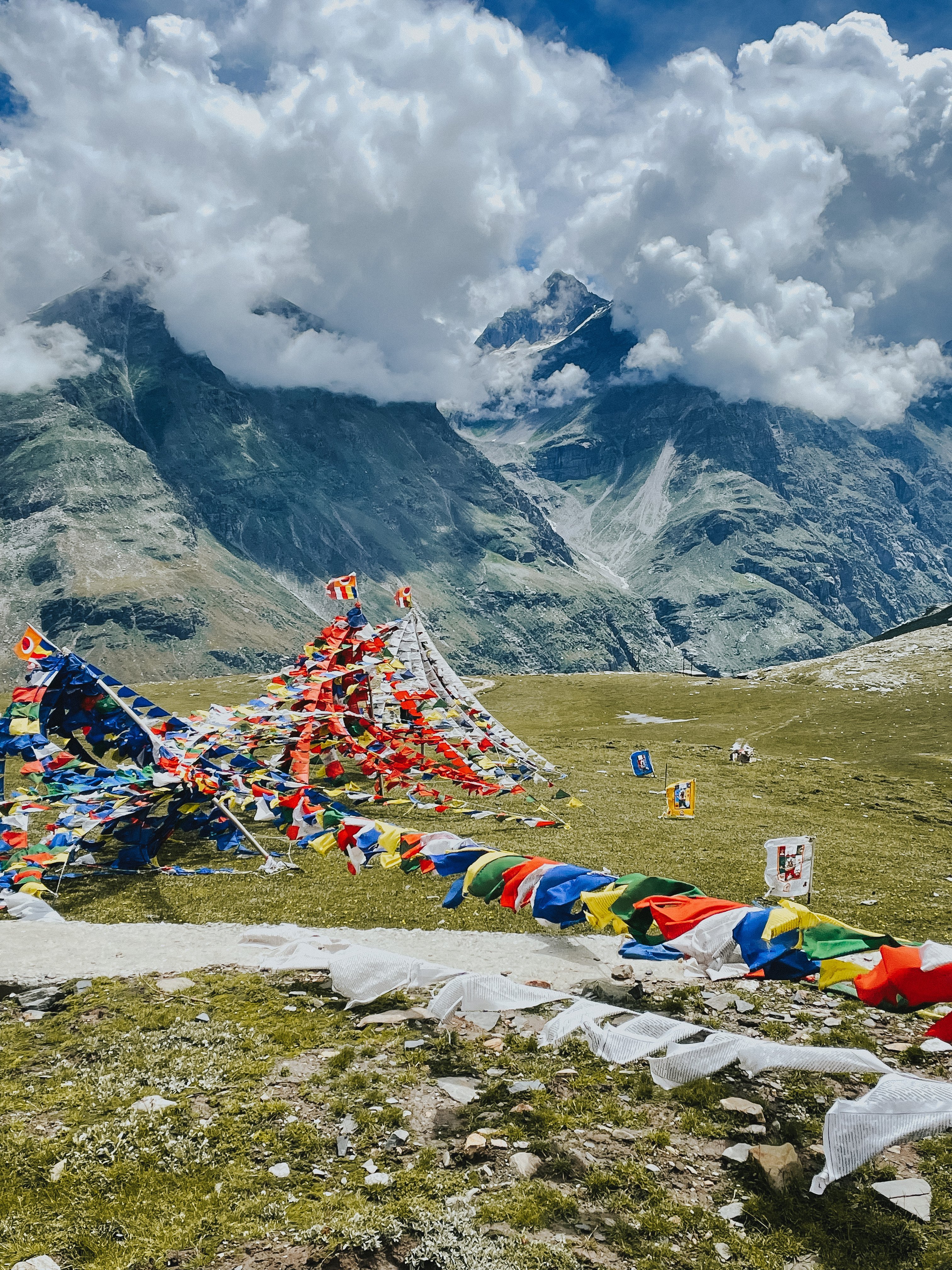 A Few Tips
About The Fluffy Bunnies
This rule of thumb goes for travel anywhere in India (and other countries), but be cautious of vendors. There are a few people selling items or experiences, like the chance to take a picture with the very cute and extremely fluffy white rabbits. Unless you plan on paying for a picture of/with the rabbit, don't show a smidge of interest. If you sneak a picture on your phone, walk over for a closer look, or reach out to touch these cuties, you'll be locked into a conversation about paying up (even if you didn't plan on paying in the first place).
It's also worth considering what goes on behind the scenes in order for the vendors to have animals at vacation destinations for the purpose of photos. For us, we prefer to be on the safe side by generally not supporting these practices.
Best Time To Visit
This place is a top-tier destination in the summer, but also in the winter when the charming city is blanketed in snow. You'll find the most pleasant weather from March to October, though October has a sprinkling of holidays and festivals that make Manali very crowded. If you can, try to visit outside of late July-August, and the month of September which is monsoon season. There are some frequent mudslides and powerful rainstorms which can literally put a damper on your trip. Many shops and cafes close during the off seasons, just FYI.
A Few Foodie Tips
Try the fish if you're a fan! Many restaurants will sell trout caught locally right in the Beas river. It's typically served pan-fried with steamed veggies. You can actually get a fishing license around town to catch your own fish if you're interested.
In the fall, you'll find a selection of apple juice, apple cider, and apple pies served up. Yum! There are several famous apple orchards nearby, and trying some apple pie or an apple is part of a quintessential Manali visit this time of year.
Oh and we love the soft serve ice cream here. You can get a twist cone with half a dozen flavors. It's a can't miss, no matter what the weather is like.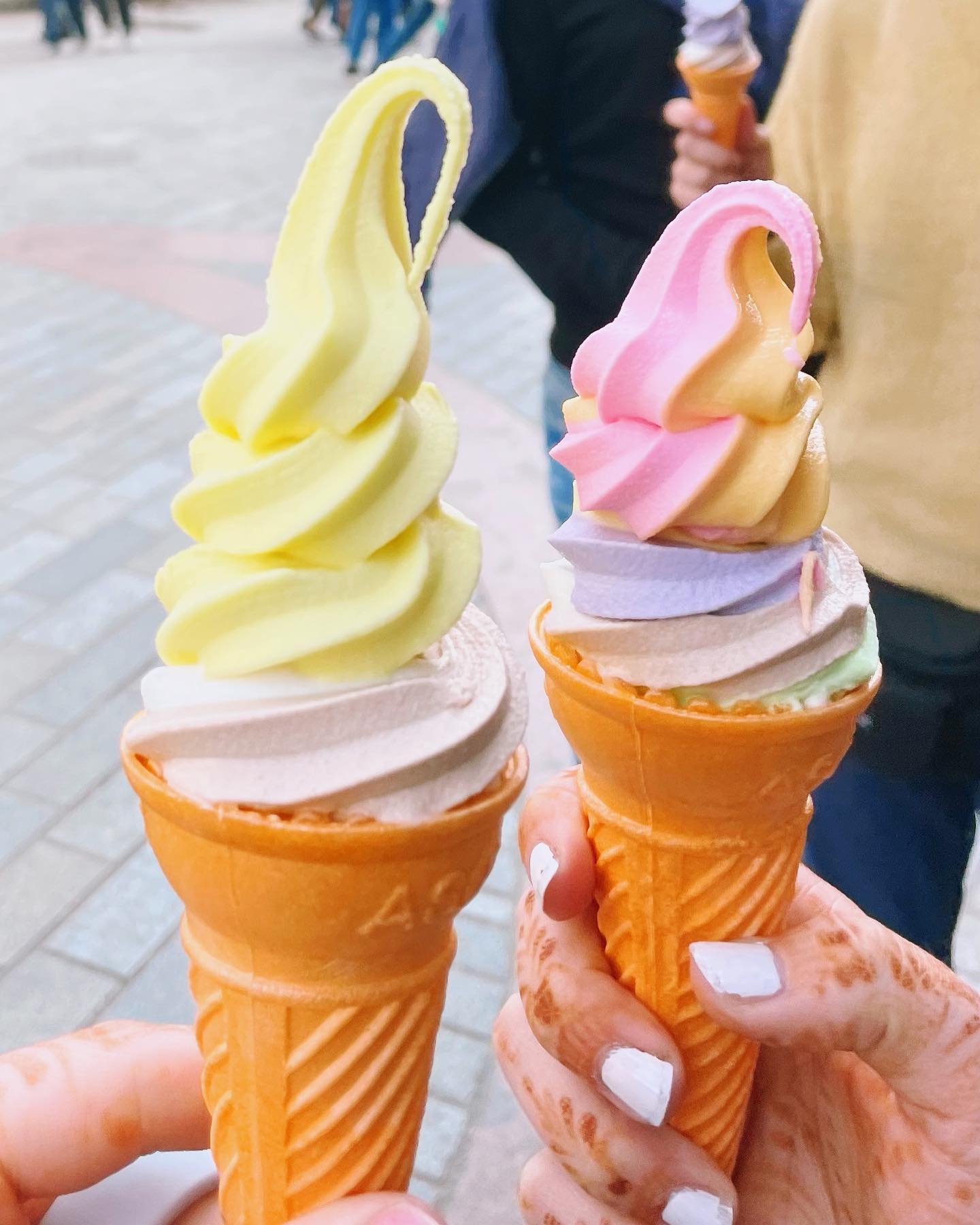 Download AllTrails
You'll find a maze of hiking trails in this particular area of India, and downloading AllTrails can help you decide which hikes to tackle. The app (and website) gives you stats about the hike (elevation and mileage) as well as what other hikers had to say about their visit (it was muddy in April, bring lots of water, it's steep so take your time, etc). Be sure to have this app downloaded and set up before heading to the Himachal Pradesh state!

Free on IOS and Android.
Come volunteer in India with us!
These are just a few highlights of things you can do in this country — we are so excited for our ILP volunteers who get to not just visit this country, but live here as volunteer English teachers. We'll set you up with a place to live, handle your flight and visa, and a few other resources to help you transition to living in India for a semester abroad. Come experience not just the best sites, but to also fall in love with the people, the culture, and the food — come to call India your home away from home, all with a fellow group of peer-aged volunteers.