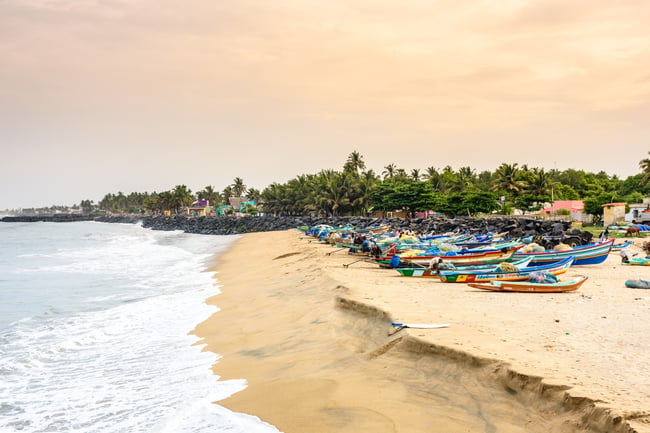 Colorful streets, Parisian-style cafes, and neighborhoods right on the water that couldn't be more photogenic. Can you believe this gem is found in India?
It's always hard to choose where you visit when you're going to a new country. And when that country is India, you have a very tough choice! Do you visit the intoxicatingly pretty palaces hiding in Rajasthan? Tackle hikes in the stunning Himalayas? Jet over to sugar white sands on the Andaman and Nicobar islands to the east?


---
Wondering how to see this all in a single visit? Fit in all of these trips and more when you live in India as a volunteer here for a semester.
---

Or, do you put together an itinerary that starts in what could be the most charming city in all of India? If that sounds more like what you're dreaming of, welcome to your guide to India's French city, Puducherry!
About Puducherry (Or Is It Pondicherry?)
You'll find this colorful coastal city on India's eastern side, on the southern "half" of this large country. The city has a fascinating history that has spilled into the name itself: the French version of the city is Pondicherry, but it's been renamed Puducherry in 2006, as a nod to the original name of the territory, Putucceri.
First, let's start with why you see so many French references in the first place. The French East India Company first set up trading here in the late 1600s. The area was renamed Pondicherry and was established as the French trade's capital city, which spread over the years. There was a bit of a tug-of-war between these French settlements and the British once India was taken over by the English, but things were eventually turned back over to the French in 1816. However, at this point, India's desire for independence from foreign powers was growing. Over the next 150ish years, some French-occupied areas of India were partially run with a local government and representation in the French Parliament, until these areas were finally transferred officially to India in the 1960s.
There's way more history to this, but it skims the top as to why there's a bit of a name game when it comes to Puducherry/Pondicherry. You'll see both online, but Puducherry is the official name since 2006. No matter what you call this city, it's nestled right on the seaside and is dotted with lighthouses, a long promenade, and canals. It's a big spot for agriculture as well as tourism (who can resist a seaside city this captivating?)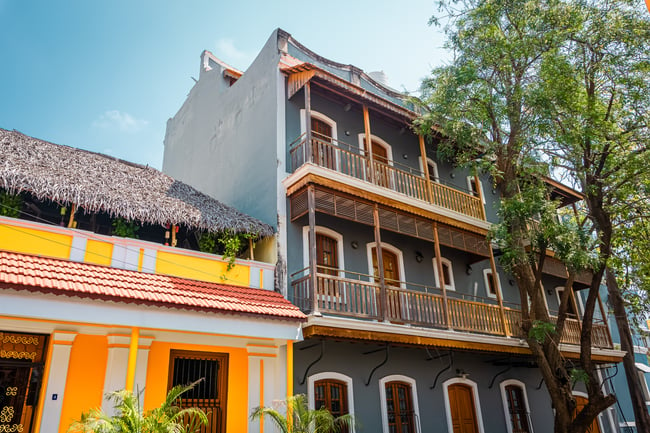 Highlights To Hit
This French-influenced city is steeped in history, which has resulted in very photogenic neighborhoods painted a rainbow of colors. It's easily a place to spend at least 2 hours in, or half a day if you plan on snagging breakfast and lunch in the cafes. Here's a bit of a highlights-only run down of how to spend your time in Puducherry:
Bike Through The French Quarter
This is one of the main highlights of Puducherry, pulling in visitors from all over the world. It's also pretty famous in the movie world — the beginning of the popular film "Life of Pie" was filmed here. Just a few pictures let you in on the not-to-so-secret part of Puducherry: mustard-colored colonial restaurants are tucked in between cozy cafes, with big trees spilling over the sidewalk in some sections. It's an idyllic place to walk the quiet streets, peeking your head into French bakeries, and photographing the bougainvillea flowers that are slowly overtaking some rooftops. Seriously, this place is as quaint and photogenic as it gets.
This area of the city is officially known as White Town, and (as you can guess) used to serve as the headquarters of the French colonial rule when it was present in India. While that's no longer the case, the European influence is still starkly felt. Buildings here are built in French colonial style, the blue-printed street signs are written in French as well as Tamil, and many people here still speak French.
Walking tours of the area are quite popular, as are renting bikes for a couple of hours and exploring that way! Whether you're going on foot or pedaling your way through, there are a few stopping points to add to your wandering:
Le Chambre de Commerce — Built in 1849, this building still serves as the city's chamber of commerce today. There are sometimes feature exhibits and art displays found inside. Find it here.
Villa Krish — A stunning boutique hotel, boasting a rooftop restaurant with stunning views. Find it here.
Notre Dame des Anges — Feel like you've stepped back into historic France when visiting this Greco-Roman church. Mass is held in English, Tamil, and French, but even if you don't attend a service, be sure to see the inside: it's a display of intricately painted details done in pastel blue and yellow on vaulted ceilings. Find it here.
The Sacred Heart Basilica — This is one of the most famous (and stunning) churches in Pondy. The Gothic church is painted in striking white, red, and green on the exterior, which opens up to a bold white and red interior, complete with stained glass windows and golden chandeliers. Find it here.
Rue Surcouf — This is a can't miss street in White Town, full of several iconic yellow buildings and photogenic scenes. Find it here.
Cafe Hopping — Café des Arts is one to visit if you're hungry, or just to check out the yellow walls and plant-filled lobby of this 100+-year-old cafe. Find it here. Baker Street is one of the most famous bakeries in Pondy, filled with French favorites like macarons and croissants. Find it here.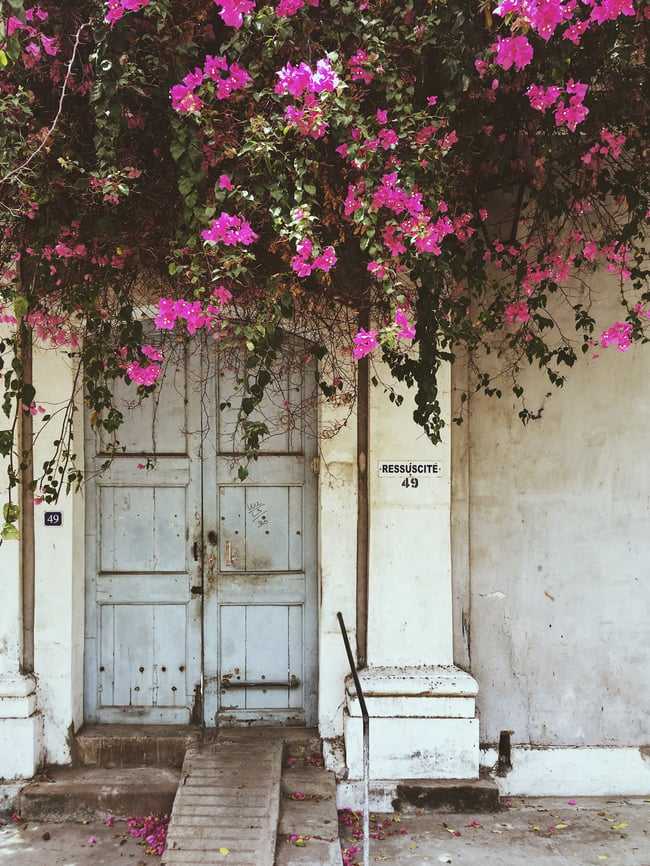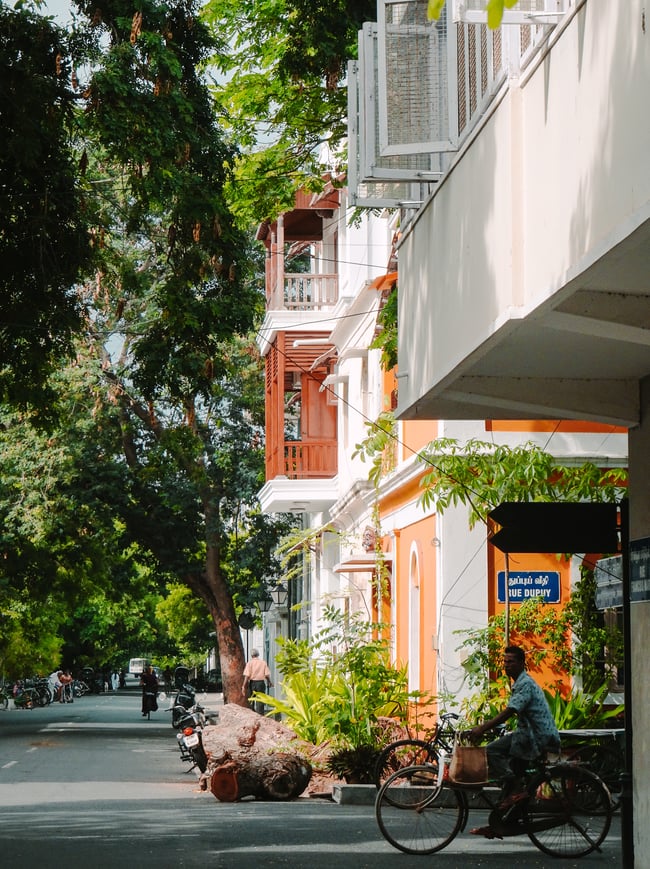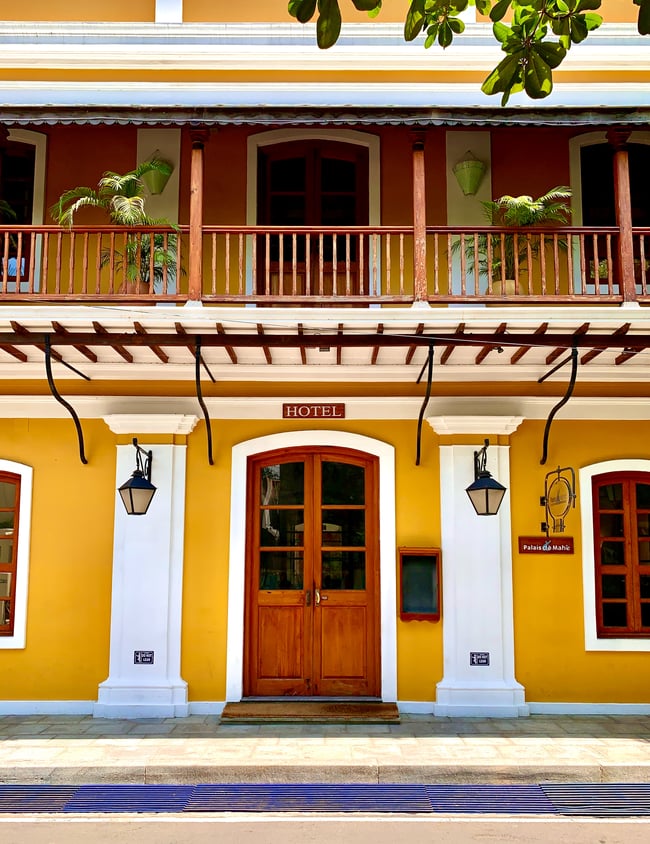 Walk The Promenade
If you keep walking in the French Quarter to the ocean, you'll hit the boardwalk, a wide promenade that walks you past the beaches in the areas well as a few statues and other items of note, like a couple of lighthouses. It's almost a mile-long walk, with a few points of interest along the way:
The Mahatma Gandhi statue: You're probably familiar with the influence Mahatma Gandhi has in India's history and culture. This statue is a commemoration of his efforts and life, and is currently the world's largest bronze statue of the figure (towering some 70+ feet!). Find it here.
The Lighthouses: The Old Lighthouse isn't operating anymore, but the crumbling tower is a reminder of the history found in Puducherry. It was first built in the 19th century by the French (1836) and was in operation until a new lighthouse was constructed in 1979.
You can find the New Lighthouse on the other side of the beach — the black and white stripes are pretty iconic. It is open a few hours a day (2:00 PM to 5:00 PM) for visitors who want to climb the stairs for the view at the top.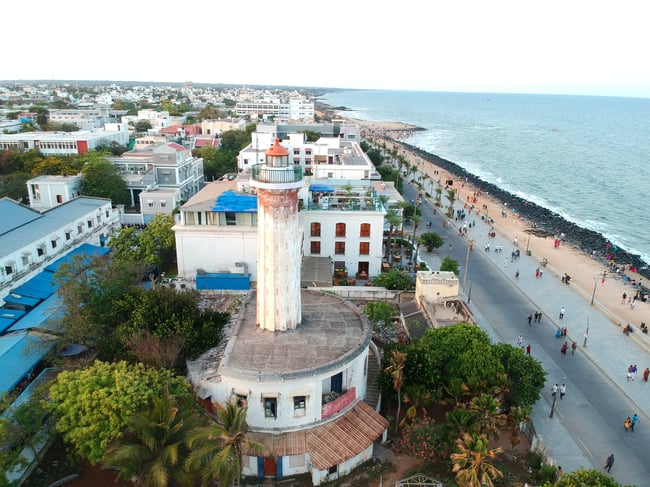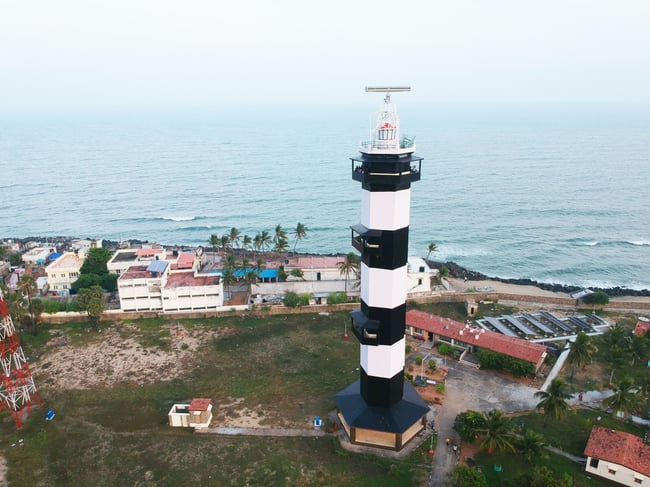 The Beaches: You'll see a couple of differently named beaches that hug the promenade, Rock Beach and Promenade Beach. It's the same stretch of sand but both beaches are popular with tourists wanting to take a swim or a walk along the beach. There's some snorkeling and surfing to be done in Pondy, but if you're headed to the beaches near Alappuzha or even the Andaman and Nicobar islands, I'd suggest saving official "beach time" for those vacations rather than blocking out a full day of beach time here.
The Promenade ends with a long pier that juts into the ocean (that's also a very nice sunset spot if you hit the end at just the right time of night).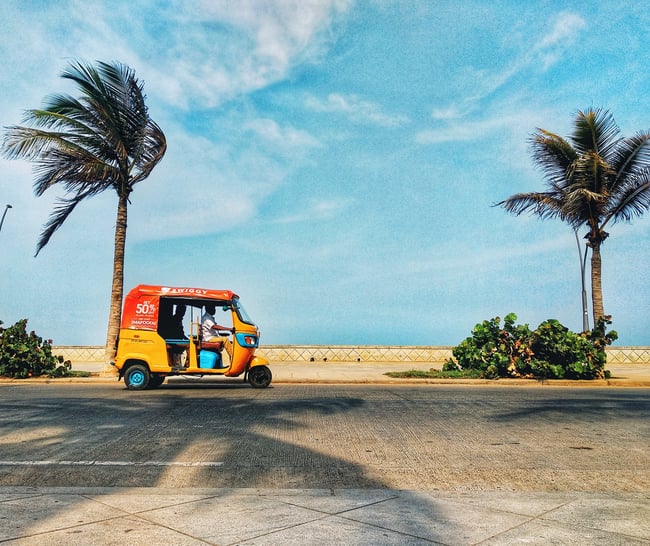 Visit The Aurobindo Ashram
Many places in India help capture the religious, spiritual, and tranquility found in this country. One place in Pondicherry that encapsulates this element of the culture is the Sri Aurobindo Ashram, set up in the 19th century. An Ashram is a spiritual community and the Sri Aurobindo Ashram formed once Sri Aurobindo settled in Pondy in 1910. Sri Aurobindo formerly had a career in politics but came to Pondicherry to meditate, write, and practice Integral Yoga. Sri Aurobindo later met Mirra Alfassa who acted as a spiritual advisor to the community and was referred to as the Mother. A small number of followers came with Sri Aurobindo when he first moved here, which quickly grew after being officially established as an ashram in 1926.
Hundreds of followers now live and help run over 400 buildings, including housing quarters, courtyards, and shrines that hold the remains of the founders of the Ashram, Sri Aurobindo, and Mirra Alfassa. You can learn more on the official website.
The Ashram is open to visitors at certain times, from 8:00 to 11:30 AM to 2:00 PM to 6:00 PM, where you can visit the gift shop, pay your respects at the shrines, and step into the courtyard. Find it here.
Tips For Your Trip
How Long Should I Stay?
This is a bit of a split issue, but two days is kind of the sweet spot to do quite a few things on this list. However, if you plan on doing a full day at the beach then you'll want more time here ... but if you ask me, I think there are prettier beaches on the other side of the coast or really see India's best beaches by heading to these islands instead)
When Should I Visit?
The most pleasant times to visit this tropical coastal town is sometime between October to early spring, around March. The summer months get very hot and humid and quite a bit of rain (it is monsoon season, after all). However, this is also when the area is the least crowded, meaning you'll be battling fewer tourists for a spot on the boardwalk and run into less congested walkways while riding bicycles.
What's Next?
ILP volunteers typically start in Puducherry for a whirlwind tour that really highlights the gems of this southern region of India. This vacation setup is a dream, starting in Puducherry before admiring temples in Madurai, stacked 14 stories tall and filled with colorful sculptures. Then, relax in Munnar, a peaceful place filled with rolling green tea fields, mountain roads rimmed with waterfalls, and the chance to see some spectacular viewpoints at sunrise via Jeep safari. Spend the night high up in the treetops by staying the night in a treehouse before heading to the glittering western coastline. Marari beach is a spread of golden sand and calm waves (with plenty of swaying coconut palm trees). Stay here, or travel south to fit in a river cruise in Alappuzha before wrapping up your vacation.
This particular program is a bit unique because we've set up our ILP India volunteers with a whole list of vacation opportunities that's all been put together by our travel team in-country. Traditionally ILP volunteers are responsible for planning out all of their vacation details on their own (everything from deciding where you're going to how to get there and where to stay), but that's not the case for India!
Our India travel team figures out all the transportation, accommodations, and other details for all of your vacations. You get to choose from vacations on India's coastlines, jetting over to Nepal, trekking in the Himalayas, adventuring in Rajasthan, and, of course, hitting all the highlights here in this part of India ... and that's just a few of your vacay options in this country.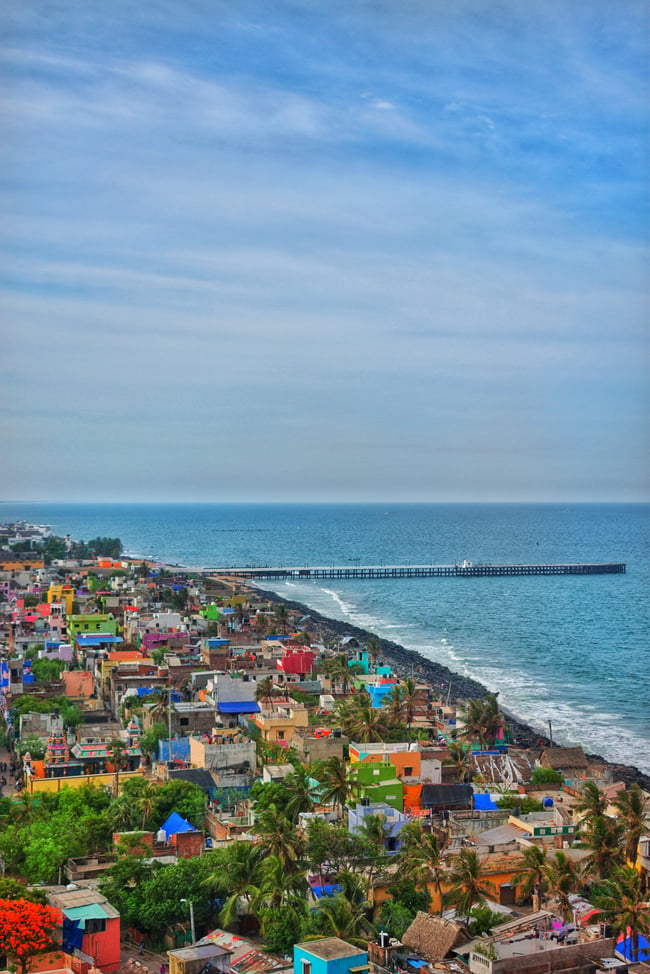 Getting To Puducherry
The nearest airport is in Chennai, so head there first, then make the 3-hour drive to Puducherry. There are regular flights from Delhi to Chennai, which is a 3-hour flight.
As a reminder, if you're heading to India with ILP as a volunteer, all of your vacation details are handled by our in-country travel team, which is a nice perk to this particular location.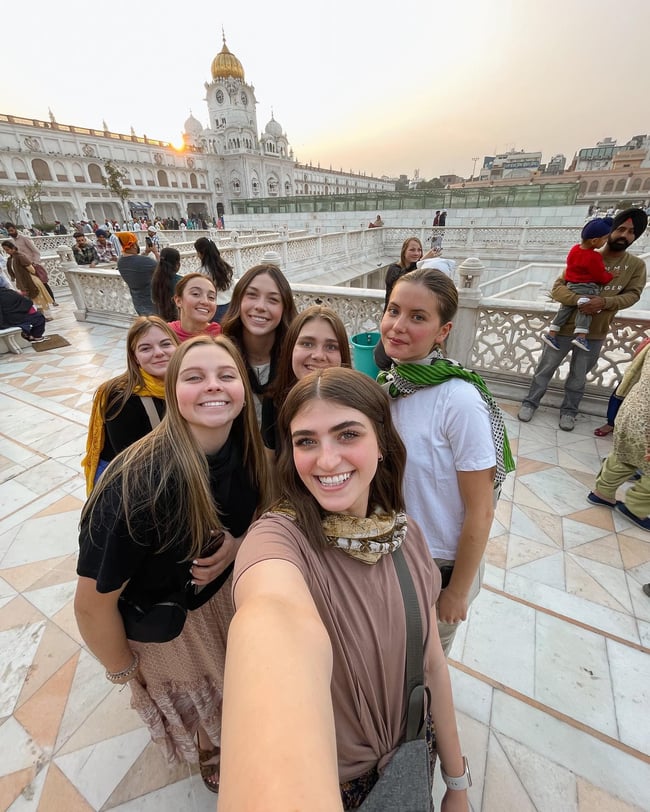 Wondering how to get yourself to India?
Come volunteer in India for a semester with ILP! We're a nonprofit organization based in Utah, USA with decades of experience sending college-aged volunteers abroad for a semester of service. Groups in India are teaching English part-time (no experience needed, we teach you our unique methodology), with weekends off and vacation days to explore all the places on your India wishlist.