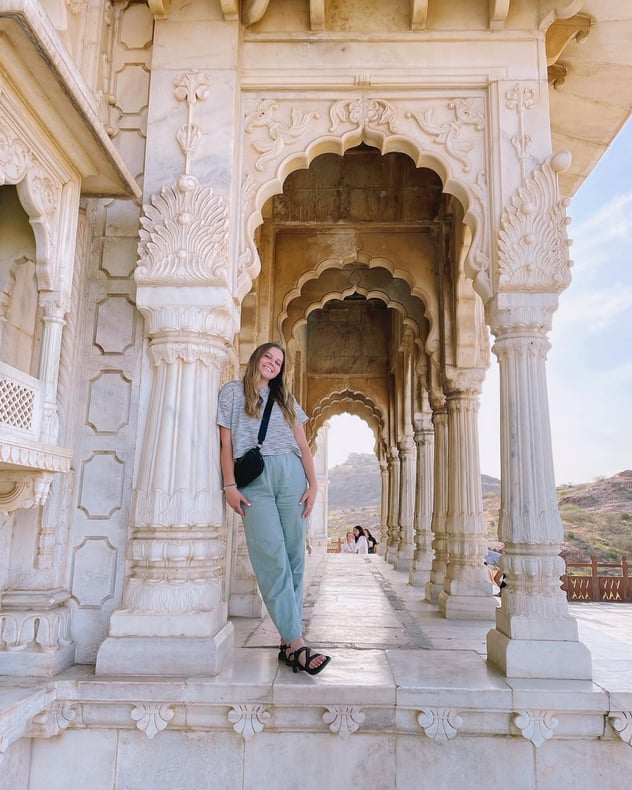 Camel rides into the Thar desert, exploring Jodpur's "Blue City" (and Jaipur's "Pink City") and of course, visiting the Taj Mahal — find all of this (and more) on a vacation in Rajasthan.
We're picking favorites when it comes to vacations in India, that's for sure. I mean, with a vacation filled with lavish palaces, ancient forts, impossibly detailed places, and of course, the Taj Mahal — how could you not love this trip? All of this is found in Rajasthan, a province in India peppered with Blue Cities, Pink Cities, and camel treks through the desert (seriously). It's easily one of the most popular vacation opportunities for our ILP volunteers living in India for a semester.
---
Thinking India's the spot for you?
Come see what a semester with ILP in India is like!
---
If you ask us, this vacation hits the very best of what you're expecting in India, along with the unexpected. We've outlined a possible itinerary (similar to what past ILP groups have done) here to share what that dreamy vacay looks like:
The Itinerary
This is just an outline to help you visualize what's possible — we're jotting down all the details of what past ILP groups have done in Rajasthan in case you'd like to do the same, but know there are variations! We have more info about how vacations work in India below, just know there are tons of possible variations to this plan:
Case in point? Another group visited mostly the same spots, but went in this order (spending a bit more time in each place, then jetting down to see Agra on a separate vacation):

Udaipur
Jodhpur
Jaisalmer
Jaipur
Travel Day + Day 1 — Start In Agra
Depending on where you are starting your Rajasthan adventure, you may have a full travel day to arrive at your starting point, Agra. But once you arrive, plan on hitting the ground running!
The main pull to visiting Agra is the famous Taj Mahal, of course! Plan on plenty of time exploring this lavish World Wonder, and some time navigating the crowds (and getting all the best picture spots). There are several other nearby sites as well, like the famed "baby Taj" (which was built as a prototype before the real thing) that can fill the rest of your day here.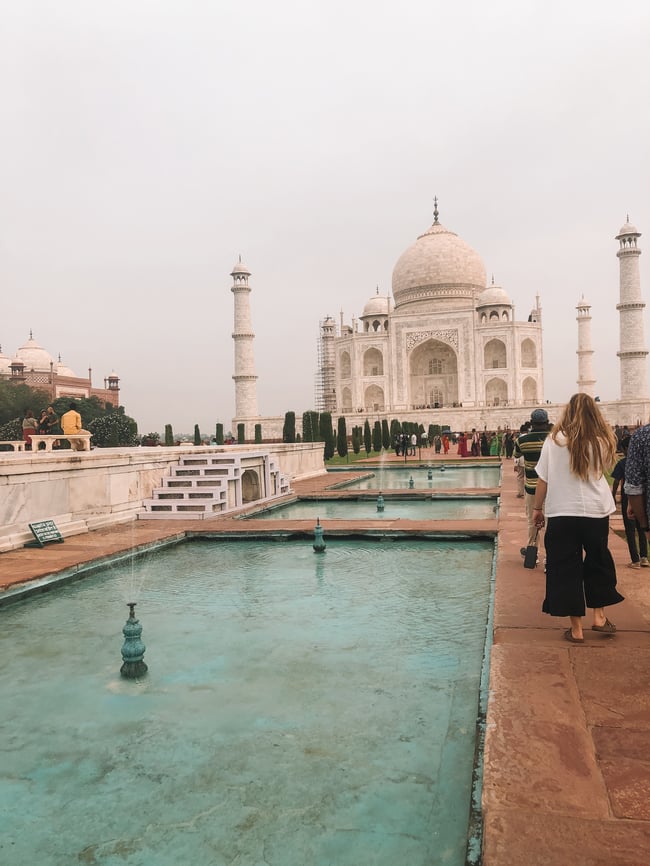 Day 2 — Agra To Jaipur
Maybe today you'll finish up the things you'd like to do in Agra (your itinerary can shift depending on when you actually arrived in Agra ... maybe you'll time things to see the Taj Mahal at sunrise this morning because you arrived later yesterday evening). In any case, Agra still has many things to keep you busy like the imposing red-brick Agra Fort plus a maze of shopping bazaars.
But, after you have your fill of this iconic city, it's time to make the drive to Jaipur. There are a few stops along the way if you'd like to break up the drive, like Fatehpur Sikri, a small red-stone city steeped in history. It's found just west of Agra and is on the way to Jaipur, making it a popular stop. The complex there is stunning: a collection of palaces, mosques, and housing for the court of the Mughals.
After a long travel day and exploring, you may want to talk to your travel team about having a henna night.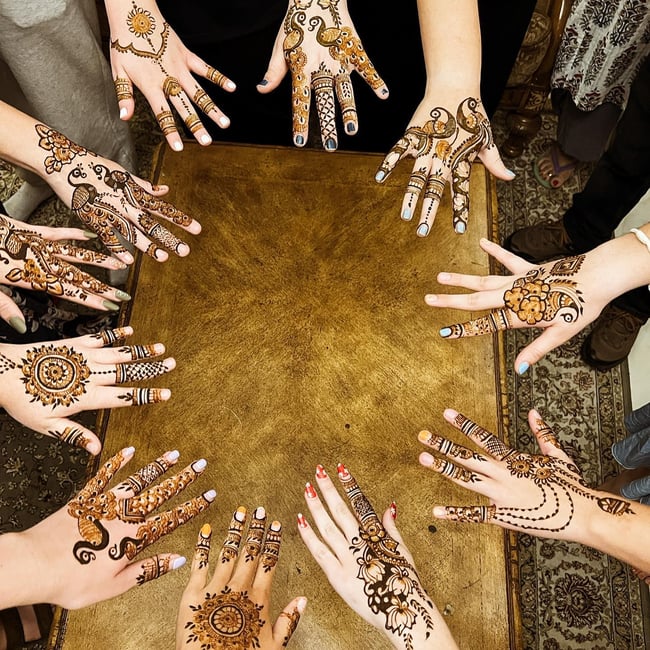 Day 3 — Jaipur
Welcome to Jaipur! Sometimes nicknamed the "Pink City", you'll want to take a zillion pictures of this photogenic place (that nickname comes from many of the buildings which are built out of pink stone). It's a photographer's dream, with sites like the pink honeycomb windows of the Hawa Mahal, painted entrance gates, and unbelievably pretty palaces covered in silver.
There are tons of sites to see in Jaipur, but the main pull is the Amber Palace (or Amer Fort). Out of all the cities you'll visit in India, Jaipur is one of the top-tier locations to obsess over the structures, with the Amer Fort as one of the most impressive. The Amer Fort has sweeping ramparts, opulent courtyards, and winding cobblestone pathways that reflect Rajput and Mughal architecture (all built out of marble and sandstone).
Another highlight? The level of detail at the fort is astounding, with temples covered in silver, several sprawling courtyards, walls with marble reliefs, and ceilings covered in a zillion mirrored tiles. It's an easy place to take pictures of impressive doorways, intricate tile work, geometrically mapped courtyards, and ornate archways. The monkeys who now call this palace home are also an attraction (they can be spotted running on the narrow banisters and rooftops of the fort).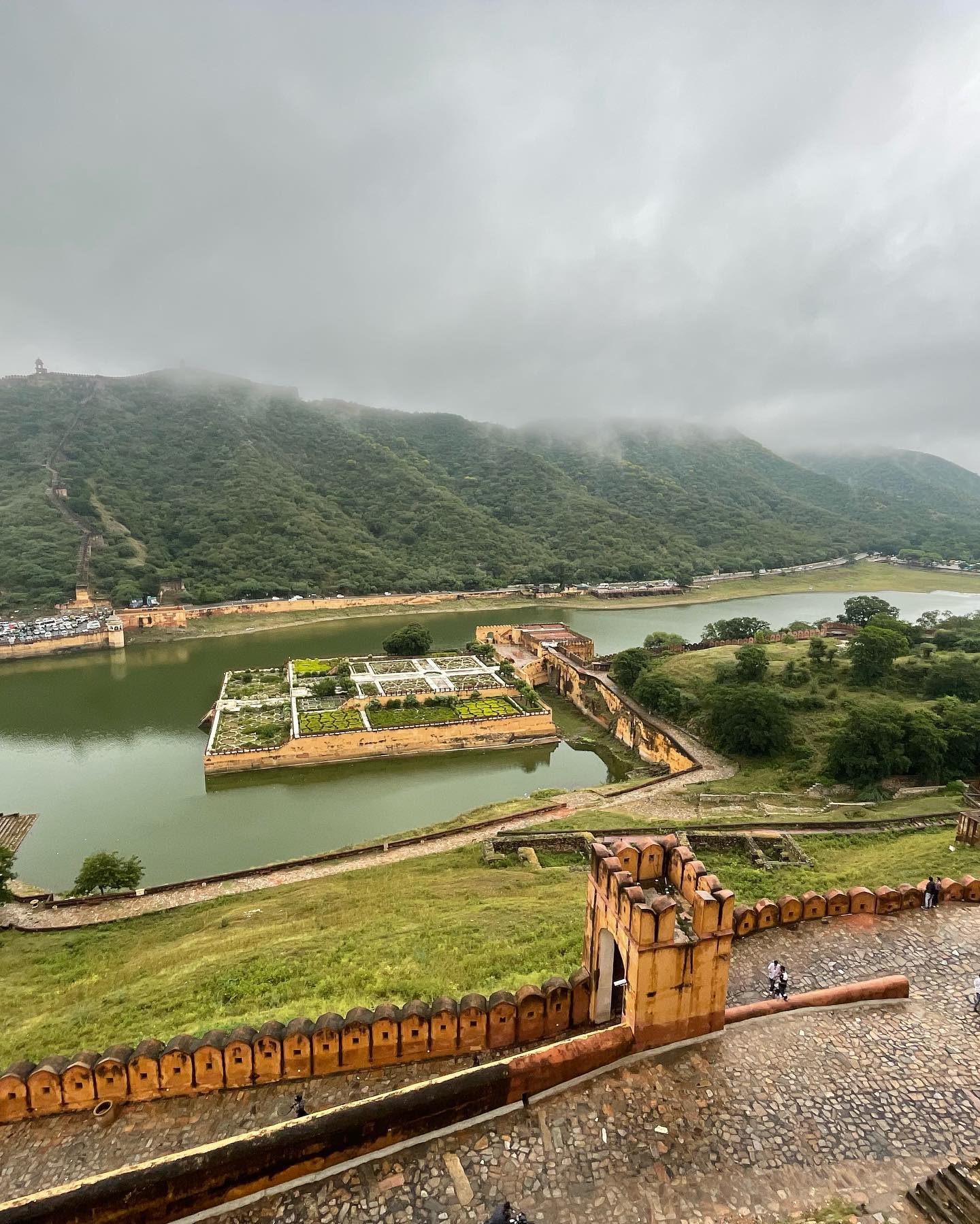 Day 4 —Jaipur
I'd suggest spending a decent amount of time in Jaipur (I loved this city!). Today, you can explore colorful doorways, more palaces, and see the famed step wells. Oh, and the markets here are top-notch. One ILP group had this to say about the shopping in Jaipur: "Jaipur had our favorite markers out of all the places we've been. I loved what we did here."
Before you call it a night, decide to soak up medieval architecture at the Nahargarh Fort, named for the supposed collection of tigers that roamed the nearby hills (Nahargarh means "abode of tigers"). Nahargarh Fort was built to intimidate enemies — which worked. It was never attacked and today remains one of the most impressive hilltop defenses in the city.
Apart from the sheer size and encompassing wall (complete with ramparts, mind you), the detailed frescoes and attention dedicated to the royal family set it apart. It was built to appropriately house the 12 wives of the current ruler, each with their own apartment and view of the city, several hundred feet above Jaipur. That view makes it one of the best sunset spots in the city if you can time your visit right!
We have more of a guide to Jaipur here, if you'd like to see how else to spend your time in this city.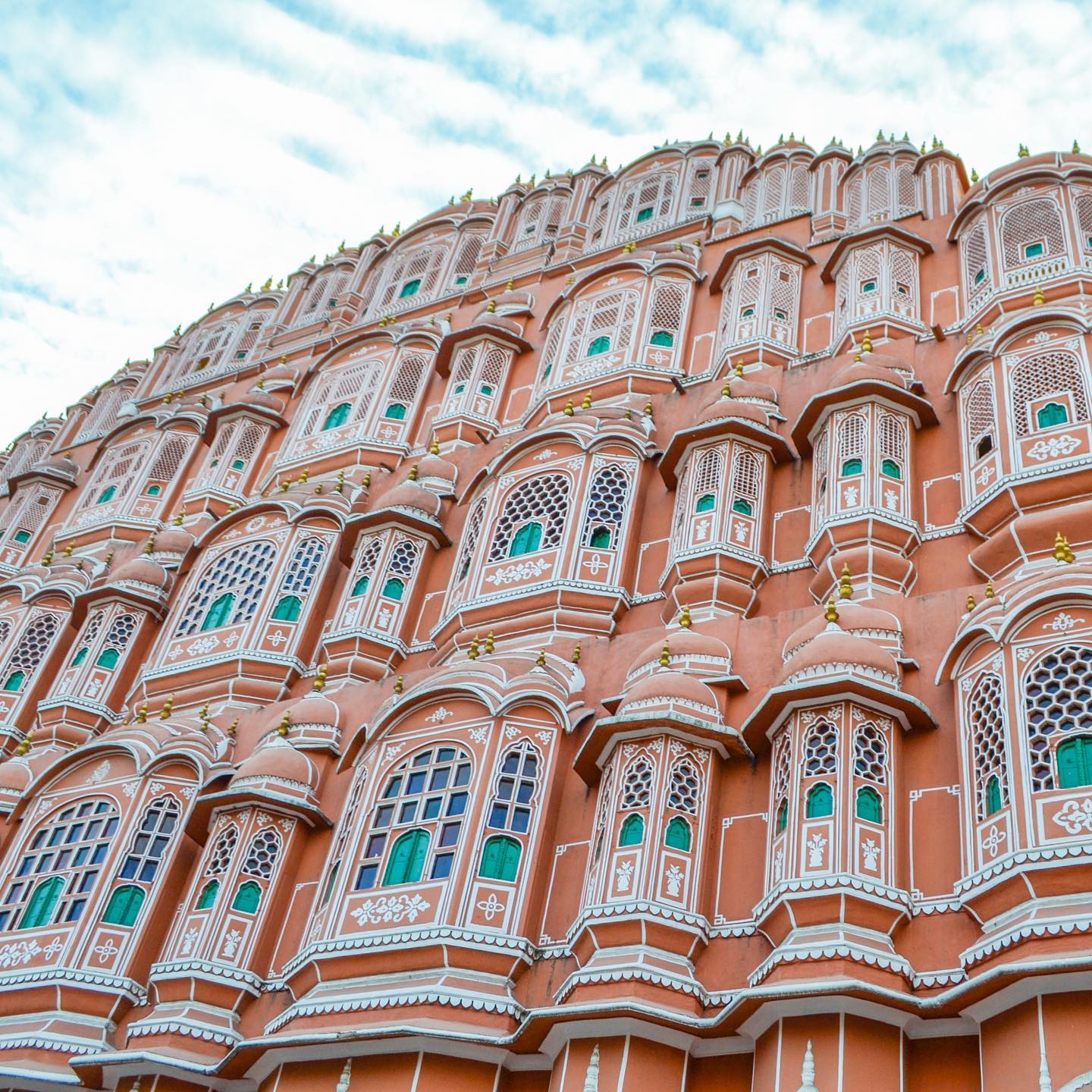 Day 5 — Jaipur To ____________ (On The Way To Jaisalmer)
There's quite a bit of flexibility at this point. Maybe you want even more time in Jaipur (I don't blame you). Or maybe you'd like to take a day trip to somewhere close by, to shake up your itinerary, which may be pretty tempting if I mention that tigers may be involved!
Visiting Ranthambore means adding a jungle safari to your trip in Rajasthan: this is one of the best National Parks to spot a tiger if you're very lucky! Ranthambore is one of the largest in the country with a massively diverse landscape, and the highest population of tigers (which ups your chances of seeing this elusive cat). Even if you don't spot tigers, the forest, palaces, and ruins inside of the park are well worth it, (along with some animal friends like Indian leopards, wild boars, striped hyenas, gray langurs, crocodiles, a handful of deer species, and dozens of species of birds). You can learn more about the park here on their website, but know a full-day safari in Ranthambore is an easy option from Jaipur.
If you're opting to head from Jaipur to Jaisalmer (your next destination) there are also a handful of stopover cities to help break up the drive. One a past group has visited is Bikaner. The main highlights here are the striking Bikaner fort, the pink Rampuria Haveli (an incredible photo spot), and the Karni Mata Temple. This particular temple is unlike anything you'd yet to experience, as the temple is filled with thousands and thousands of rats, believed to be sacred.
Other groups have made Jodhpur a halfway point (more on that city in a minute). Just know this is a spot where you can really mix up your itinerary to be exactly what you're looking for.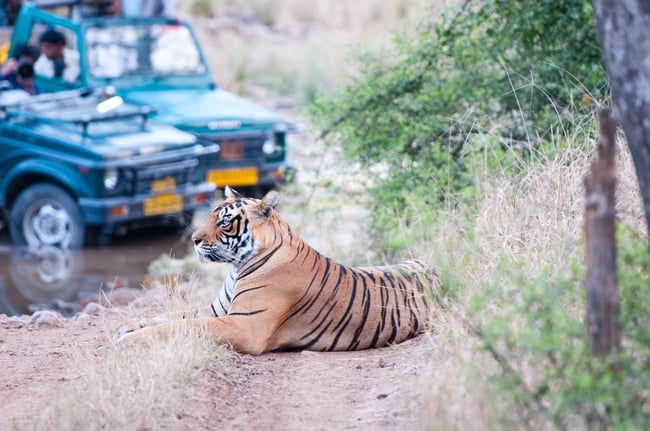 Day 6 — Travel Day / Jaisalmer
Depending on what your previous day looked like, you may spend most of today traveling to Jaisalmer, or you might arrive in time to experience what some ILP groups said was their "absolute favorite city!". Another had this to say, as a little teaser: "This was one of my unexpected favorite parts of our trip! I felt like I was in a movie. We got to explore the still thriving fort built in 1156, and visit the most beautiful palaces and Jain temples. I loved the cute antique shop we visited, too. We also got to see a herd of wild camels driving out! I never thought I could love the desert, but the "golden city" was one of my favorite places I've visited in India."
More on Jaisalmer below!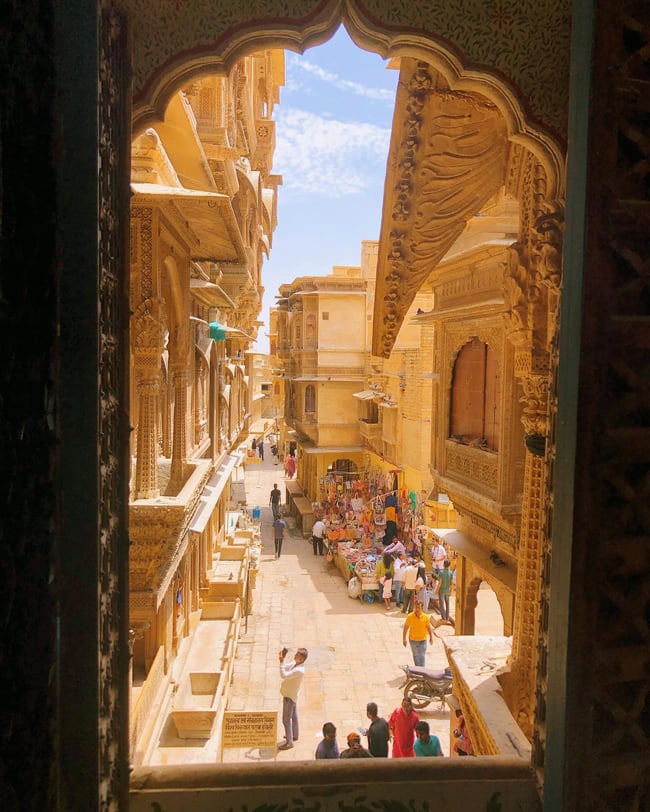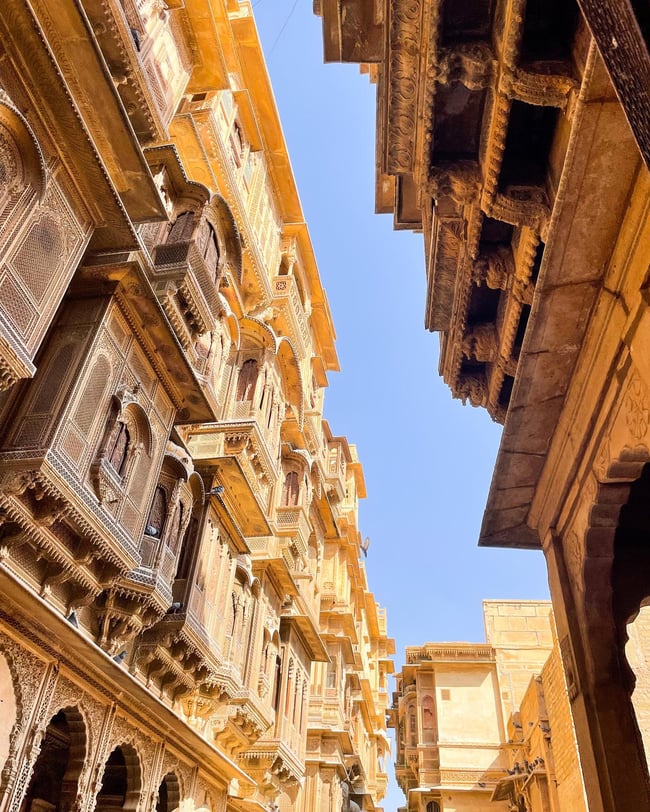 Day 7 — Jaisalmer
Jaisalmer is situated right in the Thar desert, lending to a dramatic landscape with experiences unlike all the others on your tour of Rajasthan so far. Apart from stunning buildings like the Jaisalmer Fort, Jain Temple, and Raj Mahal Palace, the main pull here are the camels. (Though the views from the tops of those buildings are hard to beat).
ILP groups in the past have loved the chance to not only see wild camels frolicking on the towering sand dunes, but take a camel trek into the Khuri dunes at sunset, and sleep overnight ("we got to sleep on just a mattress in the middle of sand dunes under the stars .... literally one of the coolest and most peaceful experiences, we would all suggest camping for the night!)

The sand here is a striking orange color which makes for stunning pictures to help you remember this unreal experience. You can easily see why it was one of the best parts about visiting Jaisalmer.
The markets here are also worth noting, with groups mentioning that they had unique clothing not really found anywhere else. Sadar Bazaar and Pansari Bazaar are two noteworthy markets in the area (with Sonaron ka Bas as the best place for jewelry).
Oh, and having dinner (and sunset) at the "MOST amazing rooftop restaurant" comes highly recommended. On group has this to say about Café The Kaku —
"we literally stayed here for 3 1/2 hours because we loved it so much".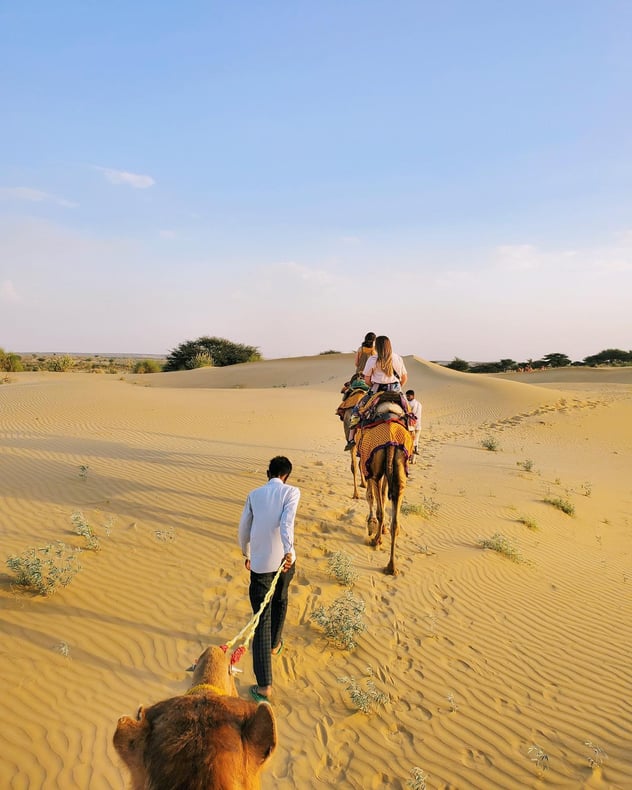 Day 8 — Jaisalmer To Jodhpur
Are you ready for your next stop? Jodhpur is a total favorite. India's so-called "Blue City" is famous for a few things, but the iconic color of this city is a total highlight. The Old Town (near Mehrangarh Fort — don't miss that either) has a spread of buildings, all painted blue. The view from the fort is pretty unbelievable, as you can imagine. The Jaswant Thada is also a highlight, same with the Toorji Stepwell. Oh, and when it comes to shopping, ILP groups in the past recommend stopping at MV spices to get spices to take home as souvenirs.

So we love this city, that's obvious ... but why is it blue?
There are a few theories swirling around as to why many buildings in this city are painted blue. One legend is rooted in Lord Shiva, who once turned his body blue to help save the planet. Some believe his followers settled in the area and painted their homes the sacred color. Others believe the color helps cool down the city (which is situated deep in the desert). Termites are another theory, who are detracted by the deep hues (and the copper sulfate and limestone found in the blue). In any case, the effect is pretty dreamy.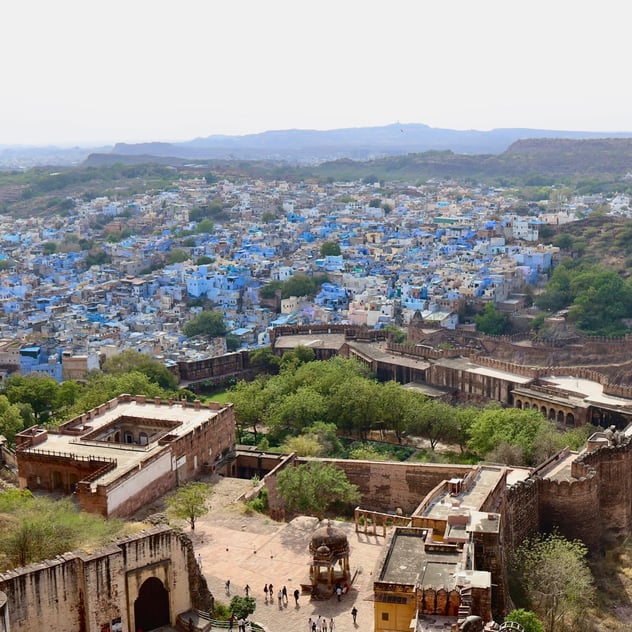 Day 9 — Jodhpur To Udaipur
If you're like one particular ILP group, you'll want more time in Jodhpur — make sure you have plenty of time to explore the Mehrangarh fort, but don't rush through exploring the city, either! One group just had a few minutes in the evening hours to explore the city and wished they had more time: "This is one place that I wish we had double the time here than we did." I'd suggest budgeting a couple of hours with nice lighting to get the pictures you want while you wander around this very photogenic blue city.
You do have a drive ahead of you to get to Udaipur, the last highlight city on this Rajasthan trip! More on Udaipur below.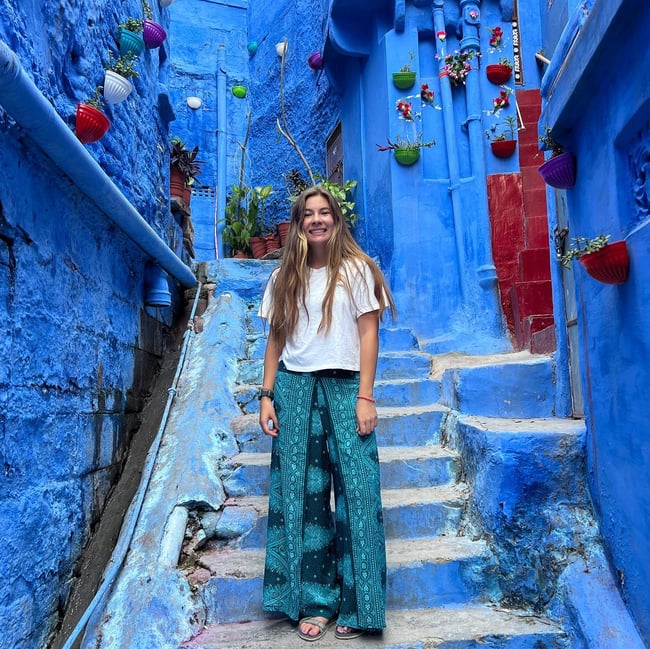 Day 10 — Udaipur
The final stop on this example itinerary (remember, it's customizable with your in-house travel team!) is Udaipur, known for lavish palaces surrounded by lakes. The crystal gallery in the City Palace is a must-see, as are the Jagdish temple, and the sprawling gardens which dot the city. Your time must include a sunset or early morning boat ride on Pichola lake, which the City Palace overlooks (that palace is made up of 11 different courtyards, gardens, and palaces .... don't miss out on the peacock mosaics).
The food here is also a highlight. Rajasthani food is pretty famous around India, and Udaipur is one of the best places to try the spicy starts, creamy drinks, and rich curries famous in this part of the country. Some dishes to try. Like dal bati churma where dal (spiced lentil soup) is served with crispy bati dumplings. Kachori is also famous, either served savory and stuffed with things like onions or potatoes, or sweet when soaked in sugar syrup.
And that's a wrap! A total whirlwind tour that encompasses the highlight of Rajasthan (a favorite Indian destination, can't you see why?).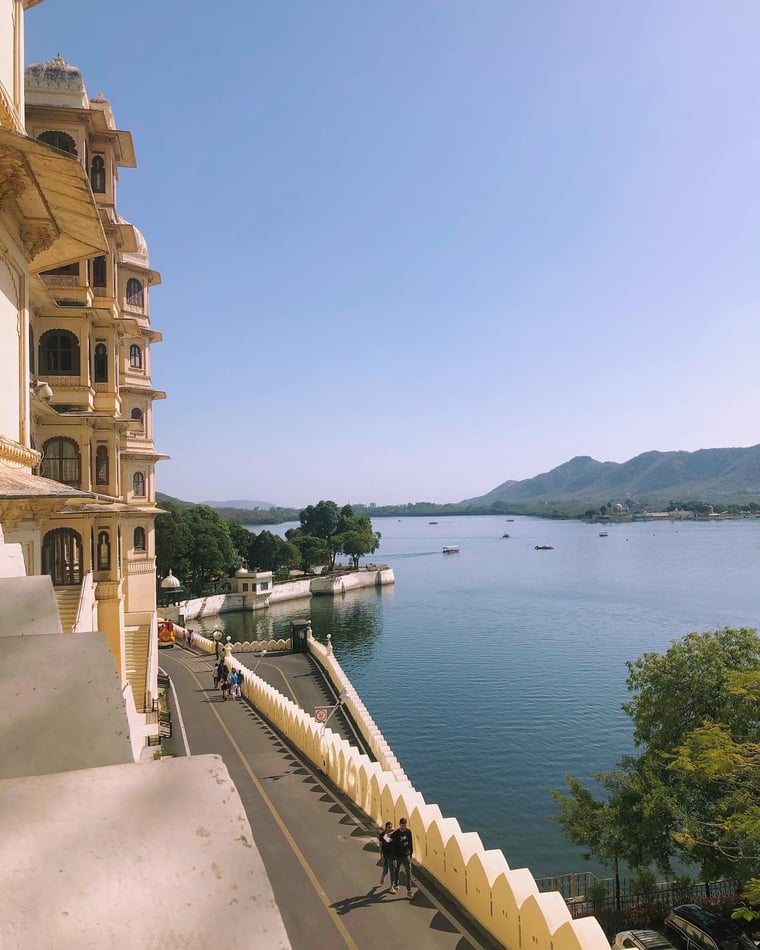 Things Are A Little Different In India For ILP Volunteers
Spending your semester abroad in India with us? This particular program is a bit unique because we've set up our ILP India volunteers with a whole list of vacation opportunities that's all been put together by our travel team in-country. Traditionally ILP volunteers are responsible for planning out all of their vacation details on their own (everything from deciding where you're going to how to get there and where to stay), but that's not the case for India! Our India travel team figures out all the transportation and accommodations and other details for a range of vacation packages. You get to choose from vacations on India's coastlines, jetting over to Nepal, trekking in the Himalayas, adventuring in the tropical south, and of course, hitting all the highlights in Rajasthan ... and that's just a few of your vacay options in this country!
Because your vacations are all put together, your ILP group will just need to pick which ones sound best to you! These trips are also open to some customization too, so the trip can totally be what you are looking for. Though there are quite a few to choose from, we cannot stop gushing about the long vacation in Rajasthan.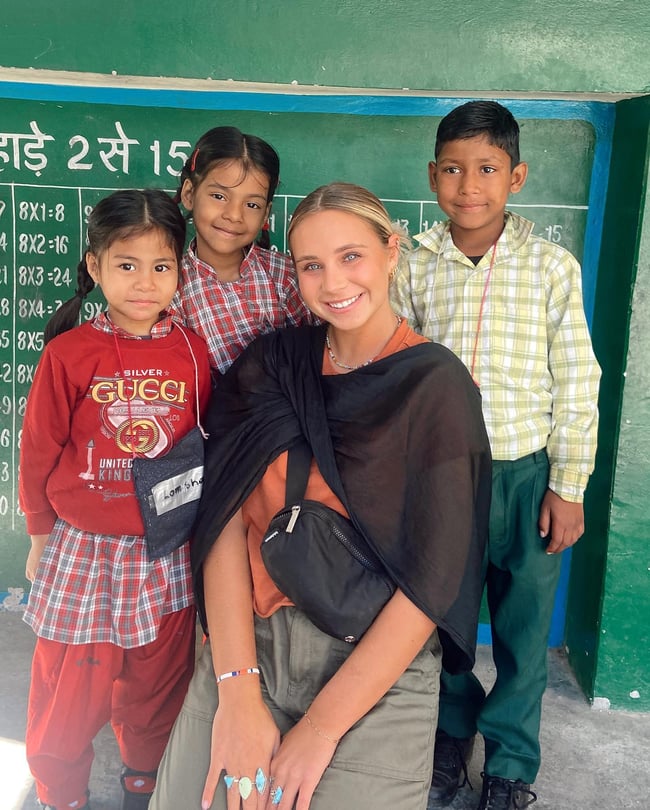 We'll let you in a little secret
Volunteering with ILP is the best way to see India. First, you're living in a quiet city where you can really connect with the culture and the people, then you have a whole spread of vacations to choose from that have been prepped and planned for you ... all you need to do is pick your favorites! Plus, ILP handles all sorts of things like your flight, visa, housing, training, meals, and other details.
Come teach English in India with ILP!