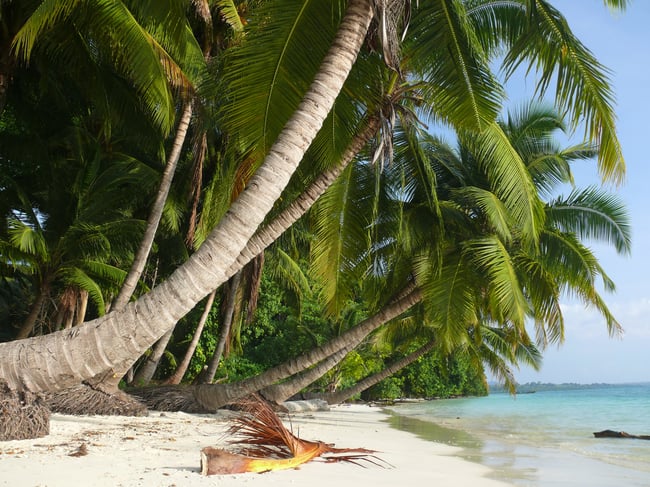 Surprise! This dreamy set of islands boasting sugar sand beaches, crystal clear blue water, and swaying palm trees isn't found in Thailand, like you might expect. This paradise is right with you in India!
Are you looking for the ultimate beach getaway while you're in India? We have the best vacation destination for you. While you'll find thousands of miles of coastline surrounding India, the Andaman and Nicobar islands easily hold the country's most idyllic spots.
Think of days filled with glass-bottom boat tours, snorkeling trips, and walking along some of the best beaches in the world (seriously). Dreamy beaches like this might not come to mind immediately when you think of India, but that's exactly what's waiting for you here!


---
READ NEXT: Our favorite vacations in India are all here
---

While you'll find a few other noteworthy coastal getaways in India, we're here to brag about all the things you can do in the Andaman and Nicobar islands. It's a way to truly experience paradise without leaving the colorful, historic, adventure-filled country of India.
In case these postcard-pretty pictures aren't enough to convince you to visit, we're listing all the highlights you could realistically fit into a 4+ day itinerary. Plus, we have some logistics to help you with your trip:
A Little About The Andaman + Nicobar Islands
This area consists of over 500 India-owned islands, found east of the mainland of India (just a few miles away from Myanmar and Thailand, in the Andaman Sea). These beaches have everything you're looking for in a tropical island getaway: lush jungles, sprawling blonde sandy beaches, tumbling waterfalls, and calm turquoise waters. Some even boast colorful parrots, schools of tropical fish, and the iconic dugong — the island chain's national animal, which is similar to the manatee.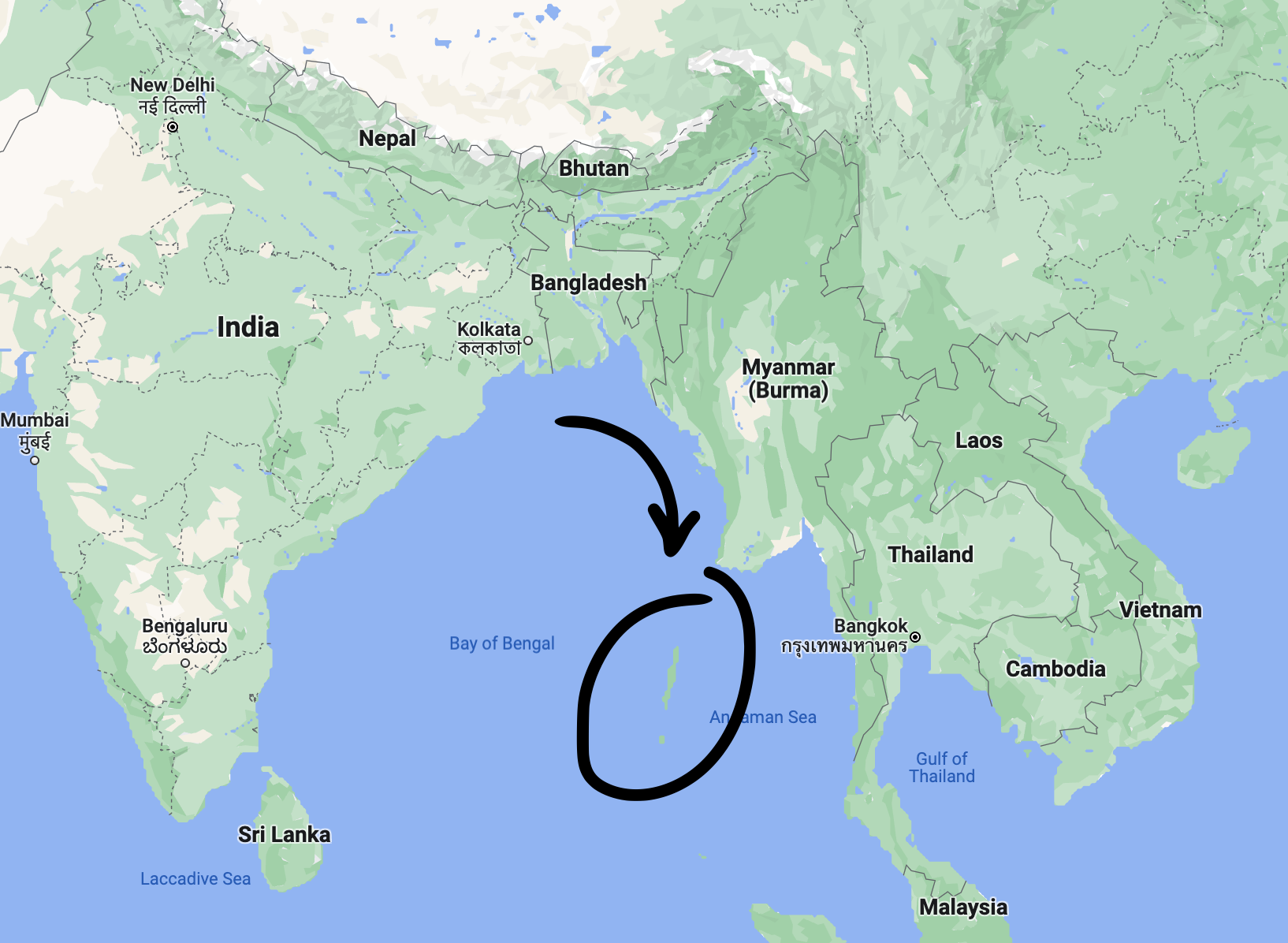 Only a few of the islands are inhabited, and some aren't open to tourists. The Sentinelese people, one of the last uncontacted tribes of indigenous people, call one of these islands home and to this day aren't open to any visitors. A few of the islands have been opened up to tourists, meaning you can find protected national parks, fine dining, hotels and fun eco stays, and vendors who will take you out surfing or snorkeling.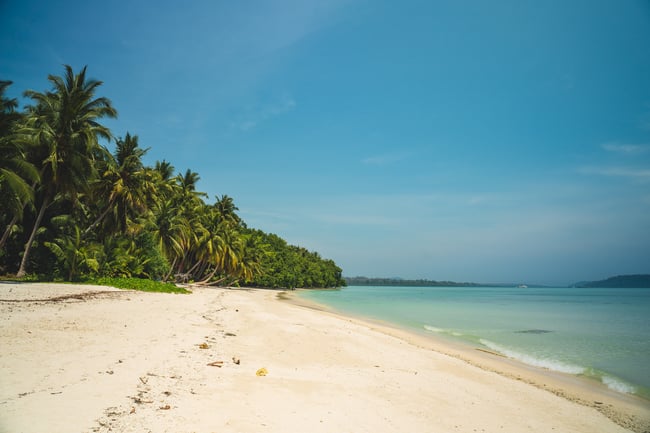 Places To Visit + Our Favorite Activities
There are hundreds of islands here, but most tourists typically stick to a handful of the most popular, which are also some of the easiest to access. We have our recommendations here.
Around Port Blair
Port Blair, the capital city of the Andaman and Nicobar territory, will likely be your starting point when visiting this island chain — it's the largest city with a few points of interest before you head to the jetty and ferry over to other islands. Many tourists make time to visit the Cellular Jail, a massive 3-story building constructed by the British where thousands were subject to horrible cruelty. It's now a museum, showcasing historical pictures, artifacts, and some of the more inspiring stories.
Havelock Island
We're not picking our favorite islands here, but if we had to, Havelock Island (also known as Swaraj Dweep), would take the cake. It's home to multiple beaches, like Radhanagar Beach. It was voted one of Asia's best beaches a few years ago, and it has won the prestigious blue flag certificate, which celebrates beaches focused on eco-tourism. Other popular beaches include Elephant Beach and Kala Pathar Beach, enough to stay here a day or two. This island is also perfect for snorkeling if you're interested — see if you can spot clownfish or stingrays floating on the currents.
Havelock Island is the most visited but doesn't even come close to the number of tourists who visit similar-looking beaches in nearby Thailand. We're loving that you can get the postcard-worthy island feel here without the huge crowds of people. Even though you can find developed infrastructure and places to stay and eat, this well-kept secret helps Havelock Island feel rather remote.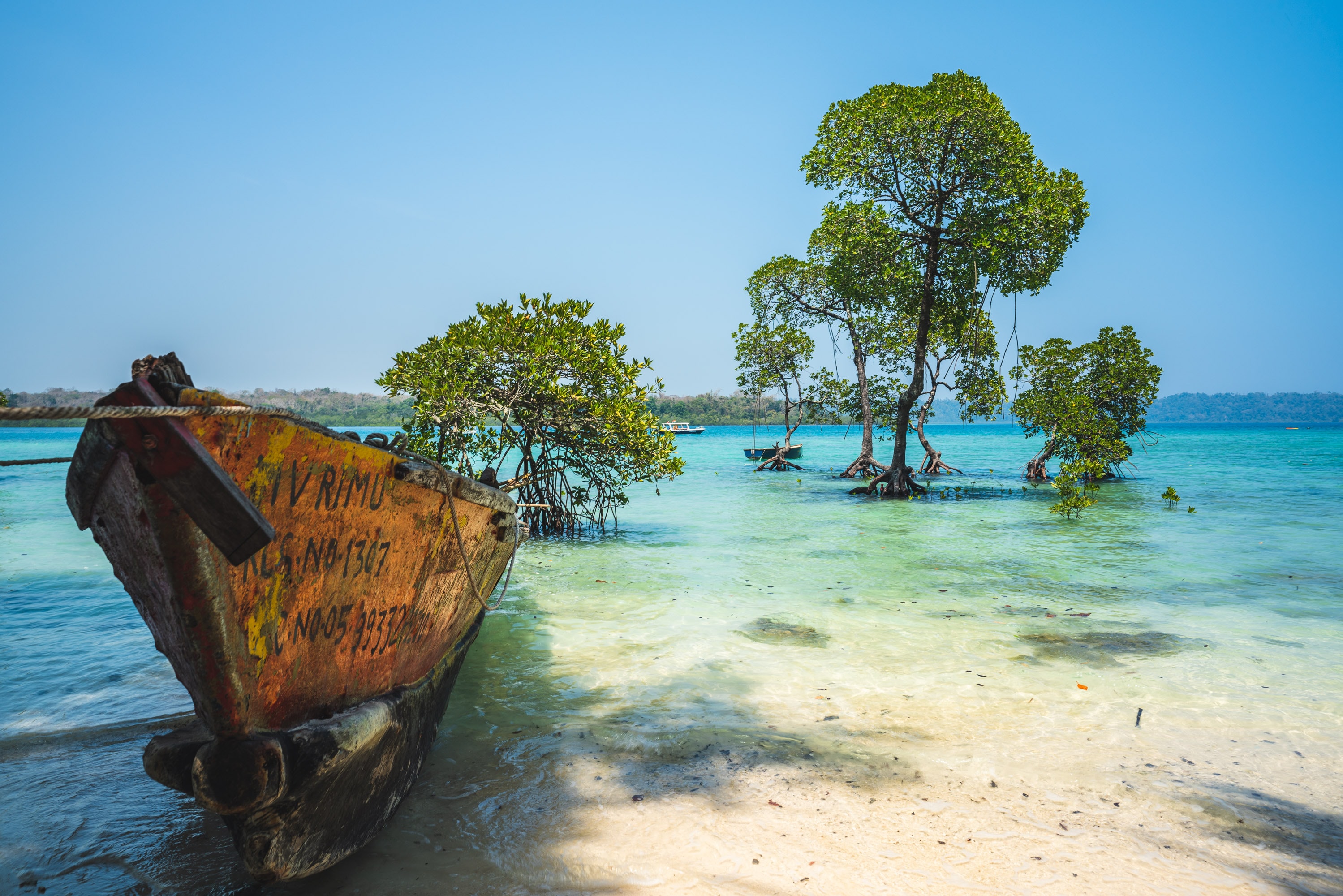 Ross Island
Break up your beach time with a visit to the historic Ross Island (newly renamed Netaji Subhash Chandra Bose Dweep). This is the tiniest of all the islands in the Andaman + Nicobar archipelago with a somber and dark history. After a battle with the British in the 19th century, hundreds of rebels and convicts were sent to this island turned penal colony. The lush jungle was transformed into massive jail sites, as well as opulent housing, churches, and even swimming pools for the British soldiers and leaders stationed there. Living conditions for the Indian people were horrific, with diseases spreading through the camps. The jails closed nearly a hundred years later, but the British continued to live on the island until 1941, when a massive earthquake hit the island. The island was next overtaken by Japanese troops during WWII, and the remaining buildings were used as bunkers.
Now the jungle has reclaimed the crumbling structures. Visiting the island has become an intriguing trip through history, where visitors can walk through doorways and peek through windows that are almost completely covered in thick, tropical vines.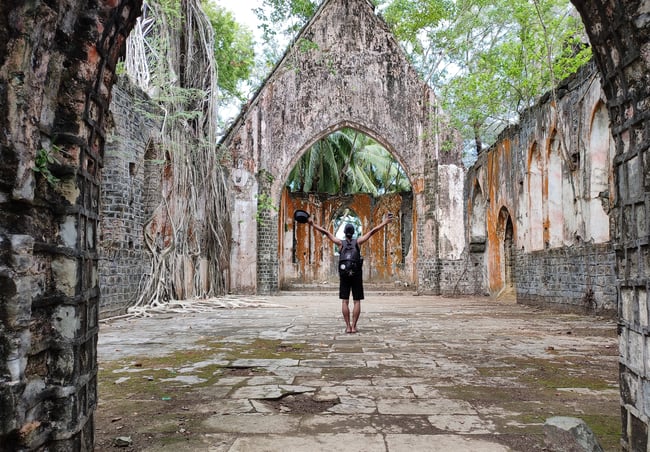 Neil Island
This relaxed island may be small, but it is home to beautiful beaches and our go-to water activities. First off, Neil Island (also called Shaheed Dweep) is famous for a couple of beaches — Bharatpur beach and Laxmanpur beach are two of the most popular to visit. Both have an almost "deserted island" feel, with untouched white sands and beautiful blue water. Don't miss the Howrah Bridge while at Bharatpur: on one end of the beach, this natural bridge is a rocky arch that dives into the ocean and is one of the main stopping points on Neil Island — best to visit at low tide.
The island has a few things to do after you have your fill of hanging out on the pretty beaches. Take a snorkeling tour, or go out on a glass-bottomed boat to admire the reef and sea life. Rent bikes to explore the island, or take a walk through the thick row of palm trees.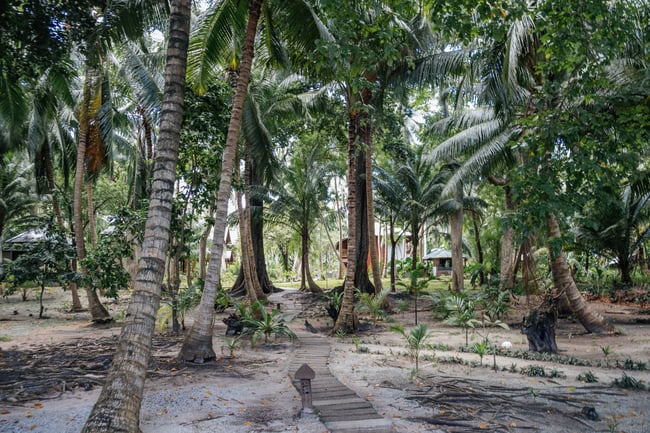 Some Logistics + Tips For Your Trip
Plan On The Travel Time
The easiest route to the islands is from Delhi, where you can catch a flight to the island's capital city, Port Blair. Flights are usually 3–5.5 hours, depending on your itinerary. You'll want to plan on making it to Delhi before catching your flight to Port Blair, which sometimes means a full day of travel (depending on where you're starting from in India).
Then, there's some travel to consider once you start island-hopping.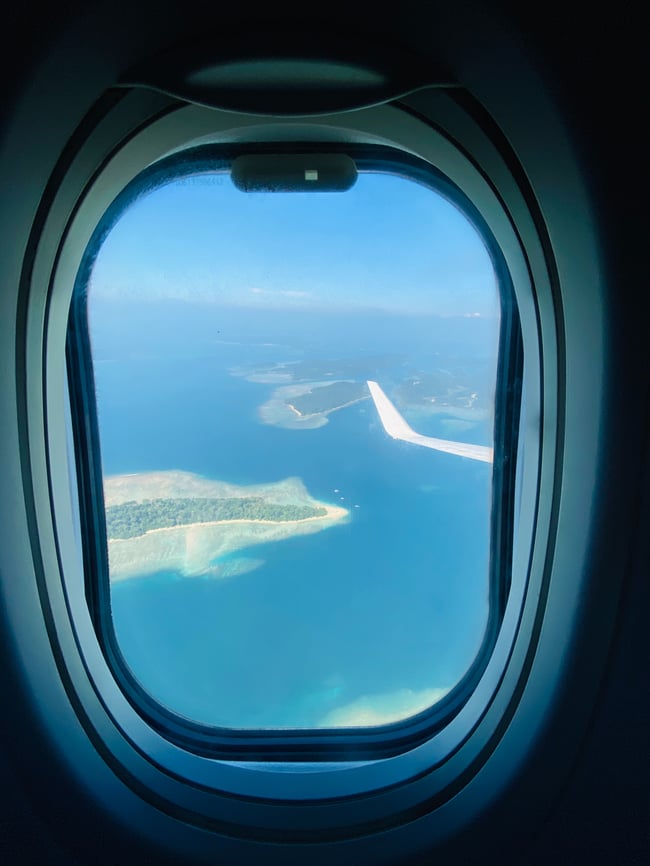 Getting From Island To Island
As an ILP volunteer in India, you have the major perk of having our in-country travel team plan the logistics of your vacation, meaning you won't have to figure things out all by yourself. Just be aware that you will need to board a ferry to travel between islands unless you plan on staying on South Andaman Island where you arrive via Port Blair.
The ferry ride between South Andaman Island and Neil island is about 1.5 hours. Plan on a 2.5-hour ride to Havelock island. It's something to consider when you want to take a quick day trip — sometimes an overnight is better, depending on how many activities you have planned.
About Your Permit
Again, you'll be informed about all of this in more detail by your in-country travel team, just be aware that there are some restrictions with travel in this part of India. Travel Permits are required for all foreigners and are available upon arrival at the Port Blair airport. Your permit allows access to specific locations in the area and overnight accommodation on certain islands. Others are just open for a quick day trip.
We're just putting this info here to keep you informed. Again, your travel plans will be handled by your in-country travel team, and they are open to suggestions and customization (just don't get your hopes up about staying overnight on an island that isn't allowed on your permit, right?).
Watch The Weather
The islands are warm year round, but they do have two seasons: summer and monsoon. It's best to visit the Andaman + Nicobar Islands between October and May, when the weather is most pleasant. You'll find blue skies and sunny days for the most part — perfect for going to the beach. The water is also at its clearest, which makes for great snorkeling.
Monsoon season, July to September, will impact travel between islands, as well as all beach activities. Typically, days are rainy with strong winds and high tidal waves. Travel becomes rather unpredictable, with heavy delays or cancellations.
Get Ready To Relax (And Disconnect)
One of the main appeals of visiting the Andaman + Nicobar islands is the chance to really soak up paradise. These islands are small so they don't see huge crowds of tourists. They mostly operate on cash and have a laidback atmosphere. Cell service is very limited, and if you can find internet, it's rather slow. Be prepared to settle into the island life here.
What's this about a group of volunteers in India?
Come to India with us! ILP (International Language Programs) sends college-aged volunteers all around the world to teach English and spend time traveling around the country they call home for a semester. One of our favorite destinations is India . . . can you see why? Learn more about all there is to do here as an ILP volunteer: