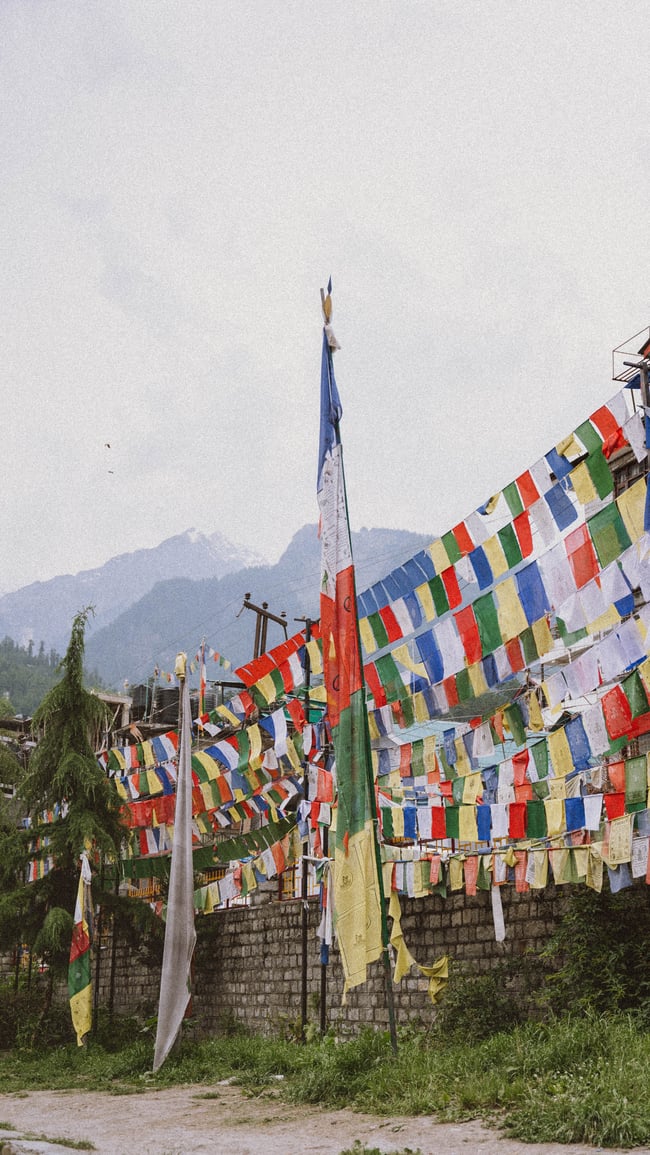 Golden temples, colorful mountain towns, treks in the Himalayas, and waterfalls galore — we love all the little trips you can take in India as much as the big ones!
We're all a bit obsessed with the ILP India program, haven't you heard? I mean, what isn't there to love? Our groups are living up in northern India, tucked away in a beyond picturesque mountain town right next to the Himalayas. We love the food. We love the shopping. We love the kids volunteers are teaching English to. Plus, the vacations you take here are unreal. Beyond the Taj Mahal and the pink palaces in Jaipur, you have sprawling beaches, camel treks under the starry skies of the desert, scouting for tigers in national parks, and so much more.


---
There's so much to love about volunteering in India for a semester.
---

Like all of our ILP programs, our India volunteers are only volunteering part-time, with every single weekend off. You're only teaching part-time, so you have plenty of free time during the week to explore your hometown, then time to jet off to so many weekend getaways. Plus, you have vacation time to trek down to other destinations in India (that we're also totally smitten with).
To help you know about just some of the options you can take when you're out exploring on the weekends, we have a little day trip and weekend getaway guide for your semester.
Day Trips
The spots below are all close enough that you could wake up on a Saturday to travel there, do some exploring, and be back home for the night. A couple of places on this list do have enough to do (and are a bit longer of a travel day) to get there, so you'll also see 'em on the weekend list. In any case, you have quite a list of day trips to tackle during your ILP semester in India (plus a few service projects that easily fit into a weekend or between your teaching schedule)
Dechen Choikor Monastery Shadabai
We love a trip to this stunning monastery. Not only is the building itself stunning (it's a blend of Indo-Tibetan art, filled with striking red pillars, blue and gold mosaics, and a golden Buddha statue inside of the Gompa) ... but the view outside is equally captivating. The monastery is situated in the hills, with the snow-capped Himalayas situated behind this holy site.
Monks prayerfully walk in the complex, beneath rows and rows of colorful prayer flags that decorate the ornate top of the monastery. It's one of the most popular tourist sites in the area (and one not to be missed).
Find it here

. It's a quick bus or car ride (about 30-60 minutes), so an easy day trip.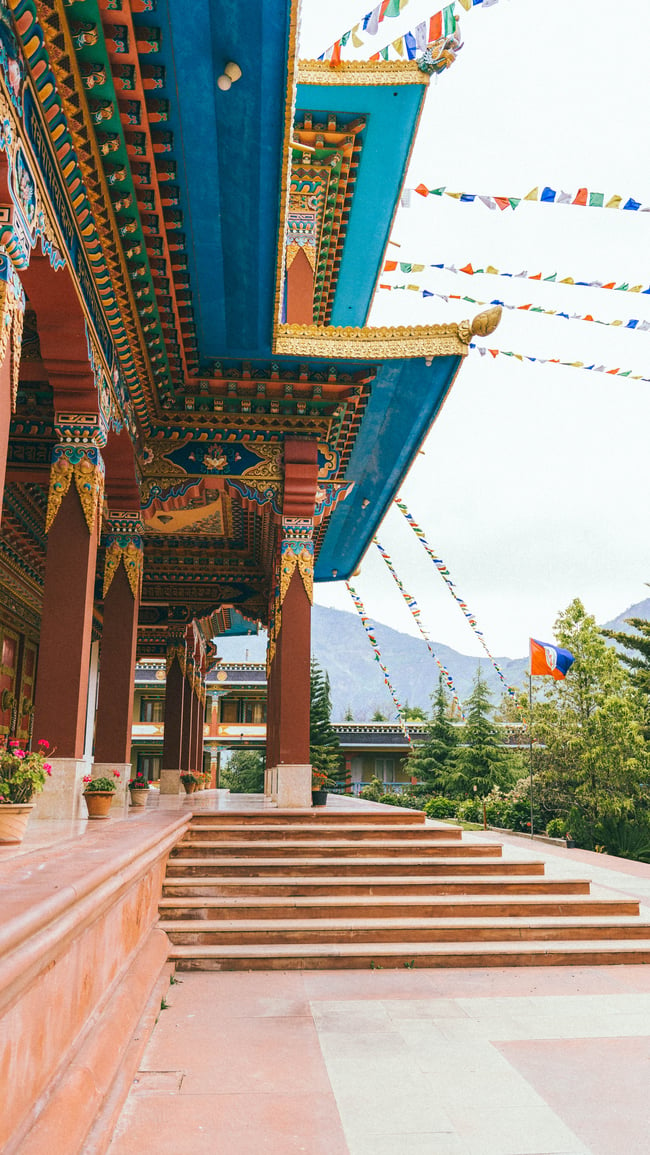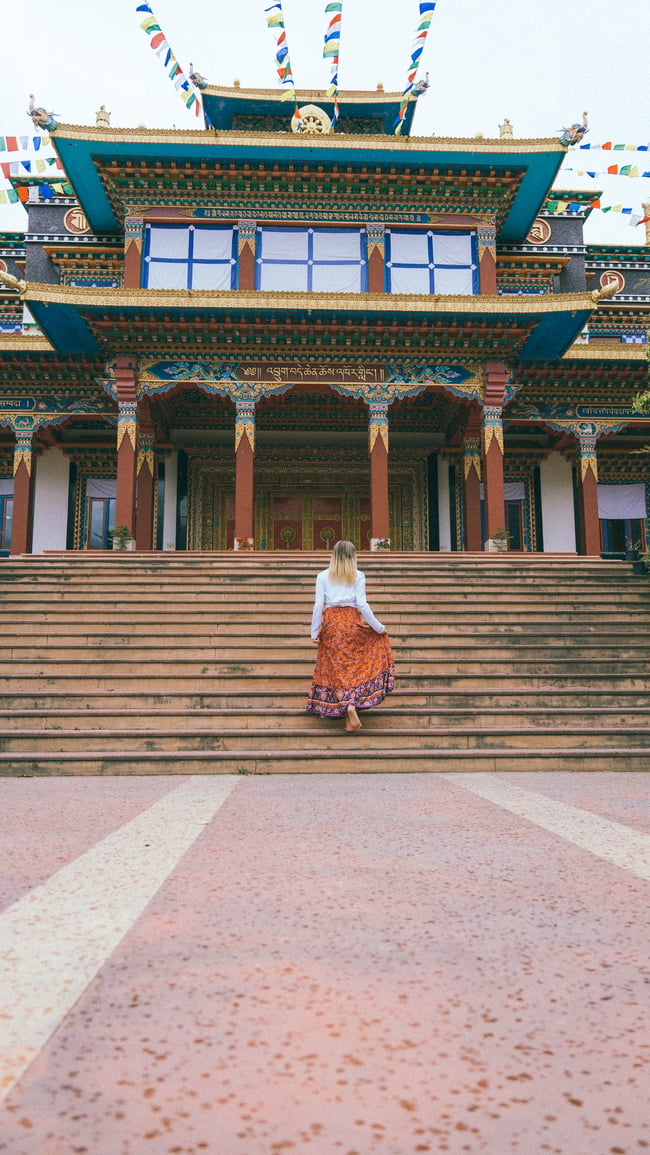 Bijli Mahadev Temple
The Bijli Mahadev Temple is just north of the Dechen Choikor Monastery (about an hour up a windy road) but it's worth the trek out there. This temple, dedicated to Shiva, can only be reached after a steep 3-kilometer hike to the very top, where you'll not only see the temple but the views below. It's one of the most beautiful places to soak in the view of the curling Beas River below you. If you visit in the springtime, there's a massive, ancient tree that is completely covered in pale pink blossoms which just adds to the stunning scenery. This hike is one of the best spots to take in the sites of the gorgeous valley!
Find it here

. It's a quick bus or car ride (about 60 minutes), so an easy day trip.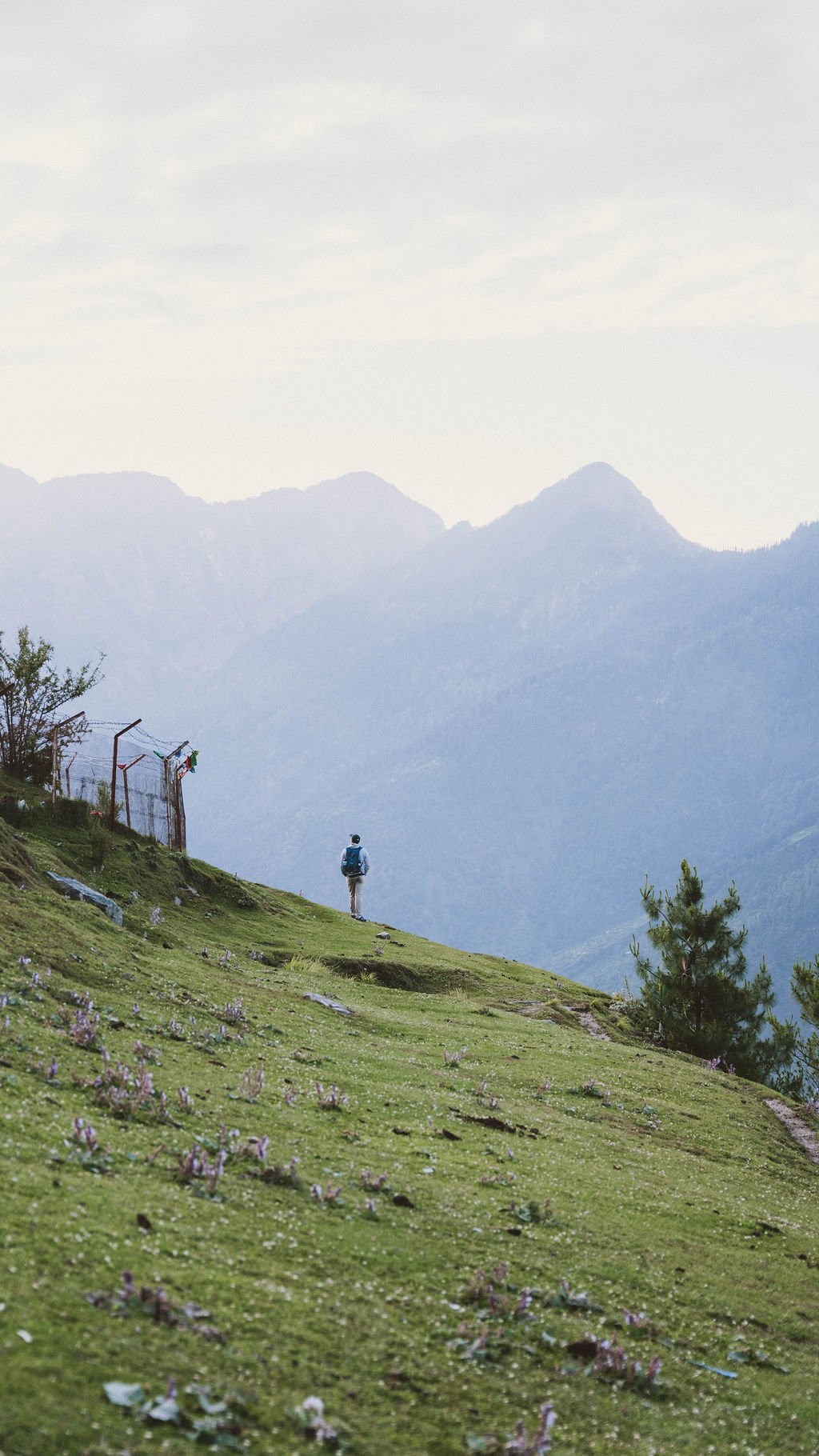 Manali
We love a trip to Manali. Those towering and world-famous Himalayan mountains around Manali mean quite a few perks for tourists, like sweeping views for hikers in the warmer months and magical ski getaways in the wintertime. It used to be a tiny trading town but has now turned into a popular getaway year-round for tourists in India.
Before we dive into all the things to do here, you'll want to know there are "two Manalis", the old Manali and the new Manali. The new side of the city includes the bustling Mall Road and the rather congested and busy city. Old Manali is over the bridge (across the Beas River) and has more of a quieter, mountainside feel, complete with a collection of chill cafes to explore and places to stay. The two are nearby, and easily walkable (less than a mile). A trip here means shopping on Mall Road, saying "hi" to the yaks at the Hadimba Temple, visiting the Himalayan Nyinmapa Tibetan Buddhist Monastery, or maybe even taking a sunrise hike to a waterfall.
We have way more info on
your trip to Manali
here.
Find it here

. This is a favorite getaway, for a quick day trip or a longer weekend trip if you'd like to fit in more during your visit (you'll probably want to either stay the weekend or come to Manali more than once in your semester) It takes 1-2+ hours to get here, depending on if you take a public bus or a private shuttle.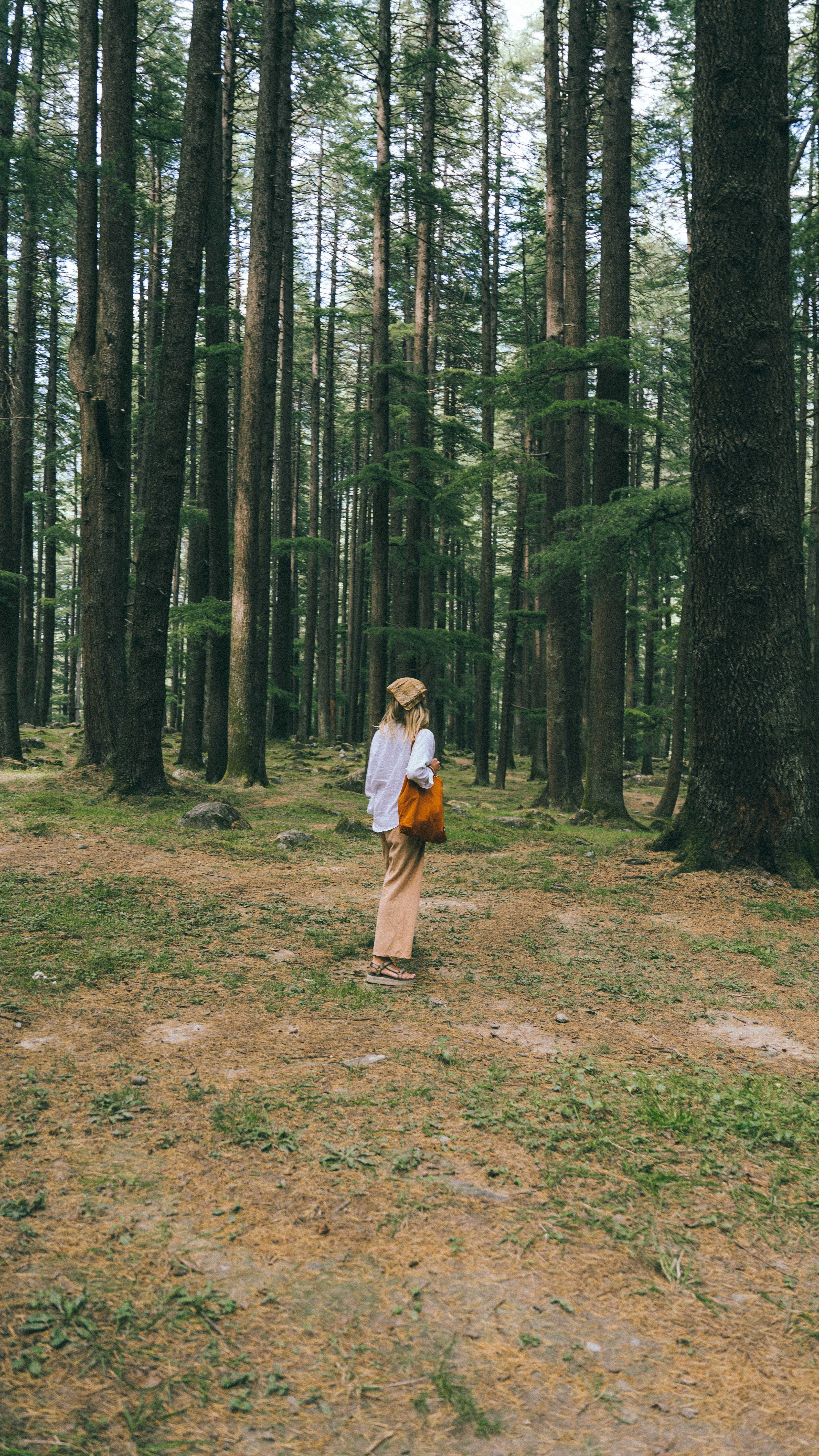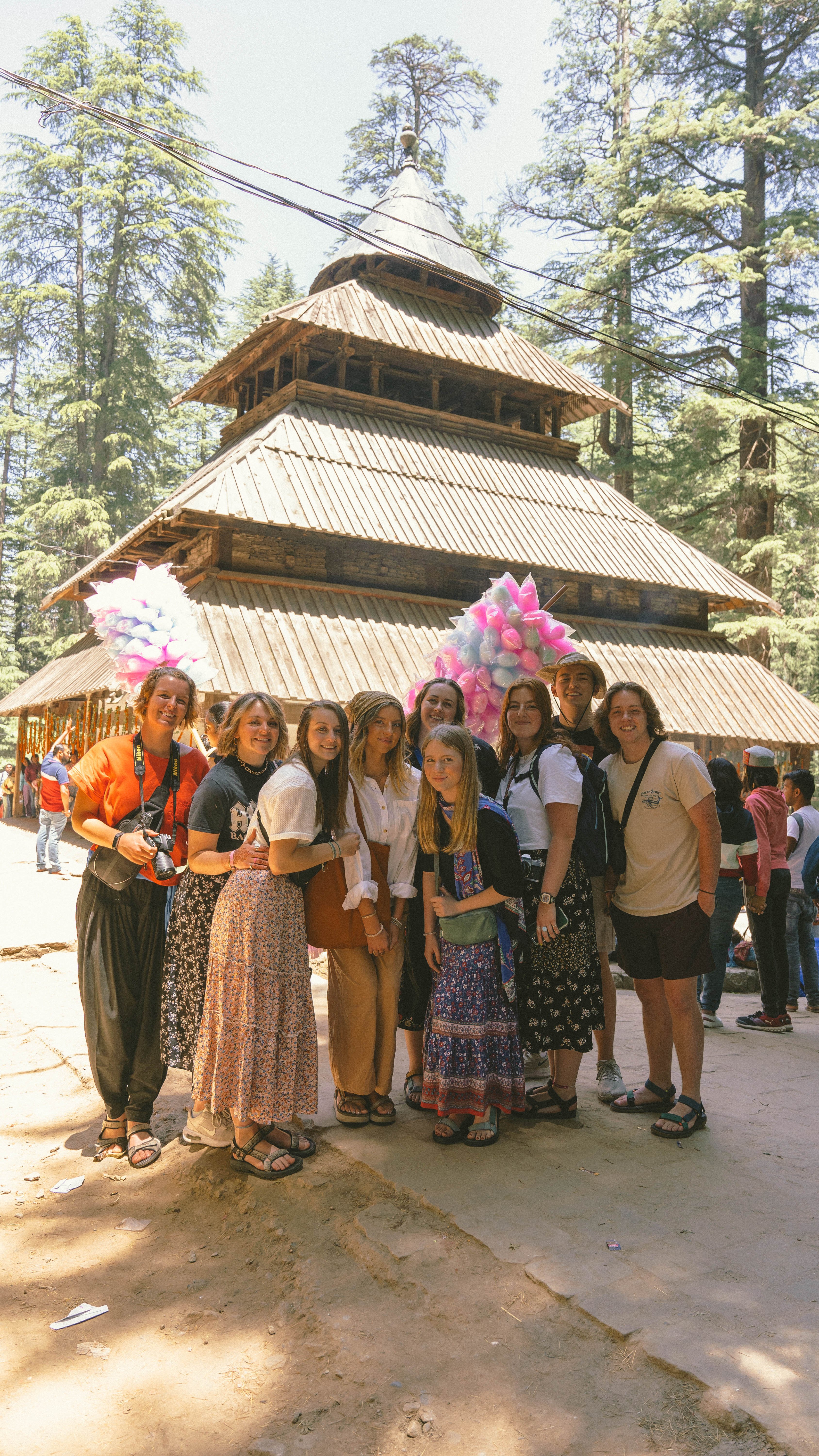 Jalori Pass (Hike To Serolsar Lake + Stop At Jibhi Waterfall)
Not only does this hike boasts incredibly picturesque views (and a very pretty lake at the end), the Jalori pass has a bit of historical significance as well. This pass was built by the British to gain access to Kullu (it connects Kullu and Shimla) and is studded with various temples, forts, small hamlets, and lore about goddesses saving lives and looking out for farmers by planting rice in the valley. Today, it's one of the most popular hikes in the area, especially because you can break up the hike to do smaller sections or tackle the whole trek on a weekend.

The entire Jalori Pass trek is some 80+ kilometers, and is a main attraction for serious hikers in the Himachal Pradesh. As you can guess, it's a multi-day hiking adventure with guides required, stopping along the various little towns and sites to see along the way.
In the past, ILP volunteers have done segments of this hike in the spring and summer months (sections are snowy in winter). It's a common side adventure from the Jalori Pass trek to hike to the Serolsar Lake. It's a moderately easy hike , mostly straight through the oak tree forest until you reach the lake and the small temple dedicated to Mata Budhi Naagin. Plan on about 2-ish hours to cover the 5 kilometer distance.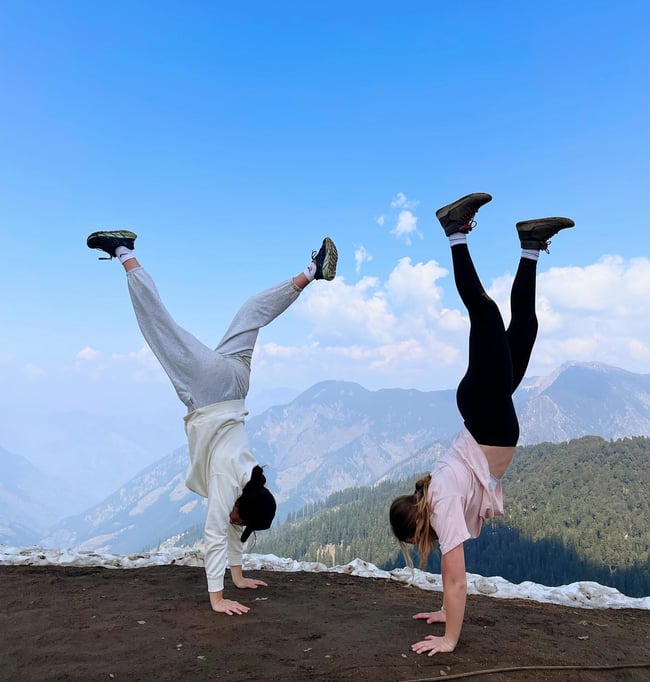 Jibhi Waterfall
It might not be worth the drive on its own, but this lush little spot makes a great addition to your trip to Jalori Pass. It's just a handful of miles to the north and close to the main town. To get to the falls it's just a gentle walk via a maintained trail. Plan around an hour to add this to your trip.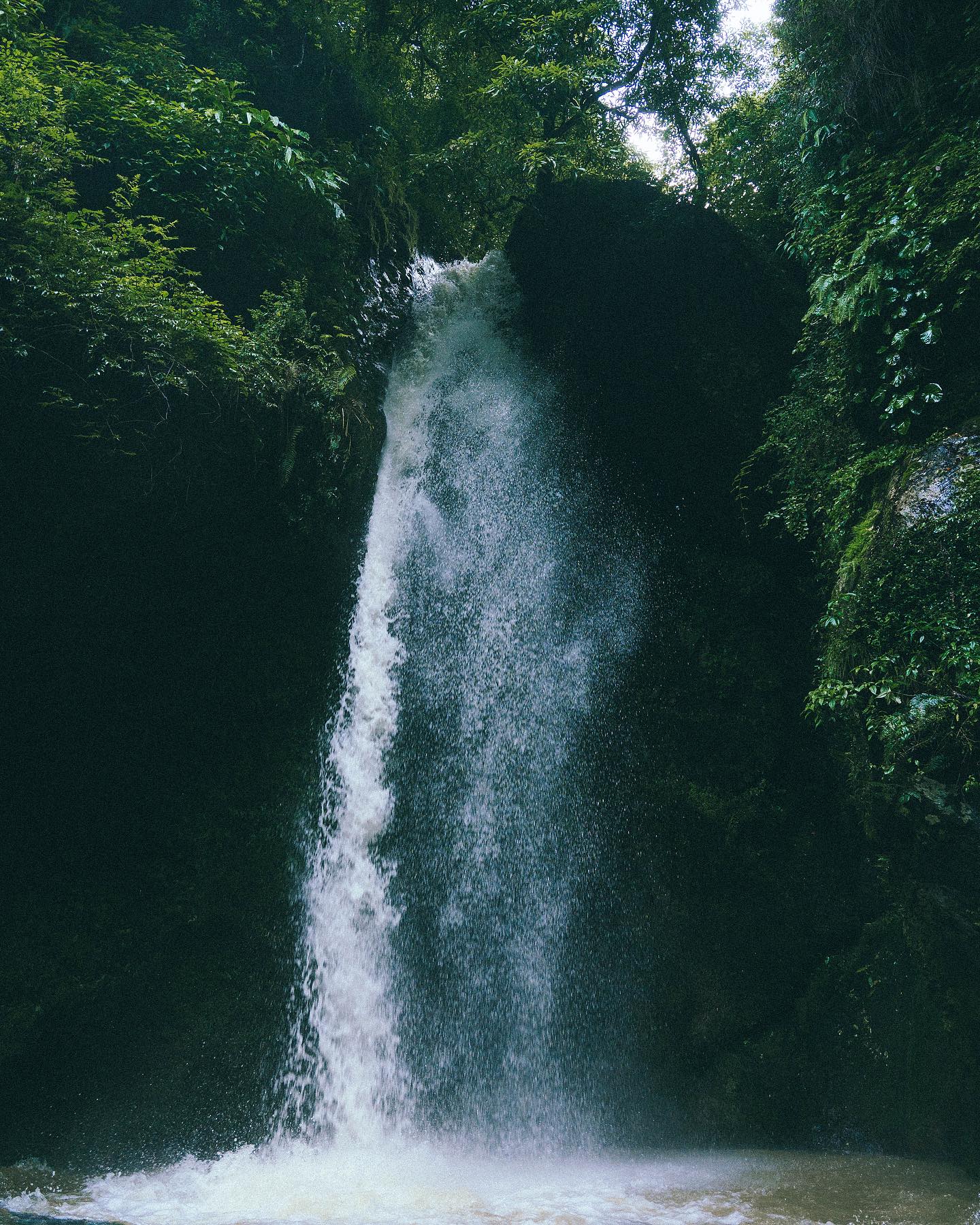 Prashar Lake
Are you sick of gorgeous views and stunning temples? It's not possible to get your fill of that kind of adventure when you're hanging out in this part of India. Hiking up to Prashar Lake is another favorite activity when you're in or around Mandi, making it a perfect standalone day trip if you're close.
Take a peek at this dreamy video to get an idea of what's waiting for you!
This freshwater lake is found high up in the surrounding mountains with a unique, three-storied pagoda situated nearby. The lake itself is rather picturesque, especially since there's a floating island inside. In the spring and summer, it's a popular hike (especially for those looking to spot wildflowers along their hike).
If you're wanting a longer trek, it's common to hike here from the nearby Kantu village (it's a 4-5 hour trek), or Biaggi (about the same amount of time). However, if you're wanting the views without the hike, there is a road that's accessible in June, July, and August that gets you rather close to the lake, meaning you have a short walk rather than a several-mile-hike to get to the scenic spot.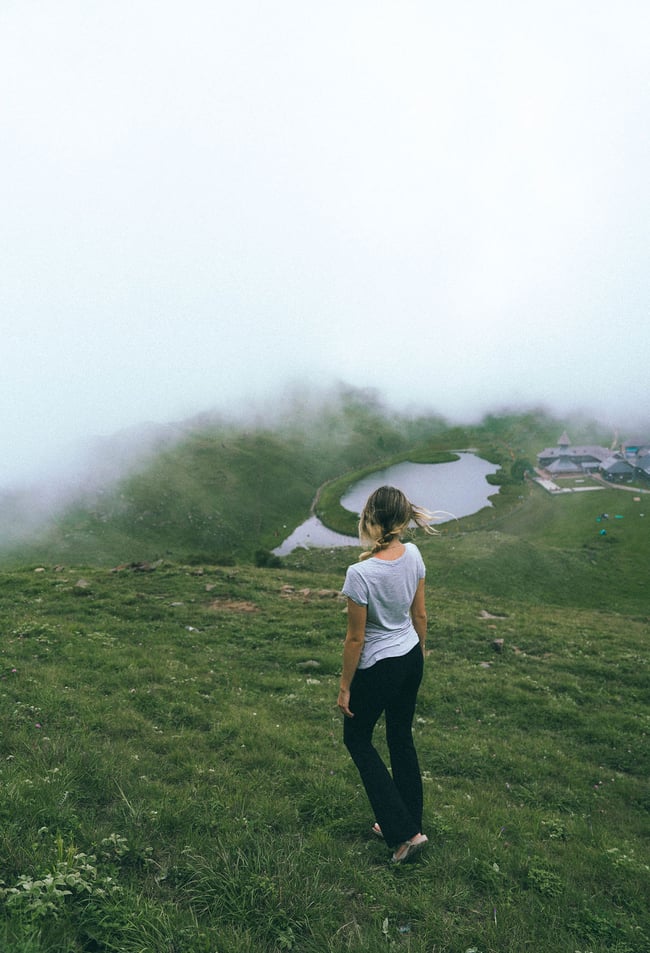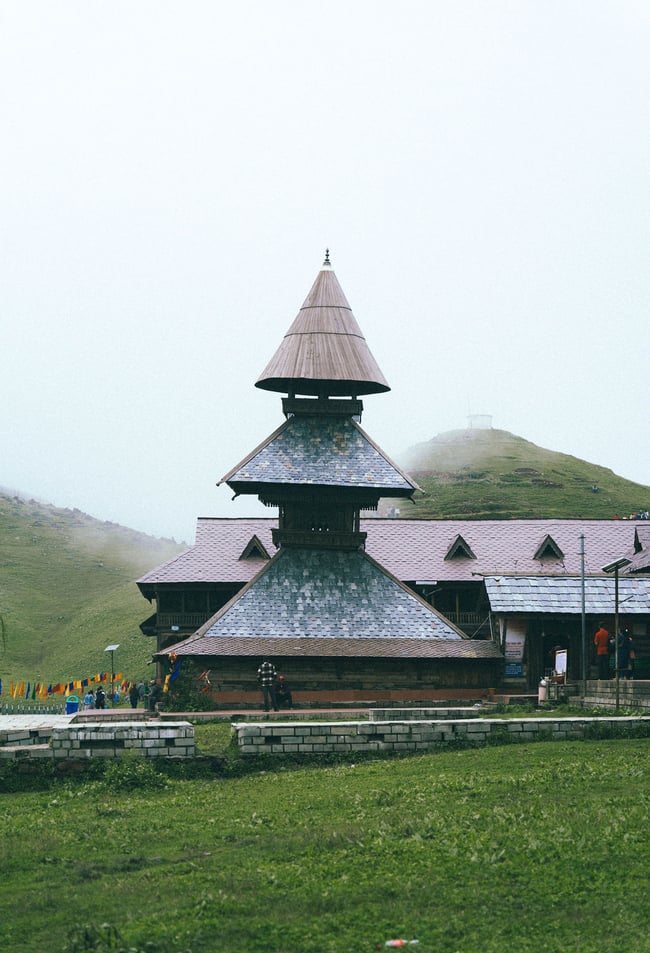 Vashisht
Take a quick trip to the quiet town of Vashisht, found in the hills of Himachal Pradesh. ILP groups in the past have visited this picturesque town to test out a few different mountain cafes, hike to the small waterfall (that's really what it's called, the Small Waterfall of Vashisht), and admire the views from the Manali viewpoint.
But, if you're lucky enough to be volunteering in the Spring semester, you're lucky enough to be in India to celebrate Holi, one of the biggest, most popular, and most colorful holidays. One past group headed to Vashisht to celebrate, where all of the local women here gathered together and walked down the city streets kind of like a parade until they reached the city center where the color fight began! There's lots of music and dancing as well as the whole city joins in on the color-throwing.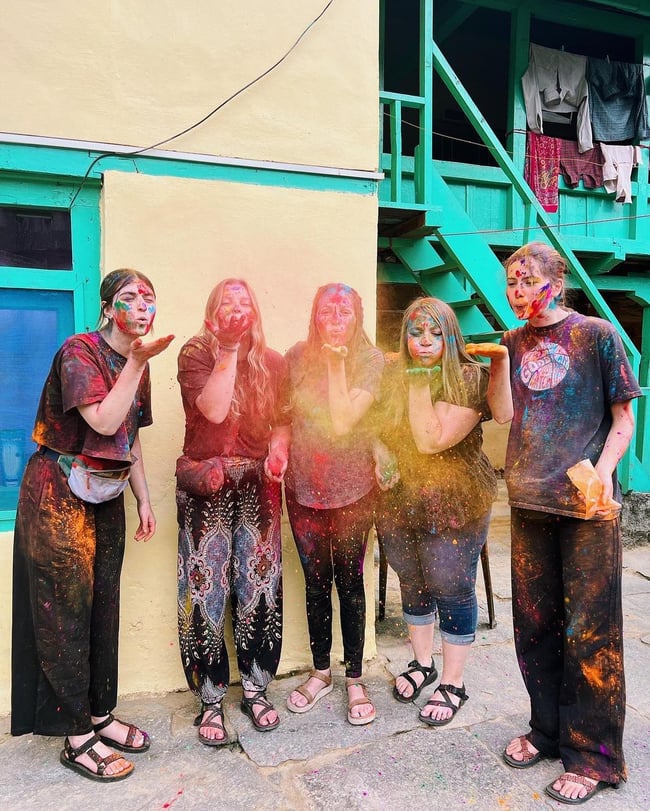 Hiking In The Himalayan Mountains
I'm sure you've heard of them — I mean, Mount Everest is pretty famous! These Himalayans may not be home to the tallest peaks in the world but are home to towering peaks that are hiding snowy caps, thundering waterfalls, alpine lakes, and mountain meadows that create a blanket of wildflowers in the summertime. It's incredibly picturesque, and helps just a little with the nickname of this part of the country: the "Switzerland of India". Are you totally swooning yet?
When I think of "Himalayan hiking", I think it's for experts only, but that's not the case at all! There are a handful of hikes in the Great Himalayan National Park ranging from all sorts of skill levels and time commitments — which makes it so accessible if you're not exactly the "hiker type" but still want to have the experience!
This post has a handful of half-day or full-day hiking trips that fit perfectly on a Saturday or Sunday.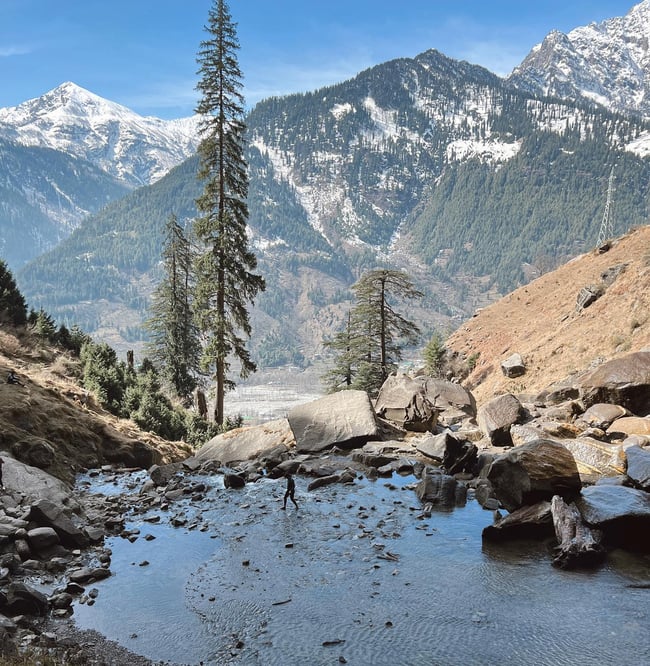 Weekend Trips (And Long Weekends)
As we mentioned, every ILP volunteer has Saturday and Sunday off during their semester, which means you're clear to start your weekend vacation once teaching ends on Friday and you can head back sometime Sunday (in time for teaching on Monday). All of these weekend trips fit that bill perfectly ... though some are better for 3-day weekends when you get them (some of these places have lots to do you'll want more time here and/or you'll want to break up the travel time over more than a regular weekend).
Dharamshala + McLeod Ganj
You'll find this mountain town in Himachal Pradesh, a gorgeous little getaway nestled between towering mountains, filled with shops, temples, stunning views, and little cafes. Before we start into the history of this place, you'll want to know that the city of Dharamshala splits into two halves, found about 3 miles away from each other — Lower Dharamshala is the commercial hub, filled with markets, shops, grocery stores, houses, apartments, etc.
Upper Dharamshala is also called McLeod Ganj — it's where most ILP volunteers spend their time. McLeod Ganj has been the headquarters of the exiled Tibetan government for decades and is currently home to a large Tibetan community, as well as the residences of his holiness, the Dalai Lama. You'll find Tibetan markets, food, temples, shops, and more in this upper part of Dharamshala. Thanks to the ties with Tibet, McLeod Ganj is sometimes called Little Lhasa. We're all about the cafes, food, temples, and things to do up around McLeod Ganj!

Hiking In The Himalayas (Overnight Trips)
Thinking just one day isn't enough in this picture-perfect place? I'm with you. Luckily, there are multiple overnight trips and multi-day hikes to tumbling waterfalls and villages hidden in the deeper corners and peaks of these four valleys. Team up with an official guide who often has a team to help you pack up and carry the necessary gear for a night out in the mountains (tent, food, etc). Most even prepare your meals on your hike making packing (and planning) a cinch. It's a pretty unreal way to get lost in the entire experience of hiking in the Himalayas.
This post

has a few example hikes to check out if you're looking for a weekend adventure.
Manali
Okay, Manali is more of a weekend spot if you want to pack in more activities. Sure, explore the Mall Road and a temple or two, but if you're here overnight, I'd definitely recommend taking some time to explore the towering trees found in the Nature Park and seeing Manali's waterfalls.
There are a few waterfalls around Manali, some structured as more of a little side trip to fill an afternoon, while others are more of a half-day or full-day endeavor. Sajla Falls is about a 30-minute drive south from Manali to get to the trailhead for Sajla Falls, but worth the excursion if you have the time. It's a short 1.5-kilometer trail to the falls, complete with a little pool you can get your feet wet in and several foodie vendors selling snacks and treats. Or, explore Jogini Falls. After touring the Vashisht Temple, you can easily hike to this waterfall in about an hour (it's a 3-kilometer trail), depending on your speed. It's one of the most popular 'add-ons' to a day exploring the Vashisht temple.
Here's

more on Manali

to fill up a whole weekend of adventures.

Find it here

. Remember, it's a 1-2 hour drive so something you could do in a day, but we love all the things to do here, it's better situated as a weekend trip.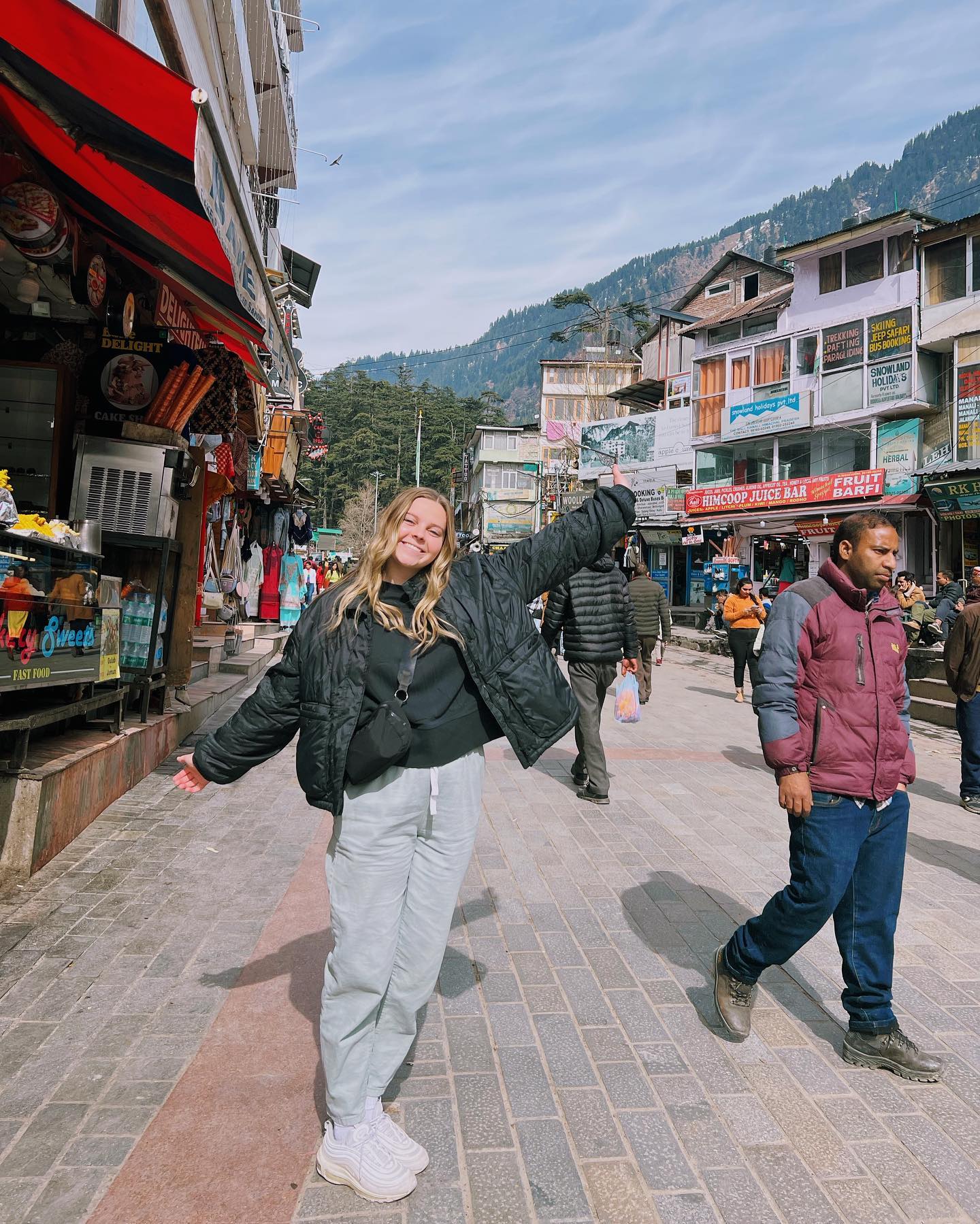 Shimla
Shimla is the state capital and the largest of the mountain towns. You'll often see travelers comparing Manali and Shimla, trying to decide which one they'll see .... best to try out both, right? Go ice-skating, shop at the bazaars on the pedestrian-only streets, and of course, meander through the many hiking trails. There are also tons of monkeys roaming freely around here, so keep your camera ready.
One of the most unique things about Shimla though is the 60-mile Toy Train ride — it's an incredibly scenic route that takes you from Kalka, climbs up through the Himalayas, passes under bridges, and around curves before reaching Shimla. During the summer, you'll see green rolling hills, while winter rides give you views covered in white snow. Either way, it's a magical and well-loved activity for locals and tourists.
Amritsar
I love this city in India. It's a place I fit into my trip to India when I visited a couple of years ago and is still one of the most memorable places I've been able to visit. A visit to Amritsar has to include a few activities, but we'll start with the Golden Temple.
Sri Harmandir Sahib is the official name of this temple, affectionately called "the Golden Temple" — it's an accurate nickname, due to the gold plating. The temple houses Guru Granth Sahib, the central holy book in the Sikh religion, and is surrounded by a pool of holy water where pilgrims come to bathe before entering the temple. While a holy site for the Sikh religion, a large portion of the people visiting aren't Sikh. The temple is easily one of the most visited sites in India (and the world) receiving more daily visitors than the Taj Mahal! Be sure to not only visit but find time to volunteer in the volunteer-run kitchen which feeds a free meal to millions every year.
I'd also recommend heading to the Wagah Border to see the impressive ceremony that occurs every night to close the land border between India and Pakistan. Thousands of people come to view the sunset border ceremony, and all pile into these towering stands on either side of the border. Guards from both countries are dressed to the nines for a military display of showmanship (with high kicks and precision marching through the ceremony). The 30-ceremony includes closing the international gate and lowering the flags of both countries, but the atmosphere is buzzing, a combination of excitement, dancing, pomp and circumstance from the guards, and more. It's a lot to take in, but was something I'll never forget!
Here's way more about

your trip to Amritsar

.

Find it

here

. This place is definitely a weekend or long weekend kind of getaway — it's further away than others on this list, but worth the 6+ hour travel time.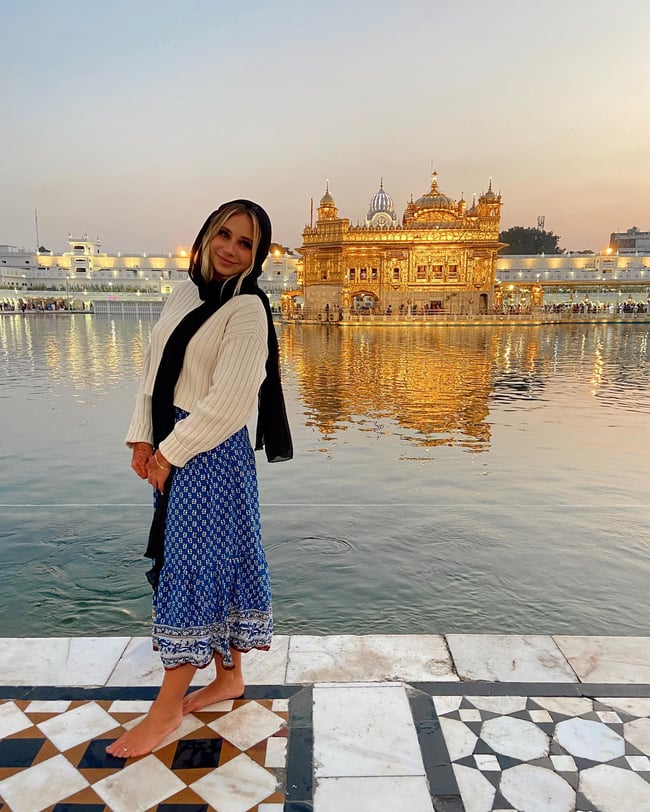 A Few Travel Tips
Prep For Travel Time
Most of your weekend trips involve long drives — ILP India volunteers call the northern region of Himachal Pradesh home, where most people get around by taking long drives through mountain passes. Some locations are accessible with a quick and very scenic helicopter ride, but not everywhere.
The nearest airport (in Chandigarh) where you can hop around to other destinations is a 4-5 hour drive, so even if you're flying somewhere, you're prepping for a drive before you fly. Delhi has even more connections, but that's an even longer drive. It's doable during your vacation time, but just gear up for some travel every time you want to leave your town.
Pack A Couple Of Extras
Again, coming in with the alumni advice! The bus rides, car rides, helicopter rides, and plane rides make traveling with anti-nausea and motion sickness medicine a must (ginger chews also helps settle your stomach). The mountain roads are very windy and even people who aren't prone to getting car sick got car sick. You will want to always have something in your bag to help make those travel days (and nights) more comfortable.
Travel Can Be Unpredictable
This goes for every location in some regard, but in particular, some ILP India alumni recommend having backup plans in case Plan A doesn't go as scheduled. Weather (rain, fog, snow, wind) can postpone or cancel your helicopter ride last minute, so you'll also need to be okay traveling by car. Mudslides can block motorways, so instead of heading south one weekend, maybe you head north for a weekend in the mountains (and take that other trip next week when the road is clear).
Just A Reminder
The way travel works in India is a bit unique. Instead of planning your own vacations (like other ILP programs) volunteers in India have a travel team to plan things for you. They're here to arrange all the details, like transportation, overnight accommodation, activities, and a guide who speaks English. It's a major perk, especially when things don't go according to plan (if you book the helicopter ride to Shimla, a backup driver is ready to go just in case things get canceled). It's just another thing about the ILP India program we love.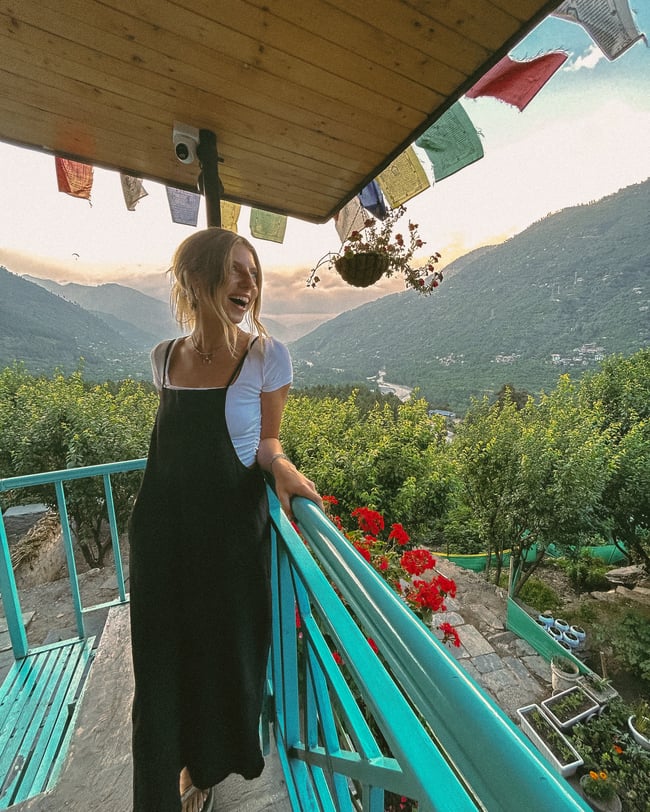 Thinking that trip to India is out of reach?
Not even close! ILP sends groups of volunteers to India for a semester of teaching English, service, and traveling. We make it easy, arranging your visa, flight, housing, teaching schedule, and the ILP group you'll get living, teaching, and traveling with. We cannot get enough of the experiences you can have in this country!