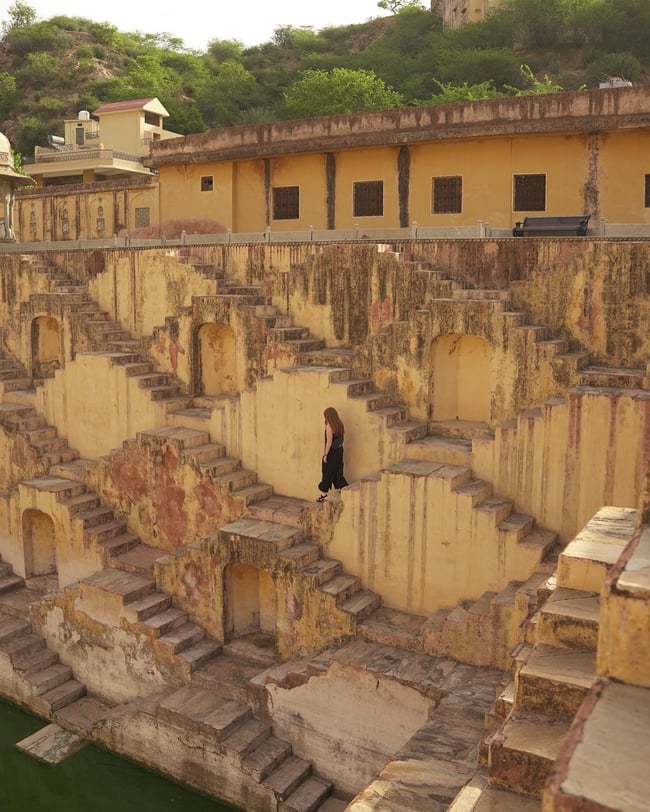 This "Pink City" is filled with towering honeycomb walls, painted entrance gates, and unbelievably pretty palaces covered in silver. You can't miss out on the sites to see in Jaipur.
When I visited India, we flew directly to Delhi, landed in the middle of the night, then made the drive to Jaipur to get there in the morning. I was severely jet lagged and trying to take in this new country I had been dying to visit. Even through my fatigue, I was instantly in love with Jaipur. The towering palaces were alluring, covered in the most intricate details, with monkeys running across the tops. Plus, how could you not love a city nicknamed the "Pink City", due to all the many iconic pink-colored buildings?


---
Dreaming of India but not quite sure how to get there?
Come volunteer in India with us!
---

It's no secret that Jaipur is a top destination in India. It's commonly part of the Golden Triangle region, with tours galore connecting visitors to Delhi, Agra, and Jaipur on their trip. Because it's such an unmissable city (especially for volunteers living in India for a whole semester!) we have a handful of ideas of what your Jaipur trip could look like:
A Little Intro On Jaipur
Today, Jaipur is known as the capital (and largest city) in Rajasthan ... and quite the tourist destination. This stunner of a city was officially founded back in 1727 (so relatively new, considering India's extensive history). Jaipur was founded by Maharaja Jai Singh II, who took the throne at just 11 years old, after his father's death. The area was ruled by Jai Singh from 1699 - 1744, who had a stronghold in the city's landmarks that tourists still flock to today ... and also the city's name. The first half of the word, Jai, is a nod to the word for victory, as well as the ruler, Jai Singh. See how that works?
First, the capital was established in nearby Amber, before being moved a few miles over to be in Jaipur. The city was artfully designed from the beginning, which included taking hints from the architecture of a handful of European cities. The blueprint of the city came to life thanks to an acclaimed team of architects, mathematicians, astronomers, scholars, etc. Once completed, towering fortification walls (with impressive gates) encircled the city for protection.
While the design and much of the architecture are all thanks to Jai Singh, the famous name and color of Jaipur comes later. During the rule of Maharaja Sawai Ram Singh, the Prince of Wales visited in 1853, and as quite the welcome gesture, the city was painted pink (the color of hospitality). When you visit, you'll notice that that definition of pink is up to interpretation, with many of the buildings looking more salmon-colored than pink.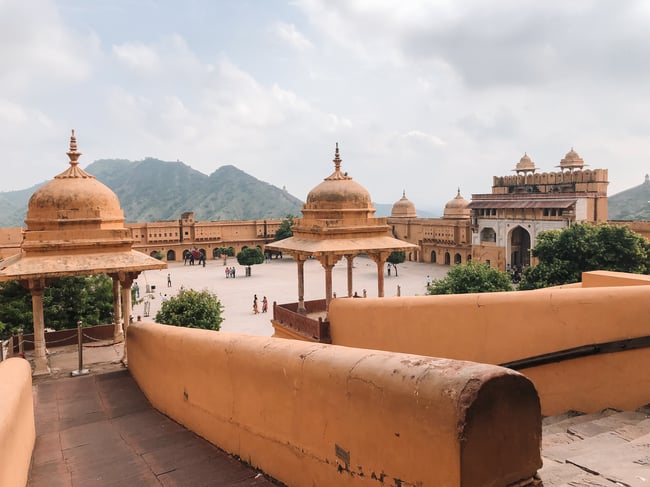 Top Sites To See
There are tons of sites to see in Jaipur, but this post is a bit of a "top-tier" highlight list that can fit in a 2-3 day itinerary (which is the realistic timetable for the vacation schedule for ILP India volunteers!). Just know there are several more noteworthy additions to look into if you have more time in Jaipur.
Monkeys At The Amer Fort
Also known as the Amber Fort or Amber Palace, this imposing structure was the original palace when the capital was established in Amer (before being moved to Jaipur). Apart from the history, this imposing fort is at the top of any list in Jaipur for a few reasons. One is architecture. Out of all the cities you'll visit in India, Jaipur is one of the top-tier locations to obsess over the structures, with the Amer Fort as one of the most impressive. The Amer Fort has sweeping ramparts, opulent courtyards, and winding cobblestone pathways that reflect Rajput and Mughal architecture (all built out of marble and sandstone).
Another highlight? The level of detail at the fort is astounding, with temples covered in silver, several sprawling courtyards, walls with marble reliefs, and ceilings covered in a zillion mirrored tiles. It's an easy place to take pictures of impressive doorways, intricate tile work, geometrically mapped courtyards, and ornate archways. The monkeys who now call this palace home are also an attraction (they can be spotted running on the narrow banisters and rooftops of the fort).
The fort is open 9:00 AM to 5:30 PM, making it easy to fit into your itinerary (with the chance to add on an evening sound and light show at the fort, if that's something you'd like to talk to your tour guide about).
As a quick heads up, there is an uphill road that leads to the entrance of Amber fort. You will see elephant rides available to take you up that hill. Sadly, it's not a practice that supports the ethical treatment of these beautiful animals. We want you to be informed about that before visiting and know that it's a better option to just walk up to the fort entrance instead. There are several other locations where volunteers have the chance to see elephants (and other animals) in their natural habitat during their ILP semester if you are interested.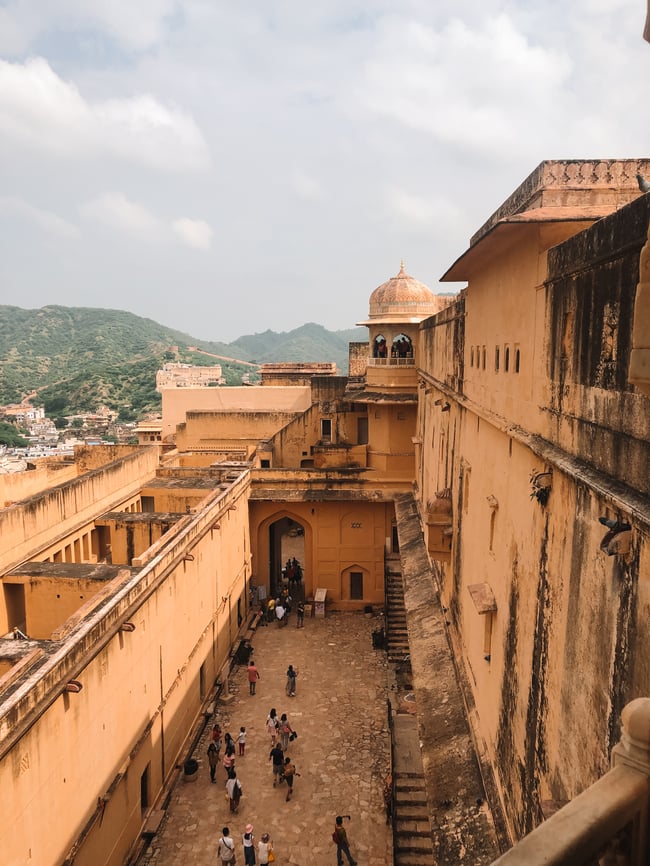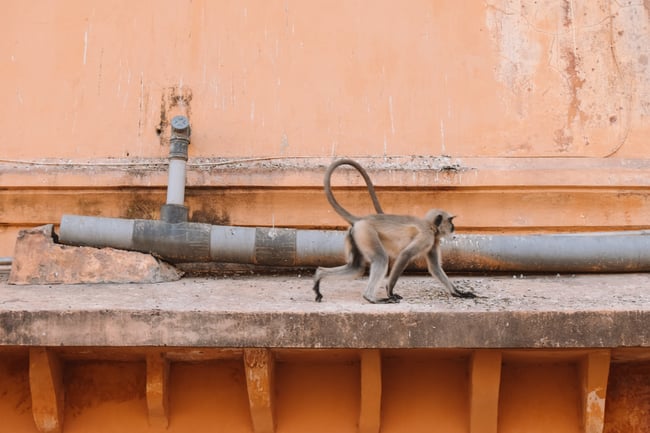 All About The City Palace
Are you ready for another stunning location to step into history and take the most amazing pictures? The City Palace of Jaipur is what we're obsessing over, with a sprawling collection of gardens, a network of pillars each painted with intricate flourishes, and doorways that seemingly defy belief — how in the world can they be that elaborately decorated and adorned?
The City Palace is a mix of place and museum that has current-day and historical significance. The palace was initially built when the city was founded and today still serves as a place of residence for the royal family of Jaipur (along with quite the museum). It's a huge structure, with some captivating standouts, like the Rajendra Pol's entrance (adorned with stone elephants and impossibly detailed lattice work), and the maze of Sarvoto Bhara's decorated pillars.
The doors here are also a high point, some are covered in colorful tiles depicting the hundreds of folds of a lotus flower, rose petal motifs, and the stunning blue found in peacock feathers. Find these in the third courtyard (Pritam Niwas Chowk) and ask for the Ridhi Sidhi Pol. These are the gates dedicated to different Hindu gods and specific seasons (and are arguably the most beautiful).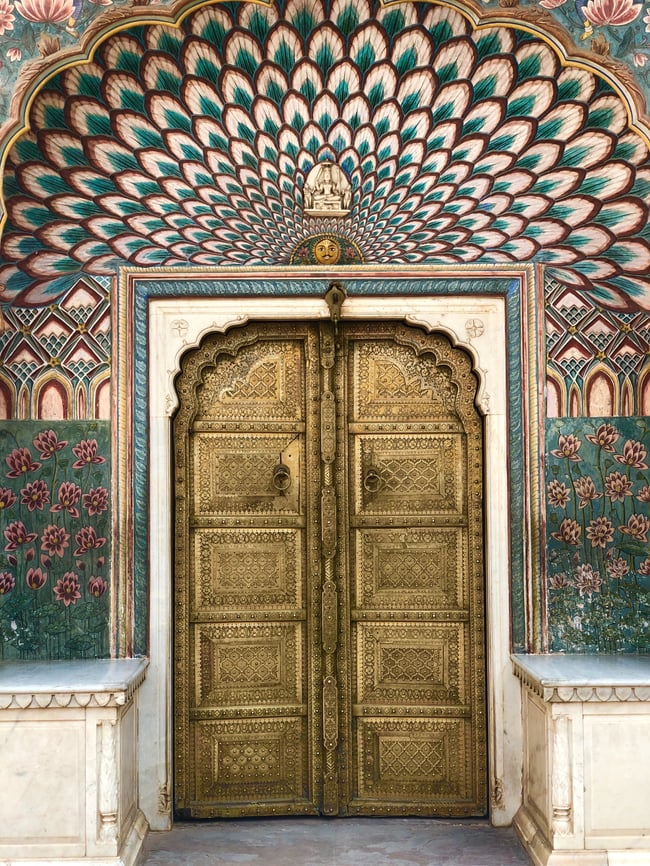 Sunset At Nahargarh Fort
Soak up medieval architecture at this imposing fort, named for the supposed collection of tigers that roamed the nearby hills (Nahargarh means "abode of tigers"). Nahargarh Fort was built to intimidate enemies — which worked. It was never attacked and today remains one of the most impressive hilltop defenses in the city.
Apart from the sheer size and encompassing wall (complete with ramparts, mind you), the detailed frescoes and attention dedicated to the royal family set it apart. It was built to appropriately house the 12 wives of the current ruler, each with their own apartment and view of the city, several hundred feet above Jaipur.

That view makes it one of the best sunset spots in the city if you can time your visit right!
Relaxing At Jantar Mantar
Ready to see a giant sundial that's officially a UNESCO site? You'll love this astrological park which is one of the most encompassing examples of massive astrological structures in the world. The park includes 19 instruments built by the city's founder, Sawai Jai Singh II. By studying the Zij, an Islamic book that tabulates the positions of the sun, moon, stars, planets, and other celestial bodies, Jai Singh noticed a discrepancy in the calculations and was inspired to build a handful of astronomical observatory instruments, all on a large scale. Seriously though, the largest sundial here is over 85 feet!
They were later put in this park, established as an observatory to house the instruments that measured time, predicted the timetable of eclipses, tracked major star patterns and their orbits, as well as calculating celestial altitudes.
This park wasn't top on my Jaipur list when I visited but ended up loving the visit. I had never seen anything like the enormous sundial, observation towers, and shell-like structures used to help us learn more about space (especially since you can wander around and get close to these impressive instruments). It made for a nice break from the crowds and intricate palaces on my itinerary.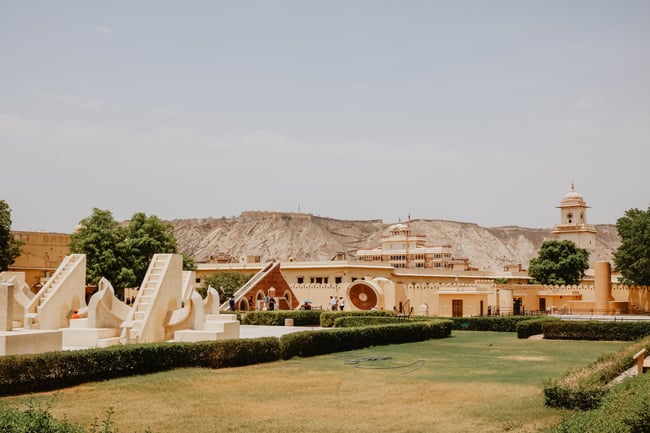 Shopping At The Pink City Market
If you have time and a souvenir shopping list, there is quite a bit of shopping to be had in Jaipur at a handful of maze-like bazaars. You'll find a whole range of things to catch your eye, like brightly dyed textiles, ornate jewelry, soft-as-can-be pashmina scarfs, blue pottery, Mojris (Rajasthan's style footwear), studded bangles, quilts, and more.
Photos At Hawa Mahal
This "Wind Palace" is another iconic symbol and site sitting right on one of the main streets in Jaipur, and most likely a stop on your itinerary even if you just drive by on your way somewhere else. I'd suggest getting out of the car so you can admire the structure up close (and learn more about the building's fascinating history). The Hawa Mahal was built in 1799 as an extension to the royal palace, for the royal women of the court. The structure is a high, five-story wall of orangey-pink sandstone adorned with a honeycomb facade that covers the 900+ windows, allowing the royal women to peek down below at the street and festivals without being seen by the public.
The "wind palace" nickname comes from how those windows (jharokhas) were built, which invite wind to circulate and cool off the royal ladies in the heat of the summer months. This towering facade is the main point of interest, but you can enter the Hawa Mahal complex to admire the courtyards and buildings behind the wall if you'd like.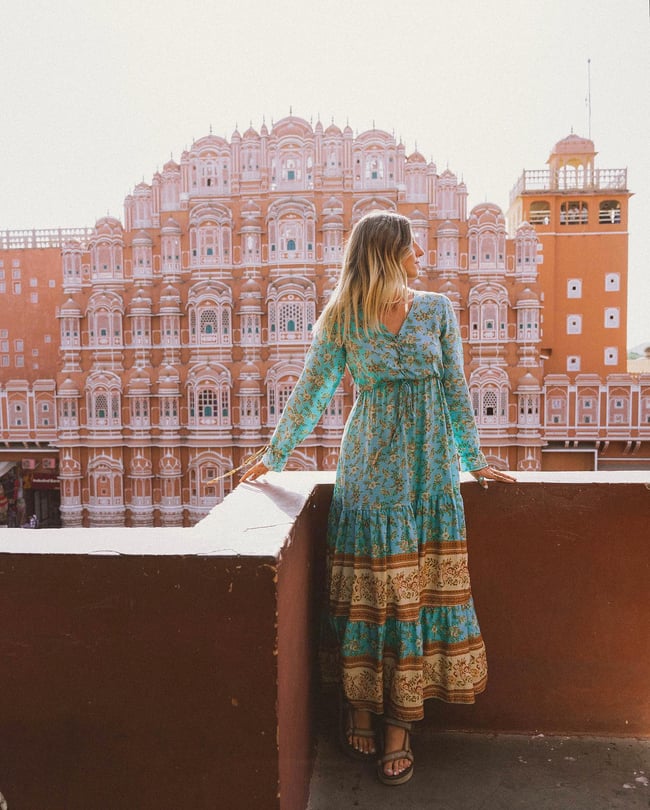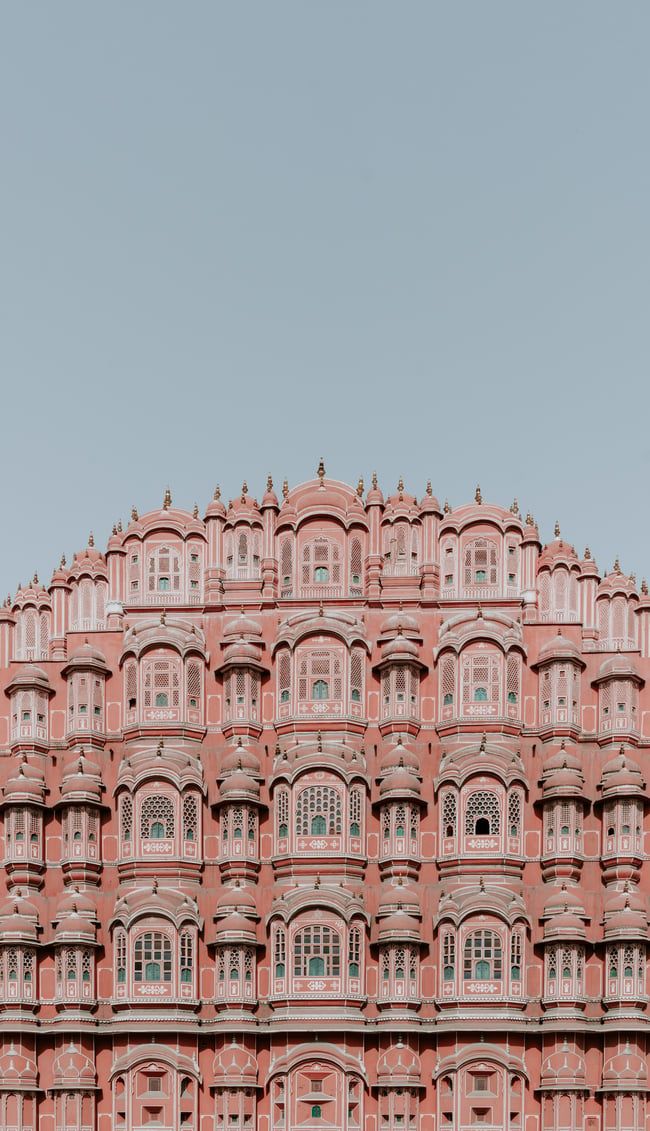 A Few More Photo Spots
Apart from the locations listed above, Jaipur boasts several more photo ops that you'll want to integrate into your itinerary if you're looking for "that picture". We have a list below, along with a few caveats about expectations.
Café Palladio: A gorgeous cafe with big windows, pastel decor, and intricate wallpaper. You must purchase something to eat to take photos (photos must be on your phone only, no other cameras). Check their Instagram here.
Hawa Mahal: We have the history about this place above, but if you're all about snagging the best photo here's an insider tip: it's hard to shoot from below, so some head to the Winds Café to grab a tea, and take a picture from their balcony.
Patrika Gate: This gate marks the entrance of the Jahawar Circle Park. The whole area is stunning, but the main photo attraction is inside that pink building, where you'll find a rainbow of painted archways.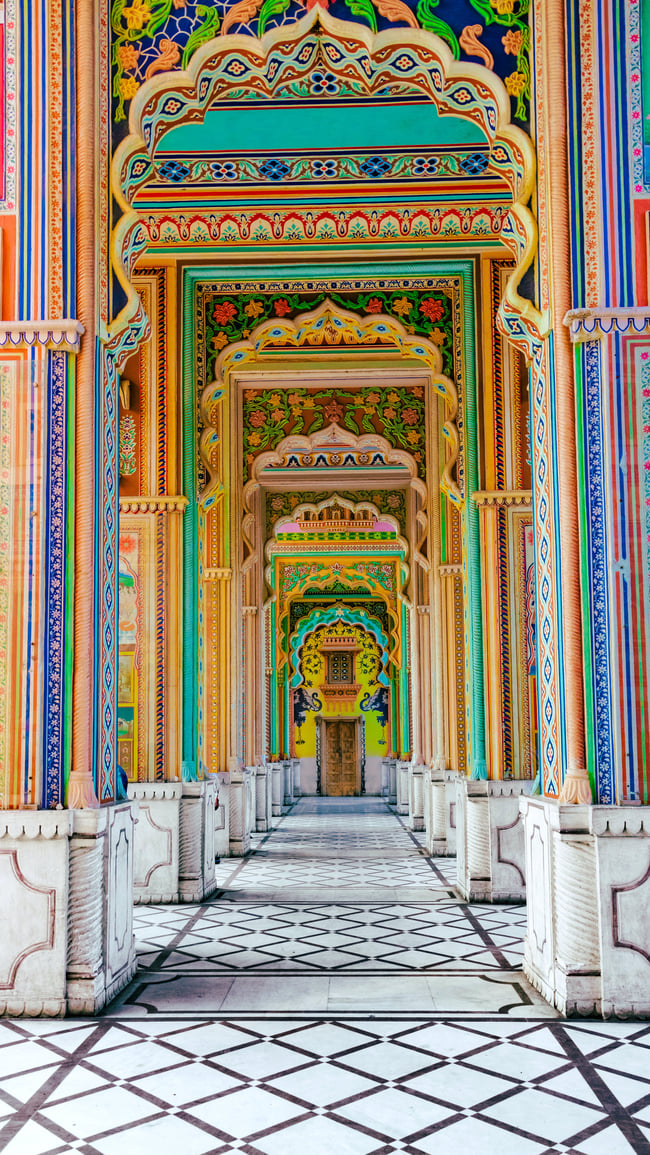 + A Few Reminders
As a reminder, Jaipur is a bustling city, with a four million+ population, combined with the millions of visitors that flood the city every year. It's easily one of the most visited cities in India.
That being said, these attractions get crowded. If you have high hopes of being the only person in your picture, you'll need to arrive at the attraction right when it opens (and cross your fingers). You may also have luck if you're there right before they close, but again it just depends on some factors out of your control.
Another thing to keep in mind? Some areas have photo rules that aren't easily discernible on Instagram. For example, the Panna Meena Ka Kund Stepwell is an easy addition to any photo-must spot but please understand that as of 2022, tourists are not allowed to walk down the iconic zig-zag steps to protect the well. You can still get incredible photos standing above the well, but if your dream is to get "that" picture, know it's not an option.
We have the best news
We're accepting volunteers to come spend a semester in India with us! ILP volunteers get to call India home for an entire semester, then have weekends off, free time, and vacation days to travel all over the country (and maybe even visit another country on your bucket list!). Click the button below to learn more about ILP and how your trip can actually be possible!