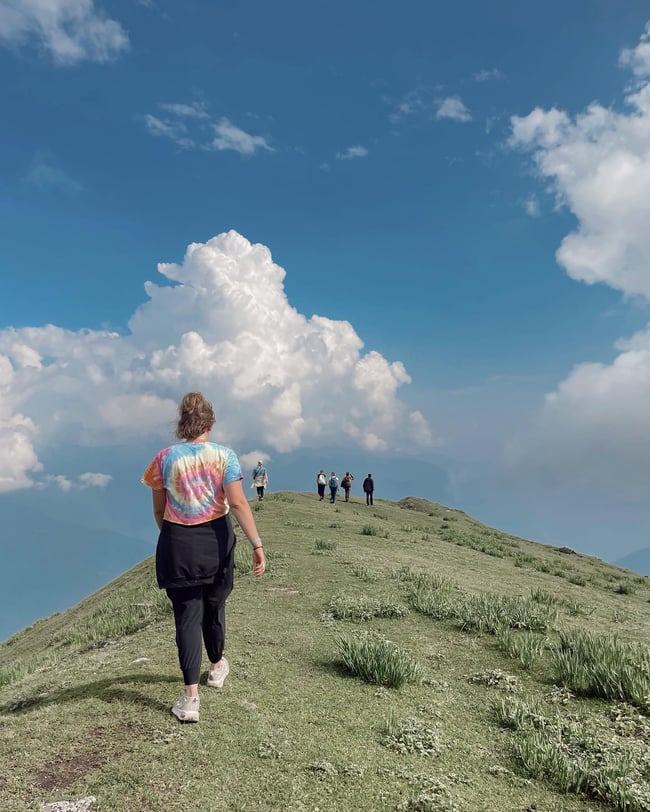 A visit to northern India isn't complete without some mountain time — luckily for you, we've outlined our favorite weekend treks to take in the famous Himalayas.
I visited India for a couple of weeks which meant I really had to pick and choose my activities — and I left knowing I'd be back to explore the places I didn't get to see the first time around. One of those places is northern India, where you can take a handful of different overnight treks exploring the most famous mountain range in the entire world. Especially once I learned that there are hiking routes for any experience level, I knew I had to trek up to those pristine mountain lakes and elusive monasteries to see these stunning views for myself.


---
Don't just visit India, come live here for a semester!
All about volunteering in India with ILP
---
The ILP India volunteers are lucky enough to tackle any of these hikes on any weekend they want — big thanks to our volunteer groups for the insider details and pictures in this post! As a note, for ILP volunteers, these trekking tours include all your meals as well as the gear you need to camp here overnight, surrounded by panoramic views. Most of these treks fit easily into a long weekend (a 3-day trip) but of course, adaptations can be made. Thanks to the unbeatable views, they're some of the best weekend adventures around.
Oh, and while there are some Himalayan treks on this list, others are found in the Himachal Pradesh state, which borders the mountain range. So while not technically in the official Himalayan National Park, you're never too far from these impressive peaks.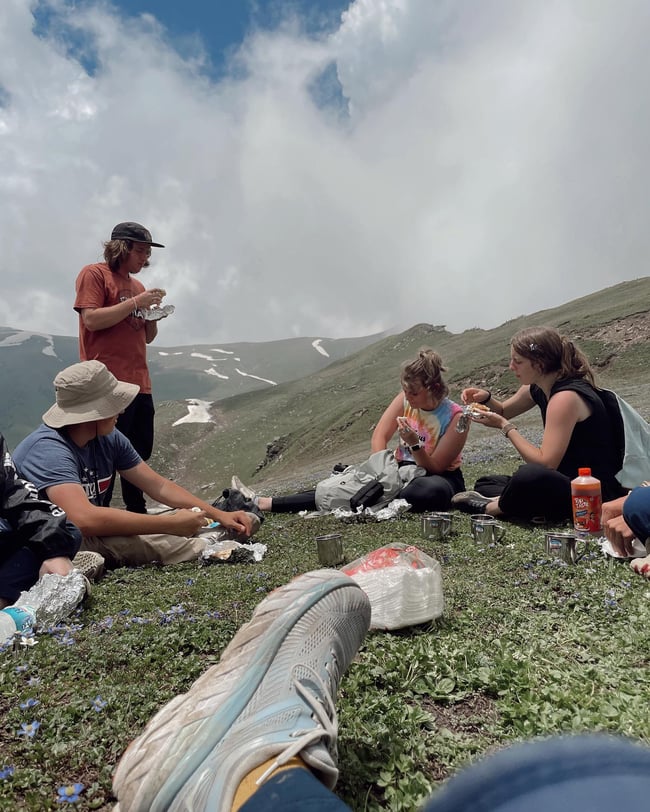 Rani Sui Lake
Find yourself surrounded by glacier peaks and mountain meadows on this trekking excursion. Start at the Lamadugh Trek and begin hiking uphill ... but don't worry, you're likely to be distracted by the mesmerizing views of the Indrasan and Deo Tibba Mountains as well as the Bara Shigri Glacier. Camp one night in a high altitude meadow, after the 4-5 hour hike.
The next day is about reaching the Rani Sui Lake (spot the Pir Panjal and Dhauladhar Ranges at the top) before passing through these forests and reaching the meadow where you'll camp for the night after a full day of hiking. It's a moderate hike full of alpine fields, and mountain lakes tucked away in rolling hills while you hike from viewpoint to viewpoint.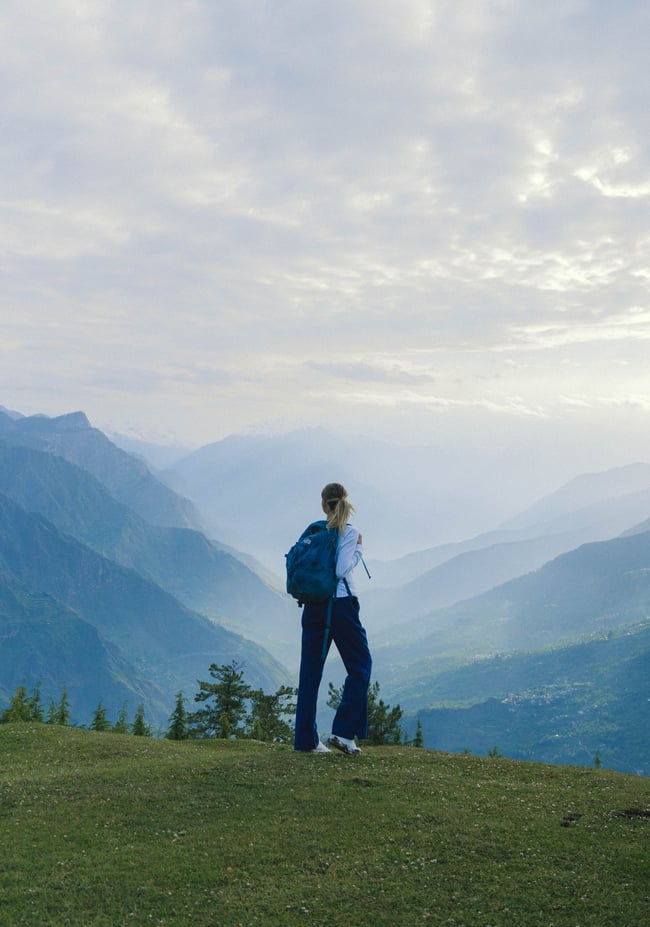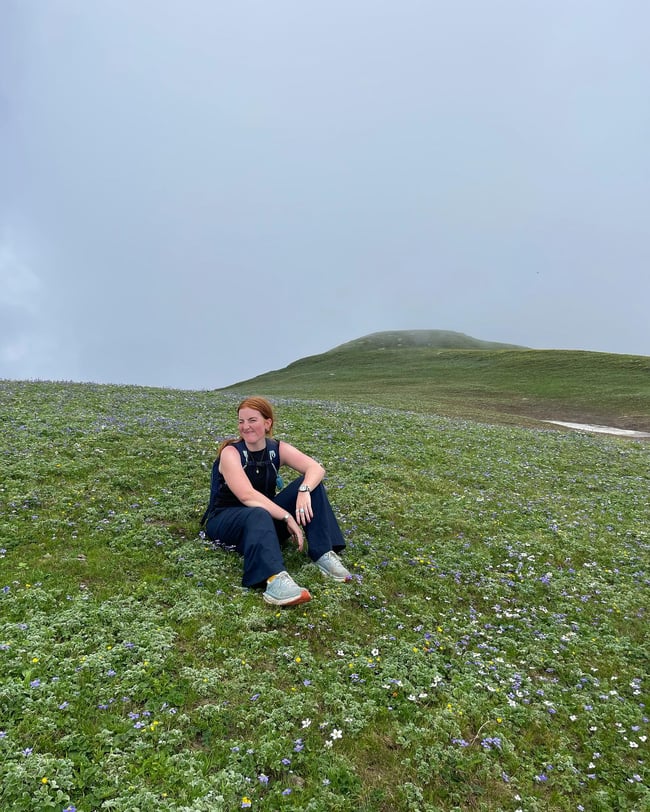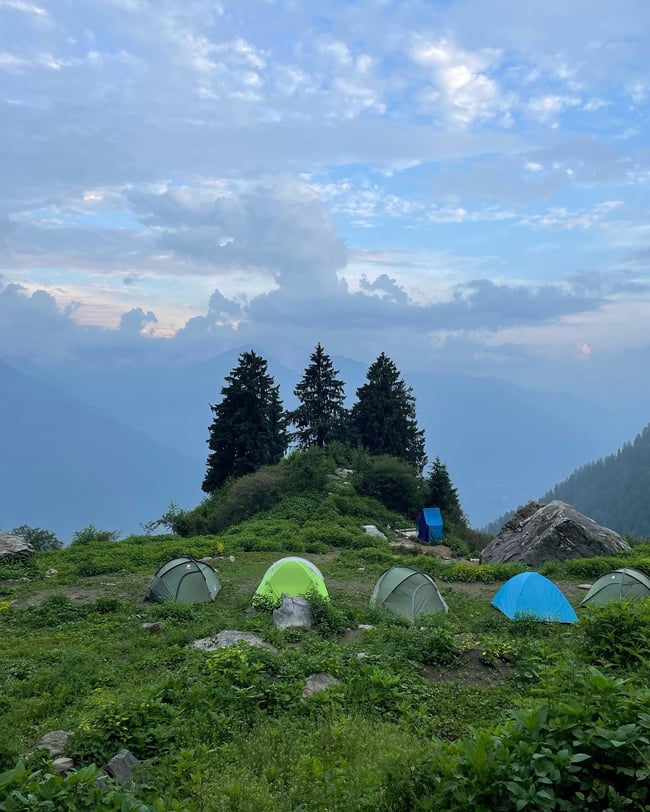 Bijli Mahadev
The Bijli Mahadev Temple, dedicated to Shiva, can only be reached after a steep 3-kilometer hike to the very top, where you'll not only see the temple but the views below. It's one of the most beautiful places to soak in the view of the curling Beas River below you. If you visit in the springtime, there's a massive, ancient tree that is completely covered in pale pink blossoms which just adds to the stunning scenery.
You could just make the 3-kilometer hike, but since we love spending the entire weekend close to these mountain ranges, there is a longer trek option that takes you from Kullu to Bijli Mahadev Temple and then to Naggar. The first day is an 8-kilometer hike to the temple before you hike another 3-4 hours to reach the campsite at Matikochar (don't skip out on the views of the Kullu valley below before falling asleep). Day two starts with a bit of descent until you reach the Jana Waterfalls, before hiking to the Jana Village (if you're here in the fall, keep an eye out for orchards full of pears, apples, and pomegranates). Pass through Nashala village where you'll end your trek, or keep going to reach Naggar Castle.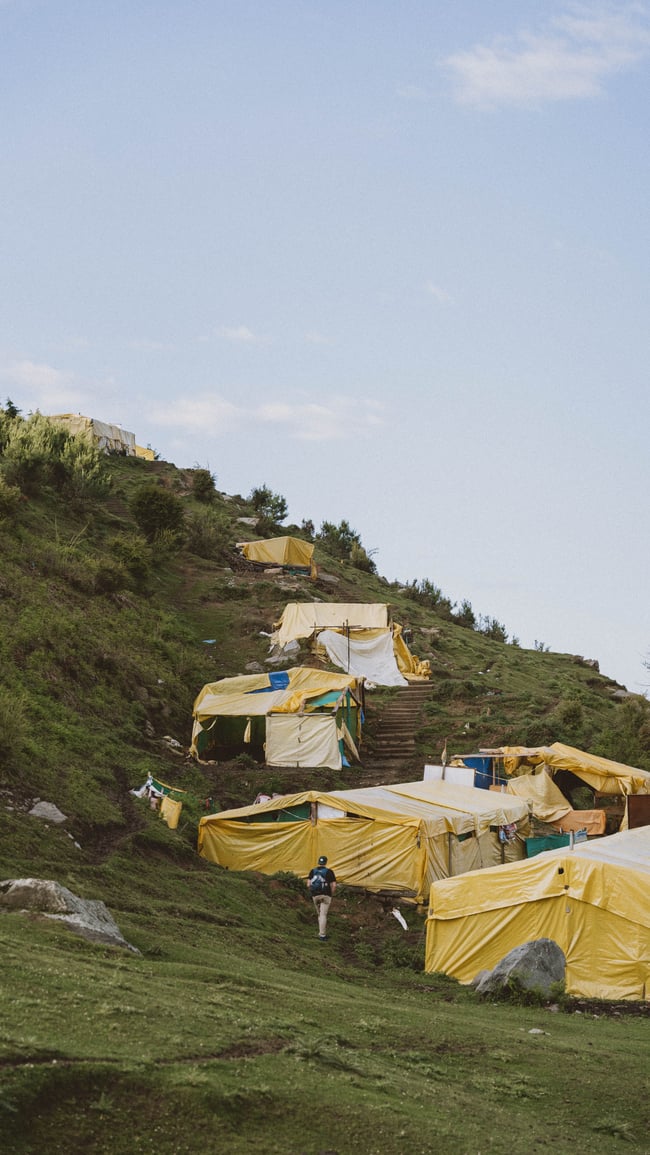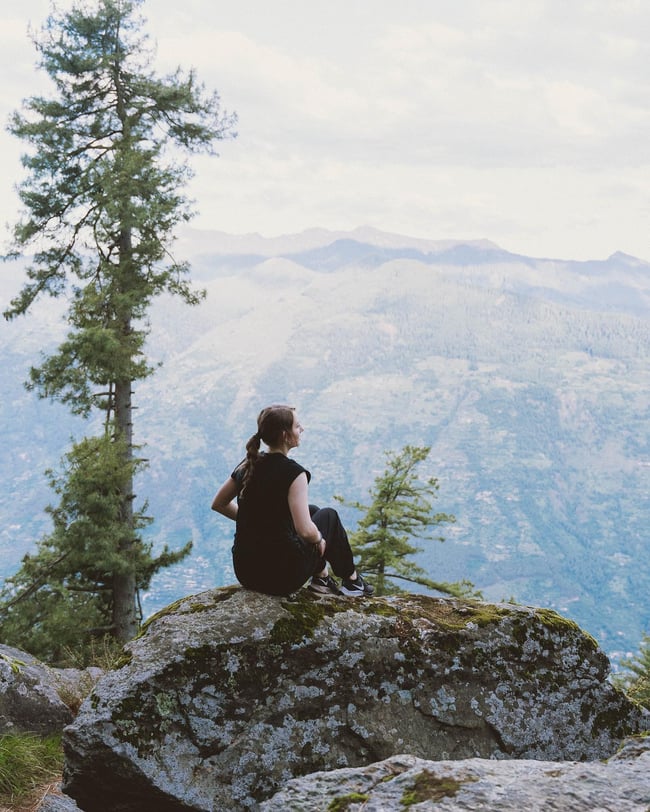 Prashar Lake
Hiking to the pristine alpine lake is one of the most popular treks in the area, which has hikers staring in Kantlu before you slip into a wilderness that some describe as a rhododendron jungle. The hike is peppered with peaceful clearings (where you can spy the Dhauadhar mountain range), oak forests, and meadows before you reach your camping spot for the night — your guide can help you identify the peaks you're surrounded with (Triund, Dhauladhar Matterhorn, Kap Chuli, Man Hill, Hanuman Tibba, Sikar Beh, Mukar Beh, Manali peak, Friendship peak, Mukila, Ali Ratni Tibba and several smaller ones all surround this valley).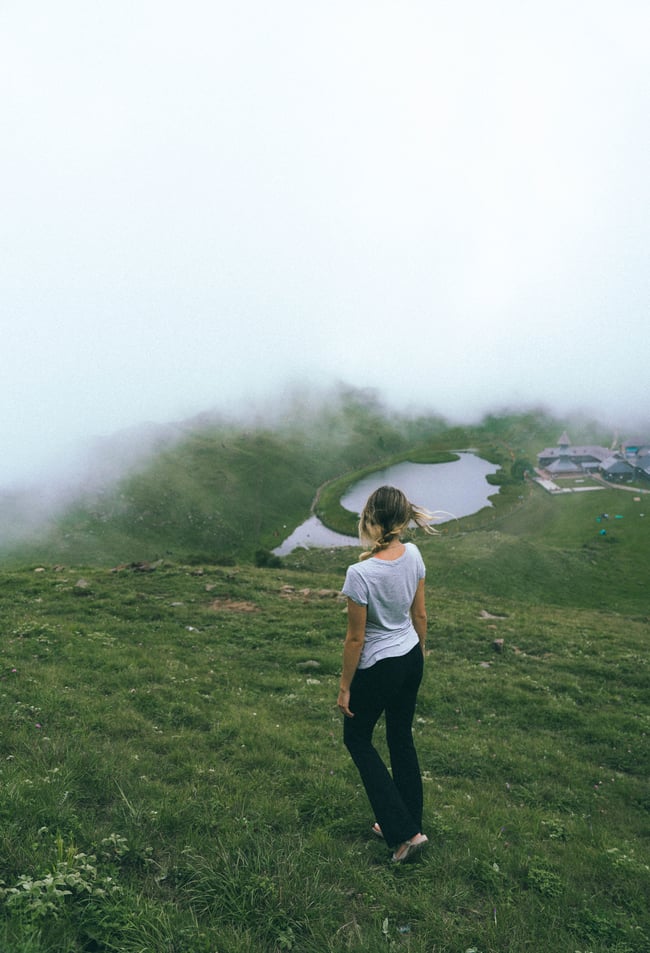 Brighu Lake
Wake up in the Himalayas on this long weekend. You're hitting the high points on this hiking excursion, passing through thick forests and alpine meadows (where you can still find some snow in the summer months!), and deep mountain lakes, all framed by the jagged tops of the Himalayas. On your hikes, try to see if you're lucky enough to spot wild horses or sheep grazing in the fields as you make your way from camp to camp. On the last day of your trek, you'll stop off at the quaint Vashishat village (with an option to soak in the sulfur baths if you want to do a little relaxing!)
Plan on a 4-hour hike the first day, a 9-hour hike the second day, then a downhill hike to reach the Vashishat village. Overall, this trek is known to be a moderate hike that even beginners can tackle (just be aware of taking breaks when you need to).
Jalori Pass
Not only does this hike boast incredibly picturesque views (and a very pretty lake at the end), but the Jalori pass has a bit of historical significance as well. This pass was built by the British to gain access to Kullu (it connects Kullu and Shimla) and is studded with various temples, forts, small hamlets, and lore about goddesses saving lives and looking out for farmers by planting rice in the valley. Today, it's one of the most popular hikes in the area, especially because you can break up the hike to do smaller sections.
The entire Jalori Pass trek is some 80+ kilometers and is a main attraction for serious hikers in Himachal Pradesh. As you can guess, it's a multi-day hiking adventure with guides required, stopping along the various little towns and sites to see along the way. In the past, ILP volunteers have done segments of this hike in the spring and summer months (sections are snowy in winter). You can talk to the India travel team about which route would best fit a 2-3 day itinerary (or longer, if you're up to the challenge).
It's a common side adventure from the Jalori Pass trek to hike to the Serolsar Lake. It's a moderately easy hike, mostly straight through the oak tree forest until you reach the lake and the small temple dedicated to Mata Budhi Naagin. Plan on about 2-ish hours to cover the 5-kilometer distance.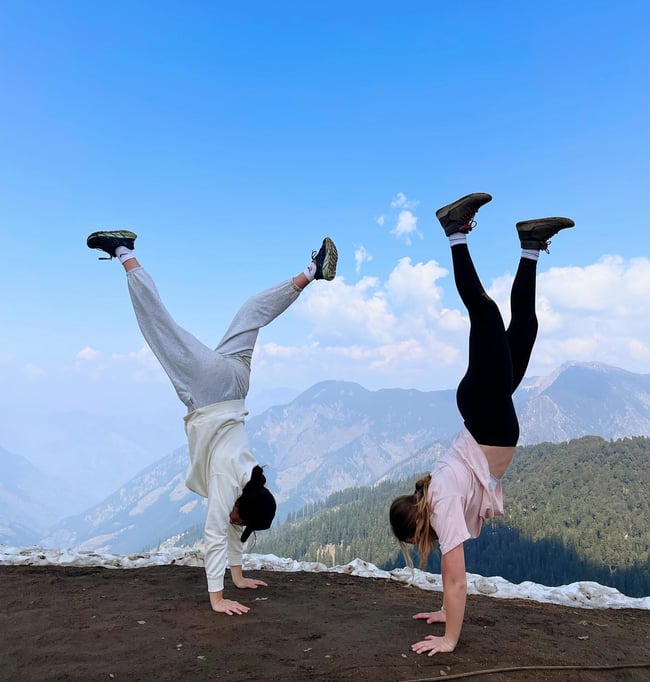 The Marahni Trek
Looking for a more flexible, but slightly longer hike through villages, meadows, and forests? This hike has several options and routes you can take over three or four days (or five days), depending on how much time you have. You'll first visit Rangthar, then hike into a thick oak forest, before reaching the Kundri meadow — a place to stop if you don't want to head right away to Marahni. You can also camp here for the night (it has a spectacular view). Keep an eye out for sheep, wild goats, and soaring eagles overhead in this area!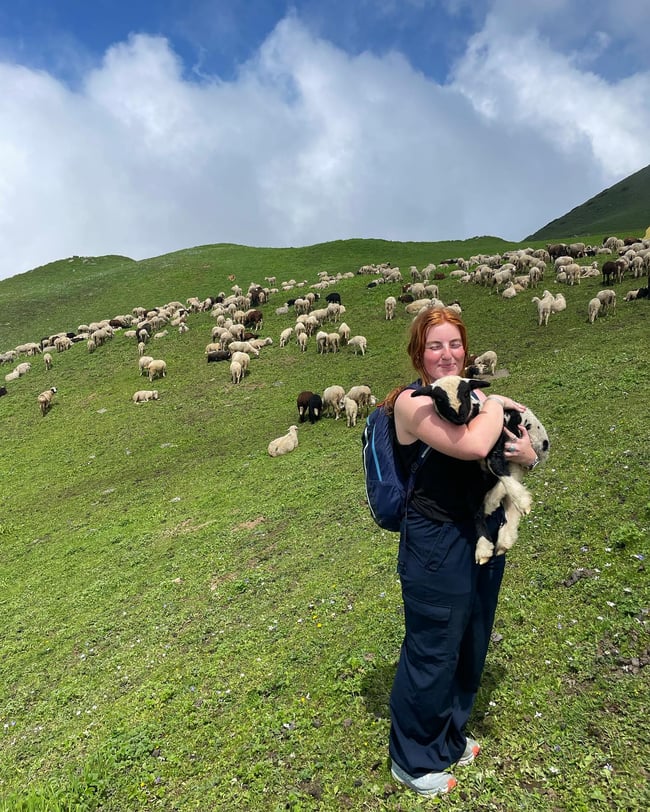 We have the best news
We're accepting volunteers to come spend a semester in India with us! ILP volunteers get to call India home for an entire semester, then have weekends off, free time, and vacation days to travel all over the country (and maybe even visit another country on your bucket list!). Click the button below to learn more about ILP and how your trip can actually be possible!