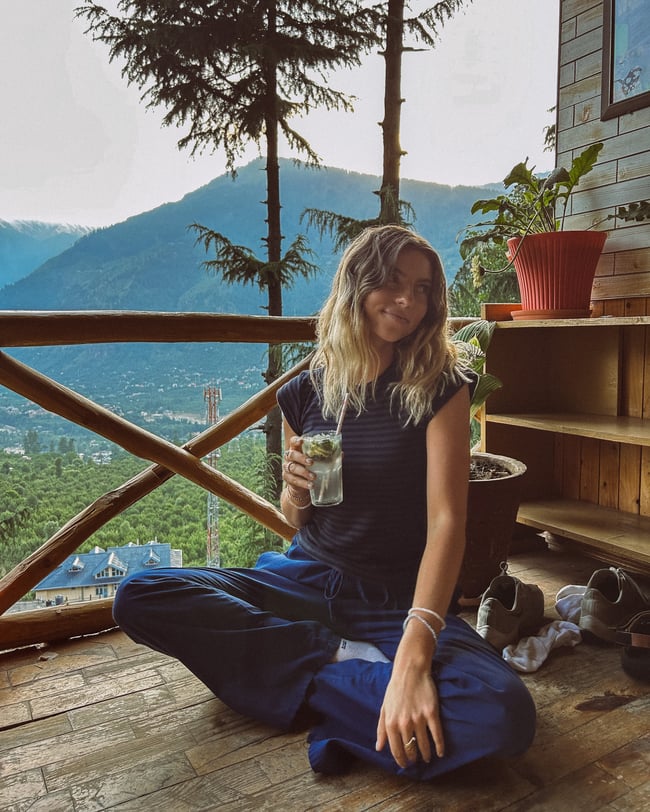 Take a break from the desert, palaces, and crowded cities found in the northern vacation spots in India and take a deep dive into this tropical corner of the country.
Did you know we're just a tad obsessed with the vacations you can take on the ILP India program? Oh, and it's not just us ... our ILP alumni are the first to tell you that choosing which places to vacation may actually be the hardest decision you'll make.


---
Here's more about volunteering and living in India with ILP
---

ILP volunteers are living and teaching English in northern India but can vacation pretty much anywhere in the huge country of India. And while there are plenty of favorite vacations to consider, I'd be sure to think long and hard about taking a trip to the lush jungles, waterfalls, and beaches found in southern India.
We're outlining all the highlights of what a vacation to the jewels of the south would look like, just to give you a taste of what your trip here could look like:
The Itinerary
This is just an outline to help you visualize what's possible — we're jotting down what the highlights are in case you'd like to do the same but know your group can make changes to make it the dream trip you're looking for. There is info about how vacations work in India below, just know there are tons of possible variations to the itinerary we've jotted down below:
Puducherry
Start your tour of Southern India at one of the most colorful and charming cities — Puducherry! This French-influenced city is steeped in history, which has resulted in very photogenic neighborhoods painted a rainbow of colors.
You'll love this spot unless you don't love renting bikes for an afternoon of pedaling through the French Quarter (stopping to photograph your favorite houses or peek into one of the many cafes or bakeries). Or taking a stroll through the Muslim quarter to admire the Elephant Mosque, before running into one of the oldest markets in the city.
It's also very popular to take a walk down the promenade that parallels the coastline and take a look at the old lighthouse and the new lighthouse (yep, those are the names). It's a very charming start your to trip.
We have more to love about Puducherry here (and swoon-worthy pics).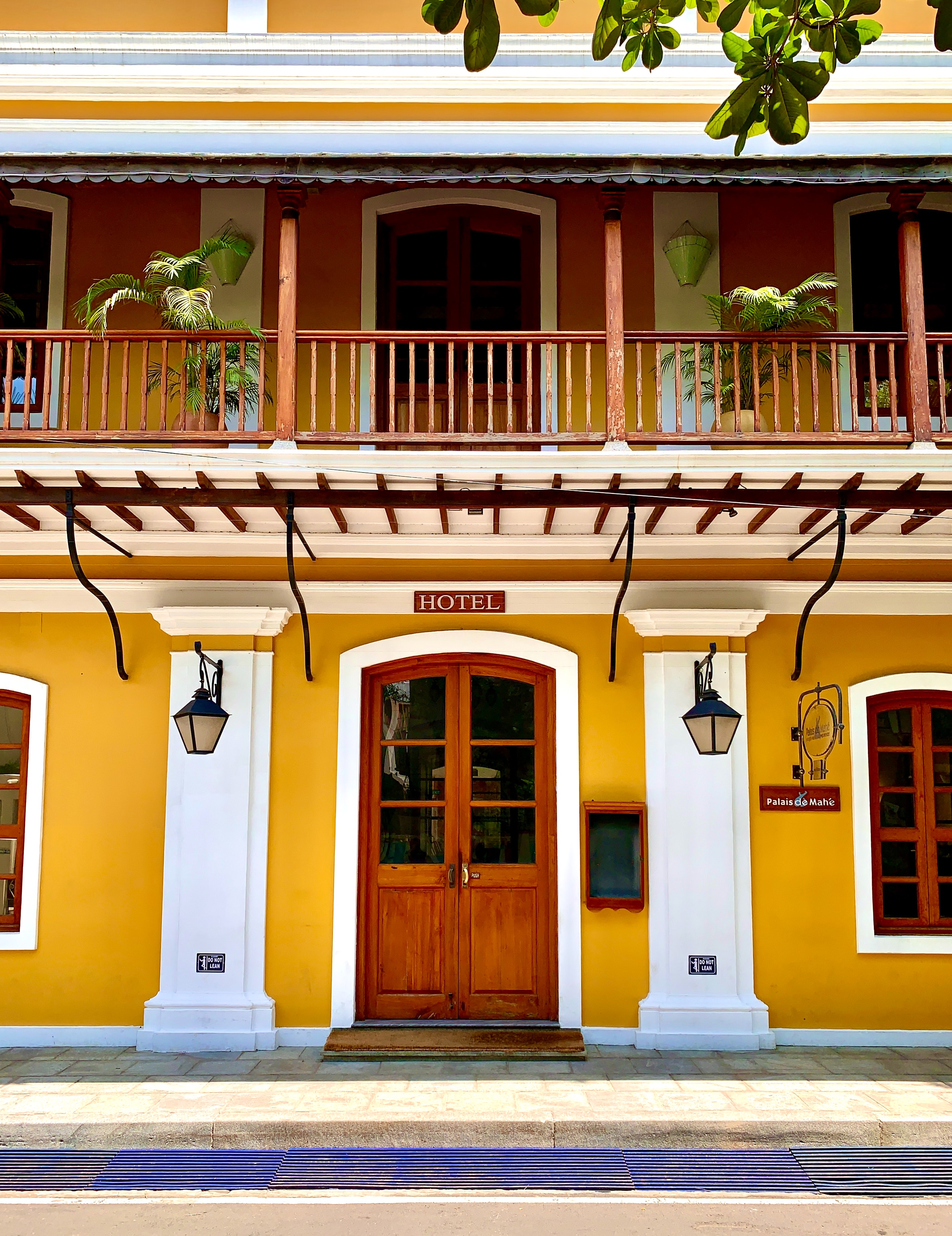 Madurai
This trip has you traveling to the best of the south, meaning your itinerary involves some long but scenic drives. To help break up the driving time, you'll take a break between the colorful port city of Puducherry and the misty, moody, scenic spot in Munnar — Madurai is an easy pick for this.
Madurai is home to one of India's most impressive sites, the Temple of Goddess Meenakshi. This temple in Madurai is made up of 14 towers with hundreds of colorful sculptures stacked between each layer (for quite an unbelievable scene).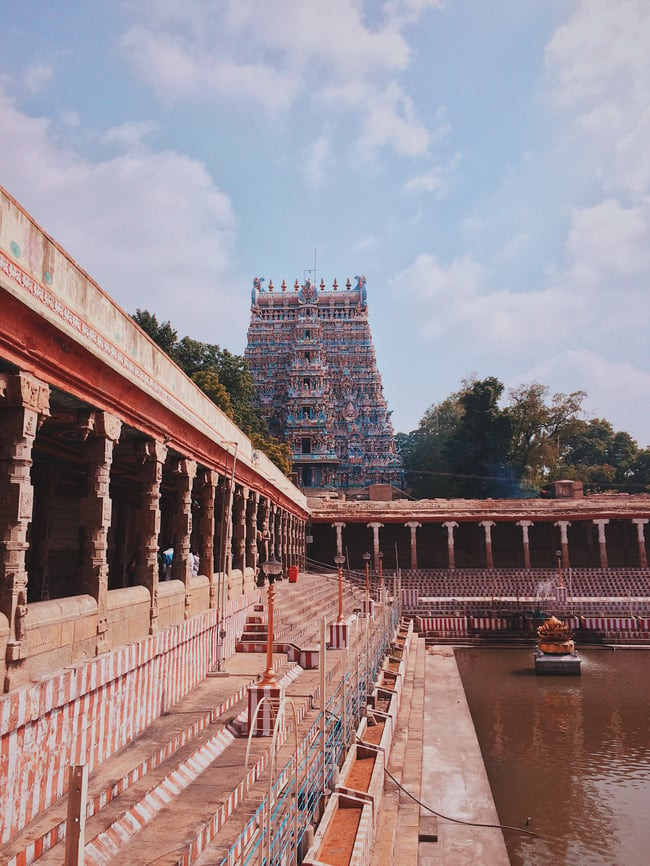 Munnar
Okay, I'm obsessed with Munnar. It's another spot in India that didn't come to mind when I first thought of this country, but I'm totally smitten with it now that I know about it. Picture a peaceful hillside city, filled with rolling green tea fields, mountain roads rimmed with waterfalls, and the chance to see some spectacular viewpoints at sunrise via Jeep safari.
Time here is quiet, and peaceful if you want that kind of trip. Rent bikes to peddle through the tea plantations or take a walk to admire a nearby waterfall. Or, you could amp up the adventure by taking a quick swim in the expansive Mattupetty dam before spending the night high up in the treetops in a treehouse.
The "extra" things about your time in Munnar (like the treehouse and excursions) are what make this stop so special, giving it the 'I-can't-believe-this-is-my-life' kind of feeling we're all looking for on vacation.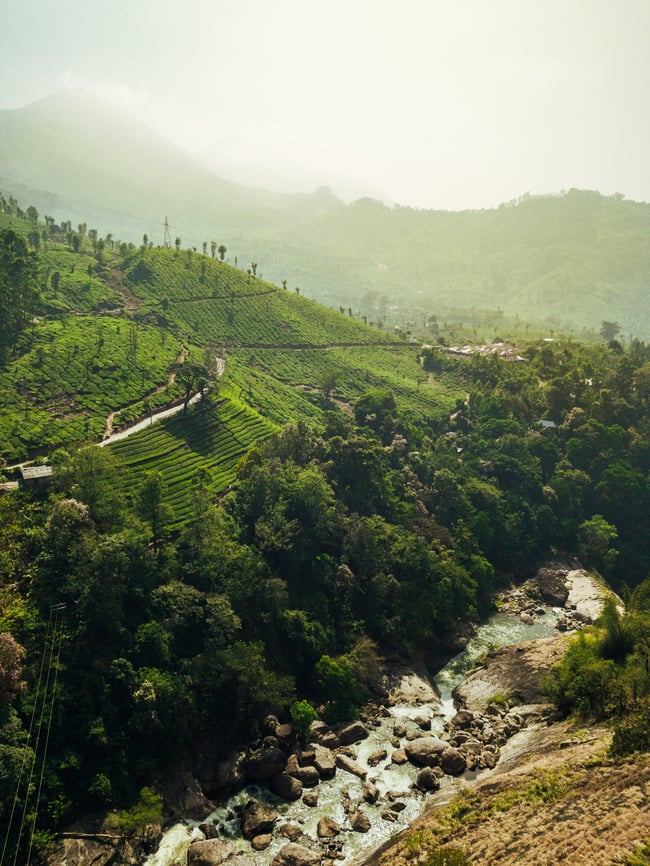 Some Beach Time
Hooray, you've made it to the coastline! The beach is the perfect way to unwind after a whirlwind trip of color in Puducherry, glimpsing expansive towers, and tackling jeep safaris around tea plantations in Munnar. The beaches here are some of the best in India — the country may be rimmed with thousands of miles of beaches, but they're not all winners.
But the golden sand and calm waves(with tons of swaying coconut palm trees) on Marari Beach is the beach you'll love. It's a place to relax and just hang out, but if you're looking for a more things to do, head down the coast to Varkala. Here, you can snorkel, go Stand Up Paddleboarding, surf, and more. Either way, plan on a couple of days at the beach during this itinerary.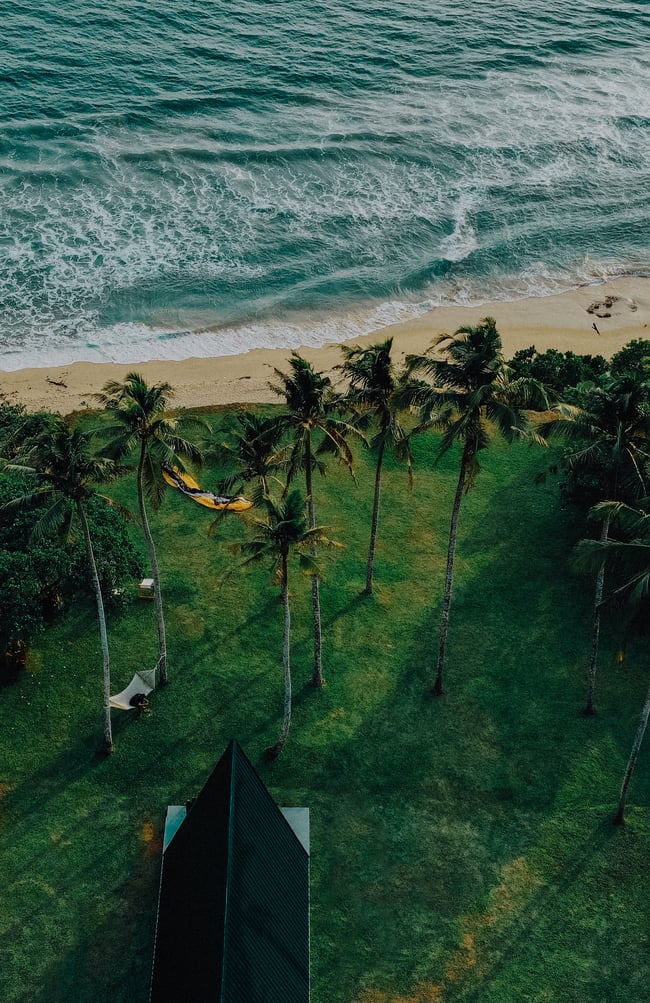 Alappuzha
You can't end your visit to Southern India without a quintessential and very dreamy cruise on the backwaters of Alappuzha. The winding rivers make a maze-like network that cuts through the thick jungle, allowing you to catch a glimpse at what life is like on the water.
Cruise by colorful homes in a traditional-style houseboat, spotting fishing villages nestled in the trees, and families making their way to school by boat — even the schoolhouse is on the banks of the water. Taking a backwater cruise is one of the most famous activities to do in the area (and something that should not be missed). Sounds like the ideal way to end this vacay if you ask me.
Here's more on Alappuzha.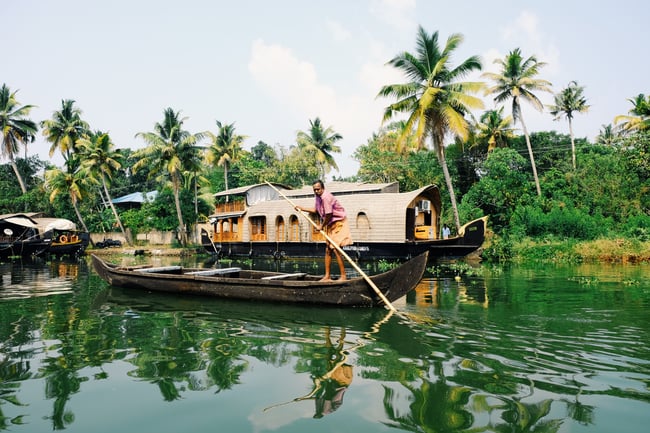 A Bit About The Weather
You're signing up for warm, tropical weather with this vacation pick. However, if you're wanting to visit in the summer months, know that this area has a monsoon season during June, July, and August. The area can have rain for weeks straight, which floods areas and makes any vacation activity impossible. However, sometimes you can get a week that has no rain (and no crowds). It's a risk, but it sometimes can work out in your favor. If you would like to book this trip for your ILP summer semester, you can work with our travel team to talk about your options (and plan a backup plan). Here's more on that —
Things Are A Little Different In India For ILP Volunteers
Spending your semester abroad in India with us? This particular program is a bit unique because we've set up our ILP India volunteers with a whole list of vacation opportunities that's all been put together by our travel team in-country. Traditionally ILP volunteers are responsible for planning out all of their vacation details on their own (everything from deciding where you're going to how to get there and where to stay), but that's not the case for India! Our India travel team figures out all the transportation and accommodations and other details for a range of vacation packages. You get to choose from vacations on India's coastlines, jetting over to Nepal, trekking in the Himalayas, hitting all the highlights in Rajasthan, and of course, adventuring in the tropical south ... and that's just a few of your vacay options in this country!
Because your vacations are all put together, your ILP group will just need to pick which ones sound best to you! These trips are also open to some customization too, so the trip can totally be what you are looking for. Though there are quite a few to choose from, the highlights of southern India could be exactly what you're looking for.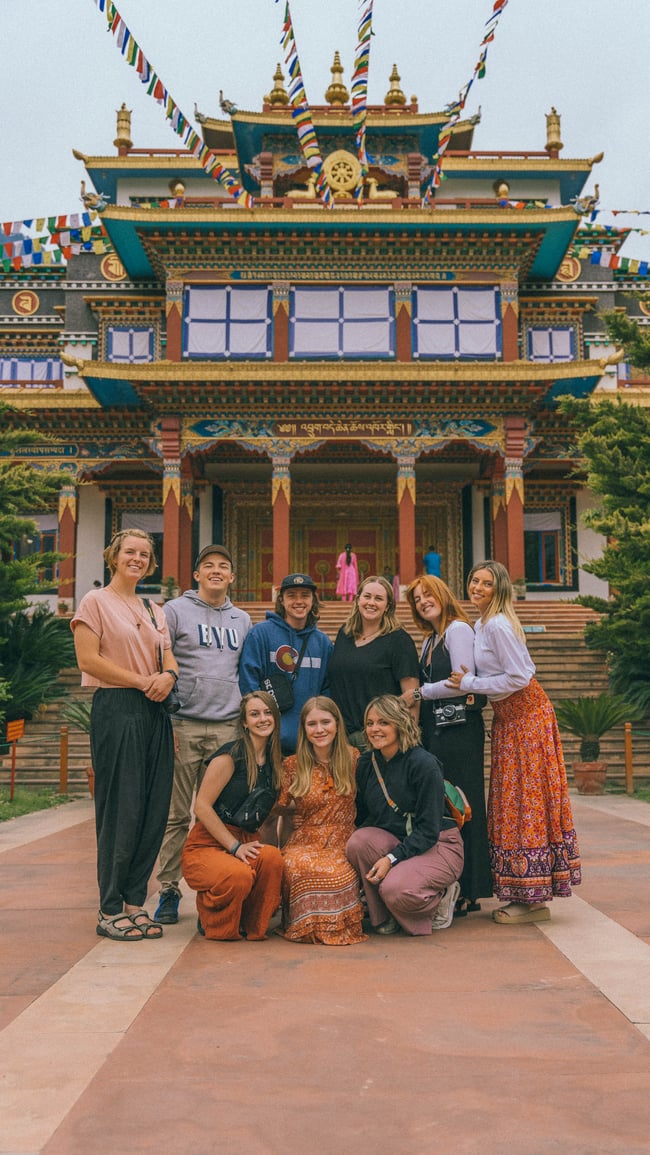 This is the best way to see India
Volunteering with ILP is the best way to see India. First, you're living in a quiet city where you can really connect with the culture and the people, then you have a whole spread of vacations to choose from that have been prepped and planned for you ... all you need to do is pick your favorites! Plus, ILP handles all sorts of things like your flight, visa, housing, training, meals, and other details.
Come teach English in India with ILP!