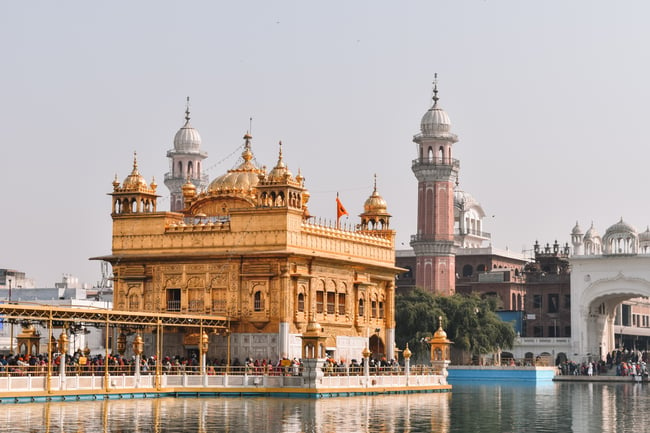 From admiring a temple covered in over 1,000 pounds of gold to the impressive border ceremony between India and Pakistan, it's hard to choose my favorite experiences in Amritsar!
I visited this city with just two days to spare on my India itinerary and was so glad I took the chance. This northern Indian city is bursting with several things to catch your attention, primarily the most impressive temple I saw on my visit, which sees hundreds of thousands of visitors a day. Because during think a visit to Amritsar is essential for those who find themselves in northern India, we're sharing the best of the best of this jewel-of-a-city (with all the options you're likely to be able to fit in your itinerary!)


---
Dreaming of India but not quite sure how to get there?
Come volunteer in India with us!
---
Our volunteers living in India for the semester have it all figured out — because they're here teaching English with us (ILP, or International Language Programs), they're living here, making India home-away-from-home for about 3-4 months. That semester is full of free time when you're not teaching, every weekend off, as well as scheduled vacation days where your whole trip is planned for you.
This trip to Amritsar is a favorite, especially with a quick visit to the neighboring mountain town of Dharamshala. Volunteers typically pair these two cities together in 4-day trip, or as a part of a longer vacation. Amritsar itself fits perfectly in that short vacation guidelines (a weekend or a 3-day weekend), with these quick highlights: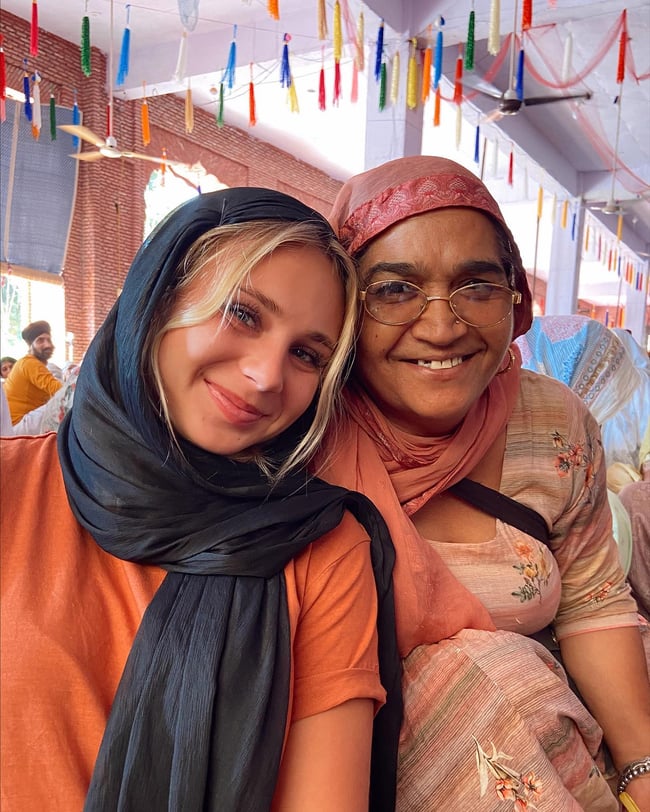 Admire The Golden Temple + Volunteer Here
Sri Harmandir Sahib is the official name of this temple, affectionately called "the Golden Temple" — it's an accurate nickname, due to the gold plating, but this stunning temple wasn't always so golden. Built in 1577, the temple suffered destruction through the ages but was rebuilt by Maharaja Ranjit Singh, who covered the temple in gold foil in the 1800s, which gave the temple its iconic look (and nickname).
The temple houses Guru Granth Sahib, the central holy book in this religion, and is surrounded by a pool of holy water where pilgrims come to bathe before entering the temple. While a holy site for the Sikh religion, a large portion of the people visiting aren't Sikh. The temple is easily one of the most visited sites in India (and the world) receiving more daily visitors than the Taj Mahal!
There is so much history and detail to the temple, I highly suggest you go with a guide who can fill in more details (and read more about the temple) before your visit.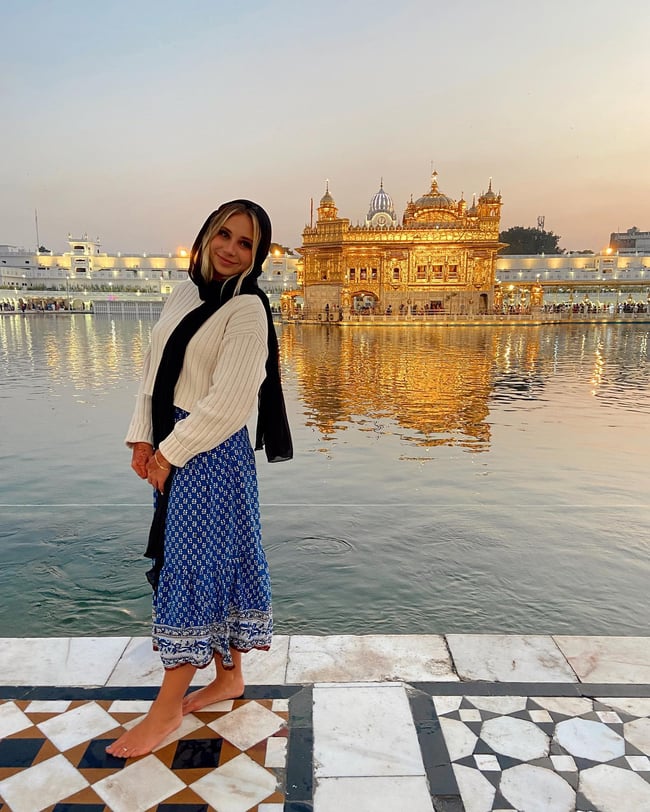 Tips For Visiting
Like all areas in India, please dress conservatively — shoulders and chest must be covered, as well as knees, legs, and ankles. Ladies, you'll need to keep your head covered with a headscarf. You'll need to take your shoes off when entering (you'll receive a little token when you trade in your shoes, which helps the attendants find your shoes after your visit).
The grounds around the temple are surrounded by marble which gets very hot in the sun! As discussed, you'll be barefoot for most of your visit, so try to walk on the walkway mats placed there to cover the hot marble.
If you'd like to go inside the temple to see the Guru Granth Sahib, the central book of sacred texts, there's quite a line. Inside, the book is displayed on a white cloth, with holy men singing and reciting sections. When you walk by, people throw coins and cash as a donation. Plan on anywhere from a 1-3+ hour wait in the long queue that wraps up and down one section of the temple.
Don't miss seeing the temple at night! The whole temple is lit up, creating an impressive beacon against the golden cover of the temple. The pictures are best during the day, but the ambiance of the temple at night was pretty unmatched. If you have the time, I'd suggest coming back at night to sit and reflect while admiring the temple once the sun sets. If you time your visit right, at 9:30 PM the Palki Sahib ceremony occurs, where temple guards carry the Sikh holy good (Guru Granth Sahib) inside the temple, with a music-filled ceremony that draws quite a crowd.
Volunteering Here
This was one of the highlights of my whole trip to India, spending time helping at the temple. One of the principles of Sikhism is serving others which is fully expressed at the temple, where anyone can come to get a free meal and a free place to stay. The kitchen prepares to feed thousands of people every day — sometimes as many as 100,000 people a day — which requires a lot of help, as you can imagine! Most of the ingredients are donated, and volunteers come to the kitchen to help prep and cook the meals to be served in the lungar halls. This practice has been happening for over 450 years, without ever skipping a day.
When I was there, we toured the kitchen, then spent a few hours rolling out naan around a table of local ladies, then lined up to help wash the metal trays the meals were served on. It built a connection to the people and this place that wasn't found when I just visited another site to just sightsee, and would deeply recommend you see if you can make a similar experience happen if you can!
*Other groups have the chance to volunteer in different ways in the kitchen, like peeling garlic for the curry of the day.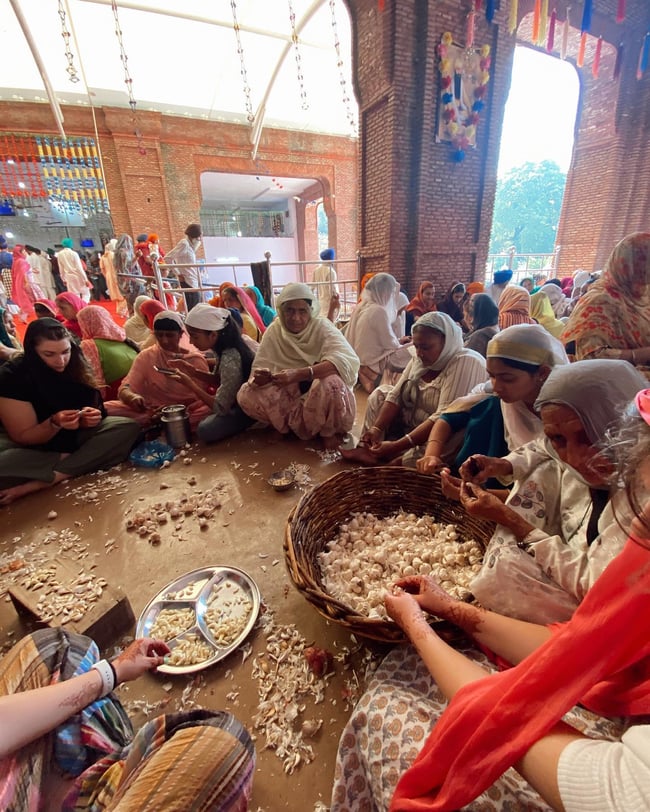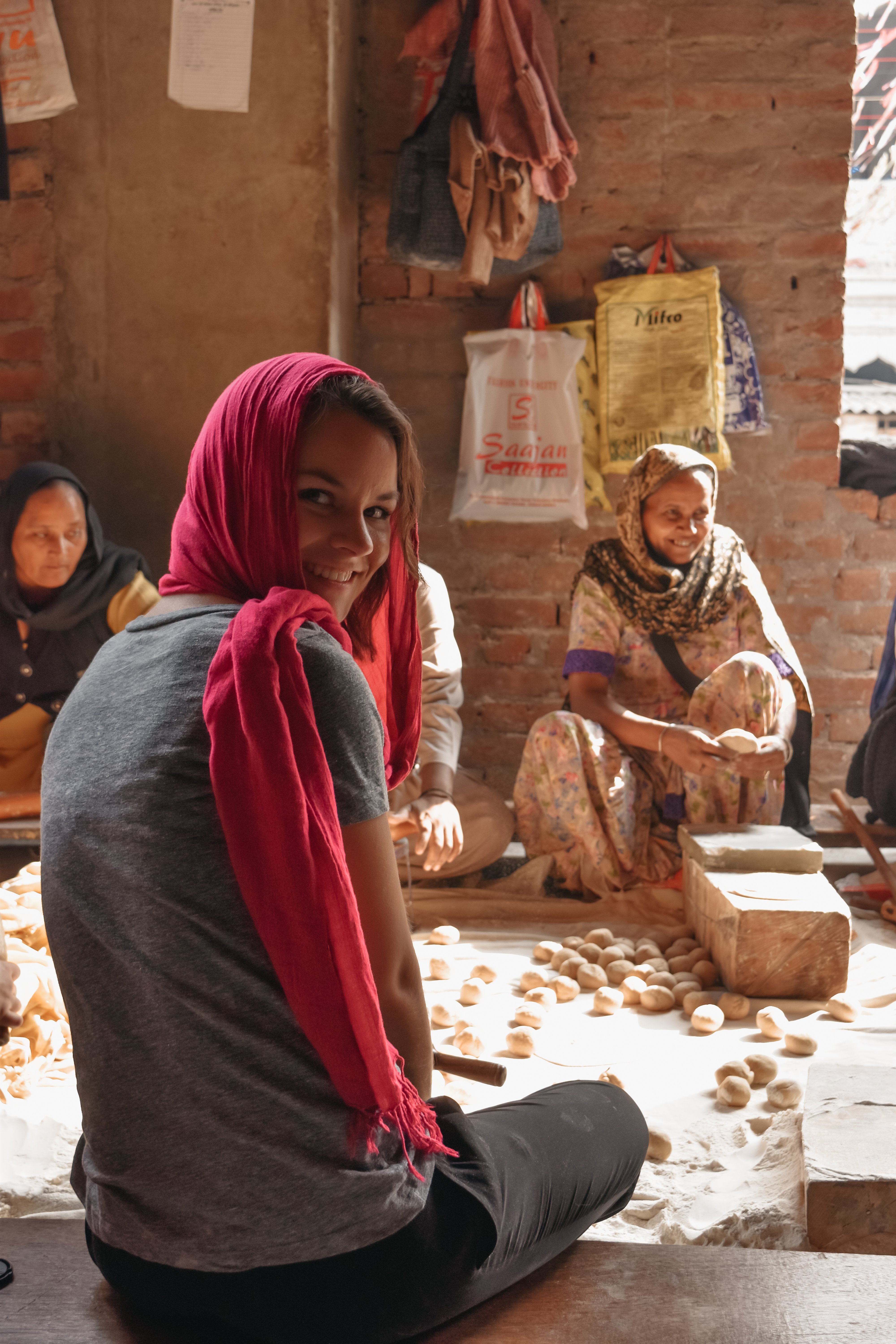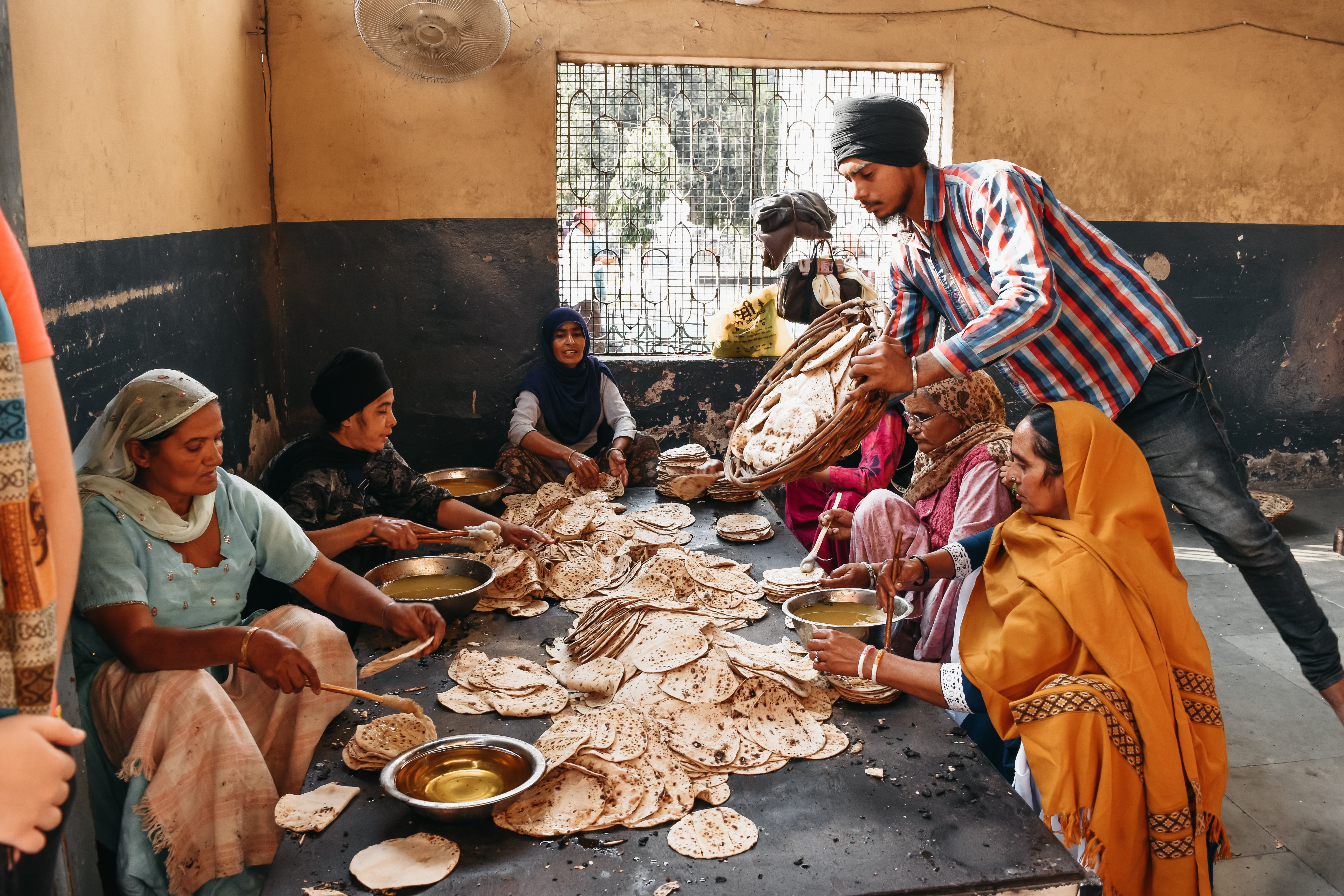 Brush Up On Your History
Jallianwala Bagh
Your first stop on your brief introduction to the city's history may be Jallianwala Bagh. It's a beautiful memorial park and garden to pay respects to the hundreds of Indian people who were massacred at this very spot at the order of a British officer, during European colonial rule. This tragic 1919 event was one of the most pivotal turning events in India's independence, which was granted in 1947. The Jallianwala Bagh massacre is still marked as one of the bloodiest massacres in British history.
The Partition Museum
The partition of India has a stronghold in Amritsar — just a few miles away from this city is the current-day border of Pakistan, though it wasn't always that way. Just after India's independence in 1947, the continent was split as a last attempt to unify the country, separating religious communities into a mainly Hindu India and a mainly Muslim Pakistan. The impact was catastrophic. Overnight, millions of people were displaced, suddenly refugees, and the surrounding areas erupted into a bloody civil war.
This museum, opened in 2017 (exactly 70 years after India was divided), tells the stories of those impacted by the change: families suddenly separated by borders ruled by violence. This museum is one of the most poignant exhibitions of the event, with English audio tours available.
Learn more on their official website.
Don't Miss The Border
On a much less somber note, it's a very popular event to visit the Wagah Border, to see the impressive ceremony that occurs every night to close the land border between India and Pakistan. This was one of the most unique and fun things I did in Amritsar — essentially, thousands of people come to view the sunset border ceremony, and all pile into these towering stands on either side of the border. There's a separate section for foreigners, and I remember peering over to see people on the Pakastani side enjoying the impressive ceremony and crowd atmosphere that matched the side I was sitting on. At one point, we were invited to join a group of dancing girls about our age, who had formed a big circle to dance to the music playing before the ceremony.
Essentially, guards from both countries are dressed to the nines for a military display of showmanship (with high kicks and precision marching through the ceremony). The 30-ceremony includes closing the international gate and lowering the flags of both countries, but the atmosphere is buzzing, a combination of excitement, dancing, pomp and circumstance from the guards, and more. It's a lot to take in, but was something I'll never forget!
The Wagah Border is about an hour's drive away from Amritsar, and requires several passport checks before you can enter the crowded stadium (remember, thousands come to see this ceremony, so expect to be surrounded and get very close to the people around you). The crowd is separated by gender once you arrive, with women on the right and men on the left. You're not allowed to carry bags into the stadium, so pack light (and do not forget your passport).
The ceremony starts at 5:15 PM in the summer, and at 4:15 PM in the winter. Plan on getting there early (more than an hour).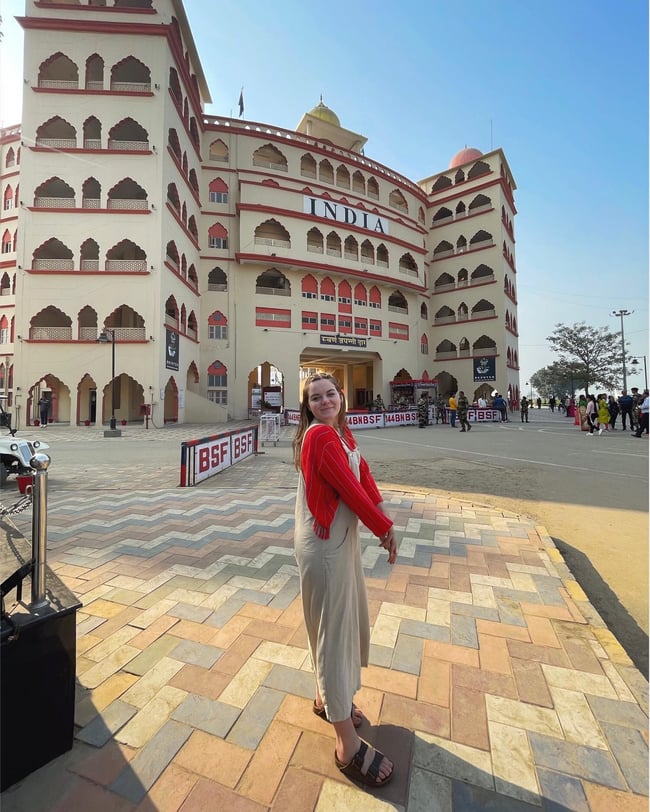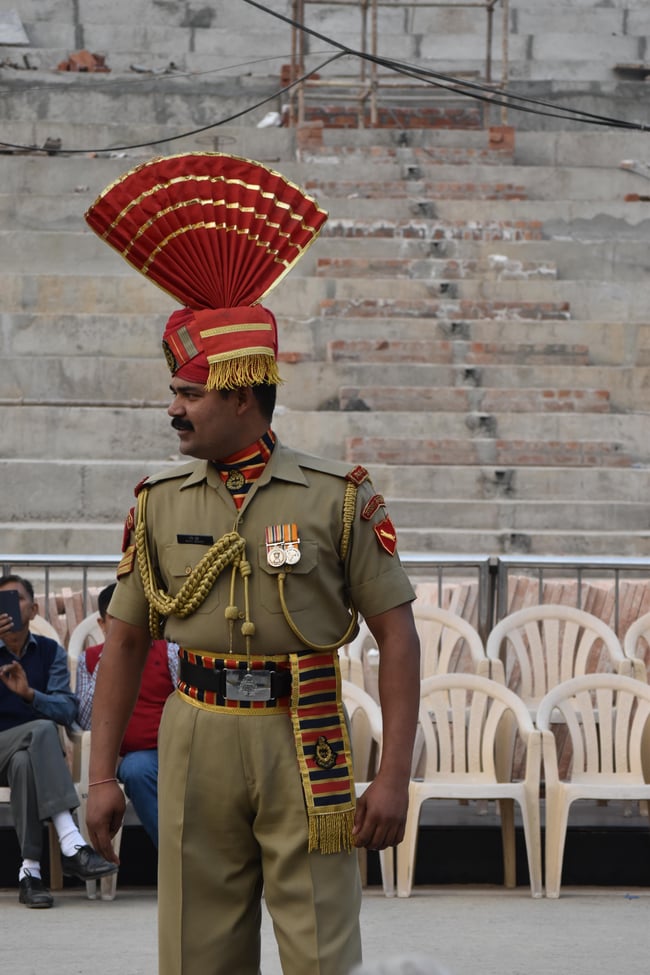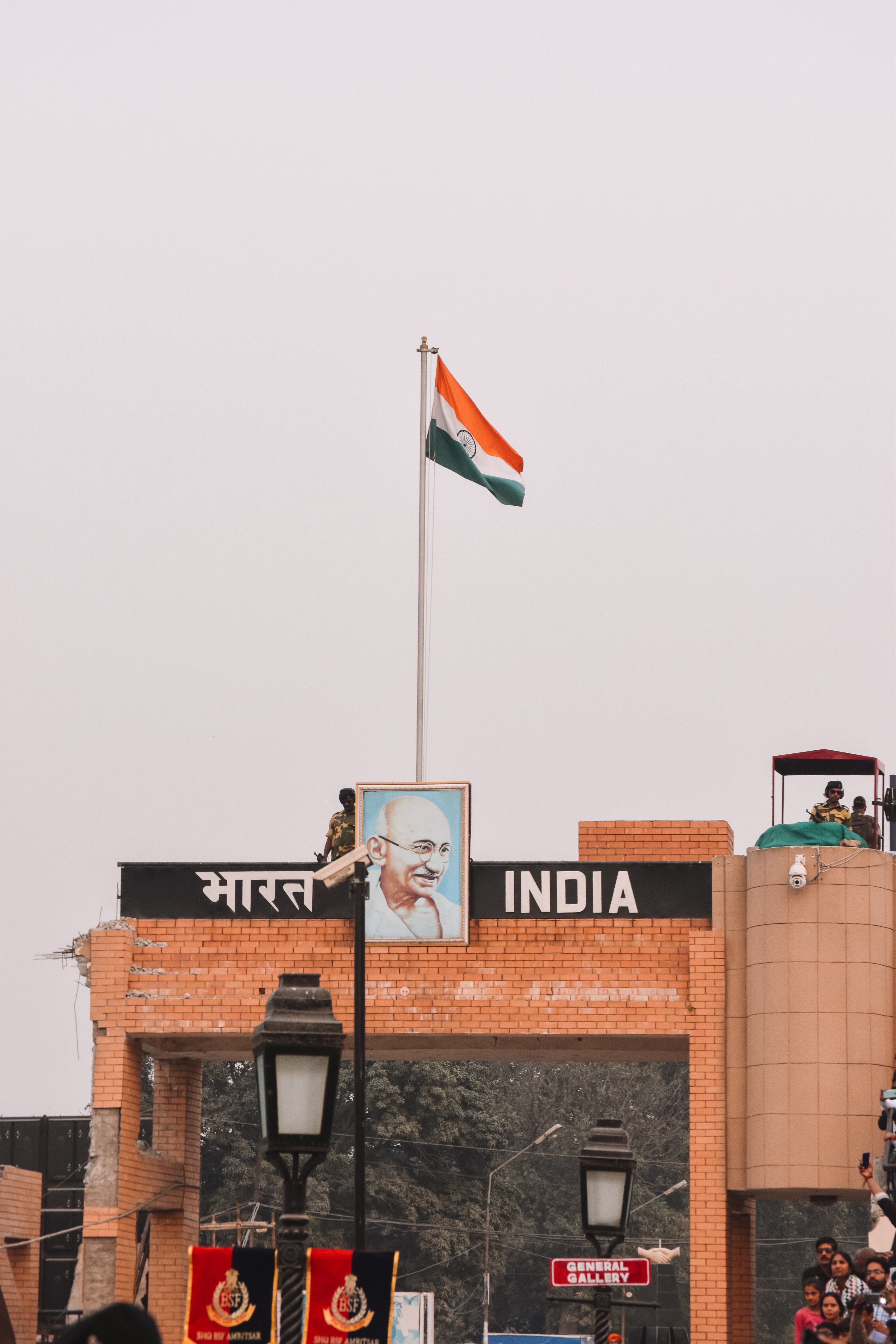 When It Comes To The Food
I loved my time in India for several reasons, but one strong contender is the food, especially in this state! Depending on where you are traveling in India, the food can vary wildly (make sure you try all the local favorites!). In Amritsar, here are a few recommendations of things (and places) to eat:
Lassi — Thick and sweet, some regard lassi as the world's first smoothie. Yogurt is blended with sugar, and a variety of flavors to create a thick and cooling drink. Find flavors like mango, saffron, cardamon, sweet or salty lassi, mint, banana, strawberry, and more, all around India. Ahuja Milk Bhandar is one of the most popular (and oldest) places to try lassi in Amritsar, though you'll see this drink all over.
Kulcha — Kulcha is similar to naan, but in Amritsar, you can get stuffed kulchas, which kinda just changes the game. Find warm and buttery kulchas stuffed with paneer, aloo (a mix of spiced potatoes and cauliflower), and masala, among other fillings. Yum. It's a very popular food found in many restaurants, but Kulcha Land is a fan favorite for this dish.
Eat At Guru Ka Langar — Remember the kitchen you can volunteer in at the Golden Temple? All the food prepared there is for Guru Ka Langar, giving a free meal to anyone who wants one. Every day, thousands and thousands are fed, and you're welcome to join in! When I had lunch there, we had naan, dal, and rice.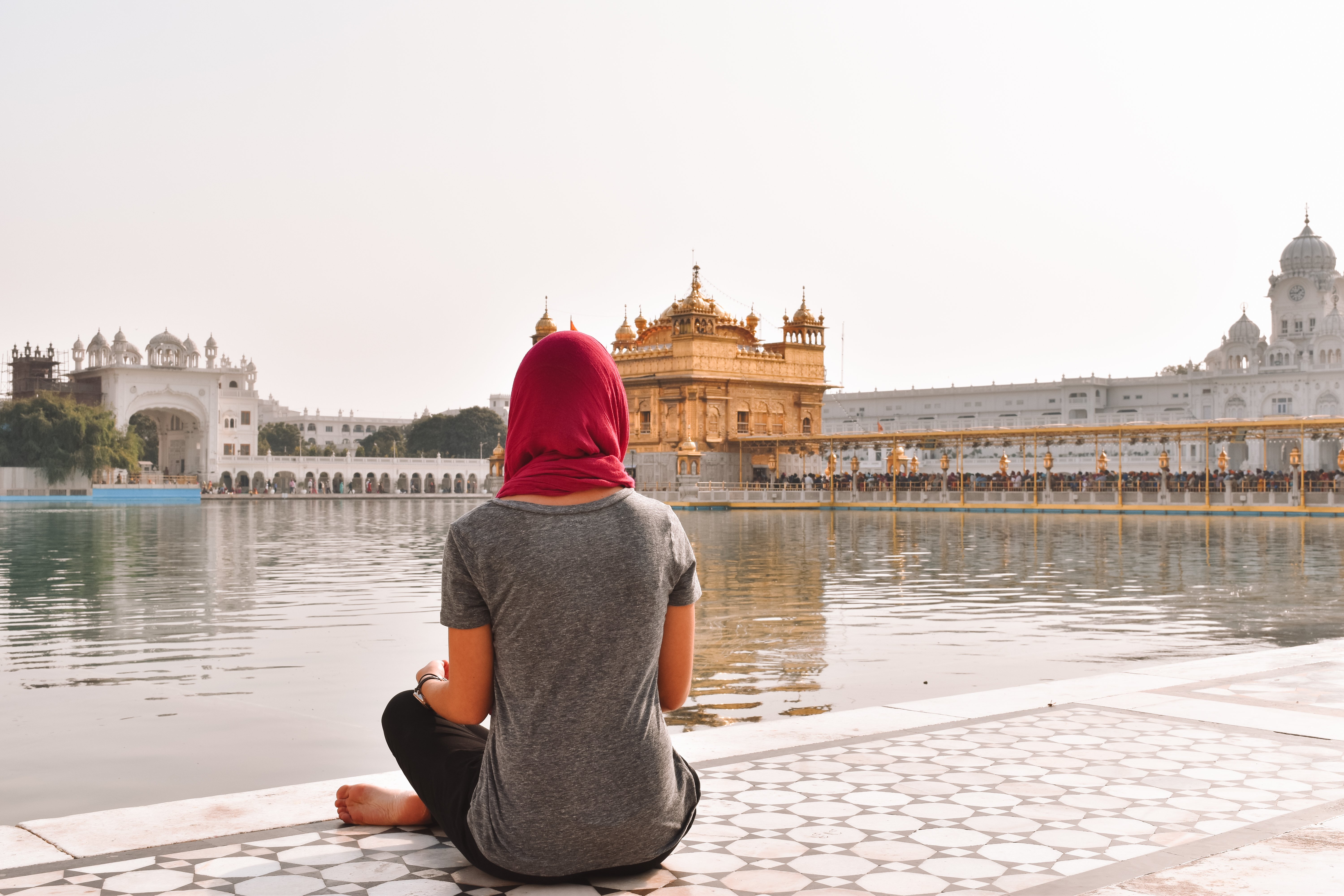 What's this about a group of volunteers in India?
Come join the club! ILP (International Language Programs) sends college-aged volunteers all around the world to teach English and spend time traveling around the country they call home for a semester. One of our favorite destinations is India ... can you see why? Learn more about all there is to do here as an ILP volunteer.