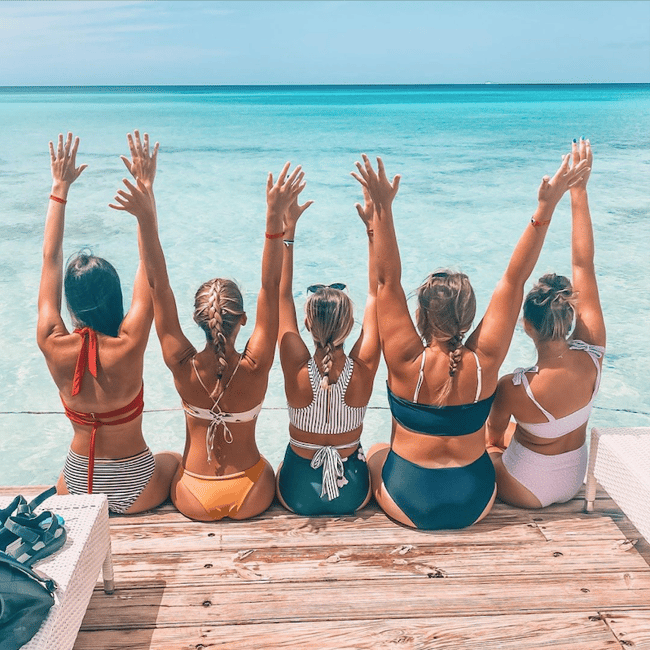 With every weekend off, time in the week to explore, and vacation days, here is the only guide you'll need when it comes to vacations in the Dominican Republic.
When you're planning out what adventures you want to tackle while in the Dominican Republic, it's so handy to know what beaches are best for a quick day trip or weekend adventure, and what parts of the island are worth your vacation time.
There have been some ILP volunteers who have spent vacation time hopping over to other islands (and countries) but most stay in the DR because there is so much to do — we're talking hikes to waterfalls, a whole list of amazing beaches, adventures like zip lining and rafting, plus a few more surprises.
---
Not an ILP volunteer yet?
Come fill out an application to start living in the DR.
---

You won't have time to see every single thing the island has to offer (because there is just so much, and you'll want to revisit your favorites!) but this guide is here to help you decide exactly where you can spend all of your free time:
Northern DR (Around Puerto Plata)
This region is where you'll find the majority of your day trips and weekend guides. We do have volunteers living close to this area of the island, so these locations make for easy trips after you're done teaching, a Saturday day trip, or a little weekend getaway.
Most of these trips are to nearby beaches, but there are also some caves to explore, cities to wander, and waterfalls to slide down. It's a good mix of relaxation + action-packed fun, depending on what you are looking for.
+Read About All Our Fav Trips Around Here
We are currently crushing hard on beaches like Playa Grande, Playa Alicia or Cabarete or making your way over to Fricolandia. 27 Waterfalls, Dudu Lagoon, Samana, and more.

Here's the ultimate list of all the day trips + weekend spots from Puerto Plata.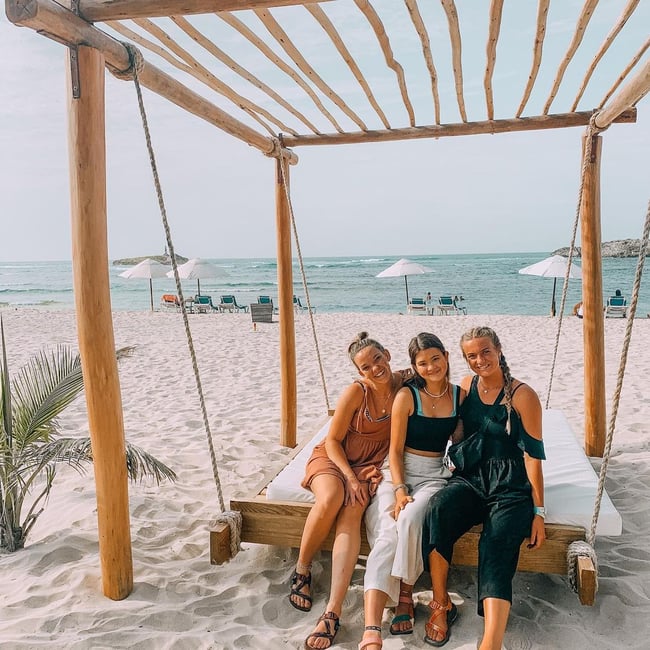 Southwestern DR
The western border of this nation is shared by Haiti, but there are some places to see if you head south, near the coastline. In general, it's a lot more remote than the resort-lined eastern coast, but we do love a couple of spots — namely, Barahona and Pedernales. Heading here means a vacation that's definitely off the beaten path. You'll want to prepare a few more travel logistics on the planning side to enjoy totally untouched beaches. If you're up for the adventure, it's worth it.
Barahona
First, Barahona is home to what some volunteers call the prettiest beaches in the Dominican Republic. Isn't that just something you can't resist? Visiting Barahona means a vacation full of hiking up to craggy cliffs to get to turquoise views, and lounging on pristine beaches. Come camp overnight on the soft sand, after a night of bonfires on the beach.
Unlike other coastlines on the island, there aren't strings of resorts. The beaches in Barahona are a pretty unkempt section of the country and a little off the beaten track (you'll need to taxi to the best ones that are outside of the little city). Interested in visiting? Get more info about Barahona here.
How long should I stay? We're thinking 3 days lets you experience the perks of Barahona, but feel free to stay longer if you want to keep soaking in that relaxation and sun.
Pedernales
Pedernales is the other spot to visit in this portion of the country if you're up for the adventure. Pedernales is gorgeous but remote and can be tricky to get to. The reward is incredible. Here's what one volunteer said about her visit: "I've never seen more clear water, or white sand in my life, and the best part is that we were the only ones there."
Can you see why we want to keep this favorite spot in the Dominican Republic a secret? Read up on Pedernales here.
How long should I stay? One ILP group spent three days in Pedernales and thought that was perfect (they then headed back to finish up their longer vacation in Barahona).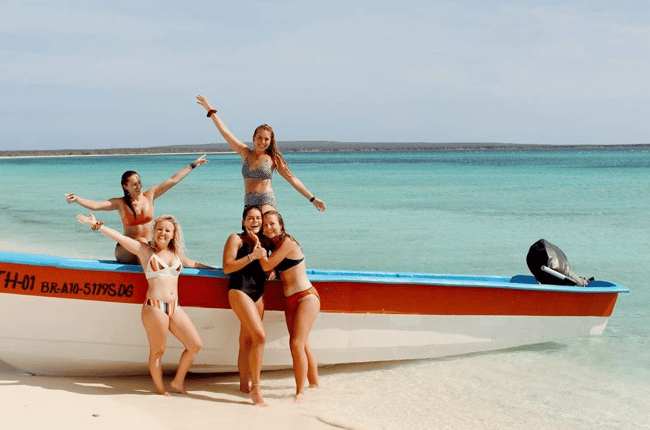 Southern DR
We're just discussing the direct south of the country (don't worry, the southwestern and southeastern sides of the island have their own sections). And when ILP volunteers travel south, they're typically visiting one favorite spot: the capital, Santo Domingo!
Santo Domingo
The capital of the country is both a favorite weekend trip, or a longer vacation if you want to use it as a jumping-off point to the southwestern portion of the island or even the eastern section. We have more info about that later, but first? We're soaking in all the things to do in Santo Domingo.

An absolute highlight of Santo Domingo that you can't miss is the Zona Colonial. This is a neighborhood of the city and an area that marks where Columbus settled in the New World — he walked these streets! The entire area is an official UNESCO site, filled with cobblestone streets and ancient buildings, set alongside the coast. It really does feel like you took a little side trip to Europe, thanks to the Spanish influence found here (we can't get enough of the white architecture against the red brick).
You can also do some shopping, take a cable ride over the city for the best views, tour a botanical garden, and, of course, take an excursion to the picturesque Los Ojos National Park. Read more about things to do in Santo Domingo.
How long should I stay? Two days seems to be ideal. Groups tend to visit on the weekend, then come down to Santo Domingo again before heading off to other places nearby.
Places Close By
From Santo Domingo, places like Punta Cana, Samana, and Bayahibe (with nearby Island Catalina and Island Saona) are super accessible. Or, go west and visit Barahona or Pedernales. Because this is the capital, it's a popular bus hub to so many of our other vacation spots.
In a nutshell, Santo Domingo is a must-visit weekend trip and transport hub to other vacation spots. It's probably a city you'll be seeing a few times in your semester!

Central DR
This region of the country is more mountainous and cooler, home to sprawling national parks and high adventure. Groups who tend to spend vacations here are looking for a different kind of vacation: instead of beaches, you'll enjoy mountain adventures like zip lining, waterfall repelling, rafting, and more. The cooler temperatures are also pretty tempting … groups recommend booking somewhere with a fireplace for chilly evenings!
Constanza
Constanza boasts waterfalls, emerald-colored natural pools, mountainside villas, and multiple types of forests high up in the mountains of the Caribbean country. Surrounded by green valleys and farms with cooler temperatures (sometimes cold enough to snow!), it really does feel like you're visiting another country . . . which is wild, considering it's found just a quick bus ride from Santo Domingo!
Along with stunning mountain views, thick forests, and towering waterfalls, this region is known for fields full of fresh veggies, fruits, and flowers — look for rows and rows of potatoes, corn, carrots, cabbage, and strawberries, in particular. Plan on spending a nature-filled weekend full of bike rides, hikes, national parks home to giant tree frogs, waterfalls, and quaint mountain cabins.
How long should I stay? Constanza is an hour drive away from nearby Jarabacoa, and makes for an ideal 1-2 day getaway. Or, head to Santo Domingo and take the 3-hour bus ride here for a weekend getaway.

Get the details on Constanza here.
Jarabacoa
We love the beaches on this island, but the DR has a place that's our go-to for high adventure: Jarabacoa. Picture a tiny town that's the starting point to all the high-adventure things you're waiting for, with everything from waterfalls to river rafting, all complete with sweeping mountain views. You can even cross "climbing to the top of the highest mountain in the Caribbean off of your to do list". Can you see why this place is a favorite vacation?
How long should I stay? Most volunteers do Jarabacoa over a 3-4 day weekend (more time if you want to also visit Constanza), which gives you plenty of time to do a few activities. Keep in mind most adventures are half- or full-day adventures, so that's something to consider when planning your itinerary (and how many tours you want to book while here).
Get all you need about Jarabacoa here.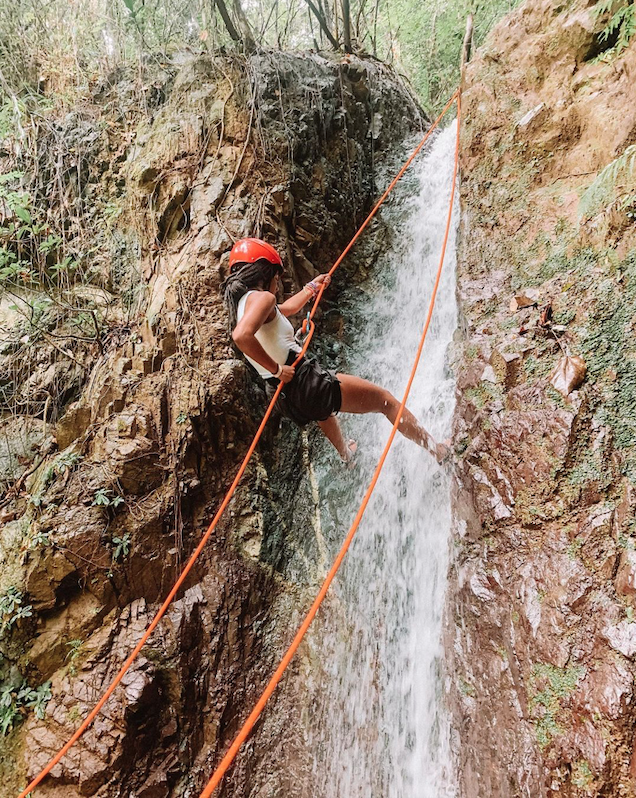 Eastern DR
On the eastern side of the Dominican Republic, there's a little peninsula that kind of juts out from the mainland and narrows to a point. This area has a collection of some of our favorite vacation destinations. A trip here means soaking up the tropical jungles and dozens of popular beaches. This part of the country is the most popular option for longer vacations (7+ days, where you hop between these destinations and Santo Domingo).

We've outlined the most popular destinations in this part of the country here:
Samana
When we ask our ILP volunteers who are living in the DR for a semester where they recommend taking a vacation, Samana wins. For more than a few people, it's the number one highlight of their humanitarian trip out of all the other spots on the island — which is saying a lot!
Why is this one of the most popular picks? This area has some beautiful beaches, thick jungles, whale watching, a national park, and lots of activities to keep you busy. Plus, it's home to one of the coolest places to stay — the Dominican Tree House Village! Nestled deep in the Dominican jungle in Samana, imagine spending your mornings eating breakfast overlooking the lush treetops, swinging in hammocks and then climbing down ladders to go spend your afternoon at the beach.
Read more about Samana here (there's way more info about places to stay, things to do, etc.).
How long should I stay? 3-4 full days seems to be the sweet spot for most volunteers (staying 2 nights at the tree houses). Groups tend to visit Samana, then head over to other places in the area like Punta Cana, Santo Domingo, and/or Bayahibe.
Punta Cana
You'll find Punta Cana right on the coast, meaning miles and miles of white-sand beaches and crystal clear water. You can easily see why thousands of tourists flock here to stay in the all-inclusive resorts and high-rise hotels, which isn't typically the kind of getaway our budget-minded ILP volunteers are seeking.
But that doesn't mean Punta Cana is a vacation spot our groups avoid. There are quite a few volunteers who said that a visit to Punta Cana was one of their favorite places they visited in the DR. If you're wanting to splurge, you'll find fancy, all-inclusive resorts all along the coastline which can be a fun break from staying in hostels — everyone loves smoothies and dinner catered right by the pool! Other groups in the past have split an Airbnb or found a couple of hostels worth recommending.
Our guide to Punta Cana outlines all the things to do and gives some recommendations to help you decide if this is the right spot for your vacation.
How long should I stay? It seems like most groups spend about 2-4ish days in Punta Cana before hopping over to another dreamy destination on this island if that's helpful to know. We've heard from a few groups that three days is the sweet spot (unless all-inclusive is your thing and you need more time there) before moving on to see something else.
Most volunteers combine their trip with Santo Domingo and/or Samana for a longer vacation, instead of just hanging around Punta Cana for the whole time.

In the past, we've had groups visit Santo Domingo, Samana, La Romana/Bayahibe, and Punta Cana on a 7-day trip, spending most of their time in Samana and Punta Cana.

La Romana + Bayahibe

We're covering two regions in this section: the city of La Romana (and surrounding beaches) and the region known as Bayahibe which stretches from La Romana and includes the East National Park. There are also two islands, Catalina and Saona, right off the coast of this part of the mainland which are very popular day trips. Don't worry, we have all the details about the islands below.
As far as unique things to do, you can tour a replica Italian village, take a river boat cruise, and of course, hit the beach. Then, get even more sun by taking a snorkel tour to Catalina Island or taking a day trip to Starfish Island (aka Soana island) to get up and close to huge red starfish.

Don't plan your trip without our La Romana + Bayahibe guide!
How long should I stay? It really depends on what you want to do. You'll need a day each to visit both of the islands in the area, so most volunteers spend 2-3 days here before visiting somewhere close, like Punta Cana.

About Traveling In The DR
A Few Things To Know
I know this post breaks the island up into different regions, but the whole island is rather small — you can travel from Puerto Plata to Santo Domingo in about four hours if that helps you orient yourself. Typically, volunteers stay around Puerto Plata during the day/weekend (Northern DR), sometimes trekking down to Santo Domingo (Southern DR) for a quick weekend trip.
Most volunteers take vacation time to explore Eastern DR because it takes a bit longer to get out there, and there is so much to do. That's the case with other places in the Southwest corner of the island, like Barahona, and Central DR (where you'll find the jungley-adventures of Jarabacoa).
Getting To Know Gua-Guas and Busses
You'll find domestic flights, Uber, and taxis available in the DR, but the most budget-friendly way to travel is going via gua-gua or the buses. There have been volunteer groups who have run out of money months before coming home because they never walked anywhere and only took Ubers or taxis instead of public buses and cars (true story). Don't be that group!
Luckily for you, you can save your money and get more out of your experience by rocking the public transportation system. We've broken down how to get all around this island (for the best prices) to make sure you can spend just a dollar or two getting to your favorite beach.
Here's all about traveling around the DR for cheap!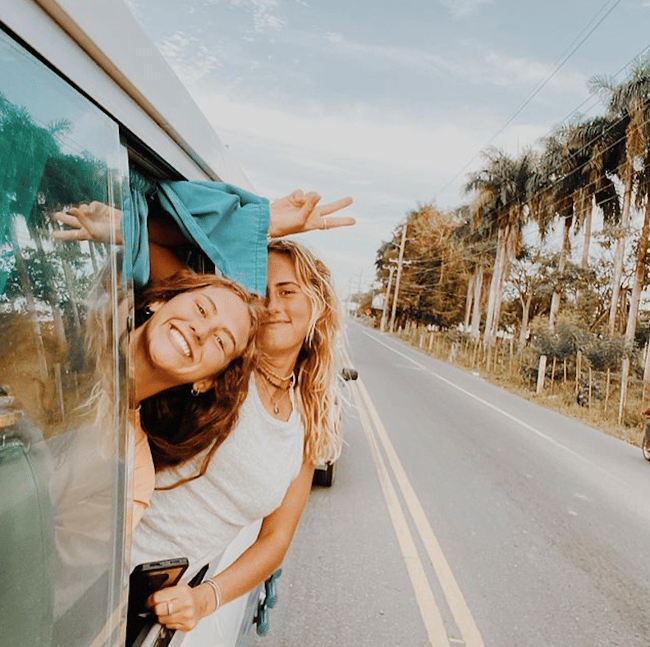 Thinking about a trip to the Caribbean?
Come spend a semester volunteering in the Dominican Republic! Volunteers teach English part-time and have free time, weekends off, and vacation days to explore all the best beaches in the DR.