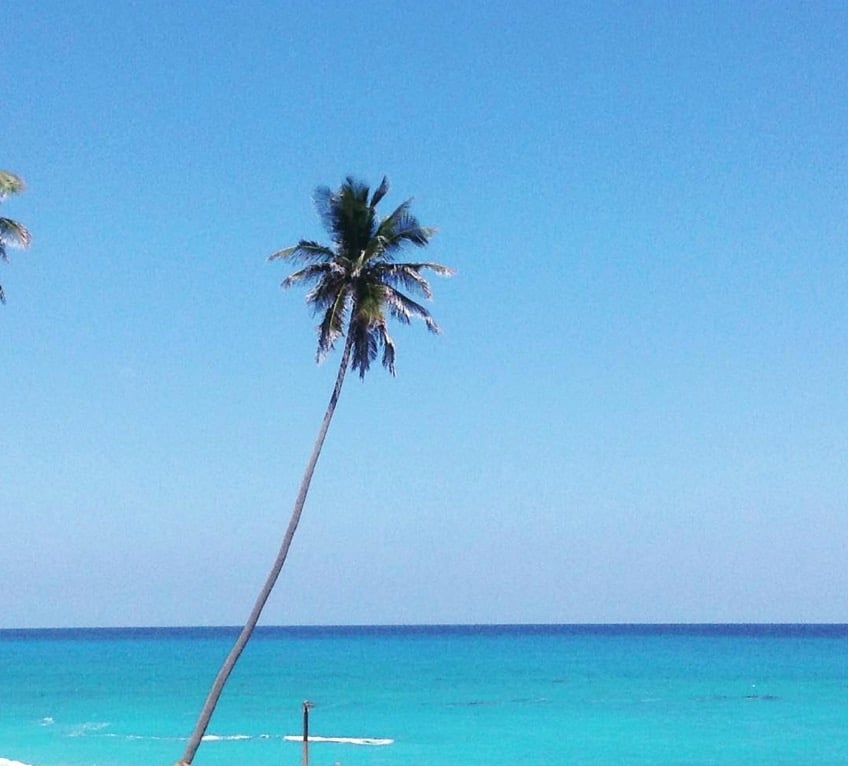 "Barahona is the most beautiful place on the island and has the best beaches".

Of course you came to the Dominican Republic for some beach time. Who doesn't visit the Caribbean to sit under swaying palm fronds and white-sand beaches?


---
See our other favorite spots on this island
Dominican Republic Destination Guide
---

With so many stunning stretches of sand, you may need a little help deciding which places are worth visiting. If you ask anyone who has visited Barahona, they'll tell you this is the place to go.
A Bit About Barahona
You'll want to head to the southwestern side of the Dominican Republic to find this dreamy vacation spot. Barahona is much more remote than the resort-lined eastern coast, which means the main attraction is the actual beach. Some groups who have visited want to make sure you know that the beaches and waterfalls are kind of what you're coming here for. Others who didn't have the right expectations felt that Barahona was a little underwhelming when they were expecting a ton to do in a busy, tourist zone — that's not the experience you're getting here.
But that's one of the main reasons we love taking a trip to Barahona. It feels "all to yourself," like you're discovering waterfalls and beaches where no one has walked before. Heading to Barahona means a vacation that's definitely off the beaten path. You'll want to plan more travel logistics in order to enjoy these relatively untouched beaches. If you're up for the adventure, it's worth it! Because ILP volunteers are living here for a whole semester they have more time to explore gems like Barahona.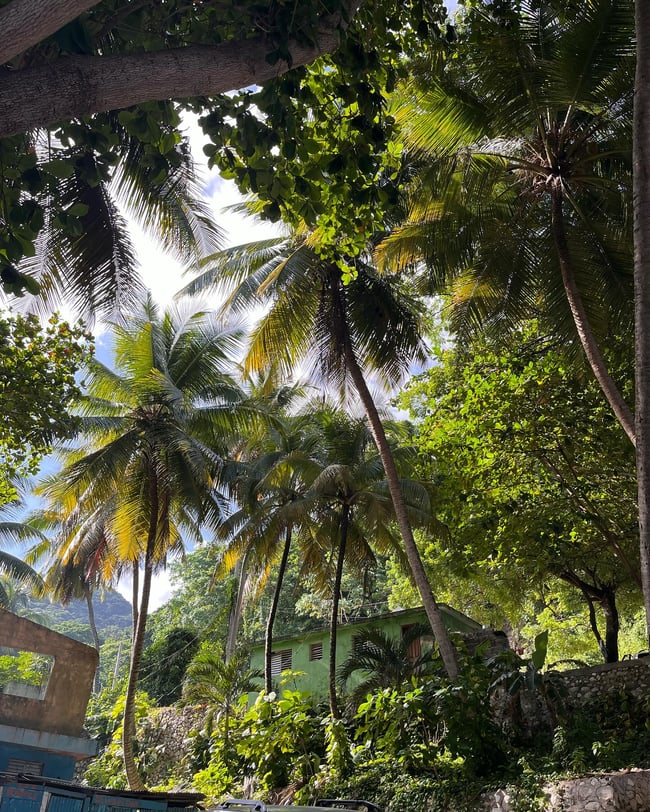 Things We Love Doing Here
The San Rafael Lookout!
Don't miss soaking up this outlook — it's one of the main pulls to the area. You can easily admire the curve of the beach below that opens up behind the thick jungle. The color of the water here is stunning, with pockets of bright turquoise nestled between the dark colors of Caribbean blue. It's gorgeous!
We have more recommendations and info below about actually hiking to the San Rafael lookout (just peek at the camping option below, where we chat about places to stay. We have a connection with someone who knows the trails there.)
If you'd rather not hike, you can soak up the view from the road. The best viewpoint is located along the main highway that hugs the coast (aka the 44). It's found between Casa Bonita and Los Patos (mapped out here) if that's helpful info to give your taxi driver.
Go On A Waterfall Hike (Or Two)
Villa Miriam Falls
Villa Miriam are a series of man-made waterfalls and pools, all fed by the San Rafael River. The villa was built in the 1970s by a man from Lebanon who wanted to create tropical oasis in this corner of the Dominican Republic. The space is frequently rented out for big events, but is a highly recommended item to add to your Barahona itinerary!
These are stunning man-made pools that make for a fun picture and hang out spot just around the corner from the San Rafael Beach. Some groups have planned on visiting the beach and the falls for a full-day activity if that's helpful to know. Also good to know? The water is on the colder side but is still a fun and refreshing place to take a swim and get some pictures. No tour guide is needed to access the falls.
There are a couple of different ways to see the falls depending on your budget. A set of falls and pools are found just up the road from the beach and are free to access. However, you can also pay a small entry fee (300 pesos) to enter the actual property and see a few more impressively built falls, swim in the larger pools, and have access to the amenities — there are tables and chairs to use (pack your own picnic, there aren't food services), plus restrooms. This blog has great instructions on how to get here.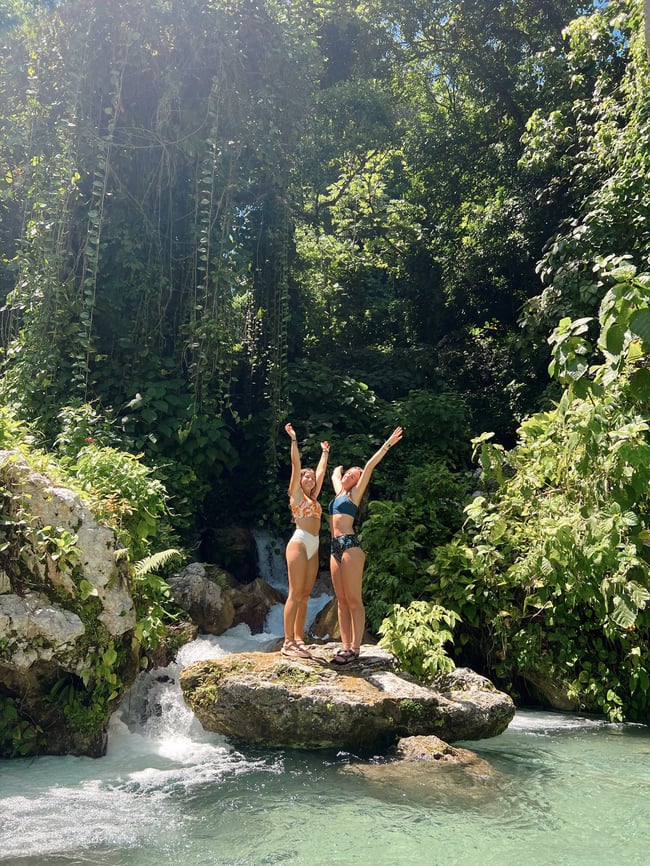 La Plaza Falls
If you'd rather do a hike that ends in a place to cool off and swim, look no further than the La Plaza waterfalls in the mountains of Barahona. A set of three waterfalls stems from the Bahoruco River, a stunning color of blue. The hike is a 1-2 hour adventure each way, but the end is quite the reward: There are three tiers of tumbling waterfalls with blue pools you can swim in.
There aren't places to change once you reach the top, so make sure you're wearing your swimming suit under your hiking outfit. You'll also want to pack a dry bag so you can carry your supplies (plenty of water and some snacks) and valuables with you while you're swimming.
Pack good shoes: you'll be hiking through the forest on a trail that climbs over rocks, through rivers, and up steep inclines.
Booking A Tour: Because the trailhead is hard to reach, you'll need to go with a tour who can take you up there, and guide you through the forest to reach the falls. (It's about a 40-minute drive from Barahona, so plan on this being full-day activity in your itinerary). This whole area has a network of rivers and pools that tour operators can take you to, as well as tours who take you to visit a nearby cave in the area, Cueva de la Virgen.

Tours are pretty limited when you're looking online (here's an option that can give you an idea of what's offered). You may want to contact your accommodation to see if they know of other local guides and companies who can take you out.
@catheromi01 Les cuento que en mi pasada aventura, nos fuimos hacia La Plaza y como la primera vez que fui solo había una parte donde estaba un poco profundo y como quienes me acompañaban todos saben nadar (excepto yo) no llevamos chalecos. Pero en esta ocasión el río tenía mayor caudal por lo tanto la profundidad de algunos charcos había aumentado ya ustedes saben que ahí estaba yo en en apuros. Pero me dije a mi misma: "hoy tú aprendes aunque sea a cruzar de un lado a otro o mueres en el intento" (😅 cosa que no sucedería porque estaba acompañada de expertos). Pues cruzaron los nadadores y solo faltaba yo 🙀, me armé de valor y crucé, claro está que no con la agilidad y destreza de los demás pero si confiada en que podía hacerlo (y obviamente estaba vigilada por si necesitaba rescate). Con esto no les digo que pongamos nuestra vida en riesgo, ni que se lancen en aguas profundas sin saber nadar (la seguridad ante todo). Pero a mí me dejó una satisfacción de que aunque para los que si saben nadar eso es un disparate, para mí fue un logro personal, y me va abriendo más las ganas de aprender así superarme a MI MISMA y demostrarme que soy capaz de lograr muchas cosas que aveces por miedo no las intento. PD: Después estaba yo tirándome en todos los charcos que ni yo me aguantaba de lo feliz que me sentía 😊🤭. Que se cuiden los peces!!! 😂😂😂😂 📍Balneario La Plaza La Ciénaga, Barahona. #enrutaconcath #republicadominicana #bellezasdelsur #barahona #balneariolaplaza #bahoruco #lacienagabarahona #godomrep #turismord #turismointernord #domrepublic #domrep #repdom #republicadominicana🇩🇴 #reels #turismoecologicord ♬ Espero Que Vuelvas - Joe Veras
Take A Gemstone Tour
One of our favorite souvenirs on the whole island are rings and other jewelry made of larimar. It's only found here, in the Dominican Republic, that's the most beautiful shade of blue. Sometimes it's almost a light teal or pale turquoise. It's gorgeous! There are shops all over the country that sells larimar, but here around Barahona is the only place you can tour the mines! (You can read more about larimar jewelry here).

Similar to the tour option above, there are a couple listed online but not tons of options. We've linked a few here to give you an idea of what's available online to compare to options you may find in-country by asking around (here's one as an example, this tour, or this tour). Your accommodation may have more info about other options if you ask.
Looking to buy some of this beautiful stone? In one of the neighborhoods where ILP volunteers live, there is a great little local jewelry shop where you can get custom things made at great prices — depending on what you're getting, lots of volunteers have gotten custom items for as low as $5-$10 USD. We love love love supporting this local business and are in love with the jewelry you can purchase here. Here's his Instagram if you want to take a peek!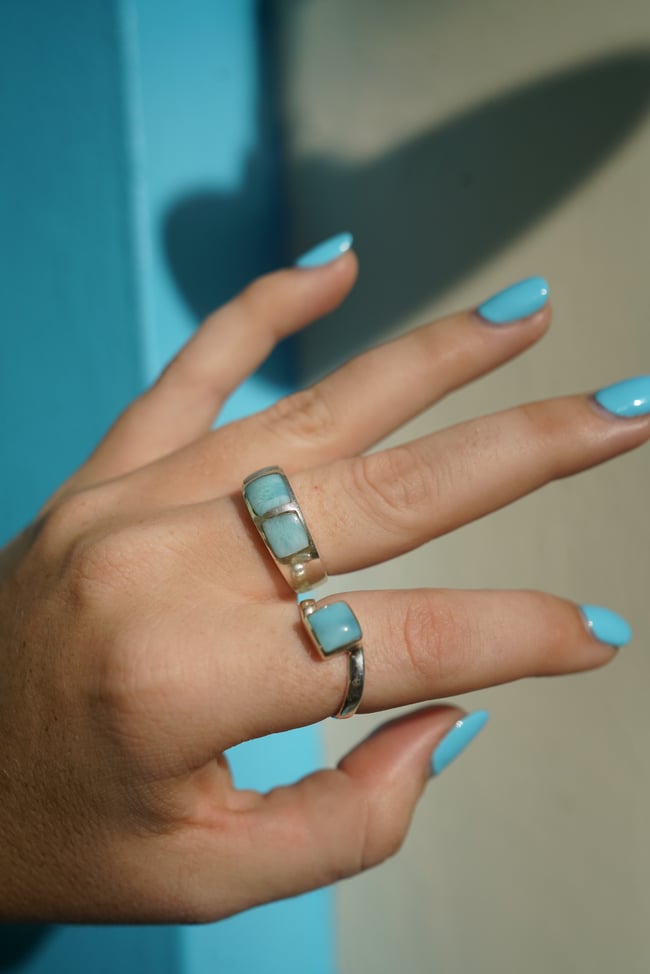 The Best Barahona Beaches
After you've crossed off the adventures above, plan on plenty of time lounging on the pristine beaches or hiking up to craggy cliffs to get to turquoise views. As a quick reminder, unlike other coastlines on the island, there aren't strings of resorts and restaurants by the beach: The beaches in Barahona is a pretty unkept section of the country and are a little off the beaten track (you'll need to taxi to the best ones that are outside of the little city). Here are some of the best, prettiest, and most recommended beaches to discover near Barahona:
El Quemaito
Come for the clearest water ever on El Quemaito: instead of sand that can cloud the waves, you have multicolored pebbles that create this beach's shoreline. Since there isn't sand (and just a rocky shore) ILP groups recommend you wear water shoes on the beach and while you're swimming — there are sometimes sea urchins under the waves that you don't want to step on.
The beach is pretty remote so you'll want to pack your own snacks and water for the day (and remember to pick up and take your trash). It's a calm beach with little to no waves, so ideal for swimming and sunbathing.

Best reached by taxi: It's about a 15-minute drive from the Malecón.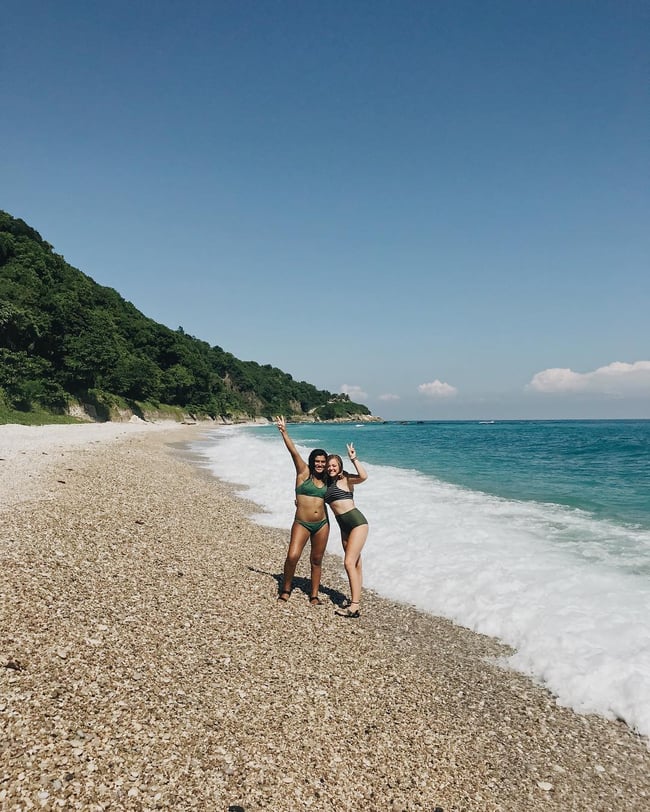 Playa La Ciénega
Another spot where you can hike up and see the bay from the surrounding mountains, Playa La Ciénega is a popular spot for fishermen, thanks to the rocky outcrops under the waves which attract fish. For tourists, that means good off-the-shore snorkeling and stunning views.
It's another pebble beach where some volunteers have spent time finding sea glass among the pebbles.
Getting here: About 30 minutes by taxi.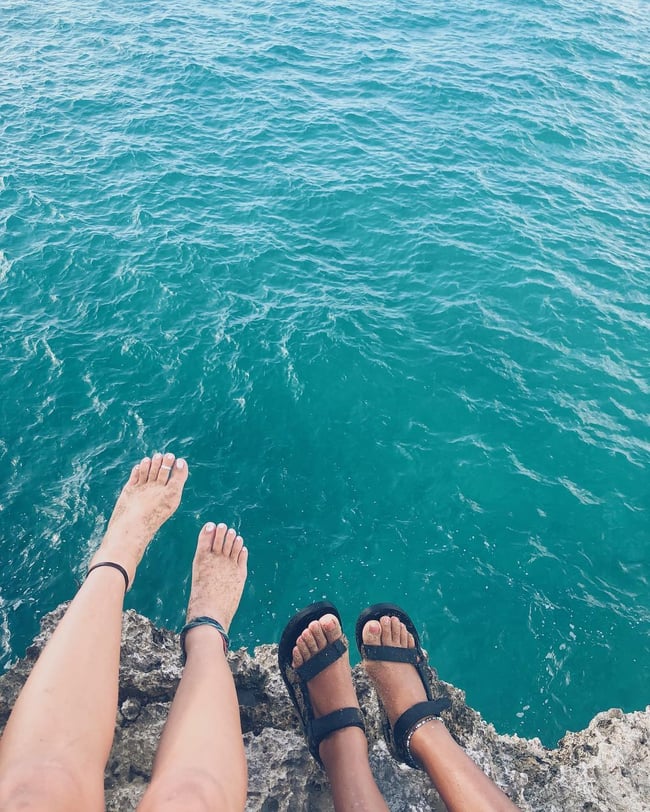 Playa San Rafael
Another beach that's easily reached by taxi is San Rafael: You'll find little booths selling fresh seafood if you'd like to get lunch after a day in the waves. This has a pretty impressive surf and also has a freshwater river that runs down from the mountains, creating a distinctive cold pool of water that mixes with the warm ocean. You can soak in these pools if you'd like a break from the ocean (it's nice and shady back here).
Be sure to watch the tides (the waves can be pretty strong here). It is a pebble beach (which helps add to the amazing color here) so some liked swimming with water shoes if that's handy to know.
Get here by taxi: it's about 30 minutes from the Malecón.
*Remember, this is the beach that's close to the Villa Miriam waterfalls, and makes for a fun break from the beach when you're in the area.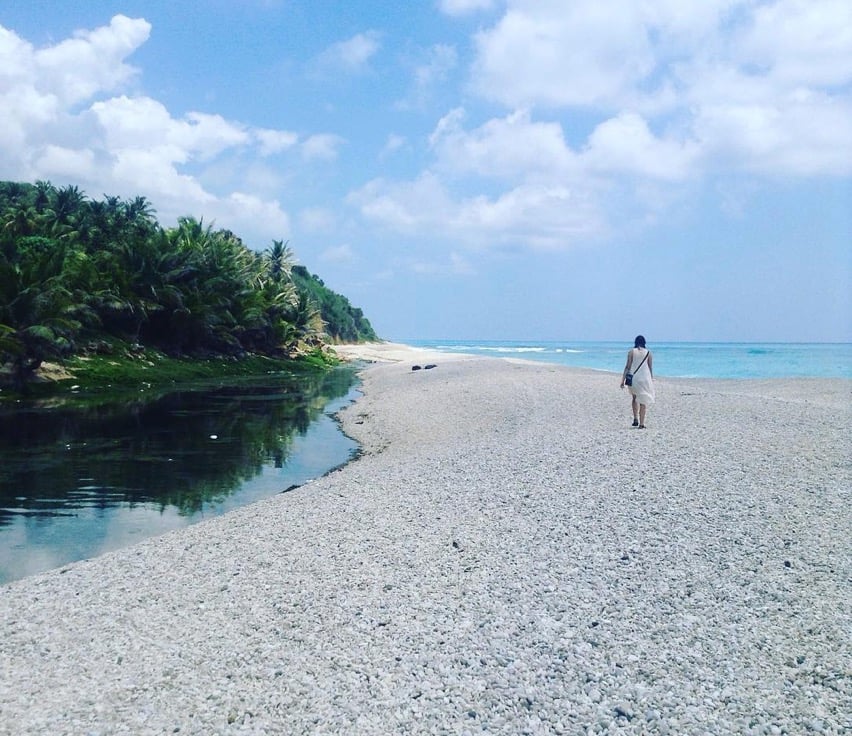 Los Patos Beach
We love this beach not only for the beautiful sand and water, but the river behind the beach has created a kind of natural lagoon of crystal clear water that is stunning. You can rent kayaks, go for a swim, or see if you can get your hands on some inflatable tubes to just totally relax and unwind ... We love a beach that has a couple of different options for swimming! The beach is worth visiting (not just the lagoon). It has powerful surf and a pebble beach.
You'll want to stay the whole day, which means packing your own lunch or bringing cash. There's a wooden boardwalk and some little restaurants serving drinks and seafood. We've heard really great things about having lunch at Kathy's restaurant, if you're in the mood for freshly caught fried fish with crispy tostones.
Getting here: It's a 45-minute drive south to this beach, so snag a taxi and pack up a day bag.
+ A Nearby Gem
If you love the idea of Barahona but want to experience an even more remote slice of paradise, we have a nearby vacation for you.
Come check out Pedernales, a beyond remote and pristine section of the island that feels fake, it's so pretty. Found just outside of the quiet city of Pedernales, you'll find clear blue water, shifting from bright blue to soft baby blue, soft sand, and so much sunshine. It's a gorgeous beach that isn't crowded or that popular, so you'll likely have the entire place to yourself. There are a couple of noteworthy beaches around, making this a fun 2-3 day adventure to take onto your trip to Barahona.
It's around a 2 hour gua gua ride to get to Pedernales from Barahona, but we have more info about your trip to Pedernales here (tips for your trip, how to get here, and some recommendations you won't want to take lightly).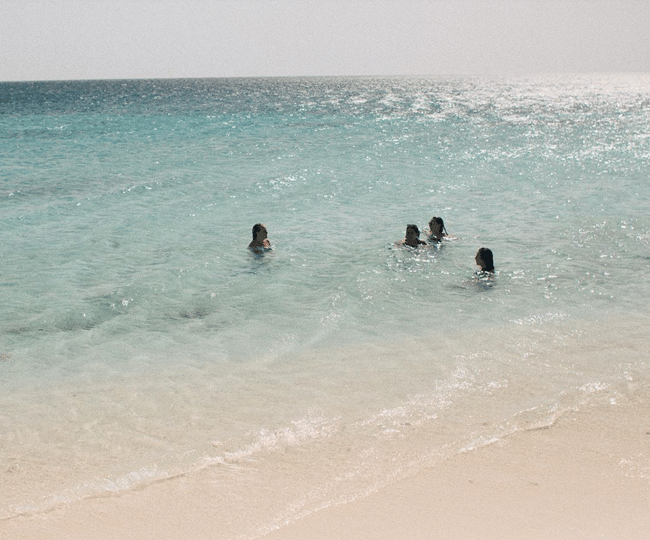 Tips + More Info For Your Trip
Go Camping + Find This Viewpoint
One of the highlights of this part of the island is the views! And the only way to get to our fav viewpoint is hanging out with Raylin. Just book a stay at Raylin's Eco Surf Camp and you'll be set up for a weekend of camping, beach-side fires, and the chance to peer over the jungle cliffs to get some pretty, pretty pictures.
Raylin and his wife (an American he met while she was in the DR with the Peace Corps) run a little Airbnb of sorts in Barahona. The experience is truly unique and not like any other Airbnb you've ever stayed at. Get more info about camping in Barahona here — it's one of our most favorite experiences to have in the DR.
Another Place To Stay
There are a few hotels and Airbnbs to rent out (no hostels, really, if staying at the Eco Surf Camp isn't your vibe). As some advice, past groups suggest staying in the city center, near the Malecon. It's the boardwalk that parallels the beach, but not right up next to the waves. You'll easily be able to get a taxi here to take you to all the beaches we talked about above. It's recommended you look into where your accommodation is and map out where you want to go so you're prepared for the driving distance between destinations — some Airbnbs are closer, which means you have a 15-25 minute taxi ride to most place, while others are more like 30-45+ minutes away.
If it helps, here are a couple of Airbnbs past groups have either stayed out or looked into:
How Long Should I Stay?
Most groups tend to spend 3ish days here, which is time to let you experience the perks of Barahona but feel free to stay longer if you're all about soaking up that vibe. In the past, it's worked well for some groups to hang out in Barahona, then head to Pedernales for a longer vacation. Others have started (or ended) their Barahona trip in Santo Domingo which also works well!
Asking Around For Tours
As we mentioned earlier about the tour options, you may have better luck booking something in-country, once you arrive in Barahona (online options are limited, and seem on the pricier side of things). There are a couple of tour operators (like this one) who have offices in town, a visitor's center to check out, or you can chat with your accommodation about suggestions they may have.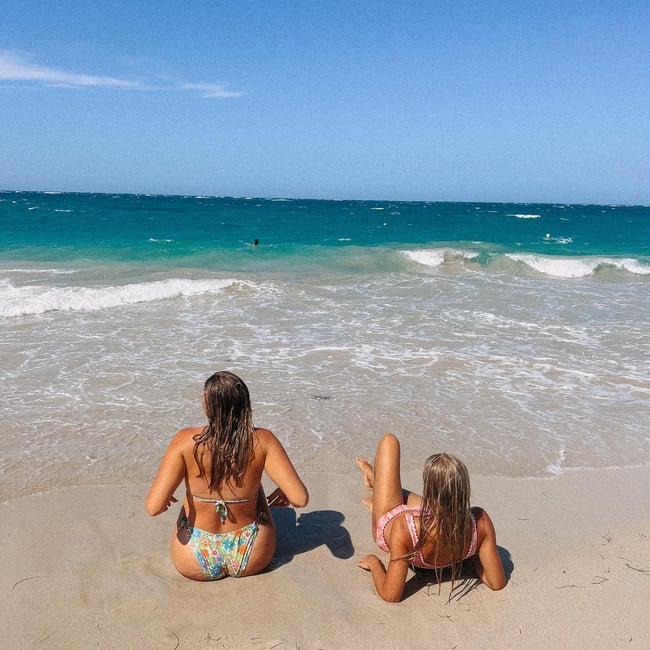 Getting Here
From Santo Domingo
The country's capital is going to be your best bet to getting to Barahona. Caribe Buses are our favorite way to get around the entire country and they have a route that leaves four times a day from the capital to Barahona. The bus ride is about 3 hours long, costs 350 - 550ish pesos, and you can check specific routes and more specific prices here.
As we mentioned, past ILP volunteers tend to hang out in Santo Domingo for a couple of days, then hop over to Barahona for a day or so before returning back to Santo Domingo and catching a bus back home to Puerto Plata (or vice versa, with some time in the capital after your time in Barahona). Here's more on what to do in Santo Domingo.
Getting Around Barahona
Taxis will be your best bet, especially if you'll be traveling with a group. Even then, it's a little tricky (Uber doesn't work here, so you're reliant on calling a cab or running into one on the street). Some of the beaches we mention are a 10-15 minute drive away (or longer) from where you'll be staying, so a taxi can easily get you there ... you just have to find one first. Some groups mention you'll want to be prepared for higher prices in Barahona than the taxi prices in places like Puerto Plata or Santo Domingo, just as a heads up.
You'll also find gua guas (local buses) that have some beach routes, but best to take these unless you know the unpredictable routes and know some Spanish.

Past groups have said that their accommodations have had some good resources for getting around, whether that's info about tours (that arrange pick ups), or more in depth info on which gua guas can take you where, but be sure to utilize the resource if it's offered!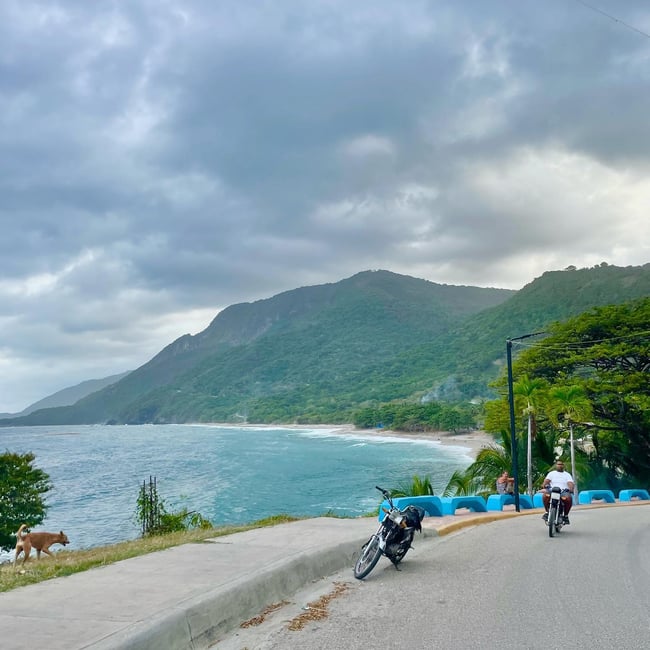 Island life is waiting for you
Do and see more by spending a whole semester in the Dominican Republic rather than vacationing here for a week! ILP volunteers spend time teaching English, visiting the beach on the weekend, and get vacation time to see places like Barahona.