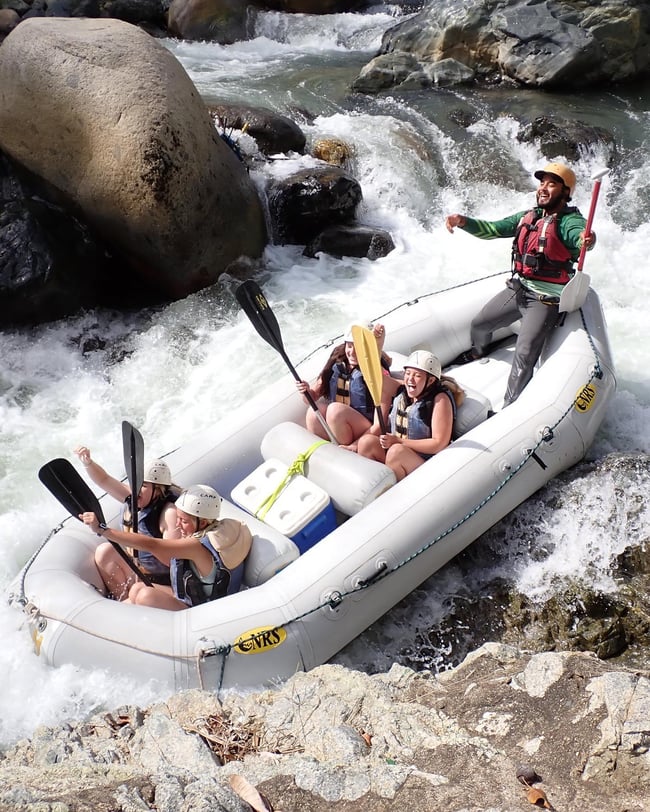 Jarabacoa is the best mountain town, filled with waterfalls, ziplining, river rafting, rappelling, horse rides through the mountains, and gorgeous views no matter where you look. On the island, it's our favorite place for adventures, hands down.
The Dominican Republic is full of ah-mazing beaches, but we're here to talk about what's waiting for you in the jungles — a little place called Jarabacao. Picture a tiny town that's the starting point to all the high-adventure things you're waiting for, with everything from waterfalls to river rafting, all complete with sweeping mountain views. Understand now why this place is a favorite vacation?


---
See way more than you could as a tourist
Come volunteer in the Dominican Republic with ILP
---

With all there is to do (plus the chance to get a break from the heat while you spend time in the cooler mountains) you can see why Jarabocoa is a favorite. It's easily one of the best places to spend a 4-day vacation when you're living in the Dominican Republic for a semester. Plus, to make your own trip here easy-peasy, we have a whole list of tour groups, activities, and places to stay that come recommended from past volunteers (you're welcome!)
All About Jarabocoa
Jarabacoa is a tiny town perched up on the scenic mountains as a cool getaway, popular for those living in nearby Santiago and Santo Domingo. We love Jarabacoa as a quiet getaway into the green mountain tops.
The whole area is cut by curving rivers and covered in a thick forest hiding coffee plantations, waterfalls, and hiking. The views here are amazing. The rivers are the base of several mountain adventures like river rafting, tubing, canyoneering, and rappelling, along with several hikes to waterfalls (like Salto De Jimenoa).
The area is very rural, full of pastures of grazing cows and dirt roads where locals get along on horseback or riding motorcycles underneath groves of mango trees. You'll see a spread of wooden cabins near the mountaintops, and a small town where you can find a few roadside cafes and coffee shops, but that's about it. Volunteers comment that there isn't much to see in the town at all, so don't plan a lot of time to really explore what's around — you'll want to spend your time adventuring or relaxing instead.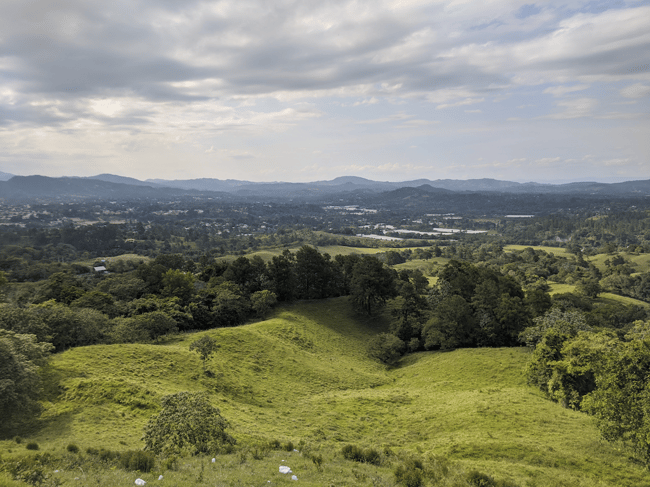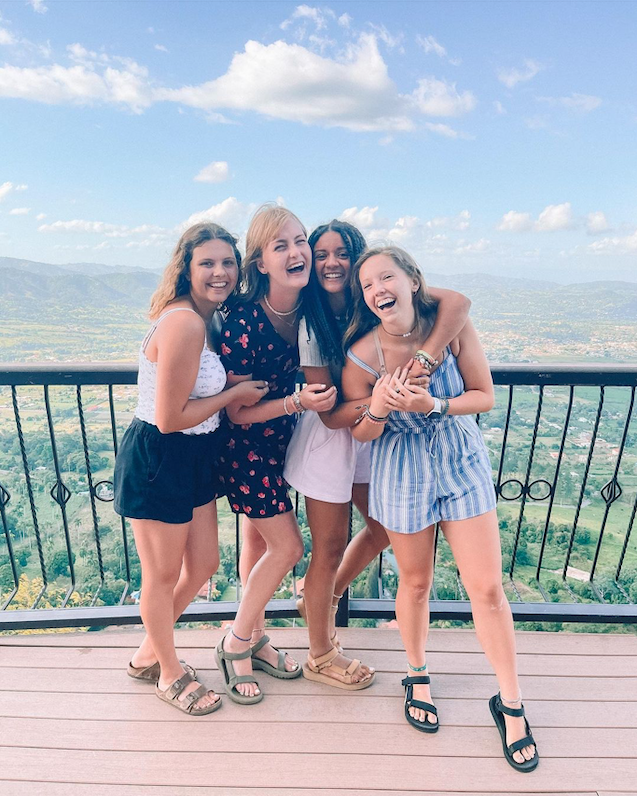 The Best Things To Do
Several ILP groups have gone to Jarabacoa for various outdoor adventures and so many recommend using Ranch Biaguate as your tour company. They have a great staff, good prices, most tours include lunch, and all include access to their facilities, which includes a pool. Below, we have a few of their excursions offered by Ranch Baguate so you can get an idea of how you can spend your time.
Canyoning
Join your group and professional guides as you start at the Baiguate River and make your way down through the canyons of the Baiguate Falls. The tour includes all the gear you need, plus a training course before you start so you can handle the course. The waterfall pools below if you want to take a bit of a swim.
Check out what canyoning is like with Ranch Biaguate here.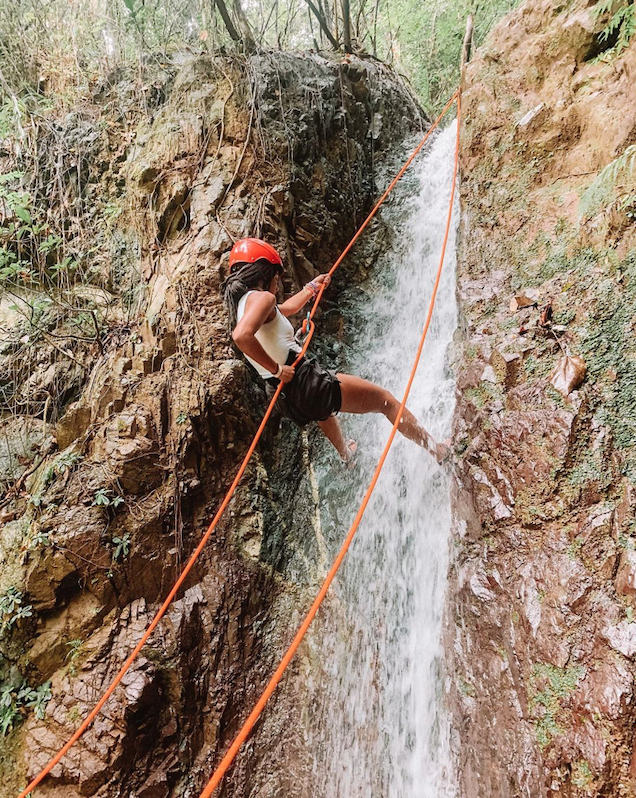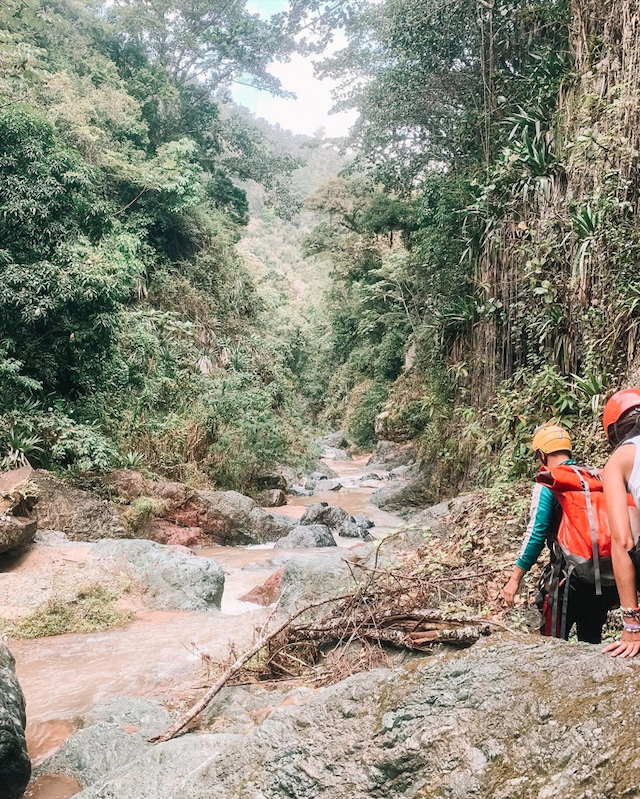 Biaguate Waterfall + Horseback Rides
One of the top things to do in Jarabacoa is exploring the thundering waterfalls, one of which is known as the El Salton Biaguate Waterfall. Ranch Biaguate does horseback rides along the river letting you enjoy the green scenery spilling out around you until you get to the falls. Volunteers have said it's around $27 for this tour.
See what the Ranch Biaguate tour is like here.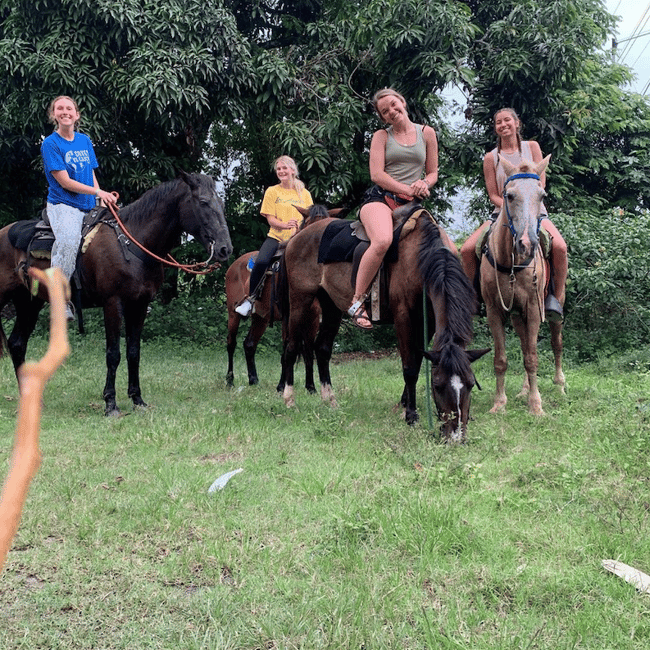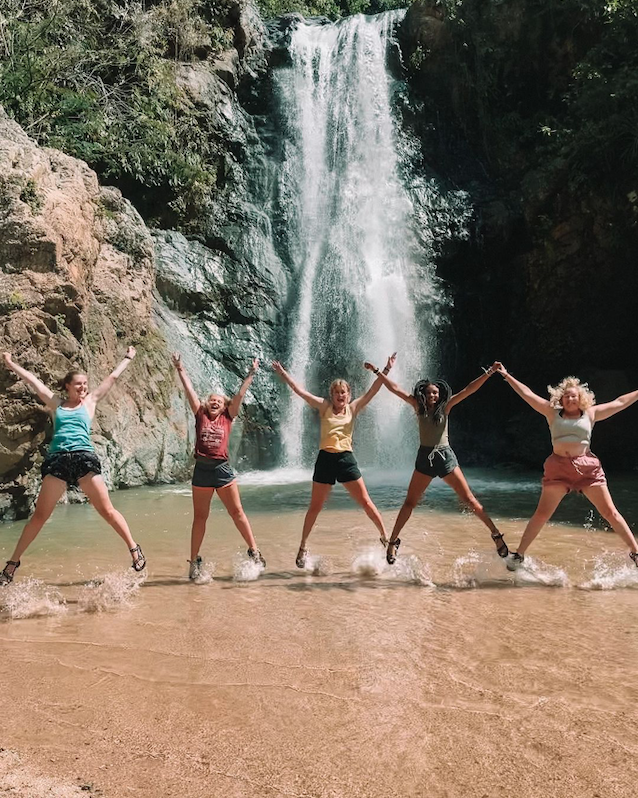 River Trekking
Volunteers love river trekking! It's a combination of hiking, swimming, sliding, jumping, and rappelling through canyons, waterfalls, and rivers — it's a huge adrenaline rush. You're set up with the gear your need (like helmets) and a guide to help you through the course.
Learn more info about Ranch Biaguate's river trekking tour.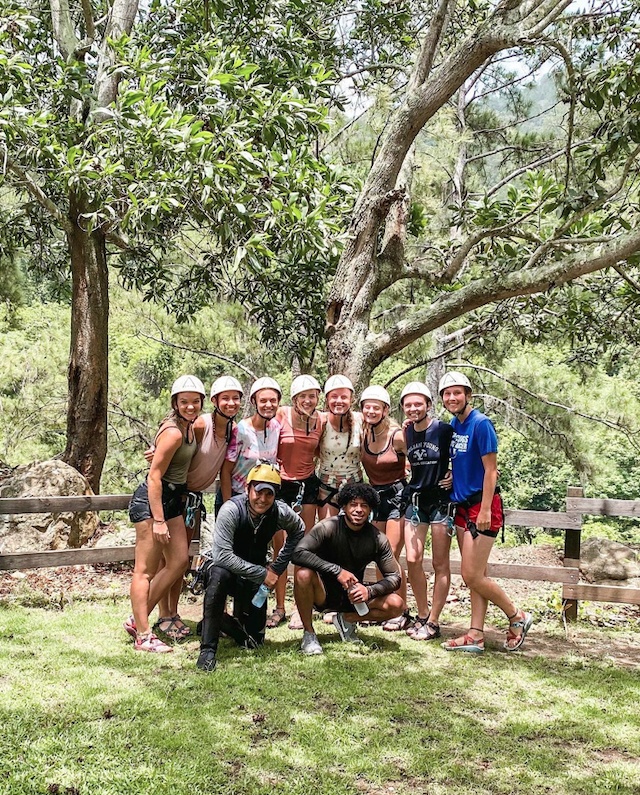 River Rafting
River rafting is another recommended adventure our volunteers always make time for. You'll be rafting the Yaque Del Norte River, set up with a guide and your gear as you float down canyons and rapids. It's a total rush. Volunteers have said it's typically $50 for this tour, and includes lunch.
Ranch Biaguate has more info about rafting with them here.
Take A Hike
... to the highest peak in the Dominican Republic! This is a 2-day adventure where you hike up to the top of Pico Duarte with a guide (who also arranges all the details like your gear and meals). It's an epic hike with stunning views of the surrounding jungle and the sunrise when you reach the top. Most tour operators will pick up your group and drop you off in Jarabacoa, making it an easy addition to your time here.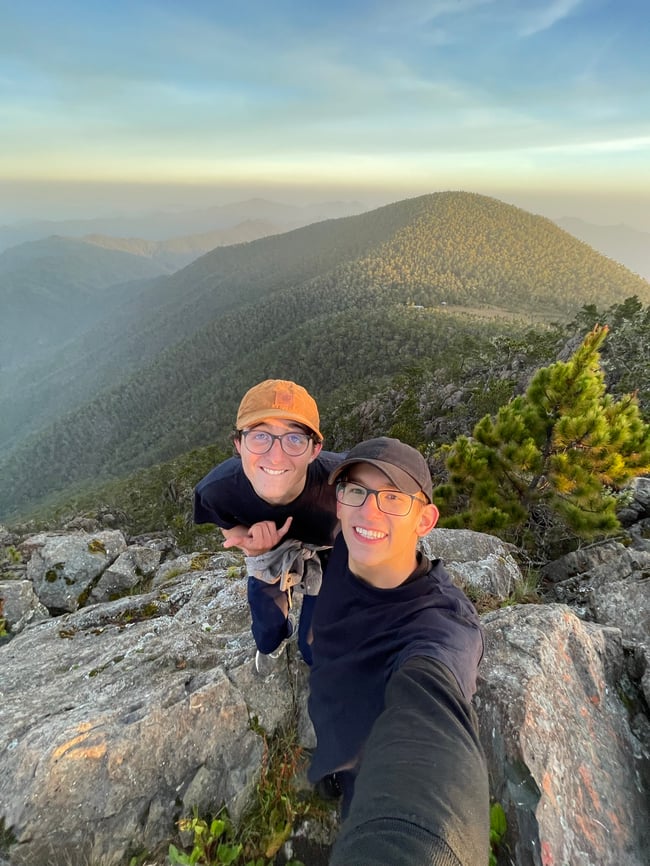 Where To Stay
You'll find a spread of AirBnBs around the town which is where most volunteers have stayed here, though some loved their experience at a hostel. We have their recommendations below to give you an idea of what's available.
Siempre Algre
Mayra's the host of this AirBnB which some groups said was the perfect size for a group of 7-8. High points include a book full of suggested activities, a fireplace for chillier nights, a kitchen, and a table and chairs outside where you can hang out or play cards.
Book it here.
Jarabacoa Mountain Hostel
One group stayed in the big room at this hostel and kinda loved the TV/Netflix available after a long day outside. with a TV/Netflix, plus the shared kitchen where you could make breakfast or dinner. The owner also has several connections with all the different activities you can do which is a nice touch.
Book it here (and get more info on their Facebook page)
A Few AirBnBs
You'll find a few AirBnbs in the area — and this option is good for a larger group looking for a cozy country house that's just a few minutes away from the center of Jarabacoa. Book it here.
This option has room for a large group, and has a pool if you're looking to swim after a day of adventuring.
Spring House is another AirBnB option, the host for this cute two-story house is Jesus Michael, who was a big help when it came to booking taxis for one ILP group. Past groups have liked that the Rancho Jarabacoa is within walking distance, which is a recommended company for horseback riding and rafting, and that it had a very tiny pool. Book it here.
Groups have stayed here before, in this cozy mountain cabin. It's about a 10-minute drive by car away from the city if that helps you know where it's located, but perks include the opportunity to have a campfire in the back, and take a swim in the above ground pool. Book on Airbnb.
This chalet is also an option, complete with gorgeous views from the balcony. Book it here.
Looking for a place with a view and a pool? This villa has you covered. Book on Airbnb.
Another spot with a pool that has a killer view (and a kitchen where you can cook up dinners instead of eating out). Book on Airbnb.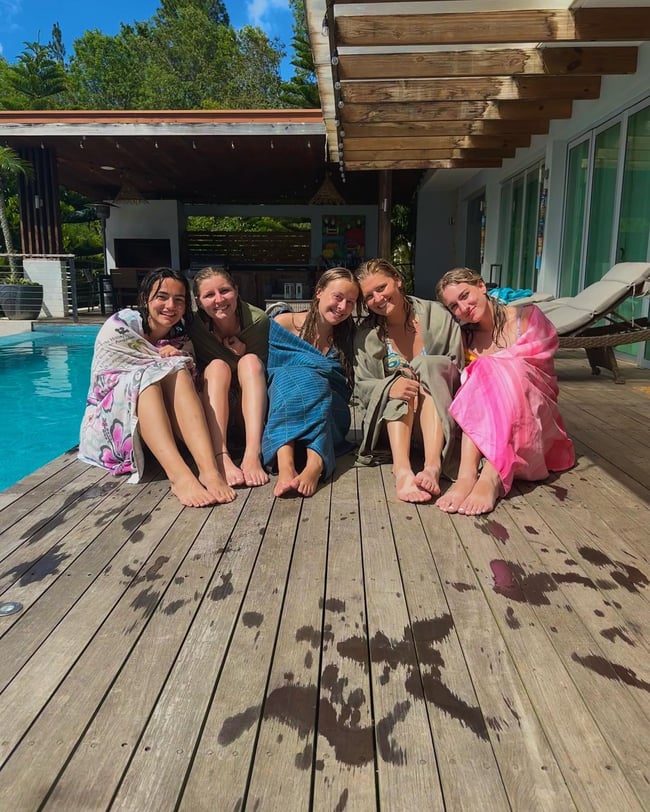 A Few Things To Plan On
How Long Should My Trip Be?
Most volunteers do Jarabacoa over a 3-4 day weekend, which gives you plenty of time to do a few activities. Keep in mind most adventures are half-or full-day adventures, so that's something to consider when planning your itinerary (and how many tours you want to book while here).
Pack Warmer Clothes
Volunteers mentioned that they were glad they packed a few layers because it got cooler in the evenings here than anywhere else on the island (welcome to life in the mountains). Many mention that rooms had fans to help cool you off, but weren't needed because of how much it cooled down at night. It'll still be warm and humid during the day, but you'll want layers for the evenings.
Plan An Extra Day To See Constanza
Costanza boasts waterfalls, emerald-colored natural pools, mountainside villas, and multiple types of forests high up in the mountains of the Caribbean country. Surrounded by green valleys and farms with cooler temperatures, it really does feel like you're visiting another country ... and it's just an hour away from Jarabacoa.
Constanza is perched up at around 4,000 feet, making it the highest altitude town in the whole area of the Caribbean. These impressive heights mean hills covered in pine tree forests and cozy cabins to book for your overnight visits. Pack layers, because the temperatures here can drop to a refreshing 40°ish or 50°ish degrees in the evening hours. On occasion, things get even colder and the rolling hills have gotten a light dusting of snow!
Along with stunning mountain views, thick forests, and towering waterfalls, this region is known for fields full of fresh veggies, fruits, and flowers — look for rows and rows of potatoes, corn, carrots, cabbage, and strawberries, in particular. Come see why we love visiting Constanza.
The Easy Way To Get Here
If you're starting in Puerto Plata or nearby, our favorite way to get to Jarabacao is through Caribe tours. From Puerto Plata, the bus stops in Santiago and continues to La Vega (about a 2-2.5 hour bus ride). The bus from La Vega to Jarabacao is around 40 minutes.
We have way more info on how to get around the DR right here, which includes links to Caribe tours plus information on the buses.
Getting Around Jarabacoa
Taxis are your best bet if it's not somewhere you can walk to. Above, you'll find a couple of hostels or AirBnBs that mention having connections to taxi companies or transportation.
We also hear great things about David, who does offer a few different tours (like the waterfall hikes + horseback riding) but also can help drive you all over the area, to all the different waterfalls or wherever else you need to go. He's awesome! Here's his Instagram.
Another thing to keep in mind? Quite a few tour companies will have a designated pick-up/drop-off spot so you may want to book accommodation that's easy to walk to (or ride to) so you can get to your tour on time. And remember: most volunteers are booking tours through Rancho Baiguate if you want to find a place to stay that's easy to access that tour company through, that comes in handy.

Want to spend time in the DR?
Instead of just traveling and visiting the Dominican Republic, how about something better? Come make a difference and serve while living there for a semester abroad with International Language Programs (ILP).