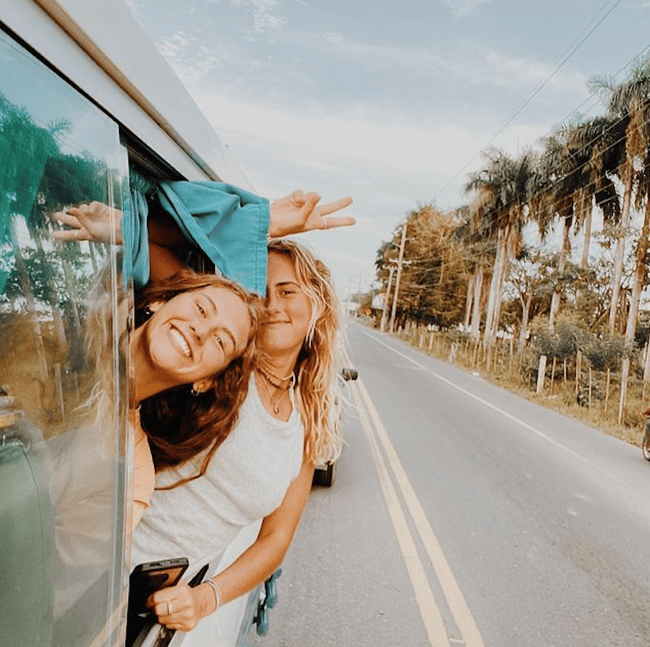 Feel like a local with these tricks and tips to get around this sunny Caribbean island.
Tourism is a huge part of the Dominican Republic — who wouldn't want to come hang out on golden sand beaches under swaying palm trees? With all these tourists, comes an easy way to get around. You'll be able to call a taxi or an Uber to take you to all of those beaches… but unless you have an unlimited budget, you'll quickly run out of money if you go that route! Especially for our volunteers who are living here for an entire semester, those taxi rides really do add up.


---
Are you thinking about volunteering abroad?
Come see what volunteering in the Dominican Republic is all about!
---
ILP volunteers are living close enough to hang out on some of those postcard worthy beaches on any weekend which is pretty much a dream come true, right? But you don't want to make the mistake a few ILP volunteers have made in the past by getting to those beaches in all the wrong ways. There have been volunteer groups who have run out of money months before coming home because they never walked anywhere and only took Ubers or taxis instead of public buses and cars (true story). Don't be that group!
Luckily for you, you can save your money and get more out of your experience by rocking the public transportation system. We've broken down how to get all around this island (for the best prices) to make sure you can spend just a dollar or two getting to your favorite beach.
All About Gua-Guas
These are basically a public van and are your most affordable option (think of it like a mix between a taxi and bus). Gua-guas are typically white vans that drive a certain route, but people get on and off when they want, and the gua-guas only leave when they are full … in the DR, that means they don't leave until they are crammed full of passengers. They're headed towards a set destination, but you can get on and off all along the way, which means they typically take longer than a taxi would, but they are significantly cheaper (and an experience you can't miss out on).
There are two employees on the gua-gua: the driver and the one leaning out the window or sometimes out the open door yelling "gua-gua!" as a way to alert pedestrians that they can get a ride. Around town, you can tell who the gua-gua yellers are because they have one really tan arm (the right one) and one really buff arm from hanging onto the gua-gua so they don't fall out. Hopping on one is a crowded ride that's a total experience (see if you can beat the record of counting 30 people in a 15-passenger gua-gua during your ILP semester!)
Catching A Gua-Gua
You'll need to head to the nearest gua-gua stop. There are a few around Puerto Plata so volunteers can hop in a taxi and just say "gua-gua Sosua" (or wherever you are headed) to let your taxi driver know where to drop you off. No need to know any Spanish, that'll get you where you need to do. You pay the gua-gua driver directly. If you don't know the price, just pay attention to what everyone else is paying. If you ask the price, you'll get a ticket that's 10x more expensive because you aren't a local. Even when you pay what the locals are paying for a ticket (let's say 65 pesos) you may be asked for a few more pesos (like 75 or 80 … it's known as the gringa tax). Even with that little extra, you can get around the DR for cheap using gua-guas!
When you get to the gua-gua station, whoever is working will be able to tell you which gua-gua to get on (there will be a few to choose from). When you're traveling back home, just hop on a gua-gua that says "Puerto Plata" on a little sign in the front.
Where Can I Go On A Gua-Gua?
Gua-guas go just about anywhere! Volunteers frequently take gua-gua to Sosua/Playa Alicia, and Laguna Yasica, but you can also take it farther to places like Monte Cristi and Samana as well. It just takes longer than getting a Caribe bus (more on those later).
If you're going more than about 30ish minutes, you may want to look into a long-distance bus option because gua-guas typically have transfers and the price ends up being about the same if you booked a Caribe bus if you're traveling pretty far.
Here are some of our favorite day trips and weekend trips from Puerto Plata that can be reached by gua-gua if that helps you figure transportation out.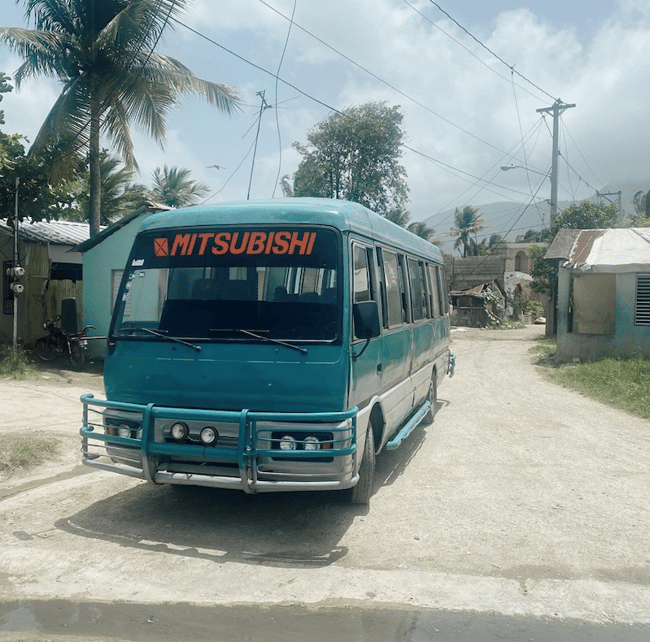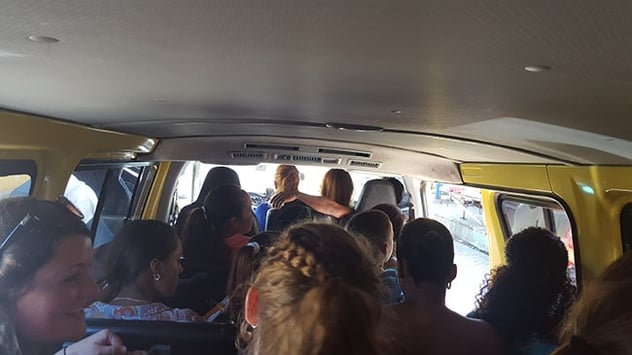 The Deal With Public Cars
These are kind of like the car version of a gua-gua. They drive a set route and stop along the way. You'll get to know the stops around your neighborhood and the routes. For example, there's a public car route that goes from Javillar to Costambar, and cars are marked with a little "J-C" sign. Another route is the "P-S" route — that takes you from Puerto Plata to Sosua. These cars will also take you into Puerto Plata city: they just drop you off down the street from the city center.
It can be kinda tricky to tell the difference between a public car and the other cars on the road, but there should be a little sign on top of the car with their routes (J-C or P-S). It's hard to see at first, but if you look, you can see them.
There are other popular routes, these are just a couple of examples. ILP volunteers will be able to work with their Local Coordinator and other local staff they work with for more info on alternative routes, but between the gua-guas and the public cars, you're pretty set.
Catching A Public Car
You'll get familiar with where the public cars drive around your city and prices are very affordable. "J-C" cars are always 25 pesos a person, and "P-S" cars are always 65 pesos (it's a longer route). The price isn't negotiable, it's just a known local price. Most drivers will tell you the right price (the opposite of the gua-gua drivers) but some may try to get you to pay more if you don't know. Always pay action to what other locals are paying if you're unsure.
Where Can I Go In A Public Car?
Typically, public cars are best for spots anywhere in Puerto Plata and nearby Sosua. You can take them into Puerto Plata city as well, they won't go through the center but they'll drop you off just down the street.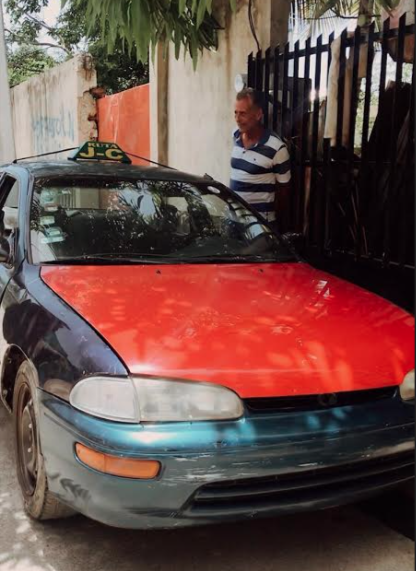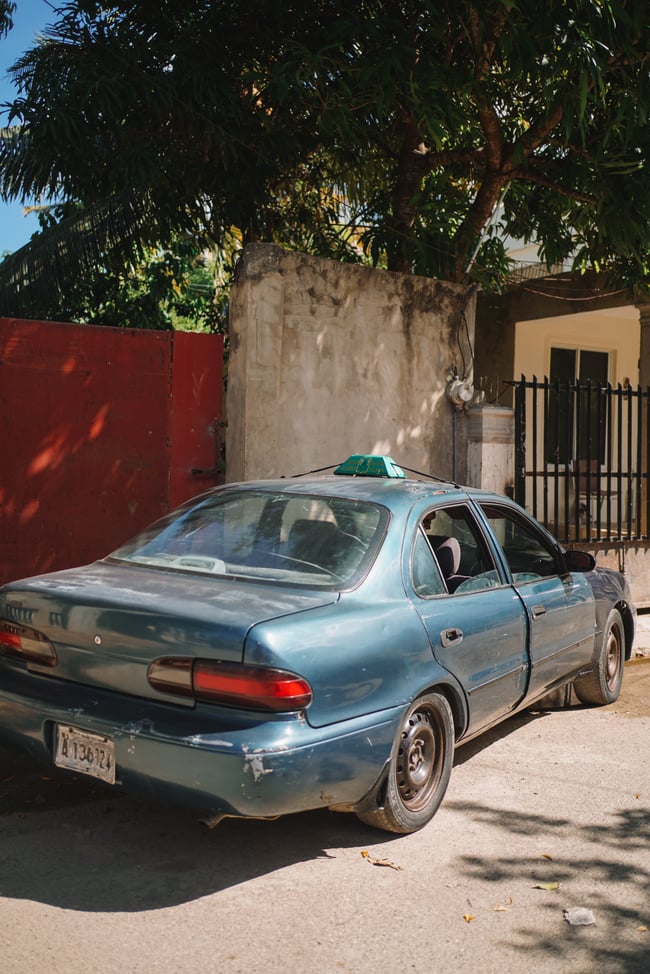 Taxis + Uber
Taxi and Uber are also an option, but we don't really recommend them. It's a quick way to get around and best used on vacation (when you don't have time to figure out the local gua-gua or public car system) or if you're really in a pinch, like being out past when gua-guas are running. It's very easy to fall into the trap of just paying for a taxi or Uber everywhere you go because they are convenient, just be very careful. Some volunteers have taken a taxi instead of walking 20ish minutes to the local market for some groceries, and only call an Uber instead of hopping on a gua-gua, which slowly eats at your budget.

Same goes with Uber: It's typically less expensive to take an Uber than a taxi, but both an Uber and a taxi will be your most expensive option. We've quoted prices on some popular day trips later on in this post so you can see the price difference from paying a taxi to take to Sosua rather than a gua-gua.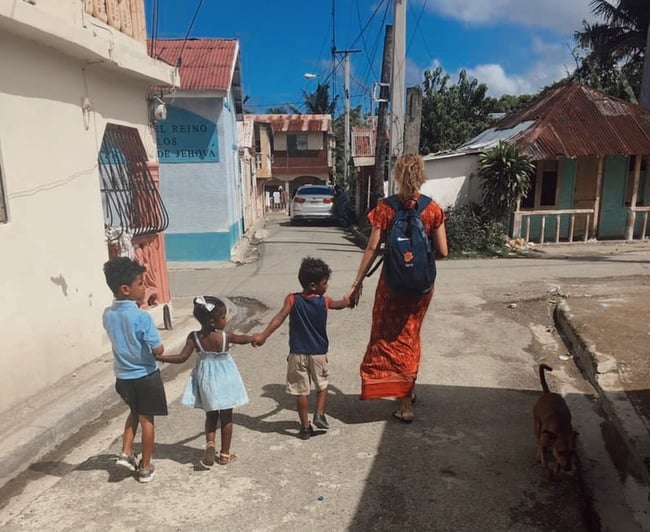 Getting To Vacation Spots
Public cars and gua-guas are great for trips that aren't too far away, but if you're looking to head to the other side of the island, you'll want to know all about long distance buses and the deal about flights in the DR.
Long Distance Bus
Our favorite way to get to places across the island is through Caribe Tours. They're our go-to option for traveling beyond Sosua/Cabarete or south of Puerta Plata. They are big (usually yellow, green, or green and yellow) buses with comfy seats and typically have A/C which we love love love (pro tip: volunteers mention bringing a jacket to wear on these long distance bus rides in case the bus gets too chilly). The Caribe Tours website has an interactive map that you can click and select "to" and "from" routes that are pretty easy to figure out even if everything is in Spanish. Prices are very affordable: a trip to Puerto Plata all the way down to Santo Domingo ranges from 300 - 450 pesos (about $6 to just under $9 USD) for a 3.5 hour bus ride.

In Puerto Plata, Caribe Tours has their own section in the bus terminal, making it an easy option for those close to Puerto Plata.
Javilla Tours is another long-distance bus option to look at. They have frequent buses from Puerto Plata to Santo Domingo. It's the same deal as Caribe: big tour buses with A/C (and sometimes WiFi). Here's the address of the Javilla Tour bus station: Calle 30 de Marzo, Puerto Plata 57000, Dominican Republic.
Caribe Tours and Javilla Tours don't go everywhere, but you may be able to find the route you are looking for with Bavaro Express. They have a route from Santo Domingo to Punta Cana (a favorite vacation spot), something Caribe doesn't offer. It's about a 3 hour bus ride, on a nice bus with air conditioning. The Bavaro bus ride is about $9 — you can check prices and times on their website.
Booking Tickets
You'll be fine going to the station and booking them in person for these companies. Websites frequently shut down and it's easy to have your ticket printed after you pay for it. If you're traveling with 15-30 people, plan on showing up at least 1.5-2 hours early to get a bus that can fit you all. If it's just about 7-10 people, you should be fine about an hour before departure, and any less than 7 is typically fine 30-45 minutes before departure. This does change depending on your location (more popular routes fill up) so earlier is always better. If it's a holiday weekend or another busy time of the year, plan on getting to the station even earlier because things do fill up.
Good To Know
All Caribe buses leaving from Puerto Plata are all headed towards Santo Domingo, it's the main hub. But the buses will either stop before they arrive in Santo Domingo to drop you off at your booked destination, or you'll just stay on (or maybe make a transfer) when the bus leaves Santo Domingo to travel onward to your destination.
Here's a pretty predictable schedule for buses leaving Puerto Plata and one for buses leaving Santo Domingo (though they are subject to change, so double check). Here's a link to all the Caribe Tours phone numbers in all the different cities if you want to call and confirm some information.
Traveling Through Santiago?
You'll see that many bus routes to vacation destinations route you through Santiago, the second biggest city on the island. ILP groups sometimes have a couple of hours between bus transfers in this city, which is why we have a little guide for passing through Santiago.
Again, it's not an overnight destination or place to hang out for the weekend, but if you have the time, there are a couple of highlights to see (along with some food places to visit).

Flying
Flying is also an option. It's typically the quickest, but most expensive by a long shot. There are a couple of airports around the DR: a flight from Puerto Plata (POP) to Santa Domingo (SDQ) hang around the $600 - $700+ range, but had long, 20-something hour itineraries that took you from Puerto Plata, all the way back to New York City, then brought you to Santo Domingo (we like looking things up on Skyscanner). Compared to a $10 bus ride, we're thinking you'll probably opt to take a bus rather than fly!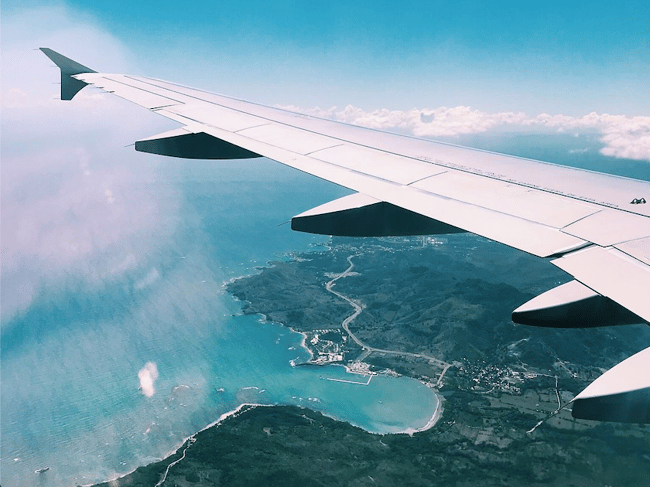 Just to give you an idea of what the price difference is between all of these options, we've pulled together some favorite day trips close enough to visit on the weekends (and about how much it'll cost to get there using a public car or gua-gua verses an Uber or in a taxi).
Sosua

And Alicia Beaches
A beach perfect for a day trip. Get your go-to guide for Sosua and Playa Alicia here, but check out the one-way prices below:
Gua-gua: 65-75 pesos (About $1.27 - $1.46) Sometimes 100 pesos.
Public Car: 65 pesos (About $1.27)
Taxi: $25 - $30, split up to 4 passengers (max). They don't use a meter, so this is the price after some hard

bargaining: they'll initially offer you a price of about $60 - $80 and sometimes don't back that low.
27 Waterfalls
We have more information about all 27 waterfalls on this blog post — it's absolutely a must-do during your ILP semester. Here's the info on getting here:
Private

gua-gua: Groups typically get help hiring a private gua-gua so they can go with their whole group. It typically shakes out to be about $10 - $15 per person.

Taxi: Prices really vary, but hang around the $60 range split between a max of 4 passengers.
It might not seem like a huge difference between $1.50 and $5, but if you take a taxi every time you could have taken a public car or a gua-gua to your favorite beach, that amount really adds up. We're bigger fans of saving money for big vacations and fun experiences like paragliding, snorkel trips, or a trip to stay in the Dominican Treehouse rather than just on taxis!
Come to the Dominican Republic with us!


Volunteers with ILP will be teaching English to underprivileged children in they humanitarian program, with weekends off and vacation time to explore everything to Dominican Republic has to offer.