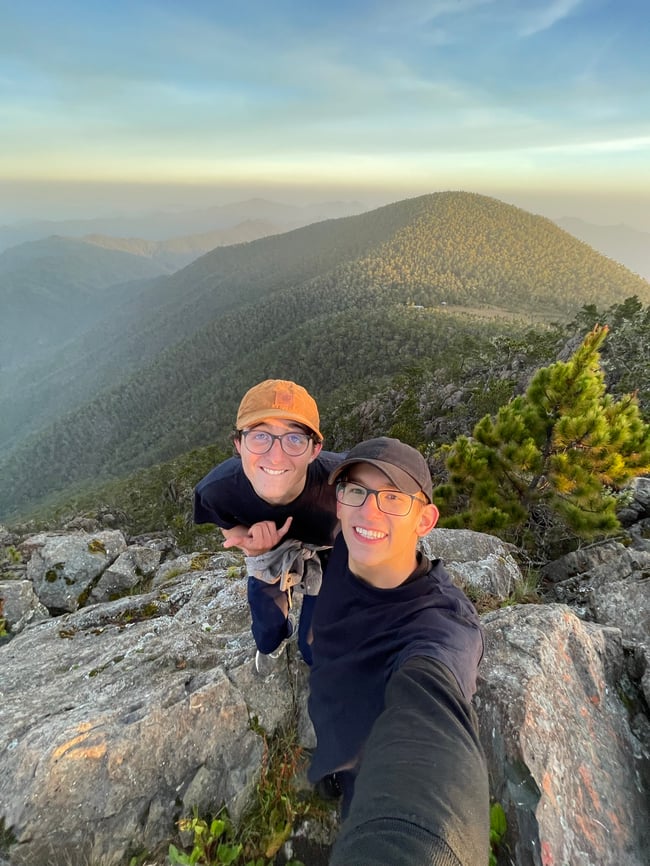 If you're going to Jarabacoa on vacation, think about adding a hike in the "Alps of the Dominican Republic"!
Vacations in the Dominican Republic are typically spent on the gorgeous beaches that rim the coastline. Picture days taking a catamaran cruise or snorkeling trip only to come back and relax underneath waving palm trees after a swim in the turquoise waves ... yep, it's pretty dreamy! But if you're looking for a totally different kind of vacation, we've got to you let you in on a little secret.
You've got to head to the interior island to find the best kinds of adventurous vacations, where you can go white water rafting, rappelling down waterfalls, and hiking to some of the most stunning views in the mountains — including the summit of the tallest mountain around!


---
READ NEXT: All of the best vacations in the DR, all mapped out
---

We're sharing all about Pico Duarte here, the tallest peak on the island of Hispaniola, and the tallest mountain in the whole Caribbean. It's a popular thing to trek to the top and admire the sunrise cresting over the peaks.
About Pico Duarte
Ready to learn a bit about this towering peak? Pico Duarte is found in what is sometimes called the "Alps" of the Dominican Republic, a fitting name considering the scope and characteristics of these mountains. Pico Duarte is the tallest, coming in at 10,174 feet, though a nearby sister peak comes in just a few feet shy of that height. These mountains are part of the Cordillera Central Range which spreads through the interior of the Dominican Republic and spreads into Haiti, covering hundreds of miles. You'll find a cooler climate here, with chilly temperatures along with plunging green valleys and stunning sunrise views from the top.
People have climbed this mountain for decades, with the first registered climb accomplished by Sir Robert Hermann Schomburgk in 1851. The height was recorded, then debated by a handful of other hikers until being officially measured at 10,174 feet.
In honor of Juan Pablo Duarte, the mountain was renamed Pico Duarte after one of the DR's founding fathers. If you make it to the top, you'll find a bronze bust of the founding father, as well as a cross and a waving Dominican Republic flag.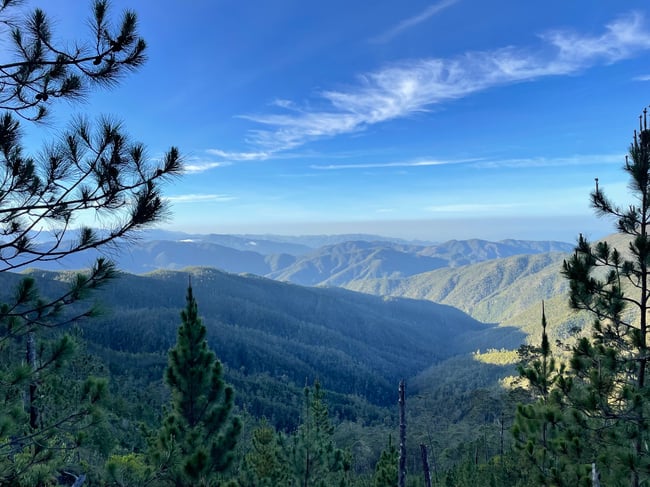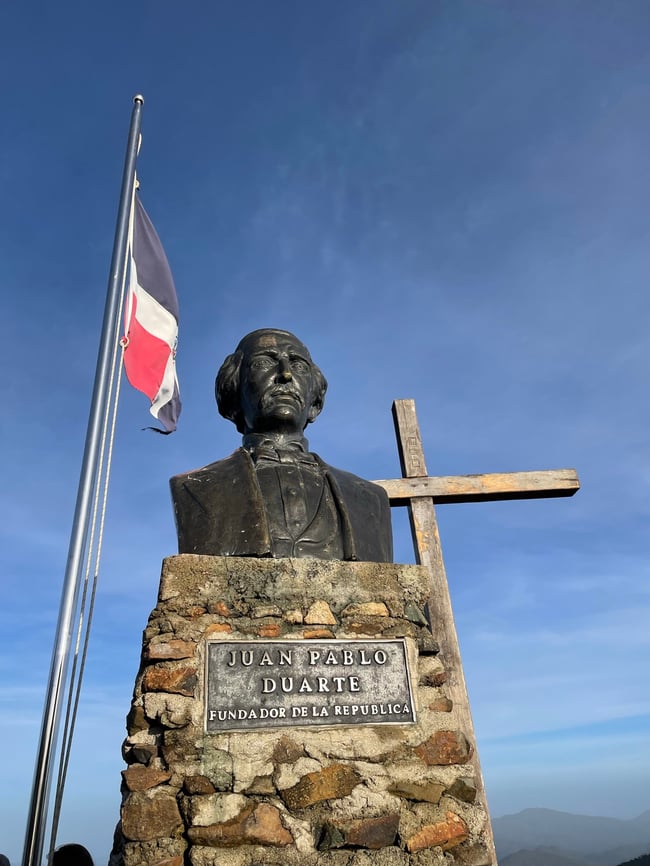 What To Expect During The Hike
We've talked to Alex, who tackled this hike with some of his group members during their semester with ILP — volunteers are here teaching English part-time, with weekends off and vacation time to experience everything the DR has to offer, including the towering peak of Pico Duarte.
Here's what Alex had to say about their trek:
"It's a 28-mile hike to the peak! It was 11 miles on the first day, 6 miles on the second day, and 11 miles on the last day. The hike was quite an adventure. It started pretty easy ... for the first mile! After that, it starts to get pretty steep very fast! The first day was super fun and we had a ton of energy, so it made the uphill a lot easier (there are so many rest stops along the way that makes for good breaks)."
There are multiple routes up to the summit, but the most popular follow this outline: "On the first day, you hike to a camp called La Comparticion and stay the night there. The camp had a little cabin that we stayed in, a kitchen area, and a covered campfire area. The first day of the hike ends up being around 6-8 hours. On the second day, we hiked to the peak for sunrise so plan on waking up pretty early if you are interested in sunrise (around 4:00 AM). Then, once you hike to the peak, you can hang out for a little bit and soak up the sights before hiking back down to camp. We had the rest of the day to hang out, play games, and explore before hiking back the next morning (which doesn't take a long, because it's mostly downhill)."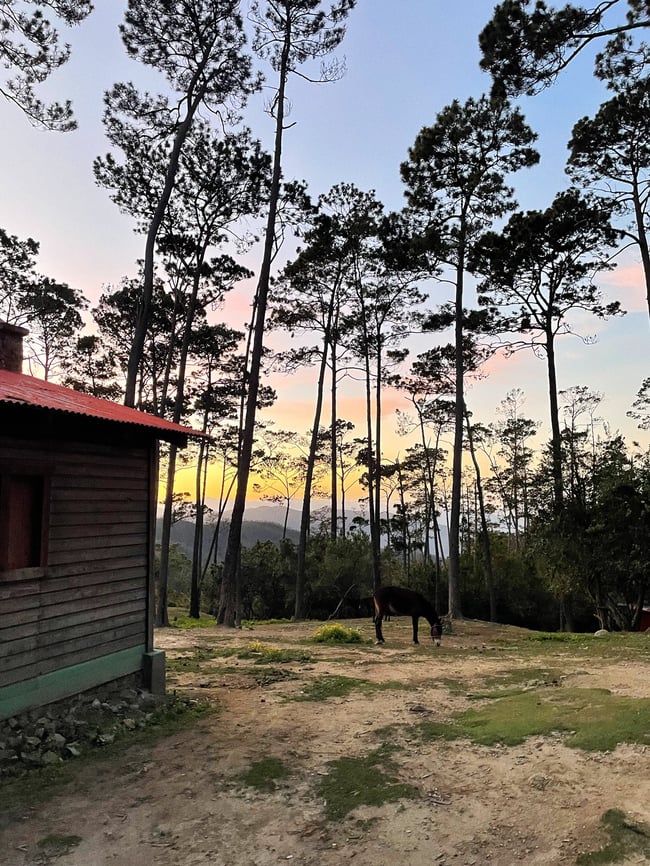 If you're tight on time and are a more experienced hiker, you can hike up and down in just two days, but most groups suggest that it's nice to have a break and a bit of a rest by staying the second night at camp. Just know it's an option if you want it.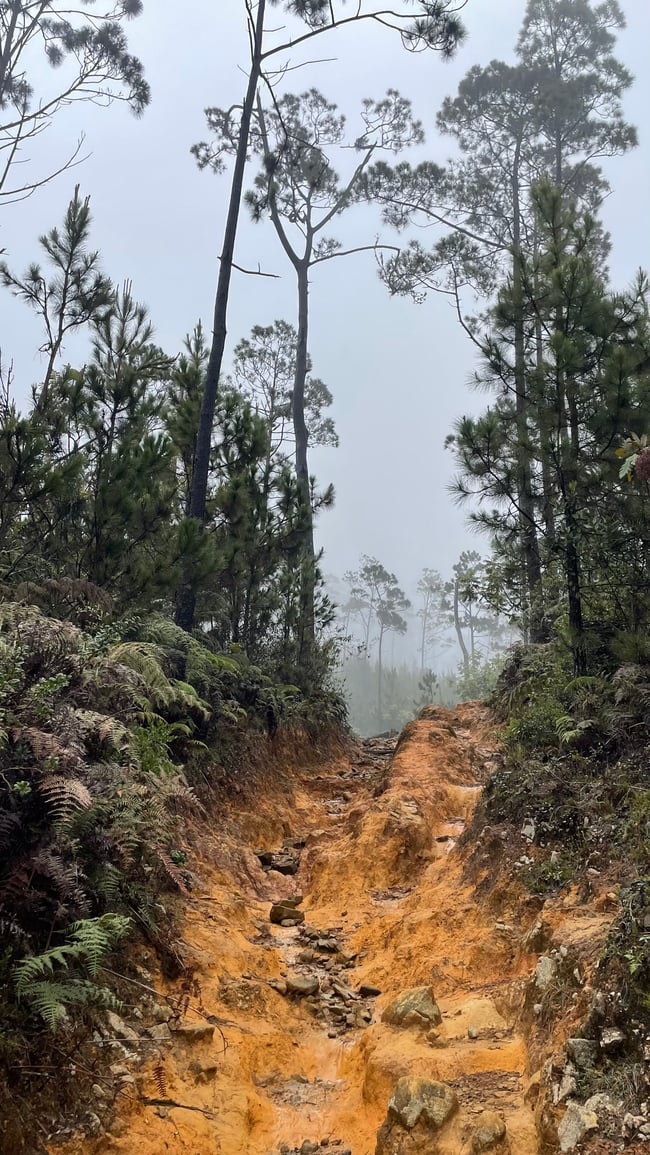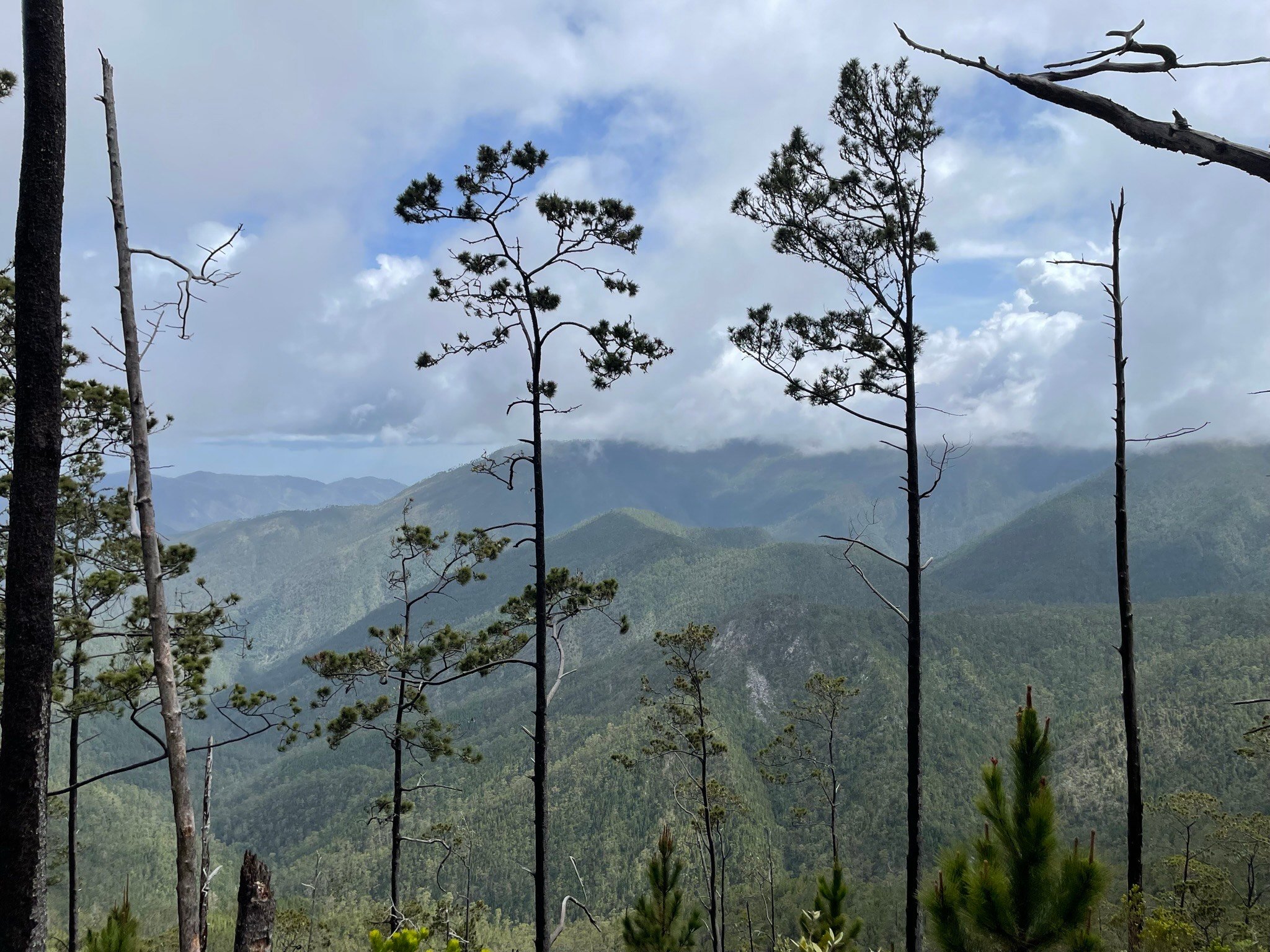 Going With A Tour
Guides (and mules) are required on this hike, which makes your journey much easier. There are several tour companies out there who arrange details for your group to summit, so feel free to look around and find the best fit for your situation.
Alex and his group decided to go with a tour group called Jarabacoa Eco Adventures, and had some glowing recommendations about their choice. "I would highly recommend them! They arranged all transportation to and from the bus stations, provided a hostel for our group the night before the hike, and provided meals. David and his team are the friendliest and most helpful guides out there. They were easy to communicate with and very patient with our group. We found a few other tour options but decided to go with Jarabacoa Eco Adventures because they had the best prices!
Since they prepare all the accommodations for you, it makes everything way less stressful when planning. They also provide mules to carry extra gear (we just hiked with our personal backpack and water). The mules handled the sleeping bags, food, camp equipment, and everything else. The mules are also available if you get tired or injured and need to rest for a little bit."
We mentioned that meals are included, which include a range of things. For his hike, Alex said included meals were "typical Dominican and camping style dishes. One of the common meals was Sancocho (pictured below). They also had PB & J sandwiches, with meat sandwiches, chips, gatorades and other lunch snacks. Rice and soups and other lightweight foods that the mules could carry were also included".
Here's their website and Instagram account.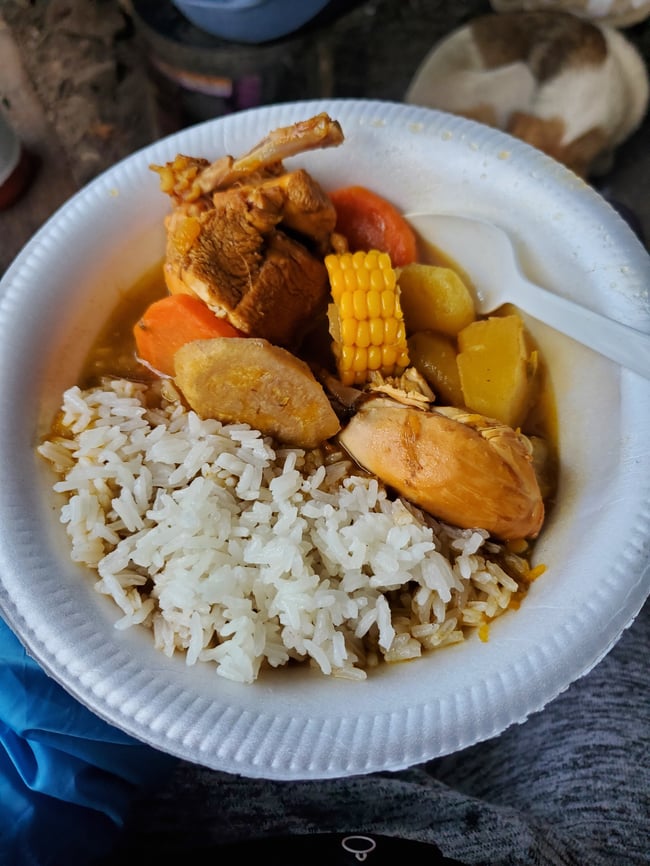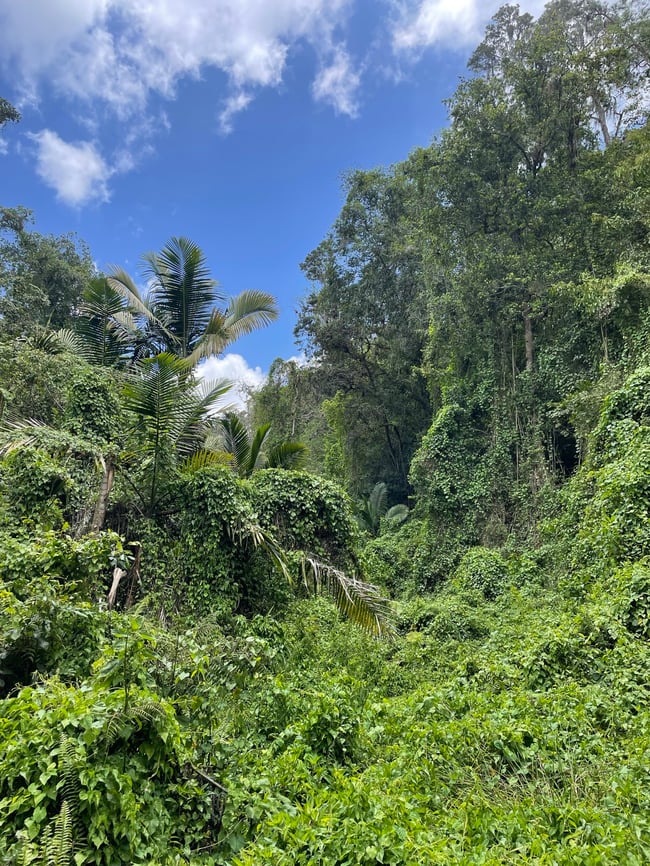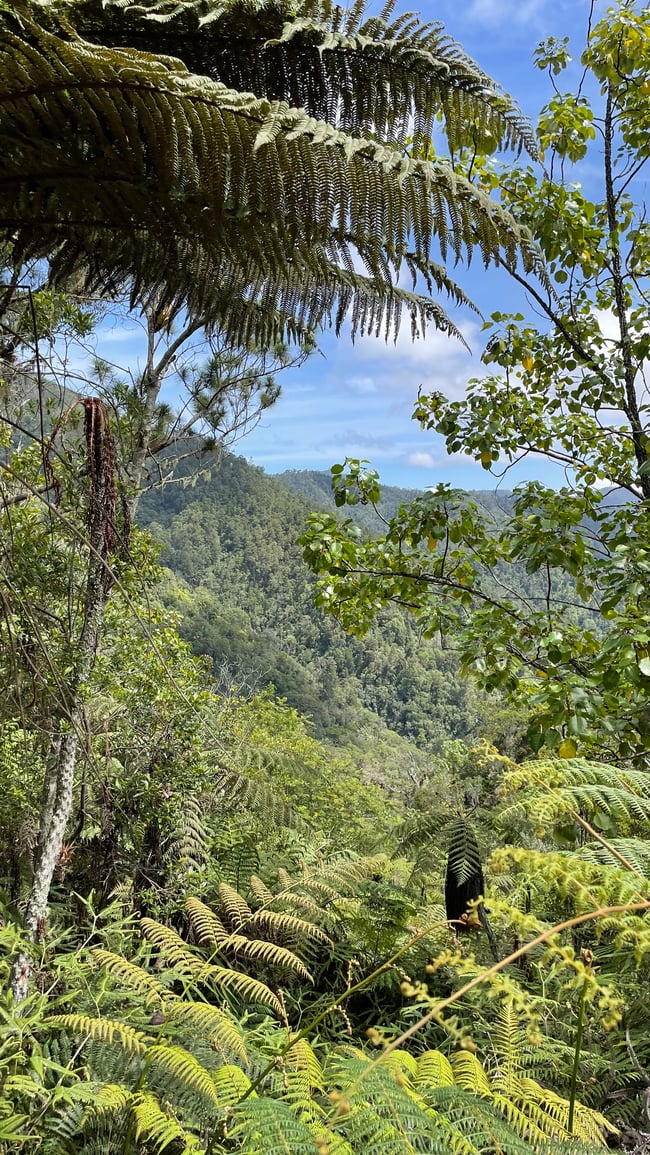 A Few Tips
Fitting This Into Your Itinerary
You'll find Pico Duarte in the middle of the island, nearby places like Jarabaco and Constanza. Since it is a 3-day hike, you'll want to plan travel time and other details to help round on your vacation. Here's how Alex and his group fit it into their plans:
"Our group decided to start with the hike for the first 3 days, then afterward, headed to Punta Cana for 3 days, then ended the vacation in Santo Domingo. Personally, I loved that order because we were able to just chill after the hike and go at our own pace."
You might also want to fit in time in Jarabacoa since you'll be so close. Most groups travel here via Puerto Plata, and take a bus to La Vega on Caribe Tours, before connecting to another bus to Jarabacao. Most tour companies arrange transpo for your hike from Jarabacoa, which just happens to be another favorite vacation spot, full of adventures. Get more about Jarabacoa here.
Things To Pack + Keep In Mind
Once you get high enough, it does start to get colder, so bring a jacket that you can access easily while hiking to slip on and off to help regulate your temperature during the trek. It can also start raining at a moment's notice, so having a poncho or light rain jacket is also recommended.
You will want some cozier layers to wear in the evenings (it gets chilly at the campsite). Pack warmer pajamas and hang out clothes to wear when the temperature drops — it's a nice break from the heat you'll find pretty much everywhere else on the island, but be prepared for temperatures around 35° (or colder).
You'll encounter all sorts of terrain on your hike: misty trails high in the clouds, lush, tropical valleys, and rocky (and sometimes muddy) paths that wind their way slowly uphill. Bring sturdy shoes (or two) for your hike.
Meals are typically provided by your tour company (but double-check). However, you will want to have snacks to munch on during the hike. Drink mixes are also nice to add to your water to help give you an energy/electrolyte boost, and help you stay very hydrated while you hike.
Some past groups did a little training just to know what the altitude would be like on the hike (one group hiked to the Christ Statue in Puerto Plata a few weeks prior to Pico Duarte). Morning runs were also recommended to help you prep for the climb.
A Little Advice
Make this happen during your semester! It's one of those once-in-a-lifetime adventures that could be exactly what you're looking for. Here's what Alex had to say — "I highly recommend this hike to anyone looking to get outside of their comfort zone! The hike is considered for beginner to moderate hikers. It was pretty challenging, especially in altitude, but it is definitely doable as long as you can endure and push through. Be willing to try something hard in exchange for a wonderful experience, it's so worth it."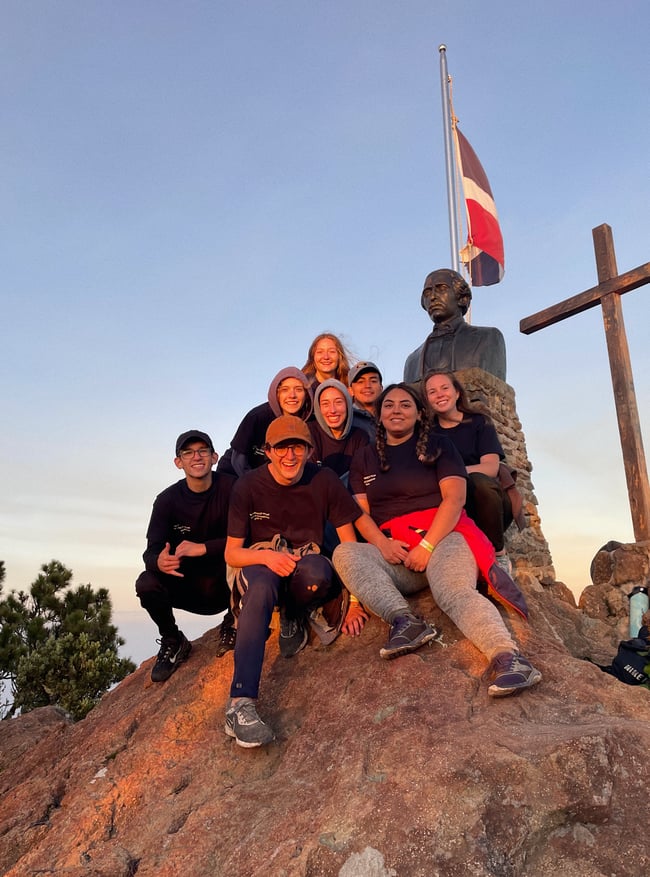 This island is hiding more than you think
The Dominican Republic is so more than the beaches and resorts … our ILP volunteers get the best of what the DR has to offer by living here for a semester.