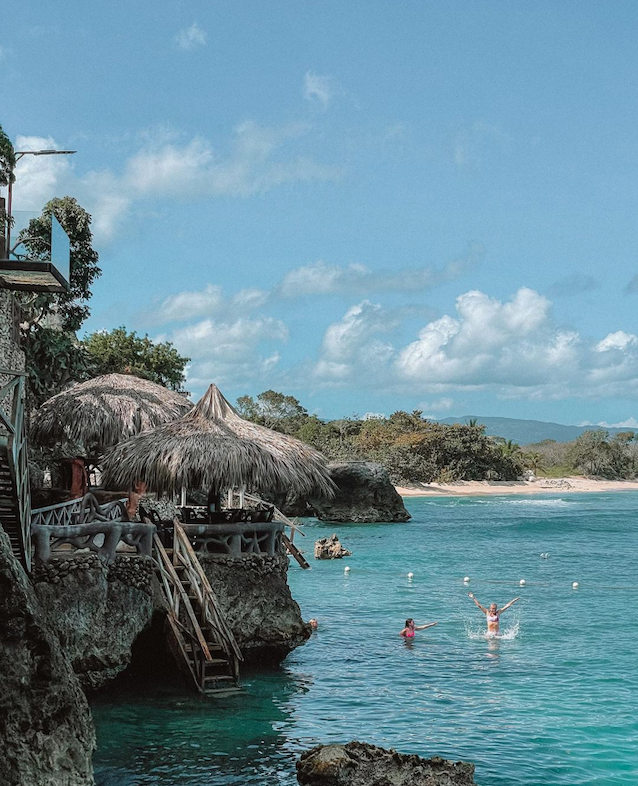 Spending time near Puerto Plata in the Dominican Republic? Know the best beaches, our fav snorkel spots, the go-to eateries, and dreamy resorts to stay at for when you need a nearby getaway.
There are oh-so-many things we love about the Dominican Republic, especially when it comes to easily-reached day trips and weekend spots from a favorite place, Puerto Plata. All the go-to vacations are in one spot, so you can take your pick, no matter what you have time for. But are you ready for even better news for anyone looking to volunteer with ILP? Because you're here all semester, you will have time to hit every one of these gems at least once (or more if you want!)


---
Want to live in the Caribbean for an entire semester? Learn more here:
Volunteer in the Dominican Republic
---

If you find yourself close to Puerto Plata (and have had your fill exploring our favorite things to do in Puerto Plata) and want to explore some of the dreamiest islands, prettiest stretches of beach, or waterfall-filled adventures, this is the list for you.
Nearby Day Trips
These are spots that are easily reached from Puerto Plata and are either an all-day kind of adventure, or a favorite beach volunteers like to visit just for the day. There's a spot or two that some ILP volunteers who are living in Puerto Plata like to turn into a weekend spot, so you'll find those in the next section, with a little disclaimer that it can also be a day trip if you're short on time. You'll also find the time it takes to get to these locations from Puerto Plata, so you can easily see how they fit into your itinerary.
27 Waterfalls
This is an all-time favorite when it comes to things to do in the Dominican Republic. Hidden up in a tropical canyon is a string of waterfalls that you can hike to and slide down, swim under, and jump off on your way back down. You'll head up with a tour guide (it's required) who will help make sure you're jumping off of safe spots, might explain some of the history of these gorgeous falls (some of which have ancient legends stemming back from the Taino Indians who first discovered this gem), and have your fill of the baby-blue water here.
There are a few different tour options to choose from, depending on how many waterfalls you want to see, and how much time you have. Plan on spending 2-3.5 hours on your tour. You can find all the info you need about visiting 27 waterfalls here (and pictures).
From Puerto Plata: It's a 40ish minute gua-gua ride and a 20-minute taxi ride. Get more directions on the post linked above.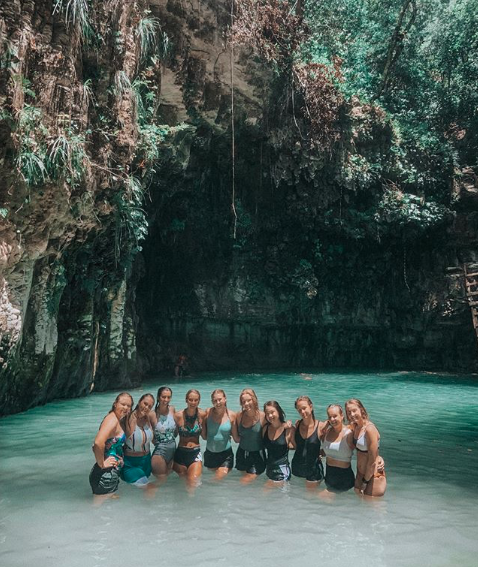 Dudu Lagoon + A Few Beaches
Ready for what could be the best day trip on this list? Come take a swim in this crazy blue lagoon and get the insider info to a few beaches to visit while you're in the area, too.
Dudu Lagoon is a natural cenote with crystal clear water which contributes to the stunning color. The main highlight here is zipping over the water via biplane before letting go and splashing in the crystal pool. The whole thing is surrounded by rocky cliffs and lush jungle, making for a pretty spot to take a swim.
Get all the details about Dudu Lagoon here, plus info about some ah-mazing beaches you'll pass on your drive over. You won't want to miss the info in that post, with details about what could be our favorite beach on the entire island, Playa Grande.
From Puerto Plata: It's a 2ish hour drive in a car (recommended) or twice that in a gua-gua. Get way more direction info and tips to plan your own trip here on the post linked above — just know that you'll want an ENTIRE day or longer for all the things to do here.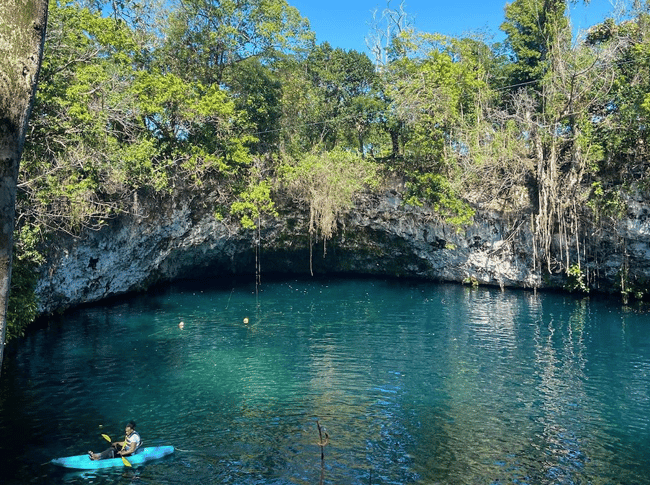 Fricolandia
This is the resort-swimming spot of your dreams, complete with a pool that overlooks the ocean, thatched hut rooftops that offer a bit of shade before you climb down the wooden stairs straight in to the turquoise water of the ocean — our volunteers love spending a weekend (or even a quick day trip) at Fricolandia. You'll want to make sure to bring your camera, because this place is extremely picturesque!
The resort has a grill which makes for a great lunch spot after you've had your filling of swimming for the day. Find favorites on their menu like freshly caught fish, pasta dishes, and sodas and more.
We've written a post all about it to help you plan your trip to Fricolandia!
Getting Here: From Puerto Plata, it's about an hour and half drive, meaning you can swing this place as a day trip if you'd like, but it also makes for a really fun weekend getaway if you stay overnight.

Paradise Island
Warning — this is one of the more touristy things you can do in the Dominican, but our volunteers come every semester (sometimes more than once a semester) because it's oh so fun. And the water is oh SO perfect. I mean ... just take a look at one photo and you'll be adding this island to your weekend plans too.
Learn more about planning your trip to Paradise Island here.
La Rejoya Waterfall
To start off, we love that the falls are quite the photo op, have a place for you to jump in and swim around, and are found close enough to popular spots like Puerto Plata (or Cabarete) which makes visiting a cinch. You'll get jungle time during your hike, then can enjoy the impossibly pretty falls hidden in the lush trees and plants at the end of your hike. Not many people know about this place, meaning you'll likely have it all to yourself.
This waterfall is more of a local's secret, with just a couple of tour options available from Puerto Plata, making it an easy thing to do on a free day. We're spilling all the details you need to visit here happen, here.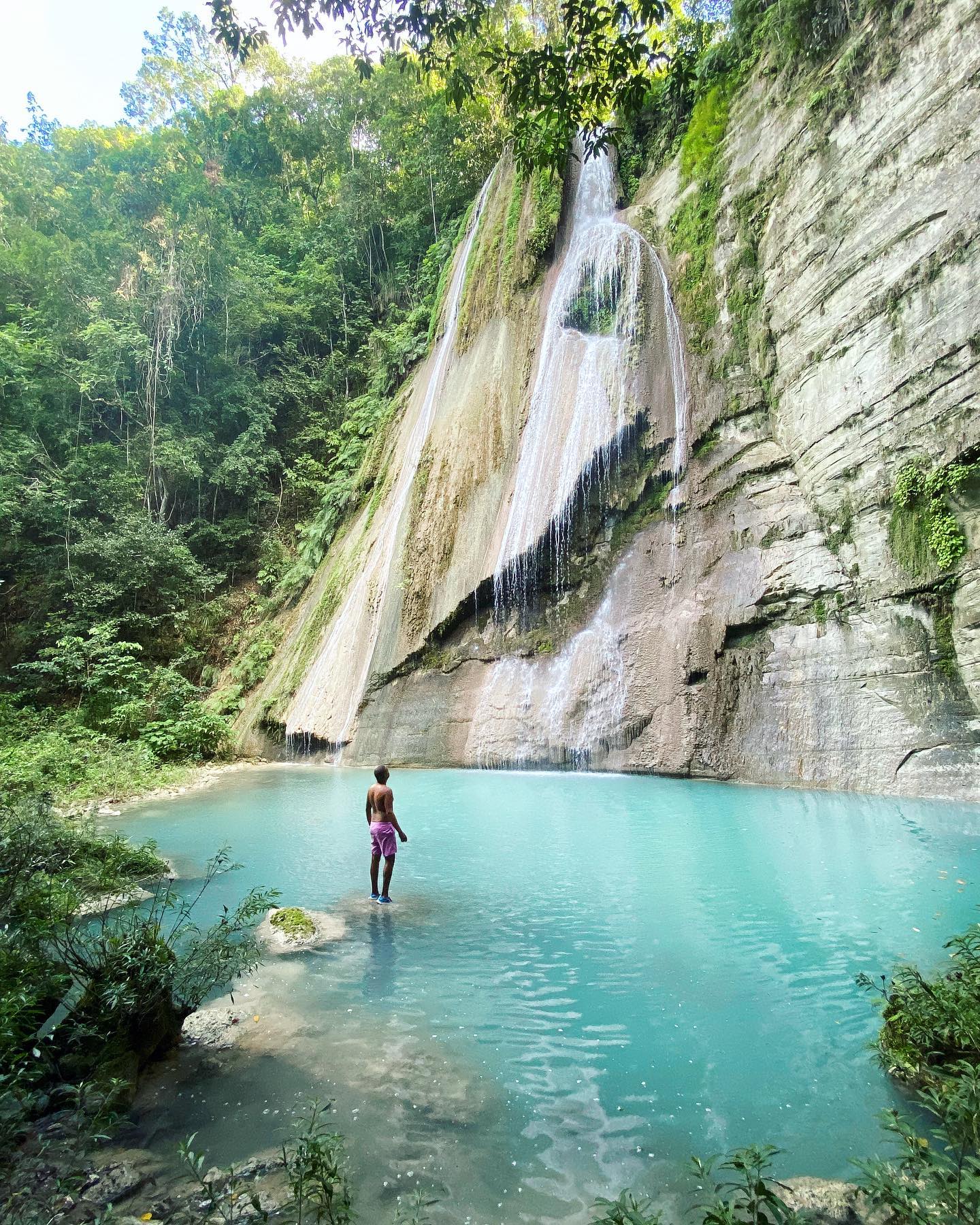 Photo @carlostorresrd
Weekend Spots
ILP volunteers are only teaching English part-time, with free time during the week and every weekend off, perfect for hitting all of these spots. You'll find the same info for the weekend spots, a little teaser about what to expect, and a link to a blog post with way more info, along with info on how to get here from Puerto Plata.
Sosua + Playa Alicia
Sosua (and the sister beach, Alicia) are two of the most popular places to spend a weekend for our volunteers in the Dominican Republic. Sosua is a pristine beach is a fav for finding sea glass, it's home to one of the best places to snorkel in the DR, and there are plenty of little excursions to keep you busy. Plus, just a taxi ride away from the surf and sand is a jungle reserve full of monkeys you can hand feed and interact with. Hanging out with these cuties at the monkey rescue center is a go-to day trip when you're in Sosua!
Just down the coast from Playa Sosua is a sister beach, Alicia. It's essentially a much smaller and quieter version of Sosua, with fewer shops, fewer restaurants (and often fewer crowds and vendors that want to sell to you), but still has the gorgeous soft sand and crystal blue water. We love Alicia, and the fact you can visit both because they are so close to one another.
Insider tip: This is one spot that works as a day trip, but since there is so much to do we're putting it as a weekend spot. All the details you need about Sosua + Playa Alicia are here, in one spot.
Getting Here: Call a gua-gua or go by car, and be there in about 30-45 minutes from Puerto Plata. Again, since it's so close, it works as a day trip but volunteers also love spending two days here over the weekend.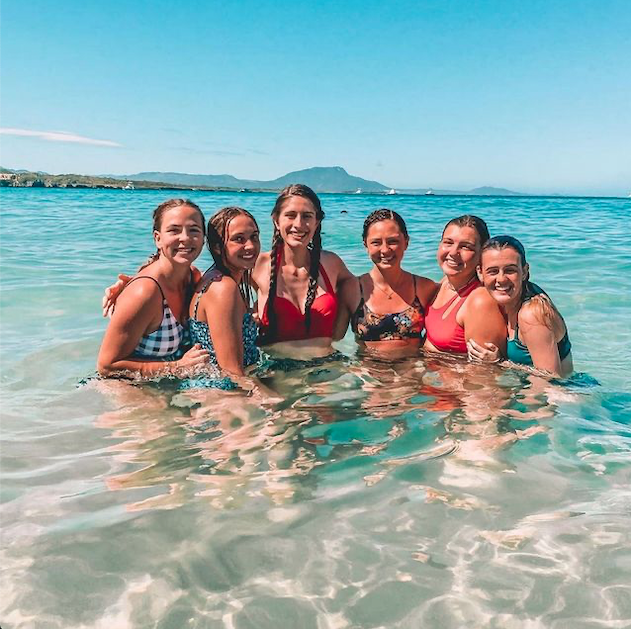 Jarabacoa
Ready for jungle-filled adventures? Come to Jarabacoa for waterfalls, horseback rides through the rainforest, go river rafting, and test your hand at canyoneering — we said this place was full of adventures! Jarabacoa is a favorite vacation spot for the weekend, or a smidge longer if you have the time. Get a peek at what's waiting for you in Jarabacoa, here.
Getting Here: It's about a 2.5-hour bus ride from Puerto Plata, with all the details you need about booking your tickets on that link above.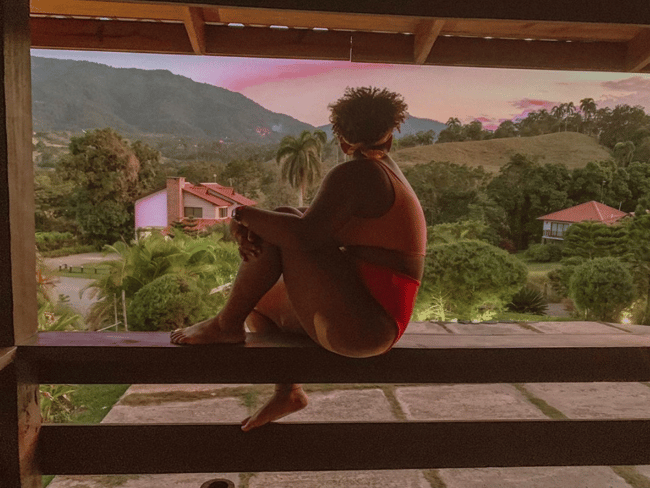 Santo Domingo
A visit to Santo Domingo is a must-see spot for a few reasons. One major highlight is the Los Ojos park, a stunning collection of limestone caverns you'll want to get about a hundred pictures of ... but we also love renting bikes and wandering around the Zona Colonial to spot buildings like the Ozama Fort, which was built during Columbus' lifetime.
Santo Domingo is also the best jumping-off point to some of our favorite island adventures. If you have some extra time, hop over to places like Starfish Island or the beaches around Barahona. Find all the details you need for a trip to Santo Domingo like where to stay, fav places to eat, info about how to spend your time in the city, and other info.
Getting Here: This capital city may be found on the other side of the island, but buses make it easy to reach this spot from Puerto Plata on a weekend. A Caribe Tours bus can get you here in about 3.5 hours (find more info about getting to Santo Domingo from Puerto Plata on the link above).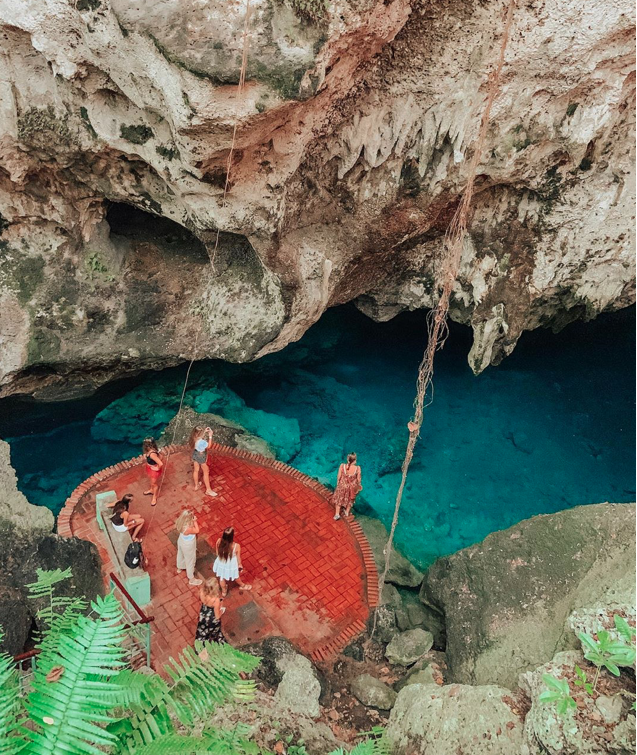 Samana
We love Samana so much, it's worth cramming into a weekend if that's all the time you have ... but it's really best to spend 3-4 days here if you have the chance! Samana's a little peninsula that juts out on the eastern coast of the island of the DR, full of dense jungles and rimmed with beautiful beaches, letting you choose between staying in a treehouse village in the thick rainforest, or snagging an AirBnB around beaches full of golden sand and Caribbean-blue beaches. There are snorkeling tours, the chance to go whale-watching, hike to waterfalls, and more around Samana! See why we recommend a bit more time if you can?
Get all the details about Samana here (along with a few dreamy pictures).
Getting Here: Caribe Tours is your best bet from Puerto Plata, about a four-hour drive.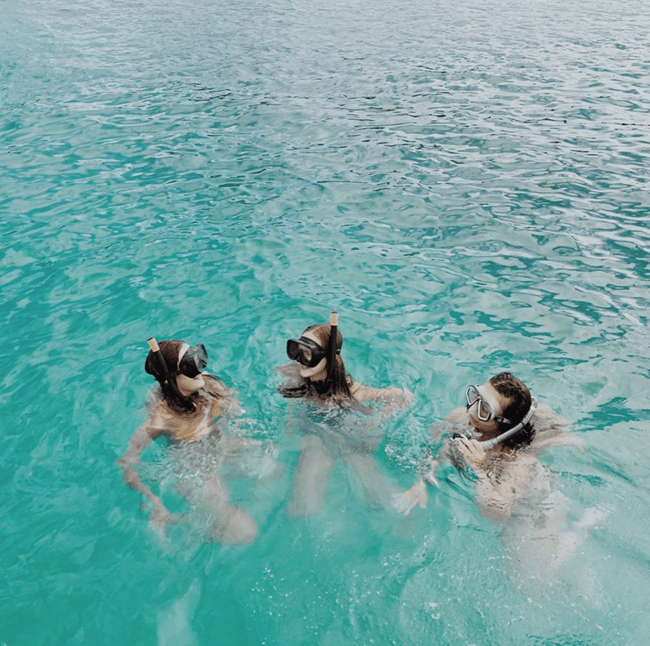 Monte Cristi
Keep heading west from Paradise Island, nearly to the Haitian border, and you'll find this charming little spot. Because it's a bit further to get to it tends to feel a bit less crowded than other really touristic parts of the Dominican. And that's just part of why volunteers are loving it! Travel time getting here from Puerto Plata looks like taking a 45 minute bus to Santiago and then a two hour ride from there on another bus, so volunteers typically choose this spot as a quieter weekend getaway.
Check out this blog post to learn more about planning a trip here.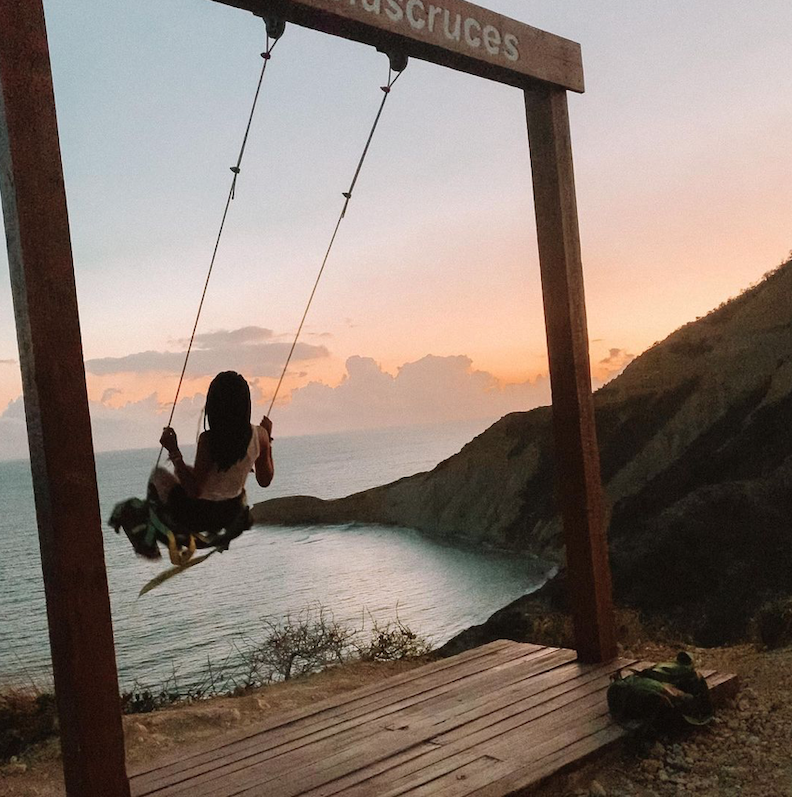 Getting To These Places
You'll notice that most of the direction instructions to these places are via gua-guas. These are basically a public van and are your most affordable option (think of it as a mix between a taxi and bus). Gua-guas are typically white vans that drive a certain route, but people get on and off when they want, and the gua-guas only leave when they are full. They're the most affordable way to get around the island. You can also call an Uber, taxi, or public car, they are just more expensive.
For places that are further away, there are a couple of long-distance bus companies we recommend.
You can find all the info you need about getting around the DR on that post — we have more info on how to catch a gua-gua, prices to expect, and booking details for those long-distance buses.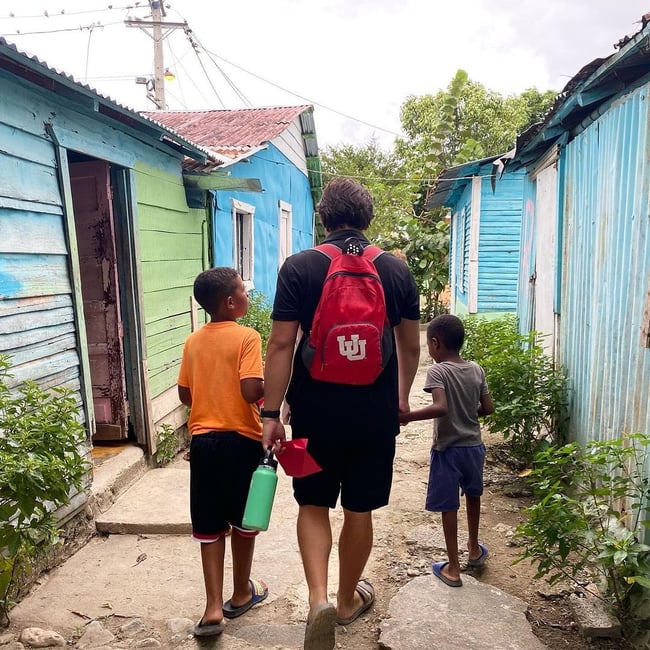 You know what's better than a vacation to the DR?
A semester abroad in the Dominican Republic! Just imagine four whole months of living in this beautiful country and volunteering with the International Language Programs. The Dominican Republic is home to one of ILP's humanitarian programs, along with all these pretty vacay spots. Volunteers here spend part of their time teaching English to underprivileged children, and part of their exploring this country. Learn more about becoming a volunteer for ILP in the DR!