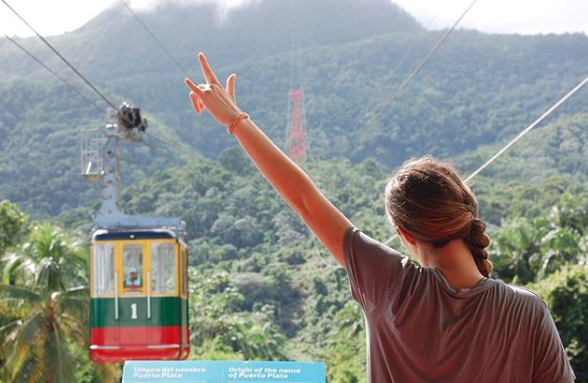 If you'll be a part of ILP's humanitarian programs in the Dominican Republic, you'll most likely be spending your Saturdays exploring nearby Puerto Plata!
Even though you're in the Caribbean to spend a semester volunteering and making a difference, you'll also have free time after a day of teaching English (you'll only be teaching part time). Volunteers also get weekends off and vacation days which means time to explore this island.

Though you're a bit spoilt for choice when it comes to cities and beaches to explore in the Dominican Republic, you'll want to come spend at least one of your days seeing this city!


---
See the best of the Caribbean
This Dominican Republic Destination is here to help.
---
Puerto Plata is a major city in the Dominican for a few reasons. The combination of being a coastal city with an international airport nearby makes it a no-brainer for many tourist visits. It's even a port stop for many Caribbean cities!
To be honest, we might love Puerto Plata the most as a jumping-off point to getting to so many nearby destinations, everything from Rio San Juan beaches, to playing with monkeys near Sosua, jumping through 27 Waterfalls, and boat trips out to Paradise Island. We've actually got a blog post dedicated to all our favorite day trips from Puerto Plata.
There isn't a ton to do in this city, a day or two is plenty to explore the main sites. But don't skip Puerto Plata entirely because it's charming and has its highlights! For ILP volunteers, we recommend coming to explore Puerto Plata on one of your first Saturdays to get a taste of your new home that you live so close to, and then maybe come again towards the end of your trip to say goodbye.
We've mapped out our go-to things while you're exploring Puerto Plata here:
The Downtown City Center + Nearby Walkable Areas In Puerto Plata
Head To The Town Square
First stop, head to the city center. Much of what you want to explore can be done on foot and this makes for a great home base for that. This is also a really common spot for taxis to drop you off at, so just let your driver know you want to go to the city center and they're bound to take you right to the heart of the things I'm going to mention below.
A lot of Hispanic cities have a city center or town square that is the heart of the city, and that's exactly what you'll find in Puerto Plata. It's not large, but it's a good jumping-off point. The square in Puerto Plata has a beautiful, historic church on one end, along with rows of colorful buildings lining the other sides. There are little souvenir shops, snack vendors, street art, and more! You'll typically find lots of taxis hanging out waiting to see if you need a ride somewhere as well as men with orange shirts that will approach you to see if you want a local guide to show you around the city. The tours are free (although a tip at the end is expected). It's up to you if you're interested in that, but you can also easily explore this city on foot on your own as well.
On the edge of the square (on the opposite side of the church) is an eatery called Heladeria Mariposa. They have yummy treats like ice cream and empanadas, but the thing I want to point out is their second floor — you can head upstairs to get a better view of the square.
Okay, there may not be a ton of attractions that draw you into Puerto Plata (especially when you know it's right next to so many gorgeous beaches), but hear me out ... it's so charming! One of my favorite things to do is just wander around the oh so colorful and cutie downtown streets with my camera.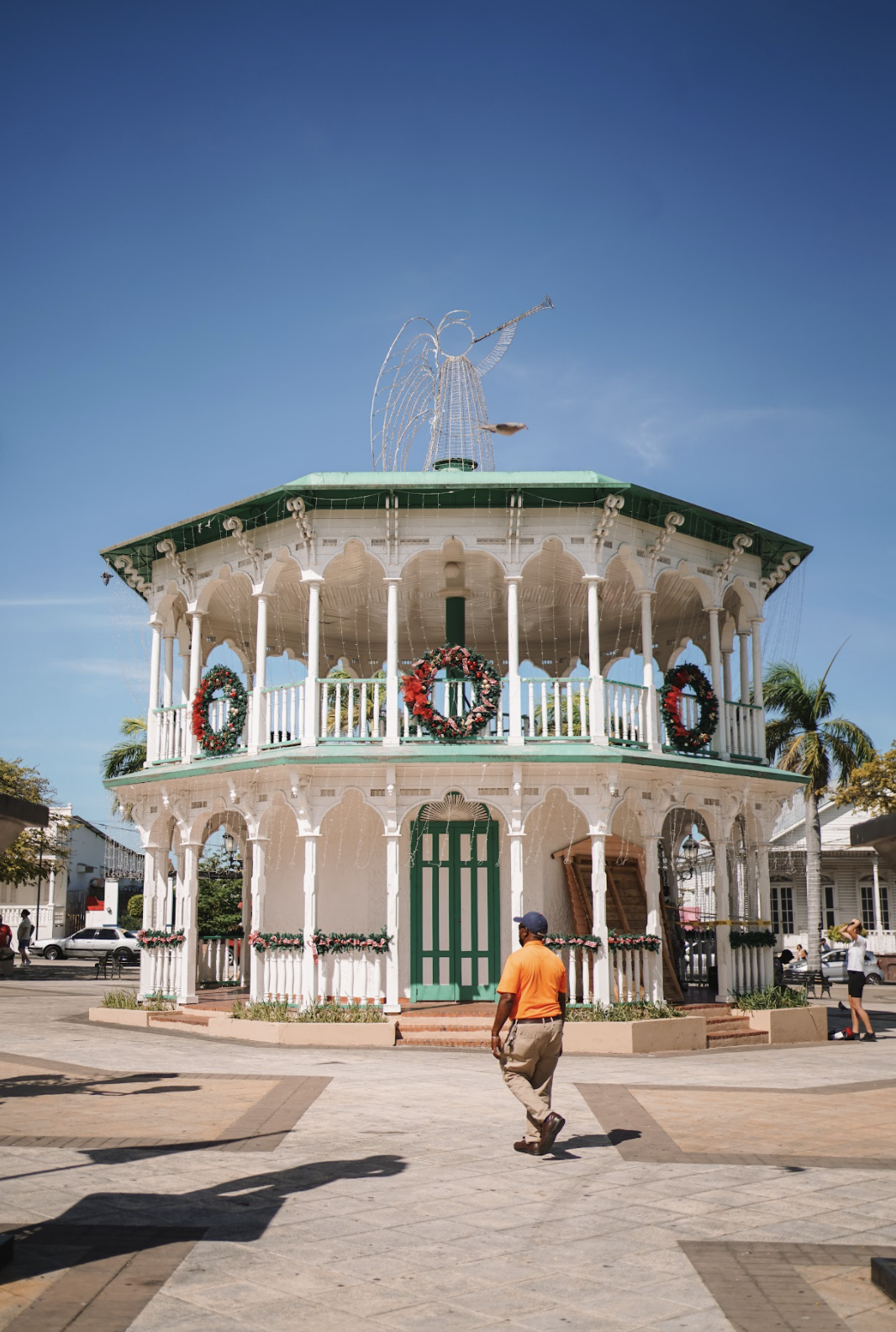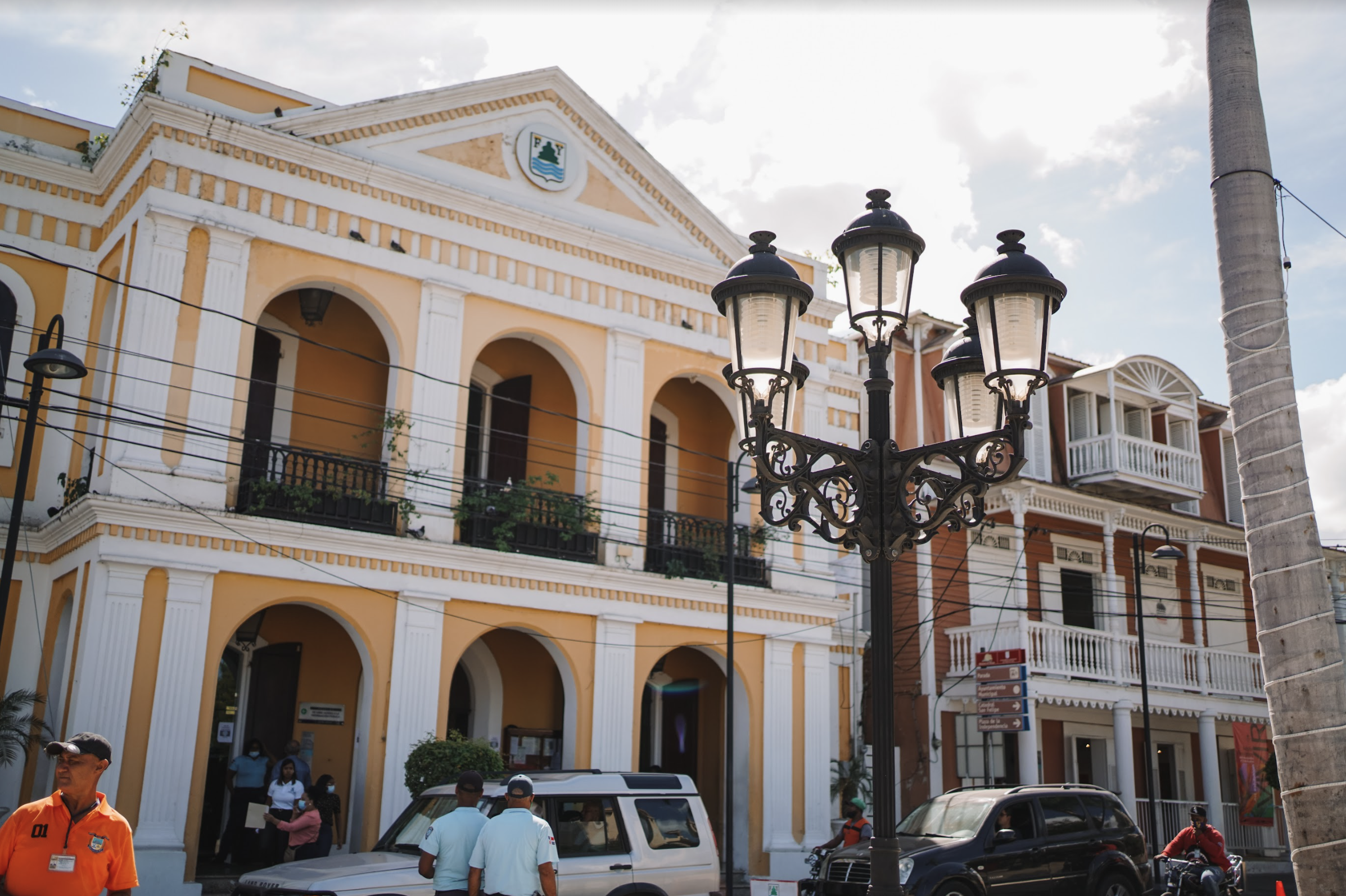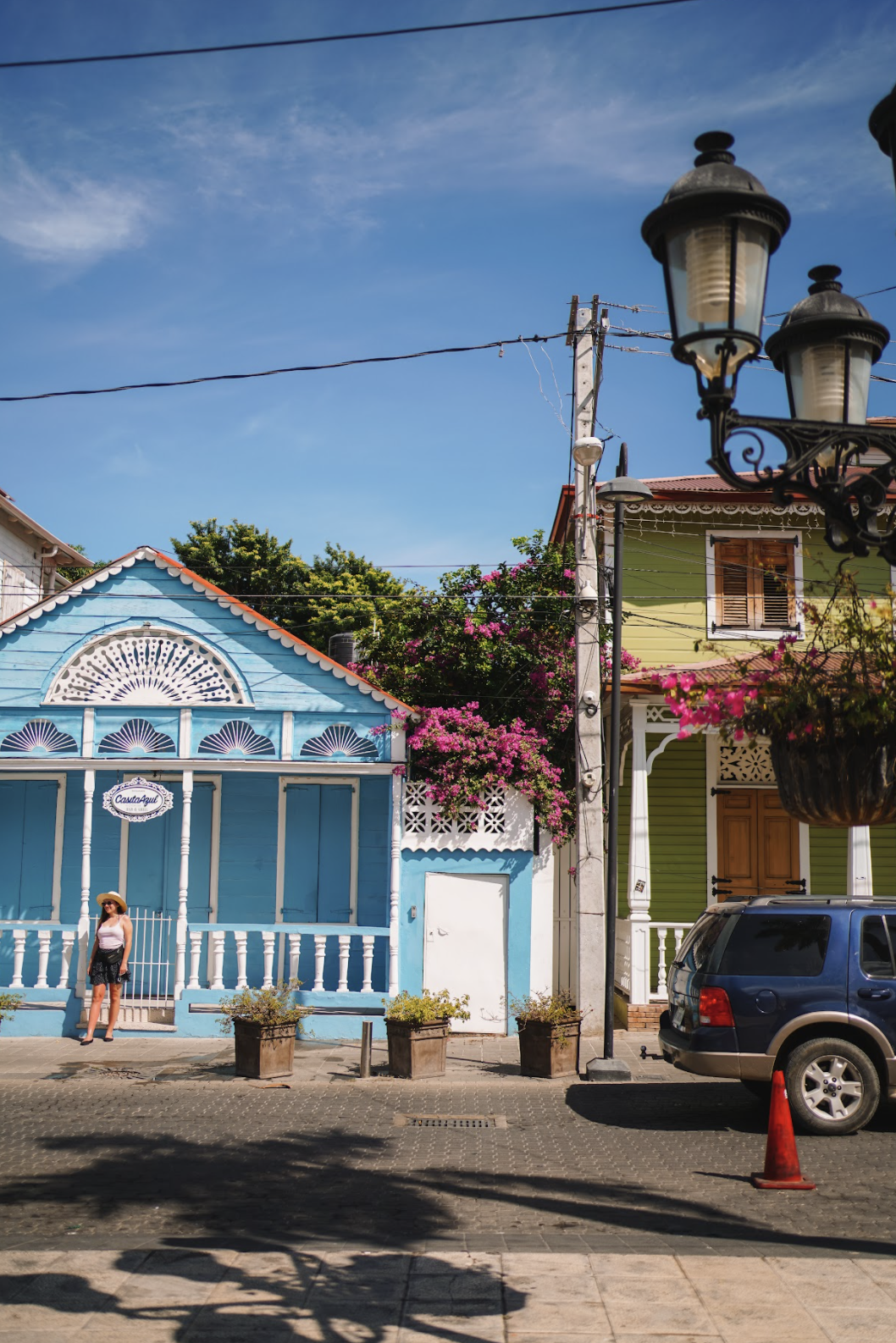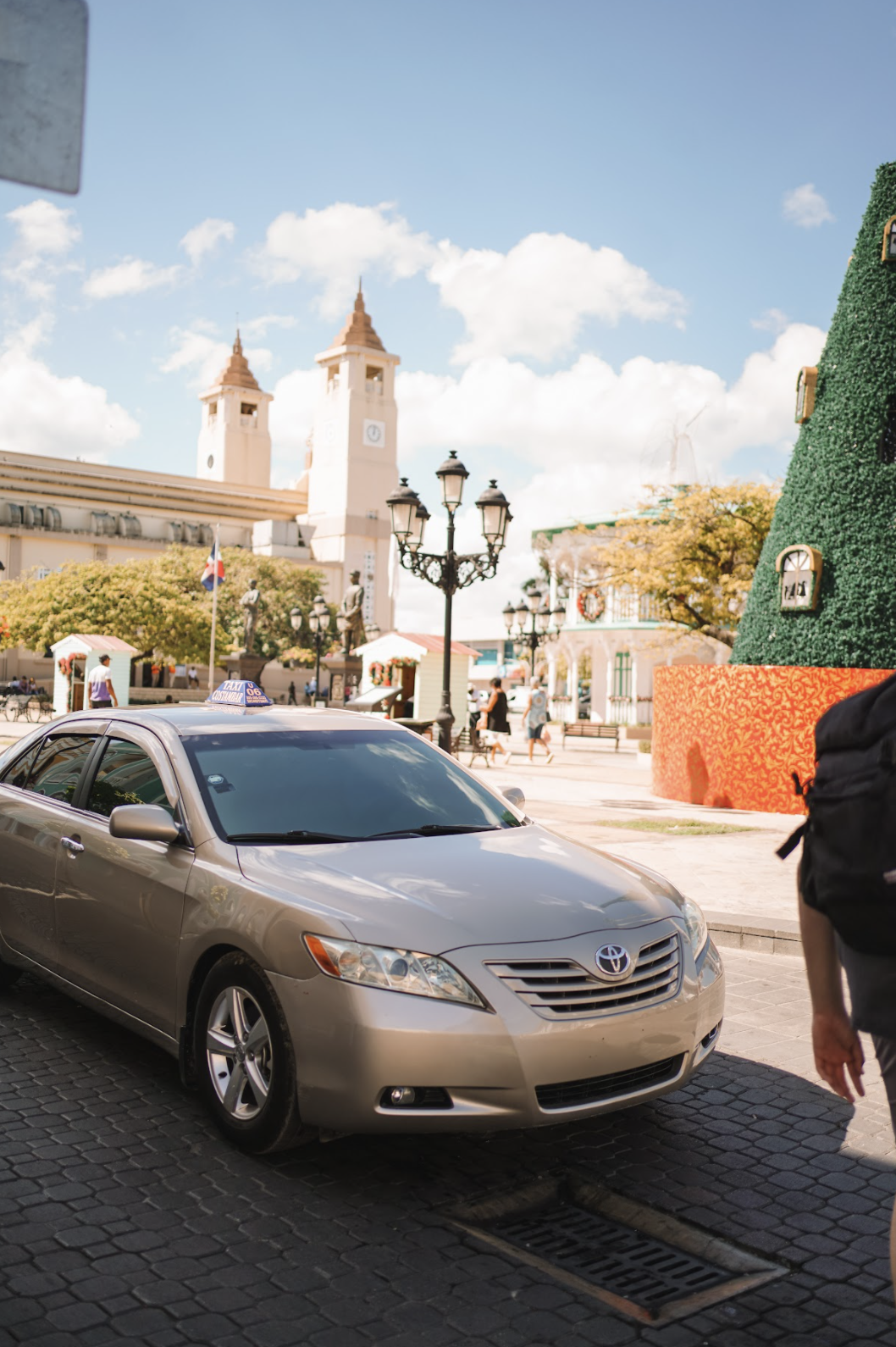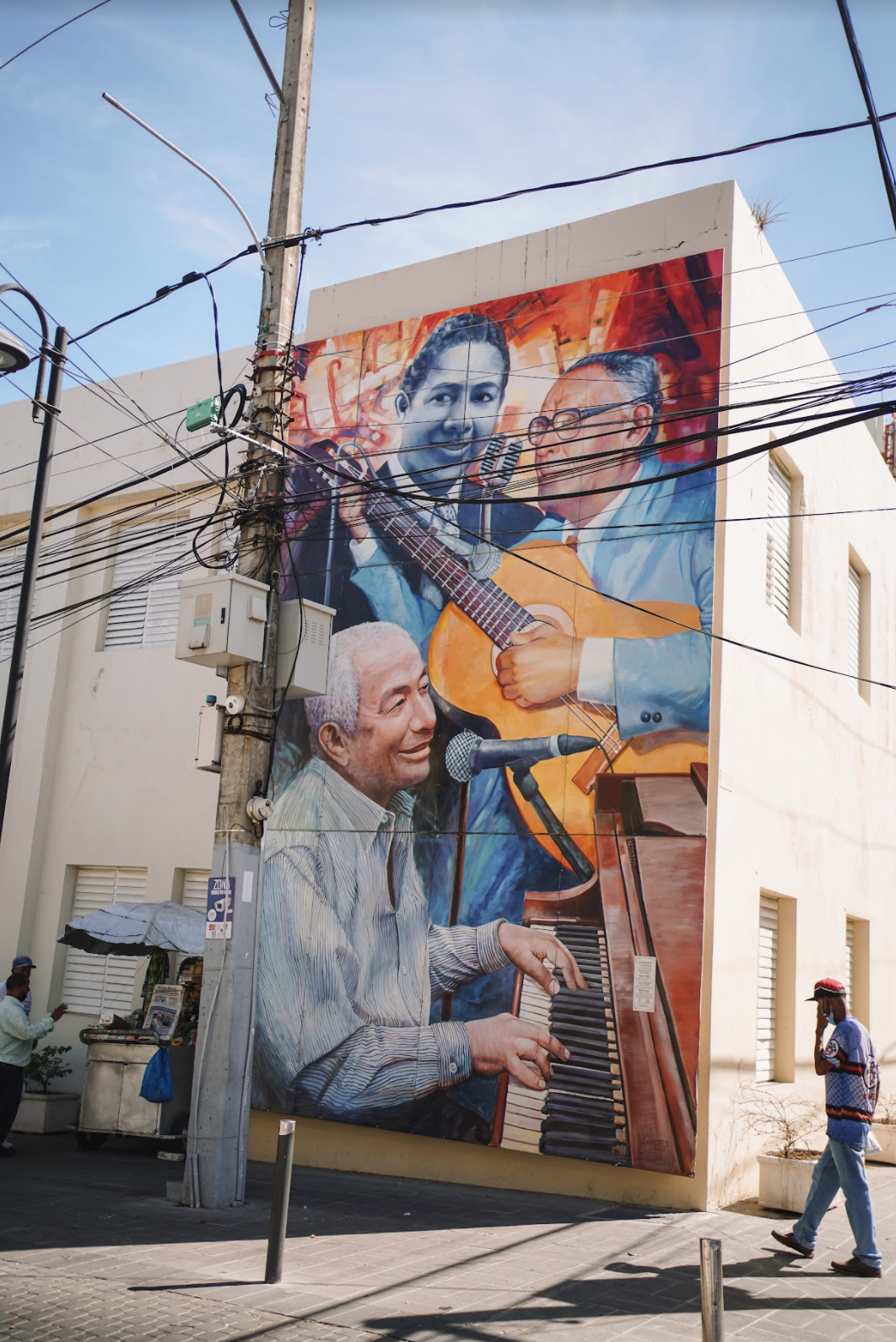 St Philip The Apostle Cathedral
On one end of the is this towering cathedral that you won't miss. It's an active church and you may hear bells ringing throughout the day that signifies the start and end of mass. When the doors are open you're welcome to come walk through and admire the design from the inside.
Find it: Located at the city center and on Google maps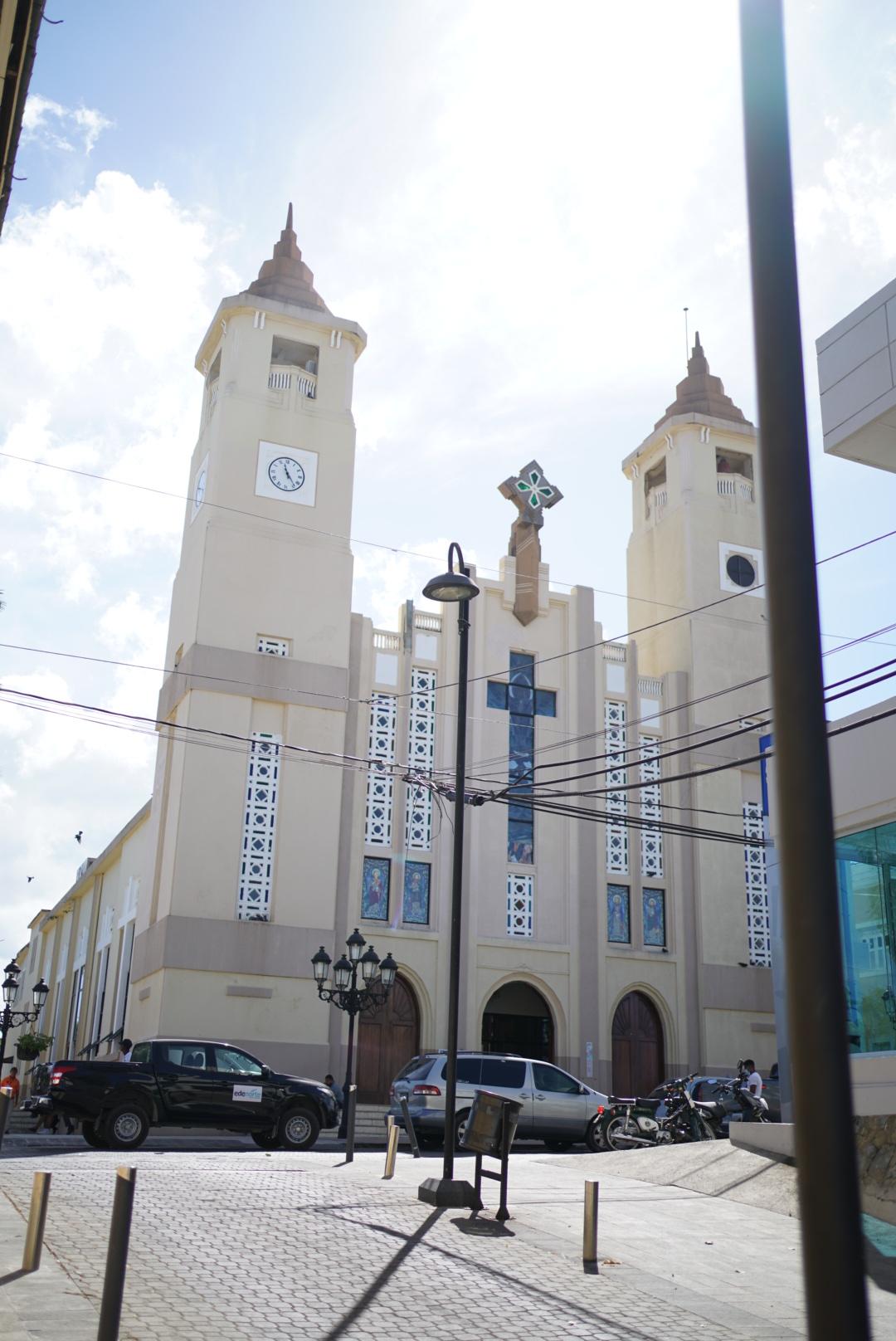 Grab A Bite To Eat
Before you head too far from the city center, know that some of our favorite ice cream shops are within eye sight so hang out for a bit and enjoy a treat.
The Chocolate Bakery And Cafe
It's a bakery and cafe, but besides cakes and coffee, you can find some yummy pizza, Mexican food, and other dishes you might be craving. Plus, you can get a stellar view of the main square of the city while you snack. It's a volunteer favorite. Find it just across the street from the square and on Google maps.
Usually open from 8:30 AM to 11:00 PM, except on Sundays where the hours are from 4:00 PM to Midnight.
Bon Ice Cream
The brand name for the ice cream is BON and the frozen yogurt is Yogen Fruz — find both in this store. Yogen Fruz is sort of similar to frozen yogurt and has a really creamy consistency. We have volunteers that like either the ice cream or the Yogen Fruz more, it's a bit of a war on which is best!
You'll find all sorts of flavors. If you choose the Yogen Fruz, you'll pick 3 flavors that are then blended up into the Yogen Fruz — they have all kinds of fruits like strawberry, cherry, pineapple, blueberries, and peach as well as sweets like chocolate, Oreos, brownies, and coconut. Prices are around $2-3 USD depending on the size you get. A small is usually plenty, or a medium is great for splitting with a friend (unless you're really hungry, no judgments from me).
It's right around the corner from both the Chocolate Bakery and the city center and "is our favorite stop" according to one ILP volunteer. It's right on Calle Separacion and Calle Beller but should pop up if you type in "Helados Bon" into your phone's GPS (and here on Google maps).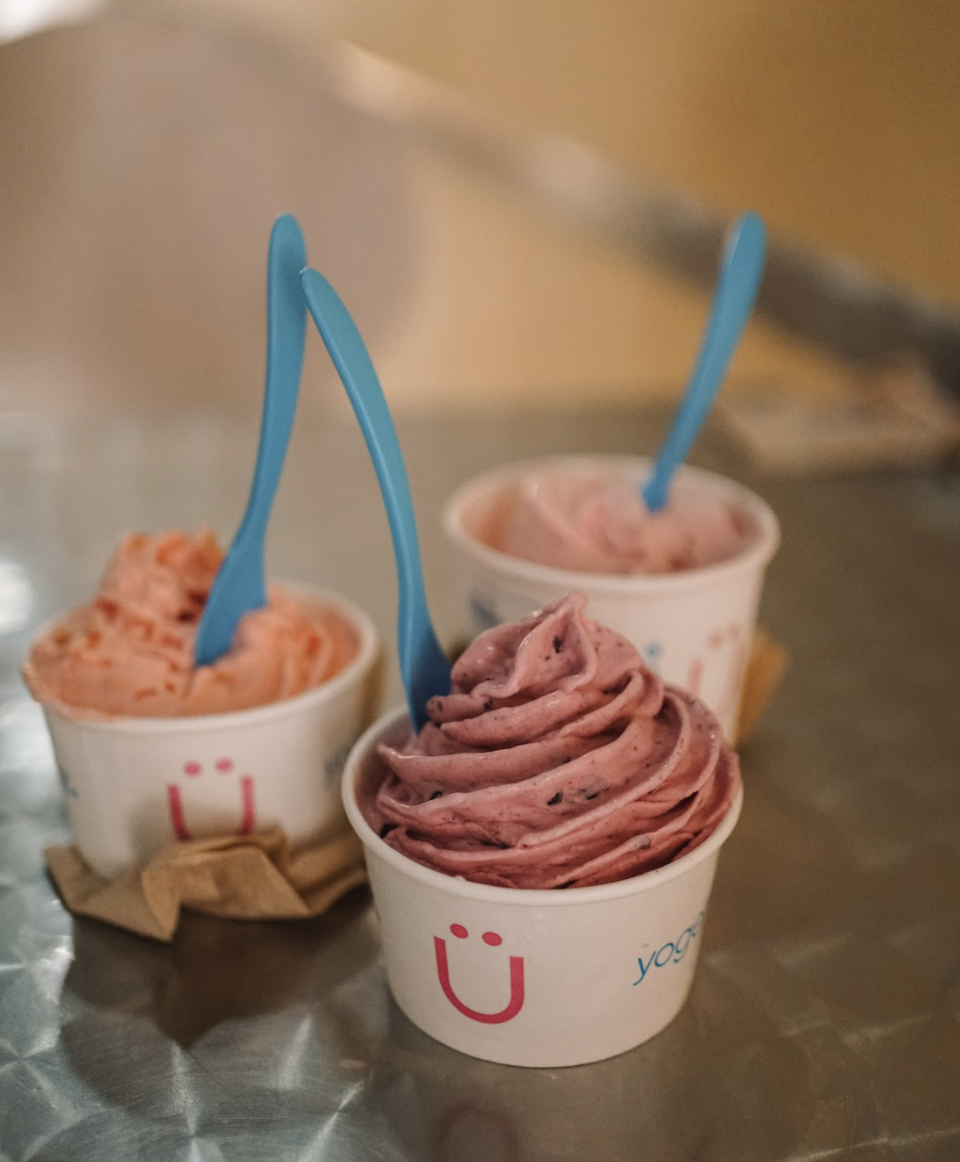 Coconut Juice
There are typically vendors on the street just around the city center selling coconut milk. If you've never tried it before, now's the time! Make sure to have your camera ready because they skillfully hack up the coconut with a machete so that it's ready to drink, and it's pretty fun to watch.
Prices are typically around 50 pesos for a coconut (which is about $1 USD).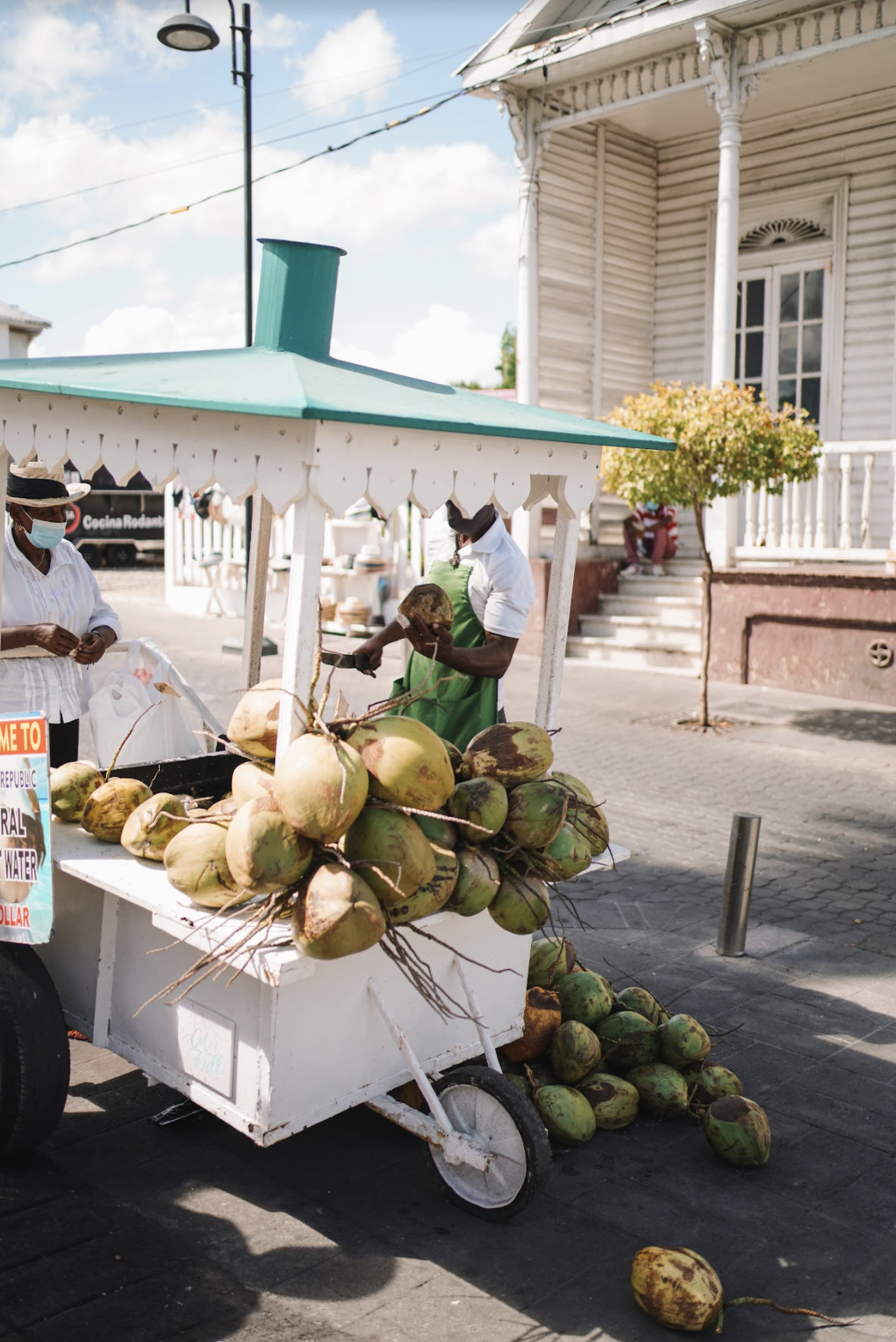 Wander The Nearby Streets
It's fun to wander the streets just around the city center with your camera. The city has been developing recently and adding more and more for tourists to enjoy, and there are a couple streets in particular that you might want to find on maps so that you don't miss them.
P.º de Doña Blanca
Otherwise known as Pink Street, this street is just like its name ... it's pink! Literally, everything is painted a rich, eye-catching pink. The sole purpose here is for you to have somewhere to take fun photos, so enjoy!
It's just a block northwest of the city center if you stay on C Beller Street or find it on Google maps.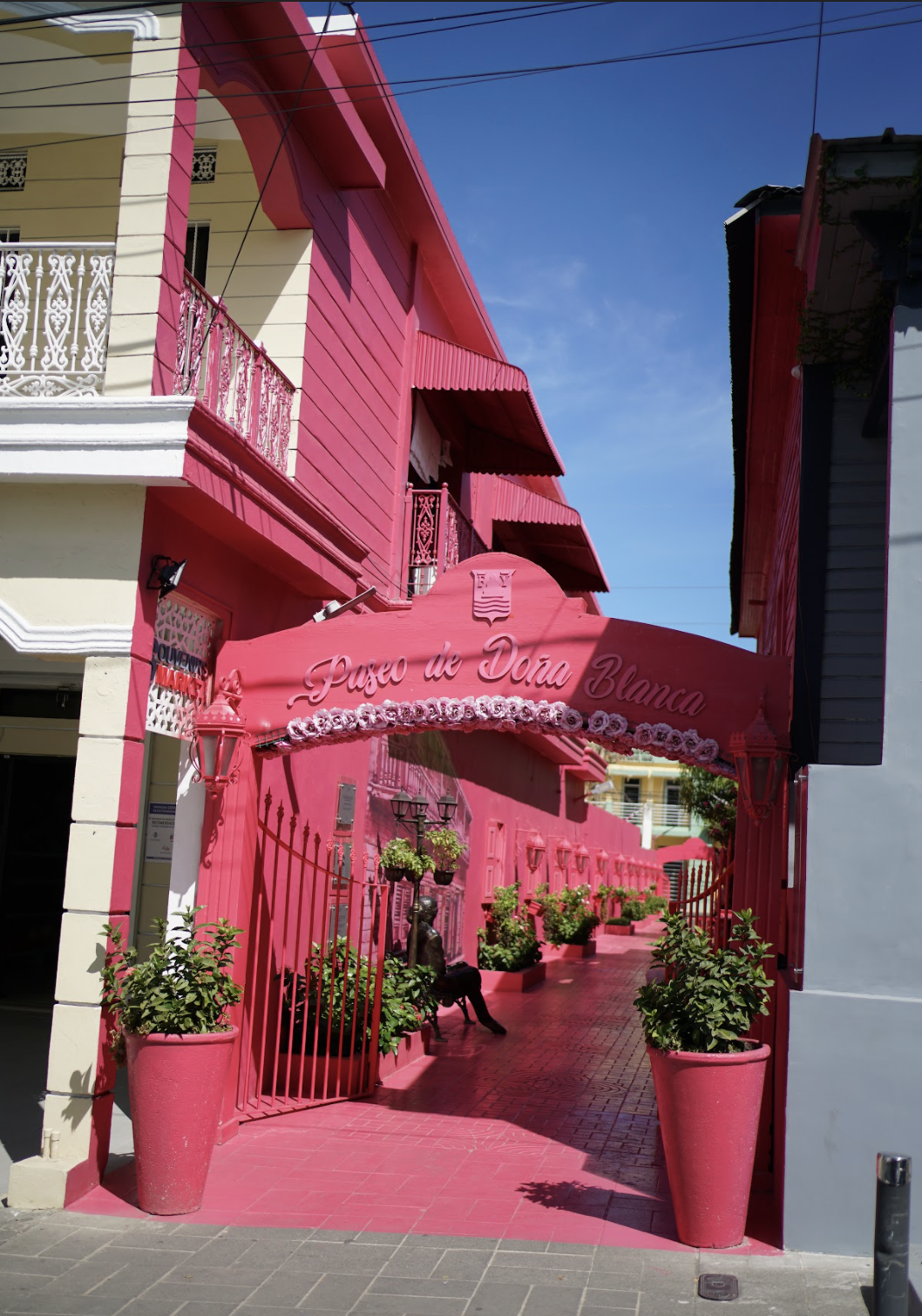 Umbrella Street
Another street that's just fun to come walk down and explore ... and of course take lots of photos of! The best part is that it's just one block further on C. Beller Street from Pink Street.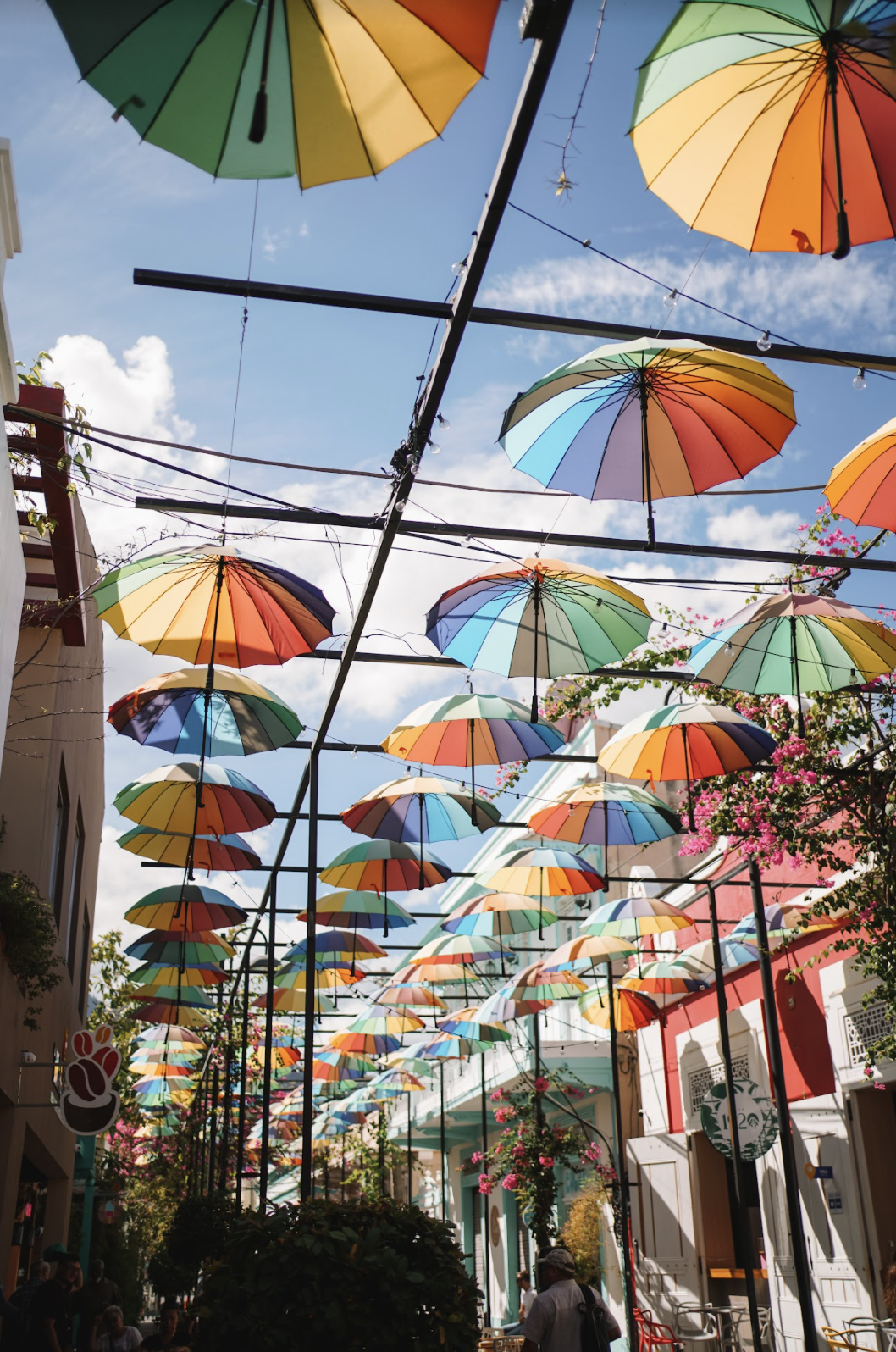 Visit The Fortress Of San Felipe
Situated on a little peninsula that juts out from the mainland of Puerto Plata, this fort has been around since the 1500's. It's one of the first European forts built in this part of the world, thanks to explorer Christopher Columbus. Volunteers love walking around the stone walls and peeking between the windows for a stellar view of the ocean. You can pay to go inside the fort and do some more exploring (and get a view of the museum of the coast and the fishing port), or just wander around the grounds.
Cost: 100 pesos, which includes an audio tour in Spanish for the museum.
To get here: You can walk here from the city center. It's about a 10 minute walk from Umbrella Street if you're following our suggestions in order. It's best to pull up your Google maps to make sure you're headed in the right direction, but basically you're going to walk to the coast and then head just a bit further west. There is a busier road that you'll need to cross (the one that's right next to the coast), but there are cross walks and just make sure to watch both ways for traffic (just like your mama taught you).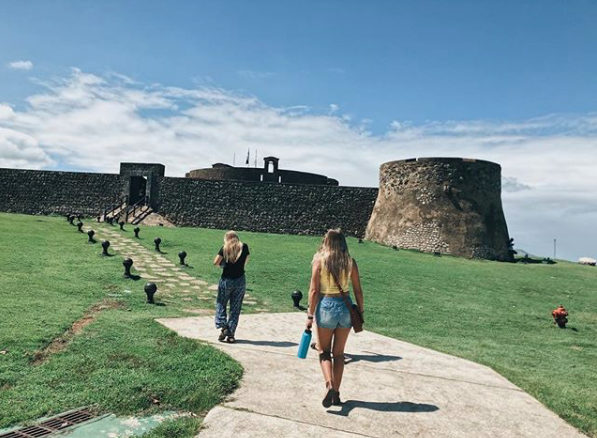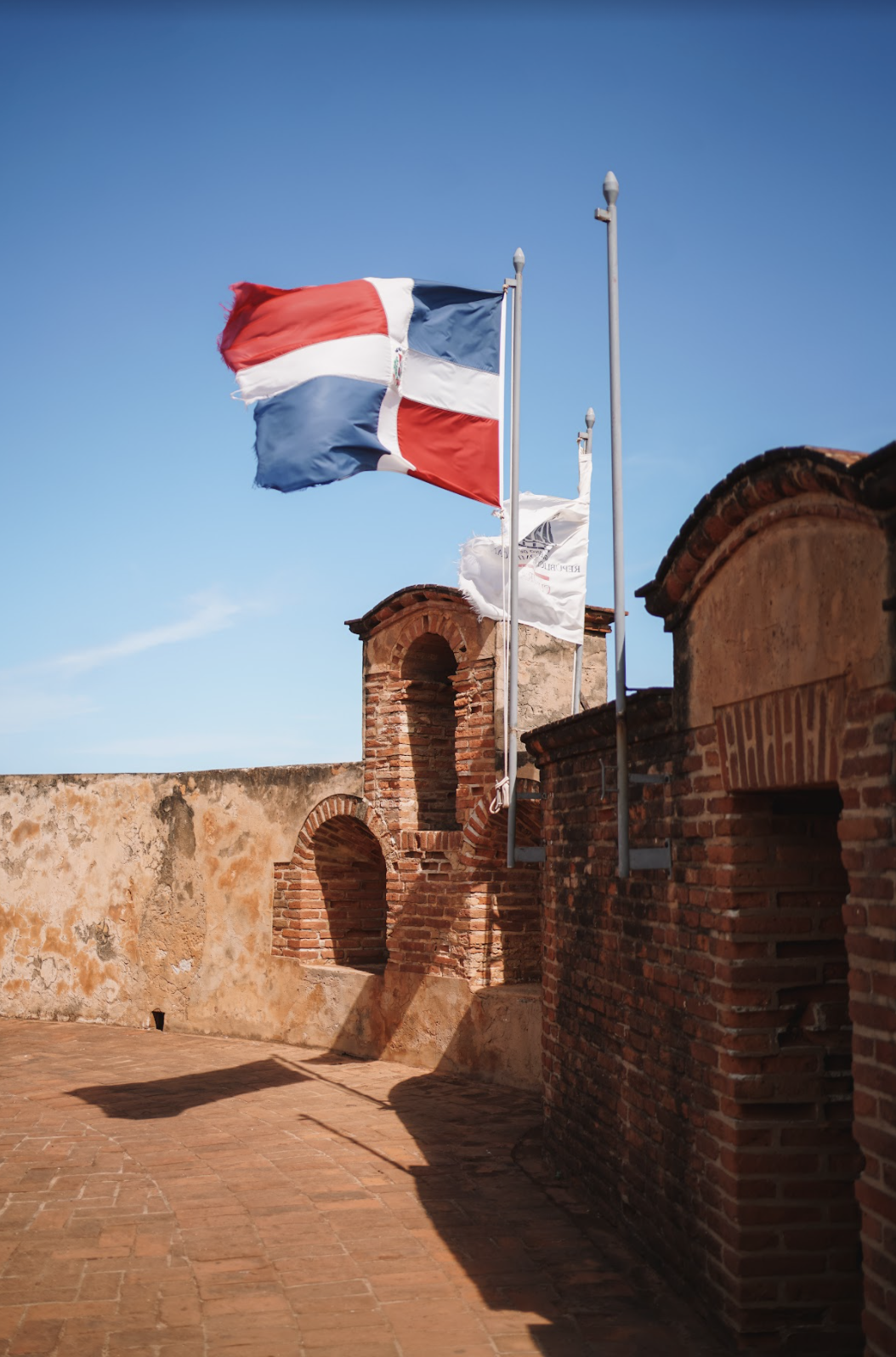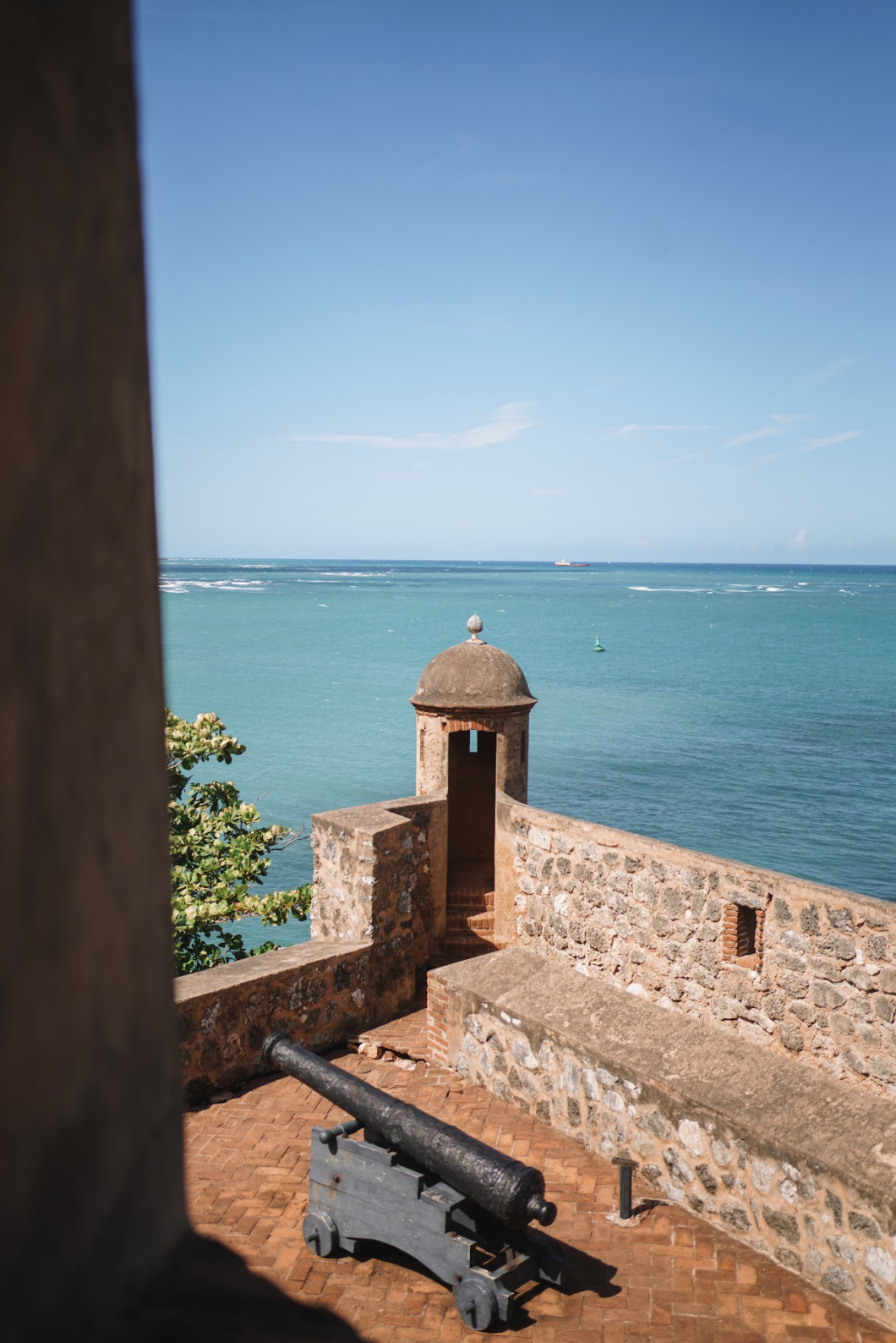 The Coast
We mentioned that the fortress is right on the coast, so you might be wondering if there are beaches right? There is a bit of a beach, but it's not the beach you want to come hang out at. There are incredible, post-card worthy beaches all along the northern coast of the Dominican, but this just isn't it. You might want to take photos and enjoy the winds coming in from the ocean that will cool you off from the Dominican humidity, but just know the coast right outside of Puerto Plata isn't the swimming type of spot you're looking for. There is a major port just west of the the fortress, some rocky cliffs, and sandier spots full of litter, but that's about it until you go further west or east of the city.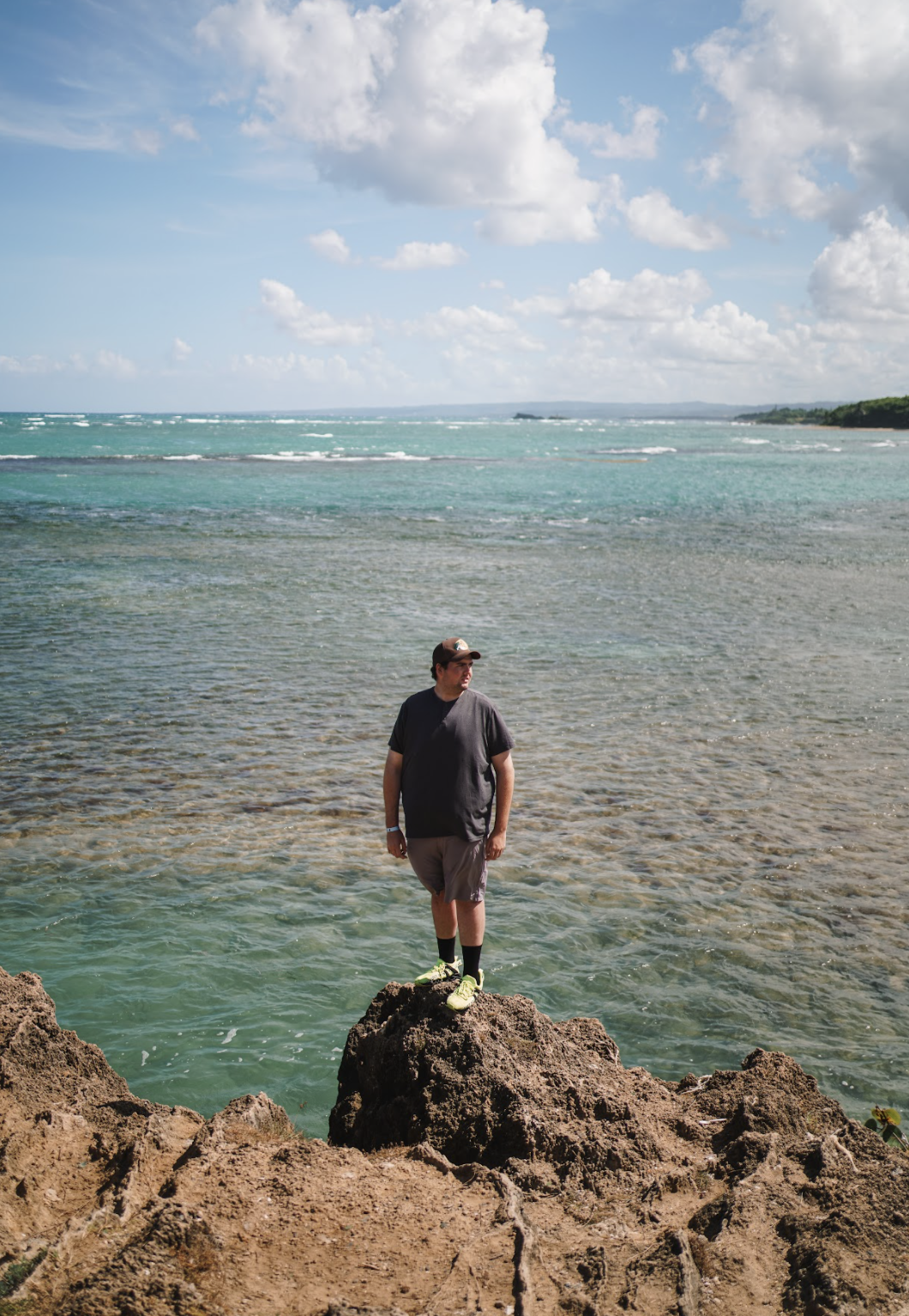 See Mount Isabel de Torres
This mountain is located just southwest of Puerto Plata and the views from the top are a major highlight in Puerto Plata — you'll get gorgeous views of the whole city and the coast the sits just beyond its streets. It comes highly recommended!
There are a few ways to get to the top, just depending on what you're looking for: you can hike It, take the cable car known as "the teleferico", or you can hire a taxi to drive you to the top.
At the top of the mountain, there's a smaller replica of the famous "Christ the Redeemer" statue in Rio de Janeiro, Brazil. The statue here sits on top of a dome which houses cutie souvenir shops inside. Fun! You might want to enjoy lunch at a restaurant up there (or bring your own picnic).
There's also spots where you can hike around and see some seriously lush green landscapes, so make sure you walk around and explore. You likely don't need more than an hour at the top though.
Info About Getting There + Costs
It's best to take a taxi or if you're in the area, you can see the statue from a few different spots in the city and you can just walk to the base. Get more information about the cable car up and other details here.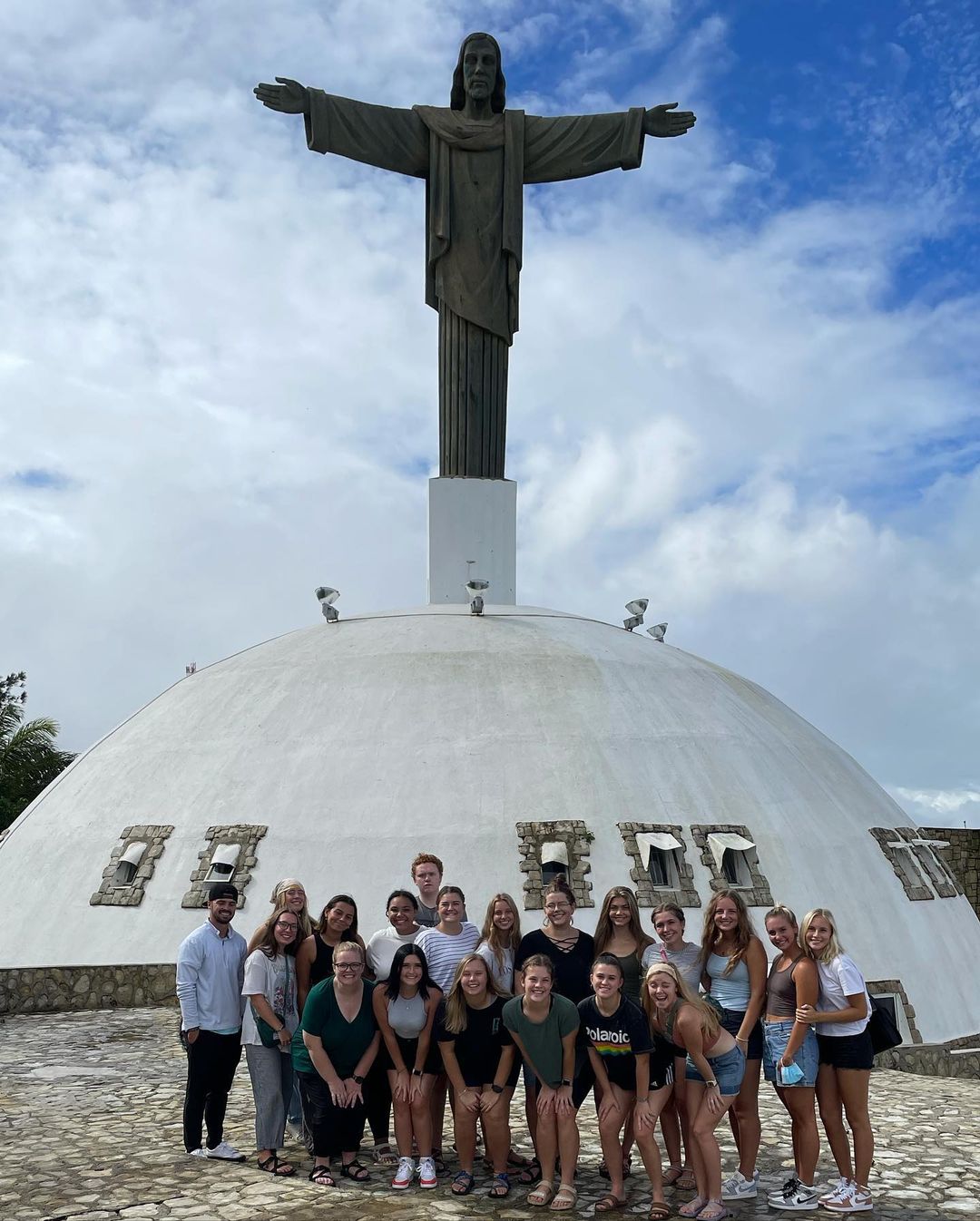 Our Go-To Day Trips
Like we mentioned earlier, some of the most popular "Puerto Plata attractions" are actually located outside of the city, within 1-3ish hours drive away. So after you've seen the city, make sure to venture out to see so much more of what the north coast has to offer you! We have this whole post about our favorite day trips and weekend trips from Puerto Plata that breaks it all down.
Getting To Puerto Plata
Flying In
There's an international airport between Puerto Plata and Sosua (about a 20-30 minute drive from Puerto Plata), which is part of why this area gets so many tourists each year. Jet Blue is one of the major airlines with frequent flights in and out of Gregorio Luperón International Airport, also known as Puerto Plata Airport or POP.
ILP Volunteers
It's beyond easy for all of our volunteers who are living in the Dominican for their semester abroad. You'll be just a short taxi ride away from Puerto Plata from where you'll be living. Plan on paying around 250 pesos to get into Puerto Plata. Since it's so close, most volunteers come hang out for the afternoon on any weekend!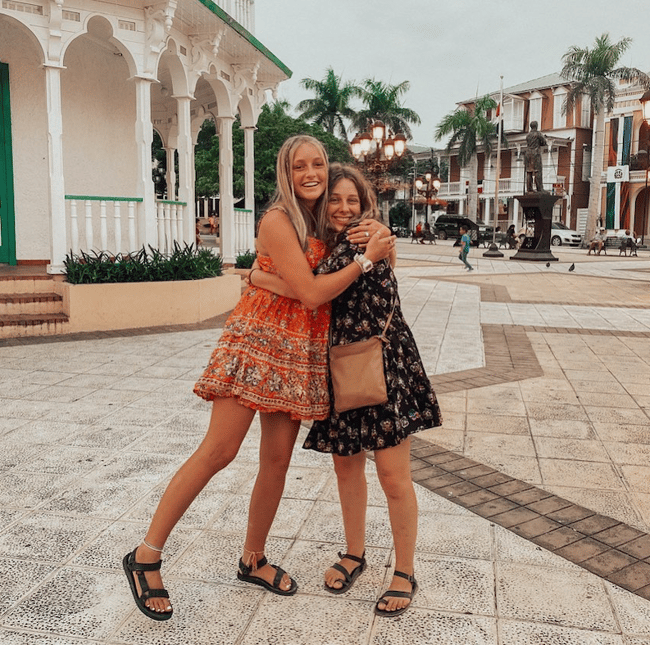 Interested in finding out how you can
live in the Caribbean as a semester abroad?

ILP can make it happen! Schedule a call to speak with an ILP representative and get all your questions answered.