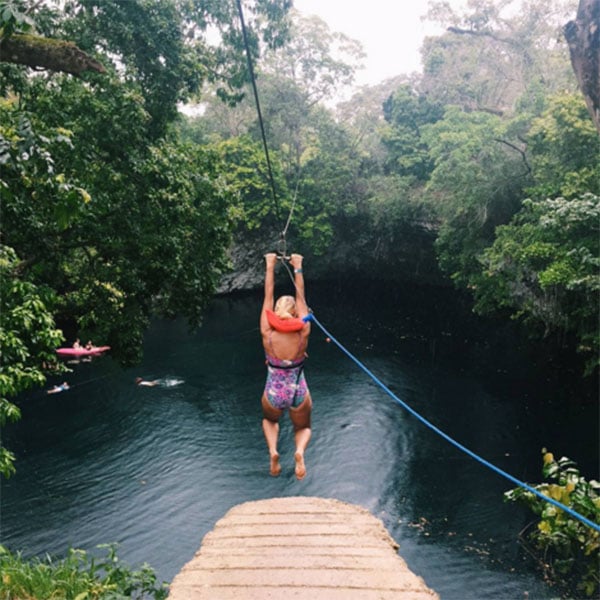 Yep this place is called Dudu, which probably isn't what you would you expect from the dreamiest, bluest swimming spot in the Dominican Republic.
---
See what else your vacation is missing
Our Dominican Republic Destination Guide is right here.
---

A quick vacation to the Dominican Republic is more than worth it ... but a major perk of living there for a semester means uncovering the gems that tourists just visiting between cruise stops miss entirely. One of these spots is the Dudu Lagoon — a stunning oasis hiding in the dense jungles of the Dominican Republic. Since it's not well-known by crowds of tourists the prices are low, low, low.

Volunteering in the Dominican Republic or staying just longer than the regular tourist means taking trips to see places like this dreamy lagoon — and yes, it really is crazy blue.
A Bit About The Lagoon
Locally known as El Laguna Dudu this is a huge spot for adventurers, thanks to the addition of the biplane that allows you to fly above the insanely blue water before you let go and splash into the pool.

The lagoon is a natural cenote with crystal clear water which contributes to the stunning color. There are also cliffs surrounding the pool, with a lush tropical jungle surrounding the pool, so make sure to bring your waterproof camera to snap a few pictures of this place ... it's stunning.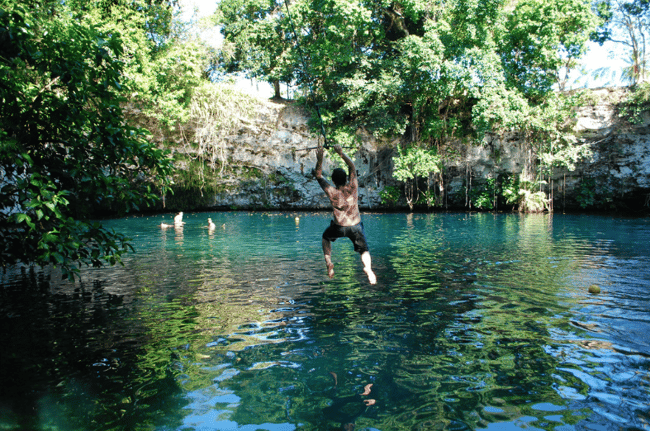 Visiting Dudu Lagoon
What Do I Do There?
There are a different ways to enjoy the pool. There are several platforms of varying height which allow you to jump into the water (the tallest platform is quite the rush!) or you can hang onto a metal frame zip line and let go when you're zooming over the water.
There are also stairs that allow access into the pool if you don't want to jump or take a zip line. In the thick humidity of the Dominican Republic, the cool water of the lagoon is more than refreshing. Plus, it's fun to watch others in your group jump into the water from the platforms while you swim.
Where Is It?
The lagoon is located outside of the town of Cabrera in the north eastern part of the Dominican Republic. It's just a day trip outside of Puerto Plata, so it makes for a perfect Saturday adventure for our ILP volunteers who are serving in the Dominican Republic.
How To Get Here
You can take a gua-gua, but it'll take twice the time. In a car, it's just over two hours long. Your Local Coordinator might be able to help you arrange a driver, so check on that possibility. It's more expensive than taking a ridiculously cheap gua-gua, but you'll ride in an air-conditioned car and won't have to worry about finding your way, or missing the last bus.
Wondering about getting around the Dominican Republic in general? (ie: what in the world is a gua-gua?) That blog post will help you out).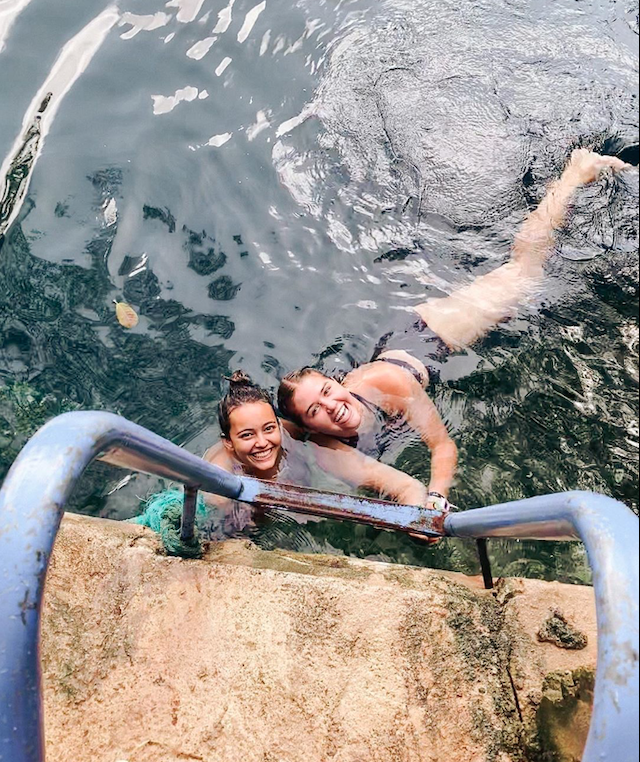 A Few Tips
You'll need to bring your swimming suit and a towel. Volunteers also suggest bringing your phone in a waterproof case or another waterproof camera (like a GoPro) to get some pictures of this place.
Head's up: This isn't an established resort, so there aren't lockers for your things.
Cost + Details
It costs about $2.50 to swim in the lagoon.
There are places to get food nearby but you might want to pack a little lunch.
If you'd like to see what else our ILP volunteers are up to, look up #ilpDR on Instagram. We love showing favorite spots like Paradise Island, Sosua, Santo Domingo and more.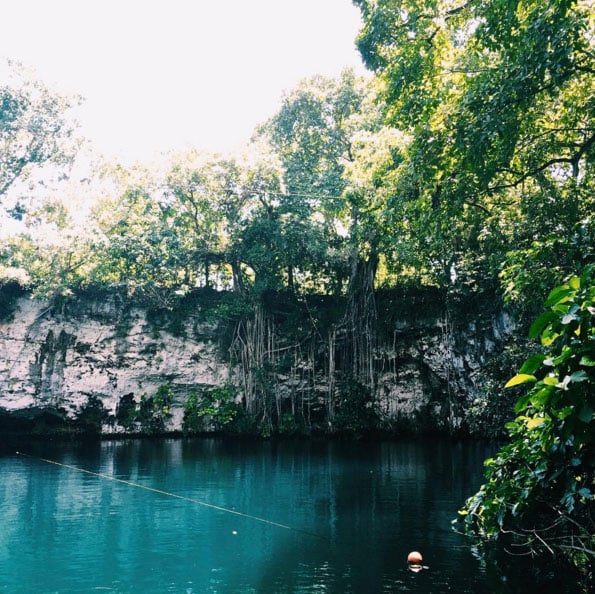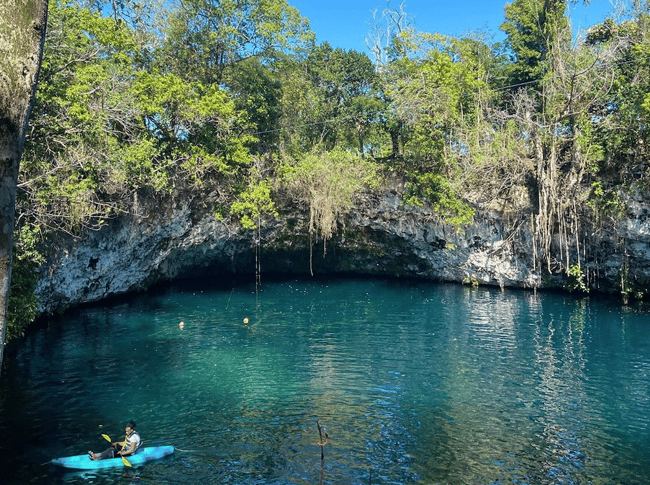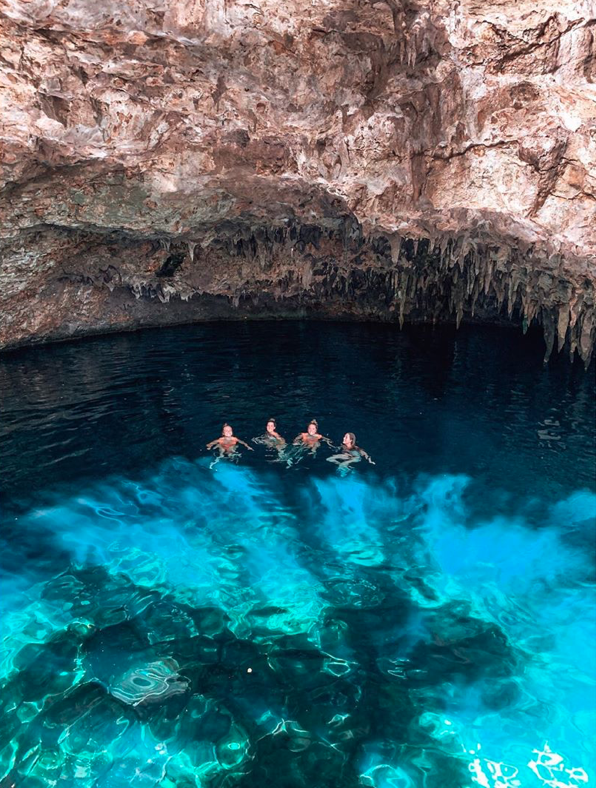 Interested in really seeing the Dominican Republic?
International Language Programs (ILP) provides opportunities for college-aged volunteers to live in the DR, help underprivileged children learn English through a free education, and have adventure upon adventure.