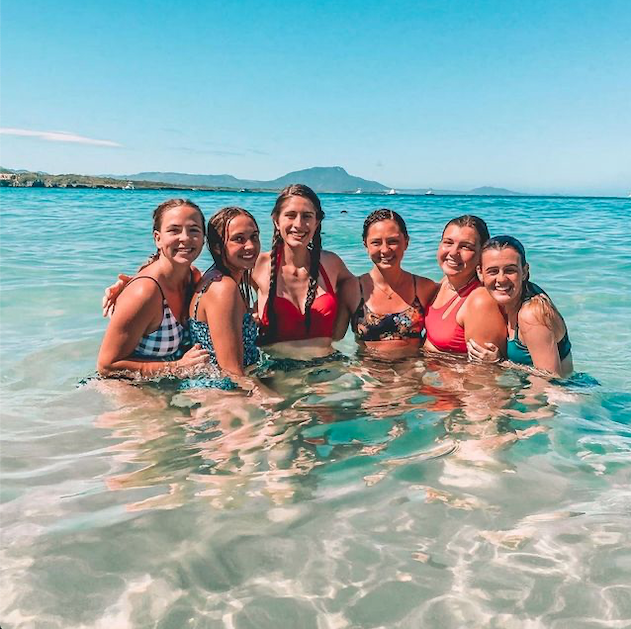 It's hard to choose where our favorite vacation spot in the Dominican Republic is … but Sosua is a favorite for a few reasons!
Sorry for making your life more difficult when it comes to choosing where you want to vacation in this Caribbean island. Between the jungles in the south, the pristine beaches on the east and more than a few other favorites in between, you have your hands full.


---
Make sure you're seeing the best of the island!
Check out our Dominican Republic Destination Guide.
---

One spot that we don't think you should miss? The coastal city of Sosua, nestled right in the north boasts some of the top beaches that our ILP volunteers rate as one of their favorite beaches in all of the DR.
Things To Do
Playa Sosua - The Beach!
Sosua beach is gorgeous. I'm sure you don't really need an outline of things to do on a pristine beach, but in case you do, volunteers recommend finding a day where you can just lay out in the sun and play in the warm water.
Some volunteers are also fond of hunting for sea glass, which is exactly what it sounds like. Now smooth and round, sea glass originates as pieces of glass from broken bottles, tableware and even shipwrecks but are rolled and tumbled around the ocean for years. Eventually, the sharp edges are rounded off and the whole pieces frosts over (and creates a fun take-home souvenir from your time in Sosua).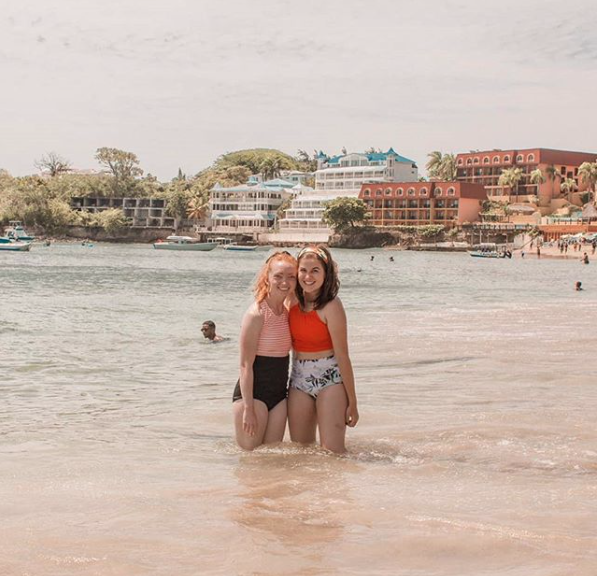 Excursions
If you want something to do rather than just lounge on a postcard worth beach, there are some excursions that are definitely worth your time. You'll find glass-bottomed boats and other fishermen boats that will set you up with snorkel gear and take you out to a nearby reef to snorkel — you can find these for about $10.

You might also find speedboats out who can take you on a huge inflatable yellow balloon, and take you for a ride. Try not to fall off! It's harder when you think when you're laughing so hard.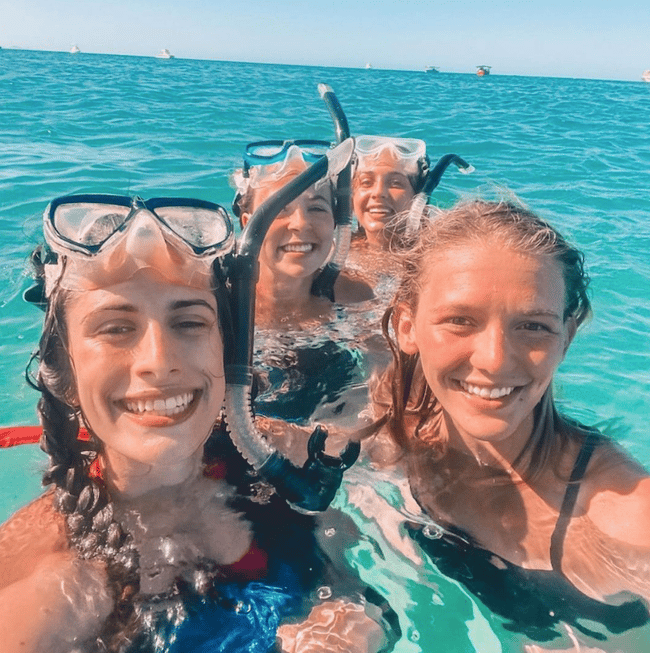 See Some History
At one end of the beach, you'll find the El Batey neighborhood which is a remnant of WWII — about 600 Jewish people sought refuge from Eastern Europe and settled here. You can walk down the coast to the neighborhood and find a small synagogue that's still occasionally used, and a small museum. It's more touristy with some resorts, but you can still find a glimpse of what this Jewish community looked like 50+ years ago.
Souvenir Stores + Shopping
There are also a ton of markets at Sosua, which is another crowd favorite. If you are looking for more souvenirs to bring home, Sosua is your spot. Spot things like amber jewelry, There are also shops that sell some brand name gear for good prices, like brand-name work out tanks for $3, and brands of shoes for $15.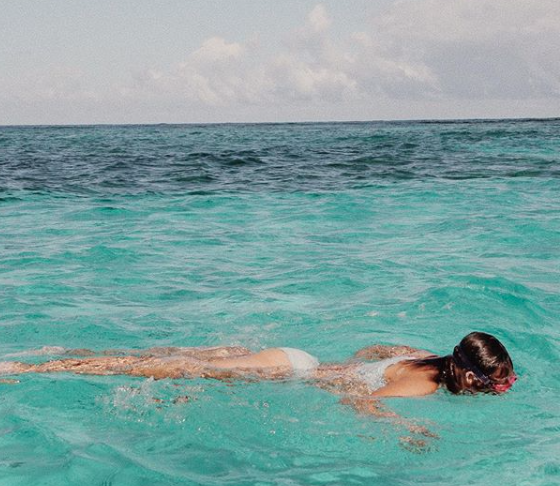 Nearby Adventures
We love Sosua and all the things to do, but there are a couple of other things nearby that are worth your time, turning this into a day trip to a longer adventure if you have the time. Here are our favorite:
Visit Playa Alicia
Another stellar beach, with less touristy shops but with sand and waves that are just as pretty as Sosua. You'll find similar beach-excursions here (pay $10 to go snorkeling, with gear, on a glass bottom boat — fish food included to help you see more on your snorkeling trip!). Here's what one ILP volunteer said about their time here: "Playa Alicia also has the clearest water I've seen around here and not a lot of tourists so it's nice to go and chill around there."
The beach costs a couple of dollars to get in, but that'll get you a beach-chair rental. You can easily catch a taxi over, but here's more info on Playa Alicia.

Hang Out In This Monkey Jungle
Just a short taxi ride away from Sosua, is a monkey rescue center where you can hang out and feed a couple of different kinds of monkeys. There are also zip lining routes you can test out too, if you purchase the +zip line ticket.

When you're visiting the monkey jungle, you'll get a plate of fruit and nuts and the monkey come running to get a taste: they are messy eaters so wear clothes you don't mind getting fruit all over … these guys love crawling all over you, and aren't afraid to have a snack while sitting on top of your head.

Get directions, and info on the price here.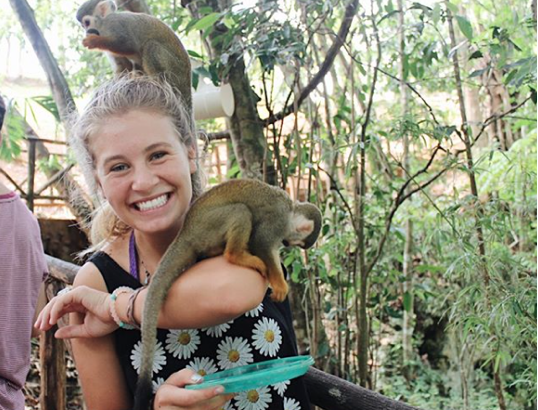 Places To Stay
If you are staying overnight, we suggest looking at AirBnB.

One ILP group stayed at a condo AirBnB in Sosua Ocean Village: the complex has a gym, a pool, and was right on the beach. These condos are usually equipped with a washer and dryer and a kitchen, so you can do laundry and do some cooking (if you get groceries) to help you save money on your vacation.

These condos are a bit far away from Sosua city which means it's a long walk or taxi ride to get into the city for restaurants or grocery stores, just keep that in mind.
Places To Eat
For Snacks + Groceries
If you need to stop for beach snacks or groceries for your kitchen condo, you'll need to know where the grocery stores are. Volunteers visited Playero which is on the main highway and has all the products you could want — say "hi" to the German butcher who runs the place. There is also a Supermarcado with groceries. You will run into small convenience-type stores in Sosua that sell snacks, sodas, chips, fruit and other things you'll want for a day at the beach.
Fresh Fresh Cafe

According to one volunteer, "you HAVE to go there if you go to Sosua. It was so yummy!" Order up crepes, açaí bowls, fresh fruit smoothies, protein bowls, wraps, sandwiches, etc. YUM. It's all very fresh, bright and healthy.
Address: 5, Sosúa 57000, Dominican Republic
Check out their Facebook page for more info and pictures.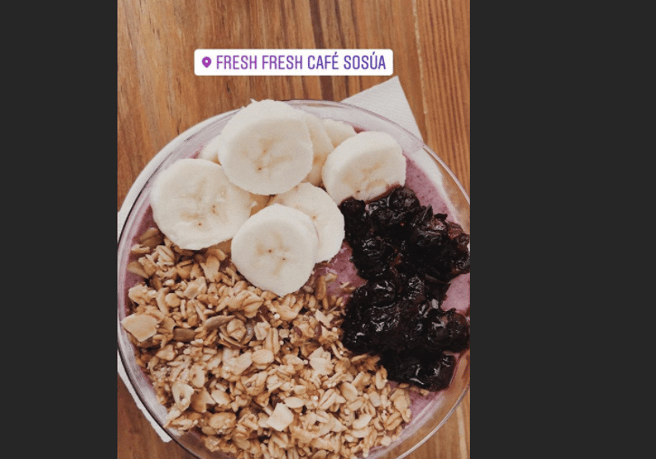 Getting There

From Puerto Plata
Since ILP volunteers who are living in the DR call the city of Puerto Plata home, you guys can just take a gua-gua over to Sosua — it's about 50-60 pesos from Puerto Plata to get to Sosua. It makes for a fun day trip or weekend getaway.
Getting Around Sosua
Overall, you'll find that Ubers are harder to call than taxis in Sosua.

One group suggests getting the card of your taxi driver you first ride with, then you can call them whenever you need a cab.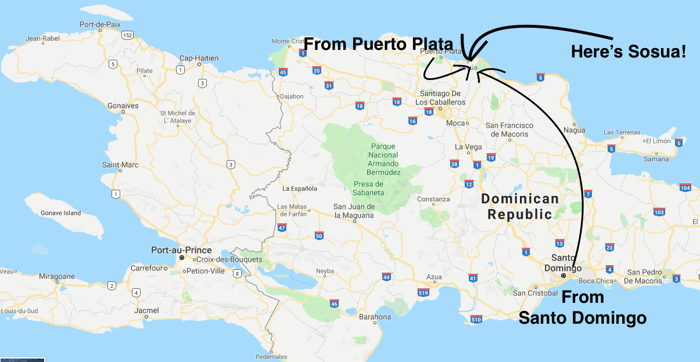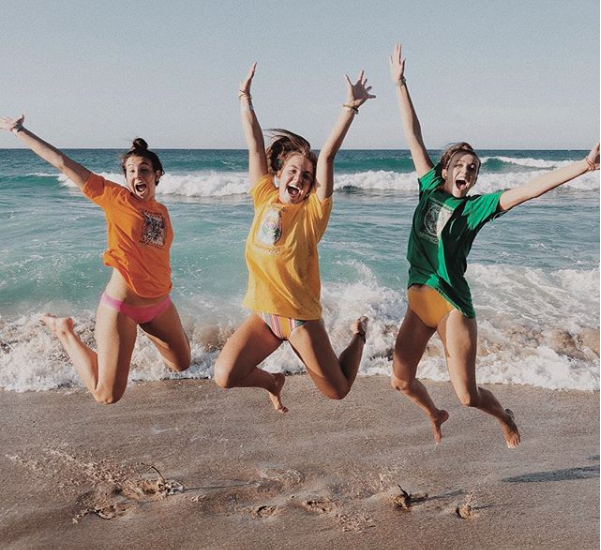 Ready to really experience the Dominican Republic?
Come see what living on this island is all about — ILP (International Language Programs) sends college-aged volunteers abroad to places like the DR to make a difference by teaching English. Volunteers teach part time, and have the rest of their day, weekends, and vacation time to experience what this country has to offer. Get more info here: